The Derby shoe is an unsung wardrobe hero that deserves a firm place in every man's footwear rotation. All too often overlooked in favour of Oxfords or brogues, men's Derbies are arguably more versatile and wearable, with the ability to transcend trends, seasons and settings. Whether you're a long-time fan of the Derby or a more recent convert, we've got the guide for you.
Read on for everything you need to know about Derbies, including their history, how to wear them and our pick of the best men's Derby shoes to buy in 2023.
Table of Contents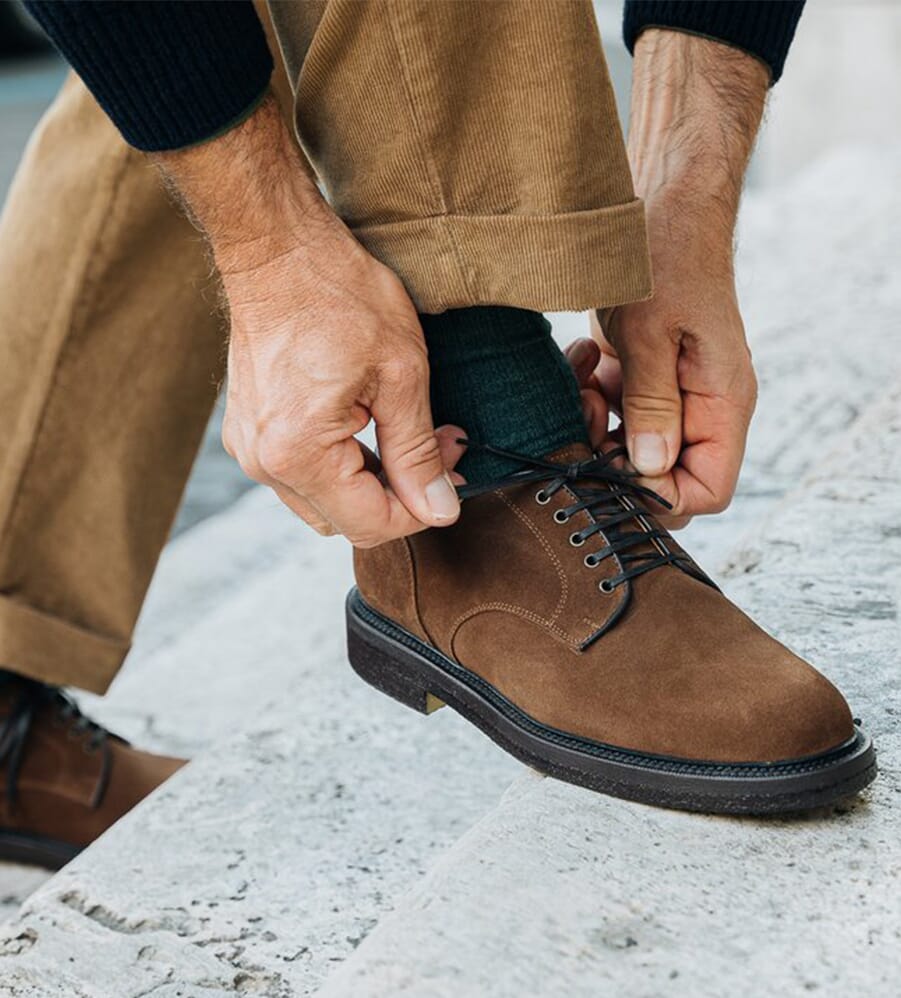 What are Derby shoes?
Derby shoes are often confused with their more formal cousin Oxford shoes, but what sets them apart is their open laces. On a Derby, the space between the eyelets tab will flap open when the laces are undone, while it is typically sewn shut on an Oxford. This lends Derby shoes a more relaxed air, making them perfect for bridging the gap between smart and casual. Plus, the chunky sole and loose lacing lends them more comfort than formal dress shoes, guaranteeing you'll reach for your pair time and again.
History of Derby shoes
Many credit the 18th century Prussian field marshal Gebhard Leberecht von Blüche as the inventor of the Derby. It is said that in an effort to provide his troops with improved footwear, he designed a boot with side pieces that lapped over the front, which provided more space and made it easier to pull off off at the end of the day. These shoes became known as Blüchers, a term that is still used for the US version of Derby shoes today.
The Derby design was soon adopted by armies across Europe, before it became a popular shoe for hunting. Soon enough, it worked its way into the everyday wardrobes of the wider population, becoming adopted by everyone from postmen to city workers. It remains a beloved staple that's certainly not set to go out of style anytime soon.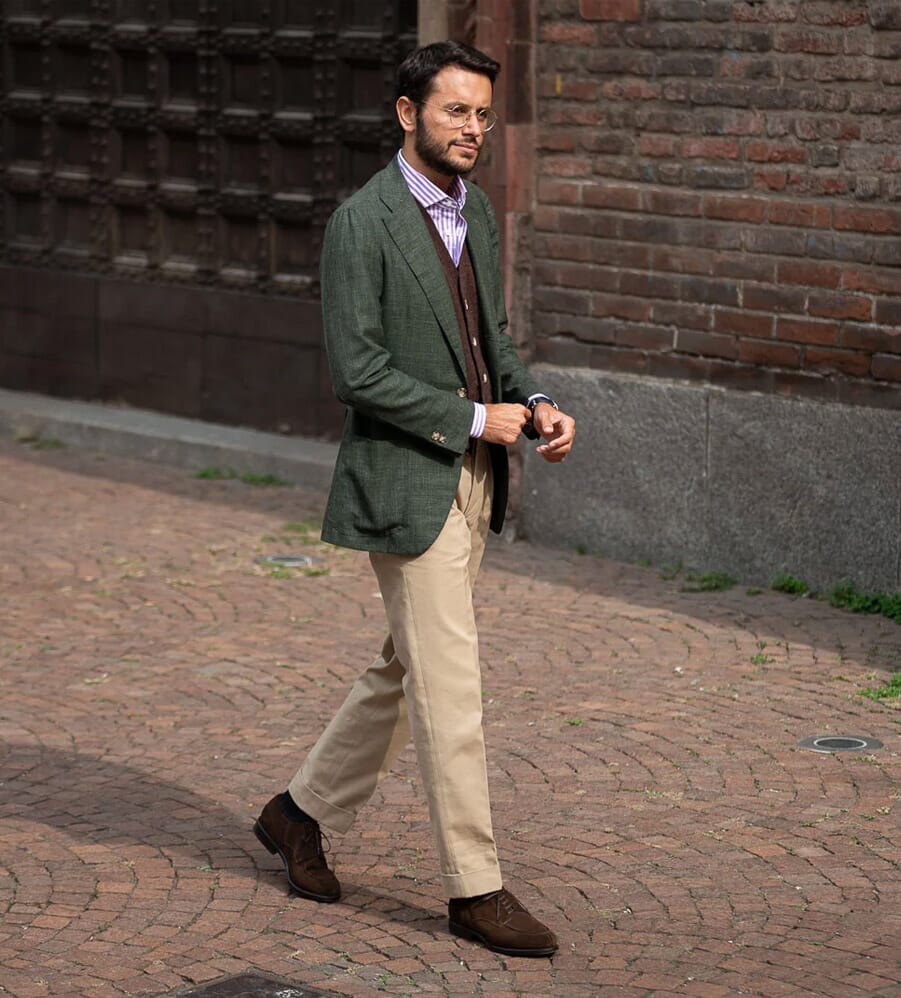 How to wear Derby shoes
Derby shoes are the Swiss army knives of the footwear world: utterly multifunctional, they pair effortlessly with just about anything. Their smart lace-up style makes them appropriate for formal or business occasions, but the open nature of the laces makes them a versatile choice for everyday wear. Embrace their utilitarian roots and wear Derbies with hardwearing workwear staples like an overshirt and selvedge denim jeans or corduroy trousers. Otherwise, use them to take the stuffiness out of tailoring: teamed with a slim navy or beige suit, a pair of Derby shoes will add a subtle edge.
Best men's Derby shoes to buy in 2023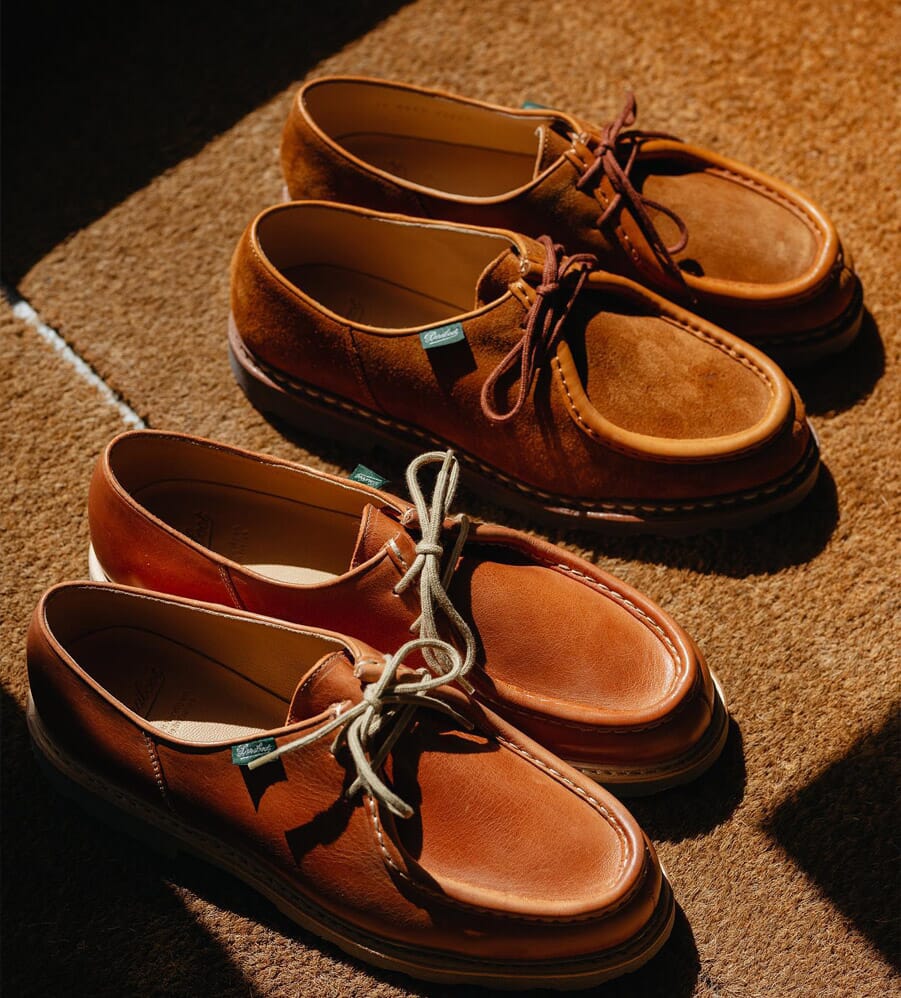 Paraboot Avignon Velour Whiskey
Iconic French footwear label Paraboot remains the go-to for menswear enthusiasts the world over. Renowned for its heritage of producing shoes for workers and outdoorsmen, Paraboot creates shoes that are built to last. These Derbies boast the brand's signature chunky and waterproof Norwegian welted construction. A supple suede upper is combined with a hardwearing vulcanised rubber outsole for the ultimate marriage of style and durability.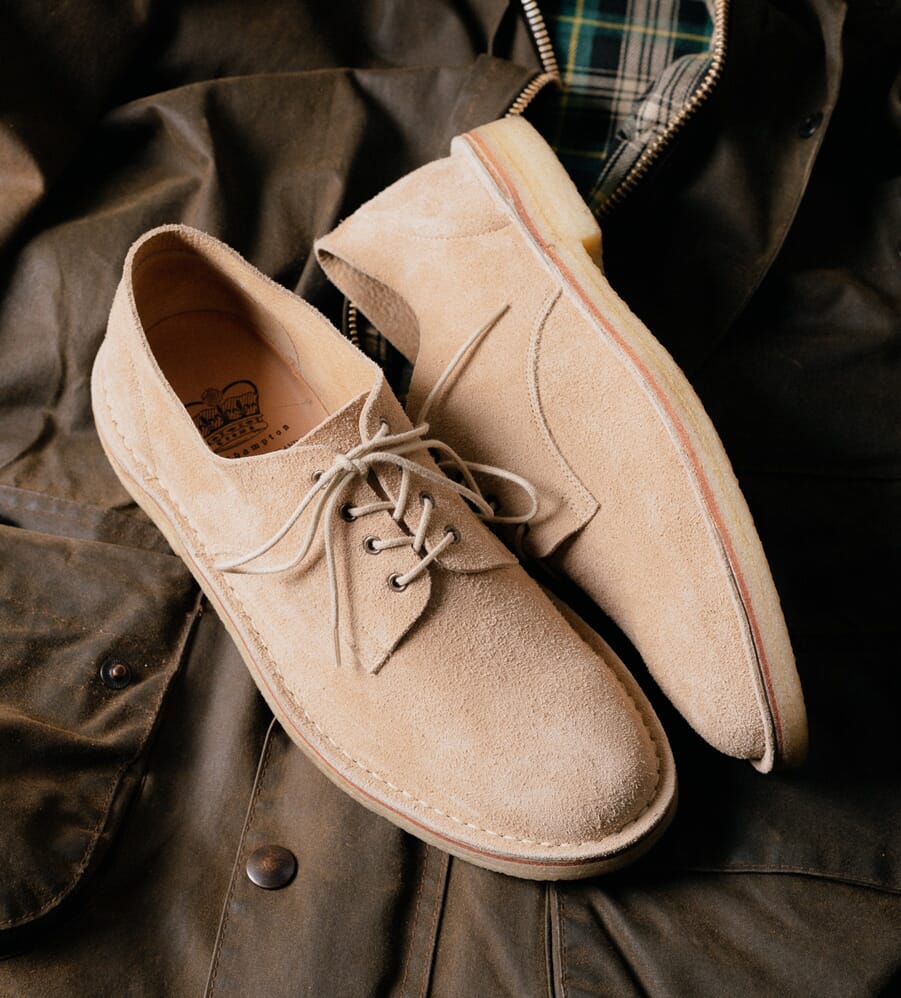 Crown Northampton Sand Kudu Suede Grove Desert Shoe
Fifth generation family-run footwear label Crown Northampton has become synonymous with world-class English-crafted shoes. Its Grove Desert Shoe fuses the lace-up construction of a Derby shoe with the flexible and lightweight natural crepe sole of a desert boot. The upper is made from English-tanned kudu suede – used for its durability and suppleness – from the world renowned Charles F Stead tannery in Leeds, England. Look after these Derbies and they'll serve you well for many years.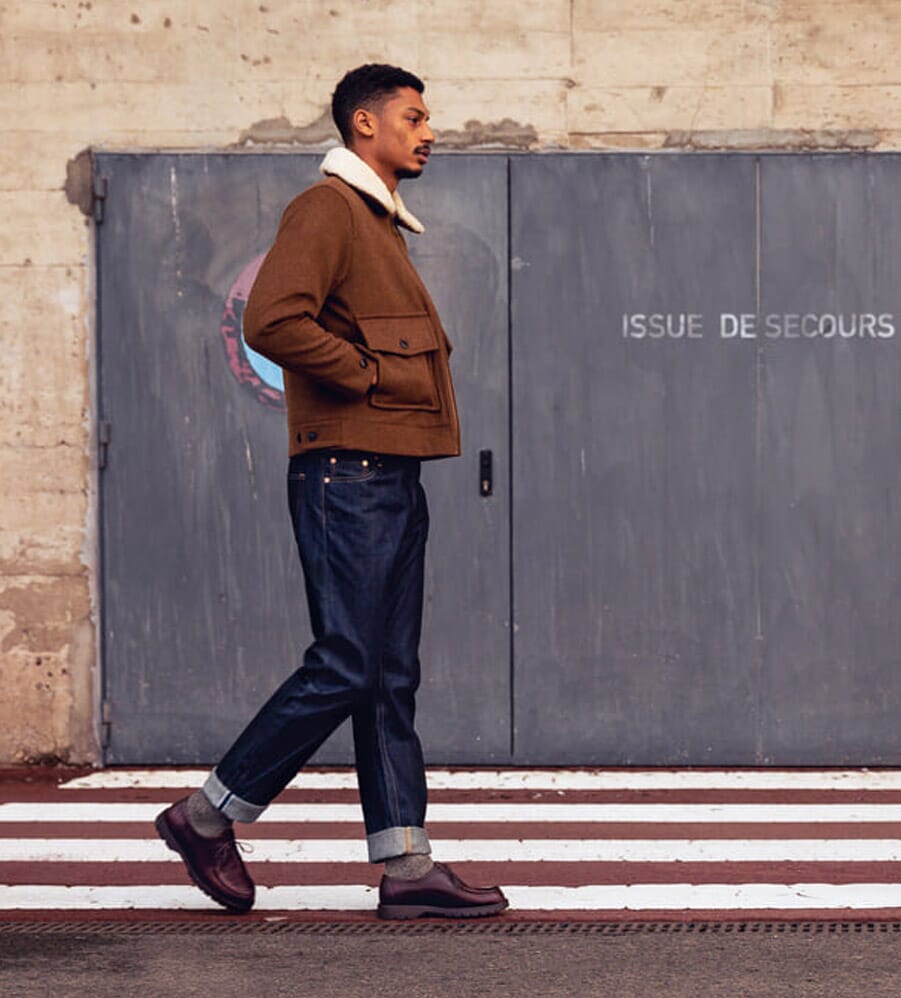 KLEMAN Padror
French footwear label KLEMAN is renowned for its functional worker shoes that fuse timeless style and uncompromising durability. Its iconic Padror style is case in point. The Padror's design has remained unchanged since the '90s, when it was introduced to fit SNCF (the French national railway company) agents. This is a casual shoe that has stood the test of time and will continue to do so — both in terms of its timeless looks and its hardwearing construction.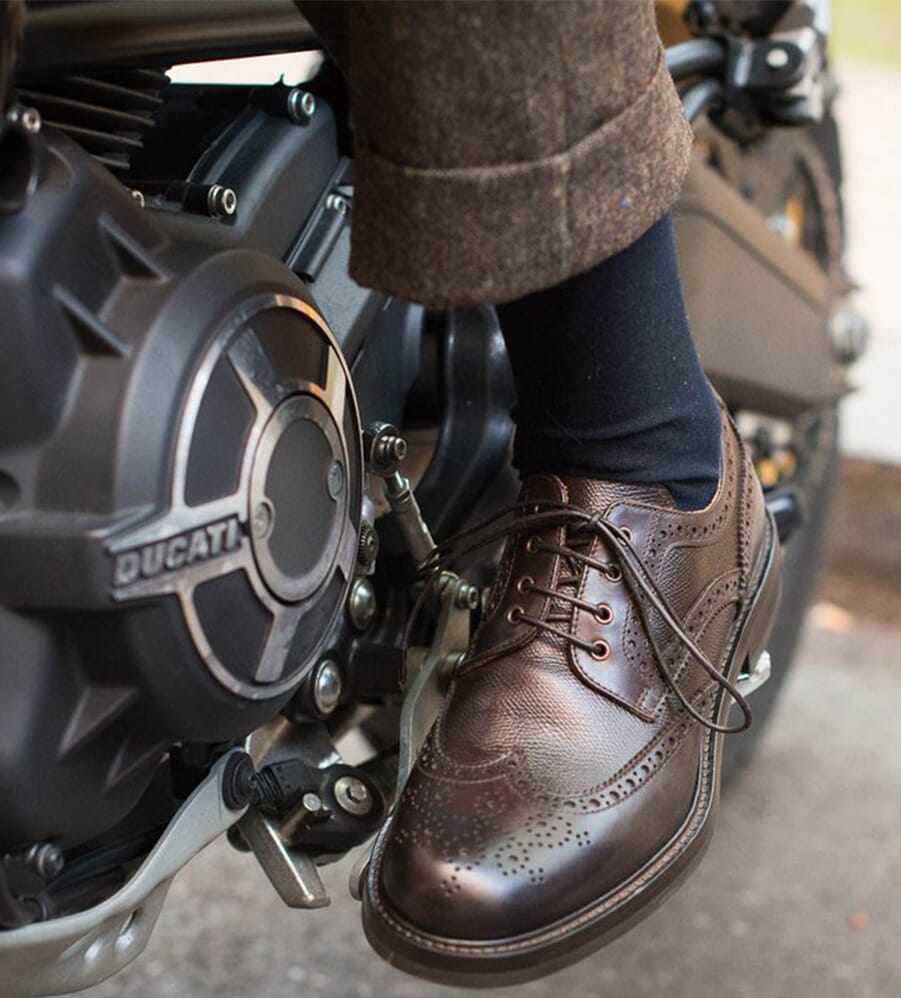 Velasca Barabba Derby
This brogue-style Derby from Milanese footwear label Velasca epitomises the brand's commitment to meticulous craftsmanship and timeless style. The combination of smooth and hammered leather results in a unique blend of textures that will subtle elevate your outfit. The hardwearing Vibram winter rubber sole is crafted to withstand the elements, including rain and snow. Wear these shoes with denim jeans day to day or take them up a notch with tailored separates for an instantly sophisticated look.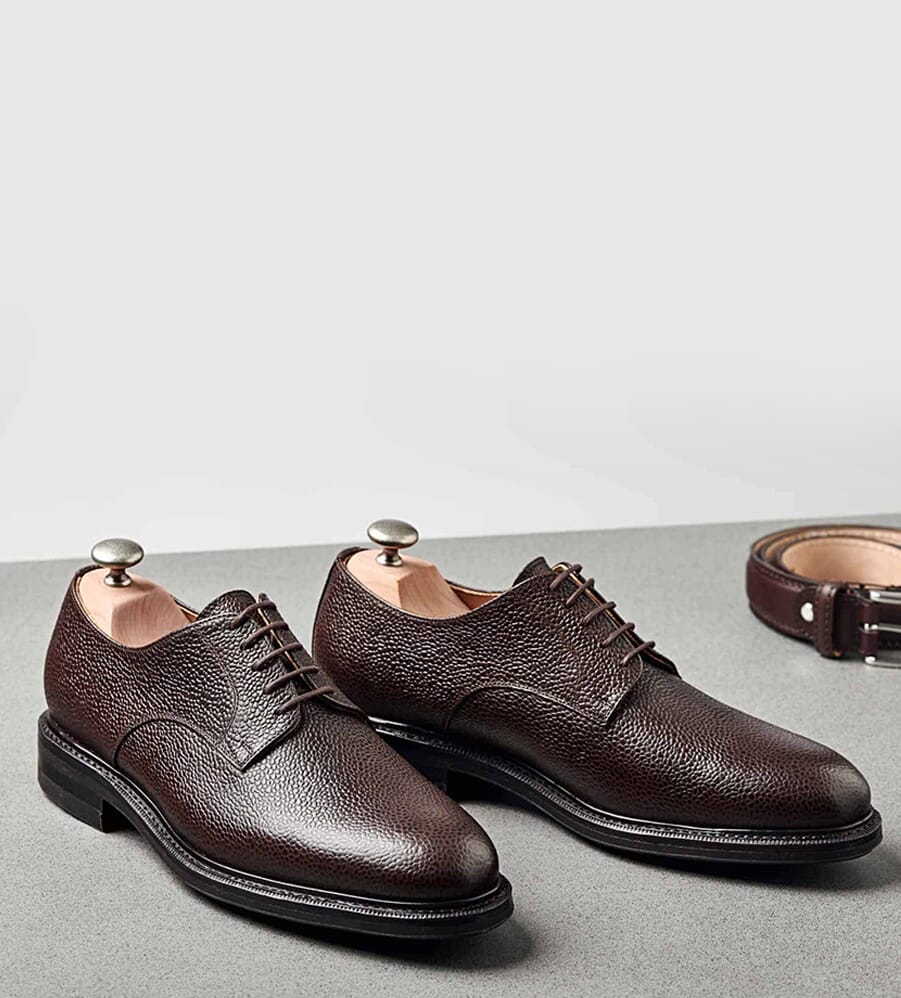 Myrqvist Boden Derby
Handcrafted in Portugal from full grain country calf leather and finished with a 360-degree storm welt for water protection and a double studded rubber sole, these men's Derby shoes from Swedish footwear brand Myrqvist are as hardwearing as they come. The leather board heel caps and cork filling only enhance their durability. We love the sleek, understated look, which makes them the ideal dress shoe to team with your suirts.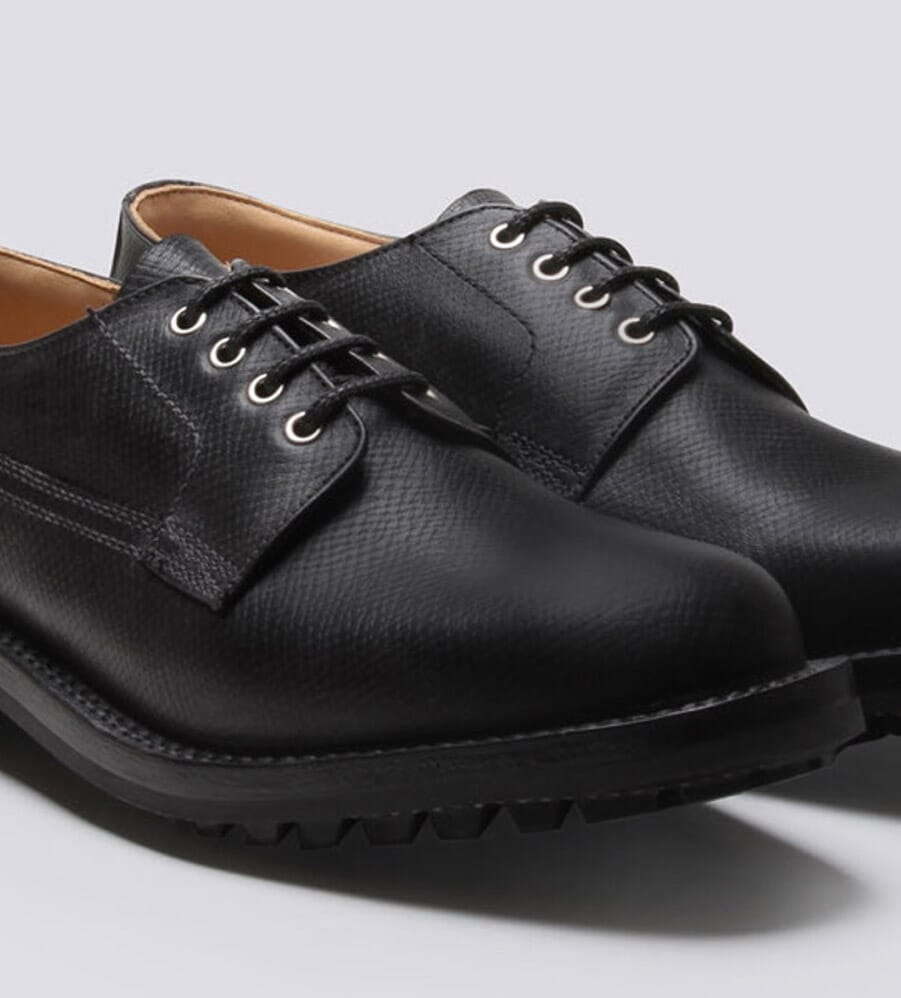 Grenson Victor Derby
Fusing a classic silhouette with ultra-tough construction, these black leather Derbies from British footwear label Grenson are as sturdy as they are stylish. Crafted using soft but strong black Russian reindeer leather, they boast a hardwearing commando sole, making them ready for whatever adventures you have in store.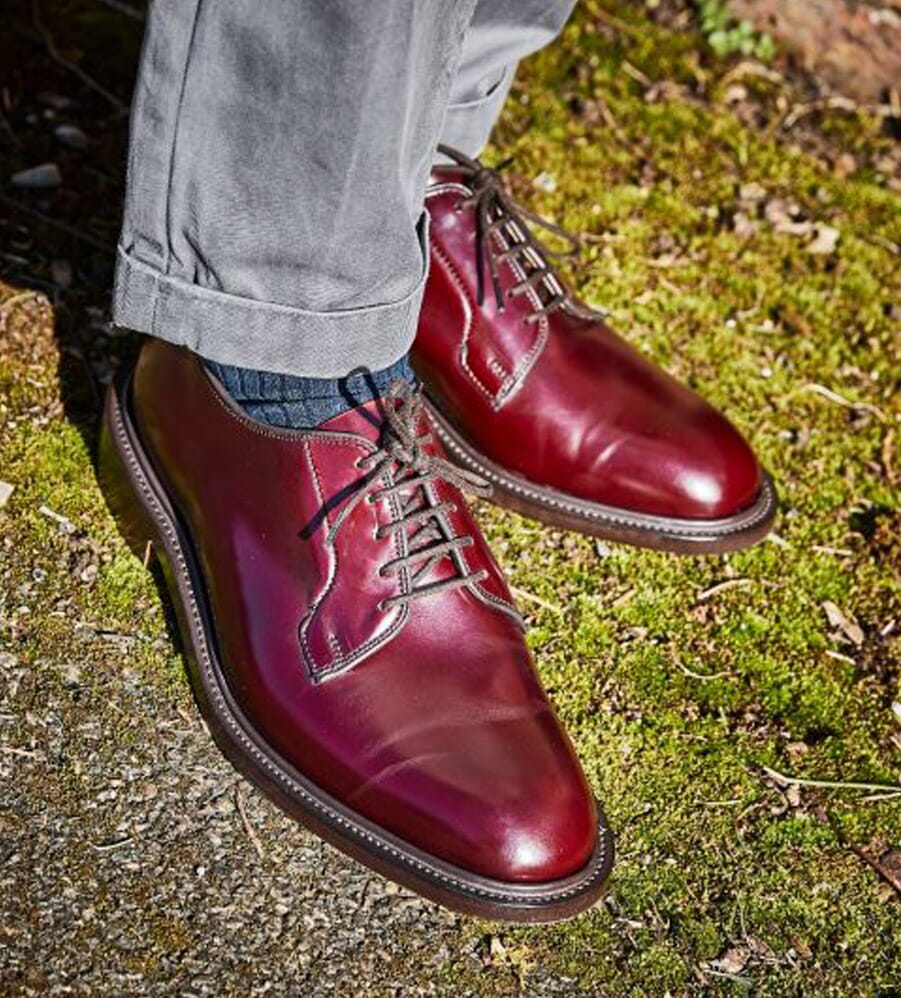 Tricker's Robert Plain Derby Shoe
Tricker's is England's oldest established shoemaker, so you can count on the top notch quality of its footwear. Its rich heritage informs its classic and timeless design, as encapsulated by the Robert Plain Derby. The shoe is crafted in Northampton from a corrected grain leather that's coated with a high-shine rub for a unique two-tone effect. Choose from a variety of soles, including leather, commando, Vibram and crepe.
Now, read our guide to another footwear classic: men's Chelsea boots.
---
---