Get yourself a proper pair of brown dress shoes and you'll never regret it. One of the essential staples of any capsule wardrobe (which let's face it, we're all trying to put together), men's brown dress shoes are essential for suiting but also play well with smart casual dress. You know what they say about being judged by your shoes. Get them right and you'll be doing everyone else a service. Be the gift to people's eyes.
There's a lot of choice out there when it comes to brown dress shoes. An Oxford or a Derby might be what immediately comes to mind, but don't underestimate a loafer. Be it penny or a tassel loafer. A brown dress shoe is the best friend of jeans, trousers and the suit. Here's how to wear them and the best ones to buy.
How to wear brown dress shoes
The good news is that men's brown dress shoes are relatively versatile. The term 'dress' suggests an innate level of formality, which is warranted, but a pair of calf leather brogues in brown for instance will not look out of place with a pair of jeans. With suiting, a pair of brown shoes works best with darker colour suits. Think navy, black and charcoal. Navy especially. The darker the brown the better in this case.
When it comes to styling a trouser or a jean, you can go lighter with your choice of brown dress shoe. A really dark brown loafer for instance wouldn't work as well with a pair of tan trousers as say one of the chocolate brown penny loafers on our list. Likewise, the really dark calf leather Oxfords that will compliment your navy suit are less complimentary to a pair of Japanese raw denim jeans. For darker shades of trouser choose a darker colour of shoe. For lighter meanwhile, work your way towards the lighter end.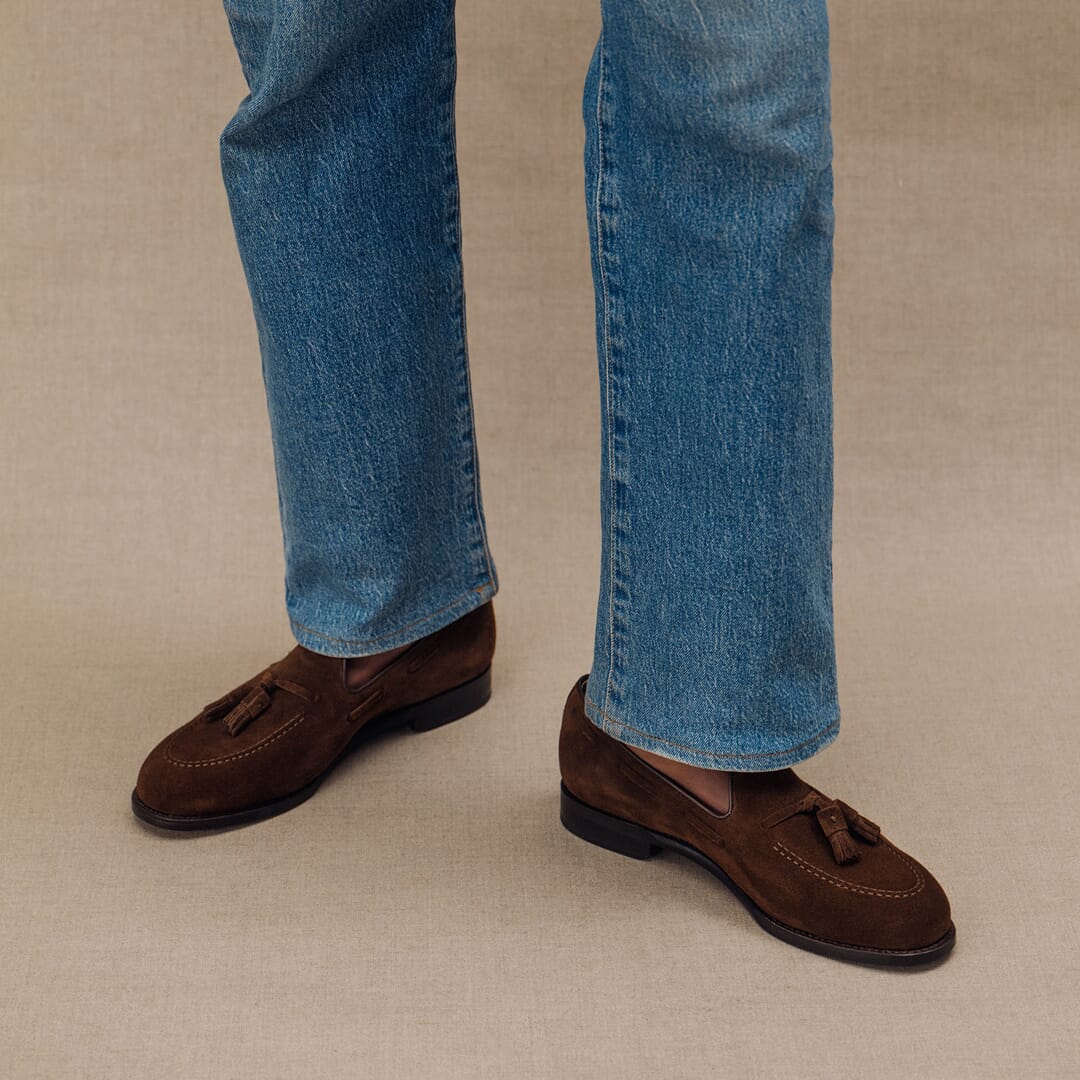 Styles are ultimately more interchangeable than you might think. Leather can always be dressed up and down, with the Belgian slipper style loafers on this list a serious move when worn with suits or trousers. Sophisticated either way. Suede in our opinion is more suited to the smart casual side of things so loafers and Oxford styles naturally lend themselves to denim and chinos.
Don't neglect the socks. They're a bridge between shoe and trouser and if not thought out properly, could lead to sartorial danger. Unless you're going out there to make a statement with a purposeful clash (be careful), we'd recommend a darker sock to smooth the lines between shoe and trouser cuff. Socks are especially important with loafers. Due to the break of the trouser there's likely to be more ankle on show. Choose wisely.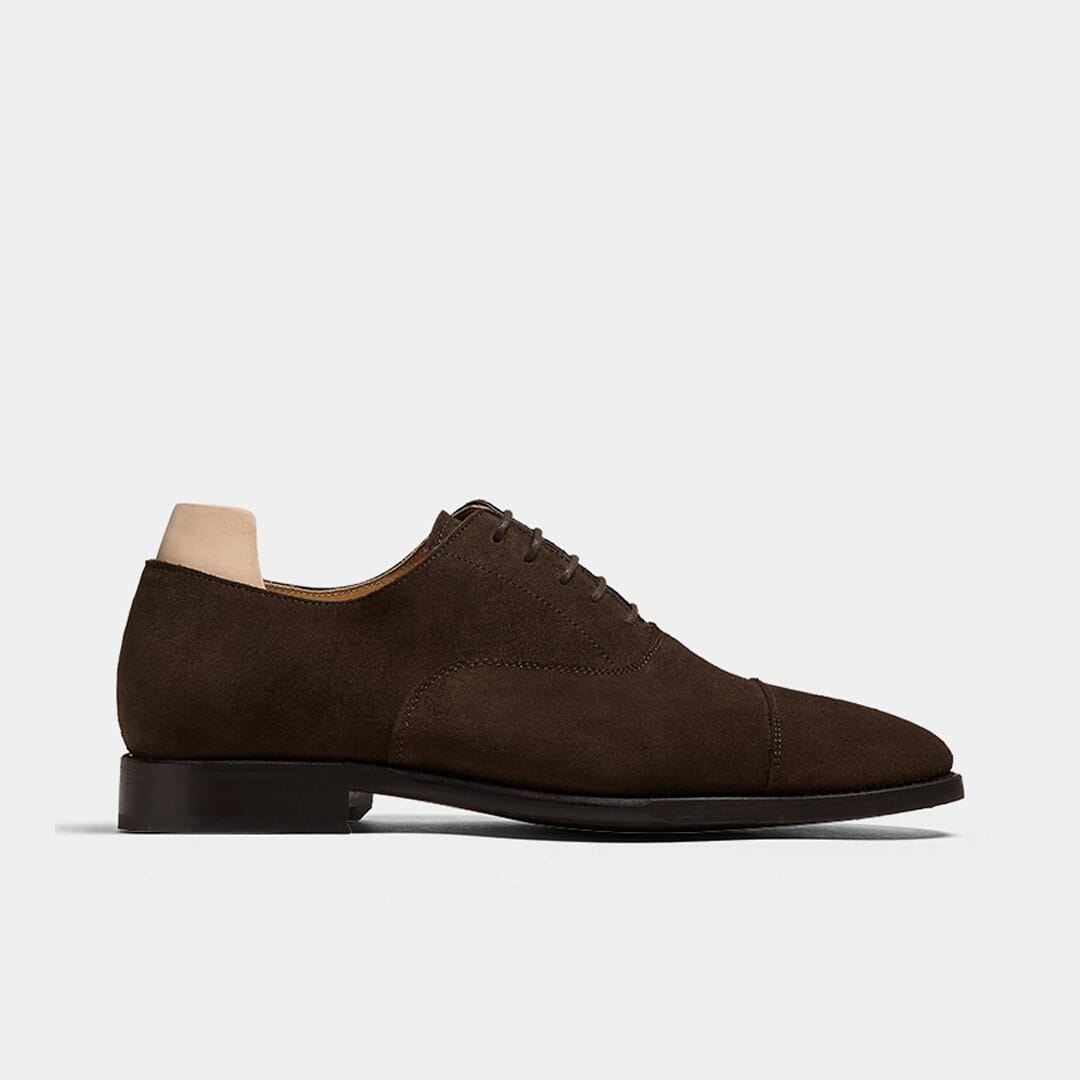 Best men's brown dress shoes to buy in 2023
Myrqvist Äppelviken Dark Brown Suede
Casual dark brown suede on a formal Oxford silhouette, the best of both smart and toned down casual worlds. Dress them up with a navy suit, dress them down with a chino or slack. Myrqvist's Äppelviken in dark brown suede pack a timeless and classic design with a thin half rubber soul and the all-important Goodyear welted construction. Handcrafted in Portugal, the upper is made from premium British suede courtesy of Charles F. Stead whilst leather board heel caps finish off a classy option.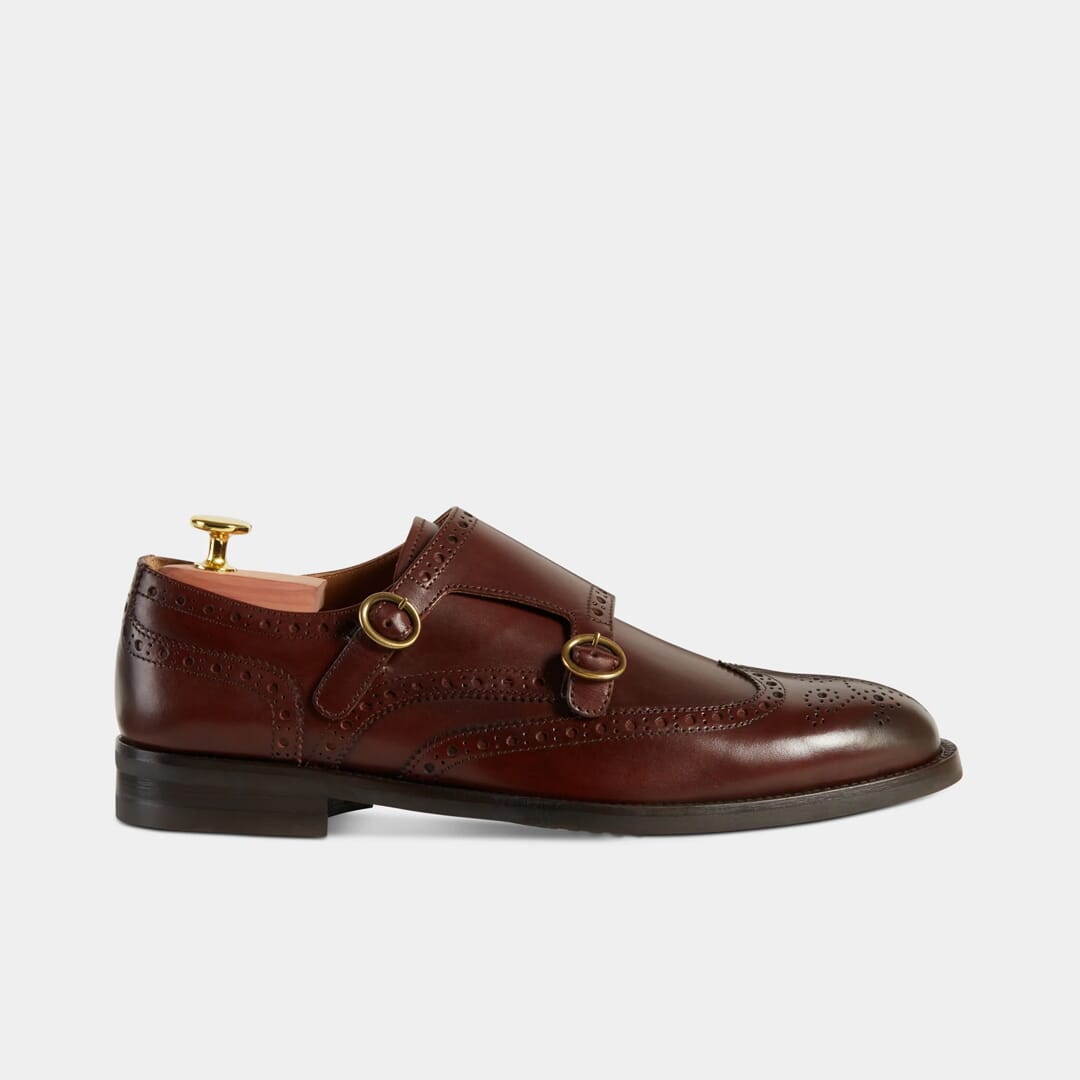 Velasca Moletta
Big chunky brogue monks. If you're after something robust for the end of a pleated trouser, this pair by Velasca could be just the ticket. The brand's Moletta double monkstrap model is made using smooth calf leather and a Vibram rubber sole, making it a great piece of footwear for AW transitional weather. The full brogue design makes for an eye-catching pair.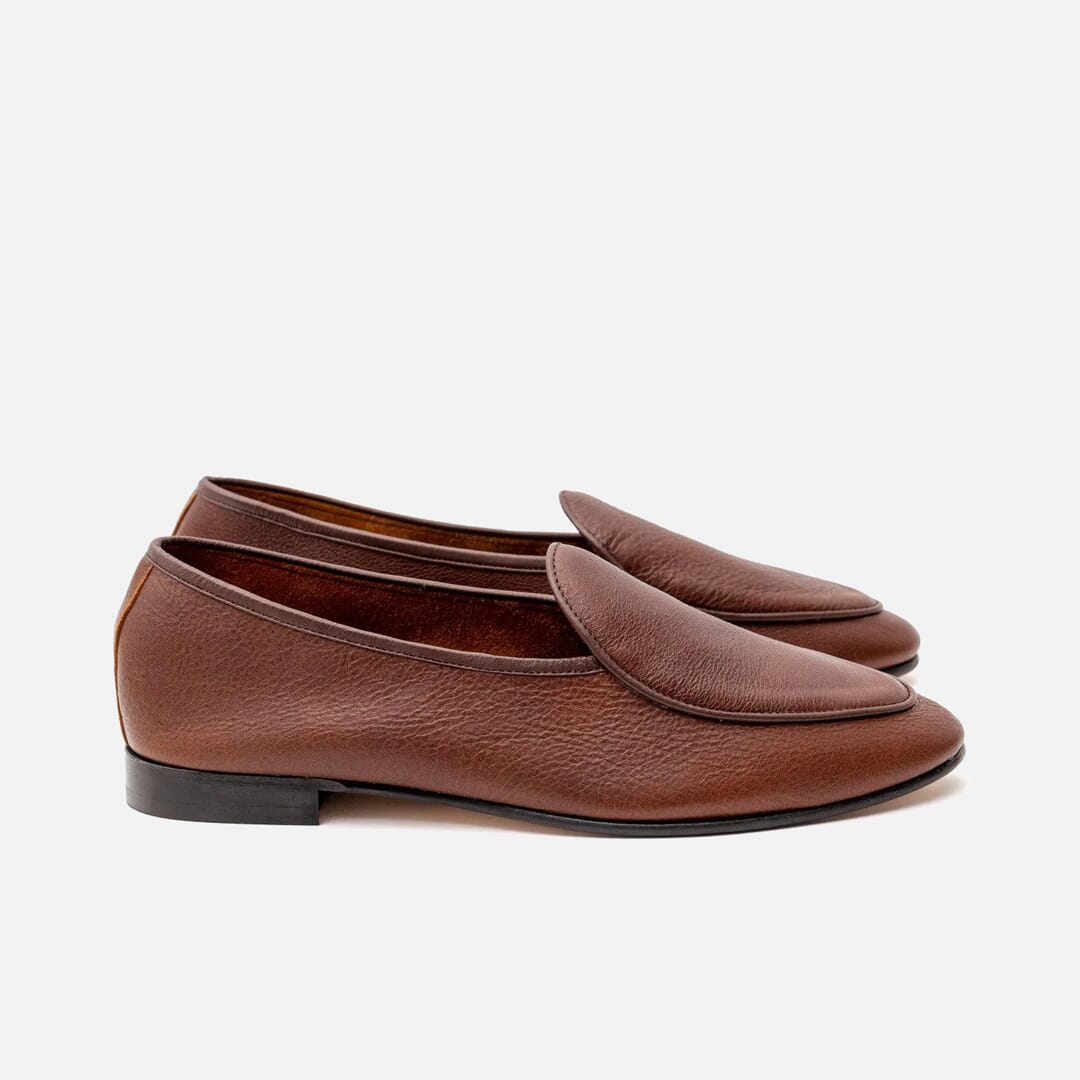 Crown Northampton Brockton Belgian Slipper
You can always trust in a heritage Northampton shoemaker for quality. Crown Northampton's Brockton Belgian slipper in caramel kudu leather is no different. Luxury in every stitch. A premium Kudu upper from CF Stead with a soft unlined finish. The apron front gives them that classic Belgian loafer silhouette whilst a slim leather sole with anti-slip panels makes for a practical day to day shoe. Traditional quarter tip feel finishing completes a handsome shoe. Wear them with flowing, loose-fitting tailoring and a camp collar shirt.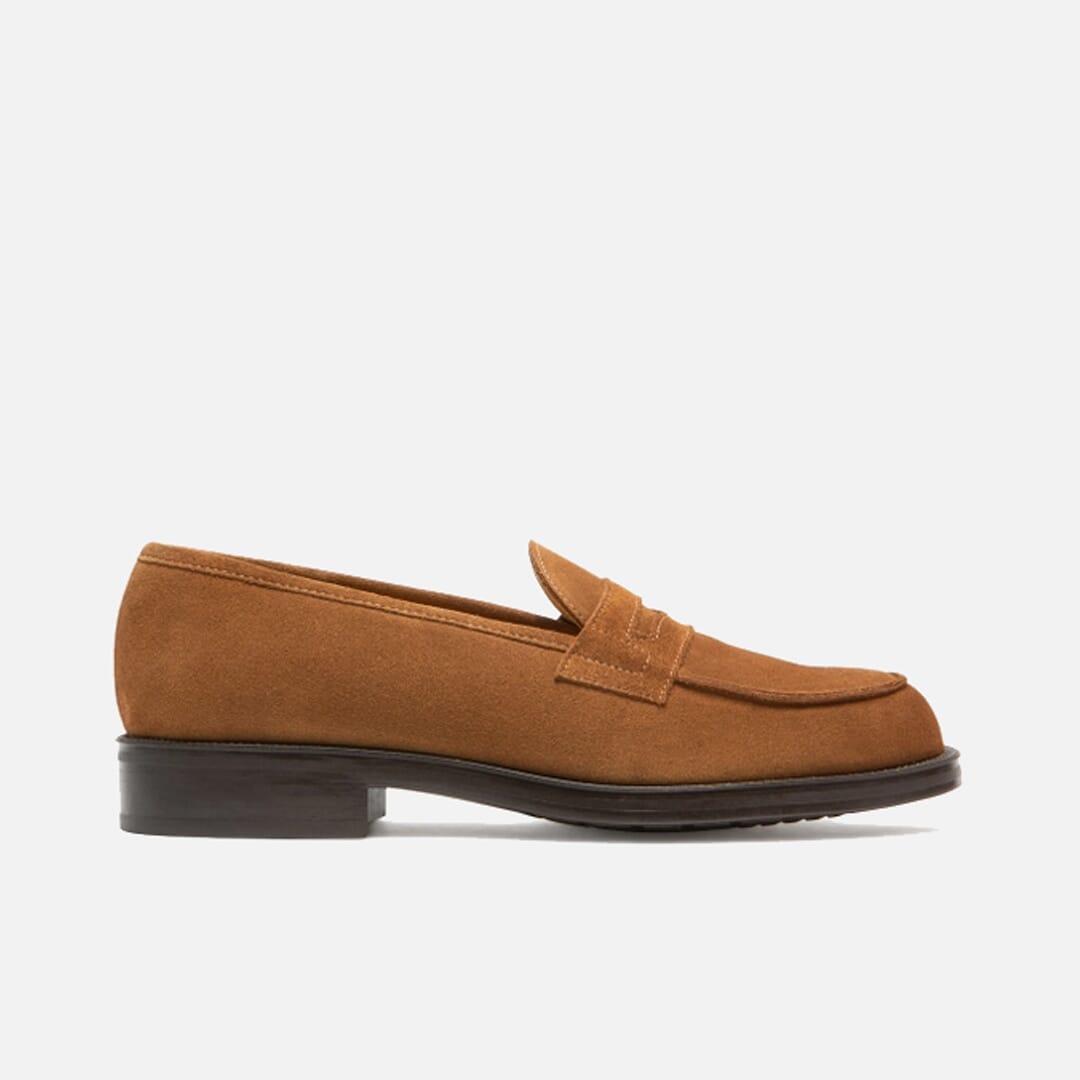 KLEMAN Dalior 2 V Loafers
KLEMAN has been around for a long time in France, 75 plus years in fact, so you can bet it's a brand that knows its way around a shoe. Production remains exclusively carried out in the brand's workshop in Anjou, France to this day. Raw and authentic, KLEMAN opts for a unisex style with silhouettes and workwear nods that've remained unchanged since the 80s. The Dalior 2 V loafers are a solid, all-weather chunky loafer that work well with jeans and a smart trouser.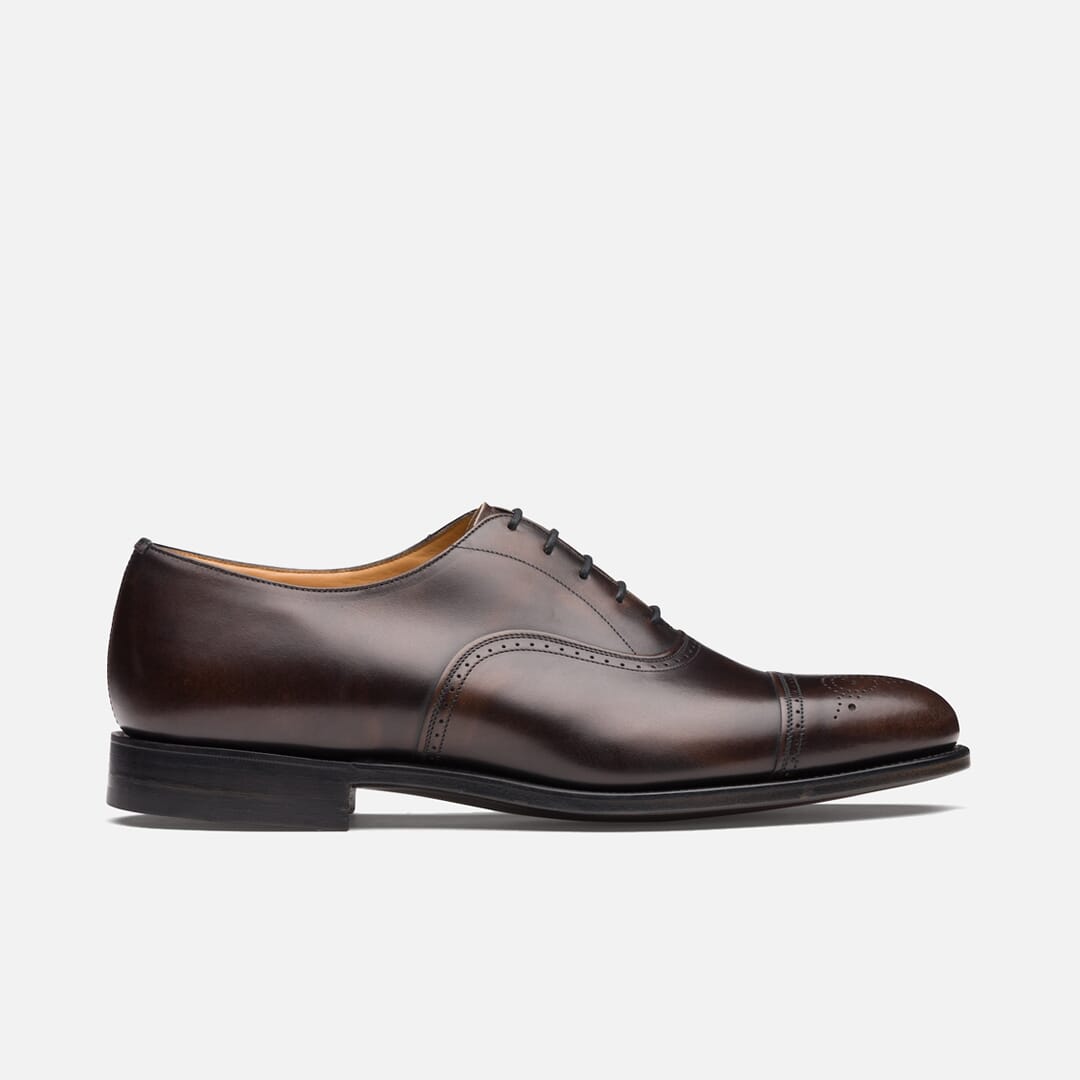 Church's Duke Royal Calf Leather Brogue
Feeling spendy? Church's has got you. Church's has always got you when you feel like splashing out on an especially indulgent pair of timeless shoes. The shoemaker's Duke royal calf leather brogue in ebony is a mighty fine shoe. A half brogue lace-up Oxford, made from calf leather with a natural finish, it's a dream match for suiting. With a London waist, leather sole with hand-painted detail on the bottom and internal lining for comfort and longevity, they're exactly what a luxury Goodwear welted shoe should be about. Make sure your suit matches up to them.
Looking for something on the more casual end of the spectrum? Check out our pick of the best men's leather trainers.
---
---