Elegance, in one seasonal essential. The contemporary men's roll neck jumper is a key part of your autumn/winter wardrobe. Or should be. Because these really are the most versatile pieces you'll be reaching for in the cooler months, whether you're headed out on a bracing walk, or down to the pub to hunker down around the fire. All that and the roll neck is smart enough to dress you up with a jacket to work, or even with a hoodie for that Silicon Valley look. We've pulled together our favourites, from chunky to slim fit, from Italian specialists, wry British newcomers and Swedish minimalists, as well as from the French Riviera. First, a few thoughts on how you'll be wearing your next roll neck jumper, then we'll take you on to our pick of the best men's roll neck jumpers right now.
How to style a roll-neck jumper
Versatility is front and central when it comes to your next roll neck jumper. Choose well - and we've a few ideas for you - and you'll find your roll neck dresses up and down with both occasion and mood.
On its own - or over a t-shirt base layer for added warmth - with your favourite worn jeans, a roll neck jumper is the go-to weekend piece. There's something about the quiet style of the roll neck, particularly when made from the finest merino, cashmere or pure wool yarns, that effortlessly dresses up the most casual of looks. Bonus: you'll feel cosy, too.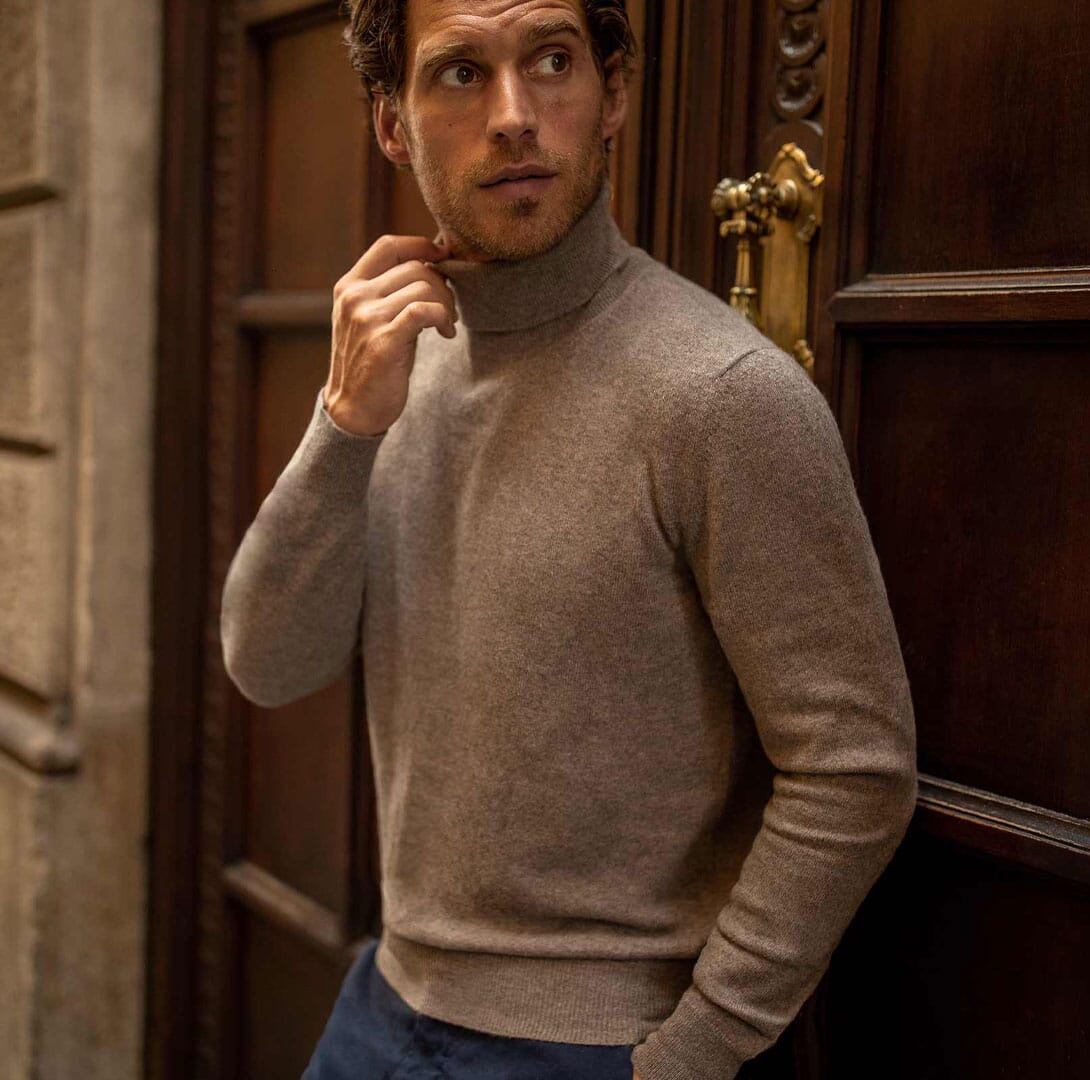 Fitted roll necks are ideal under a jacket either to the office, or to an evening engagement at that new upscale restaurant. Cashmere is the deluxe option under a lightweight hoodie, when your're going for that tech bro' look. Key is that roll necks are ideal for layering, and that the options are limited only by your imagination. Denim jacket over your roll neck, or topped by a classic bomber? Try it.
And of course, under your latest winter coat, your roll neck is the ideal companion for both high style and maximum warmth.
Choose one - or more roll neck jumpers - from our carefully chosen selection and these are pieces that will be your best seasonal friends for years to come. Rock 'n' roll? Don't mnind if we do.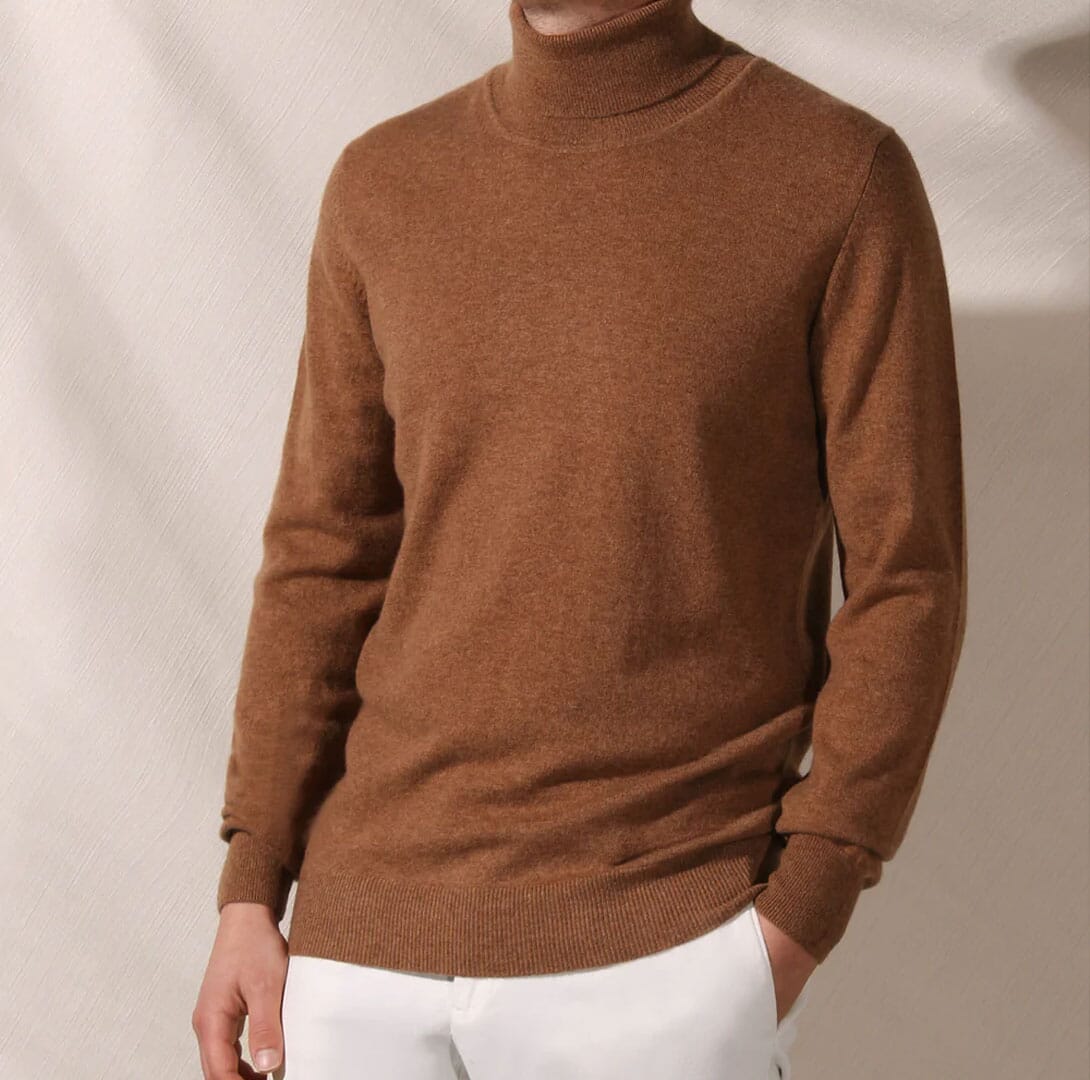 Best men's roll neck jumpers
Aurélien Pure Cashmere Caramel Rollneck
Luxury specialists Aurélien craft their deluxe men's roll neck jumpers in Italy, using only the very best pure cashmere. Result here is the effortless style that only a supersoft rollneck can offer, with added Mediterranean style. Think a cool evening on your motor yacht moored off the Italian Riviera coastline and you have the picture. Fit is slim, cuffs and trims are cuffed, making this a roll neck that's perfect on its own - or under a stylish tweed jacket.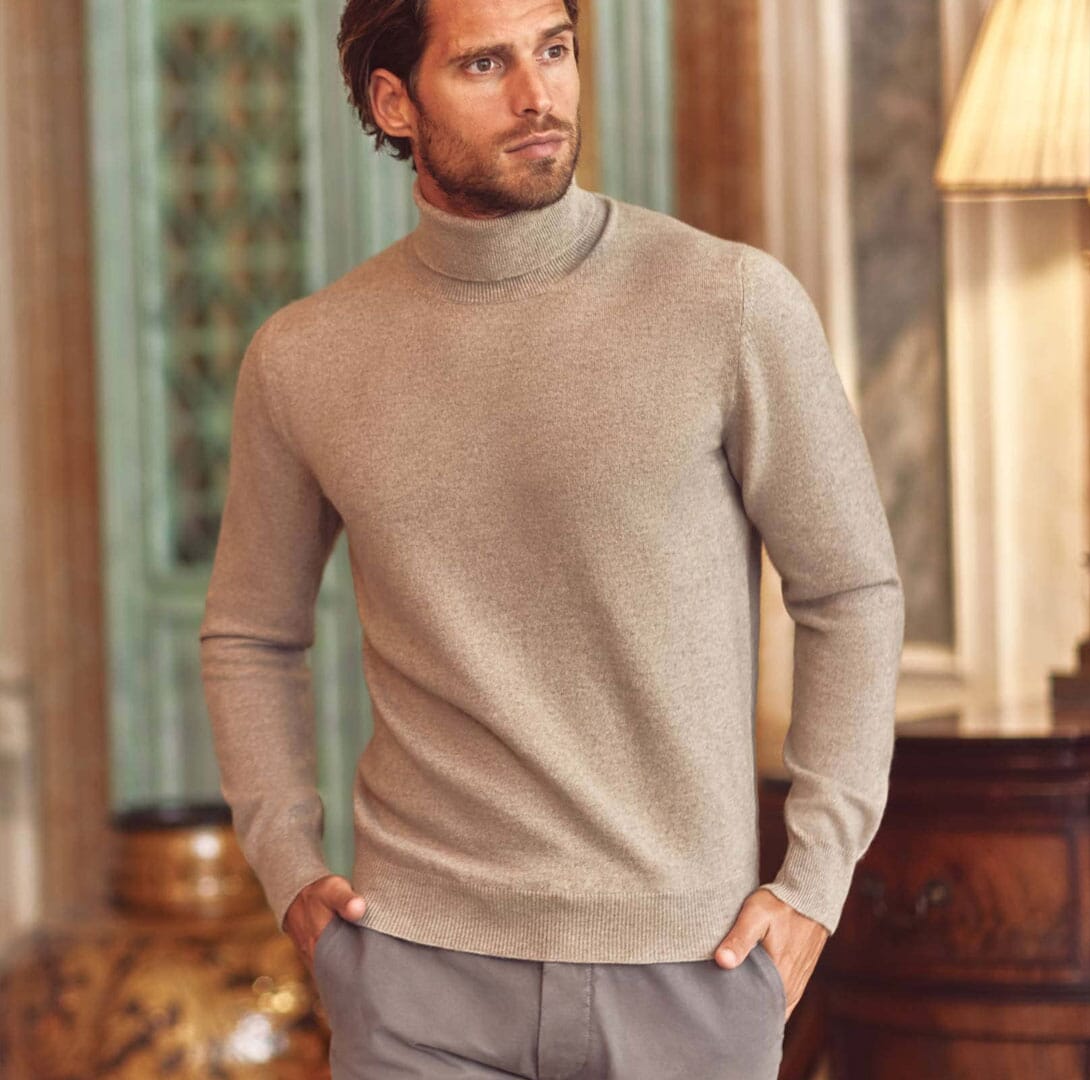 Luca Faloni Pure Cashmere Roll Neck
Pure Italian indulgence in the form of a roll neck jumper. Artisanal construction is in northern Italy, using 100% pure cashmere from Cariaggi Fine Yarns, who've been specialists in cashmere for 60 years. Bold colourway makes this a signature piece, easily set off with your corduroys and a blazer, or dressed down with casual jeans. Neckline is Luca Faloni's classic Dolcevita, look is fitted yet comfortable, cuffs and hem are cuffed.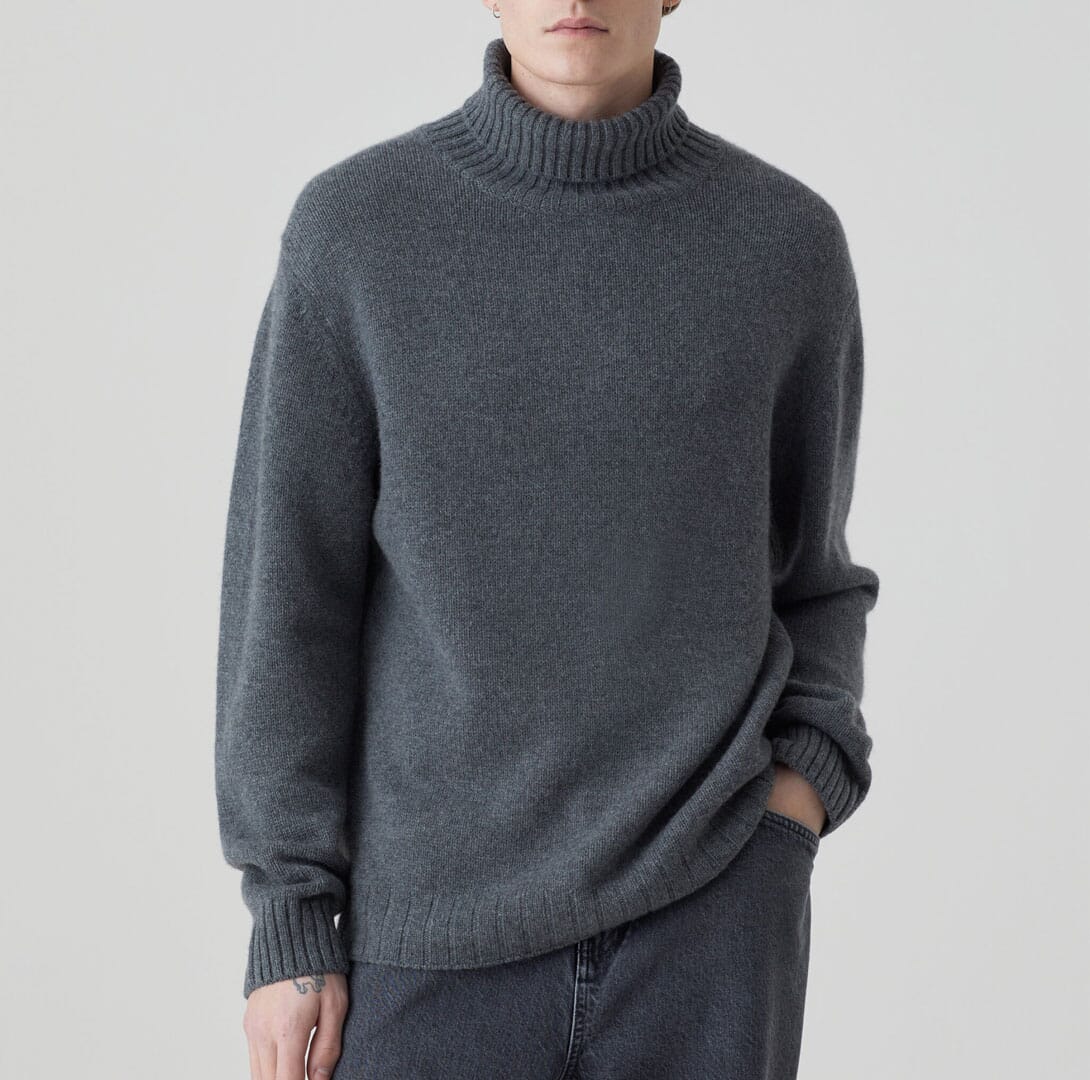 Closed Organic Cashmere Turtle Neck Sweater
Chunky luxury from the German family-owned casualwear experts at Closed makes this a men's turtle neck that's perfect both for long autumn walks and that Michelin-starred country gastropub, too. Pure organic cashmere - combed from mountain goats on certified sustainable farms in Asian highlands - is used, crafted by a specialist company in Beijing. Fit is regular with a deliberately casual cut and ribbing to cuffs and hem. Relaxed, refined, essential.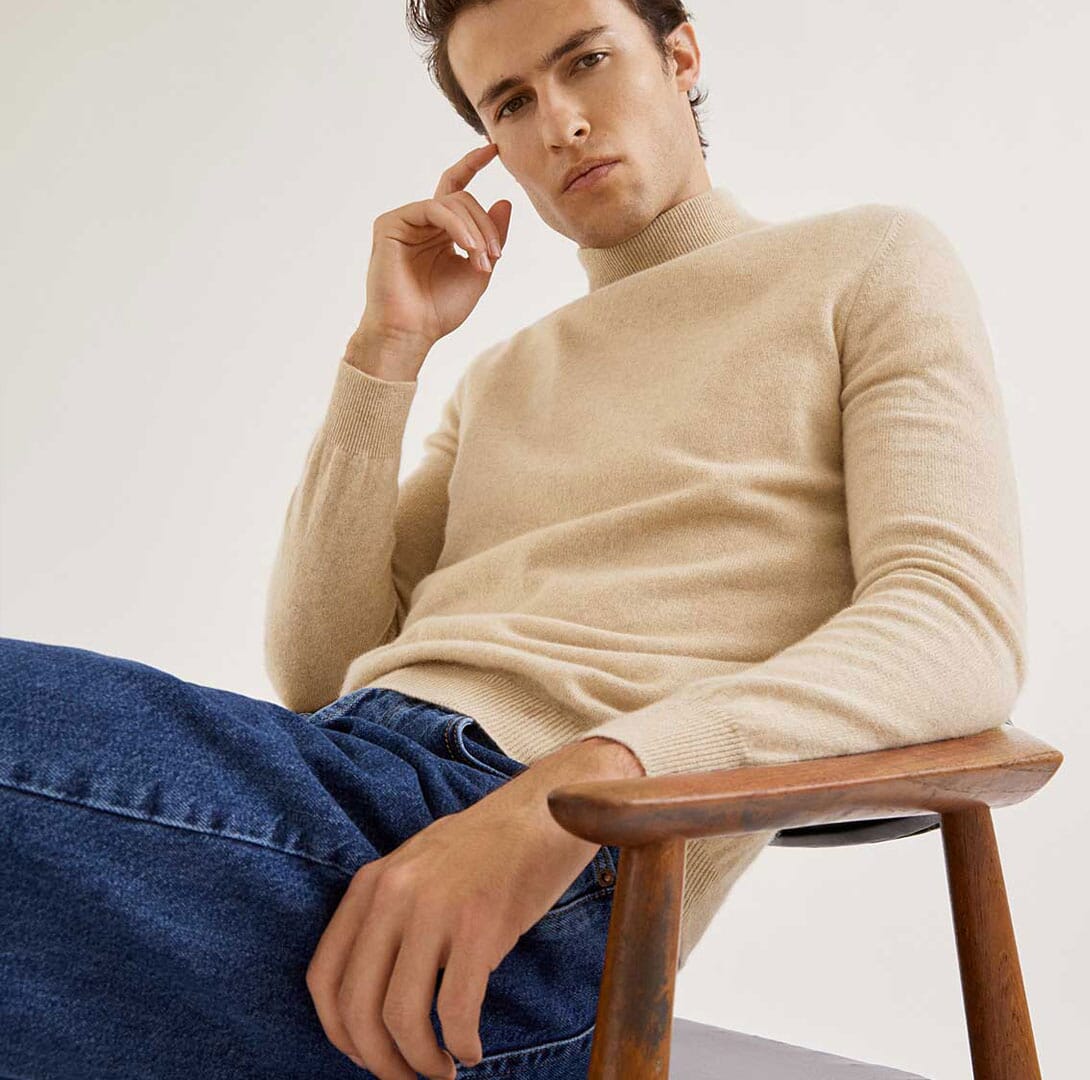 Artknit Studios The High-Neck
Upscale Italian elegance with a through and through environmental commitment. Artknit Studios make no compromise on either the deluxe quality of their High-Neck Cashmere roll neck or on local sourcing, zero waste and transparent manufacturing. Heritage too: they're based in the city of Biella, for centuries a centre of textiles. High neck here is linear, cuffs and collar are ribbed, fit is relaxed slim. Luxury that's designed to last season upon season.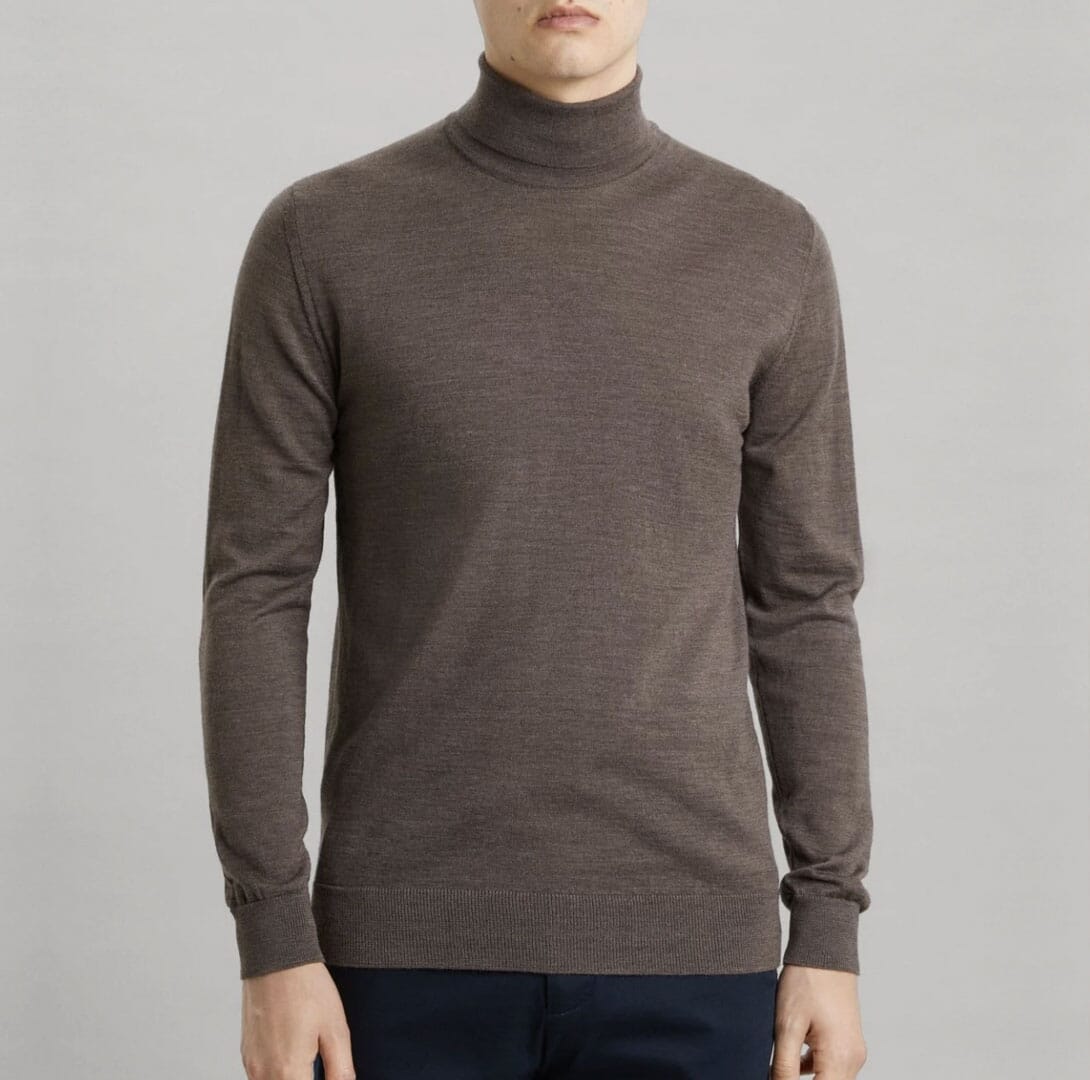 ASKET The Merino Roll Neck
Stockholm's ASKET want you to have fewer, better essentials in your daily wardrobe, all part of their stated aim of the "pursuit of less". ASKET's Merino Roll Neck is a brilliant case in point. Construction is from 100% traceable extra-fine merino wool, chosen to both insulate from the cold and also to be breathable when you need it. Perfect on its own with jeans or chinos and as a base layer under your choice of jacket or even a hoodie, for the full tech bro' look.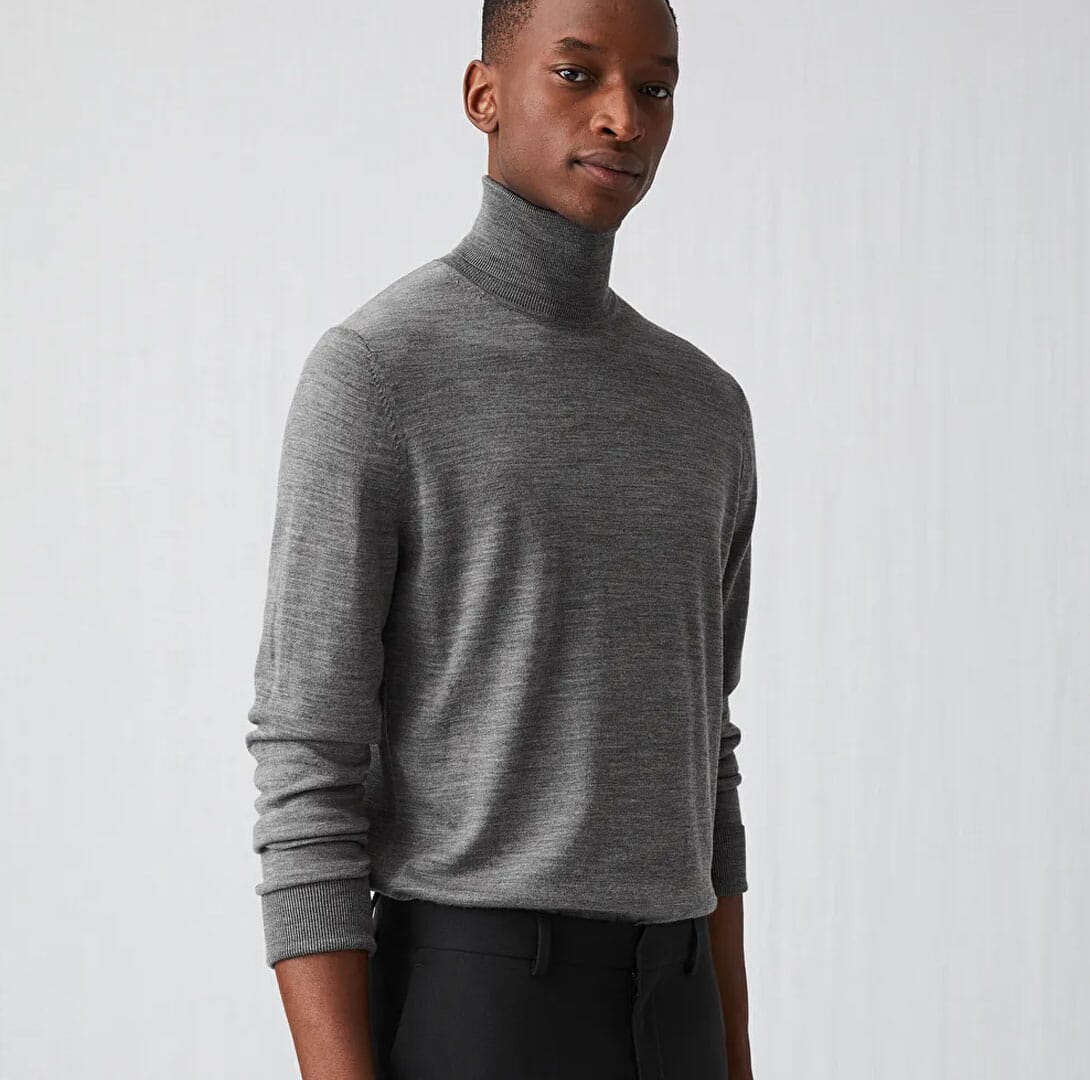 Arket Merino Roll-Neck Jumper
Cosy, neutral, ethically-made essential for the cooler months. Constructed using a blend of merino and pure wool, responsibly sourced, that's perfect for autumn and winter. The addition of Polyamide - 20% - ensures Arket's Merino Roll-Neck Jumper is both lightweight and durable. Fit is regular, with ribbed roll neck and added ribbing to cuffs and hem. Manufacture and all sourcing is totally transparent, which is front and central to the mission of these Swedish idealists.
Discover our pick of the best men's knitwear.
---
---