They tell you a lot of things about style. One moment they will tell you something is in whilst another moment they will tell you something is firmly out. Fashions change and certain garments and pieces of clothing come and go. A lot of people will speak ill of men's patent leather shoes but it's highly likely those very same people simply don't understand the style. The point of a leather patent shoe is to be brave and make a statement.
Patent leather, for the uninitiated, is leather with an additional layer of plastic or acrylic on top for a high sheen finish. Shine and buff this material and it'll be mirror like. A black mirror, sort of. Anyway, it's shiny for a reason. It's meant to be make a statement. Rocking a pair can be a risk but when done correctly, it's an art form. Here's a few tips on how to wear them and the best men's patent leather shoes to pick.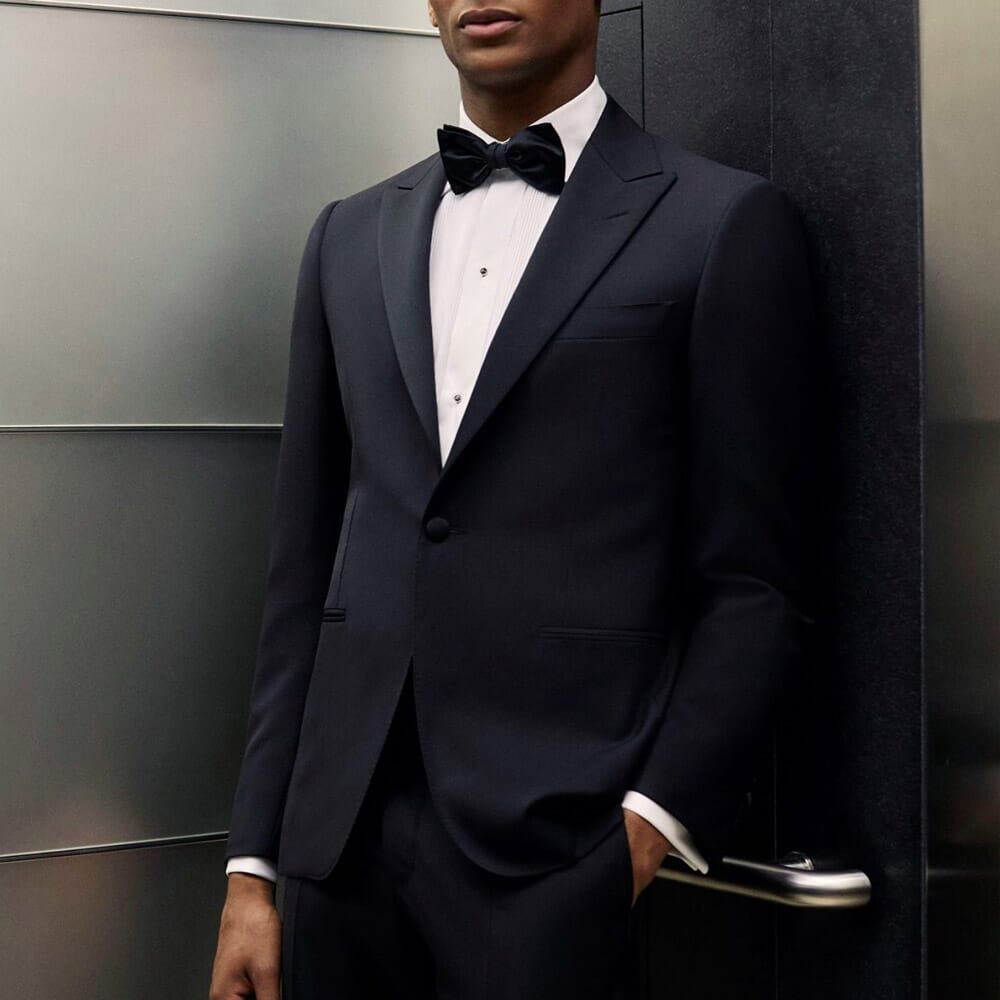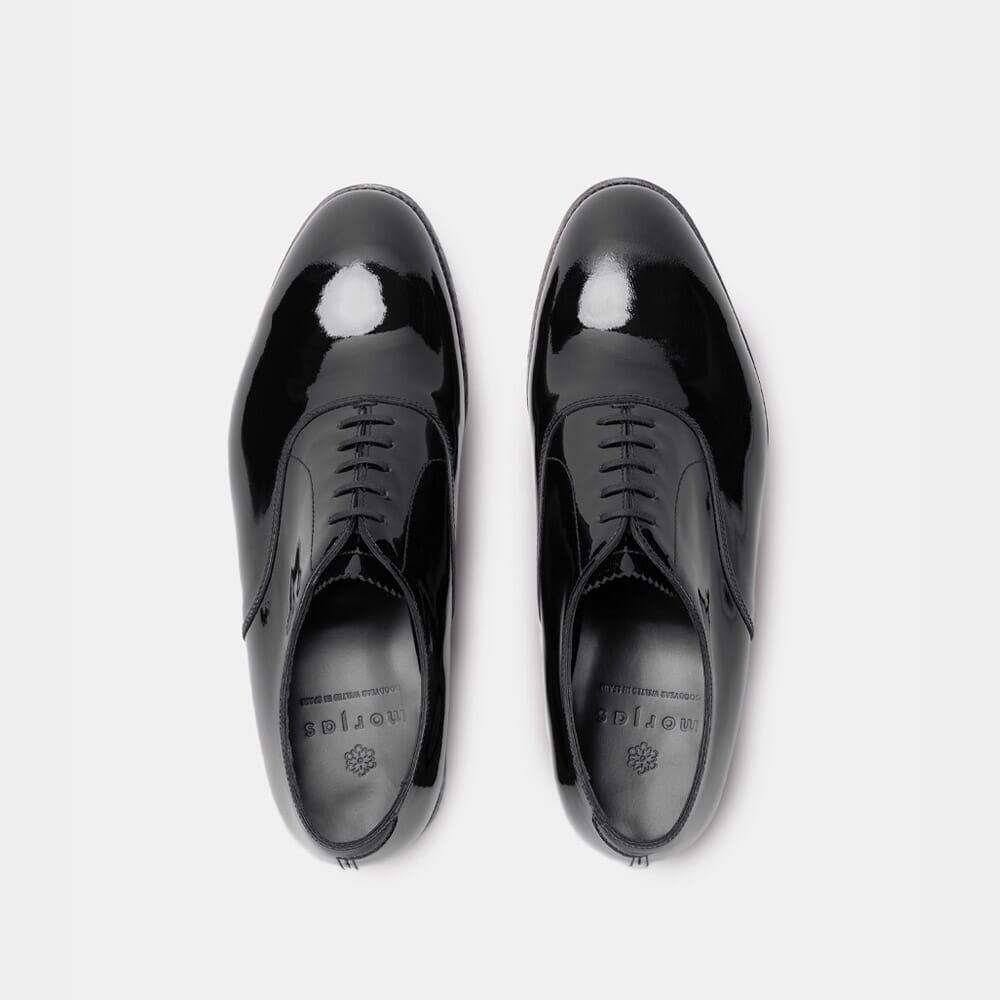 How to style men's patent leather shoes
What's really important to state here is we are by no means telling you to wear patent leather shoes with jeans. It's categorically not what this is about. Perhaps that's been the patent leather problem over recent years. People weren't wearing them in the most positive way.
First and foremost the leather patent shoe in black (notice all of the shoes in this list are black) is a shoe made for a tuxedo. Heightened tailoring. Elite tailoring. Anyone can wear a suit to a wedding, a tux is true occasion wear. It's one step beyond and as such it requires a special shoe. Some will go with a black velvet loafer. Others will opt for a black patent Oxford shoe or loafer. Never a brogue. Too much detailing going on.
The power is in the sheen of the leather but also the simplicity of the shoe itself. A toe cap is the maximum amount of detail you want for a tuxedo pairing shoe.
Black patent leather also means business. Evening jackets and boardroom tailoring. Any situation where you're trying to make a statement whilst sticking to tailoring proportions and colour rules. Navy and black tailoring for a patent leather shoe, it's too shiny for charcoal. Black patent leather comes with its own risks but worn correctly it shows a level of character and sartorial bravery that's often lacking these days.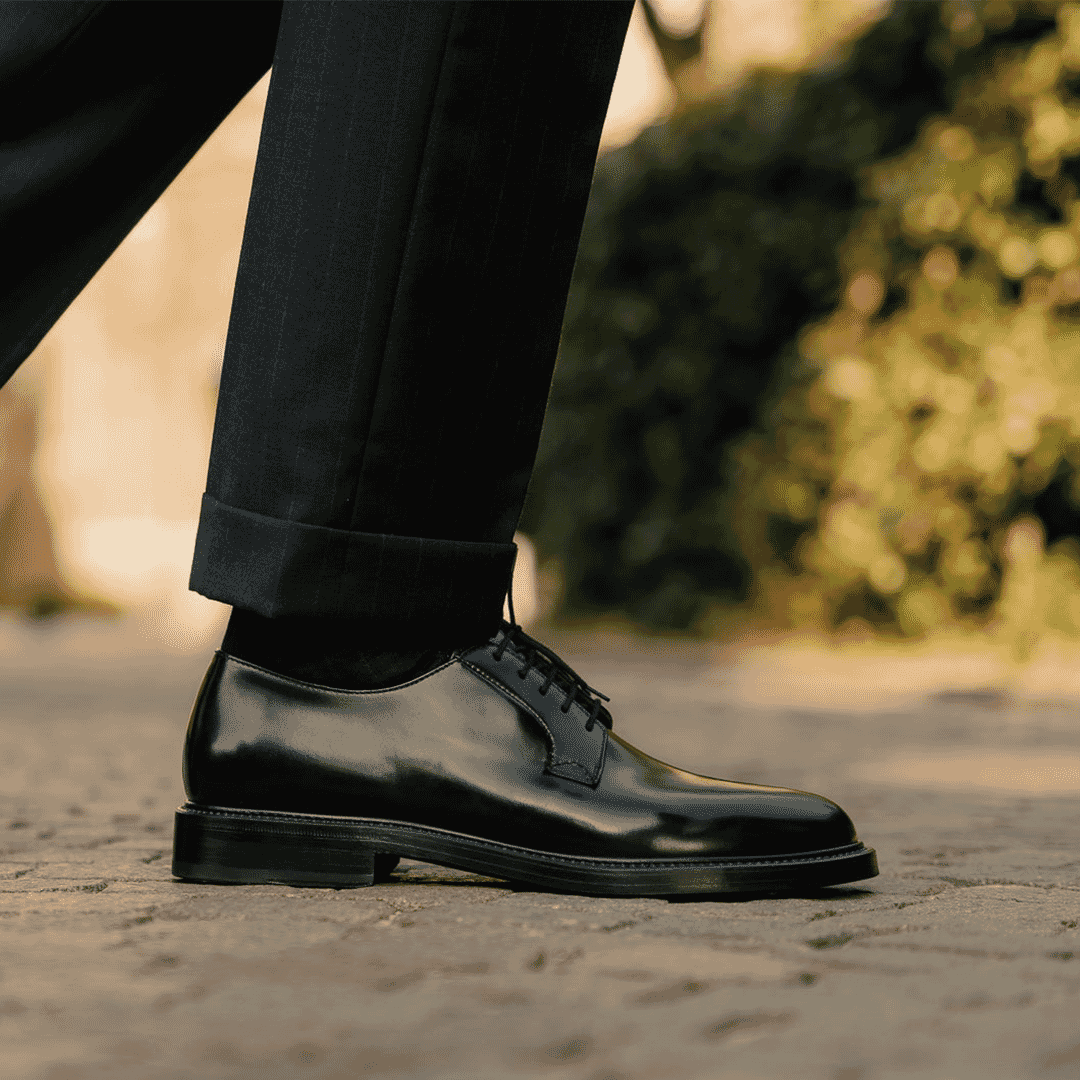 Best men's patent leather shoes in 2023
Velasca Cumenda Shoes
Italian footwear label Velasca presents their elevated version of the classic Derby shoe. The Cumenda draws on traditional British style, fusing a brushed full-grain calfskin leather upper with a three-story leather sole for a look that's unfussy yet elegant. This style is perfect for teaming with formalwear, but will work just as well in the office or with smart-casual attire.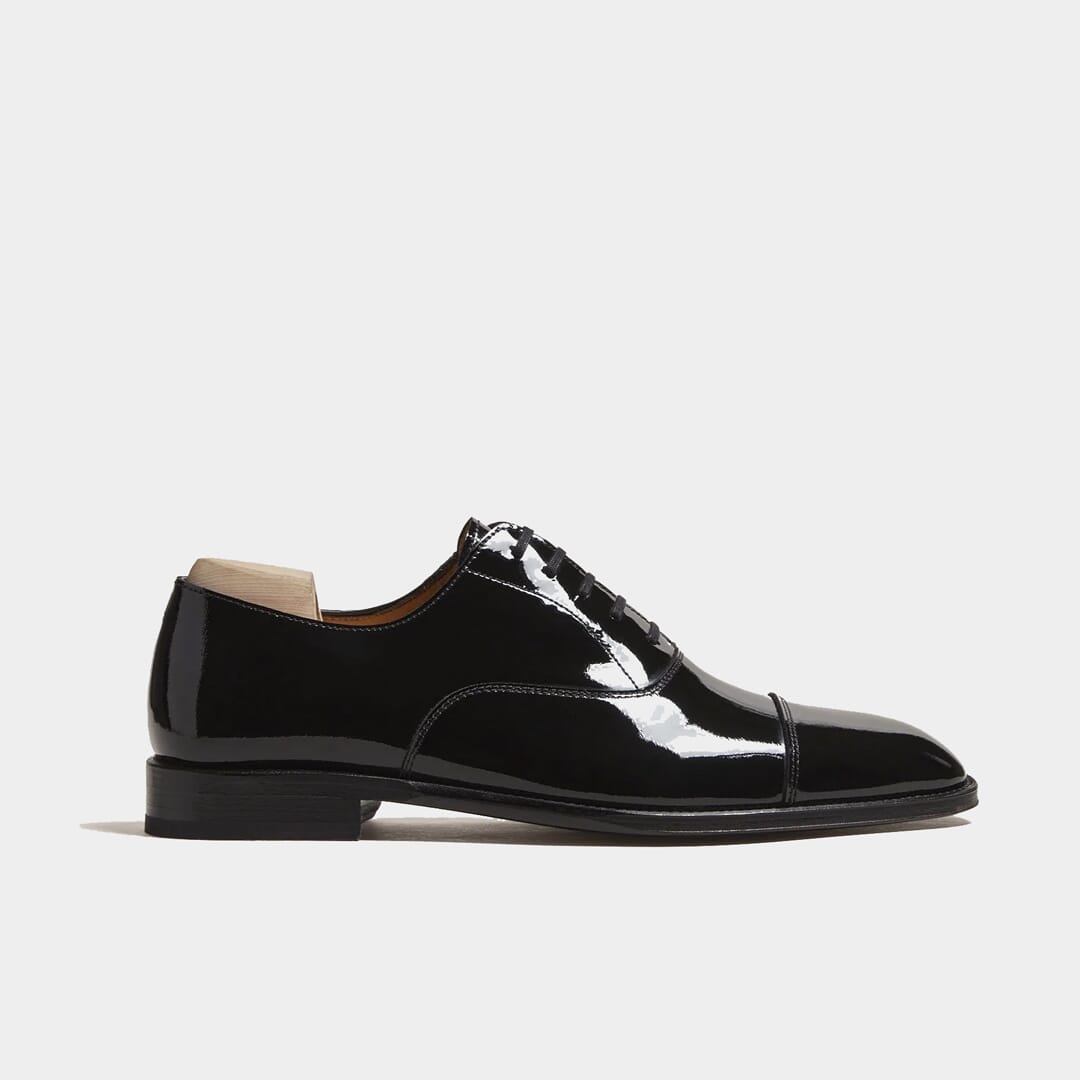 Myrqvist Vinterviken Black Patent Leather
If you're looking for a classic plain cap toe Oxford with added shine and pizazz, Myrqvist have the shoe for you in the form of their Vinterviken in black patent leather. Handcrafted in Portugal using premium calf in black patent, the shoe has a leather board heel stiffener and cork filling. Friend to the tuxedo and smoking jacket.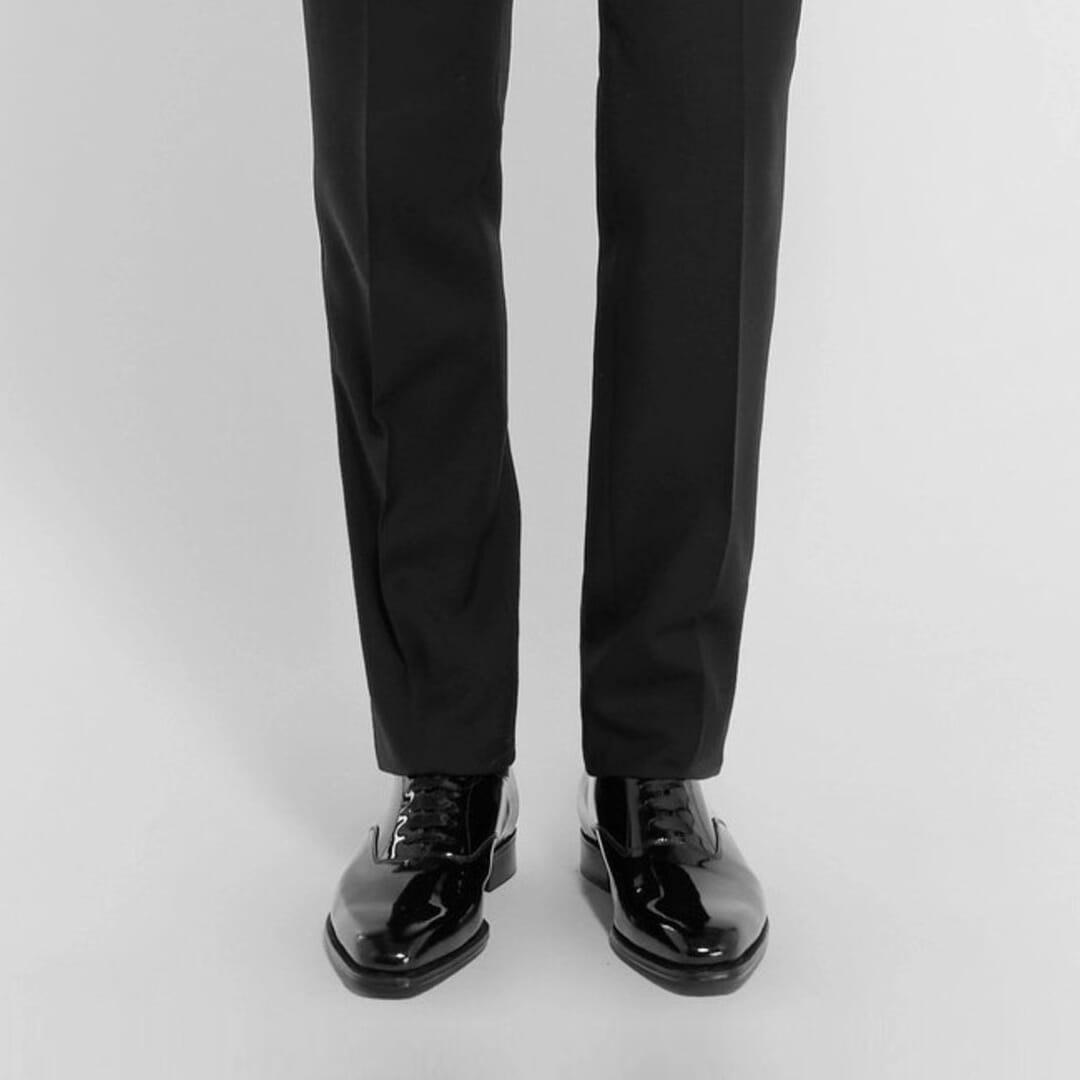 Kingsman + George Cleverley Patent-Leather Oxford Shoes
We're moving into notably upmarket territory now. These refined Kingsman patent leather shoes by George Cleverley are serious formalwear. One of Britain's leading heritage shoemakers, everything George Cleverley produces is bench-made in England. This pair boasts the finest patent leather as well as ribbon laces. Unequivocally tuxedo footwear. Part of the long-standing Kingsman brand collaboration, if you've got the cash there's a matching tuxedo, bow tie and shirt.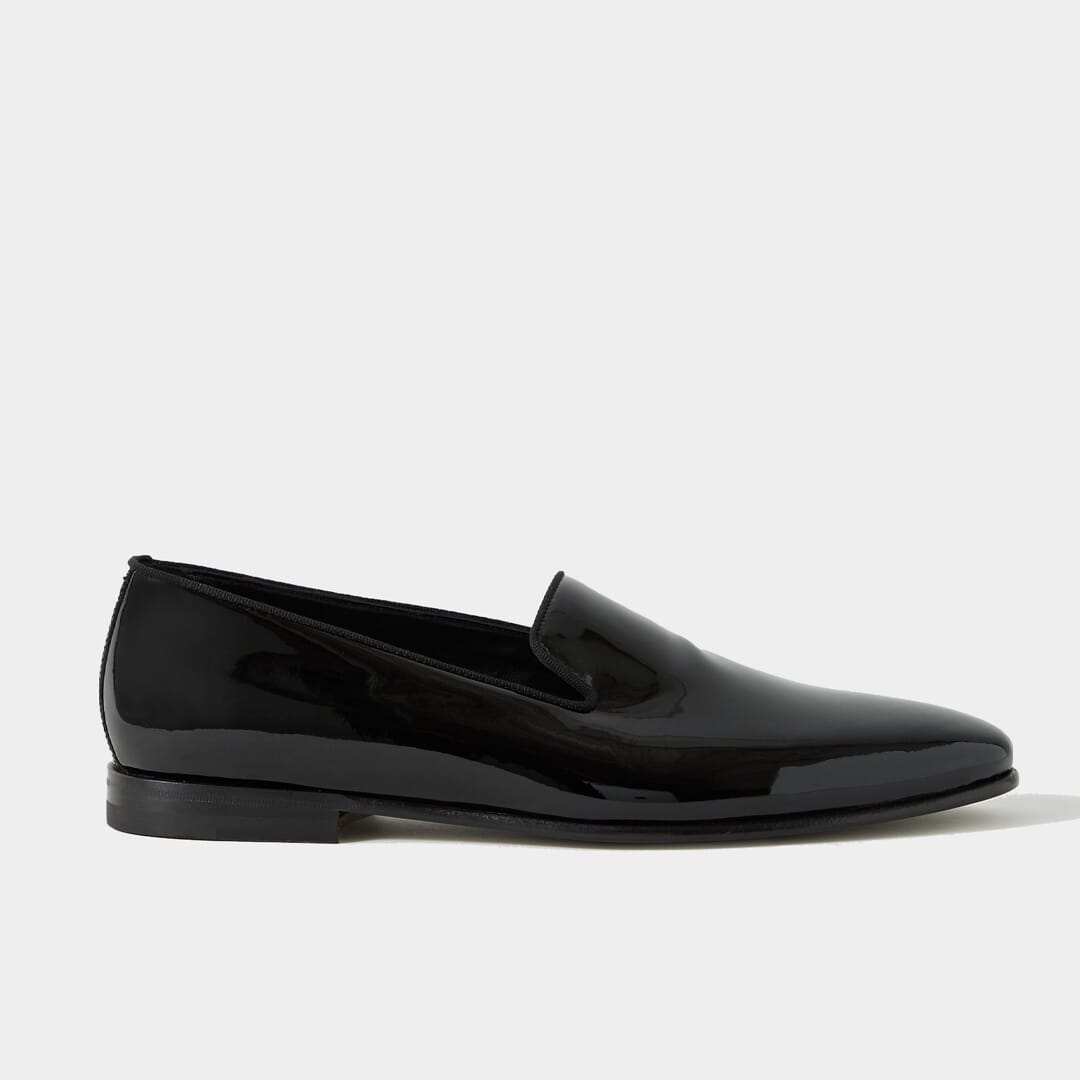 Manolo Blahnik Mario Grosgrain-Trimmed Patent-Leather Loafers
Manolo changed the footwear game in the '70s and his designs have proven timeless ever since. When it comes to Manolo Blahnik it's all about elegance. This pair of Mario Grosgrain-Trimmed Patent-Leather Loafers is no different. With a sleek, low silhouette and leather lining for extra comfort they'll look great with relaxed tailoring but also cuffed chinos and wider trousers worn above the hip, statement shirt tucked in.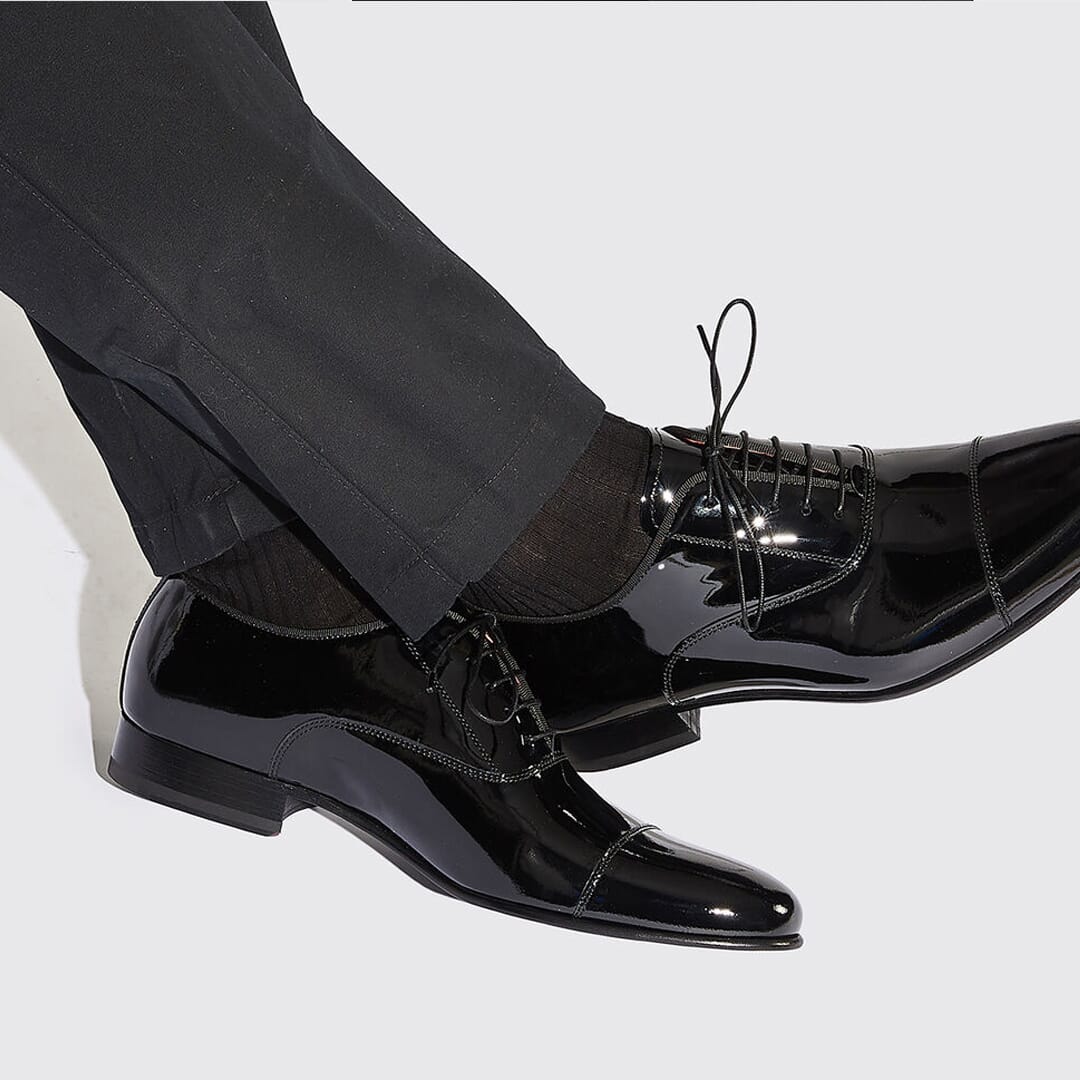 Scarosso Rodrigo Oxfords
Scarosso's black patent Rodrigo Oxfords are the business. Made in Italy with premium materials and sporting a cap toe for a bit of extra oomph, whilst toning things down a bit, the shoes have a black calfskin lining. The leather sole is a classy sole and further confirms the shoe's formal intentions. The red gentleman's corner is a classy touch too.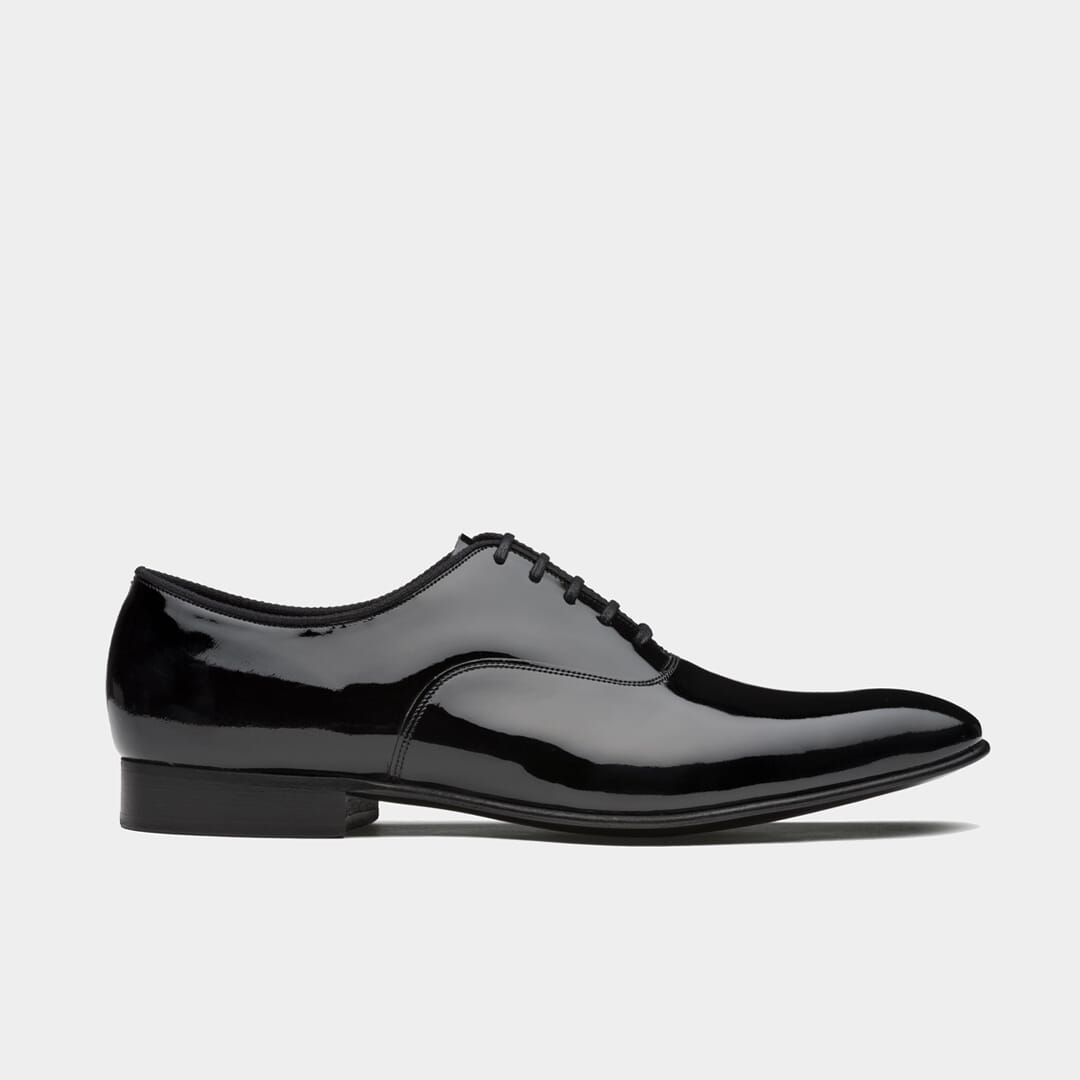 Church's Whaley Patent Leather Oxford Black
Serious footwear via Northamptonshire shoe royalty Church's. The Whaley in patent black leather is built upon the classic 154 last giving the shoe a great shape and with the toe not overly long or pointy, subtly squared. Definitely a statement pair. The Whaley is a shoe that has been designed to be paired with a traditional tuxedo. Measured and stylish, a sloped toe box creates a modern silhouette whilst a black silk quilted lining ensures they fit like a glove.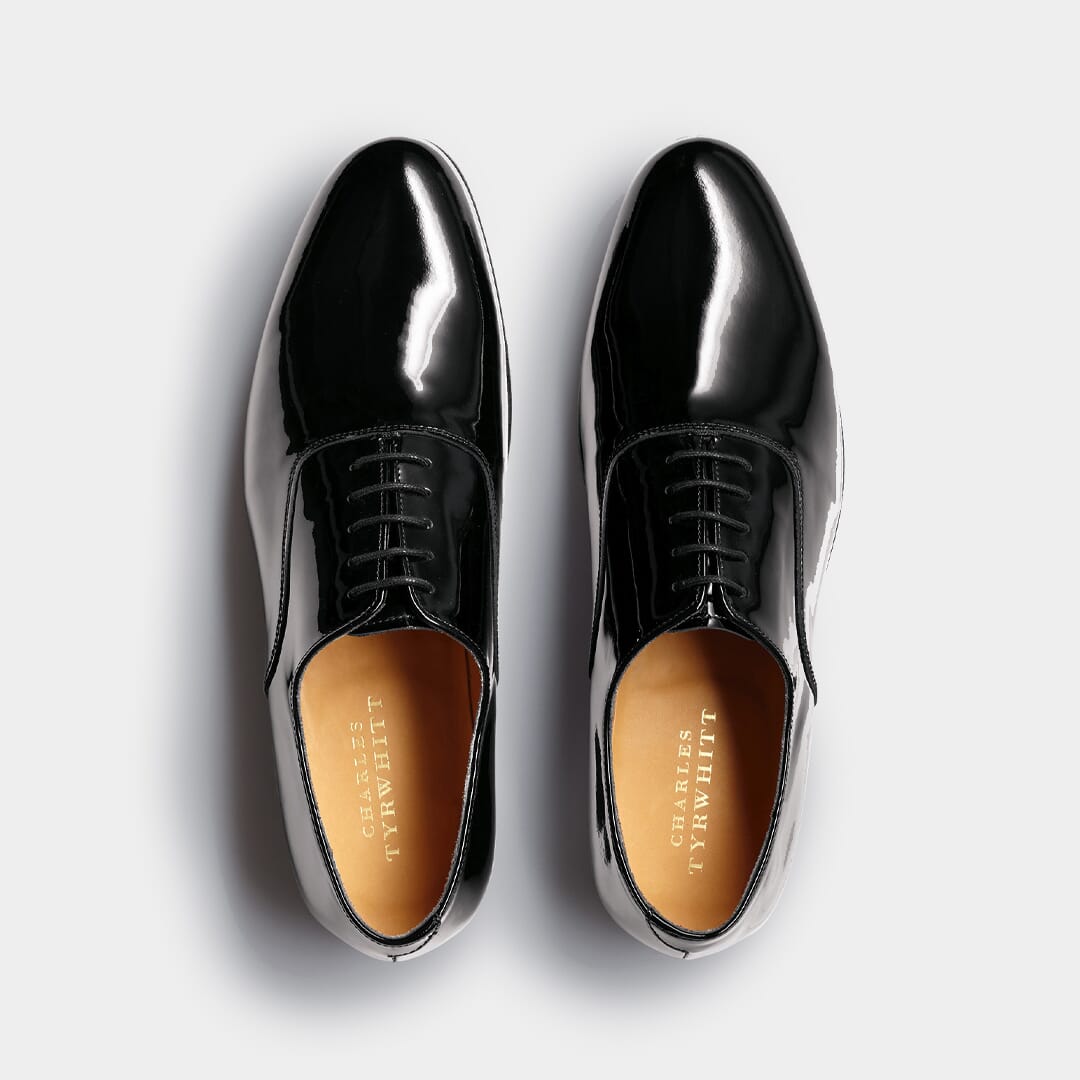 Charles Tyrwhitt Patent Oxford Shoes - Black
If you're looking for smart or formal and you don't want to break the bank, Charles Tyrwhitt is always an option in this regard. Their take on a patent leather Oxford comes with a leather upper, leather lining with full leather insock and leather sole with moulded heel tip. Keep that high shine shiny and pair with a tux, dinner jacket or black tie combination.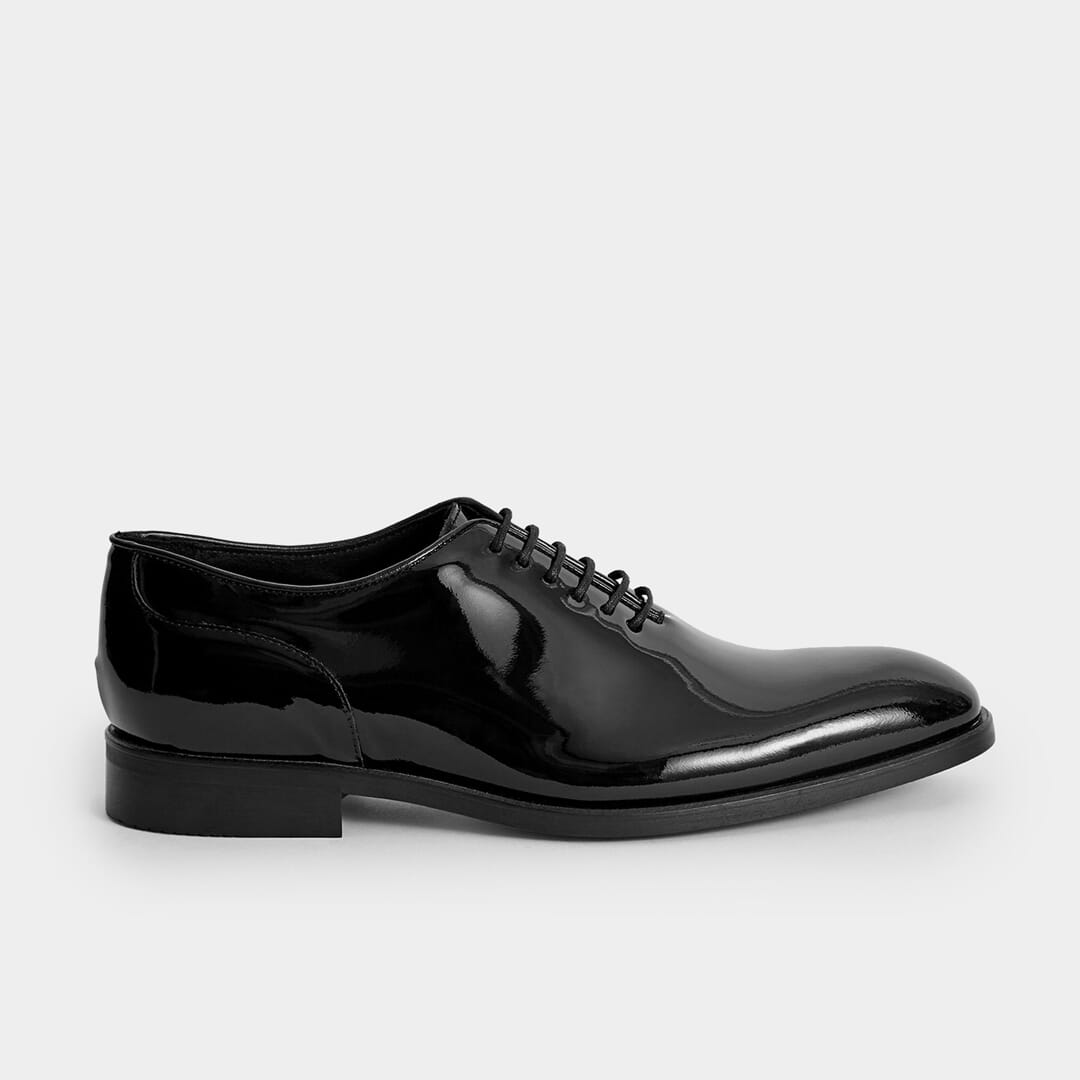 Reiss Bay Patent Leather Whole Cut Shoes
There is something notably elegant about the Reiss Bay patent leather whole cut shoes. An elegance that would of course look good with a tux, as all of the above shoes do, but also with your best boardroom suit, which all of the above shoes do not. Premium leather inside and out ups them in the style stakes, and ensures comfort, whilst a made in Italy stamp ensures quality. Wear them with a navy or black suit and a black tie.
For something more casual, discover our pick of the best minimalist trainers for men.
---
---