If you don't have a pair of pleated trousers in your wardrobe, you're honestly missing out. According to menswear mythology, a great Danish tailor named Lars Larsen was the first person to perfect the men's pleated trouser back in the 19th century. Since then, the straight-line piece has become something of a sartorial staple, coming in various shades and shapes that have been meticulously crafted and developed over the years.
While pleated trousers can be a little daunting at first, especially if you've never worn a pair before, we can honestly tell you that they're not as scary as they seem. In fact, they might just end up being one of the most versatile pieces that you'll ever own. Feeling formal? Pair them with a suit jacket and a freshly-ironed shirt. Want something more casual? Throw on a crisp tee and layer it with a thick heavyweight hoodie. They will literally work with anything, so scroll down to check out our pick of the best pleated trousers for men, as well as how to style 'em!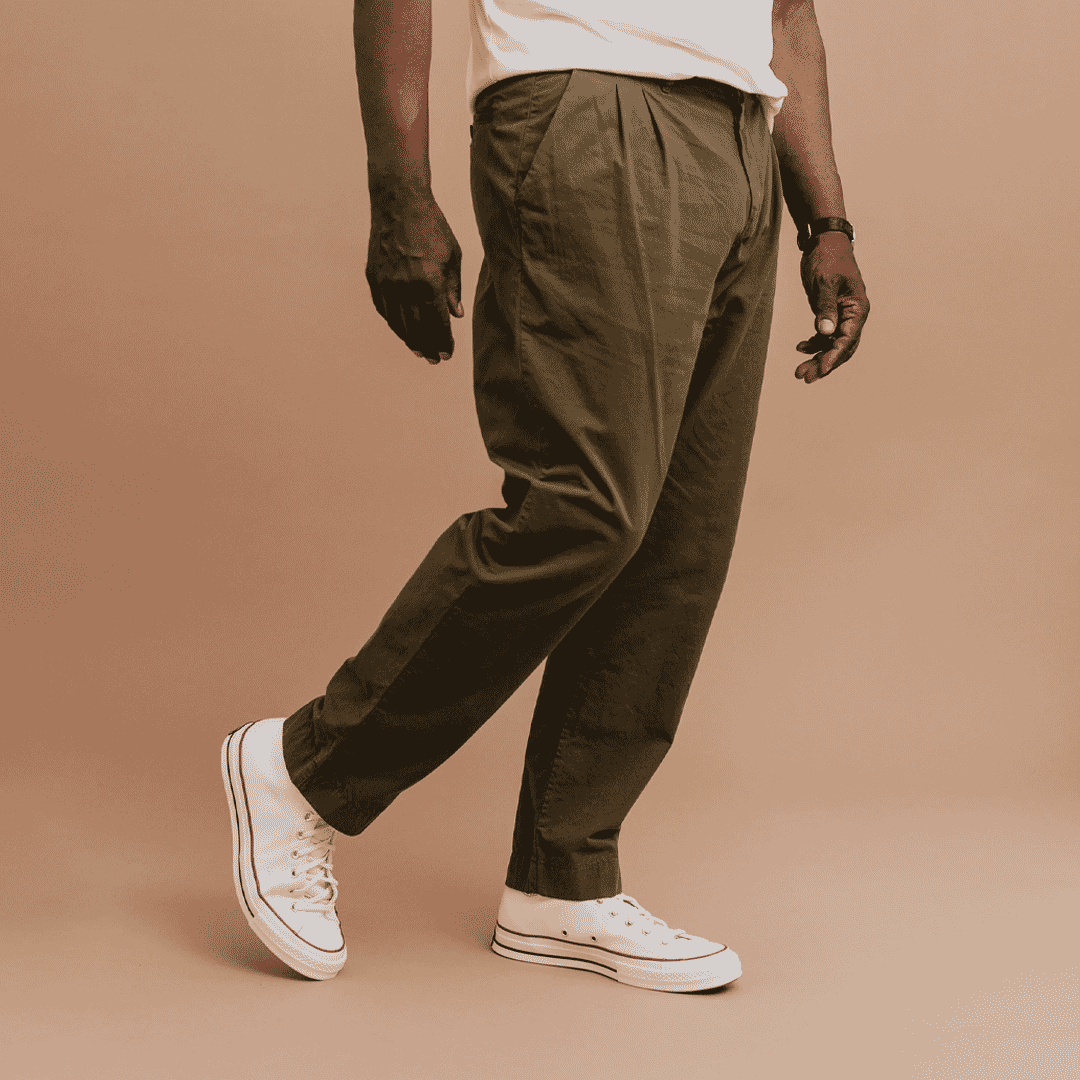 Best pleated trousers for men
Form&Thread Organic Twill Double Pleated Trouser
Searching for the perfect pleated trouser to rock over the spring and summer seasons? Then Form&Thread might just have exactly what you're looking for. Boasting a relaxed shape, they're crafted from organic cotton twill that's extremely soft and lightweight. Style these with an all-white T-shirt, a nice leather belt, and some clean canvas trainers, and you're good to go.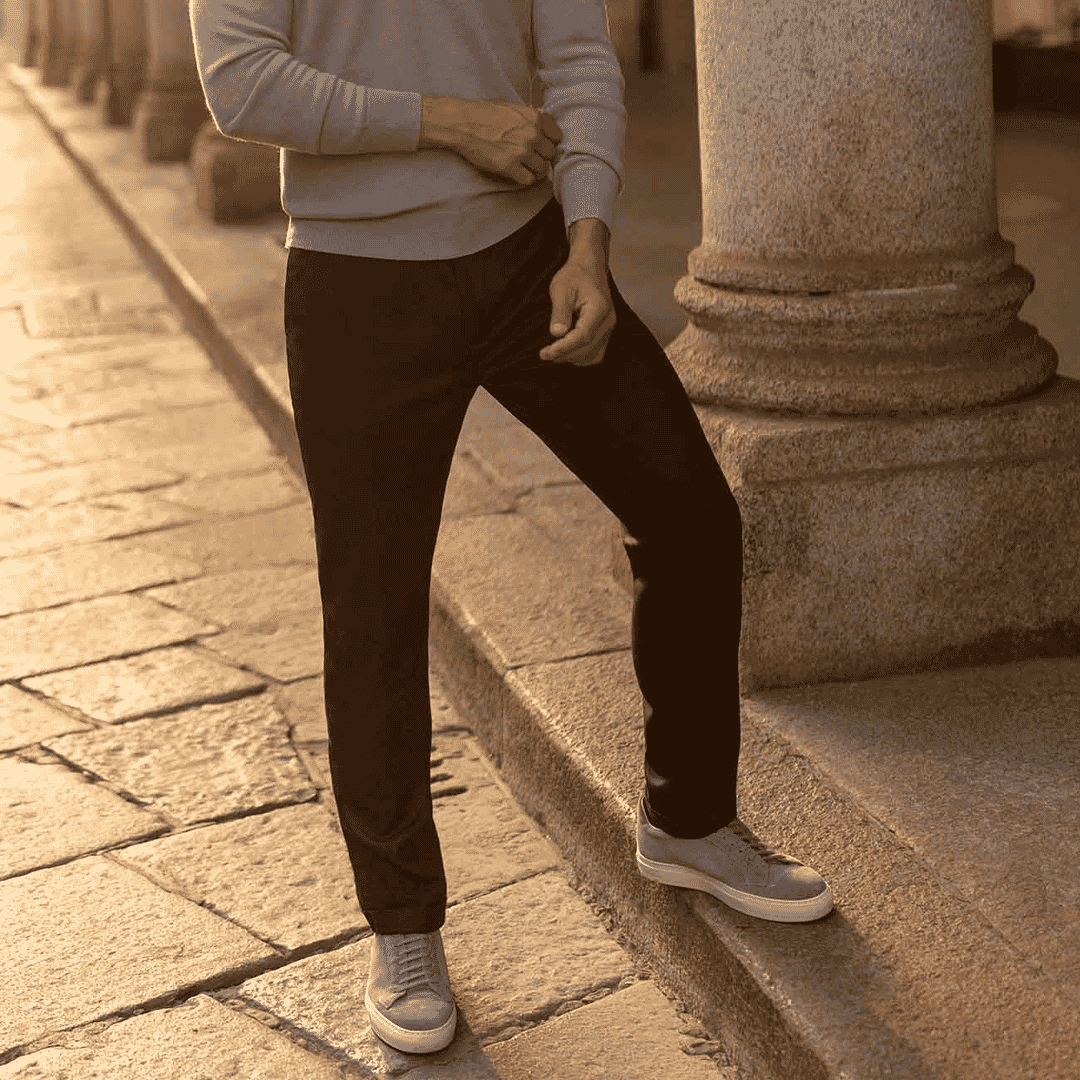 Luca Faloni Wool Pleated Trousers
Luca Faloni certainly knows a thing or two about creating the ultimate pair of pleated trousers. Crafted in Northern Italy, this piece is made from 100% virgin wool by premium mill Vitale Barberis Canonico (basically, the Godfather of mills). With a tailored pleat design, these will go perfectly with a long-sleeve shirt, or an oversized hoodie. The possibilities are truly endless.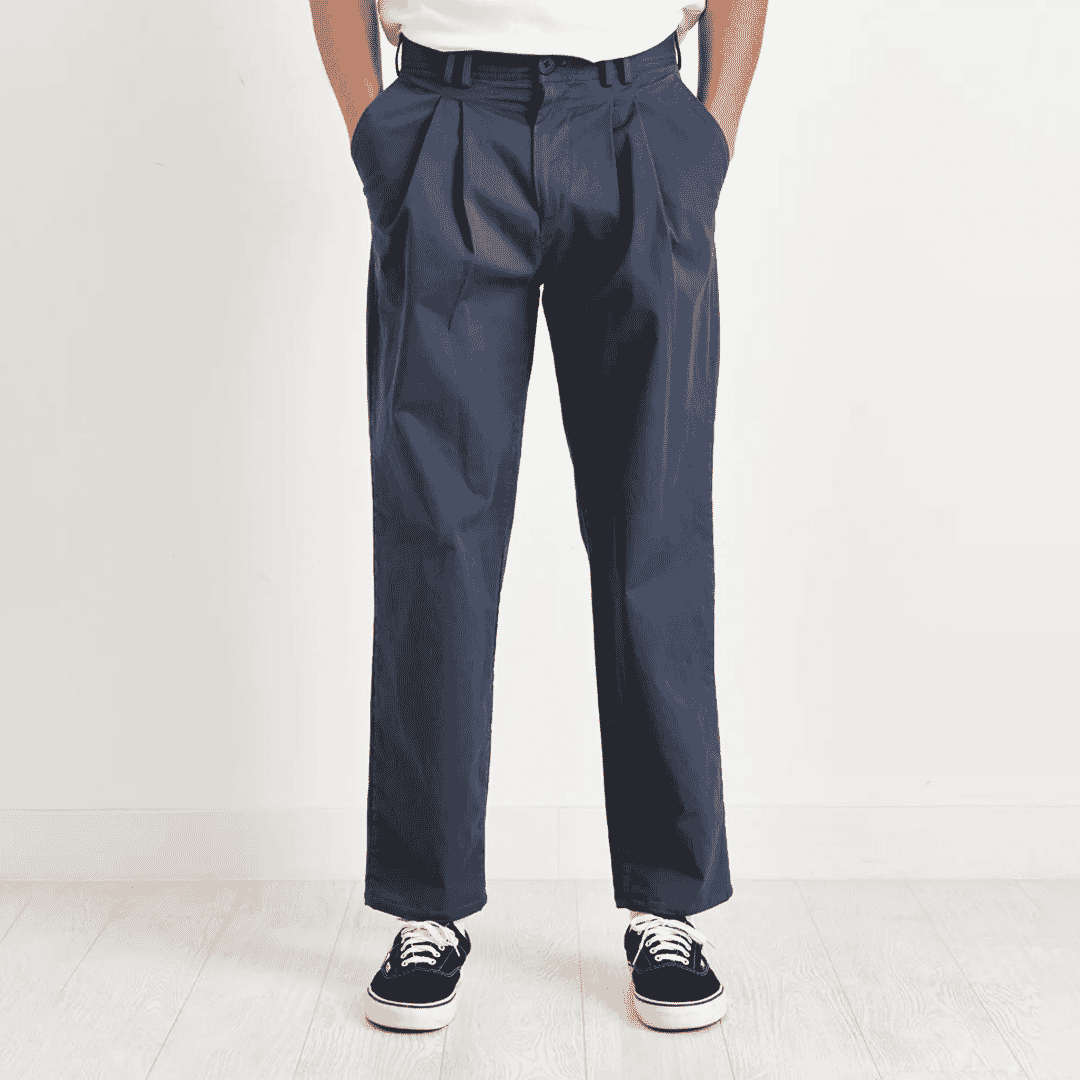 Wax London Pleat Trousers
Probably one of Wax London's most popular silhouettes, these pleated trousers blur the line between suitwear and streetwear. Painted in a delicious navy shade, you can rock these with anything from a tailored blazer to a chunky sweater. If the environment is important to you, you'll be glad to hear that this piece is made from sustainable cotton and features eco-friendly corozo buttons. So, not only will you look good, you'll actually do some good too.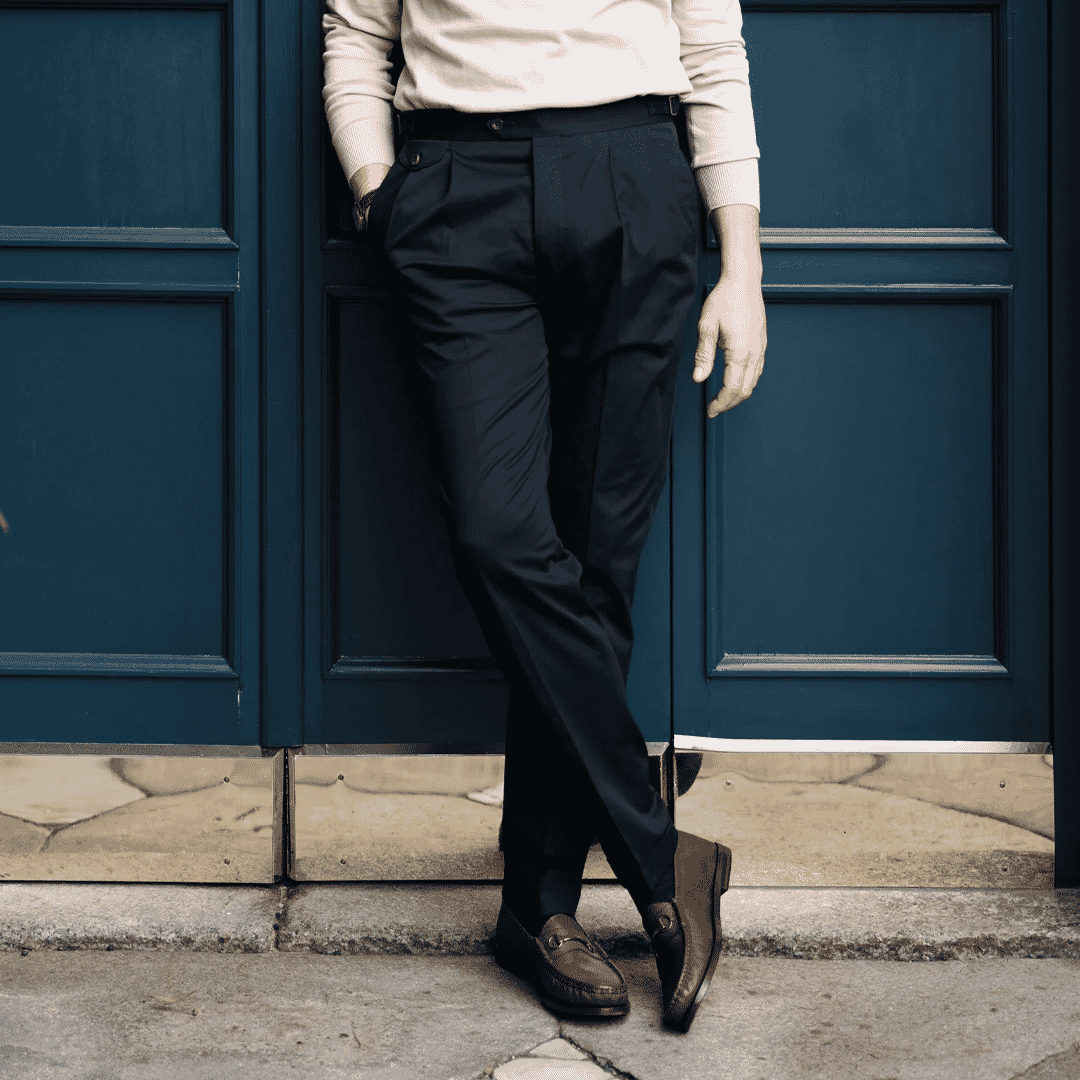 Velasca Venzone Trousers
For the extra-fancy gentleman in your life, check out this piece from Velasca. Outfitted in a cotton gabardine material that gives it a somewhat rugged look and feel, these beautiful navy trousers are equipped with plenty of clever little details throughout, including suspender strap buttons and a dedicated pocket for your watch. For trousers of this calibre, slip on a blazer, brown leather dress shoes, and a vibrant pocket square for a bit of creative flair.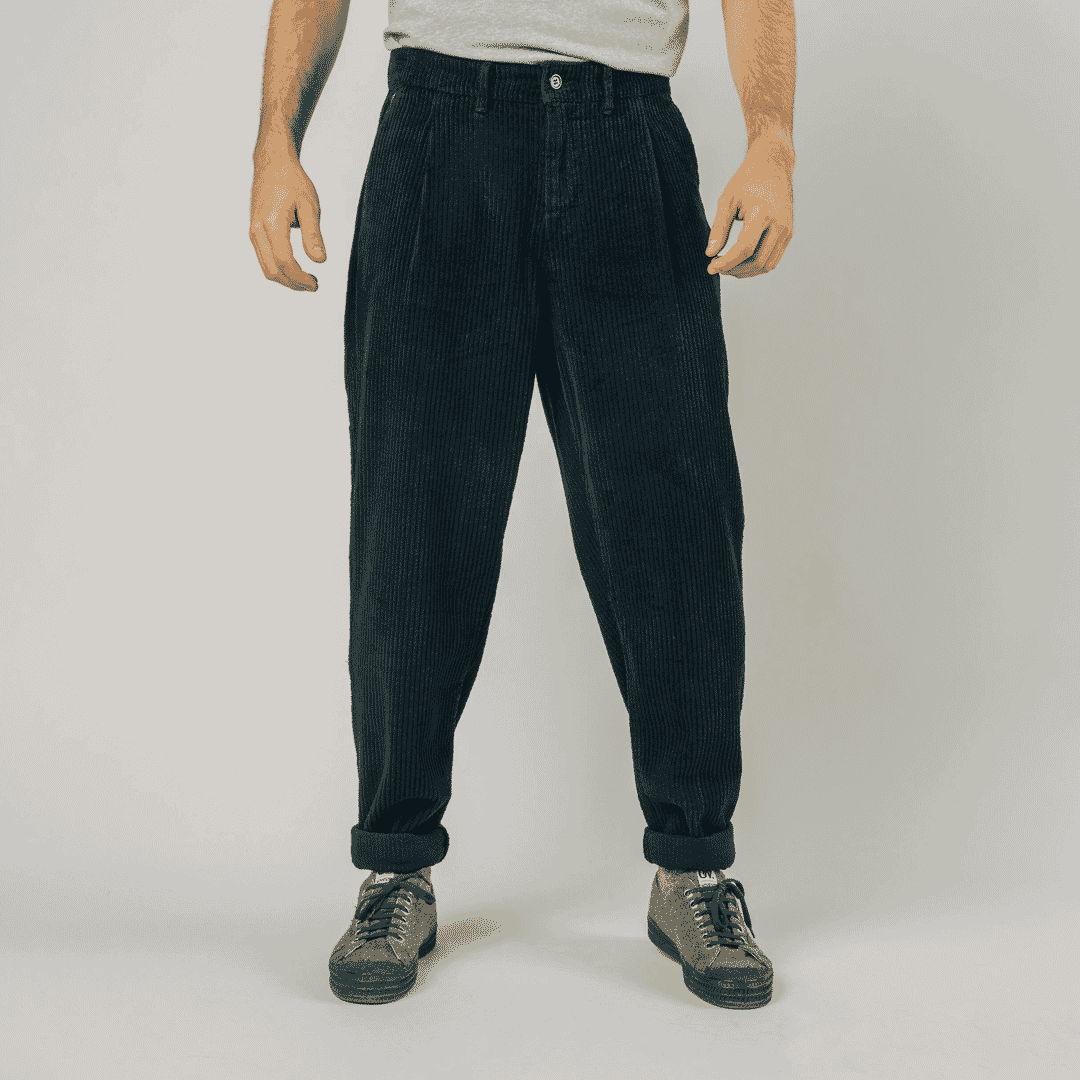 Brava Fabrics Corduroy Pleated Chino
Corduroy is quickly becoming one of the most popular fabrics in fashion. World-renowned for its thrifted aesthetic, if you're looking for a pair of cord chinos, Brava Fabrics has your back (and your bottom). Crafted in workshops in Portugal, this slick black piece will work with anything from Chelsea boots to skate shoes. Add a graphic T-shirt and a silver chain necklace and you're ready to go.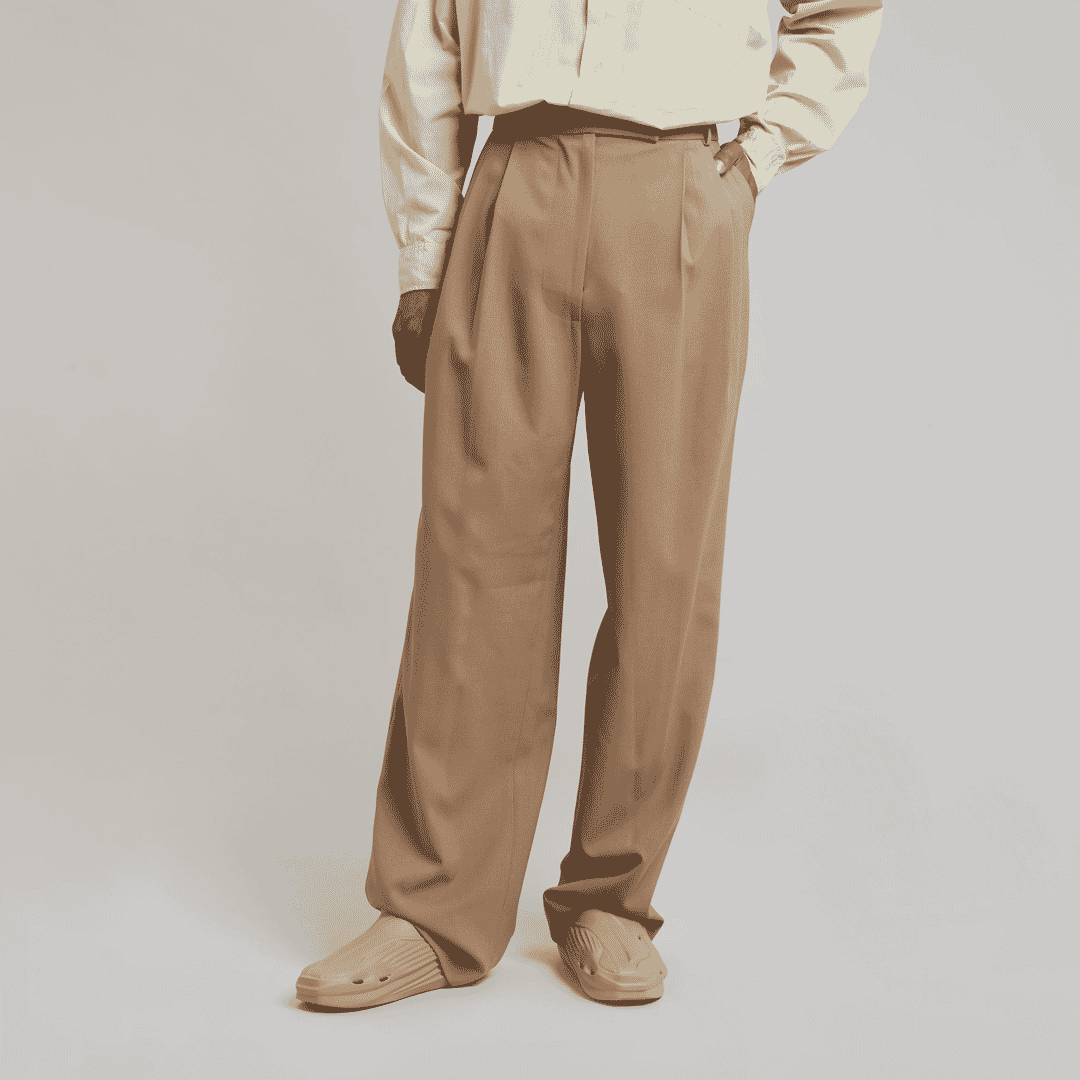 The Frankie Shop Beo Suit Pants
Sometimes you might just be in the market for something more on the sartorial side. If that sounds a bit like you, then The Frankie Shop might have just the thing for your wardrobe. Giving us some seriously vintage vibes, the Beo Suit Pant is made from a tailored fabric but boasts a light stretch so you can still rock 'em on the daily with no dramas. Complete with your ensemble with a creamy shirt and an oversized blazer from The Frankie Shop (or anywhere, really).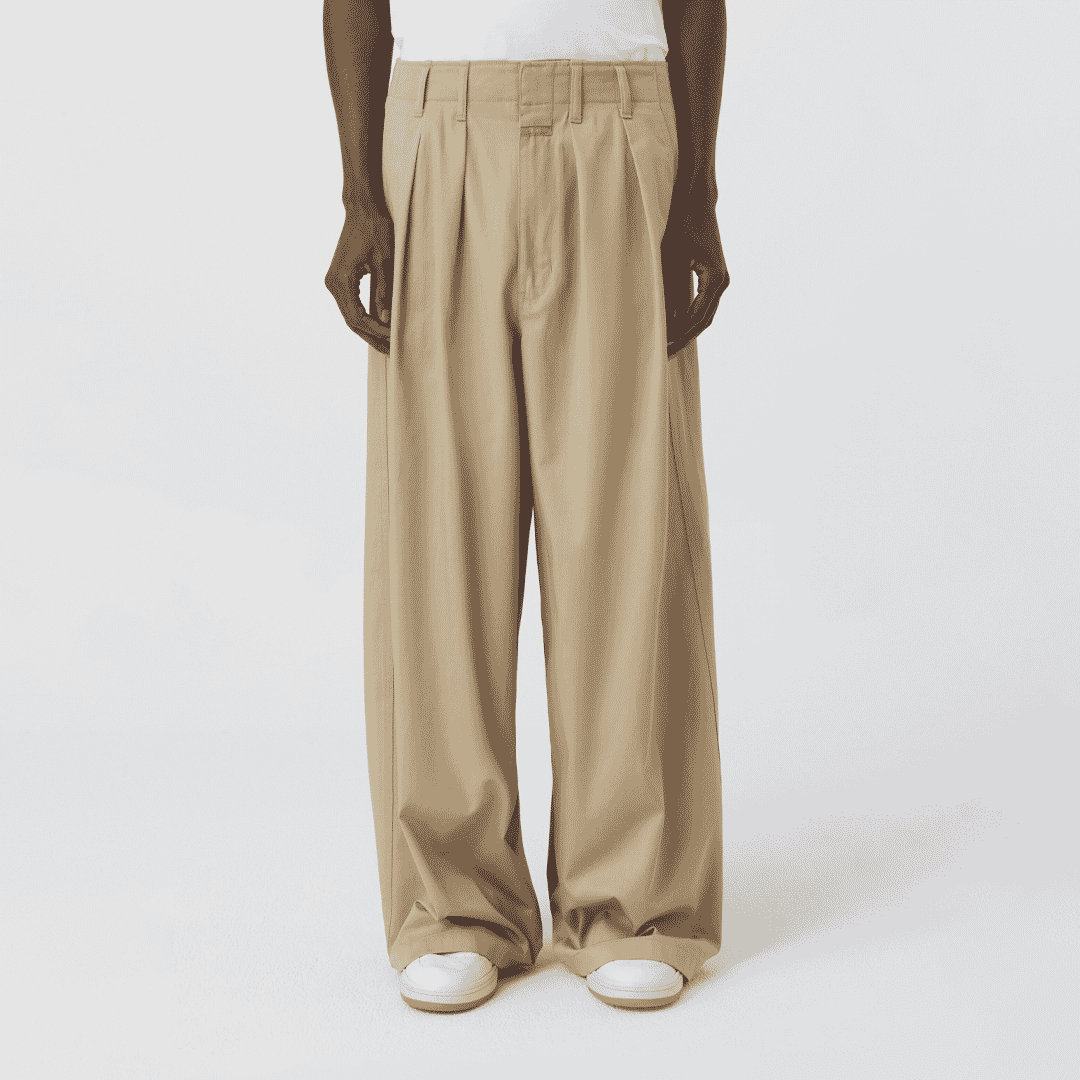 Closed Otago Wide Pants
If regular fits and straight-line cuts are too mainstream for you and you're in the mood for something a little bolder, Closed might just have the thing for you. Dubbed the Otago, this classically-inspired piece boasts a wiiide design that's made to turn heads wherever you go. Made of Italian cotton twill, this will go perfectly with an oversized shirt in burnt orange or lush olive hues. You can also round it all off with a khaki baseball cap. Absolutely beautiful.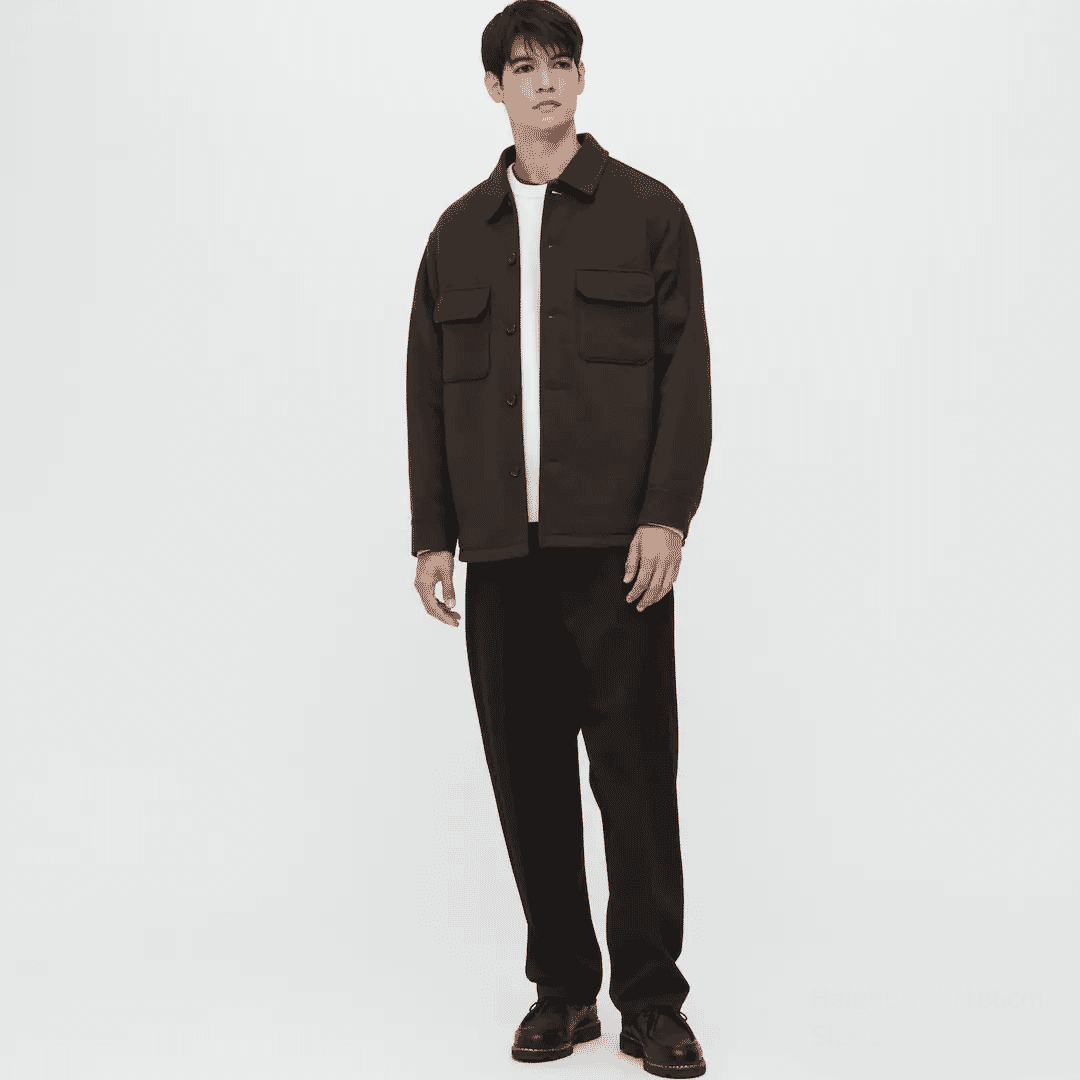 Uniqlo Pleated Tapered Trousers
Even though the Japanese brand is almost half a century old (gasp!), Uniqlo has only recently made its way to the west. If you want to give your outfit the upgrade that it sorely deserves, stop what you're doing and check out these pleated tapered trousers. With a no-nonsense design, you'll be happy to hear that they're made from recycled plastic bottles too - perfect for those eco-conscious tastemakers and trendsetters. Style these with a long-sleeve tee and a wool jacket.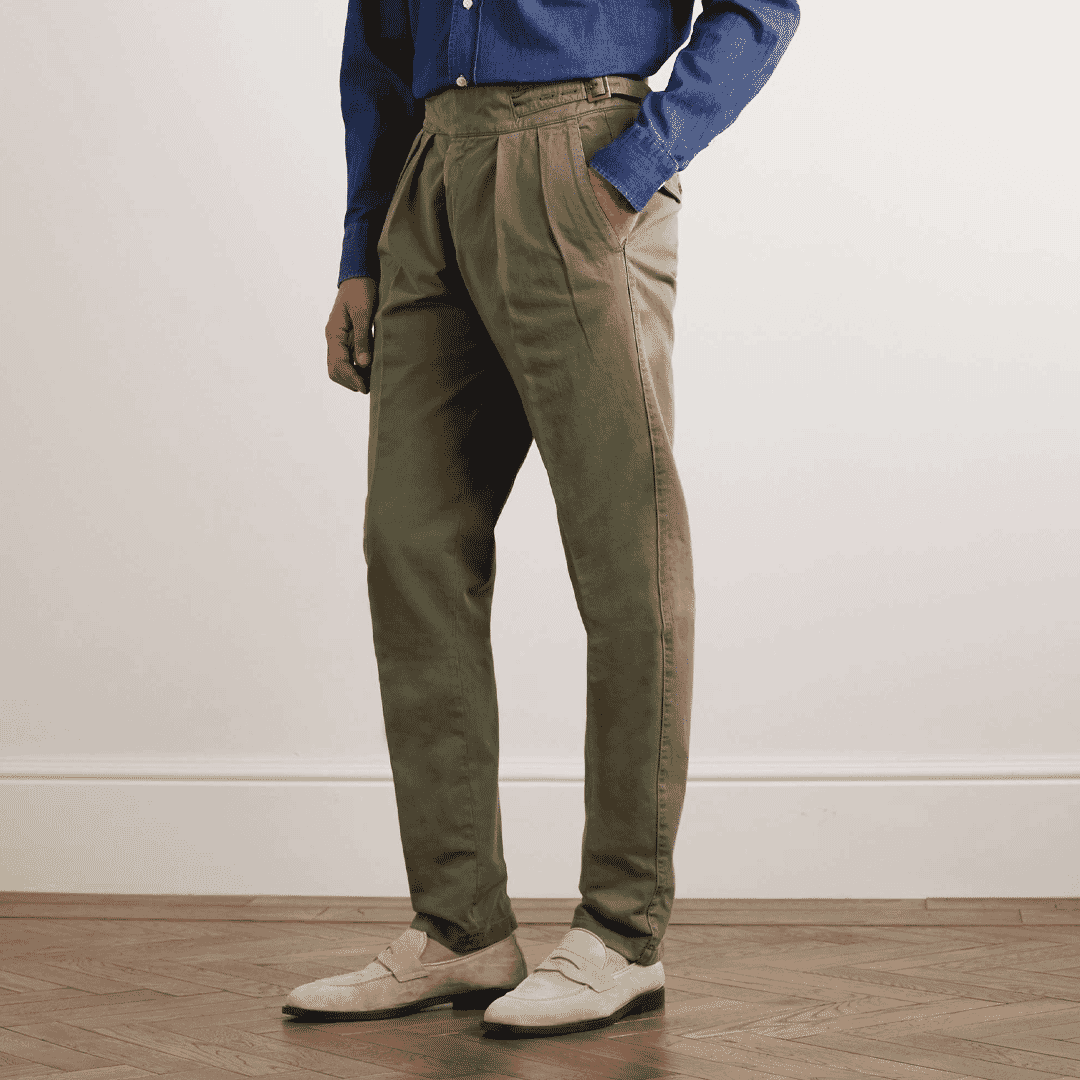 Rubinacci Manny Tapered Pleated Cotton Twill Trousers
The Manny is, no doubt, one of Rubinacci's best-selling styles. Deployed in an army green colour scheme, they're made in Italy from cotton twill and are pleated neatly to perfection. Unlike most trousers, these feature a unique cummerbund-style waistband which offers a more comfortable and secure fit. Pop on a denim shirt and some felt clogs for a lounge-ready vibe.
Feeling a bit more low-key? Check out our pick of the best sweatpants for men.
---
---