When someone asks you for the time: true, you can just look at your phone lock screen and let them know. But there's just something about confidently flicking your wrist in one sweeping motion and looking at an actual, physical watch that hits different.
Digital watches have come a long, long way since you wore your knock-off Pokémon one back in 2004. In a world where smartwatches have become so popular and analog watches are making a comeback, they have had to evolve very quickly. No longer are they just cheap pieces of plastic fitted with a dull green LCD screen. In fact, digital watches these days look ridiculously awesome, with retro-futuristic designs and innovative features that set them apart from the rest.
There are digital watches out there that fit any lifestyle and activity at a wide range of different price points. If you're thinking of getting one but you don't really know where to even begin, scroll on to discover our pick of the best digital watches for men on the market right now.
Best digital watches for men in 2023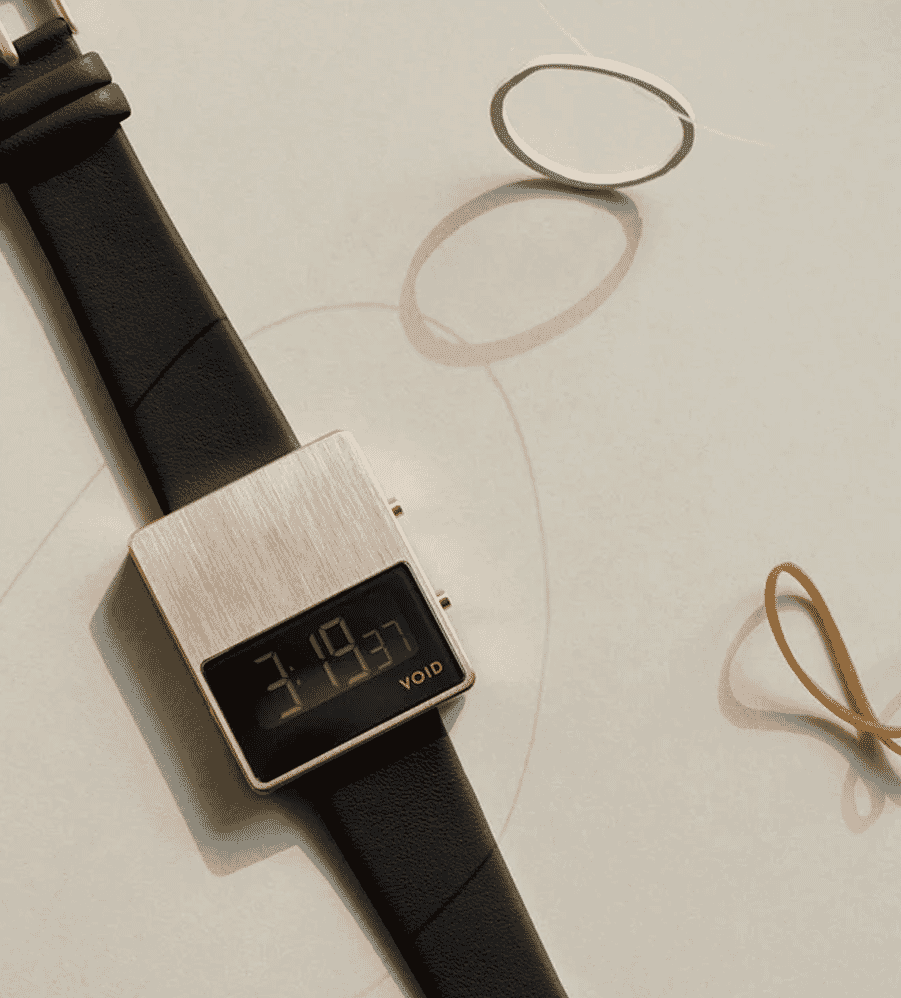 VOID Watches V01 MKII
VOID Watches is one of our favourite independent watch brands of all-time. Not only do they make some stunning analog pieces, but their digital watches, like the V01 MKII, set them way ahead of the curve. Featuring a statement-making square stainless steel design, it's completely dipped in black for a seriously stealthy aesthetic that blends in and stands out all at once. The high contrast LCD screen is extremely legible, but it also comes with a built-in backlight just in case. This is then finished off with a premium Italian leather strap that's made to stand the test of time. Pun intended.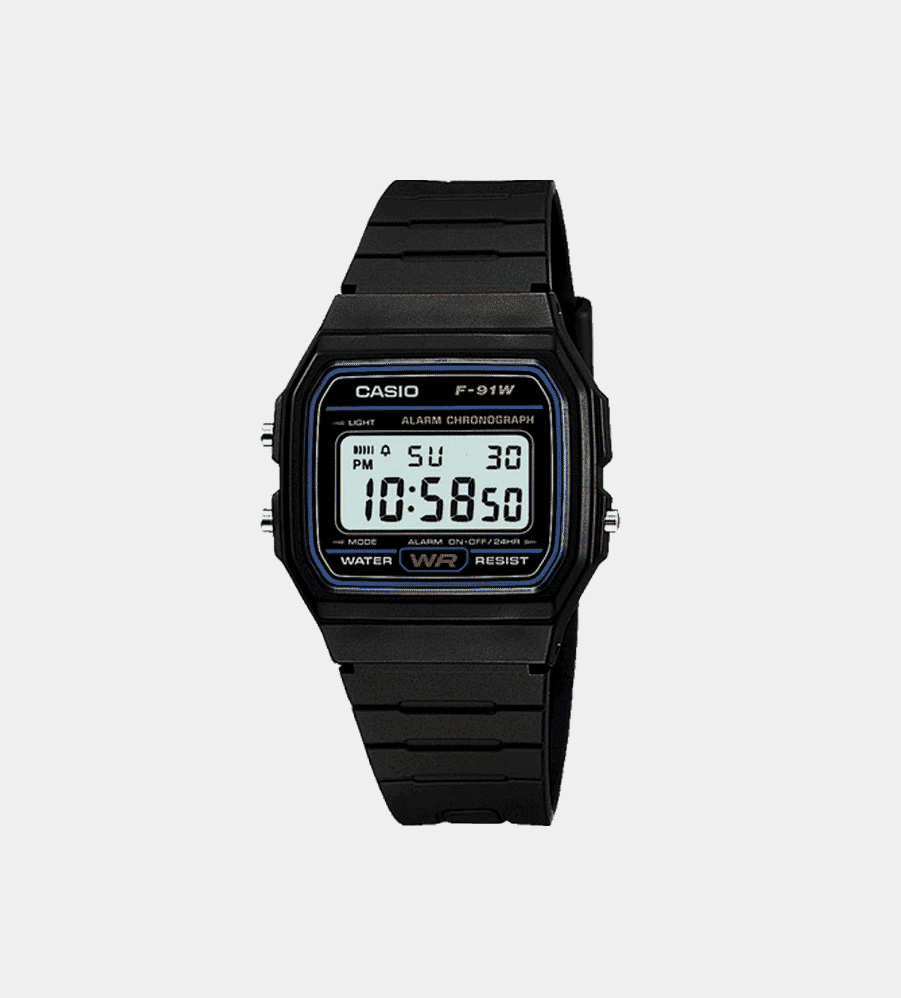 Casio Microlight
The granddaddy of digital watches, it would be pure blasphemy if we didn't give Casio a special shoutout. Founded all the way back in 1946 in Japan, Casio is one of the oldest brands in this list, and even though it's been around for the better part of eight decades, its following has continued to grow and grow by the second. The Microlight is one of their most popular designs, and for good reason. Not only is it cheap, it's very robust and reliable, and it's made to last years and years. There are literally people out there running around with fully functioning Microlights from the '80s. You just can't make this stuff up.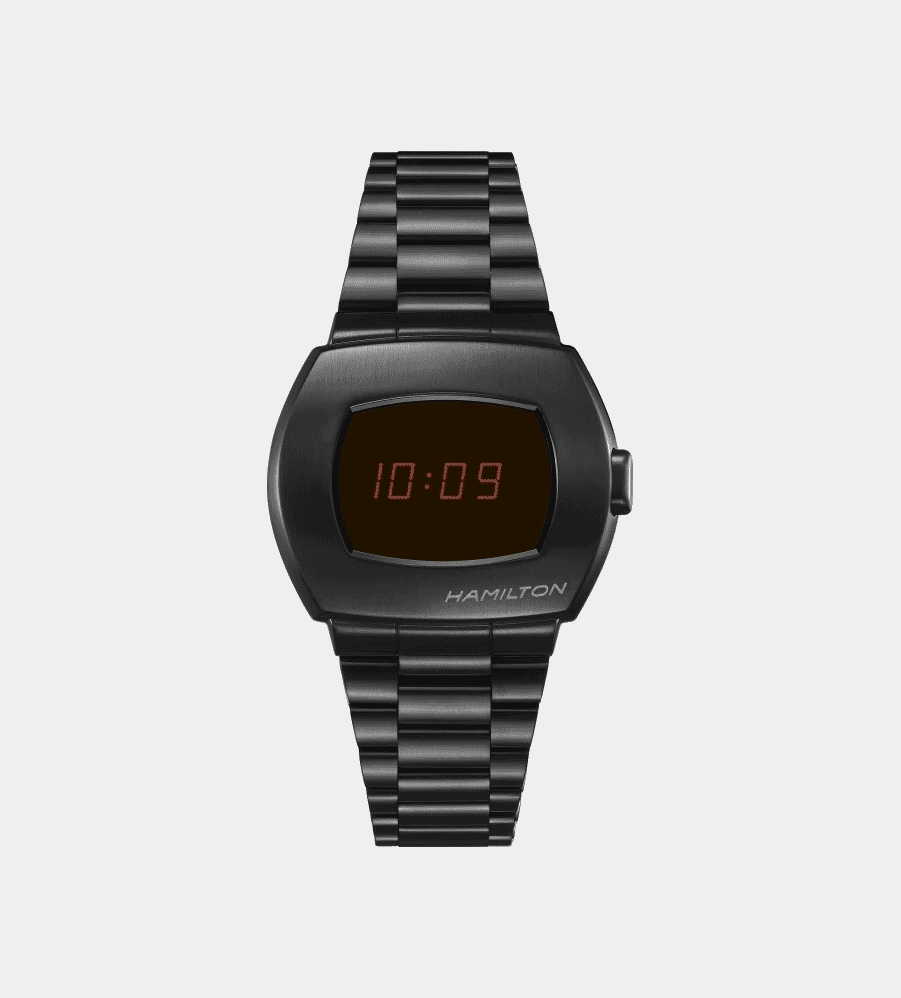 Hamilton PSR Digital Quartz
Not only is the PSR Digital Quartz by Hamilton one of the best digital watches ever made, it's also one of the best watches of all-time. Period. The spiritual sequel to the American company's Pulsar from 1970 (which was, in fact, the first digital watch in history), the PSR features more-or-less the same retro design, but with an innovative hybrid LCD and OLED digital display. The digit-dot numerals are accented in red for a mysterious vibe, and this is all packed in a black stainless steel case that's coated with PVD for extra scratch-resistance. If the stealthy aesthetic isn't your thing, the PSR also comes in two classic silver versions too.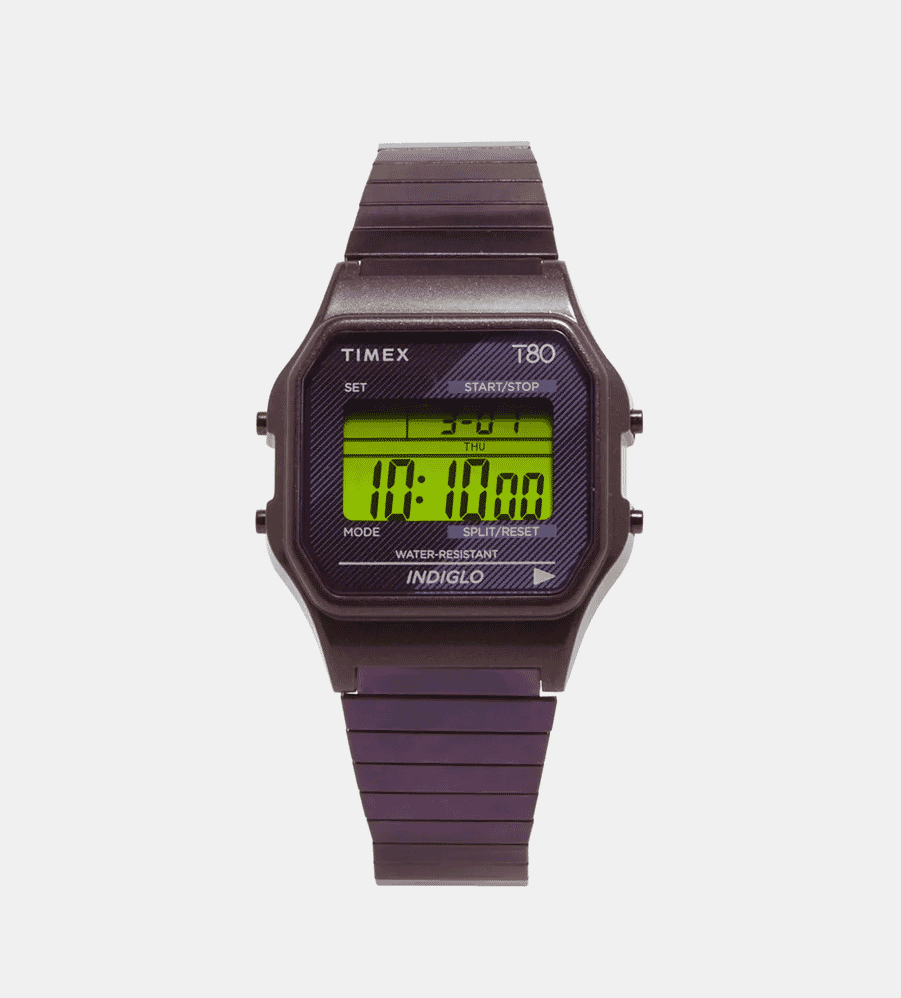 Timex 80 Digital
The watch industry just wouldn't be what it is today without the contributions of Timex. Since 1854, the Connecticut-based brand has been working on the greatest horological pieces in the history of mankind, and the 80 Digital is one of their best creations yet. The perfect example for the phrase "if it ain't broke, don't fix it," this design hasn't changed one bit since it made its grand debut back in the early '80s. While older versions were housed in stainless steel, this one is packed in a resin case that's very retro and very fun. It's also got daily alarm and stopwatch features too, just in case you need them.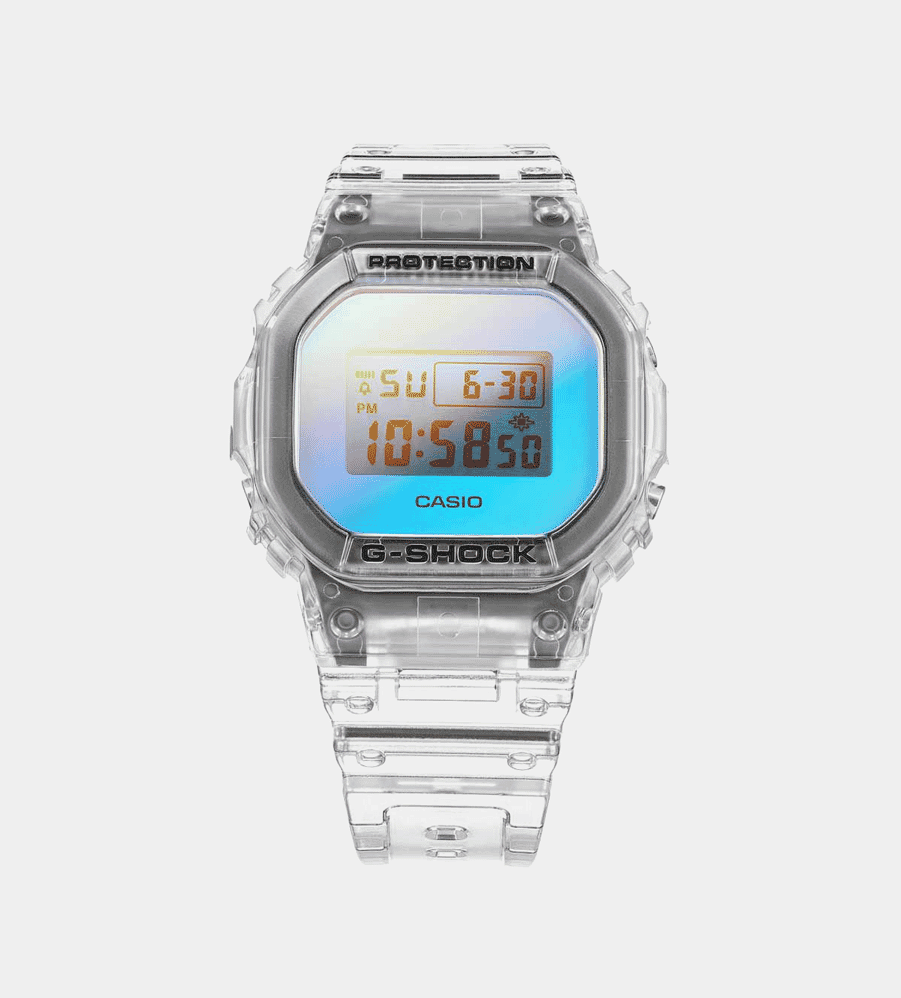 G-Shock DW-5600SRS-7ER Sun Reflect Series
Casio's G-Shock sub-brand has been around for four decades. Back in the day, these timepieces were made for explorers and adventurers who needed something tough and robust. Fast forward 40 years, and G-Shocks are now more of a streetwear staple, with digital watches like the DW-5600SRS-7ER Sun Reflect Series becoming an essential for every stylish man's ensemble. Boasting a totally see-through case and strap, the mineral glass is coated in a special finish that gleams in all sorts of different colours depending on how you're looking at it. This particular version is extremely limited, so grab it now before it's too late.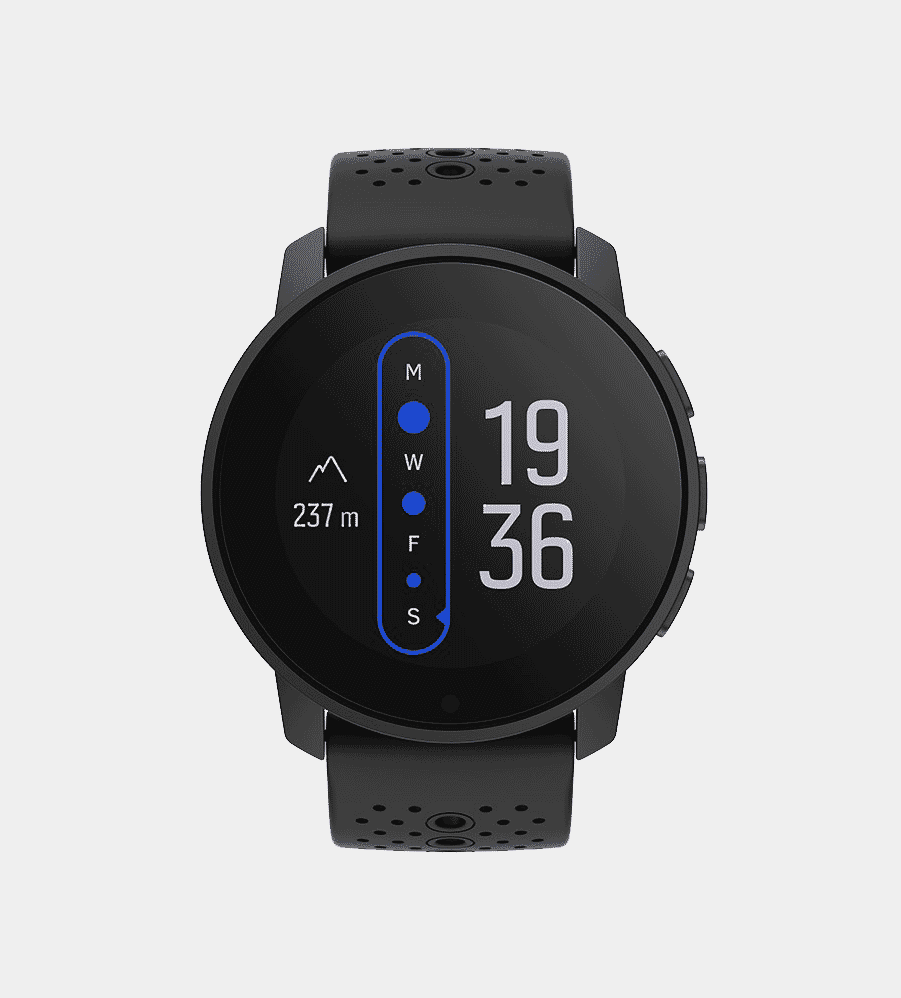 Suunto 9 Peak
If you're looking for the ultimate running partner to accompany you while you annihilate your PBs, Suunto has just the thing for you. Named the 9 Peak, this is like a hybrid between a smartwatch and a digital watch, blending together the best of both worlds. Crafted from a tough black stainless steel construction that's built for purpose, it's equipped with 80 sport modes, GPS navigation, weather functions, and it can even tell you your blood oxygen levels. On top of all of this, it's made in Finland with 100% renewable energy, which is always nice.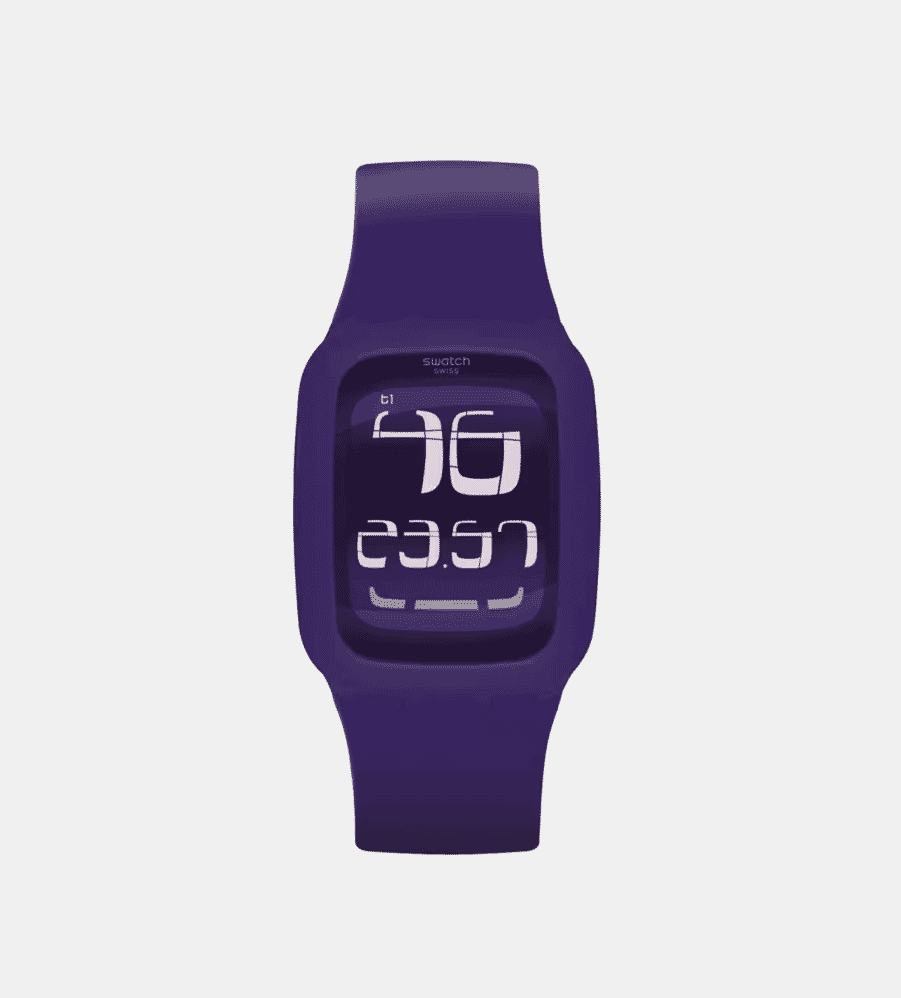 Swatch Touch
Generally speaking, all digital watches kind of look the same; you get a green LCD screen, a stainless steel case, and a strap. With the Touch, however, Swatch wanted to stray away from this very traditional design in favour of a funky and fresh aesthetic that's sure to turn heads wherever you go. This particular piece is dipped in a dark purple palette, and it's fitted with a screen with strangely oblong numbers that are both weird and wonderful. The usual side buttons have been replaced with three touch sensitive points just below the face. We've never seen anything quite like it.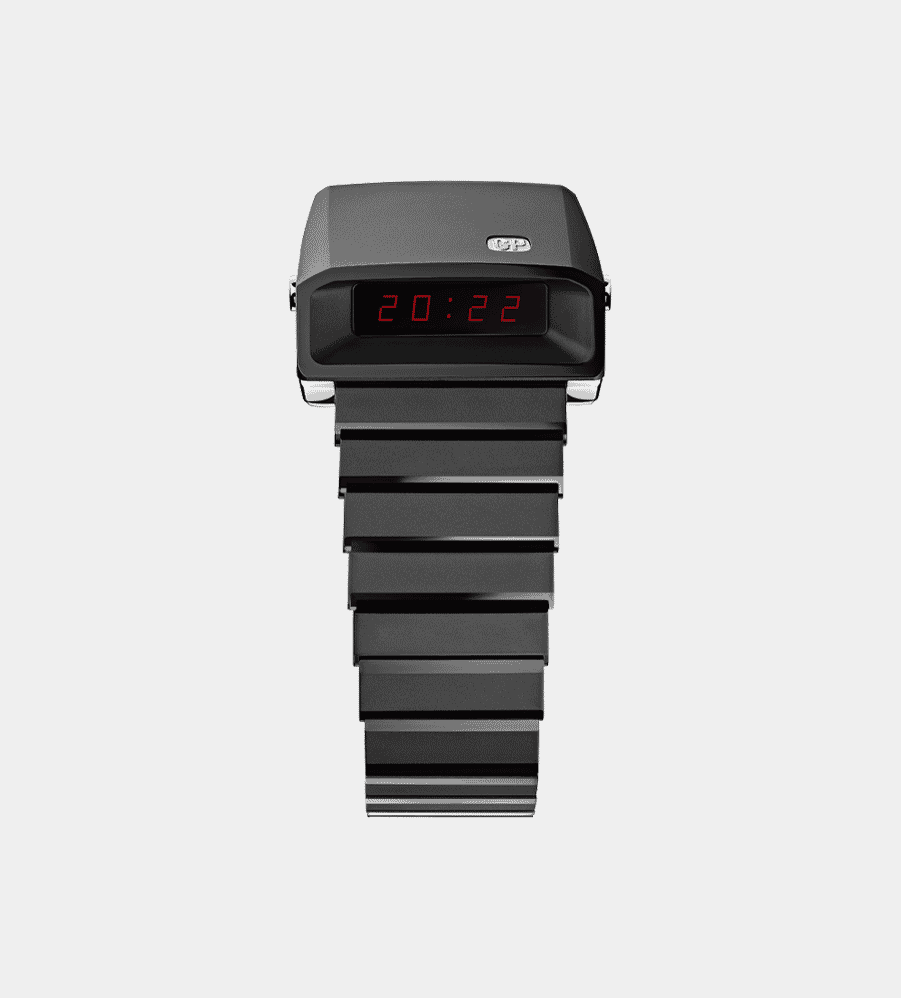 Girard-Perregaux Casquette 2.0
There's nothing else quite like the Casquette 2.0 by Girard-Perregaux. While the heritage Swiss brand is known mostly for their automatic and mechanical pieces, the Casquette 2.0 has gained a very devoted following over the years. The follow-up to the original Casquette that was produced from 1976 to 1978, the sequel improves on it in every single way, shape, and form. Encased in ceramic and Grade 5 titanium that's tough and hard-wearing, it also boasts a brand new quartz movement that's even more reliable. Only 820 pieces have been made worldwide, so if you want a unique, one-of-a-kind digital watch in your collection, grab the Casquette 2.0 right now before time's up.
Check out our pick of the best dress watches for men.
---
---