Embrace the softness. A suede jacket looked after well, will look after you for life. Always super-soft to the touch - because it's the napped underside of leather - suede is casual enough for the relaxed everyday, yet dresses up just as easily for a smart night out on the town. Your choice might be classic bomber ready for the patina of your active life, or a take on rock 'n' roll styles from 1970s California, when the hippie reigned supreme, or perhaps your wardrobe simply won't be complete without a jacket in intricately embroidered Japanese horsehide suede for a dramatic personal look. Shearling suede, with natural sheepskin lining, may be the ultimate in winter indulgence. Which to choose? Select your favourite from our pick of the best suede jackets for men. 
Best suede jackets for men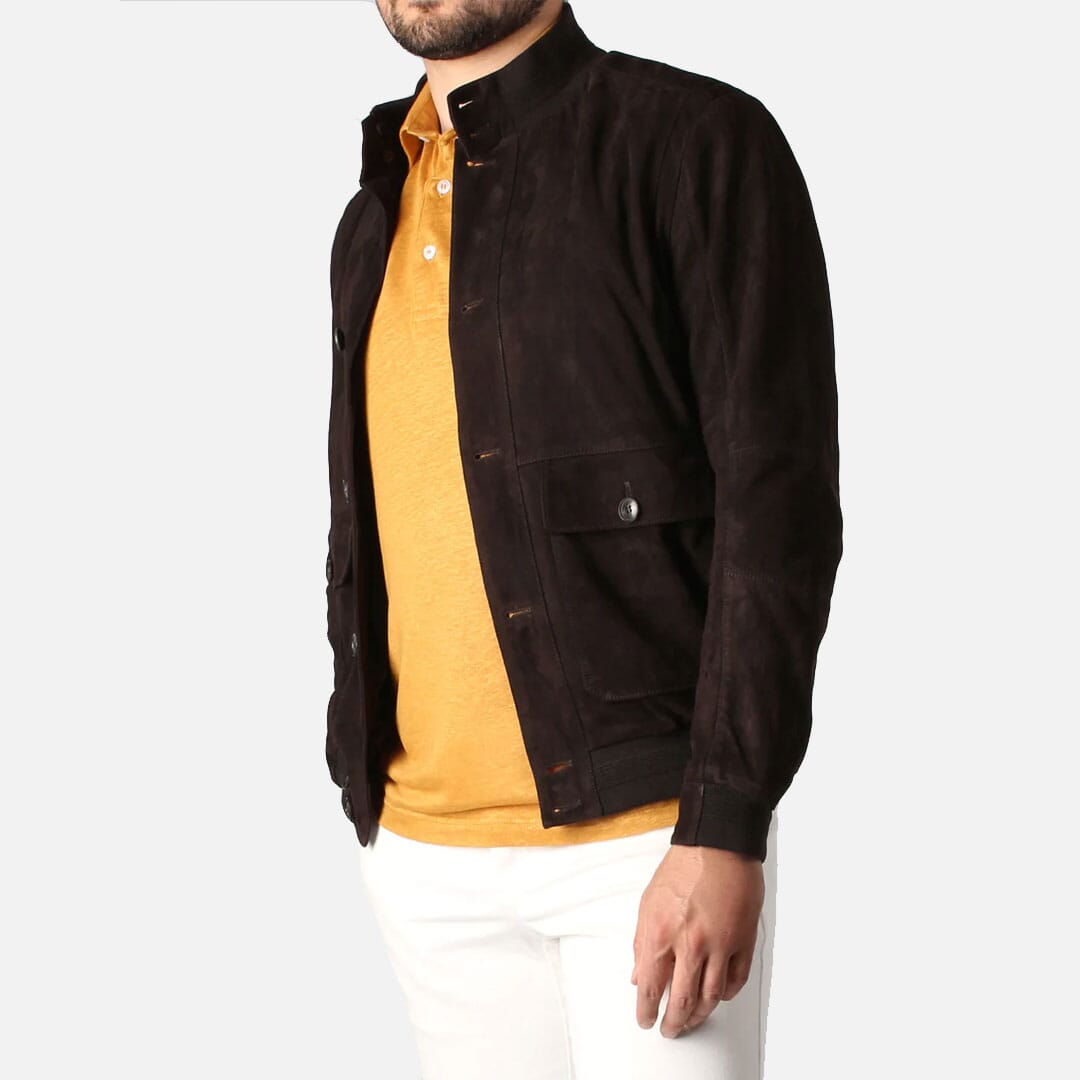 Aurélien Brown Suede Jacket
Supersoft unlined suede is the key to the distinctive appeal of Aurélien's Brown Suede Jacket. They're the custodians of the idea of "smart luxury", Italian-designed, and made for la dolce vita, whether you're on a Vespa in Rome or just headed out to that new cocktail bar on your local high street. Design references both blouson and bomber, with patch pockets to front, two further seam pockets and a button-up funnel neck for cooler days.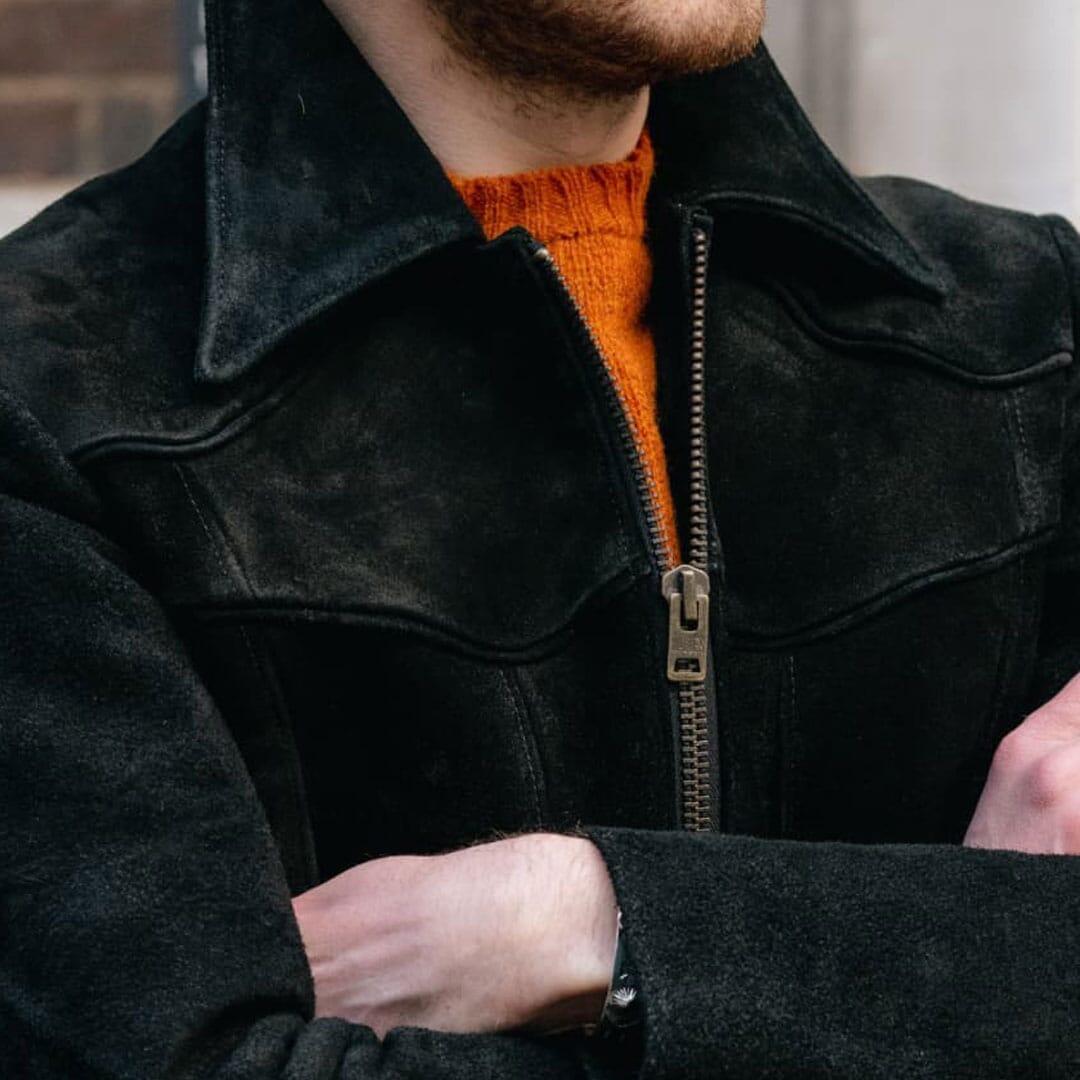 Jelado Suede Black Smoke Jacket
Rock 'n' roll vintage reinvented by classic Americana obsessives Jelado of Japan. Jelado's suede Smoke Jacket references 1970s hippie style as produced by the East West Company, distinguised Californian purveyors of hand-made pieces for the likes of Janis Joplin and Elvis Presley. Thick cowhide suede is oil-treated to give each Smoke Jacket a unique patina, full length closure is with Waldes zip, signature patch pockets have buckle closure. Supply your own Fender Stratocaster.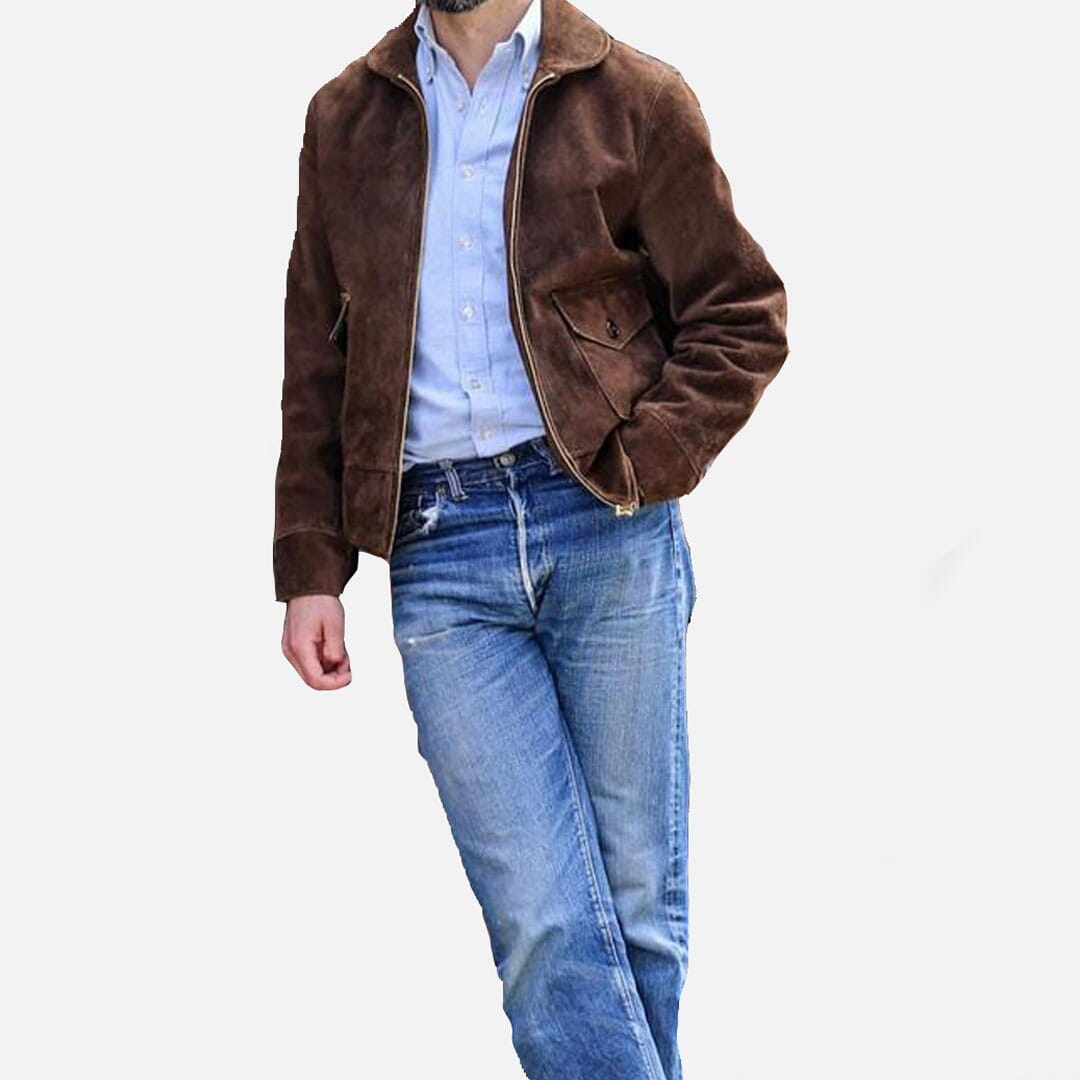 Himel Brothers A1 Heron Shinki Horsehide Suede Jacket
Authenticity comes no more authentic than this. Toronto's Himel Brothers use 1930s technique and cut in this Canadian-made jacket, referencing the American adventurers' favourite that became the US military's A1 jacket. Thick Japanese Shinki horsehide is chrome-tanned for the softest touch, lined with heavyweight tiger stripe camo and features two buttoned front flap pockets, a shawl collar - and effortlessly timeless style.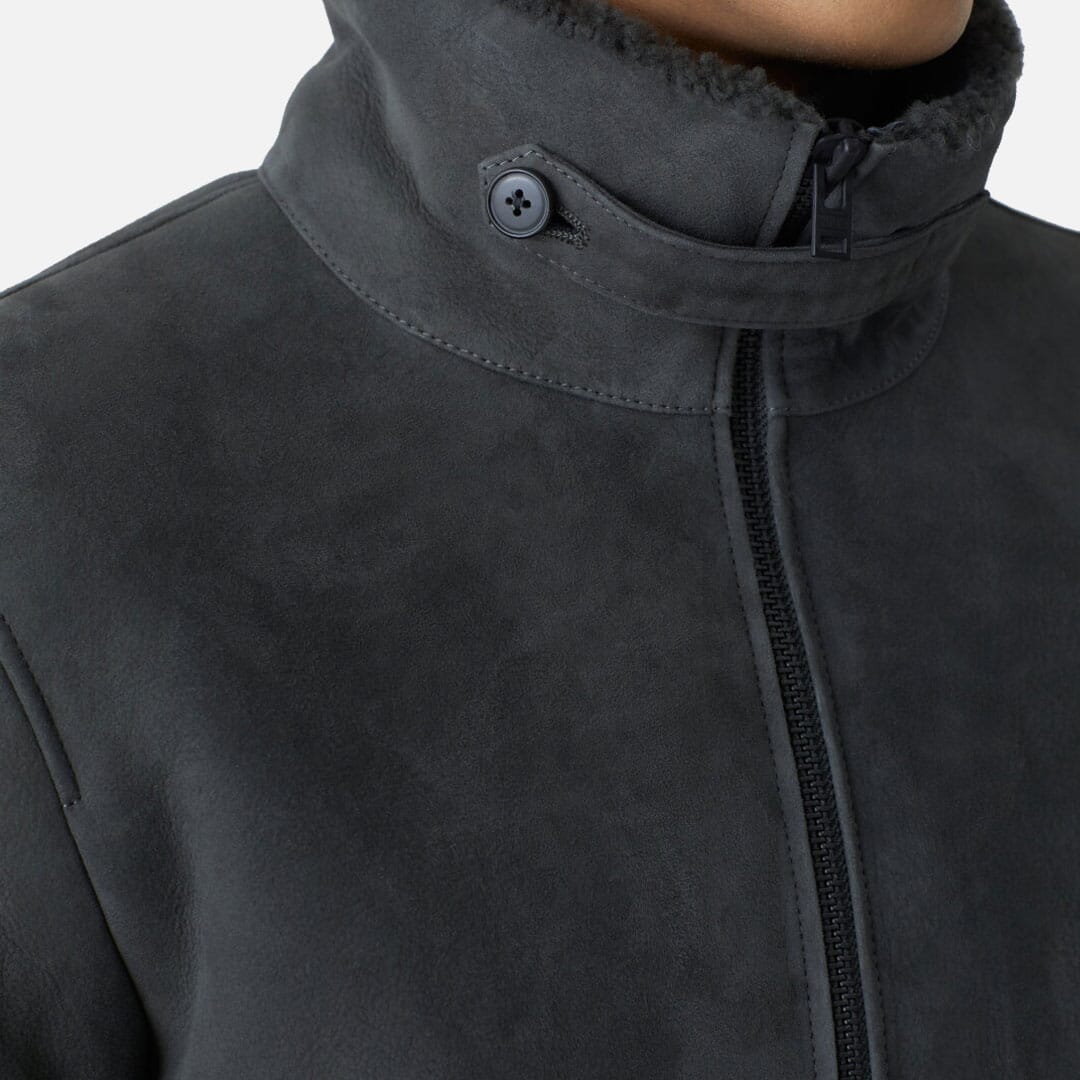 Closed Shearling Jacket
Soft suede to the outside, tonal sheepskin to the inside for added cosiness, all in a highly contemporary take on the classic bomber style. Jacket collar folds up, with latch-fastening, for snug warmth on those those super-cold days, or down for relaxed all-weather wear. Full zip closure, with slit pockets to the sides and, in the bomber style, ribbed hem and cuffs. Closed's Shearling Jacket has designs on being your next wardrobe essential - and we'd say there's every chance it'll succeed.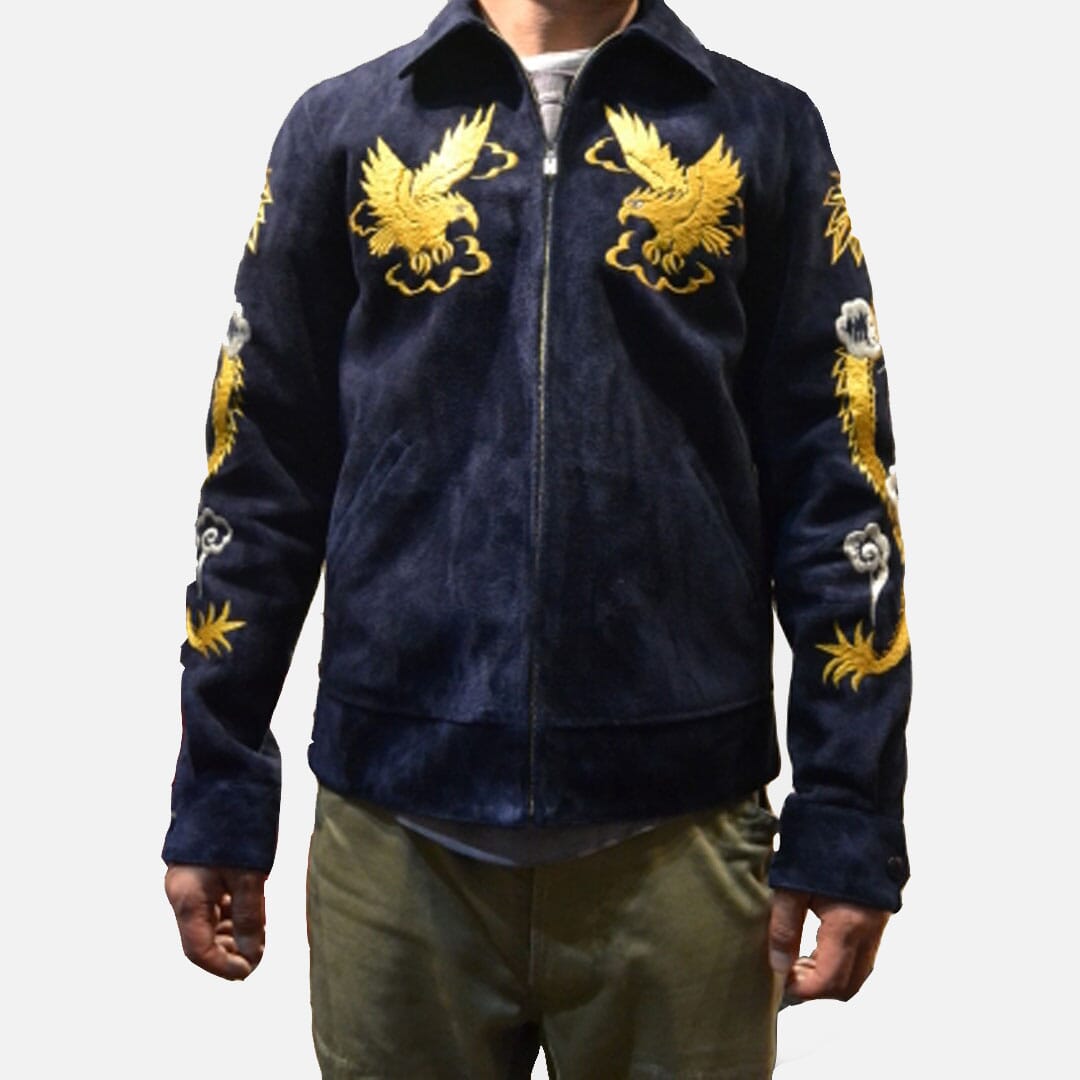 Fine Creek Leather Norfolk Suede Suka Jacket
Stand out from the crowd? Done. Fine Creek Leather's Yoshikatsu Yamazaki releases a strictly limited number of his distinctive men's suede jackets, designed and made at a Tokyo studio, with a nod to 1950s and 1960s streetwear. Thick horsehide suede is vegetable dyed and tanned, hand embroidery uses traditional Japanese techniques, executed by expert craftspeople to feature golden hawks to the chest and golden dragons to each arm and shoulder. As much artwork as jacket, this is a piece for the rest of your life.
For more irresistible outerwear, check out our pick of the best men's puffer jackets.
---
---