When it comes to making a statement, nothing hits like a leather jacket. We repeat: nothing. Perhaps it's decades of being culturally force fed rebels and rogues riding motorbikes in films and TV, or maybe it's the military connections. Whatever it is, few pieces of clothing in this world come with such concentrated cool as a leather jacket.
You know the names. Brando and Dean. Pitt and Hardy in the modern day. Leather jackets are synonymous with heart throbs and a special kind of cinematic badass. Not everyone can pull off a leather jacket but if you can, the style rewards are plentiful. So whether you're looking to channel a rebel without a cause or you're on the hunt for something bulky and shearling-lined for the winter, here's our pick of the best men's leather jackets to buy in 2023.
What to look for in a leather jacket
Whilst there are other colours on this list, as it transcends traditional ideas of the leather jacket into suede and nubuck, first and foremost we would recommend a black leather jacket. Whilst the odd brown one does take our fancy, leather jackets are an excuse to wear black.
It goes without saying, but you want the best possible product in this department. It's the golden rule of leather goods, whether considering luggage or shoes. Higher price tags will mean better materials, which in the long term, counts. Specialist tanning processes involved in some of the leather jackets below mean that the jackets themselves will age with such character that you'll feel like you're wearing a slightly different jacket each time.
The leather jacket scene can get nerdy. The Clutch Café side of things is a world of reproductions and vintage inspiration. The price tags will reflect the attention to detail that has gone into production but a leather jacket is the definition of an investment piece. Buy wisely and you've got a stylish, timeless piece for life.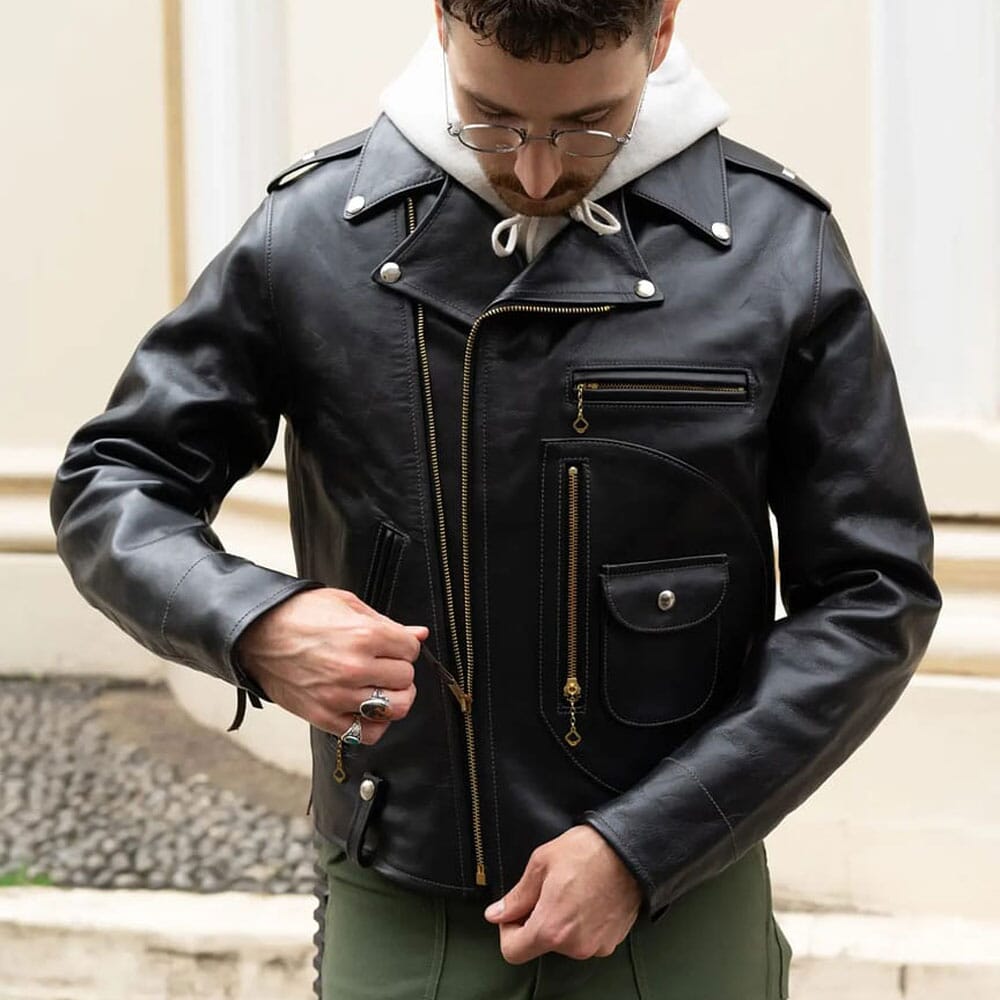 How to style a leather jacket
The versatility that comes with a leather jacket means it's a pretty effortless piece to style. As previously mentioned, if you can get away with it, for some of the more contemporary jackets it's an excuse to go all black. Black jeans, motorcycle boots or something with a Cuban heel.
For vintage-inspired styles match wider and slimmer silhouettes with denim of similar proportions. Layer underneath with overshirts and workwear pieces. It's also a chance to channel the greats. White T-shirts and light wash denim are all part of iconic leather jacket film looks for a reason. Be a rebel with a stylish cause.
Best men's leather jackets to buy now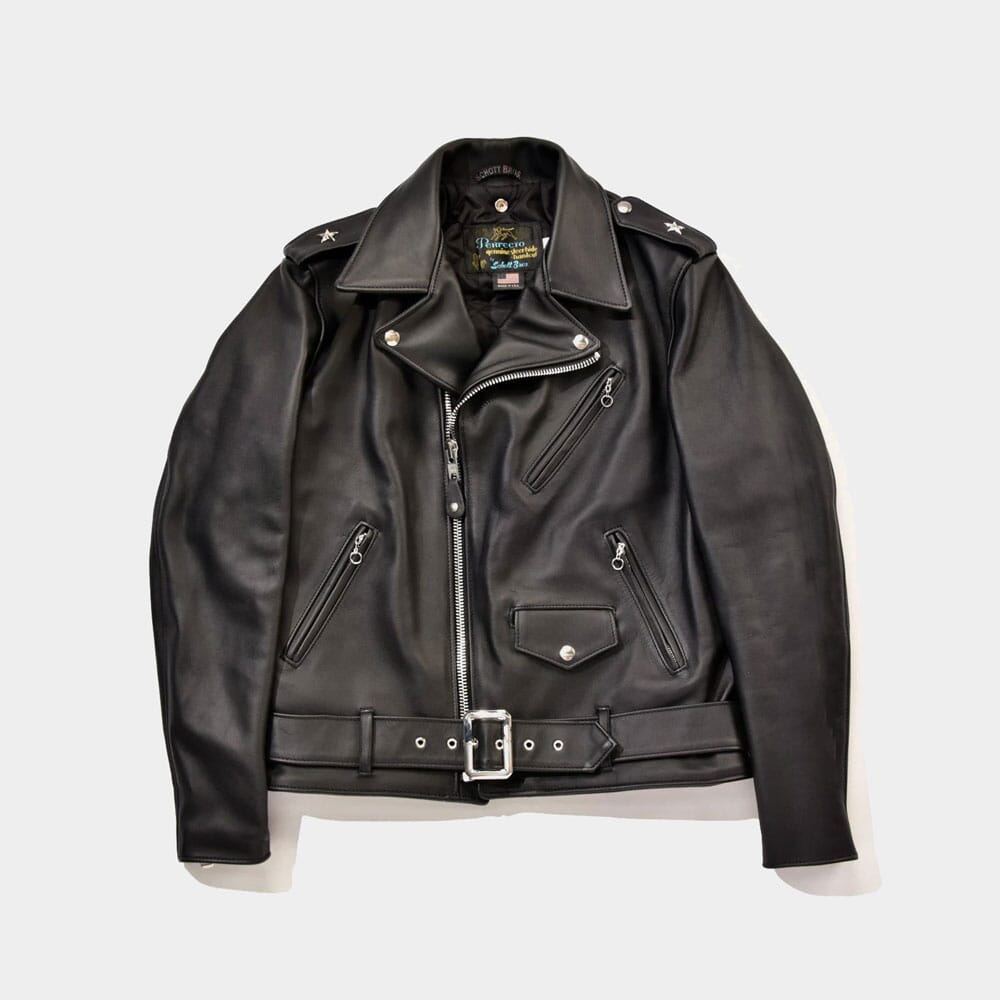 Schott Perfecto x Lightning Limited Edition Leather Jacket Black
You've got to love a limited edition. Especially when it's the product of the 25th anniversary of a celebrated magazine. This special version of Schott's classic 613UST jacket features ace of spades artwork on the back and a stars and stripes neck label. The back panel artwork has been painted by hand and will crack and weather to replicate the original '70s model this jacket is based on. Also features gold zips, star epaulettes and Schott's trademark belt. A jacket absolutely dripping with cool.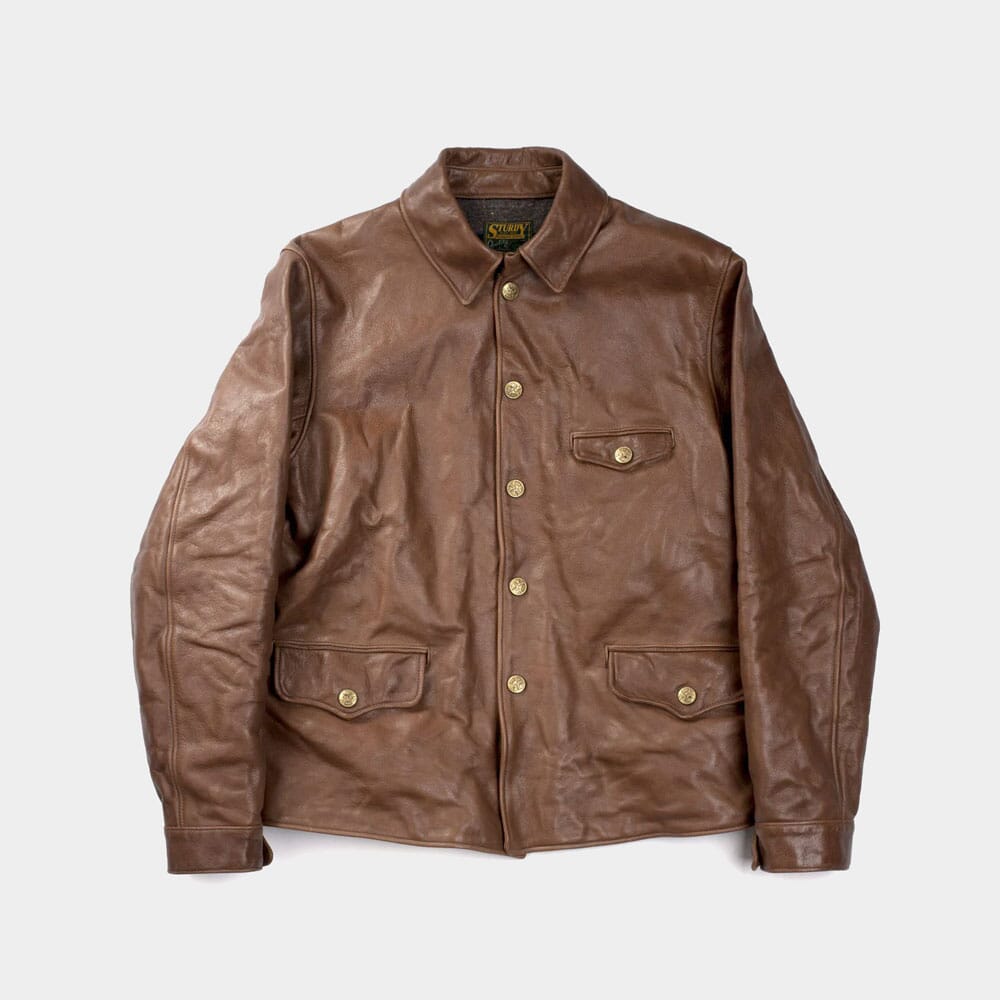 Sturdy Leather Car Coat Brown
Known more widely for its leather luggage, Sturdy also do a pretty mean selection of men's leather jackets when they put their mind to it. This leather car coat is a modern classic made from a premium vegetable tanned cow hide, with subsequent washes softening the leather and bringing out that striking patina. The '30s car coat design is slightly different to modern designs and brings a welcome point of difference. The blanket lining is a nice touch and you can either wear it buttoned up to the top or open over a jumper or T-shirt.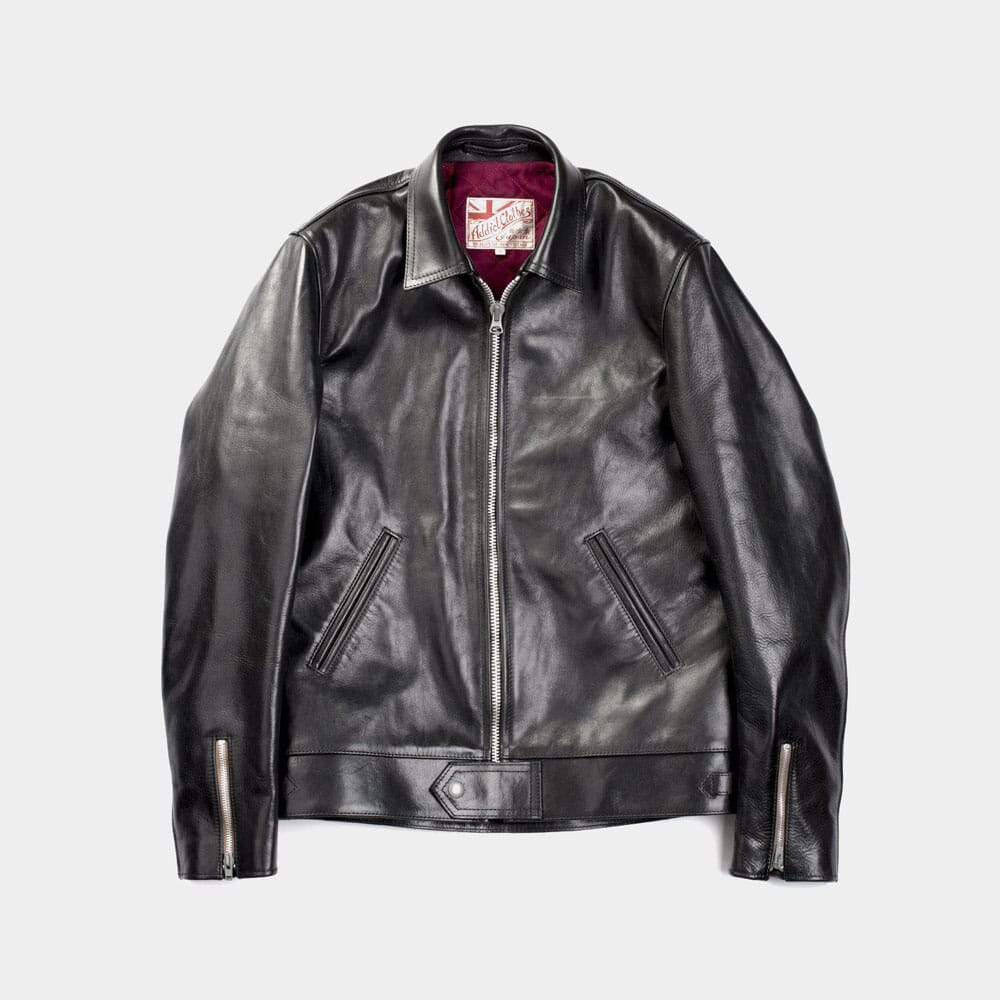 Addict AD-01 Horsehide Leather Jacket Black
Some of these motorcycle jackets have a lot going on. Some of them don't. This from Addict Clothes Japan falls into the latter camp. Something more simple but sleeker for it. Addict deals in simple leather jacket designs inspired by Britain's golden era of motorcycles between the '30s and '70s. The AD-01 is all about clean lines and minimal buckles or zips. Made from veg tanned black horse hide, with zipped sleeves, a quilted lining and two hand warmer pockets.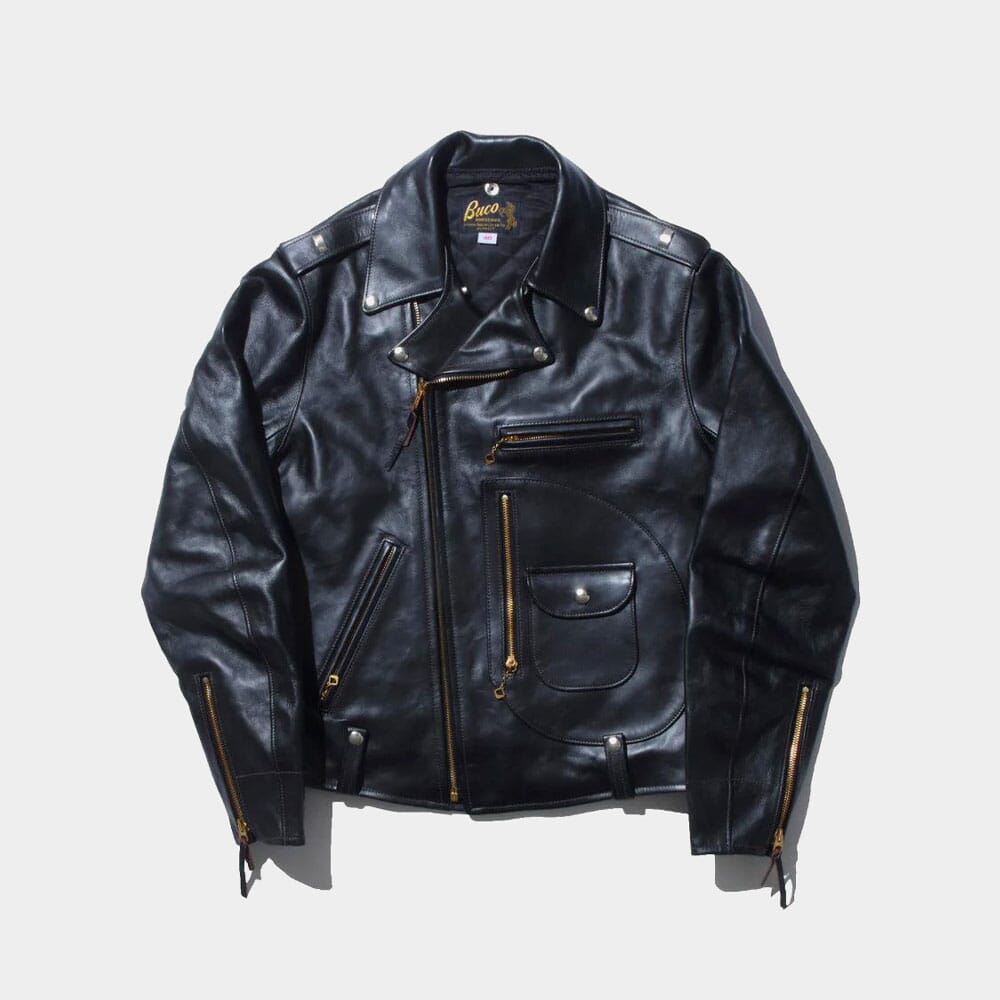 The Real McCoy's Buco J-24 Leather Jacket Black
Great detailing and contrast zips on this Buco J-24 leather jacket in black by The Real McCoy's. Buco was the original company that made this jacket in the 1940s and The Real McCoy's have since acquired the license to produce the brand, doing so with trademark expertise and Japanese craftsmanship. The tea-core vegetable tanned horsehide will weather beautifully over time whilst the custom quilted liner ensures comfort.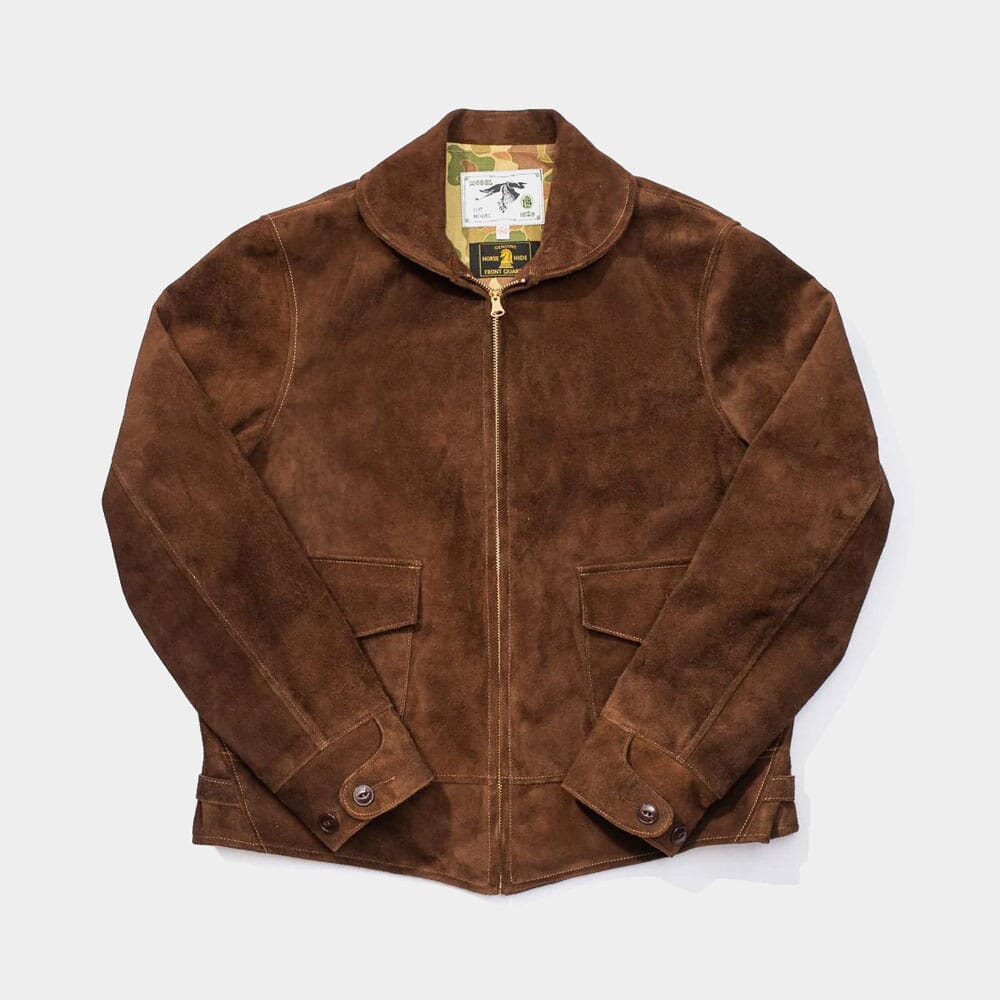 Himel Bros A1 Heron Shinki Horsehide Suede Jacket
This is a serious jacket from a serious jacket maker. Using '30s and '40s techniques, Himel Bros leather jackets are garments made with serious care, using 100% cotton, Guttermann-brand cotton thread and in this case world famous Shinki horsehide. The suede jacket itself is a thing of beauty. The shawl collar is a welcome touch as is the heavyweight Vietnam-era tiger stripe camo, exclusive to Himel. Little touches including art deco buckles and the Cossack style detailing at the back make for a unique piece.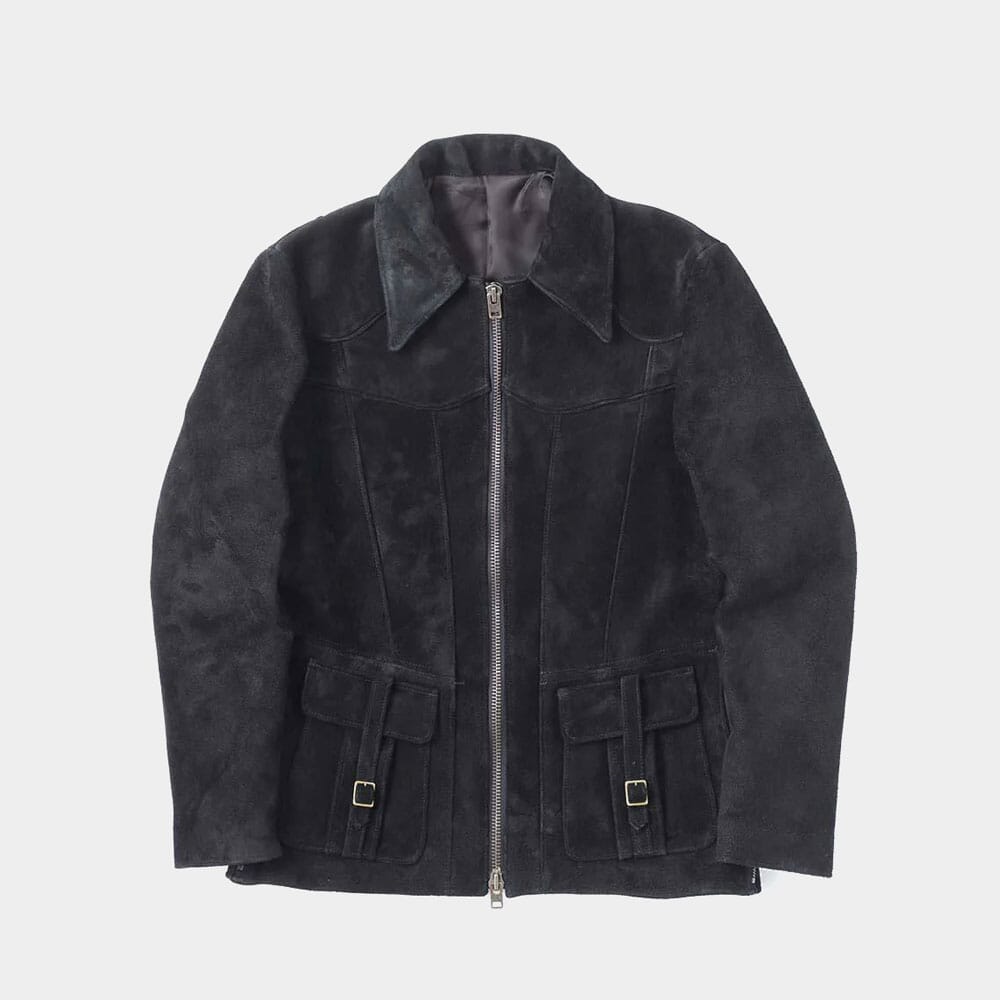 Jelado Smoke Jacket Suede Black
Detailing again. Look at that front panelling. This '70s-inspired smoke leather jacket is the work of Jelado, inspired by the jackets made by East West Company during the 1970s. East West famously made jackets for the likes of Elvis and Janis Joplin. The Jelado reproduction is true to the original style with the cowhide suede treated with oil and dyed in house to give a lived-in feel. A secret pocket under the collar, known as a "marijuana" pocket is a nice touch.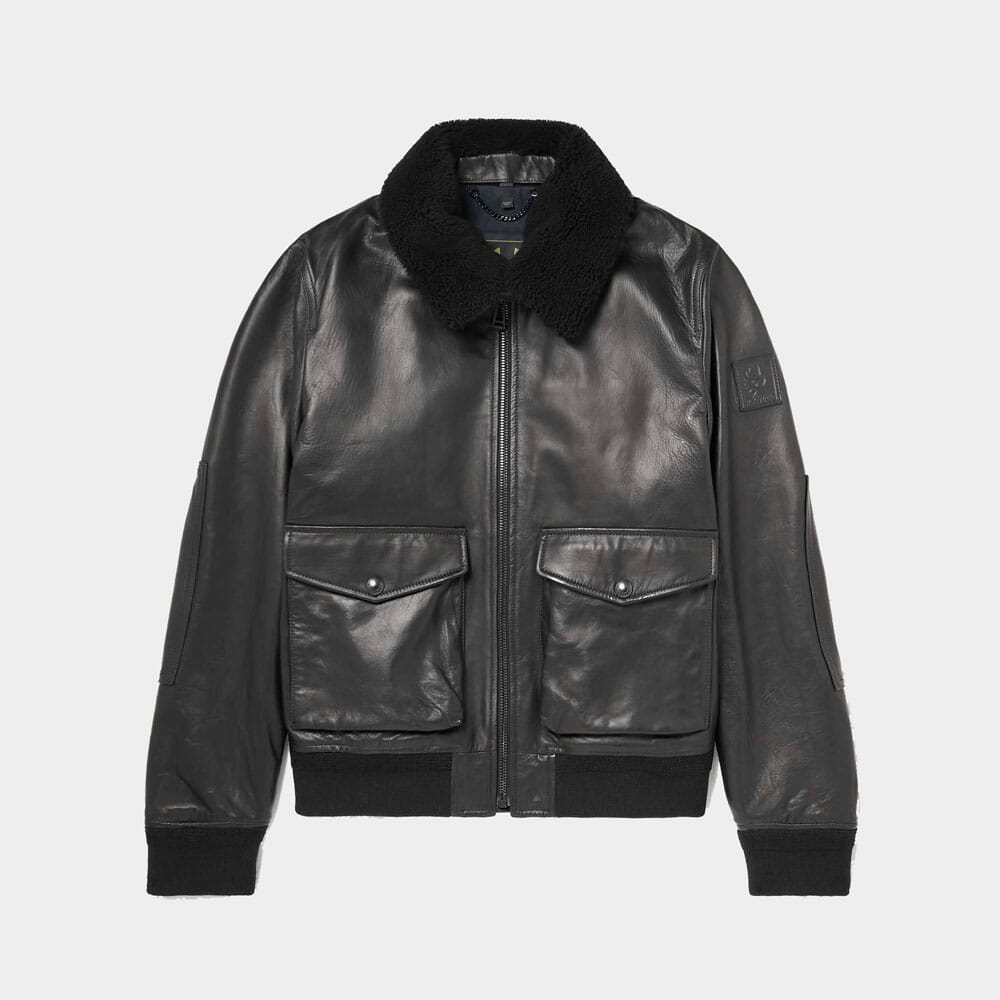 Belstaff Chart Shearling-Trimmed Leather Jacket
When it comes to contemporary leather jackets, Belstaff is king. Inspired by vintage styles but with designs firmly in the present. This Chart shearling trimmed jacket in black takes inspiration from 50s flight jacket styles. Cut from soft leather, with a minimal detail construction, two button down pockets sit on the front with a throat latch at the top for securing the collar. A shearling collar ensures comfort and warmth.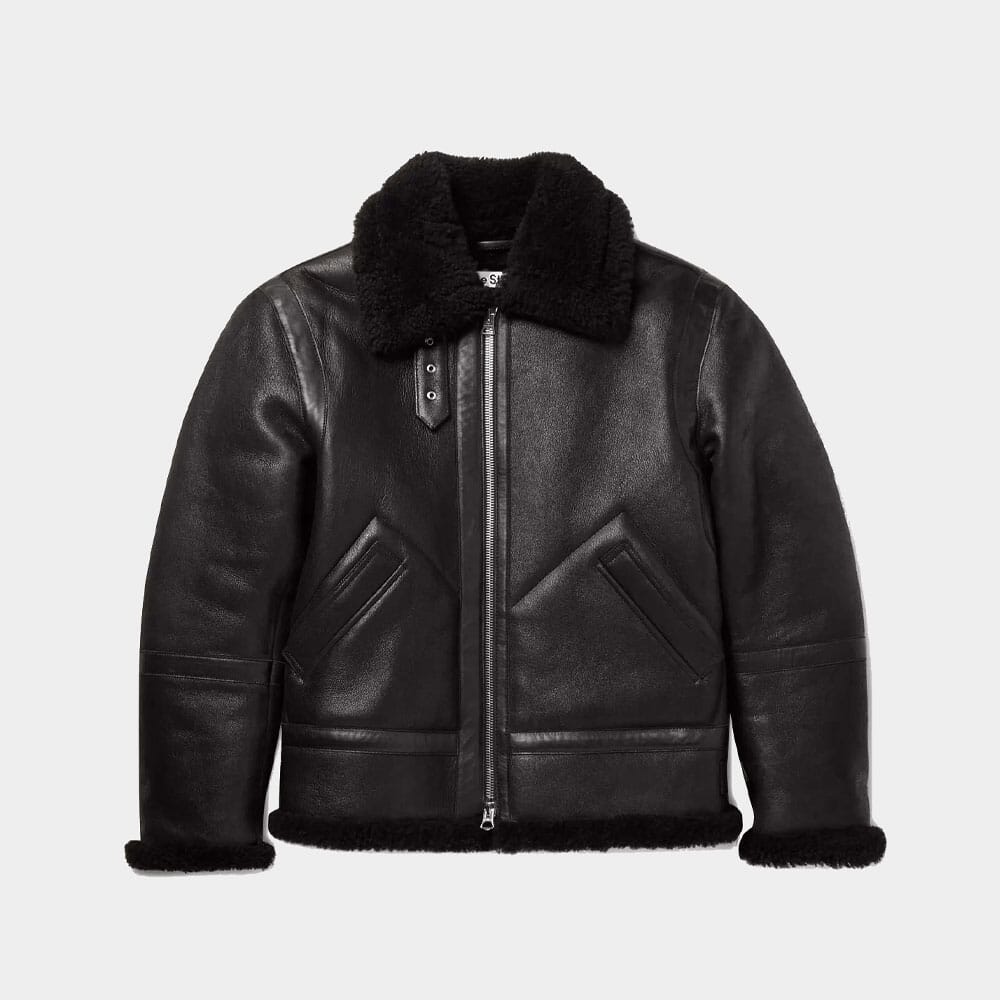 Acne Studios Shearling-Lined Full-Grain Leather Jacket
A roomier jacket from Acne Studios, this '70s inspired number is great for layering. Made from soft grained leather with shearling for insulation, the collar is a standout feature that would go well with a roll neck underneath. Front slip pockets ensure warmth for your hands with the shearling trim around the hem and cuffs a good alternative to ribbing.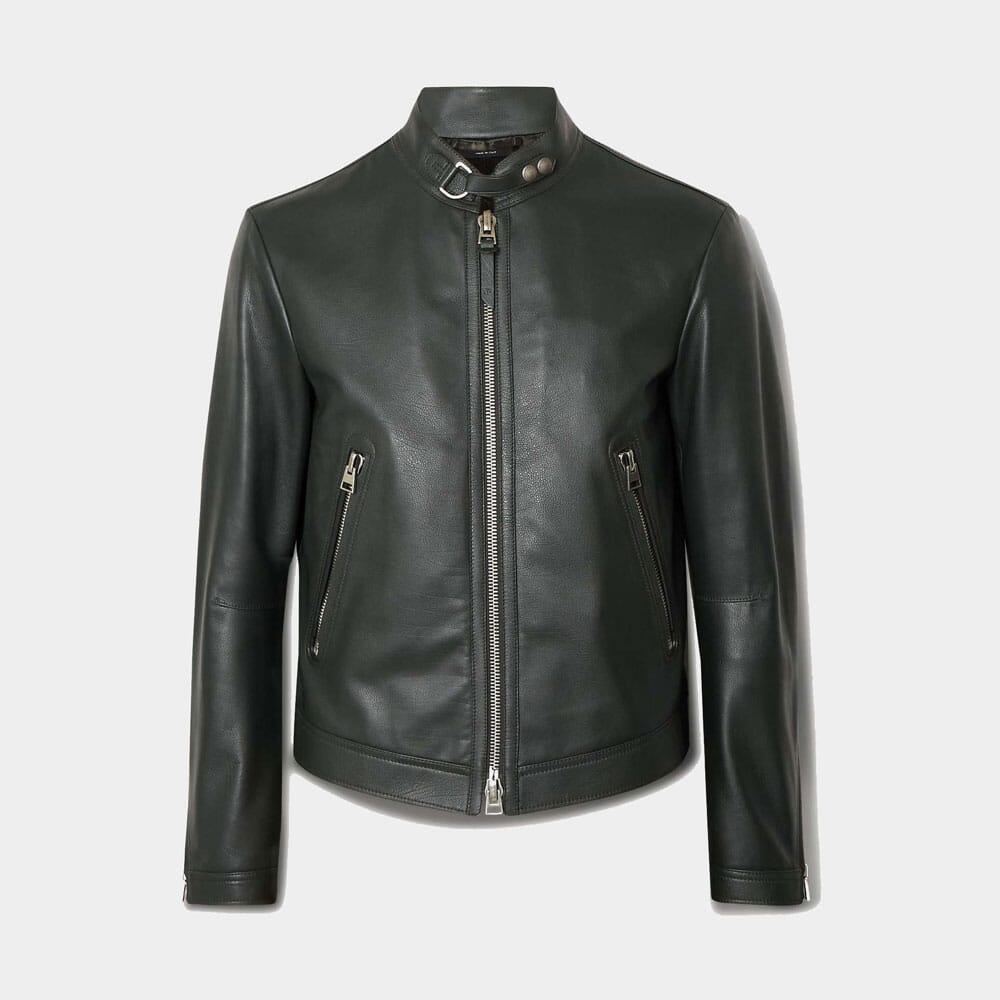 Tom Ford Full-Grain Leather Biker Jacket
You can always trust in Tom Ford for sexy and sleek. This full-grain leather biker jacket being a prime example, with the eponymous fashion house making this particular style a runway mainstay. A crucial sartorial investment if ever there was one. The jacket is made in Italy from full grain leather and cut for a slim fit. The classic buckle collar finishes off a jacket that's made for all black looks, pair it with black jeans and biker boots.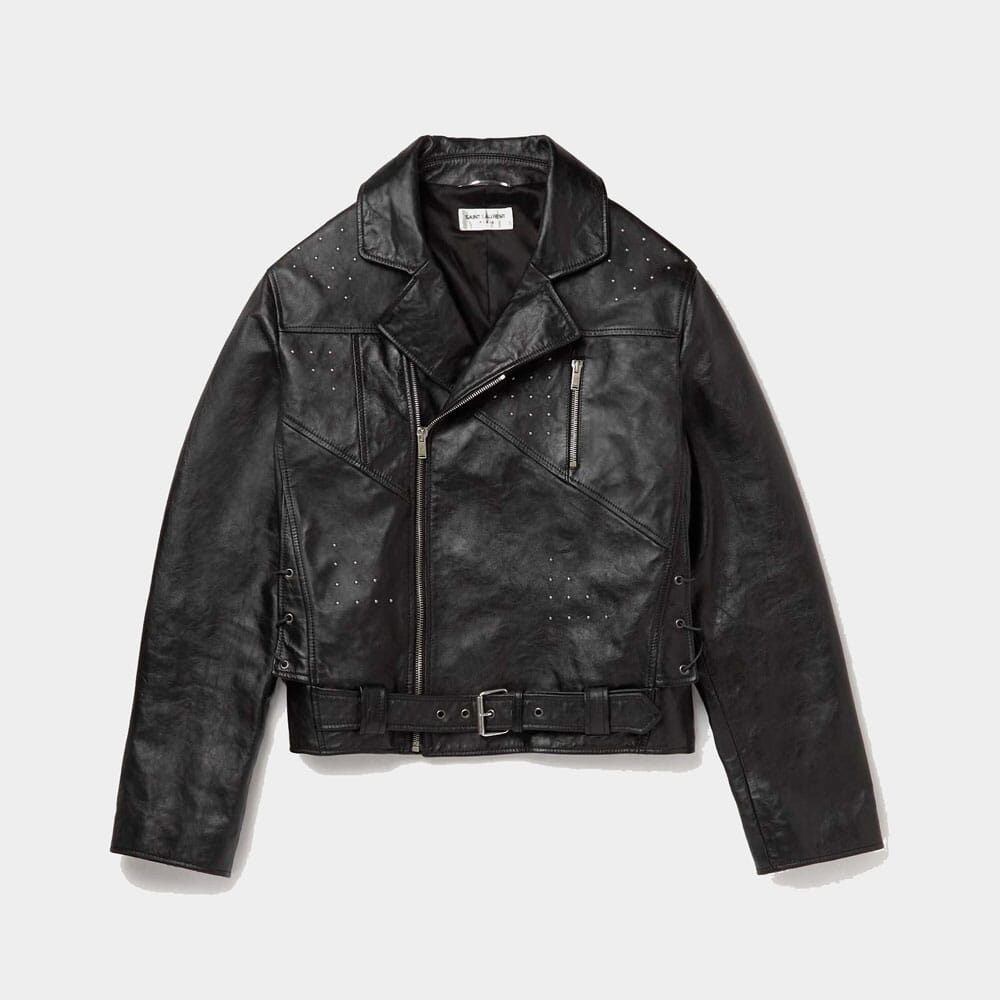 Saint Laurent Cropped Embellished Leather Biker Jacket
Some brands are at their absolute best when making leather biker jackets and this Saint Laurent number drips with rebellion and attitude. Crafted in Italy from age leather, the jacket fits slim with a slightly cropped silhouette. Epaulettes, zipped cuffs and an adjustable belt are all ticks on the trademark biker jacket checklist, with silver-tone studs and tie details welcome additions on the side. Wear with all black everything. A Cuban heel boot would be very on brand.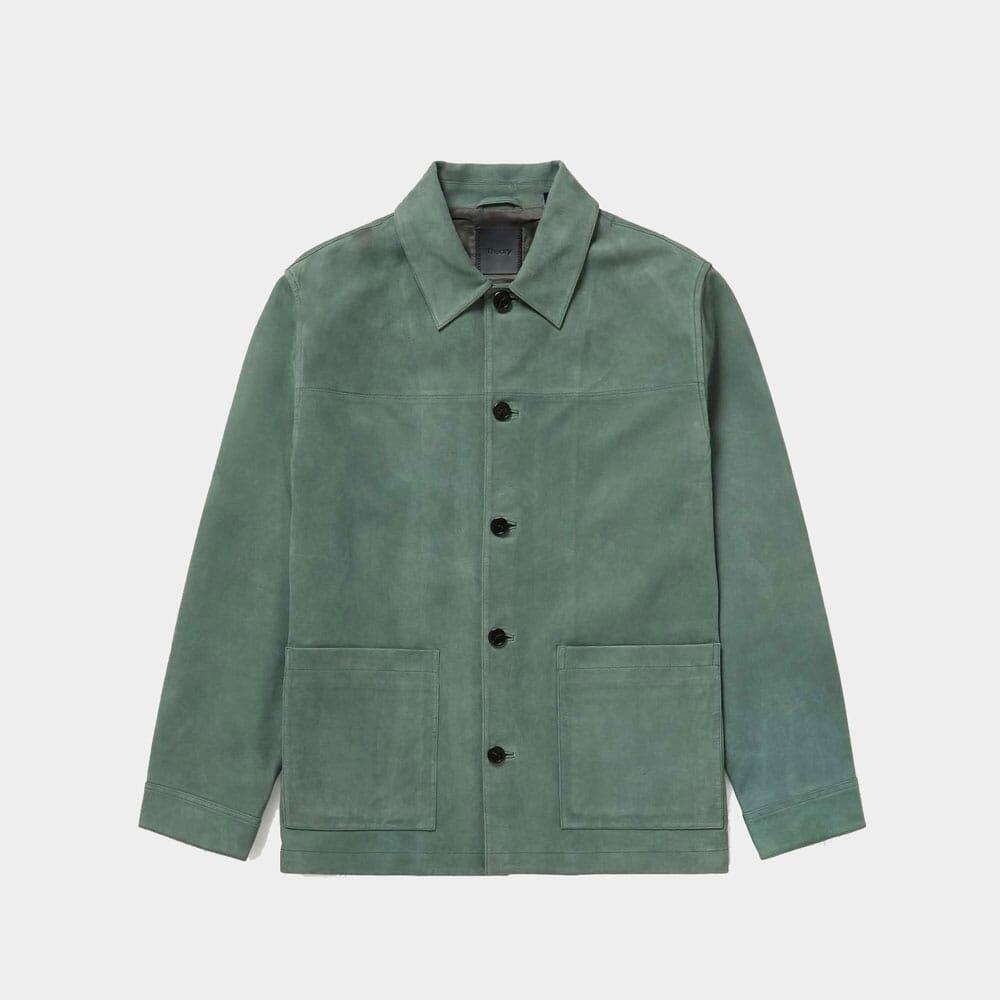 Theory Selk Nubuck Shirt Jacket
Last but not least, something a little different when it comes to men's leather jackets. This Selk Nubuck Shirt Jacket by Theory is a serious leather upgrade on classic workwear. Made from supple premium nubuck leather, the jacket is finished off with a pointed collar and contrast buttons. A great piece for casual dressing, wear it over a T-shirt with chinos and leather sneakers.
For something a bit different, discover our pick of the best puffer jackets for men.
---
---