The sneaker has undergone a baptism. Reborn and restated, the trainer has outgrown its sporting origins and has pushed the boundaries of modern-day fashion to become the ultimate essential for every man.
Initially designed with a practical purpose, sneakers are now the focus of style and creativity. The trainer is now a method of expression and an ideal way to add a strong statement to your outfit.
Highlighting just how easy it is to lace up your favourite pair is our latest Edit #18 – Statement Sneakers FT. ETQ Amsterdam: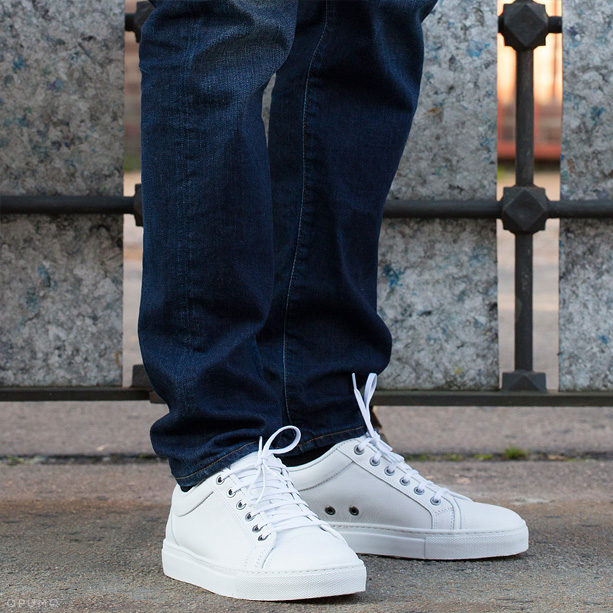 ETQ Amsterdam White Low Top 1 Sneakers:
When purchasing sneakers versatility is key. Buy a pair that can be incorporated across a range of looks, as right now there is no wrong time to wear sneakers. ETQ Amsterdam are renowned for their distinctly minimal style, which make them the ultimate arbiters of the statement sneaker. Experimenting with new materials and details are these Low Top 1 Sneakers which feature a white nubuck leather upper complimented with a white rubber cup sole and dark chrome eyelets. Put your right foot forward by making statements with your sneakers this season, and for more premium sneakers check out our full collection of ETQ Amsterdam alongside Common Projects, Number 288 and Filling Pieces online now.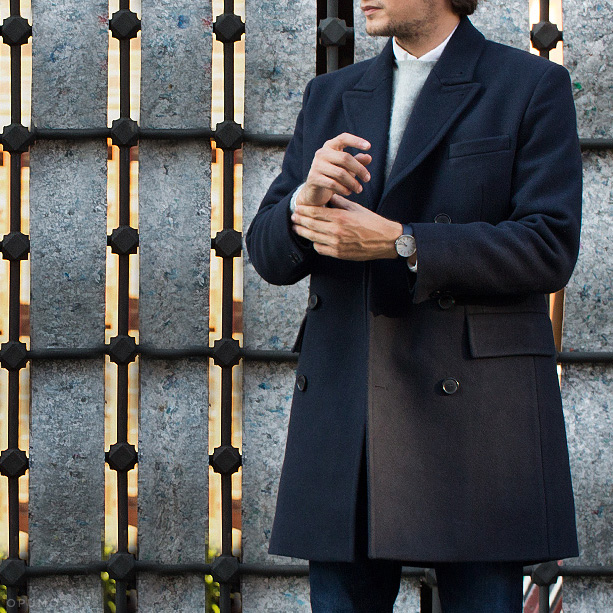 YMC Navy Double Breasted Overcoat:
Highlighting that a premium pair of sneakers can be styled up in any outfit is this classic Double Breasted Overcoat from London-based brand YMC. Fusing a traditional piece of outerwear, in the form of an overcoat, with a pair of sneakers creates the perfect blend of a smart-casual style, acting as a nod to the current sports-sophisticate trend. With focus on the coat, it has been given a timely update courtesy of YMC, crafted from a premium wool blend with a delicate weave texture. The 3/4 length overcoat also boasts structured shoulders and a classic button-front closure for a truly traditional style.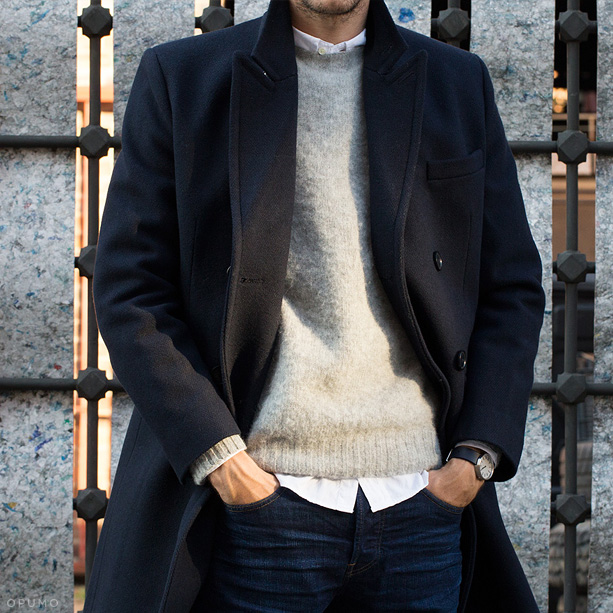 William Fox Light Grey Wool Sweater:
In previous seasons, and of course as we creep in to seasonal festivities, eccentric patterned jumpers appear. But comfort and utility should be the pretence behind every piece of knitwear you buy. Renowned for their traditional aesthetic, William Fox focus on the fundamentals of a sweater; superior fit, warmth and style which all combine to offer a sure found staple for cold-weather wear. Crafted in Scotland from an insatiably soft wool, the sweater is appeased in a clean, palatable light grey hue which completes the simplistic, sophisticated design.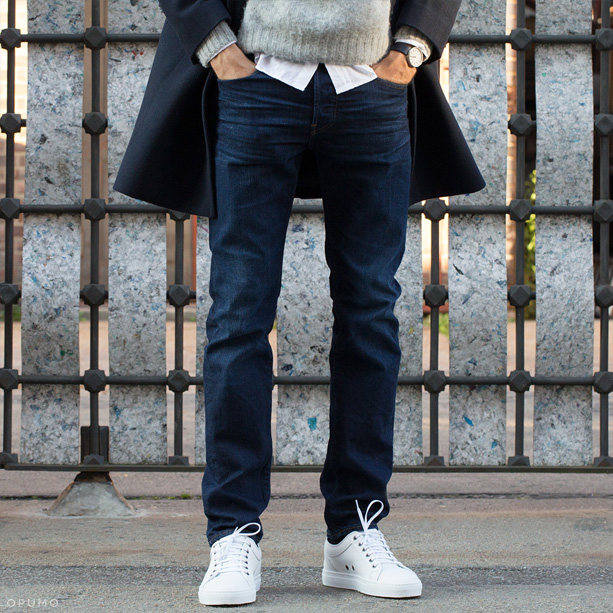 Edwin ED-80 Slim Tapered Night Blue Dark Trip Jeans:
No denim collection is complete without Edwin. The premier producers of long-lasting, superior fitting jeans, Edwin offer comfort and style in every pair, with the ED-80 Dark Trip style a prime example.  Cut in to a contemporary slim-fit silhouette with a slightly tapered leg, these jeans are exclusively made from 100oz CS Night Blue Denim, which provide the unique blue shade with the Dark Trip finish adding a worn, two-tone effect.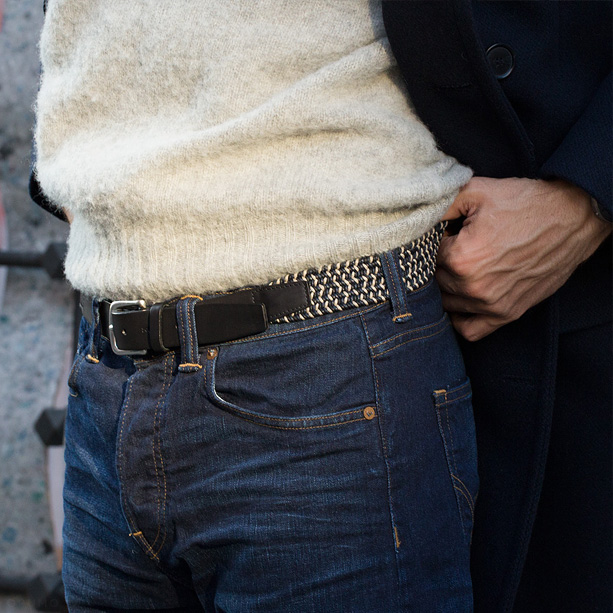 More than just offering support, the right belt can be used to make a statement, add a personal touch, create a clear distinction or bring an outfit altogether. The style for all occasions is the Navy Fog Belt from Folk; renowned for creating contemporary casual pieces each with unique and innovative uses of their own fabrics. This Fog Belt is a prime example as it has been intricately woven with navy, white and black colour hues to create an incredibly versatile belt that will act as the perfect accompaniment to any outfit.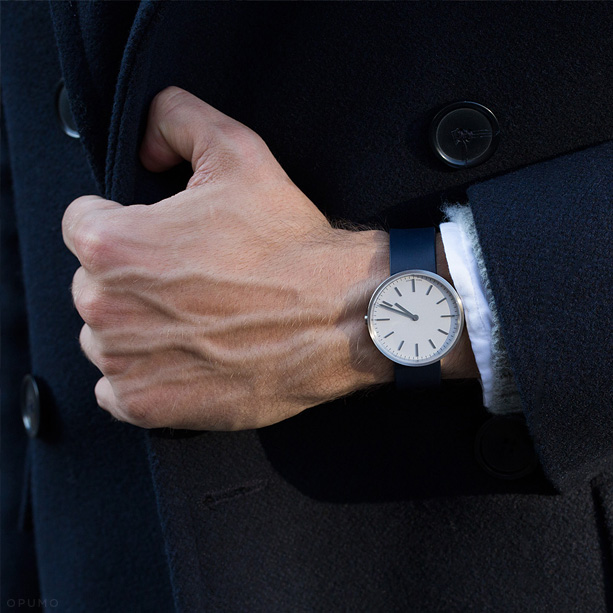 Uniform Wares M37 Brushed Steel Watch / Blue Rubber Strap:
When adopting a monochrome colour palette, your choice of accessories act as the ideal opportunity to add a touch of personality and colour to your outfit. The M37 Brushed Steel Watch with accompanying Blue Rubber Strap is the ideal choice. Despite being the smallest watch in the brand's M-Line collection, at 37mm in diameter, it is the silhouette which has formed a cornerstone in the brand's formidable reputation. The brushed steel watch face takes on a simplistic design and is handsomely contrasted against the robust storm blue rubber strap.
Shop Edit #18 – Statement Sneakers FT. ETQ Amsterdam online now at OPUMO.
Be sure to check out our ultimate guide to men's trainers.