We owe a great style debt to the fashions of American college campuses. In the last century American university has served us timeless fashions from campus preppy and mod-sharing Ivy League to the varsity jacket, which of late has experienced a serious revival. Of course, it's a jacket that has always lingered, taken up in different scenes, generation after generation, but now high and low fashion is giving the men's varsity jacket an updated fit. 
The original varsity jackets date back to letterman sweaters, clothing originally introduced by the Harvard baseball team in the late 1800s, with patches and letters denoting sport involvement and awards. This clothing was later expanded to jackets with a patch on the jacket, usually the first initial of the college, indicating team involvement with other patches and motifs a sign of sporting achievement. 
Men's varsity jackets have since gone beyond the college campus to a casual jacket option for all. Here's a choice selection with a few words on how to wear one.
How to wear a varsity jacket
A varsity is a casual option originally designed for knocking around campus. Usually made from wool with either leather or polyester contrast arms, they are warm, comfortable and tend to come in a loose fit which is great for layering underneath. For the most part, it's a great option for wearing over a hoody and sweats with a slightly chunky sneaker underneath. A varsity tends to be a statement piece too, so motifs and embroidery can be matched with a wider silhouette trouser or cargo pant that matches what can be a busy look up top.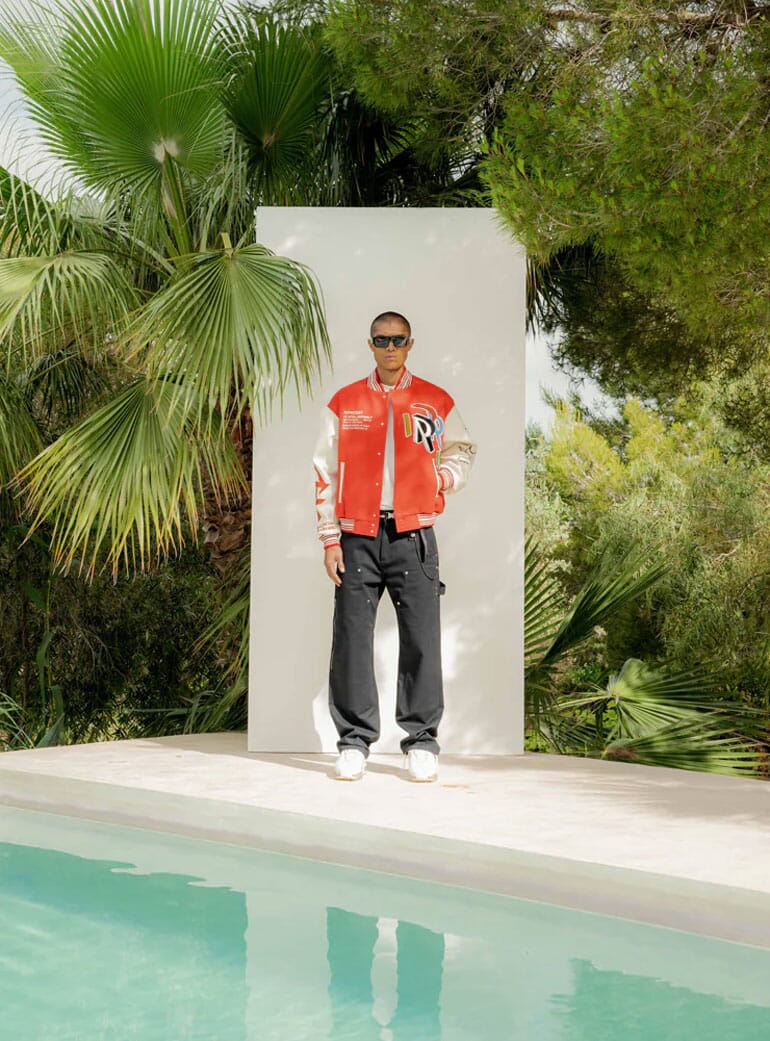 It's worth noting that many of the brands on this list have formalised the varsity or slimmed its fit in order to provide a cleaner, smarter version for wearing over knitwear and shirting. If you're looking into a capsule wardrobe that's largely basic, block colour pieces, a varsity jacket is a welcome addition that provides character, colour and an intriguing aesthetic.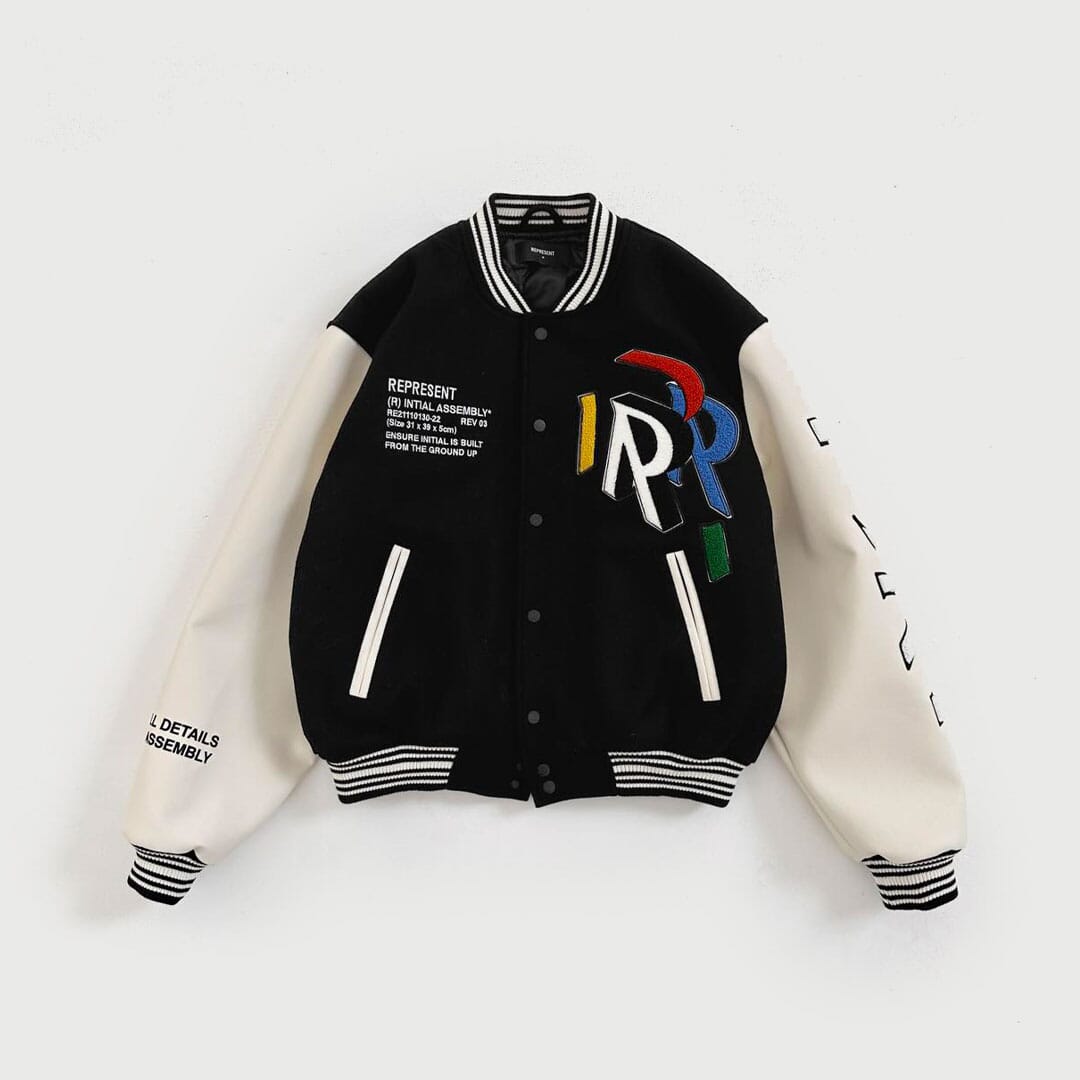 Best varsity jackets for men in 2023
Represent Owners Club Varsity Jacket
First things first, two solid colourways. Maroon (bulletproof), and black with contrast grey sleeves. Second, update on a classic. Represent have taken the classic blueprint for a letterman jacket and updated it with contemporary features. The body is Italian wool and the arms are faux leather, with the brand's logo on the front with motifs front, back, and on the arms to complete the look. Rock it over a hoodie, baggy jeans and some Dunks or Jordans.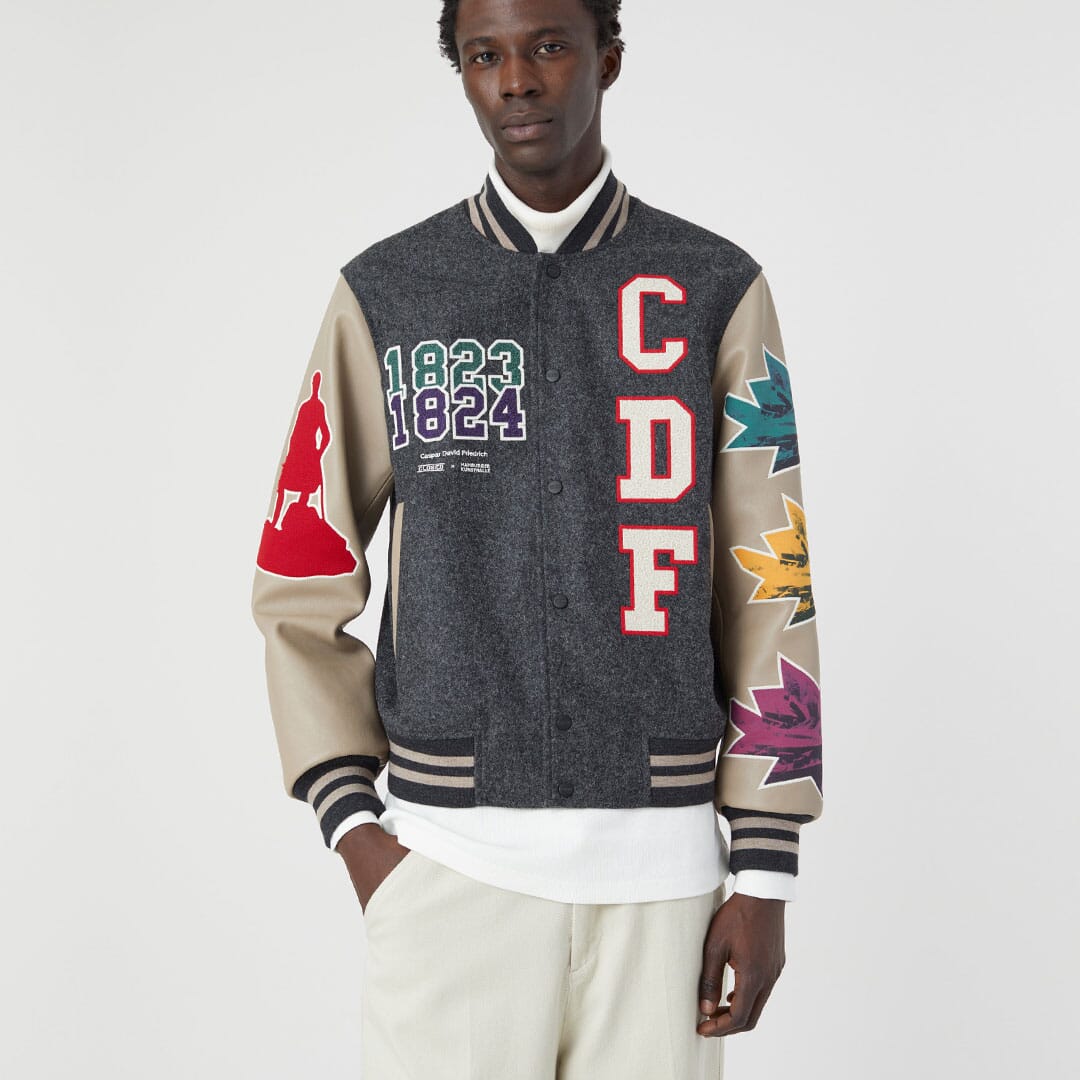 Closed x Hamburger Kunsthalle Varsity Jacket
This is a fun contemporary take on a classic from sustainably-minded brand Closed. A slim-fitting, slightly cropped varsity jacket has been given the art treatment thanks to Closed's exclusive collaboration with Hamburg art museum, Hamburger Kunsthalle. Inspired by the work of Caspar David Friedrich, a 19th-century romantic German landscape painter, the jacket features colourful patches on the sleeves, simple front and back motifs, with the classic wool body and leather sleeve combo. Press stud buttons and knit cuffs complete a special jacket that's worth copping for a varsity jacket that sets you apart.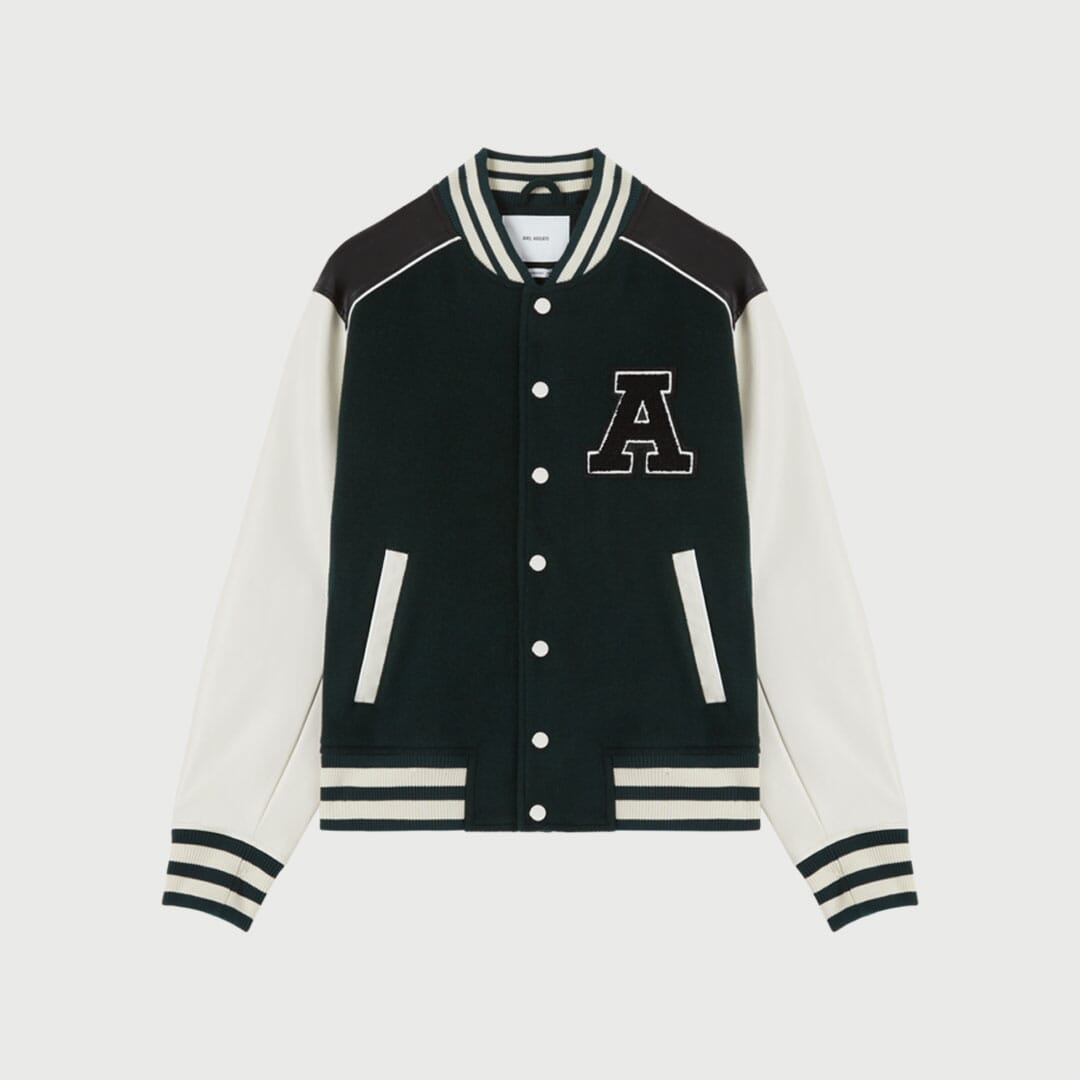 Axel Arigato Ivy Varsity Jacket
A campus-worthy classic from Axel Arigato in dark green with a prominent A motif. The brand's Ivy jacket is inspired by original collegiate designs with the body made from wool while the arms are a polyester mix. Striping around the collar, hem and cuffs adds a nice contrast to a piece that comes with a regular fit. Pair it with a pair of the brand's grade trousers and a chunky sneaker. Axel Arigato have plenty to choose from.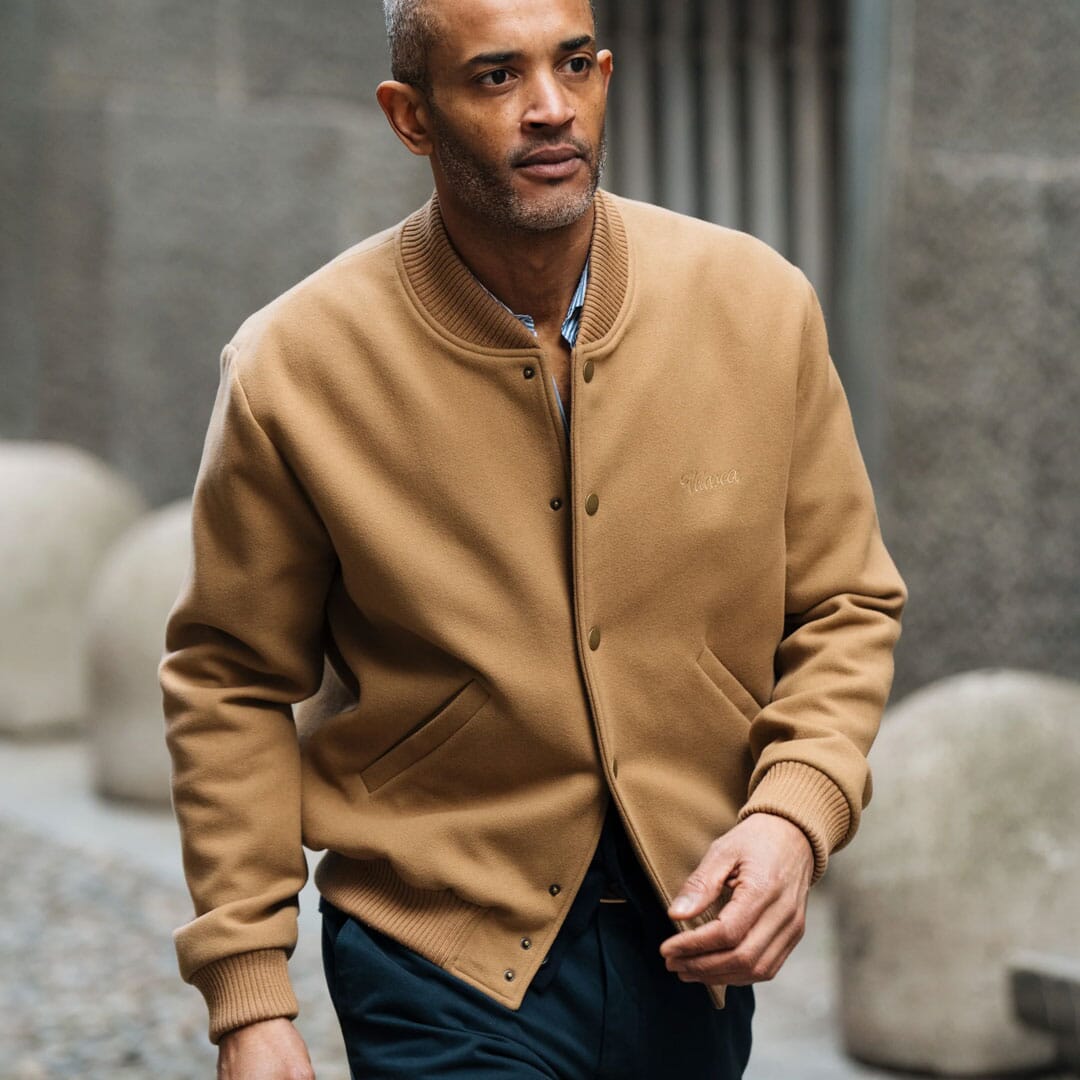 Velasca Montefalco Jacket
Two important points to note here. Traditional Italian shoemakers Velasca don't just do exquisitely designed, hand-crafted shoes and if you want a varsity-style jacket, it doesn't have to be a streetwear-minded, motif forward design. This piece shows that. Crafted from a wool mix in Italy, this camel bomber-style varsity jacket is a sleek option in a regular fit with stud buttons and two front pockets. Wear it over a shirt and cardigan for some dishy Italian style, with pleated trousers and a loafer. Casual but wonderfully elegant.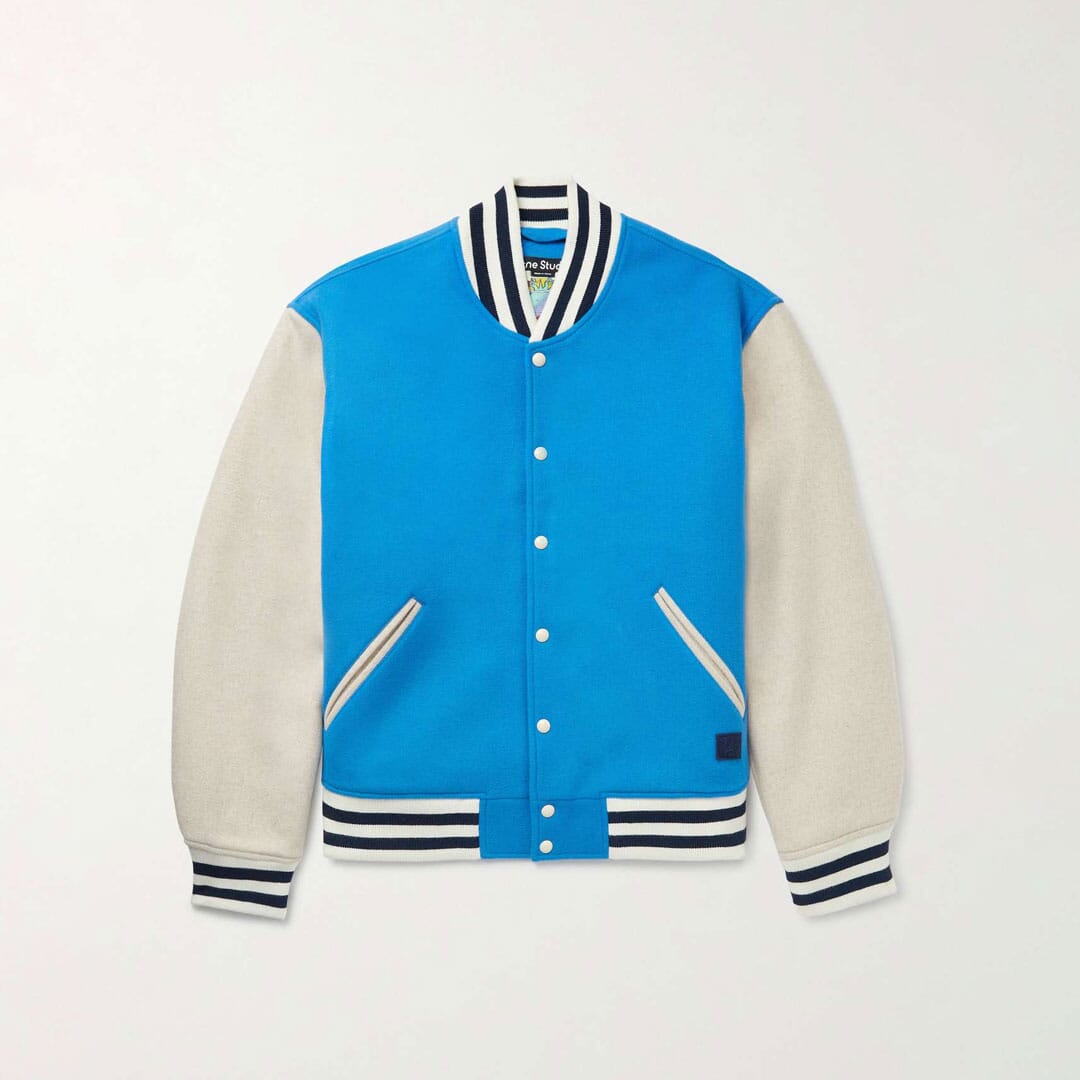 Acne Studios Ovan Wool-Blend Felt Varsity Jacket
Stand out with the Acne Studios Oban jacket, taking the classic stylings of a varsity, but blowing it up in sky blue for a distinctive look. Contrast striped pockets are a nice touch, as is striping around the neck and hem with the contrast panel sleeves setting off the vibrant blue. Cut from a wool-blend felt, the inside lining is quilted with a subtle appliqué logo on the front pocket. A good option if you're looking for the style minus the bold motifs and patches.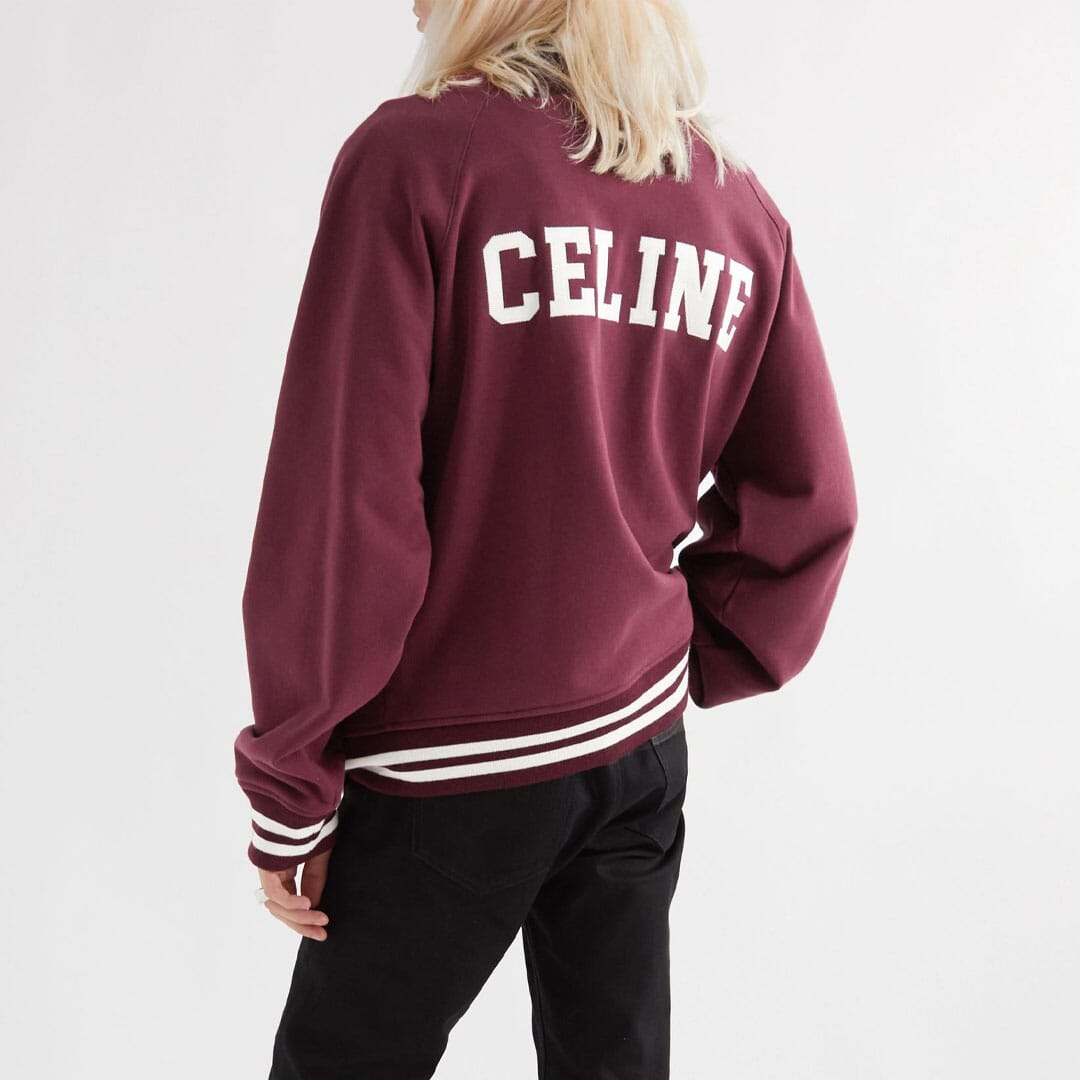 Celine Homme Logo-Appliquéd Cotton-Jersey Varsity Jacket
A gorgeous piece from Celine Homme, but then again we wouldn't expect anything less from the French fashion house. The colour is beautiful. Rich burgundy all over, with the same burgundy channelled into the striping on the cuffs, hem and collar. An appliqué C the only standout motif on a largely minimal jacket. Made in Italy from lightweight jersey cotton, it's slightly loose-fitting meaning it'll sit snugly atop a hoody.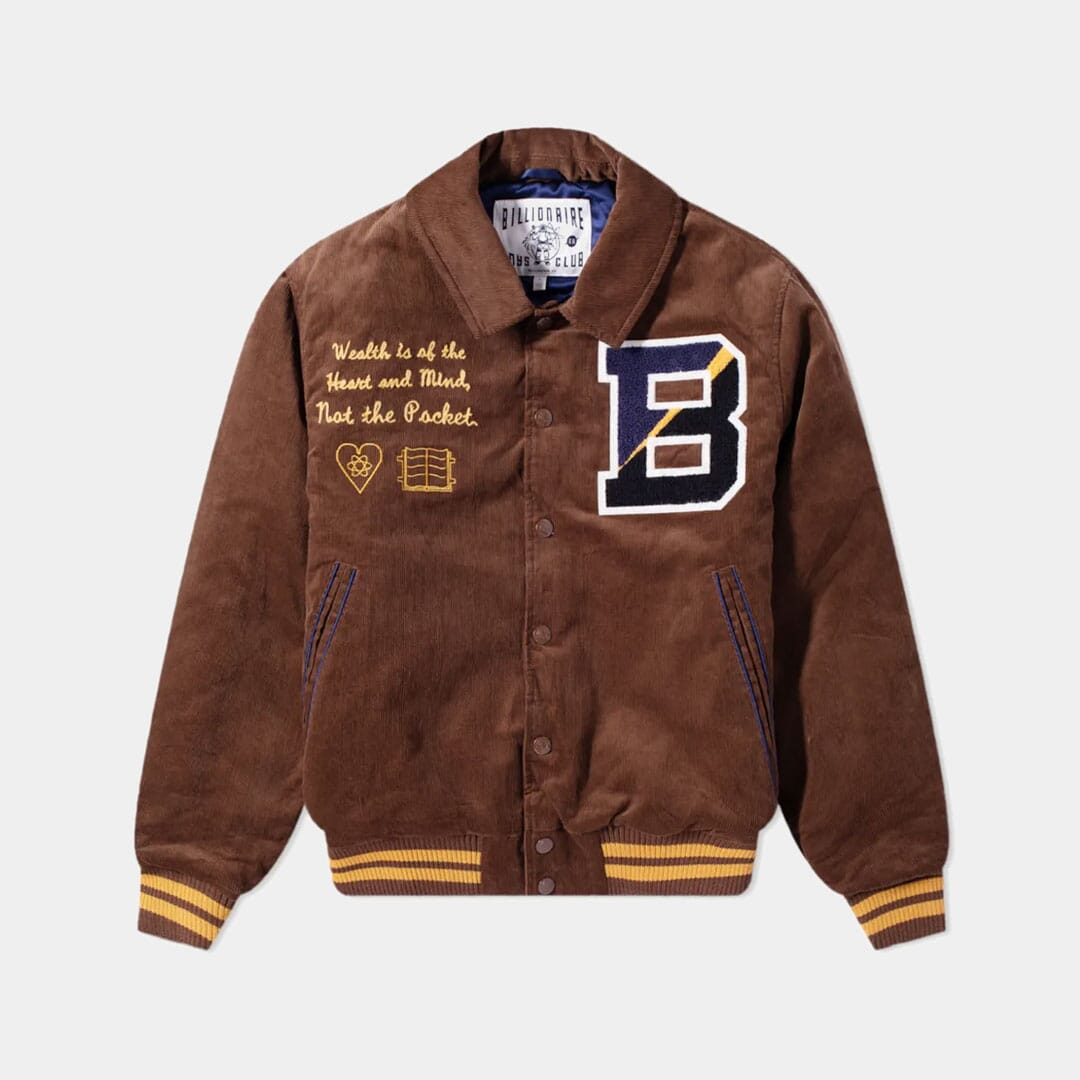 Billionaire Boys Club Corduroy Collared Varsity Jacket
A standout on the list is this corduroy number from Billionaire Boys Club, the brand launched in the early '00s by none other than Pharrell Williams and Nigo. The BBC take on a varsity also smacks of Americana flight jackets, with embroidered branding front and back. Made from 100% cotton with snap buttons and two front pockets, it's a bold piece that is gagging to be matched with bold cargo pants and a statement sneaker. 
For more excellent outerwear options, check out our pick of the best chore jackets for men.
---
---