Drone photography is no new phenomenon, but what Dirk Dallas is doing is quite revolutionary. The Californian-based photographer, who also runs @Fromwhereidrone as well as his personal account @Dirka, uses his drone to capture some of the most poetic aerial photography that we've seen in a while. It's not just us who feels that way as his sky-scraping images has amassed a loyal photographic following of fans, currently standing at 188k, along the way, too. Not only that, Dirk also runs a From Where I Drone website, which is a pretty helpful resource for those who are interested in getting started with aerial photography. So in the latest episode in the 'Who We're Following' series we sat down with Dirk to see how he does it, pick up a few tips along the way and walk through some of his favourite photographs that he's ever taken too.
Name:
Dirk Dallas
Location:
Southern California
Full-Time Job:
Commercial Photographer & Educator
Camera:
Drone Camera: DJI Phantom 4 Pro
Ground Camera:
Canon 5D Mark IV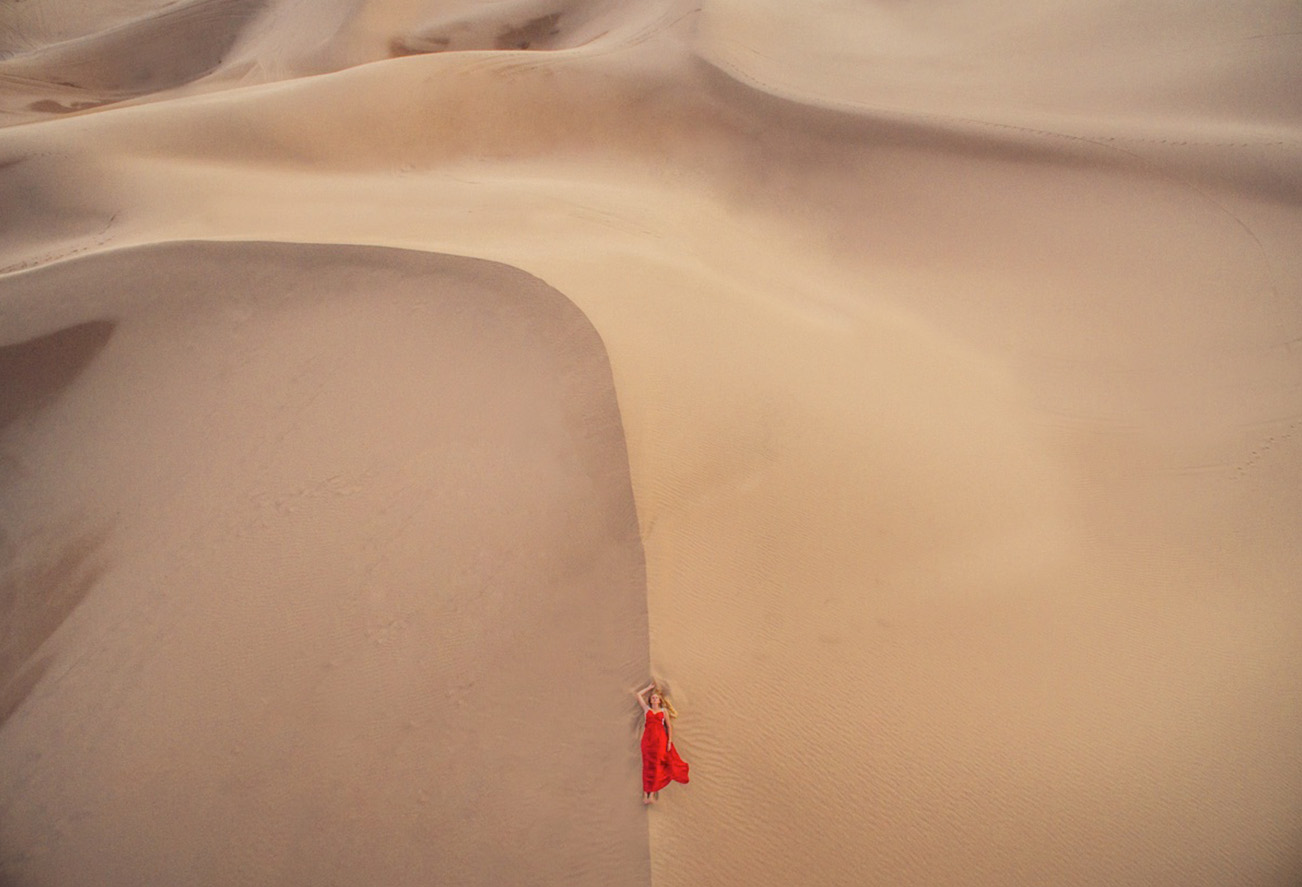 What Are Your Earliest Memories Of Photography?
When I was about 7 years old my parents let me buy a cheap film camera at the neighborhood drugstore. Right after that I got to take it with me on a school field trip to the zoo. I remember getting the prints of the photos I took of all the animals and being blown away that I created those. It was magical.
What Was The Location That Made You Fall In Love With Photography?
I remember a photo that really made things special for me was this old image I took with my iPhone back in 2010: There was something magical about the light and colours that have always stuck with me.
Who Were Your Early Influences?
The three that come to mind straight away are Trever Hoehne, Erik Almas, Michael O'Neal.
What Inspired You Take To The Sky To Capture Your Photography?
After taking pictures at ground level for a few years I felt like I needed a new challenge. Drones provided that for me because it was new and it pretty complicated in the early days. Once I took my drone up for the first time though I quickly realized the potential and knew this was going to be a game changer for me.
How Do You Approach Each Projects/Subject That You Shoot?
I always think about the feeling, mood and story I want to communicate. Sometimes my work can be related to ideas of beauty or isolation or even scale to hopefully help people see that the world is so much bigger than their current reality.
What Is Your Favourite Photograph On Your Instagram Page & Why:
This can often change but right now it probably is this one.The photo shows a forest of trees densely packed but then a little opening is there in the middle of the frame with a car and road. I have never really seen anything like it so I like the uniqueness of it, and I hope it makes viewers want to ask some questions about this scene like where is this, how'd we find it, what does the road to lead, etc.
The Last Photograph That Took My Breath Away Was…
I was recently blown away by this photo because it just shows the most interesting pattern arrangement of trees that I have ever seen. It's simple but beautiful.
I Don't Think Photography Should Be
About likes, comments and follows. That stuff lures a lot of people in, making us addicted but it is super fleeting. It doesn't last and it can be selfish. Instead create content that pushes and challenges you and that can inspire people and allow you to connect with others.
You're Also Building Your Own Home & Documenting It On Instagram, @OurLakeHillHome, How's That Coming Along? What Have Been The Biggest Challenges?
We are still at the early stages but I will say that building a house is very complicated, as there are a lot of moving parts and parties that are involved. To be honest it has been a super slow process, but things are actually starting to pick up just recently for us. We are close to wrapping up the final details with our contractor and bank. So breaking ground shouldn't be too far off... I hope, anyway.
Any Advice For Those Who're Looking To Build Their Own Home?
Do your research, ask a lot of questions, always add more time and money to whatever people tell you, commit to the project and then be very patient and willing to find ways to problem solve when things pop up.
Where Have You Been Heading For Inspiration When It Comes To Building Your New Place?
There's loads right now, but these are the ones that I keep returning to: @mcgeeandco, @beckiowens, @amberinteriors, @house_sprucing
Three Of Your Favourite Instagram Accounts:
Keep up to date with Dirk's latest work by following @Fromwhereidrone on Instagram and by checking out the FromWhereIDrone website.
Want more in the series? Check out our exclusive interview with contemporary photography Serge Najjar.