Every now and then a trip will catch you by surprise. We've all been there. A wedding abroad or a work event on the other side of the country. Trips that don't occur often but nonetheless require a suit. You arrive at these events and there's immediately two types of people. People with appropriate luggage and people who are essentially winging it. Trying to get the most out of every last fibre of the bag their suit came in. The problem is, it shows. 
If luggage is easy to underinvest in, garment bags are even more so. Most people get a free one with their suit and despite its deterioration, stick with it. It becomes a canvas for scrapes, abrasion, discolouration and faulty zips. It also provides little support for the garment inside meaning creases aplenty. 
Don't be that person. Invest in a garment bag. A quality garment bag will prolong the longevity of the garment inside. It will protect the garment from the elements and the challenges that come with travel. A quality garment will look the part. An accessory to be seen with. Finally, if you think garment bags are just for garments, think again. There are smart products on the market that will carry your suit and everything else you need for a weekend away. Read on for our guide to the best garment bags for men.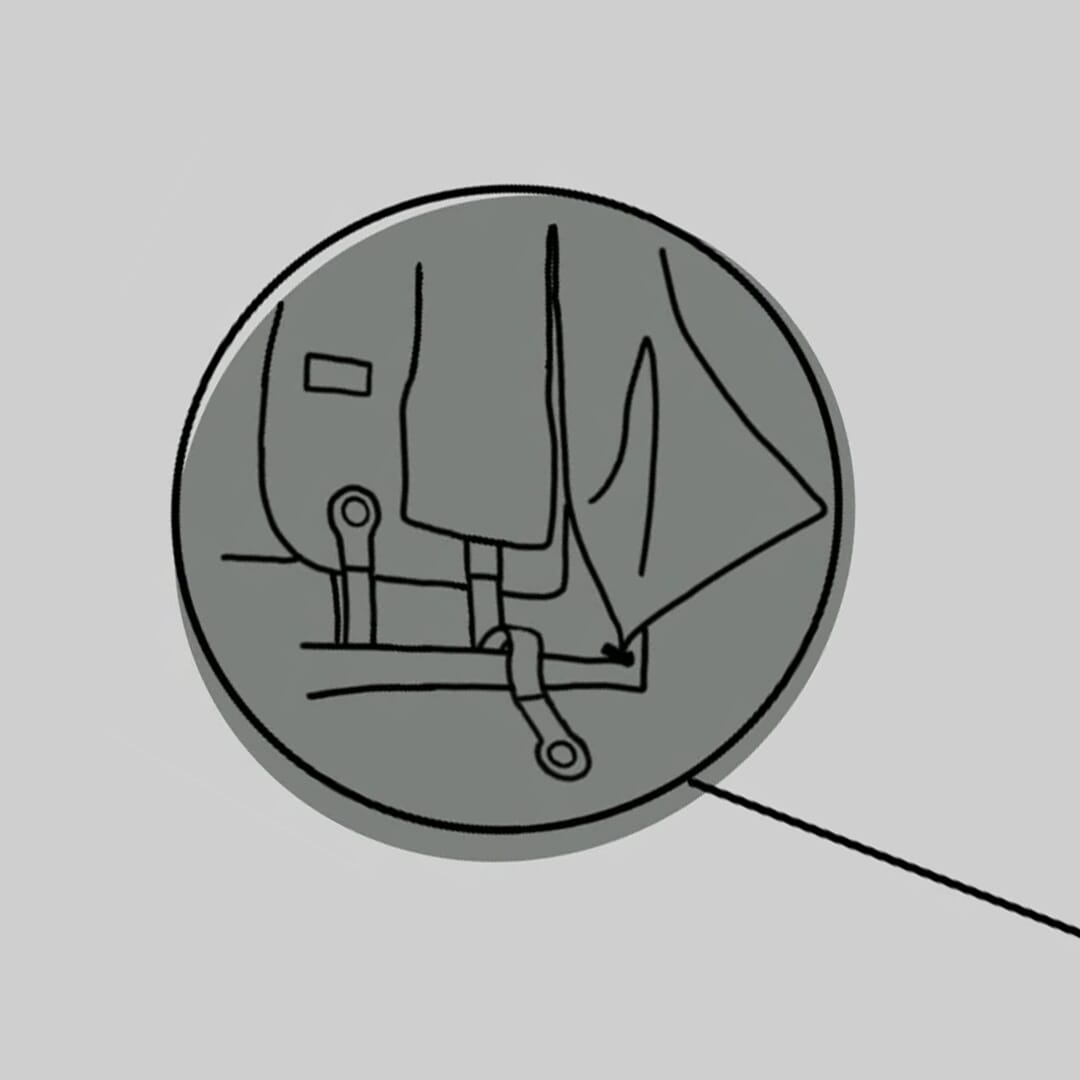 What to look for in a garment bag
First things first, there are loosely two types of bag on this list. The first is the traditional style of garment bag. A long, flat bag that folds in half when in transit. These bags feature a central zip and tend to also have external and internal compartments for accessories. The other style might surprise some people. Integrated weekender-style bags that feature garment storage as part of the sides of the bag. Elasticated clips keep everything in place with room above within the bag to carry other items. This style of bag could be a game-changer for certain travellers, one piece of luggage doing the job of two.
Further considerations include materials, pockets and compartments, and finishes. External pockets are always handy for travel, providing options to stash travel documents, devices and anything else you might need on the go. If you are a regular traveller you might want to consider an abrasion-proof material, likewise, if you're out in the elements it's worth considering something weatherproof. Capacity is also important with most on this list carrying up to two suits.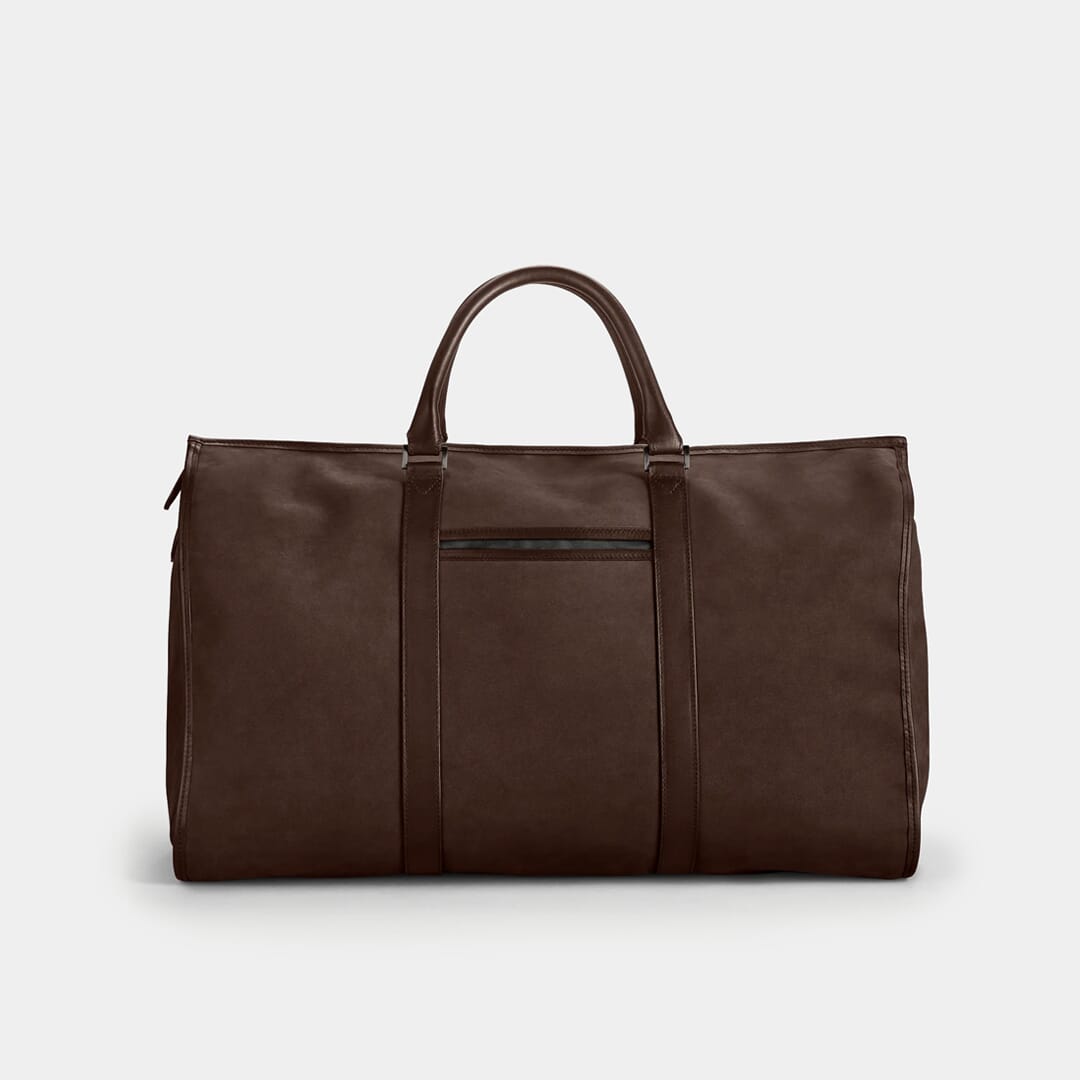 Best garment bags for men in 2023
Carl Friedrik The Getaway Weekender
On first impression you could be forgiven for thinking we've put the wrong item in this list with the Carl Friedrik Getaway Weekender bag. But open it up and there's a world of opportunity. Go go gadget levels of smart luggage with no sign of a wrinkled jacket in sight. This leather weekender bag, available in charcoal, olive and chocolate is a classic weekender with a twist. A custom suit hanger and garment bag is embedded in the base of the bag with the top and sides unfolding to reveal elasticated garment storage inside. There's also an external slip pocket, two internal pockets ideal for fitting a pair of shoes and further internal storage.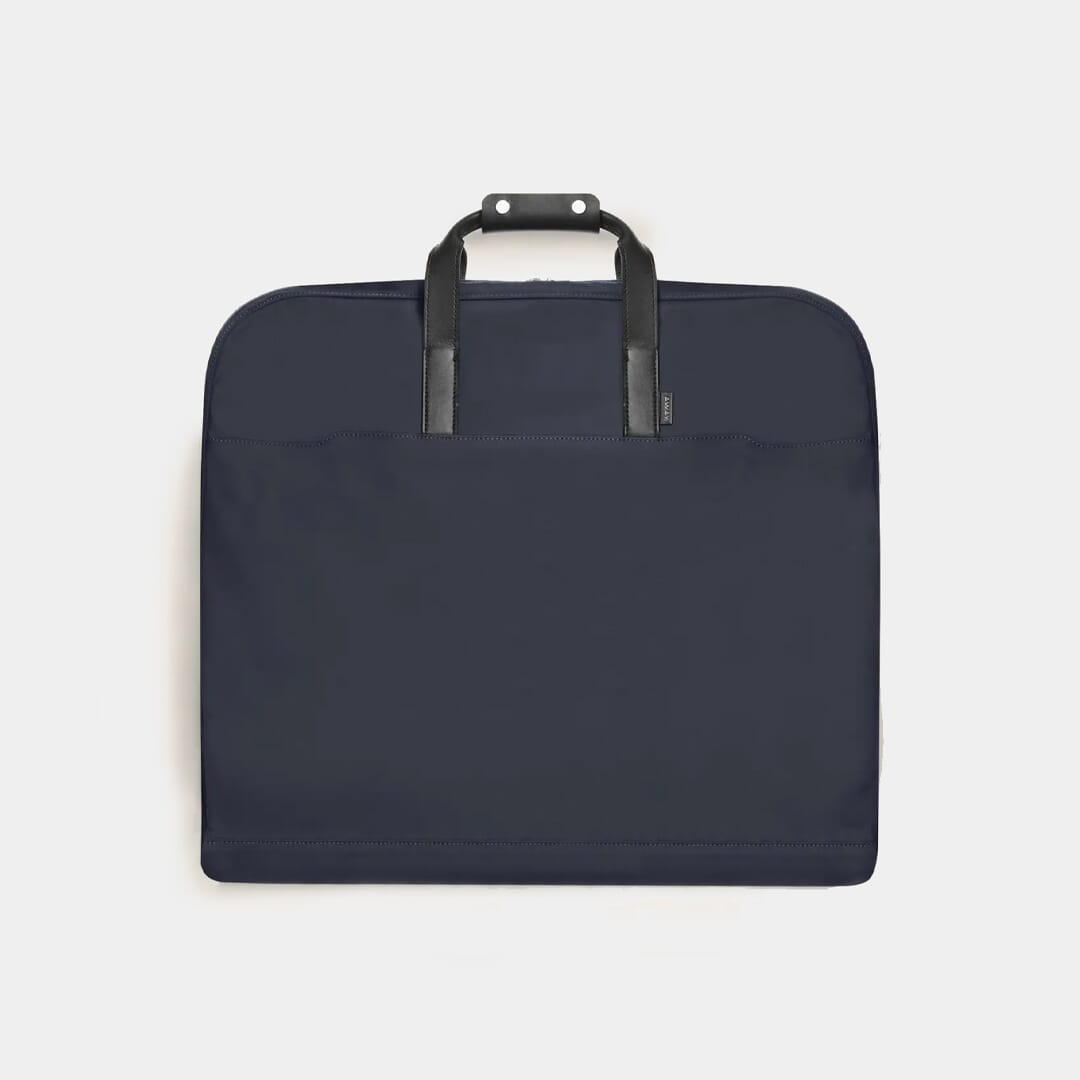 AWAY Garment Bag 
AWAY is a luggage company set up by people that travel. So they know a thing or two when it comes to crafting the sort of luggage that will last, trip after trip. The brand's garment bag, available in black or navy, can fit two suits or three full-length garments and features an external full-length zip closure. Inside there is a zip-close storage pocket as well as an external zip pocket and comfortable carry handles. A clip-on over-the-shoulder carry strap is an added bonus too and ensures the bag is comfortable and easy to carry if you're caught running for a flight.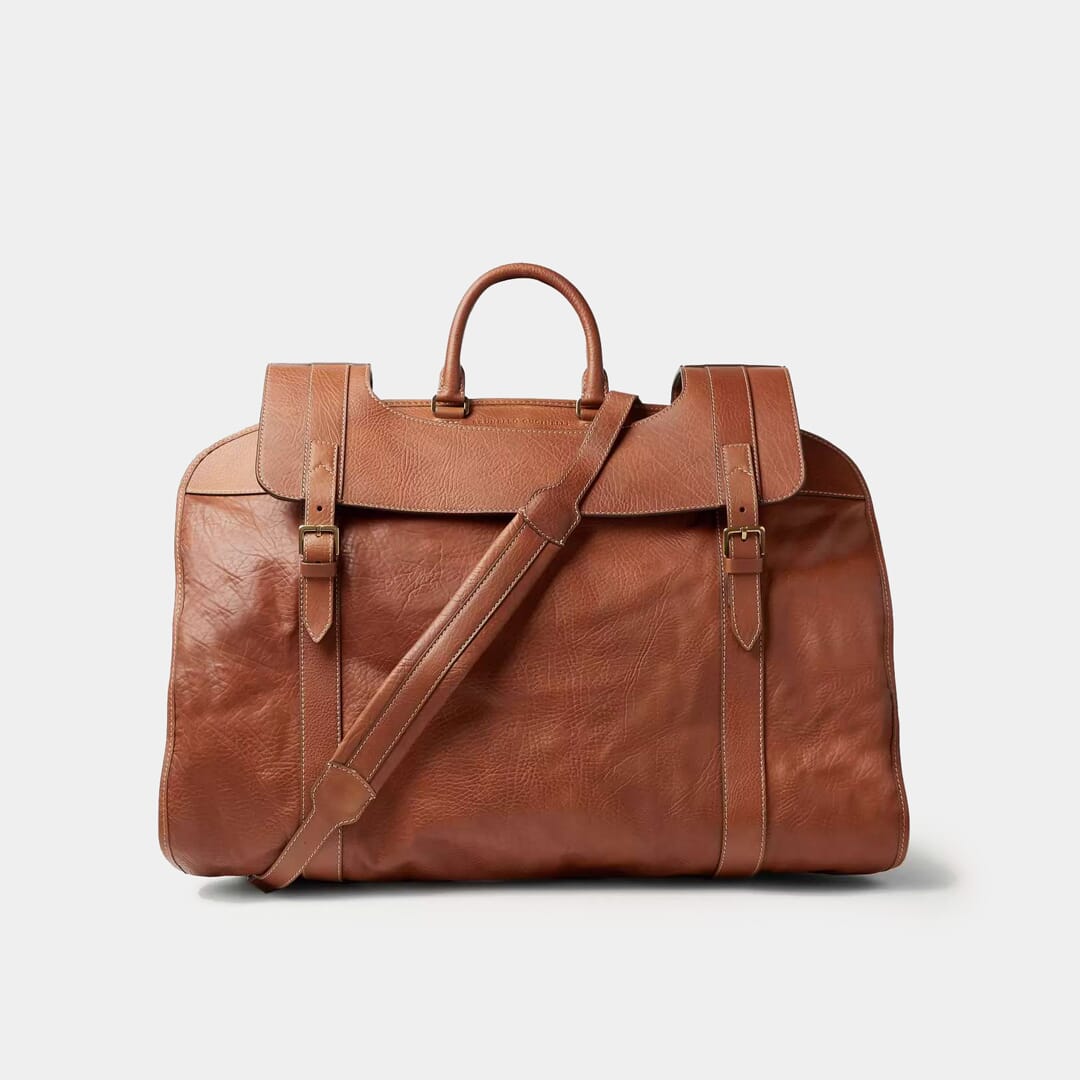 Brunello Cucinelli Full Grain Leather Garment Bag
If you're in the market for a garment bag that doesn't look like a traditional garment bag, you can do a lot worse than this one in full-grain leather from Bruno Cucinelli. Reminiscent of an apothecary bag, in resplendent tan leather, inside there's a shell leather lining with a zipped compartment for protecting your suit from creases and stains. The hanger head incorporated into the design of the bag means the moment you touch down in your room you can easily transfer your suit straight to the wardrobe.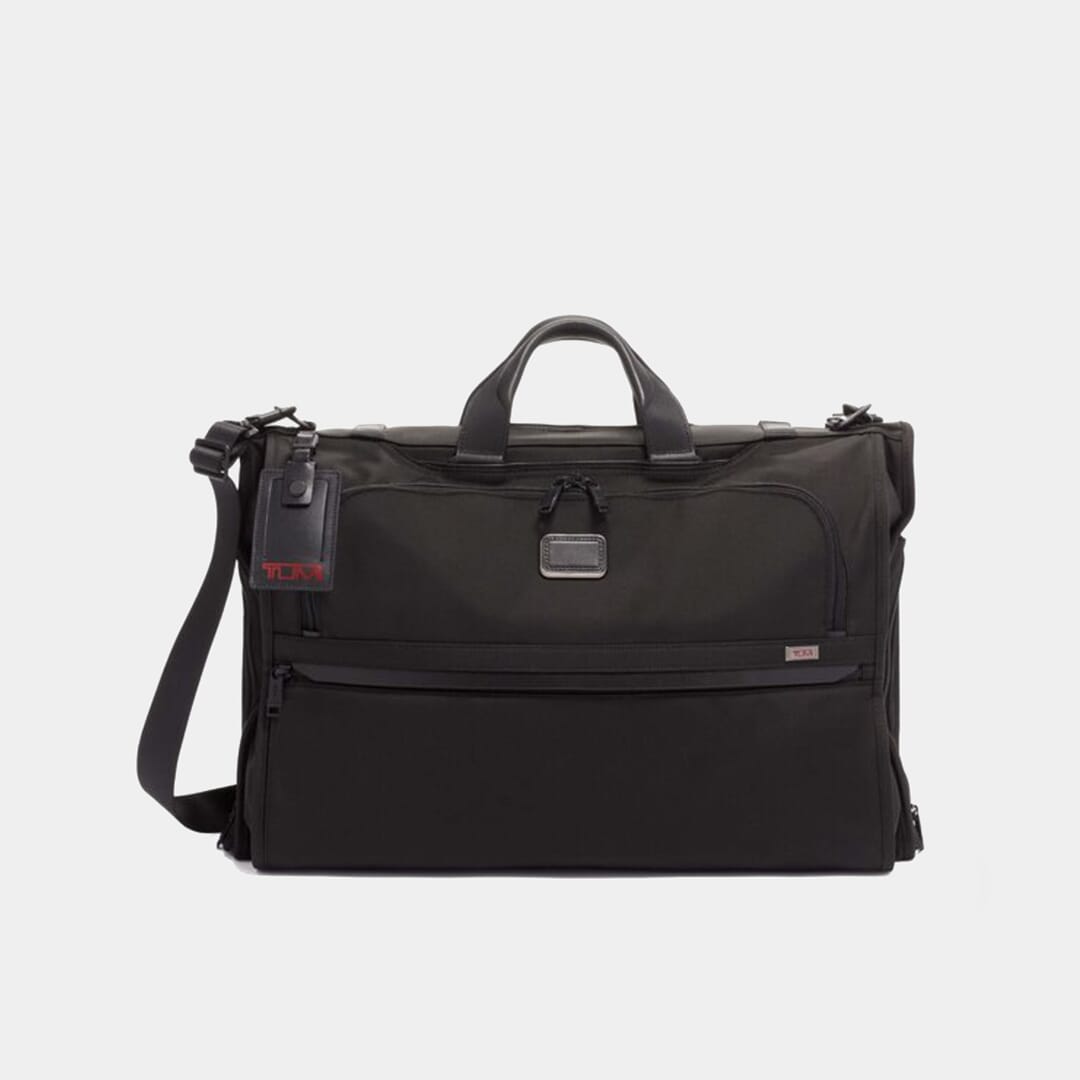 Tumi Garment Bag Tri-Fold Carry-On
If you want something more robust to carry your suit and other garments around in, this tri-fold carry-on garment bag from Tumi is a more technically-minded piece of kit. With a zip enclosure compartment that'll carry up to two suits with hanger bracket, a compression strap and wrinkle guards ensure everything inside stays neat and presentable. Optimised for travel, there's an attachment for mounting the bag on your suitcase as well as plenty of interior and exterior pocket space. Made from ballistic nylon, you can rest assured that your belongings are safe inside. Free personalisation and customisable trim options allow for a personal touch.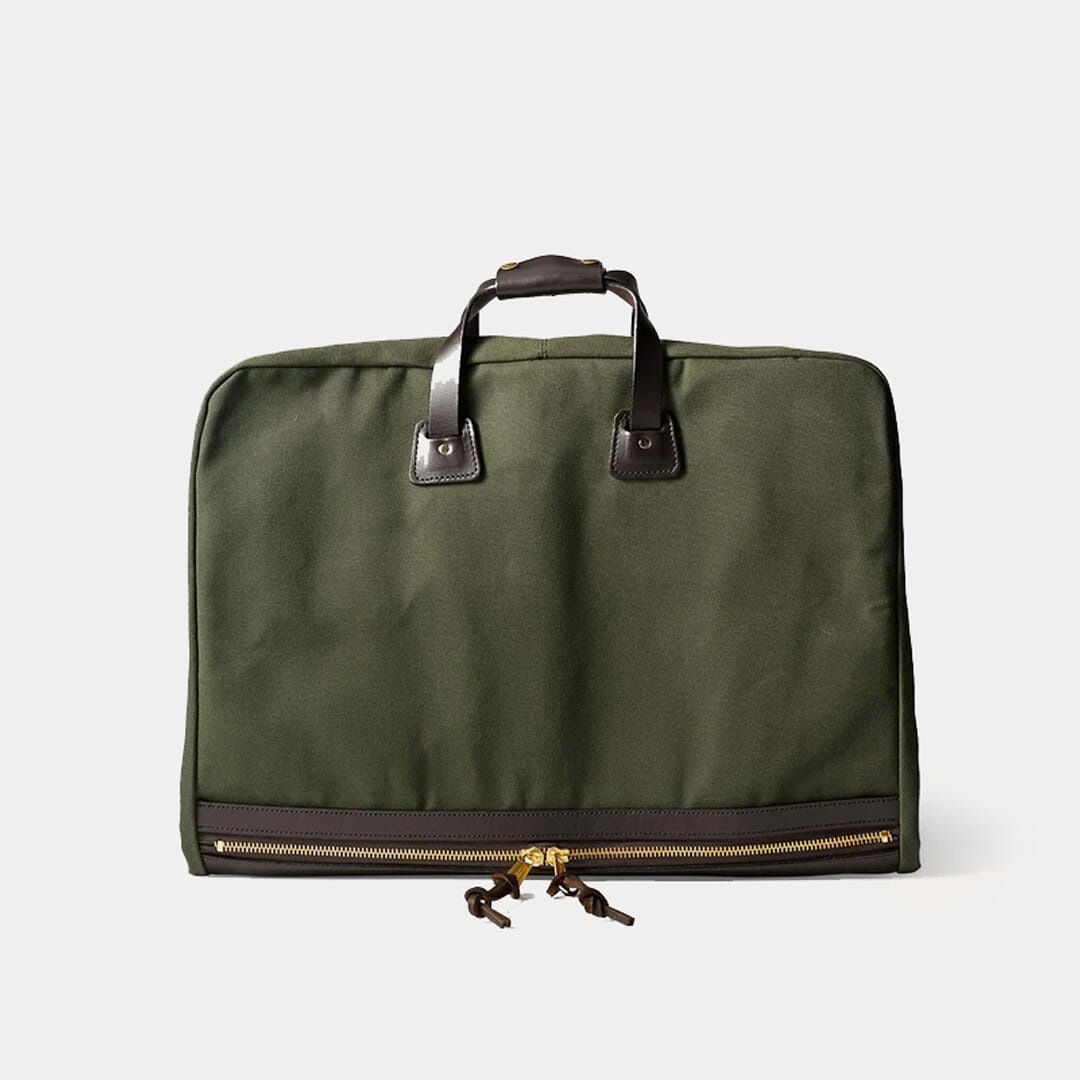 Filson Rugged Twill Suit Cover Bag
This is a smart piece of luggage from Filson, a brand that's always felt like an American sibling of Barbour. Premium outdoors clothing but not in the gorpcore sense. A smarter use of more natural materials. This rugged twill suit cover is your classic fold-over suit bag with enough room inside for two suits. Available in otter green, the bag is abrasion-resistant, water-repellent and understated, with bridle leather handles a dashing contrast to the deep green of the bag. Buttons have a well-made satisfying snap on the handle fastenings whilst a pocket on the exterior of the bag is on-hand for ties and other accessories.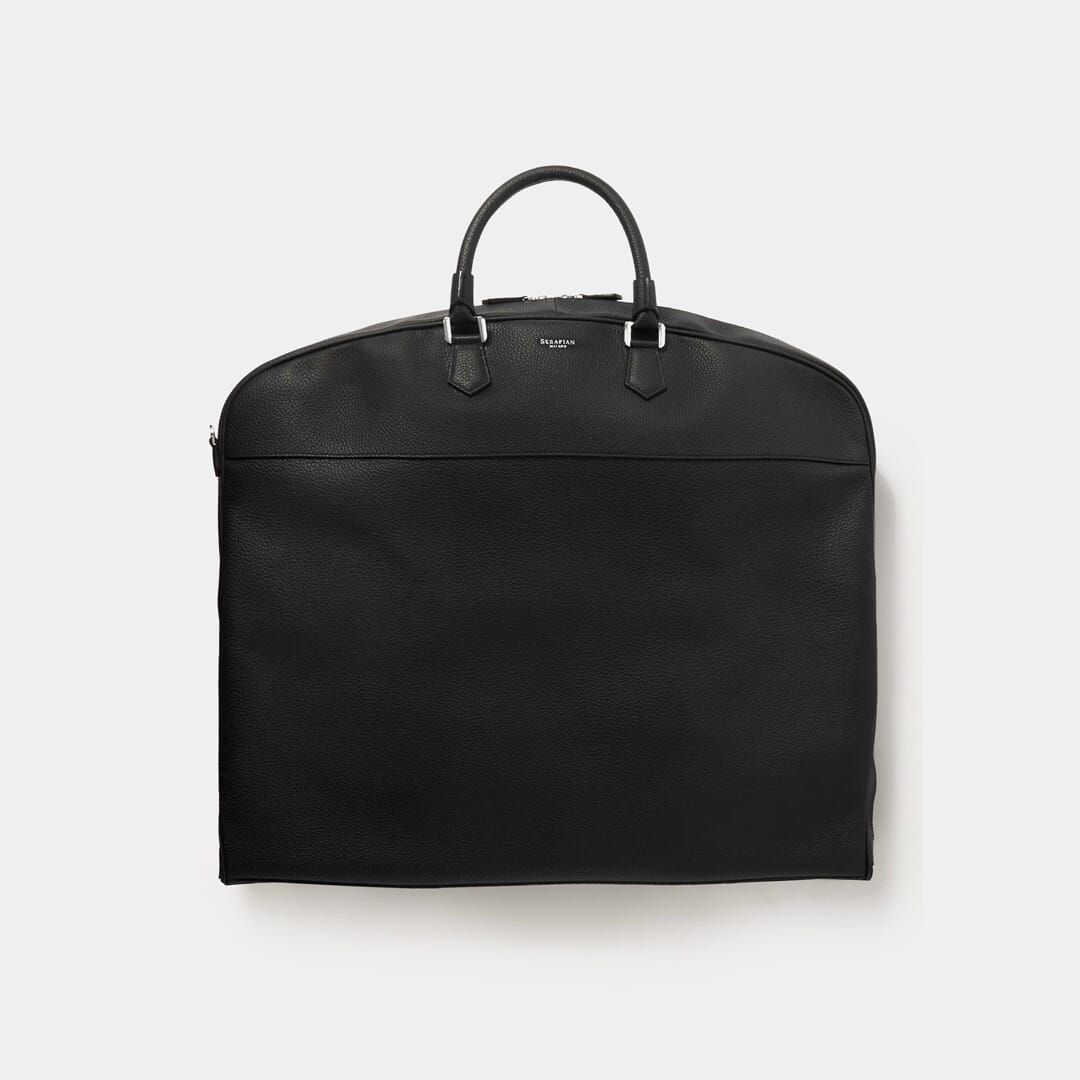 Serapian Full Grain Leather Suit Carrier
A sight to behold. If you're investing in a carrier like this, God only knows how slick the suits are. This Serapian full-grain leather suit carrier is an indulgent piece of craftsmanship. Made by artisans in Italy, the carrier is cut from supple full-grain calf leather with inside and external zip pockets and a zip closure around the outside of the bag. Inside there is a sleek metal hanger bracket with plenty of room for accessories. A leather handle completes a luxurious option for carrying the best garments around.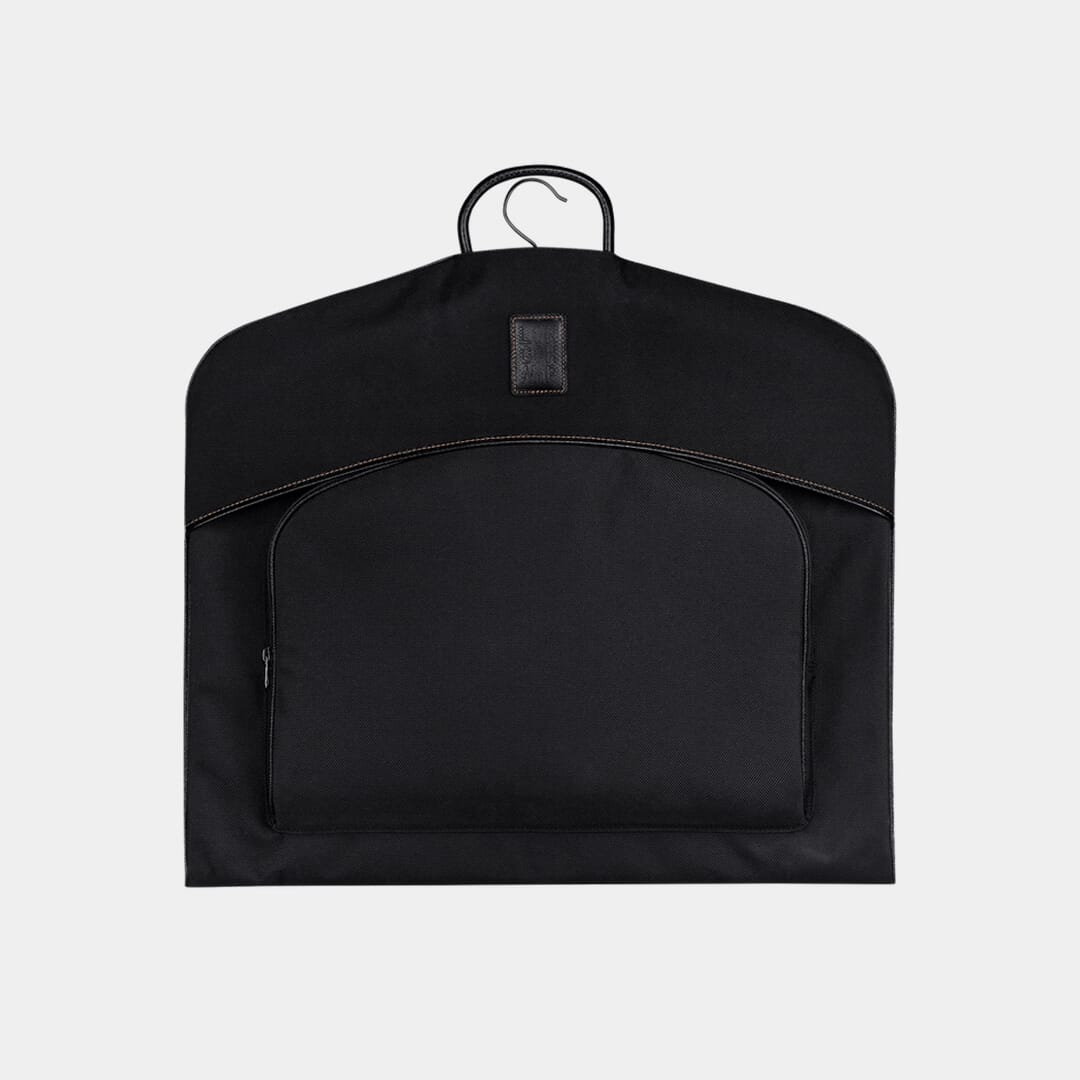 Longchamp Boxford Garment Cover
For something more affordable and understated, Longchamp's Boxford garment cover is a minimalist option for keeping suits safe on the move. From the Paris brand's iconic line, Boxford is part of a range of distinctive men's bags and luggage. Contrast stitching, an embossed leather logo and two-tone canvas make for an elegant carrier with an interior hanger bracket ensuring that clothes are kept neat and crease-free. 
Tom Ford Leather Trimmed Nylon Suit Carrier
Serious luxury luggage. This calf leather-trimmed nylon suit carrier from Tom Ford is a statement way to carry your suit and associated garments. Black, with two external gold zip pockets, carrying one of these around is certainly a statement. Sturdy nylon means it'll withstand weather and abrasion whilst the logo standing pride of place at the front lets everyone know exactly who has designed it. Inside sleek gold-zipped compartments mean suiting and accessories can be safely stashed and transported.
Commute in style with our round-up of the best work bags for men.
---
---