Get yourself an everyday workhorse of a jacket. Everyone needs one. A jacket that you have waiting by the door. Something that you can throw on that doesn't look like it's been thrown on. Sturdy material, pockets for your keys and wallet, a bit of weatherproofing depending on the time of year and that all-important casual to formal versatility. As the weather begins to change into something more temperate, now is a good time to consider your next everyday jacket. We've put together a selection of the best men's casual jackets for inspiration.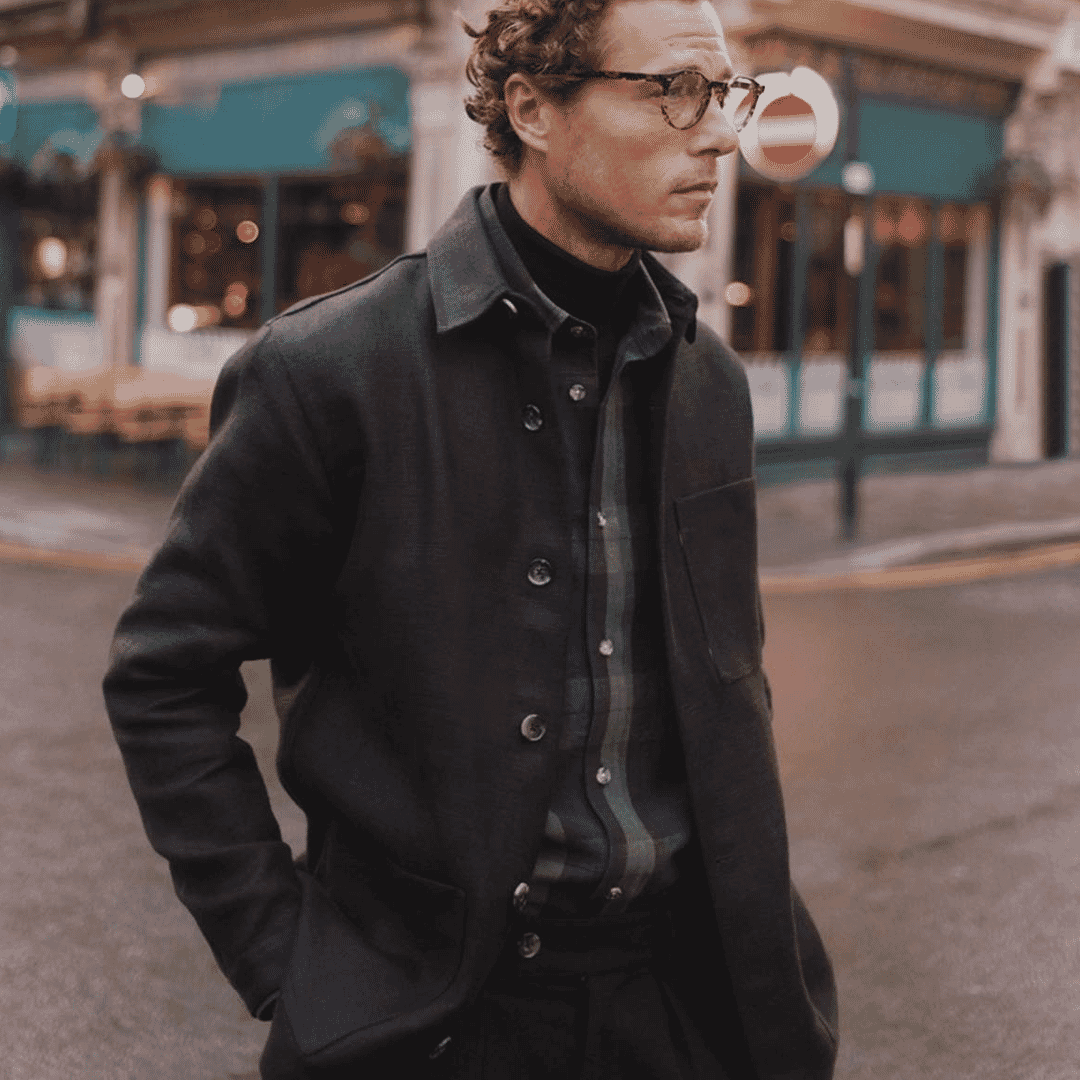 Best casual jackets for men in 2023
Flax London Heavy Railway Jacket
When certain styles reach a saturation point, as is the case with the humble overshirt, it's the little details that set them apart. In the case of this Flax London heavy railway jacket, it's material. The brand are about low-impact materials and a plastic-free shopping experience and this particular jacket enjoys a welcome heft thanks to the use of robust canvas linen. The Eucalyptus green is a bold shade and owing to the quality of the material, this jacket will mold to your shape and take on a welcome patina.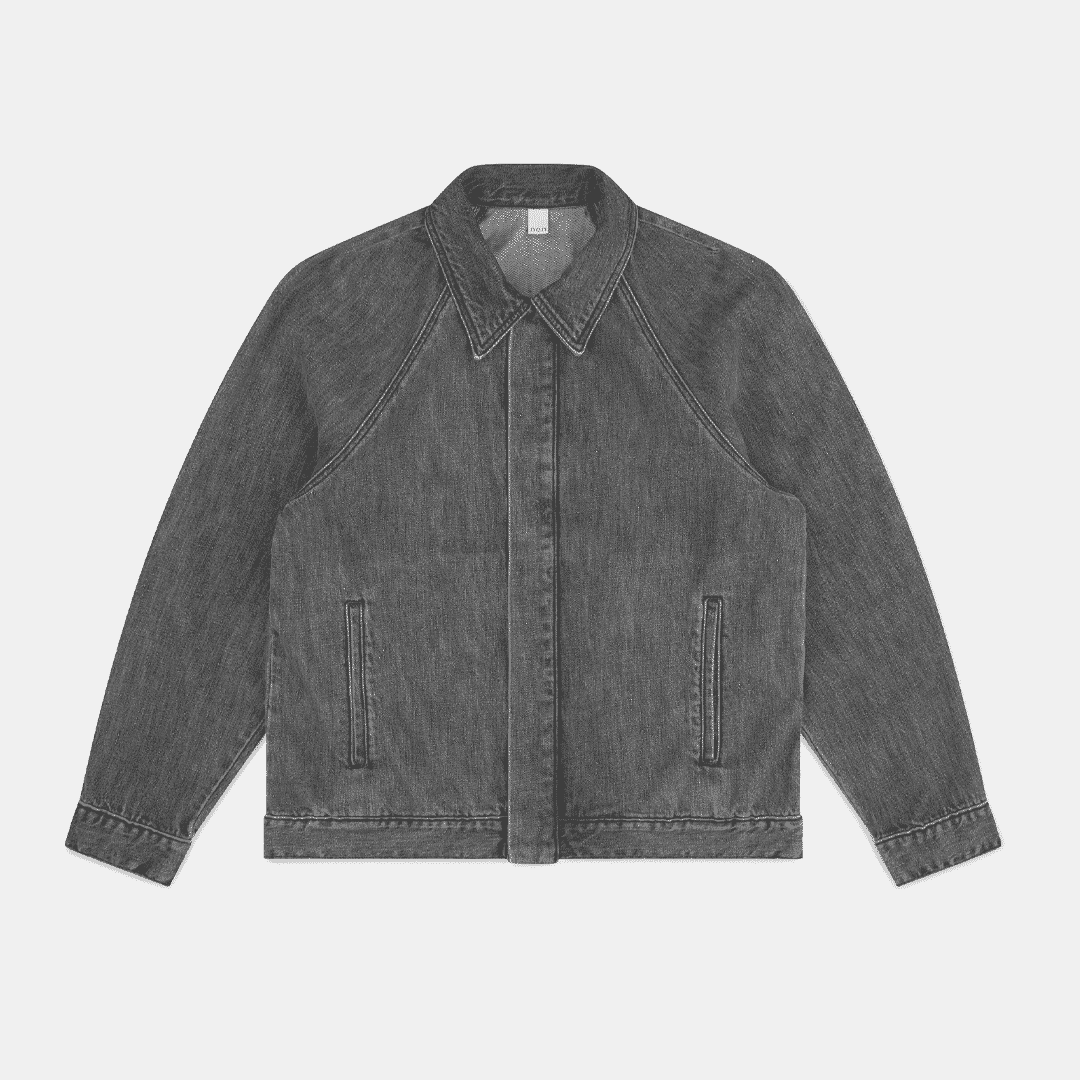 Non Raglan Jacket
Say no to copy and paste clothing. Say yes to the construction of this jacket from non, which favours shoulder darts, two-piece sleeve construction, front jet pockets and a reinforced waistband. The emphasis on construction means the jacket is going to last but it also transfers visually. Lines on the front make for a point of difference. Non use a fifty-fifty mix of recycled and organic cotton and there's plenty of colour variety if you don't fancy the washed grey.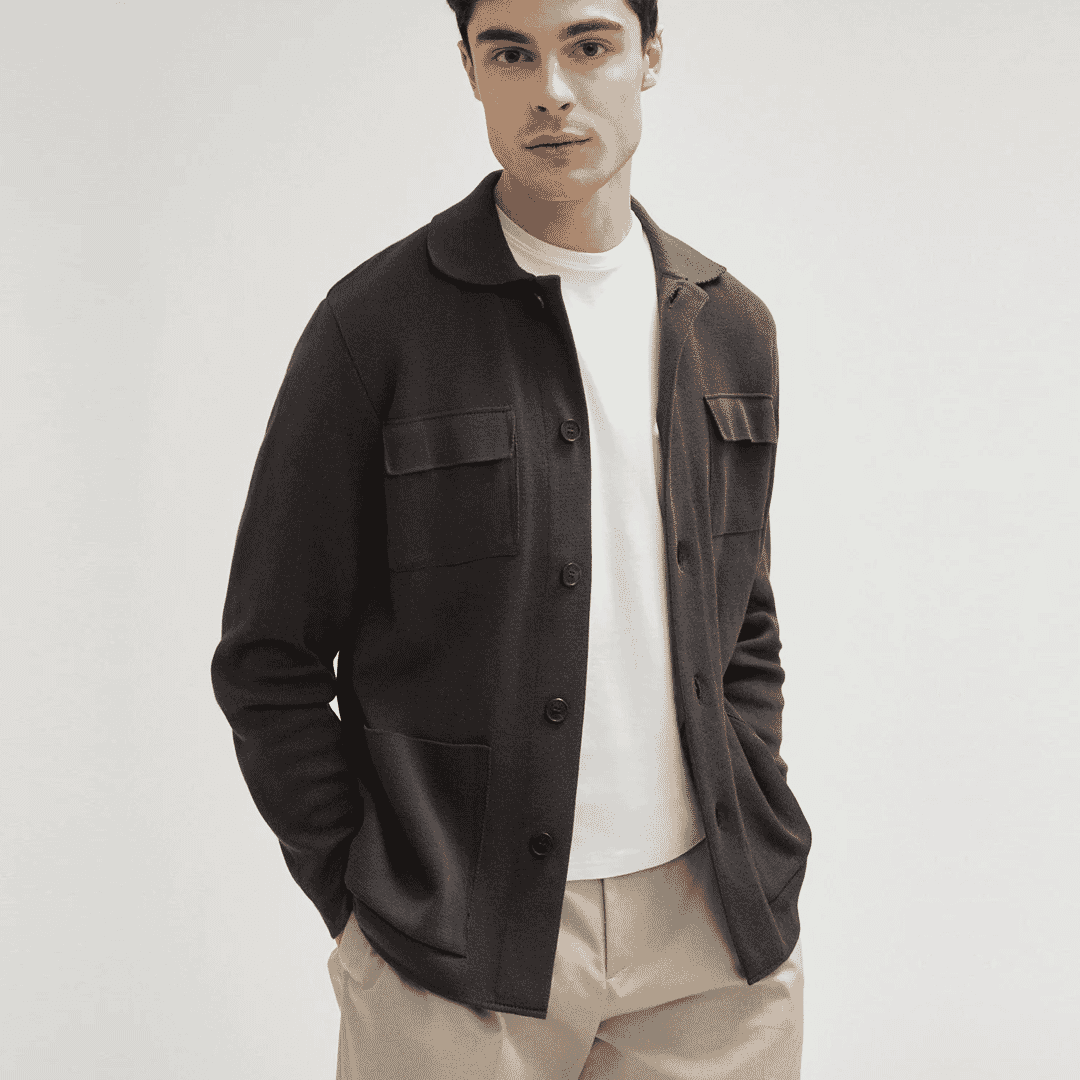 Artknit Studios Organic Cotton Jacket
You've got to hand it to Artknit Studios. They sure know how to break it down. Everything about the origins, make-up, preparation and qualities of this jacket is there for all to see on the website. The brand have even put together a scale on its weight, softness and heat qualities. Talking about going above and beyond. The brand's organic cotton jacket is a clean, stylish overshirt-style jacket with patch pockets and a shirt-style collar. Stock up on a few in different colours for summer.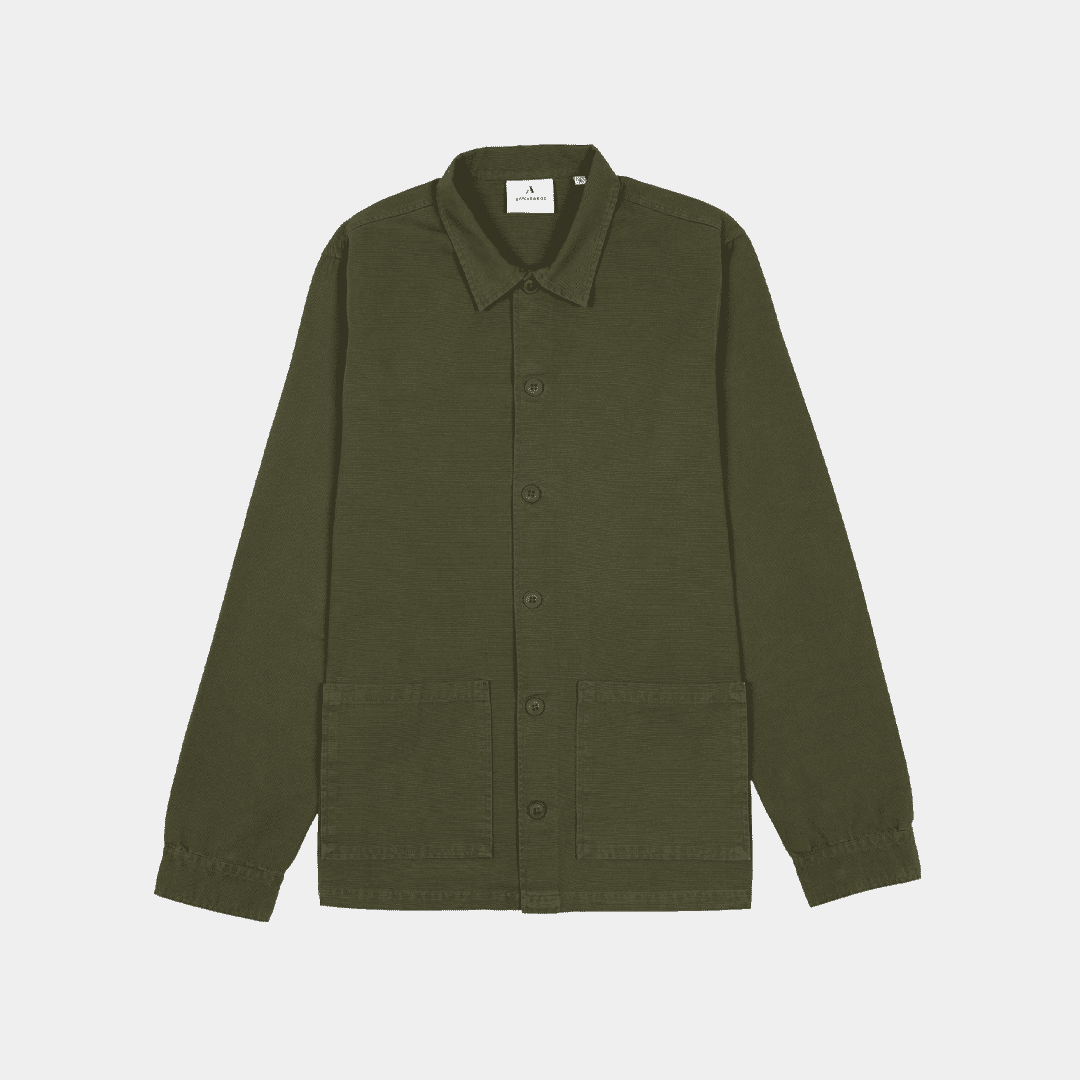 Appearance Khaki Green Canvas Jacket
Some jackets are casual, some jackets are smart casual. Appearance's heavy canvas jacket in khaki green is the latter. It has that all-important transitionary quality that will see you from day to night, without anyone noticing. Put it over a t-shirt, great, but it'll also do the job over a crisp collared shirt for a welcome twist of formality. The lack of breast pocket helps with upgrading to a formal setting, as do the coloured buttons. A versatile piece for a capsule wardrobe.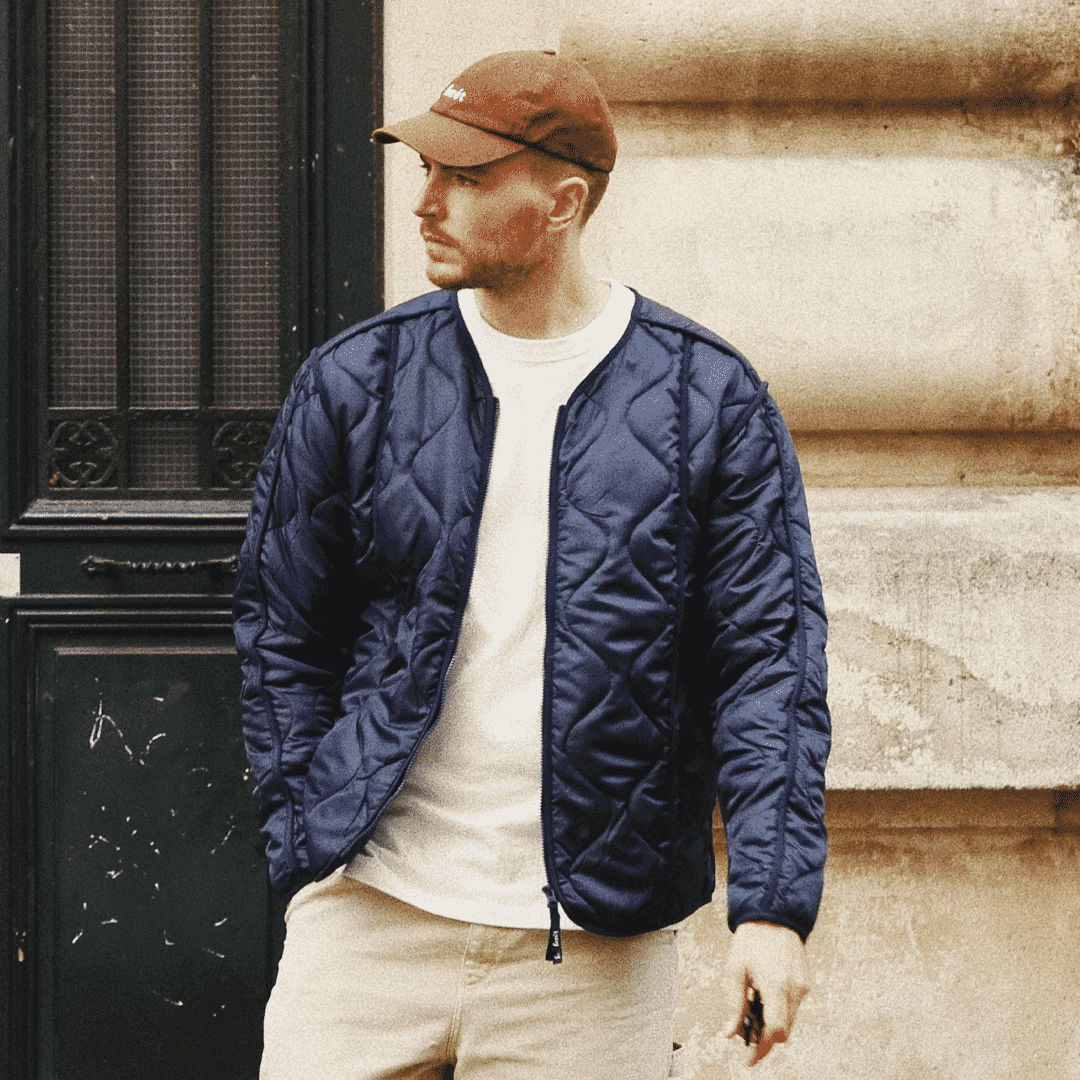 Forét Humid Liner Jacket
Never underestimate a liner jacket. On top in summer, keeping you warm in the shade or protected from an unwanted breeze. Under a larger jacket in winter for so much-needed layered texture. We enjoy a quilted jacket for the texture too, a handy visual distinction when layering. Forét's liner jacket is made from recycled ripstop and is both water and wind repellent making it an extremely versatile piece for your wardrobe.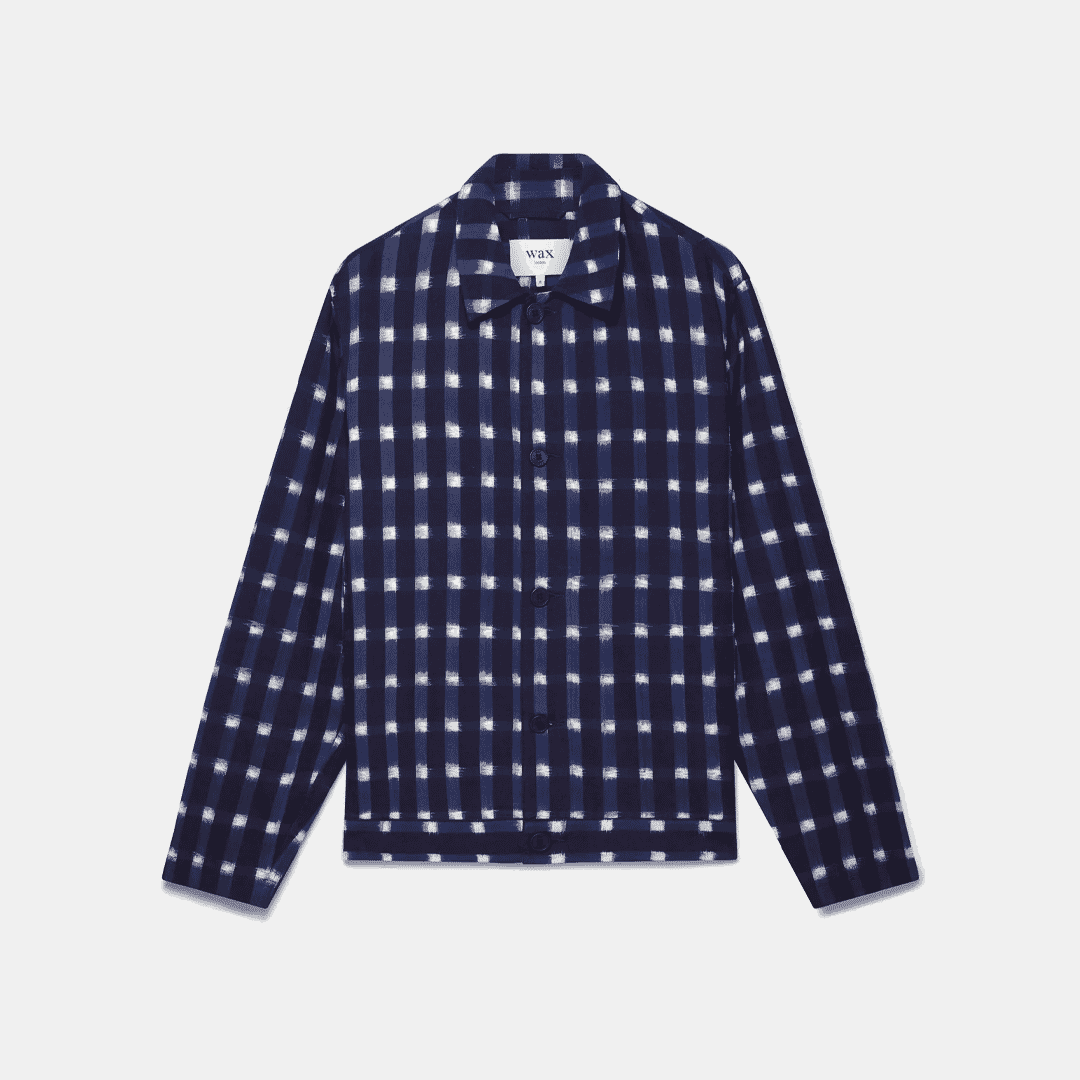 Wax London Iggy Jacket
Fun designs, fun colours, classic silhouettes, great construction. Uh oh, it's the calling cards of Wax London with another great jacket that you inevitably want to add to your collection. Iggy is a new shape for SS23, cut for a relaxed fit and made from lightweight cotton, the jacket is great to throw on when it gets warmer of an evening. The colours shout Mediterranean moment, so twin with a pair of flowing linen trousers and a sandal. Turn the cuffs up and frolic on a riviera somewhere.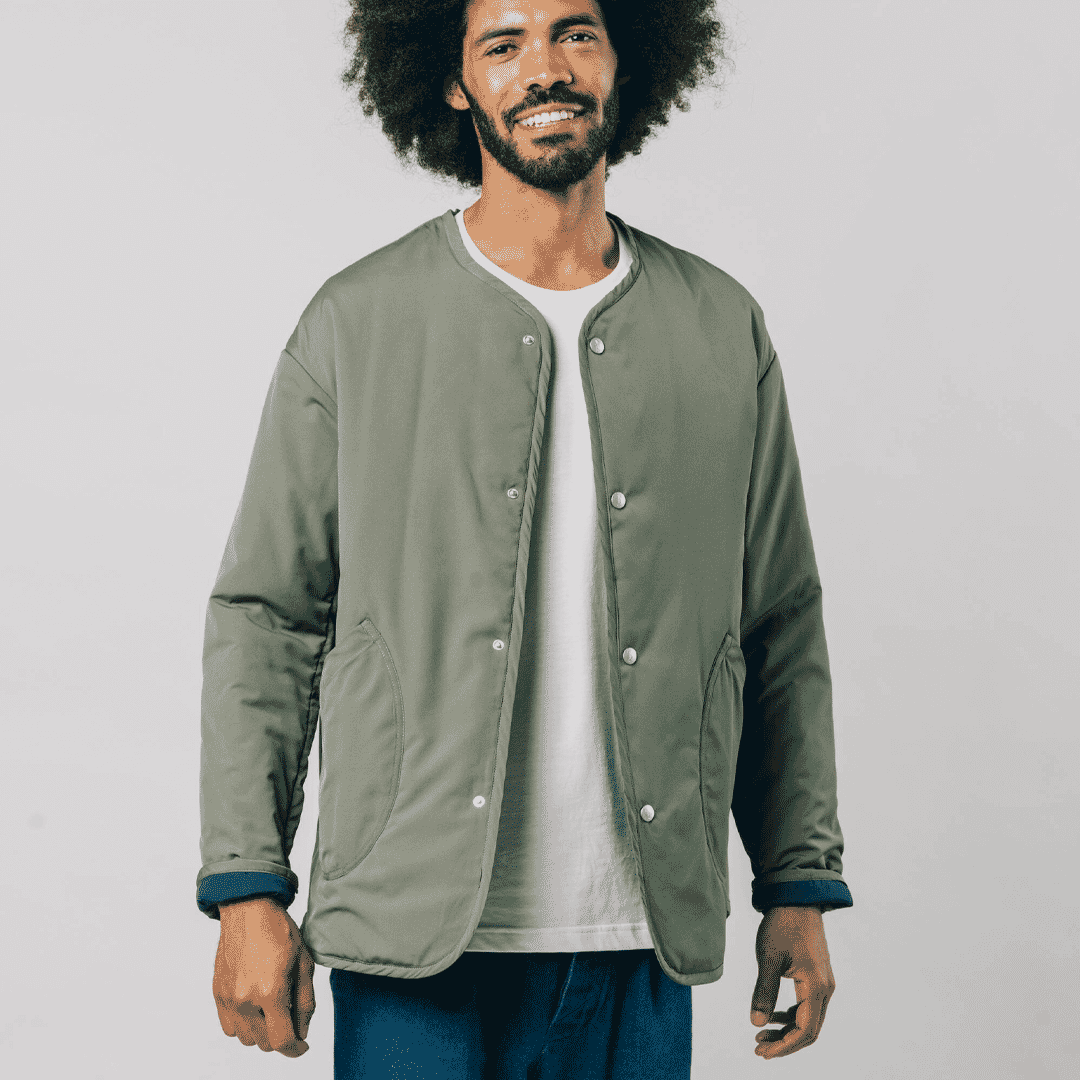 Brava Fabrics Padded Jacket
Barcelona brand Brava are all about colour and design. This padded unisex jacket in khaki is them down to a tee. The brand's first padded jacket is built for an oversized fit with a light padding that'll keep you warm on cooler summer nights. Ethically-crafted in Portugal from durable recycled polyester, there's two large front pockets and inside there's a contrast lining. Another one for rolling the sleeves up.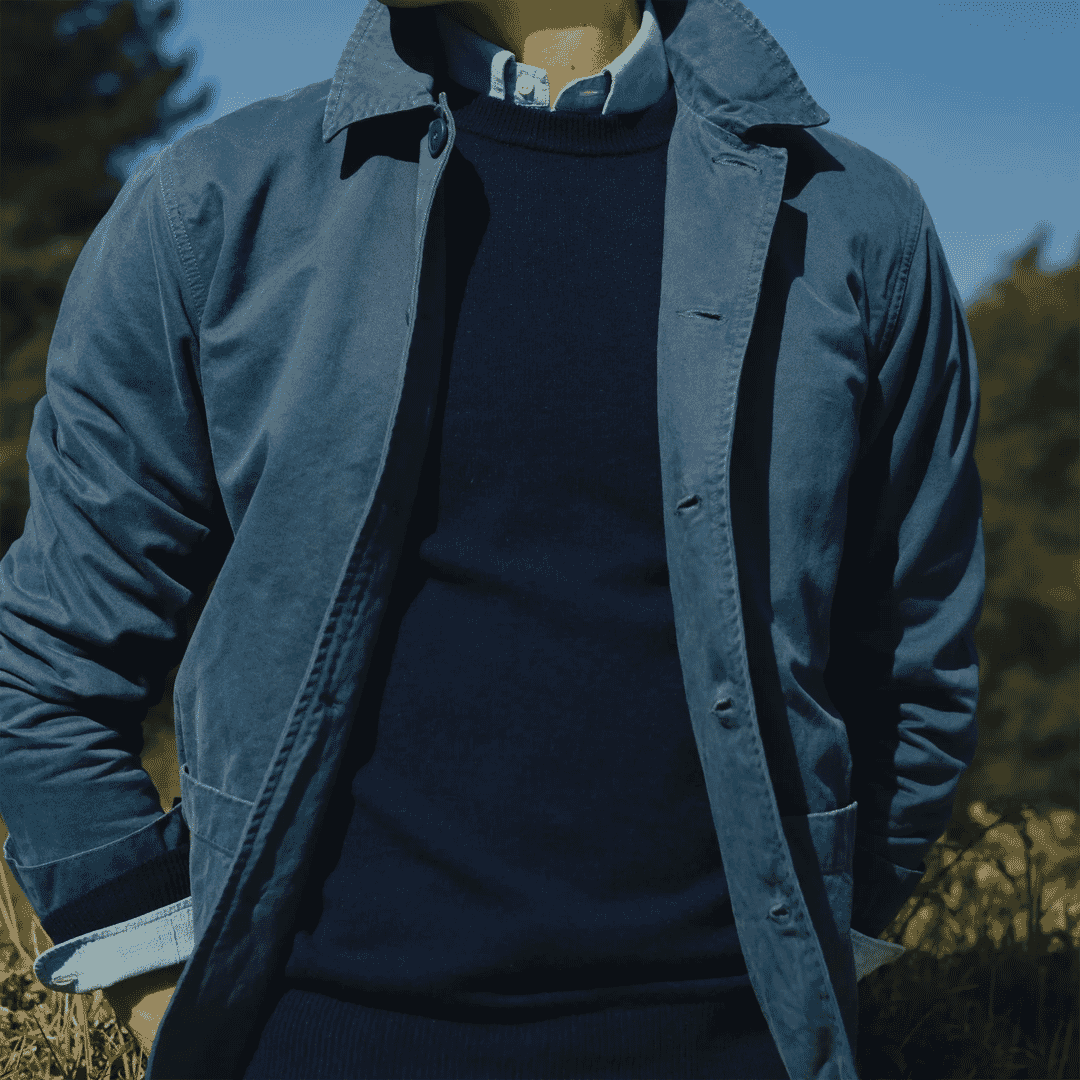 ISTO. Work Jacket
ISTO.'s work jacket is one of those core items you know a brand has pored over. Refining and optimising. 'Tailored for perfection', as they like to say, with an organic wash to soften the material. Cut from premium heavyweight 300 g/sqm GOTS certified fabric and made ethically in Portugal, this is a piece to invest in for the long term. It will age well, it will mould to your shape, it will do casual and formal shifts, it will protect your neck from the sun when you pop that collar.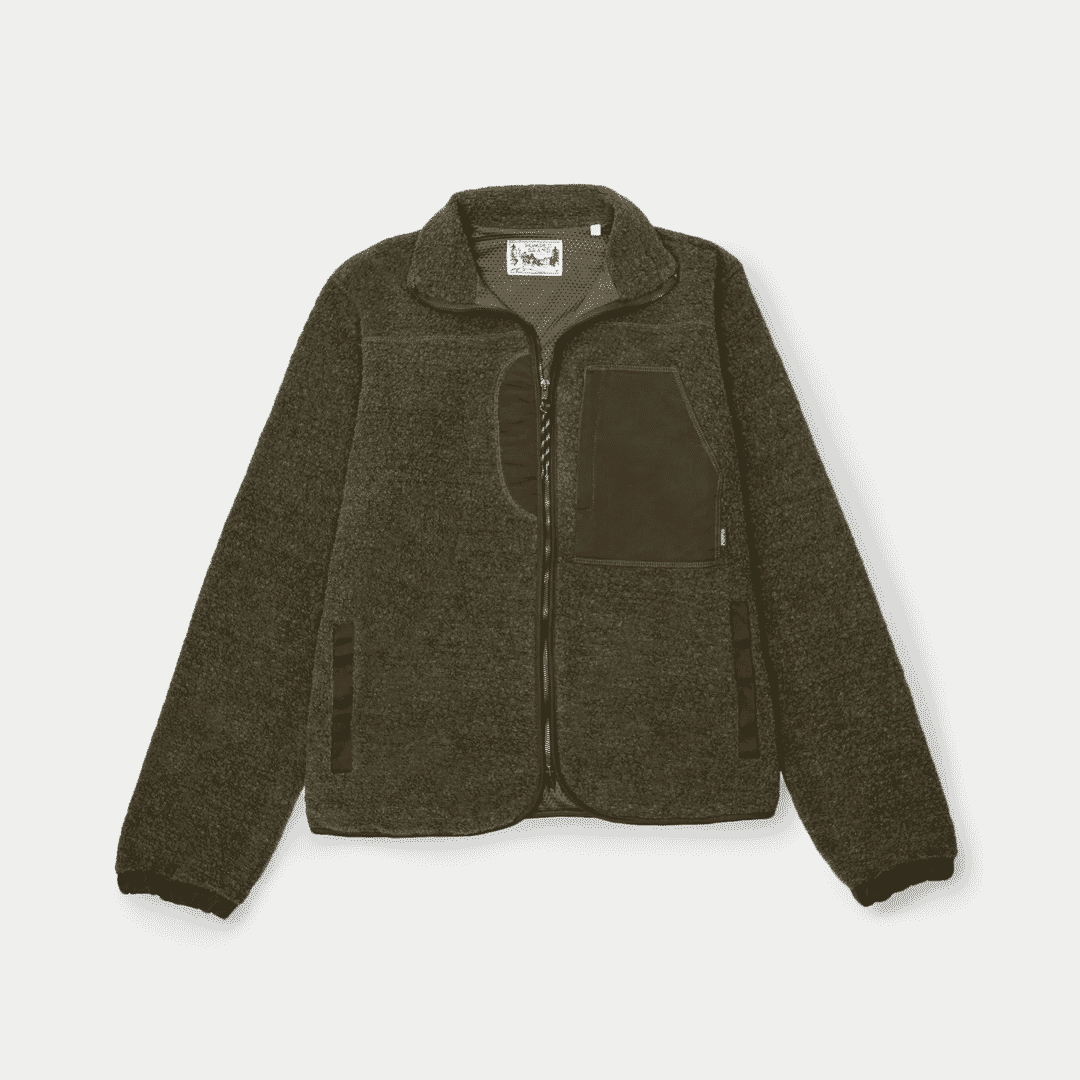 Pompeii Cactus Fleece Jacket
Is it a fleece? Is it a jacket? A jeece? A fleeket? Should we copyright both? So much to unpack. This from Spanish brand Pompeii is the cactus fleece jacket made of recycled wool, with central zip and front pockets, nods to the brand's walking origins, with some welcome contrast paneling in the mix for good measure. Rock it under a big coat for a warmth double threat or let it thrive as an outer layer.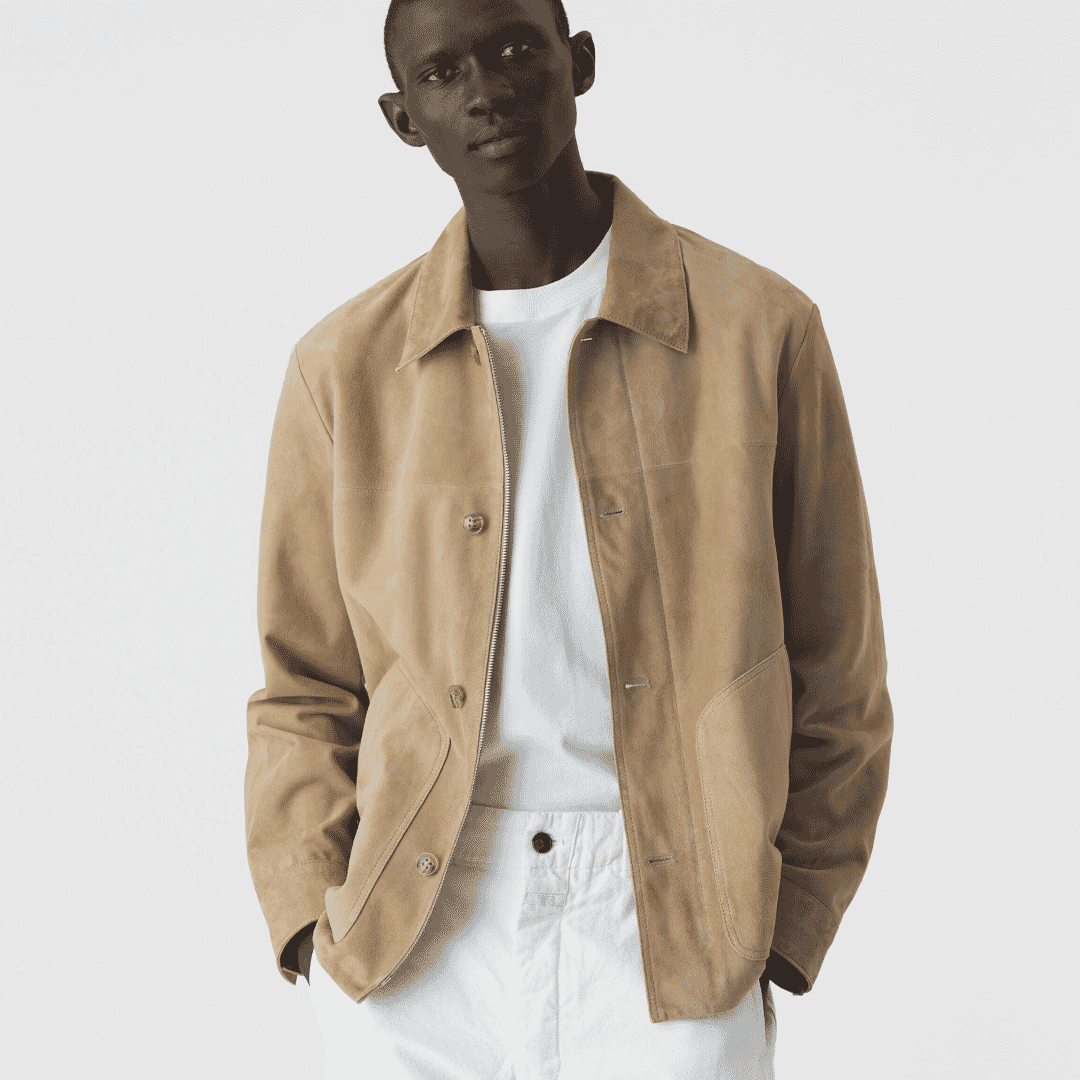 Closed Suede Blouson
This version from Closed a blouson, not a jacket, and we're here for it. Suede of course, the best blouson material, in this case giving a satisfying contrast panelling effect depending on how the light catches the material. The suede is super soft, with a concealed zipper down the middle and button fastenings. Patch side pockets, button cuffs and an inside lining with internal pocket complete a dashing garment that you're going to want to keep safely away from any potential rain showers at all times. Looking this good has always been a risk.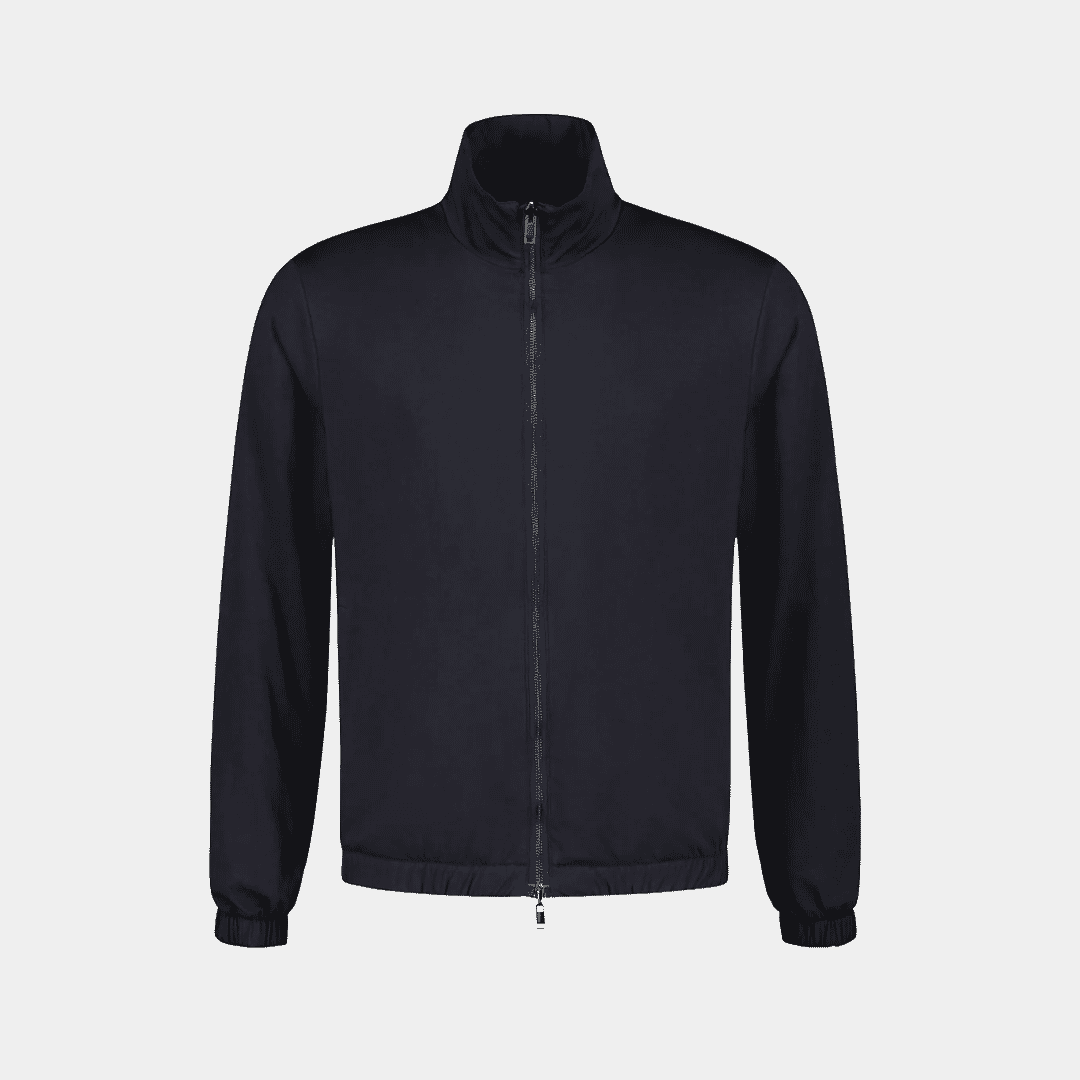 Aurélien Reversible Jacket
Aurélien has always been one of these brands that you can count on for riviera chic mixed with stylish travel wear. This navy reversible jacket epitomises this. Jersey cotton on one side with a reversible weatherproof shell on the other that will see you through the wind and the rain. Made in Italy, it's an ideal sport and leisure jacket with a Harrington feel that works well with a pair of easy chinos and a loafer. Think Steve McQueen downtime.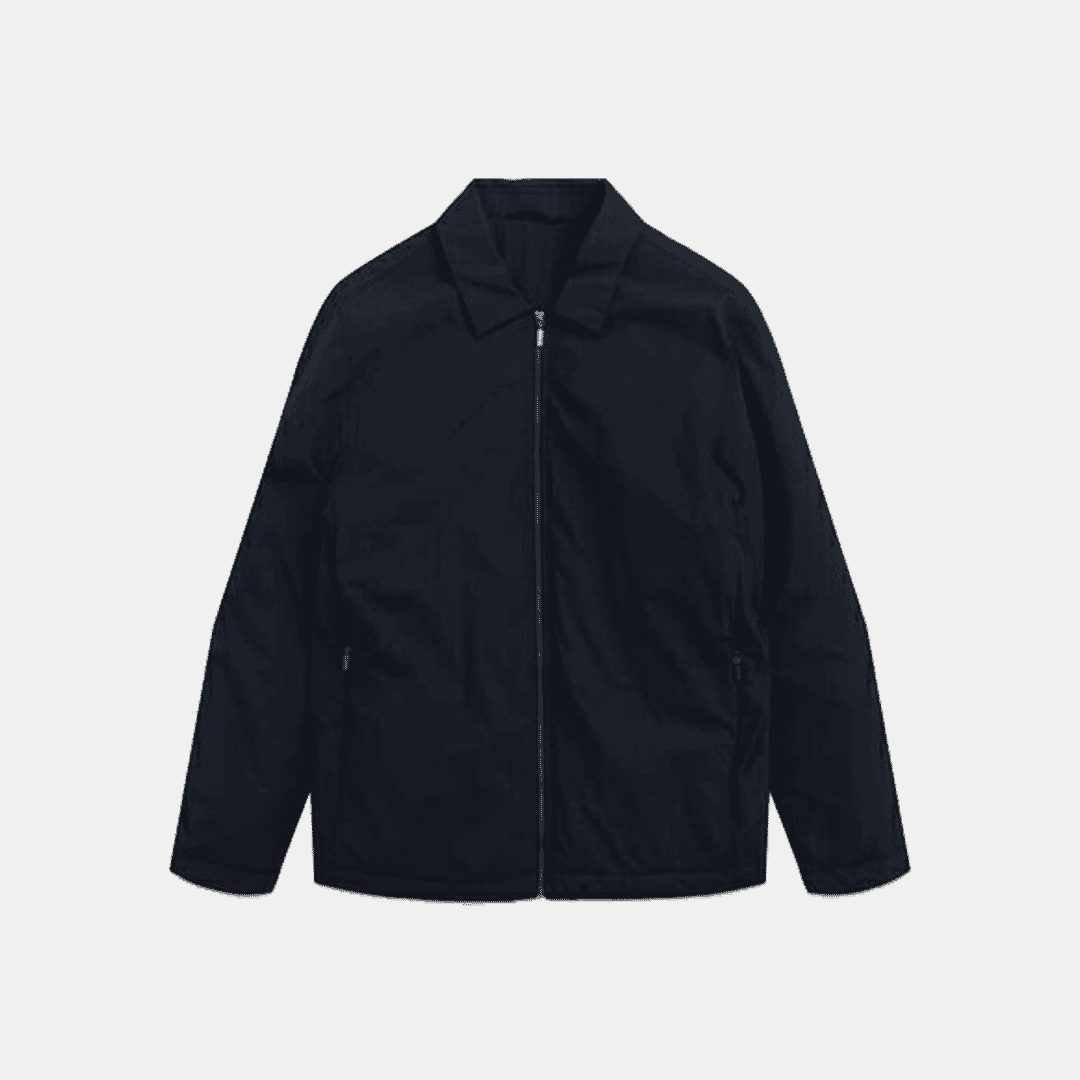 ASKET Zip Jacket
Buttons are fun and stuff but sometimes you just want a minimal, zip-through jacket. No bells, no whistles, just something that you can throw on top for heading out of the house. This dark navy number from Scandi essentials brand ASKET is exactly that. Made from a super lightweight Korean recycled nylon, it's also insulated using PrimaLoft insulation, a material crafted from recycled bottles. Warm, comfortable and dry whilst making the most of reused materials. Happy days.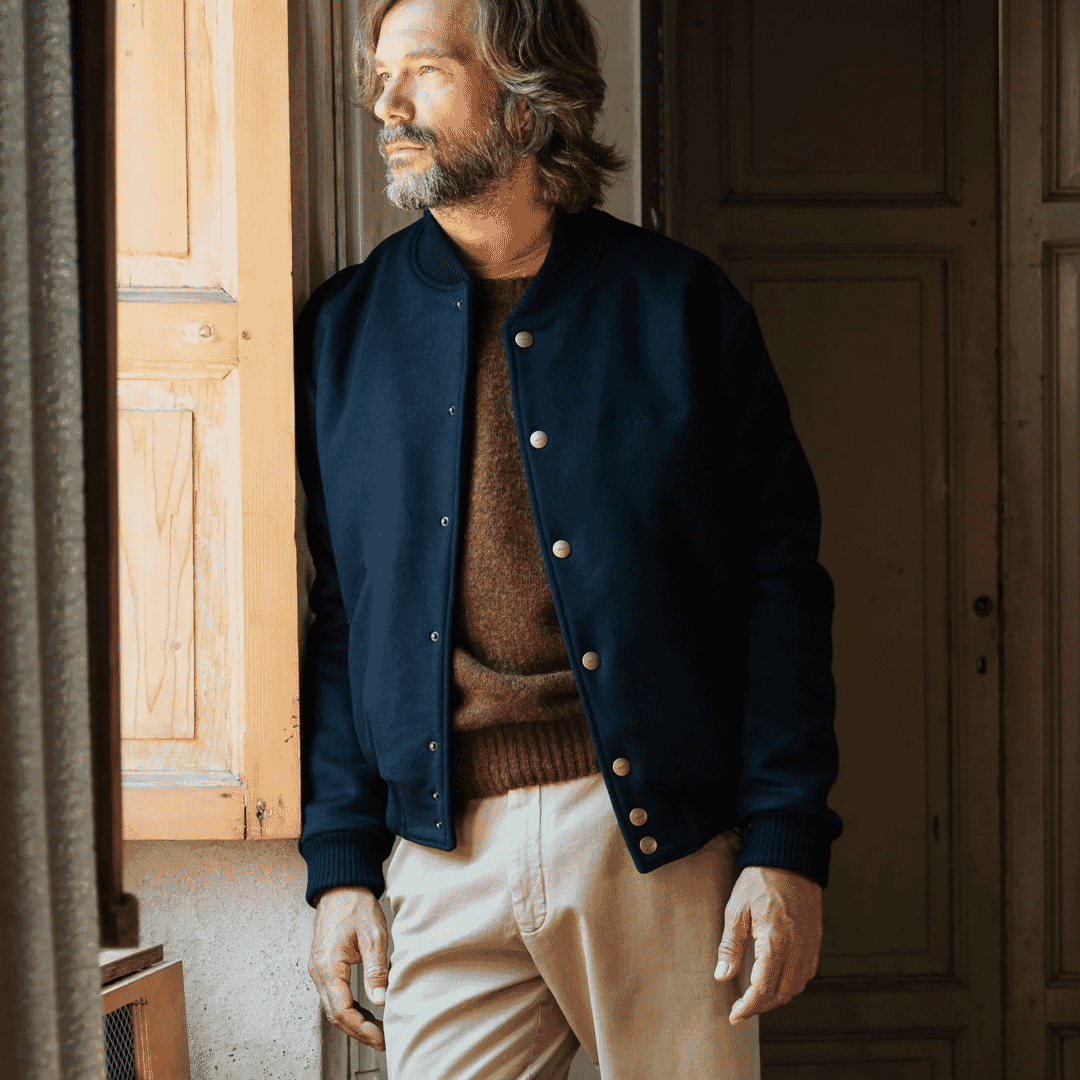 Velasca Montefalco Jacket
Suave is the best way to describe this Montefalco bomber from Italian clothing traditionalists Velasca. Snug, stylish, made from an 80% virgin wool mix, with striking snap buttons down the front and a ribbed hem, collar and cuffs. It'll look excellent atop chunky knits and earthy-toned chinos with one of the brand's handcrafted leather shoes. 
Check out our pick of the best bomber jackets for men.
---
---