Think gilets aren't for you? Think again. The once-divisive sleeveless garment – which you may also know as a body warmer or padded vest – has evolved well beyond its associations with bearded lumberjacks and a certain breed of preppy west Londoner to become a must-have menswear staple that's as functional as it is stylish. Ready to give the gilet a go? Here's our guide to the underrated outerwear hero, including our pick of the best gilets for men on the market right now.
History of the men's gilet
The origins of the men's gilet can be traced back to 15th-century France. Then known as a 'jerkin', the sleeveless jacket was adopted by peasants as a purely functional piece of clothing that would allow ease-of-movement while they worked the fields. The following century saw the jerkin elevated to new heights, with Henry VIII spearheading its popularity amongst the aristocracy. His version was far more elaborately decorated than the original style, and was padded for warmth (a key characteristic that has come to define contemporary bodywarmers). In the 500 years that followed, the men's gilet became a staple of everyone from World War One infantrymen to early 2000s finance bros. These days, it's a practical and stylish layer that transcends trends and seasons, a menswear must-have whether you're hiking a mountain or commuting across the city.
How to wear a gilet
There are myriad ways to wear a gilet. Try it as part of a workwear-inspired ensemble: think selvedge denim jeans, boots and a chore jacket, or give it a business casual twist, by layering it over an Oxford shirt and lightweight cashmere jumper and completing the look with chinos and Derby shoes. If it's a sports-luxe aesthetic you intend on channeling, layer your gilet underneath a hoodie and team it with sweatpants and leather trainers.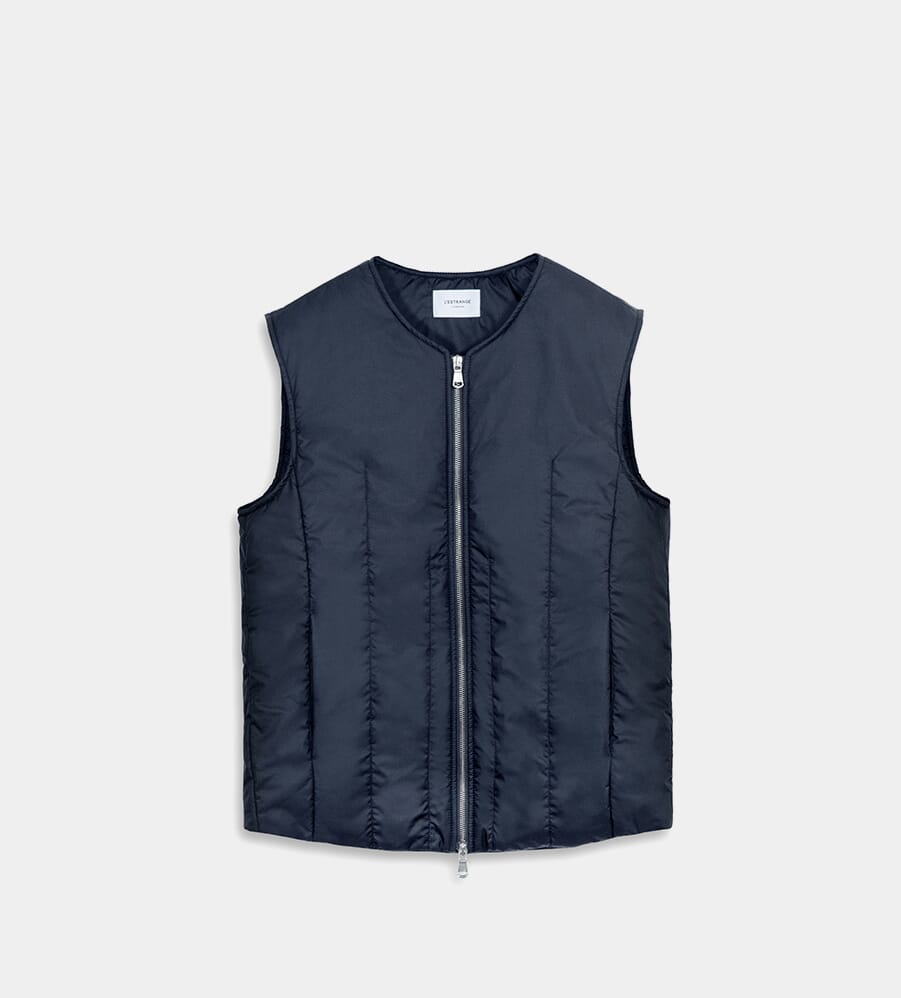 Best gilets for men in 2023
L'Estrange Modular Vest
L'Estrange's innovative quilted vest is made from 100% recycled polyester. It boasts a water-repellent finish and thermoregulating microfibre filling for ultimate year-round comfort, no matter the weather. Layer it over a tee in the warmer months and between a sweatshirt and coat in winter.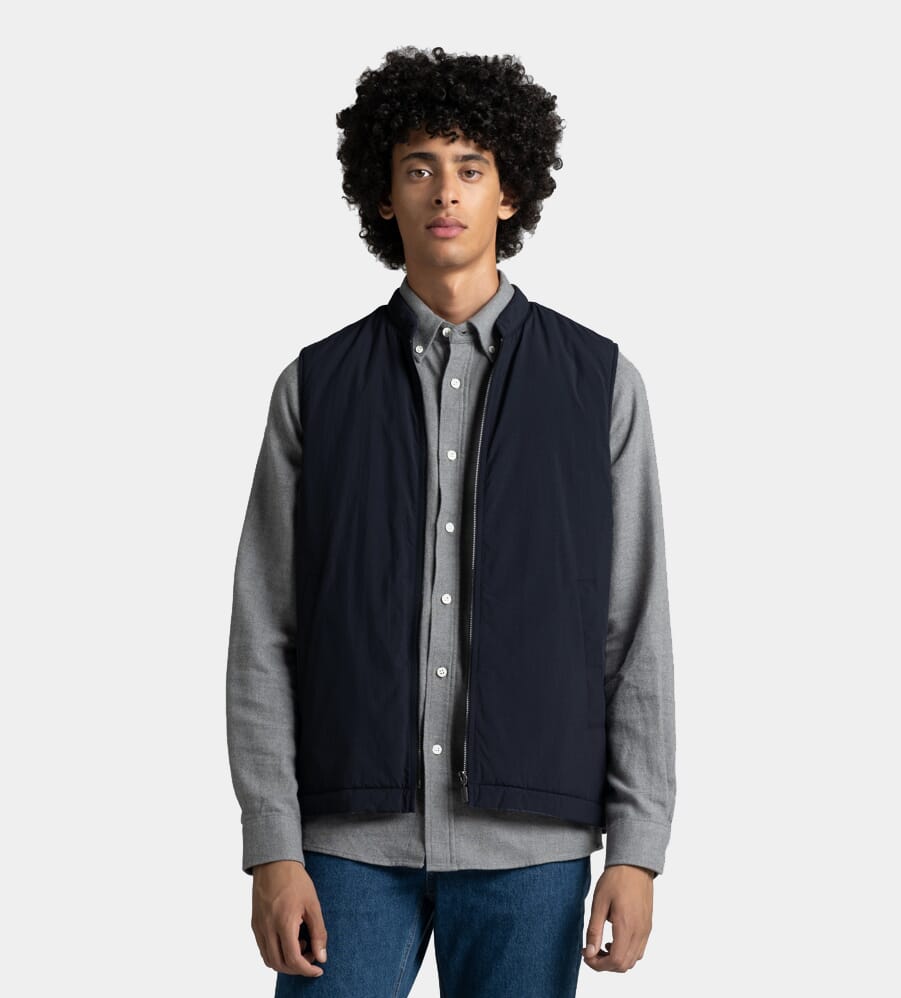 ASKET Zip Vest
Sleek and simple, like the rest of ASKET's understated offering, this men's gilet is the ultimate year-round layering tool. Consciously made from ultra-lightweight pre-consumer recycled nylon fabric and insulated with PrimaLoft® Silver from 100% recycled PET, it's as sustainable as it is stylish.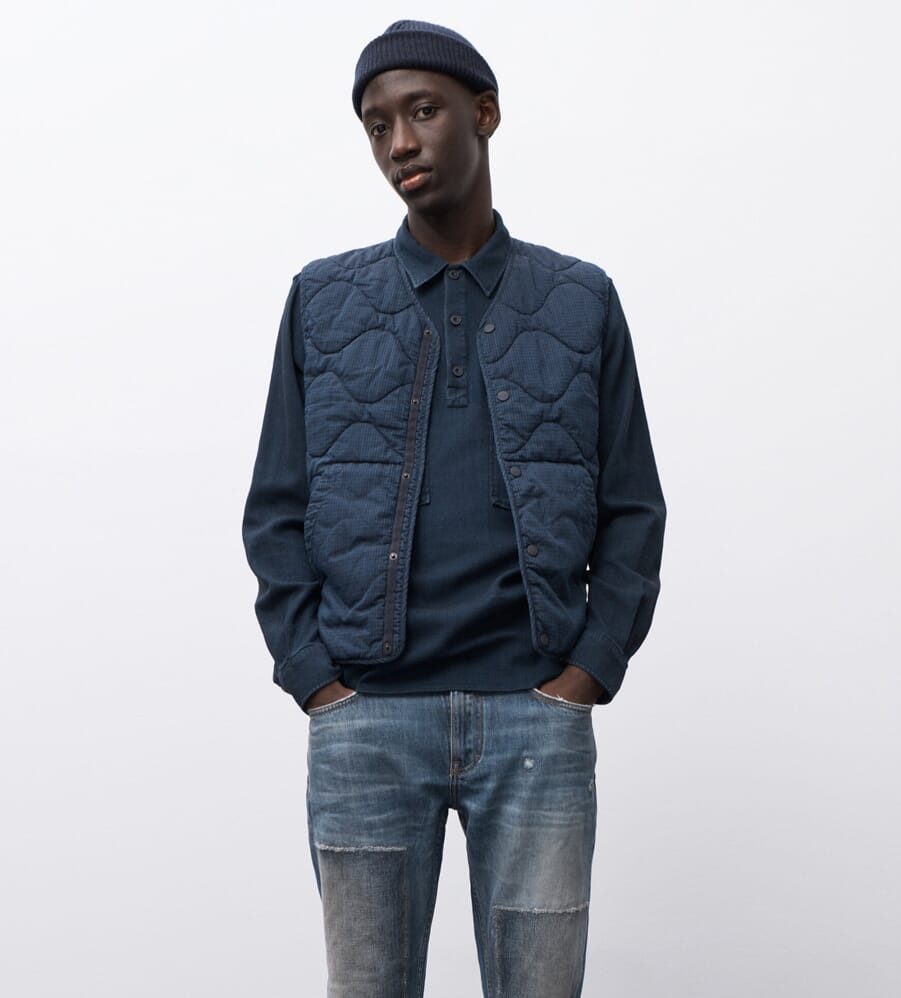 CLOSED Ripstop Vest
CLOSED never fails to impress us with its cutting edge and ultra stylish constructions. Case in point: this lightly washed recycled ripstop vest with sustainable Ecodown padding. It's lightweight yet insulating, perfect for year-round wear over a plain white tee with your favourite pair of jeans and high top trainers.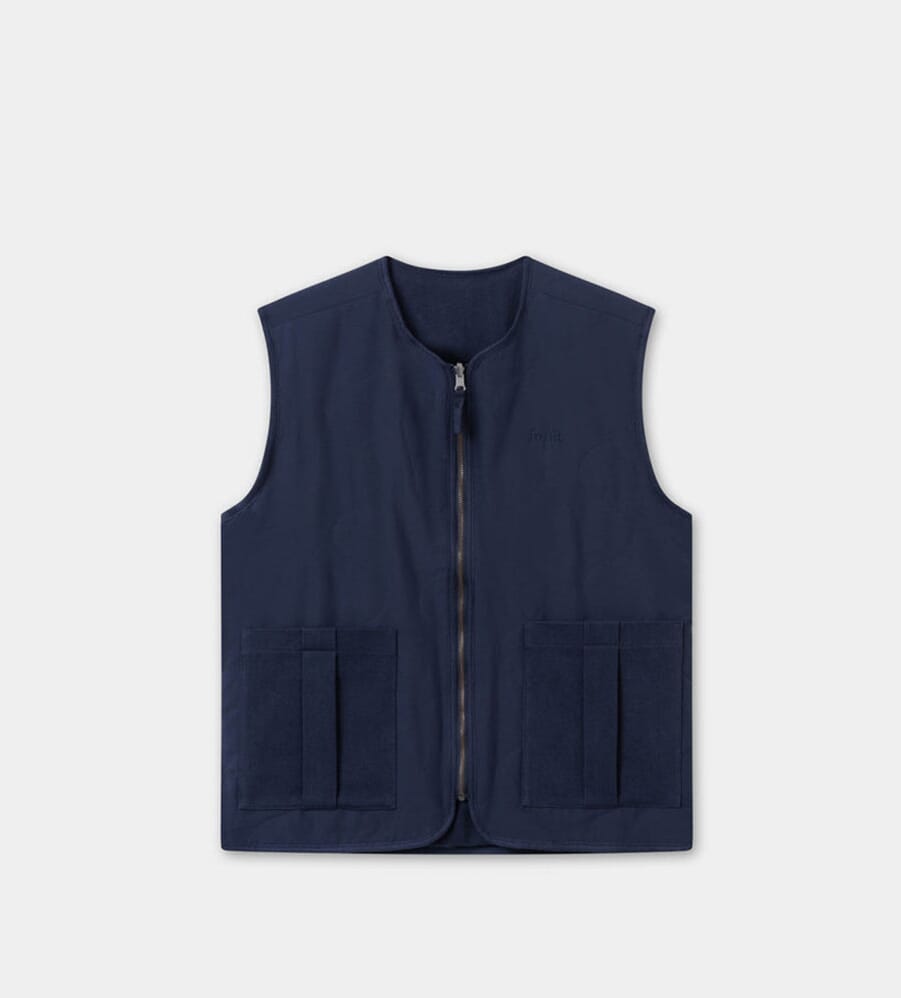 Forét Trowel Reversible Vest
The best gilets for men are the ones that fuse functionality and style, like this reversible vest from Danish outdoor wear experts Forét, made from recycled polyester and upcycled plastic. With cotton twill on one side and quilting on the other, it's lightweight yet insulated, perfect for year-round wear. Drawing aesthetic inspiration from utilitarian and military design, it will ensure you always look the part – whether you're exploring the great outdoors or commuting to work.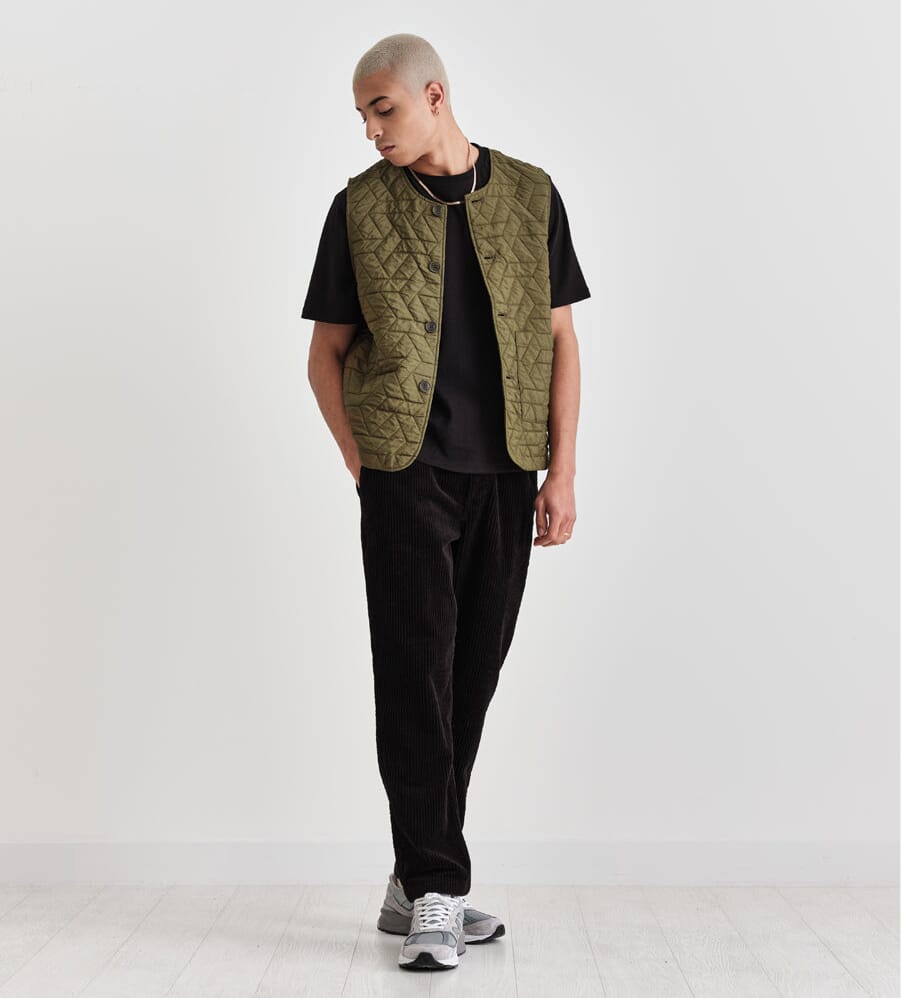 Wax London Timb Quilted Recycled Gilet
Wax London's Timb gilet is a lightweight and versatile year-round staple that will layer as easily over T-shirts and jumpers as under heavier jackets. The quilting will add an interesting textural touch to your outfit, so try teaming it with pared-back pieces in monochrome or neutral hues to really make an impact.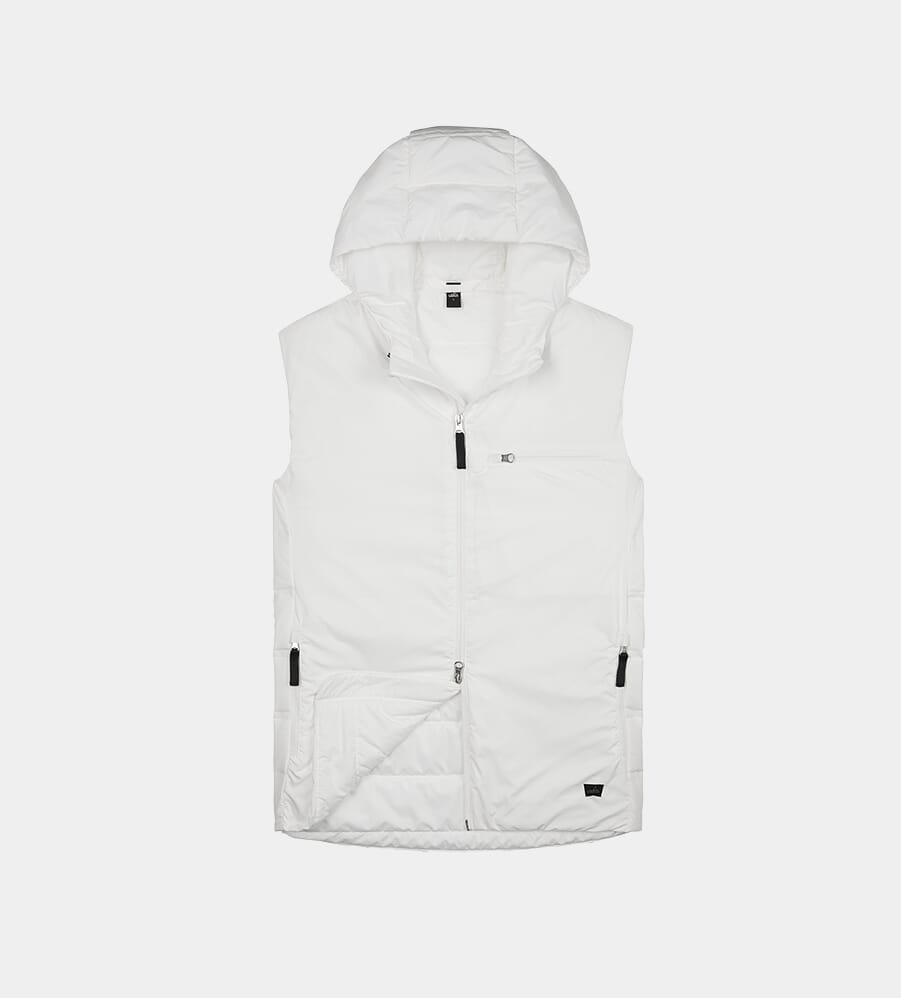 WAHTS Chen Commuter Vest
Amsterdam-based brand WAHTS creates luxury sportswear pieces that fuse functionality and good looks. Case in point: this sleek and sporty hooded vest. Crafted from a technical Italian fabric with eco-friendly padding, it's warm yet breathable, an ideal layer for the tricky in-between months. Throw it on over a hoodie and team with drawstring trousers and leather trainers for a laidback weekend look.
Found your perfect gilet? Check out our pick of the best chore jackets.
---
---