We introduce Sandqvist – now available on OPUMO – the prophets of the adored Scandinavian style.  
The Nordic landscape has inspired a multitude of menswear brands, each boasting their own unique personality. One may be closely associated with an adventurer heritage, another with simple sophisticated pieces. Sandqvist is known for both. Revered for creating uncomplicated, functional and beautiful bags enlaced with a distinct Swedish heritage.
Sandqvist's imitable journey began in 2004 in Stockholm, Sweden, by Anton Sandqvist- who made his first ever bag in the autumn of that very year, simply because he needed one. Yearning for a bag that was robust and versatile to survive his every adventure but also astute and stylish enough to be used day in day out, be it through work or play.  After 30 hours of labour, modifications and refinement; the bag was finished.
Through that entirely natural, and slightly swift process, Sandqvist was born, and has grown steadily ever since- with Anton's brother, Daniel, and life-long friend, Sebastian, joining to form the pillars of the brand.
"Beautiful, simple, durable and classic"- is now the mantra that the brand stands proudly alongside, with the motivation to "make long-lasting products, made of good materials, under good working conditions" propelling the brand above the parapet of likeminded outdoor labels.
Today Sandqvist manufactures the majority of their products in India; with a growing line of leather items made in Sweden. Supporting three family run factories across India, one of which was founded by SIDA - The Swedish Development Cooperation Agency- with an aim to reduce poverty in the world by helping poor people improve their lives through various projects.
With their latest AW15 collection online now at OPUMO, it stands to be their most impressive yet; offering a whole range of styles to suit your movements, in the form of backpacks, messengers, holdalls and laptop bags. The brand's devotion to outdoor adventure and a childhood spent exploring rural Sweden has carved a deep influence on Sandqvist's designs; creating uncomplicated and contemporary bags with a distinct Scandinavian personality.
Now you have been acquainted, we've picked out a few of our favourite Sandqvist products below. No matter your movements- there is a Sandqvist bag to suit you.
An extremely versatile and sophisticated accessory, the Hege Backpack is the ideal accompaniment to your every journey. This minimal, all-black heavy cotton canvas backpack is spacious yet compact, containing an inner 15" laptop sleeve alongside two inner slip pockets and an internal zipped pocket. Refined with smooth leather details, in the form of the flap closure and straps, the Hege backpack provides the ideal blend of utilitarian design and luxury.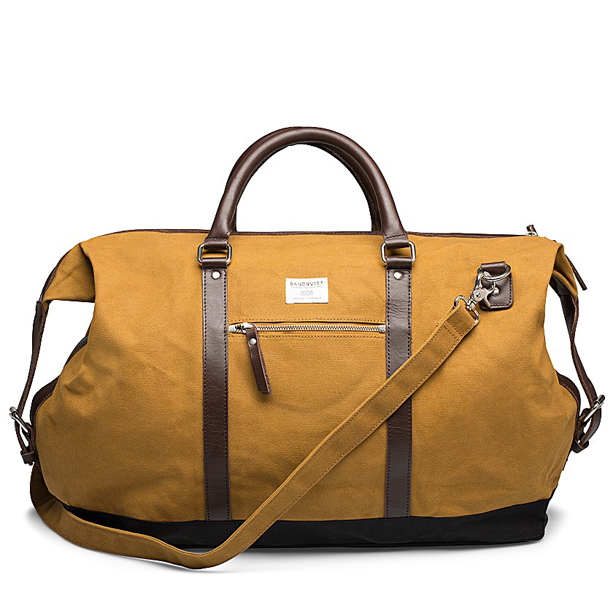 The ultimate accompaniment. This Waxed canvas holdall in a Tan colourway gives the bag a versatile, contemporary style which is suitably styled with brown leather detailing across the bag. A generous size to support your needs across a weekend, the Jorden Holdall is complete with one large outer zipped pocket, two inner zipped pockets and an adjustable, removable shoulder strap for ease of carry.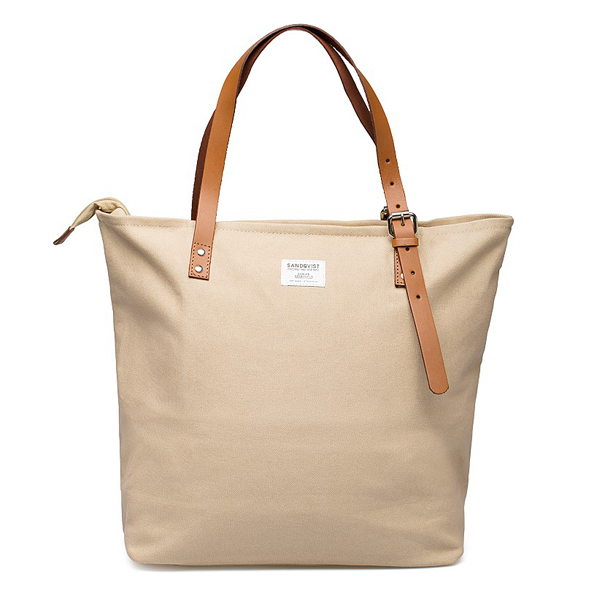 The Andy Tote Bag is one of the key pieces from the Sandqvist AW15 collection, elegantly combining functionality with contemporary design. Enriched in a light sand exterior with supplementing tan leather straps, the Andy bag is a more robust, versatile alternative to traditional tote bags. Featuring two long, adjustable, handles for ease of carry, the Andy bag is complete with a large zipped opening, an internal zipped pocket and a subtle white brand patch on the exterior.
Shop the Sandqvist collection online now at OPUMO.