The Nordic landscape is responsible for inspiring a multitude of esteemed clothing and accessories labels, each boasting their own unique personality. One such brand that has come to prominence over the past couple of decades is Sandqvist. The Stockholm-based brand draws on the rugged beauty of the Swedish environment to create fuss-free, functional backpacks, weekender bags, totes and messenger bags that are characterised by a distinctively Scandinavian minimalist aesthetic.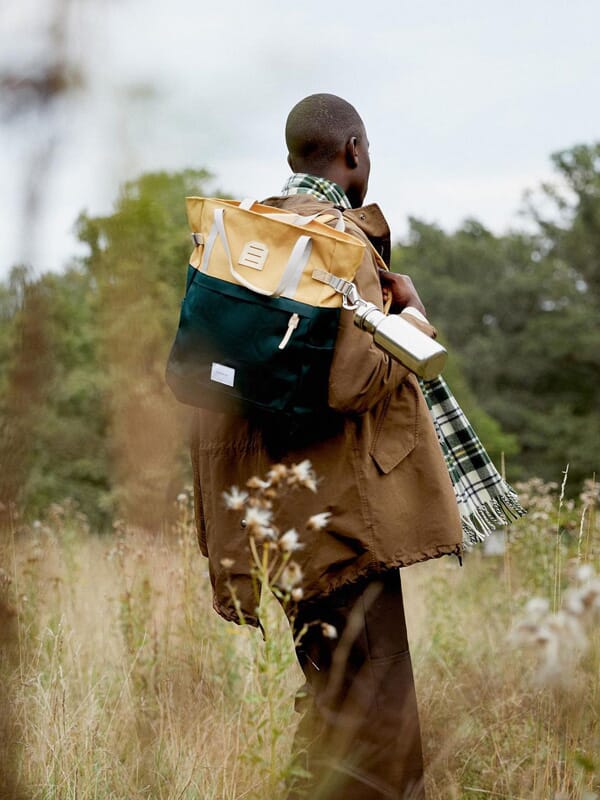 Sandqvist's journey began in 2004, when Anton Sandqvist made his first ever bag in the autumn of that very year, simply because he needed one. Yearning for a backpack that was robust and versatile enough to facilitate his penchant for adventure but also astute and stylish enough to be used everyday, he got to work. After 30 hours of labour, modifications and refinement; his dream bag was finished.
Through that entirely natural, and slightly swift process, Sandqvist was born, and has grown steadily ever since – with Anton's brother Daniel and life-long friend Sebastian also taking on key roles within the brand.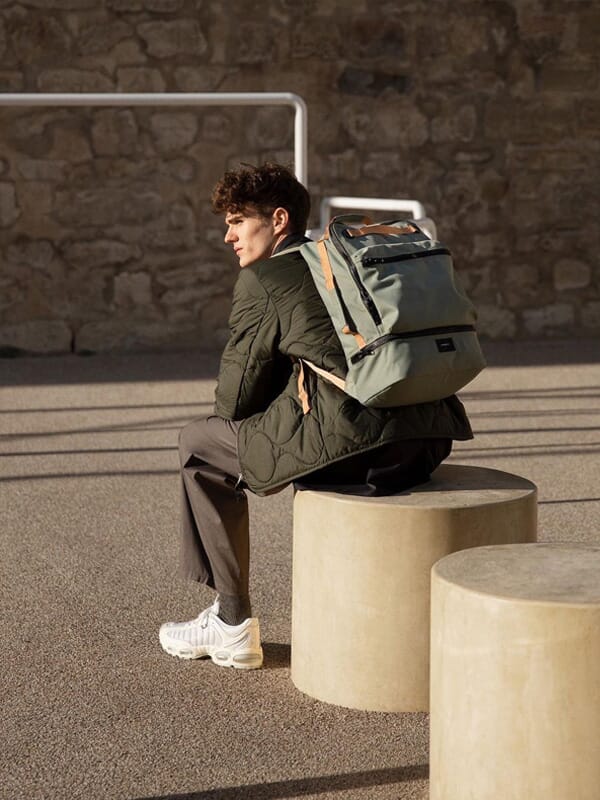 "Beautiful, simple, durable and classic" is the mantra that Sandqvist proudly follows, with the motivation to "make long-lasting products, made of good materials, under good working conditions" propelling it above the parapet of likeminded outdoor labels. Each of its bags are made to last – both in terms of timeless aesthetics and hard-wearing durability. Expect only the highest quality fabrics: from recycled nylon and organic cotton to leather sourced in accordance with strict animal welfare laws. Unlike the profusion of brands that shout about sustainability but take little real action, it's clear that Sandqvist takes its commitment to sustainability seriously, minimising its environmental impact through the careful control of chemical usage, environmentally-friendly transport options and supply chain transparency.
Now that you have been introduced to Sandqvist, read our review of three of the brand's most iconic backpacks to find the style that best suits you.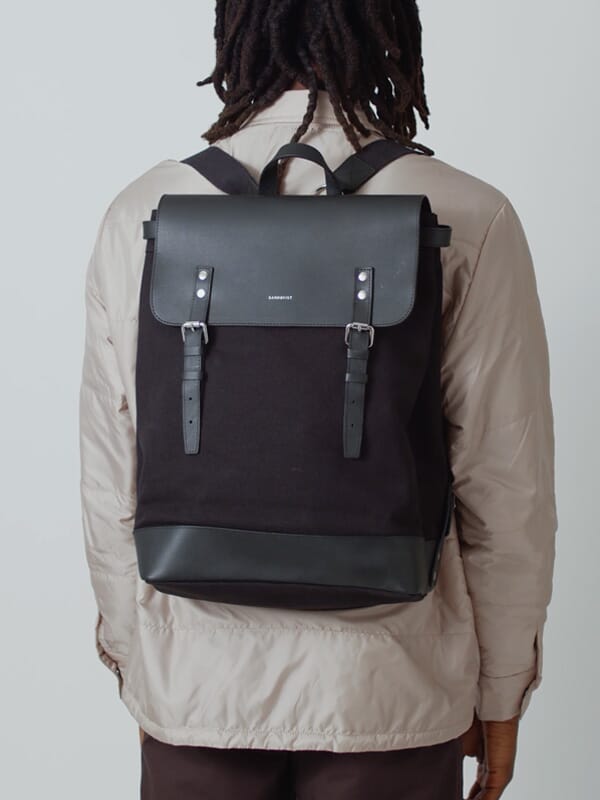 Black Hege Backpack
An extremely versatile and sophisticated accessory, the Hege Backpack is the ideal companion for everyday, whether you're commuting to work or travelling further afield. The all-black heavy cotton canvas laptop backpack is spacious yet compact, containing an inner 15" sleeve alongside two inner slip pockets and an internal zipped pocket. Refined with smooth leather details in the form of the flap closure and straps, the Hege Backpack provides the ultimate blend of utilitarian functionality and sleek design. With its simple, unembellished aesthetic, it's a minimalist's dream bag.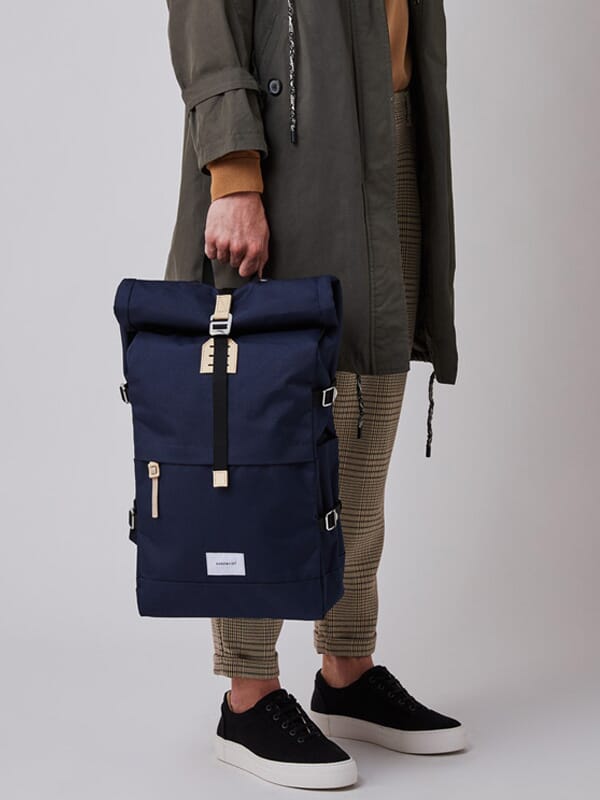 Navy Bernt Backpack
Sandqvist's Bernt Backpack is a must-have bag for any outdoorsy type, and even city slickers on the move. It's as sturdy as it is stylish: Made from a tightly woven Cordura EcoMade polyester that's manufactured using 40% recycled materials, it's water-resistant and utterly durable, ready for whatever adventures you have in store. The heritage leather details add an urbane sophistication, so it will look just as good in the office as it will up a mountain.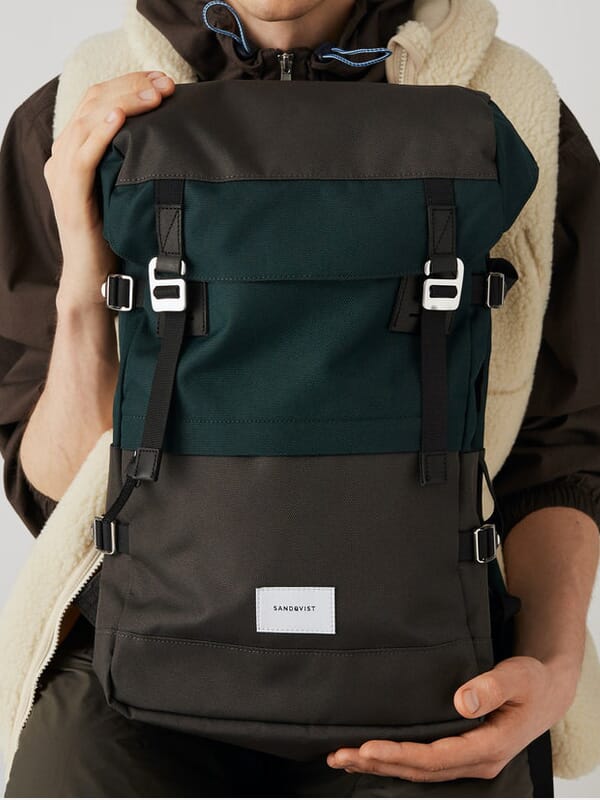 Deep Green / Dark Grey Harald Backpack
Robust yet lightweight, Sandqvist's Harald Backpack is a versatile travel companion that will accompany you through endless adventures. We're particular fans of the deep green and dark grey colour combination, but you can also opt for navy or grey and black. Like the Bernt, it's made from ultra durable Cordura EcoMade polyester, so you can be guaranteed that it will stand the test of time. Fill it up with all your essentials and more: It can carry a load of up to 21 litres. Stylish and functional, what's not to love?
---
---
Shop the Sandqvist collection online now at OPUMO.
Shop all bags at OPUMO. 
---
---