You're looking at tradition, remade with V8 punch. Because American nostalgia comes utility-shaped in this Ford Bronco, 1970 model year, a reimagined special from Bronco restomod specialists Gateway. The Bronco is a much-loved classic in the US, the brainchild of Donald N. Frey, an auto-genius who also came up with the idea for the Mustang. His basic Bronco is best thought of in the same breath as the original Land Rover. That's how this Ford Bronco 1970 rolled off the production line: an out-and-out working vehicle, with flat front screen, four wheel-drive and old-school construction to express and underline its intentions. Now just relish what it's become: a fully fledged Ford Bronco 1970-meets-2023 restomod.
As you might just have noticed, Gateway Broncos didn't just take an average Ford Bronco 1970 and give it a few cosmetic modifications. They completely transformed the vintage Ford from cheeky nose to chopped tail. Colourway of what they're calling the Coyote Edition Bronco is Vintage Yellow. Roof is notable for mostly not being there - they call it a Bimini top - new San Felipe roll bar is present and correct as is, just to make the point that utility Ford Bronco 1970 has given way to highly contemporary restomod Bronco, a plush-meets-the-past interior. Heated seats are in Porsche leather, steering wheel is out of a Mustang GT350 and there's premium audio for your driving playlist. Neil Diamond anyone?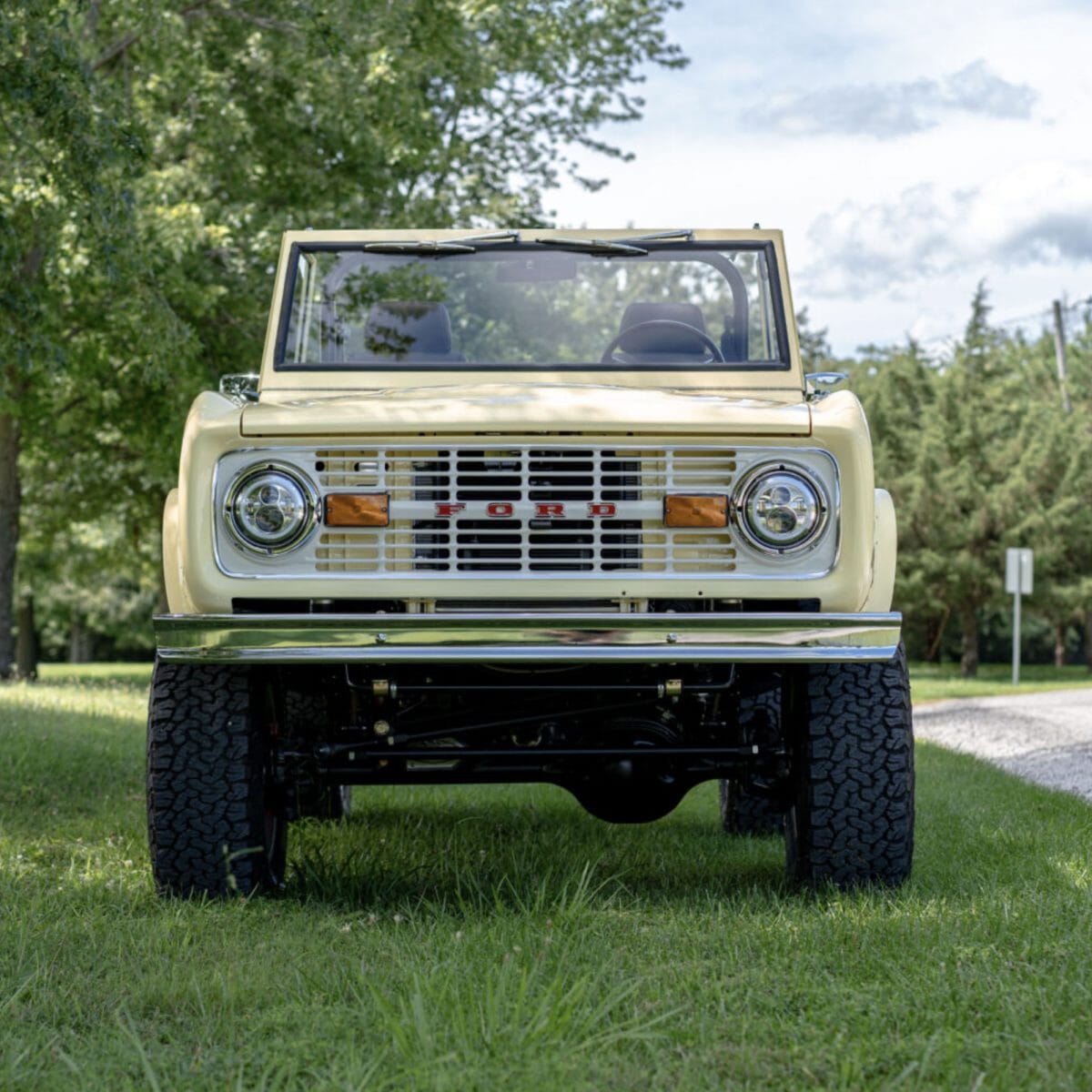 So don't think of the Coyote Edition as an old Ford Bronco, 1970-style. Think of it more as an entirely new machine, produced on the bespoke Gateway Broncos production line in Hamel, Illinois. As these Bronco obsessives put it: "We build the way Henry Ford envisioned." So naturally they imagined Mr Ford would have envisioned, under the bonnet of this vintage Ford, a Coyote series 5.0-litre V8 of the sort you might find in a new Mustang or big-selling F-150 pick-up truck. Since this Ford Bronco, 1970 being a very different time for what we now regard as essential safety bits and pieces, is far lighter than either Mustang or F-150, the V8 Coyote is going to provide a pretty speedy ride. To help cope, Gateway Broncos have fitted a 10-speed automatic transmission to make sure the little Bronco restomod is always eager to get up and go, while powerful Wildwood disc brakes make sure it's equally eager to stop.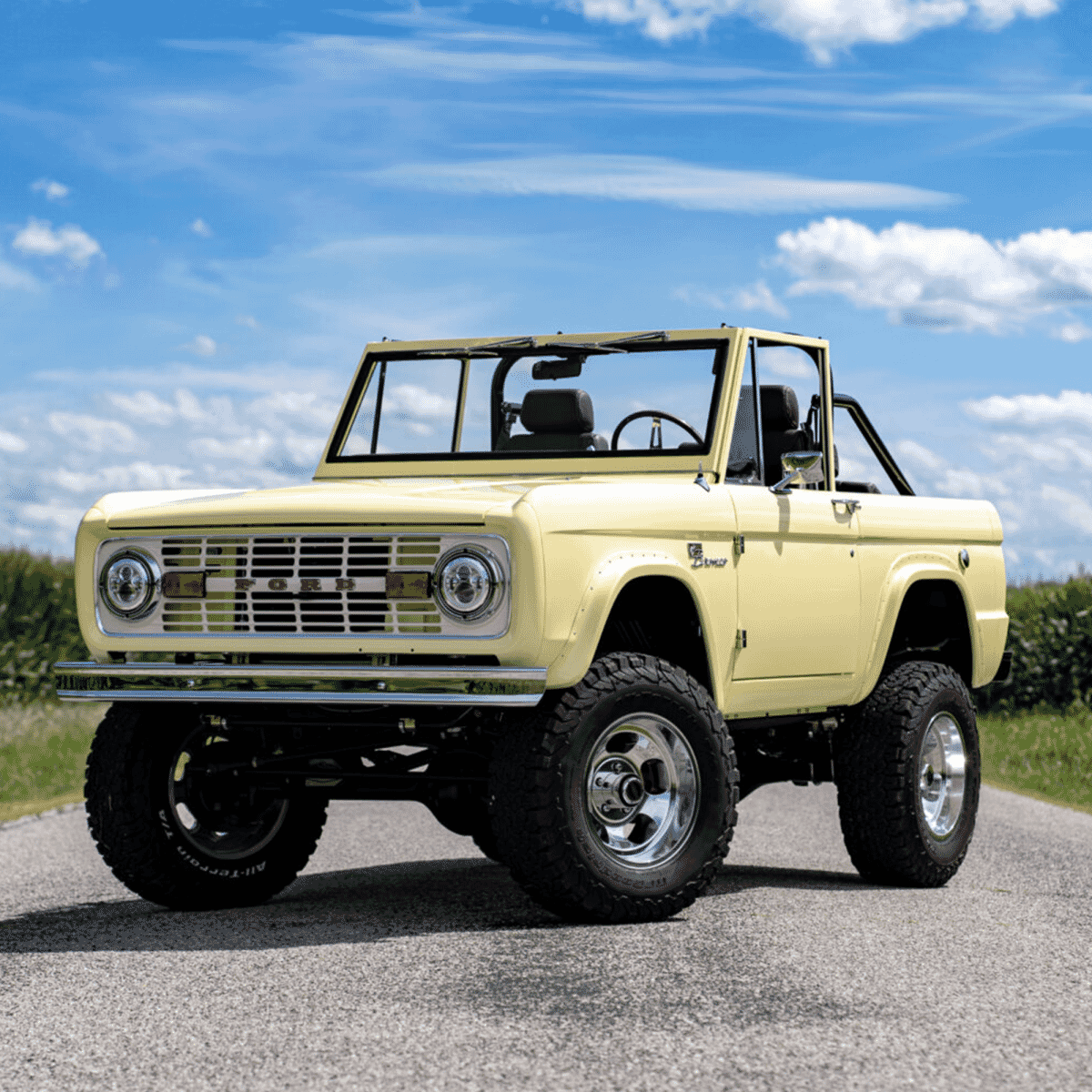 Like the look of this unique 1970 Ford Bronco? Of course you do. Price for the Coyote Edition Bronco restomod is strictly on application. Based on previous builds we'd advise asking your local Bronco-loving bank manager for something just north of £120,000. While that's adjacent to nearly-new Ferrari money, a restomod Bronco is not something you often see cruising the Kings Road in Chelsea, a place where Maranello's finest are downright commonplace. And just wait until you floor the throttle to hear the rumble of the Coyote's V8. Magnificent, in every way.
Discover the 10 best classic American cars of all time.
---
---