Solar powered watches have been around since the 1970s, but with traditional quartz and mechanical watches dominating the market, they remain a rather niche subset. There's a lot to love about them, however. With the ability to charge from just about any everyday light source and run for months between charges, solar-powered watches don't require battery replacements: cared for properly, they won't ever stop running, unless kept in complete darkness for months. Plus, they're better for the environment, as the needlessness to replace the battery means less contribution to landfill. With all of that in mind, it's about time you added a solar watch to your collection. Scroll on to for a quick explainer on solar watches, plus our pick of the best solar powered watches in 2023.
How do solar watches work?
Solar powered watches use light energy from the sun or an artificial light source to convert into electronic energy. A solar cell unit under the watch's dial coverts the solar energy and the energy is stored in a rechargeable battery and used to move the watch.
Solar watches are sometimes referred to as solar quartz watches, because solar watches use quartz movements. A small electrical charge is applied to a tiny, low-frequency quartz crystal in the watch, causing it to oscillate, which results in vibrations that keep the movement oscillating and power the motor that moves the watch hands. These oscillations are how quartz watches – and thus solar watches – track time. 
Benefits of solar watches
A solar watch is one of the most sustainable and environmentally-friendly methods of timekeeping. Because it doesn't require a charger or battery and relies solely on the sun – or any source of light – it reduces the amount of landfill waste that would otherwise be produced from non-reusable batteries.
This also means that you can wear it and forget about it, going on about your life without having to add watch maintenance to your to-do list. Depending on the brand, most solar watches can last up to six months without charging.
Furthermore, a well-made solar watch will last a lifetime, so you won't have to constantly replace it, which only contributes further to landfill.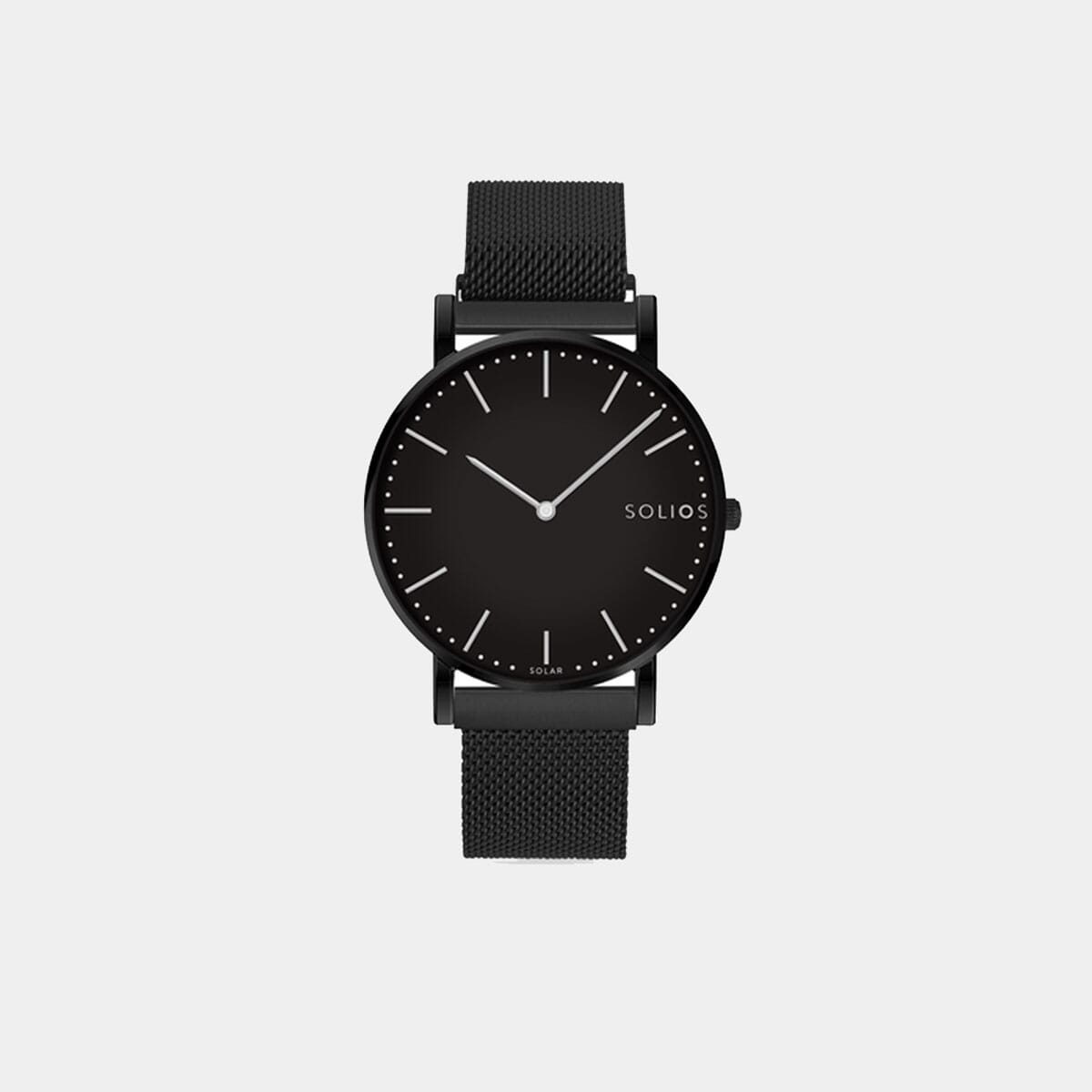 Best solar powered watches to buy in 2023
Solios Solar Classic
Solios watches incorporate an invisible solar cell that can hold a power reserve of 6 months after sitting under the sun - or artificial light - for 2 hours. They charge as you go, so you never have to worry about charging or replacing batteries. For sleek, sustainable style, our pick from Solios is the Solar Classic in black, a minimalist timepiece that delivers maximum performance. It boasts sturdy sapphire coated mineral glass and a certified recycled  8mm-thin stainless steel case, plus an easily interchangeable strap (choose from mesh metal or vegan leather). For every watch sold, Solios commits to restoring one acre of rainforest. Stylish and sustainable, what's not to love?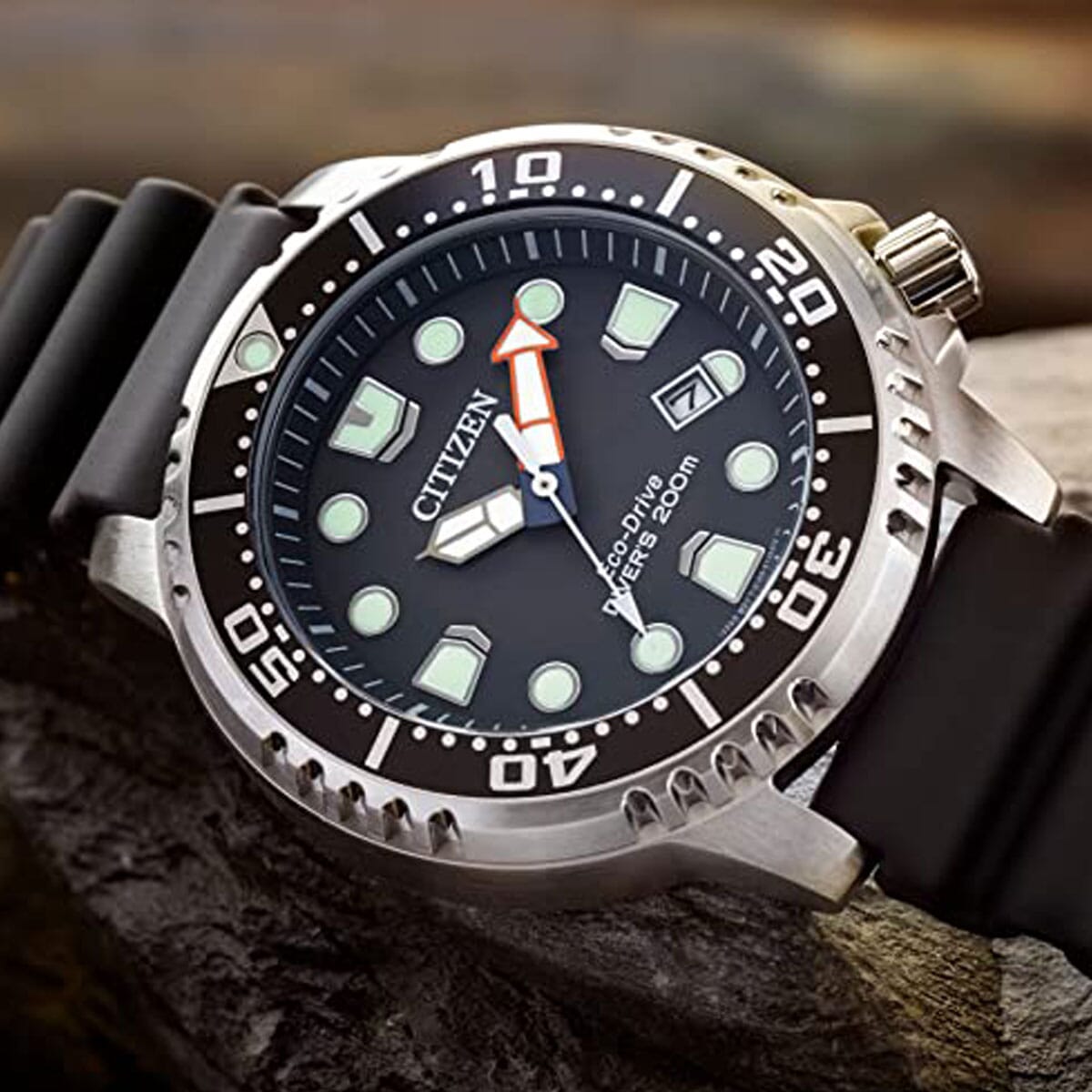 Citizen Titanium Automatic Promaster Dive Watch
Citizen was the first to develop light-powered watches in 1976, with an innovative technology called Eco-Drive. That technology is showcased here, in the form of the sleek and sporty Promaster Dive Watch. Originally used by the Italian Navy, the model was released in 1989 for a new generation of dive watch enthusiasts. Timeless and classic in style, it features a stainless steel case with green dial and rotating bezel, stainless steel bracelet and date. Water-resistant up to 200 metres and made to last, it's the perfect everyday watch that you'll reach for time and again.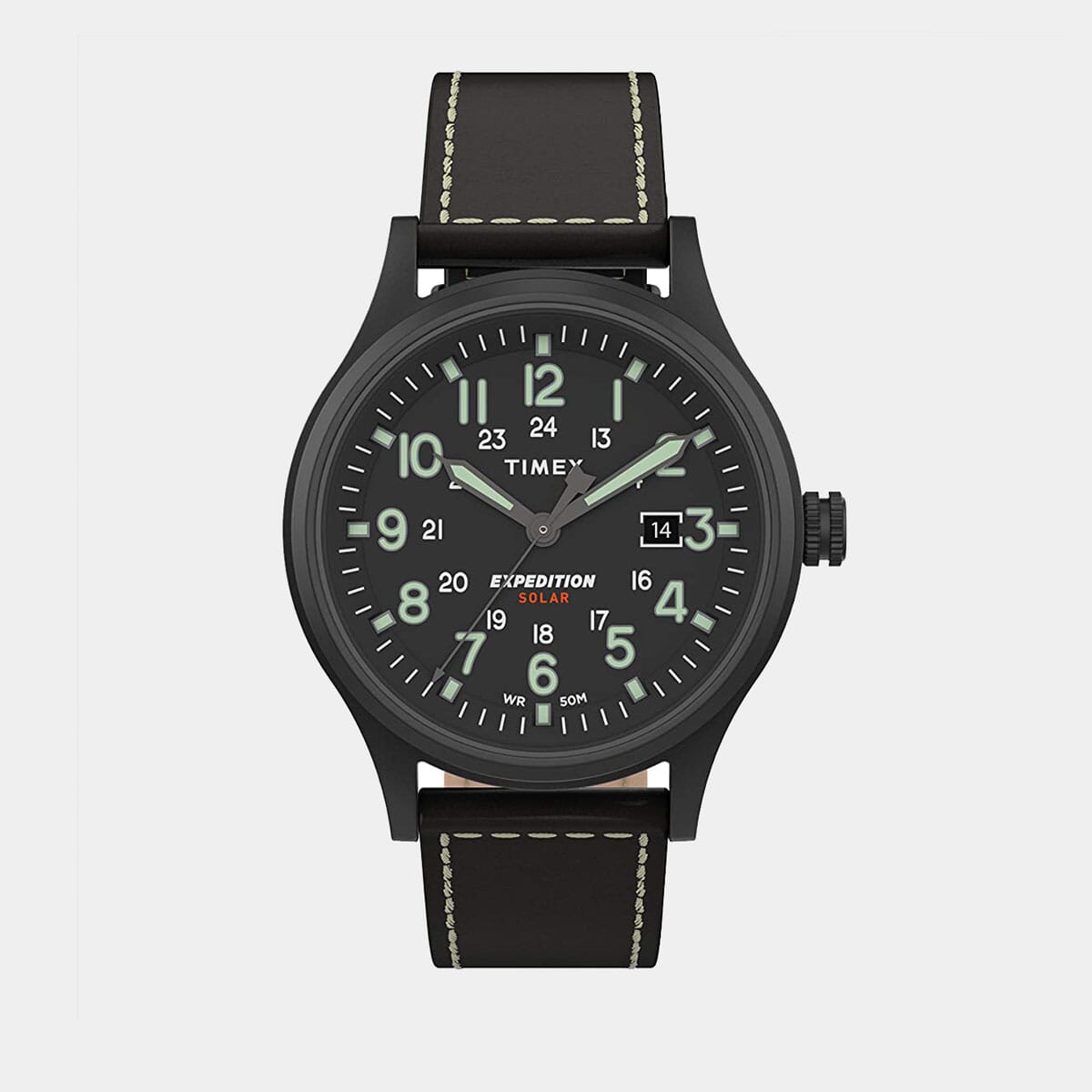 Timex Expedition Scout Solar-Powered Watch
For everyday reliability, look to Timex. The brand's Expedition Scout Solar-Powered Watch boasts ultimate durability and functionality, without skimping on style. A timeless adjustable black stitched 20mm leather strap complements a black dial, set within a back 40mm brass case with mineral crystal and luminous hands for visibility. The 4 month power reserve means you only have to charge it every so often - and when you do, simply expose it to any natural or artificial light source.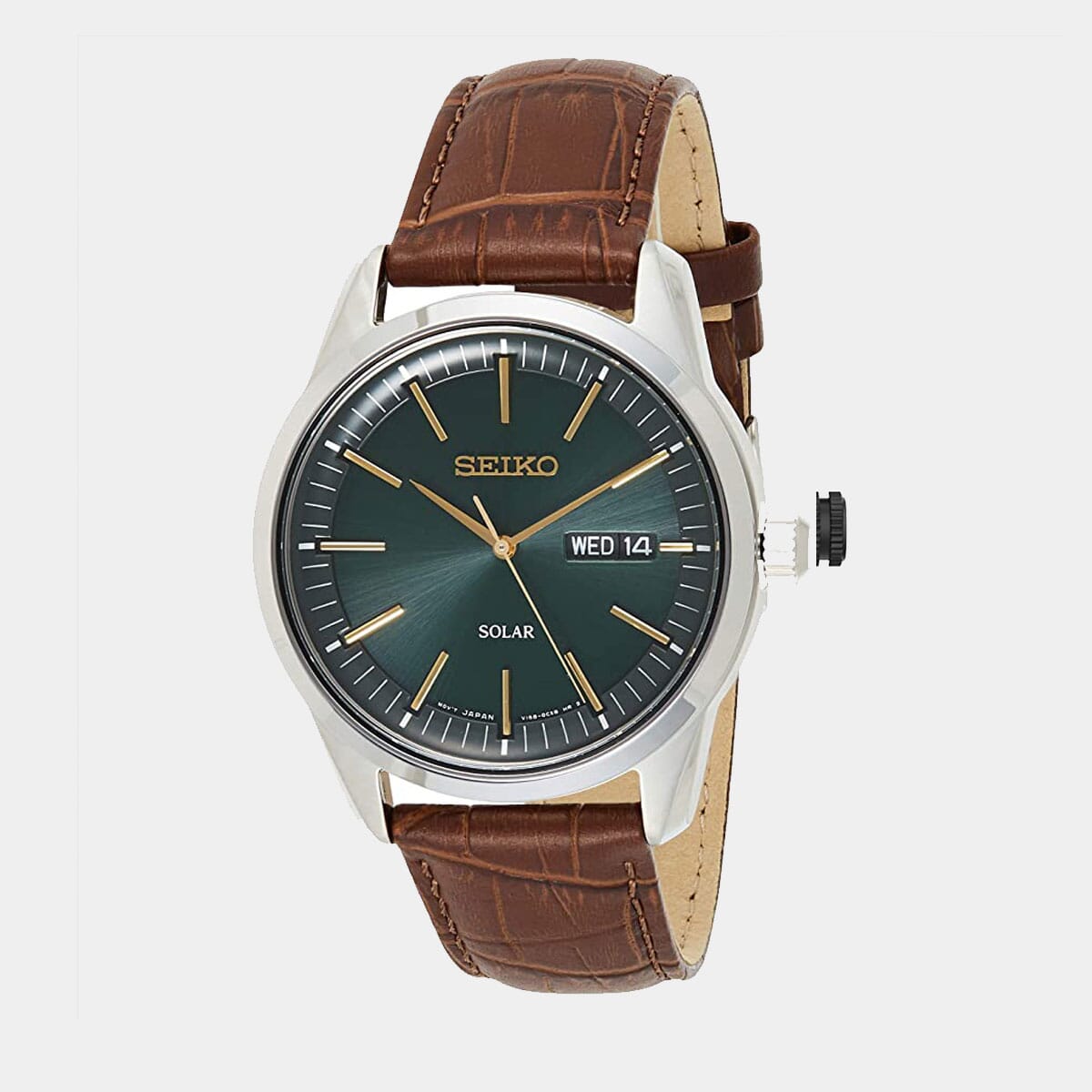 Seiko Analog Solar Watch with Leather Strap
Just because they are high-tech doesn't mean solar watches have to look high-tech. In fact, as this analog solar watch from Seiko proves, solar watches can be every bit as elegant as a traditional dress watch. Details include a chic crocodile-style leather strap, clean minimalist dial and robust stainless steel case. Wear it day to day or save it for those more elevated occasions.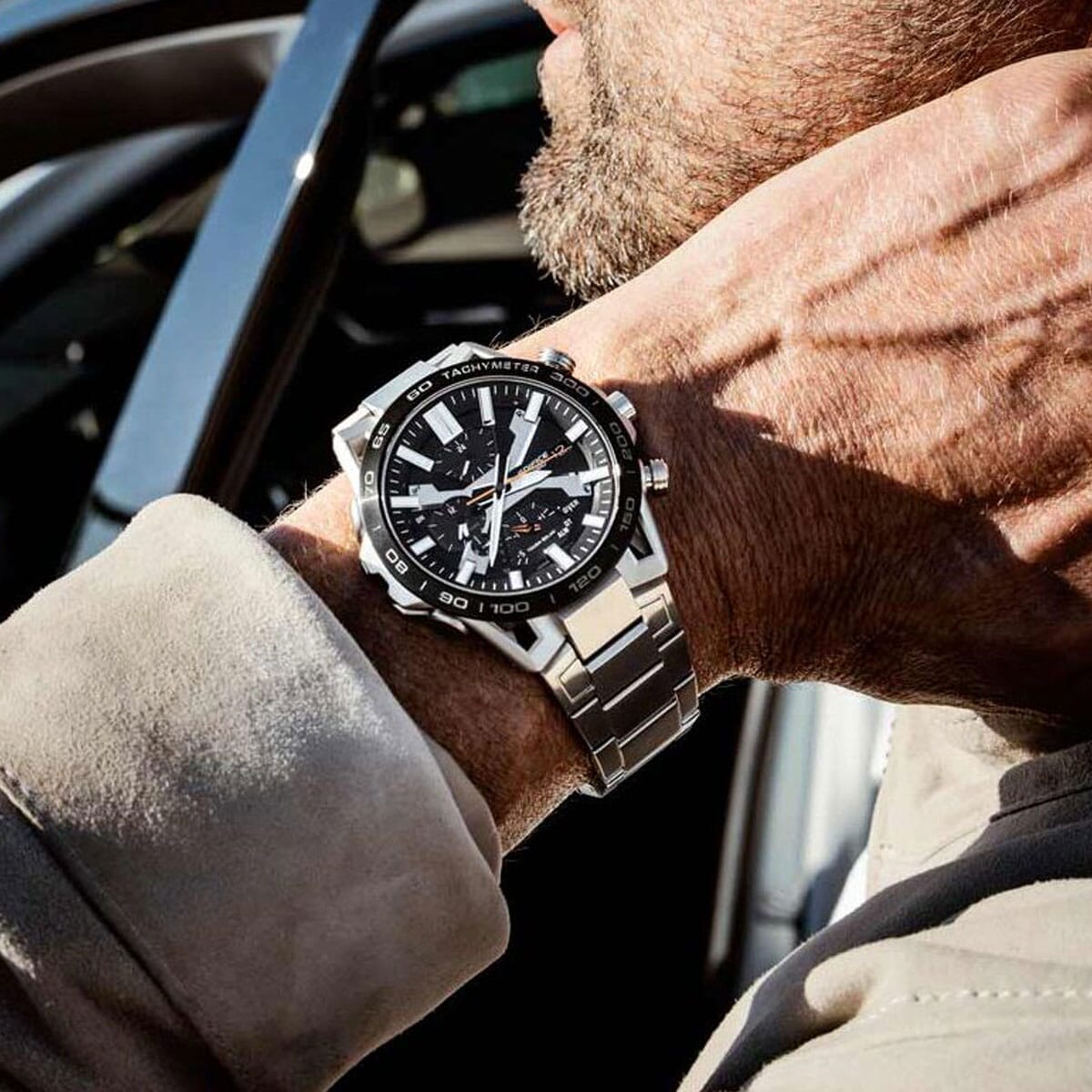 Casio EDIFICE EQB-2000DB-1AER
This sporty solar-powered watch from Casio's classic chronograph watch collection EDIFICE is designed for high performers. Inspired by motorsports, it features a four-arm lug configuration that pays homage to the four-arm double wishbone suspension on formula race cars. Plus, it looks the part too, with an ion-plated bezel and band, scratch-resistant sapphire crystal glass and key dial components that are colour-coded like race car steering wheels. Sync it with your smartphone via Bluetooth to access next-level functionality, like precision timekeeping and transferring stopwatch data to your phone.
Shop all men's watches at OPUMO.
---
---