Mismo has been proudly displayed on the OPUMO rails for quite a few years now and just one look at the Danish brand's latest collection of men's bags, accessories and suitcases and it's easy to see why.
Over the last decade, Mismo has become a leading name in the world of men's bags courtesy of its straightforward, functional and durable designs that showcase only what is necessary – nothing more, nothing less. Behind every Mismo bag is the philosophy that real luxury arises from the choices made – which is why every bag is made from the finest materials with a few subtle material twists that you are unlikely to have seen anywhere else.
Mismo's latest range of backpacks, holdalls and briefcases upholds the same levels of versatility and durability that they've always been known for, and to highlight just how multi-functional they are, we've pulled together a few of our favourites below. So, scroll down to discover the 6 Mismo bags that you can take everywhere and anywhere – featuring the new Mismo Backpack and the easy-to-carry new arrival of the Mismo Sling Bag too.
+
Black / Black M/S Goods Shopper Tote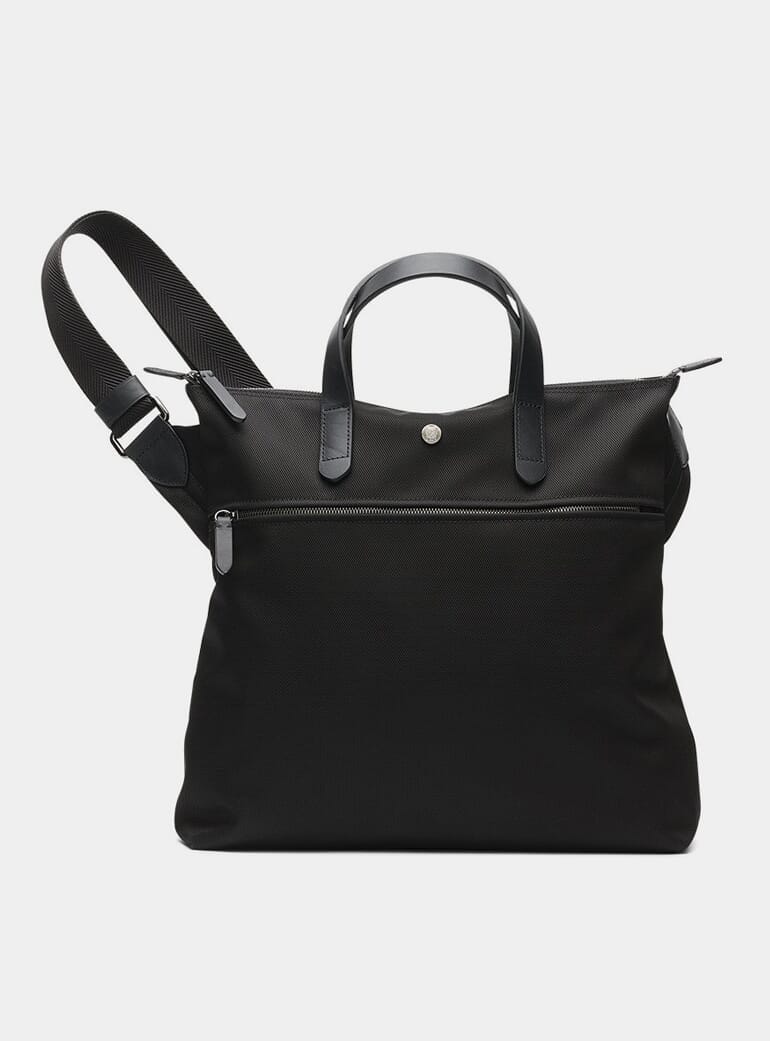 Black / Black M/S Goods Shopper Tote
M/S Goods Shopper
First up is Mismo's interpretation of the classic shopper bag. This is such a useful bag for men because of its versatility. The Mismo M/S Goods Shopper takes design cues from canvas tote bags as well as the crossbody messenger bag to result in a lightweight commuter bag. Crafted from durable, hard-woven waterproof nylon, the M/S Goods Shopper is ideal for all trips, from the daily commute to short stints abroad. A large outside zip pocket punctuates the front side while the back features two spacious slide-down pockets and within the zipped main compartment you'll find three pockets to help you organise your daily carry.
M/S Backpack
We've tried countless rucksacks and this one comes out as one of the best travel backpacks for men. Again, Mismo's form-and-function philosophy is put into practice, making the Mismo M/S Backpack one of the most iconic styles in the Mismo collection. Four pairs of D-rings line the front face of this laptop backpack for men, allowing you to choose how to close it. Opt for a roll-top closure for a more casual look or if you're into your classic style, simply fold down the flap closure.
M/S Aviator
Measuring at 42cm x 32cm, the Mismo M/S Aviator is a travel bag, men's weekend duffle bag, minimal briefcase and more all at once. Taking inspiration from WWII US Army Aviator kit bags, this classic men's holdall is ready for any adventure. The front features a large slide compartment big enough for your important papers or a laptop while the reverse has an equally large open compartment with a hidden zip pocket within. Mismo's Aviator duffle bag is constructed from a hard-wearing cotton and nylon canvas which gives a nod to the style's military roots with its light khaki hue.
M/S Soft Work Bag
Inspired by old-fashioned grocery bags, Mismo's M/S Soft Work bag is designed to be the stylish men's work satchel you've been hunting for. One of this work holdall's defining features is its folded-top closure secured by two sailor snap hooks situated behind the vegetable-tanned, full-grain bridle leather handles. A large 'grocery' pocket to the front offers a space for quick-access items while the the interior comes equipped with two slide pockets and a zip pocket. Depending on your load, carry the Soft Work bag by hand or use the adjustable and detachable shoulder strap.
Card Wallet
It might not be a bag, but it's certainly an essential, so we had to include the Mismo Card Wallet. This classic leather wallet for men is cut from vegetable-tanned, full-grain leather and features a stunning off-white, striped lining. At once practical and exceptionally good-looking, this men's card holder wallet boasts a hand-polished YKK zip that contrasts effortlessly with the durable leather construction. The front face of this slim leather wallet is complete with three cardholder sections that combine with a full zipped compartment for notes and coins.
+
Black / Black Large Leather Pouch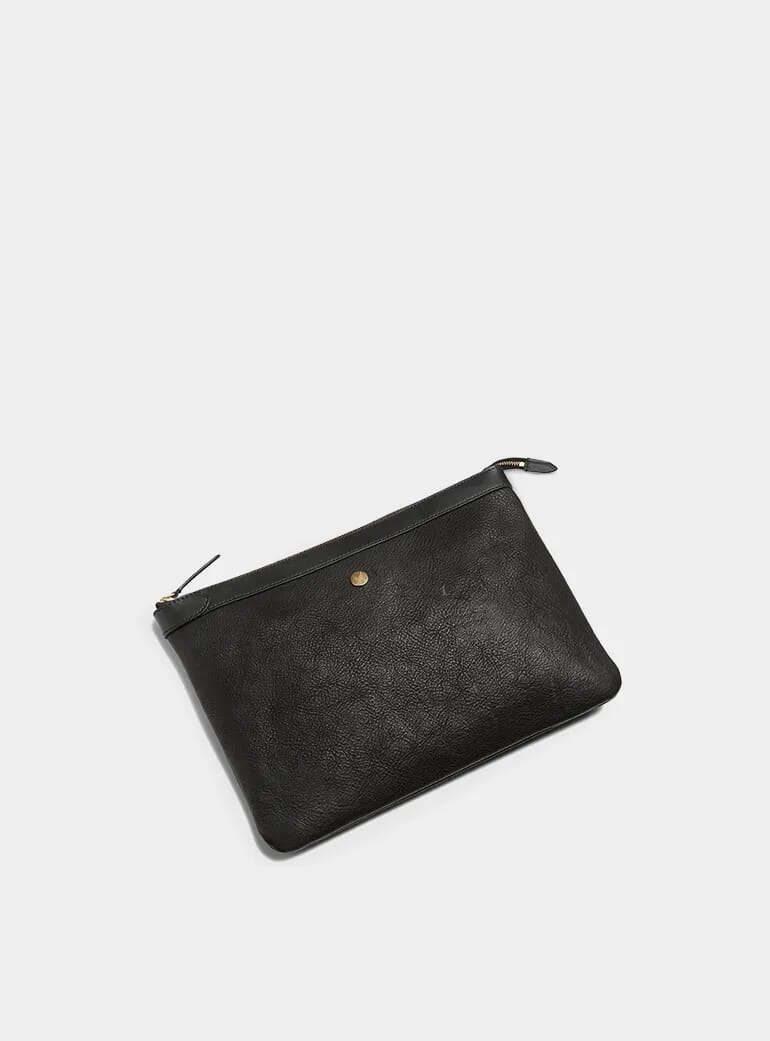 Black / Black Large Leather Pouch
+
Khaki / Black M/S Prime Wash Bag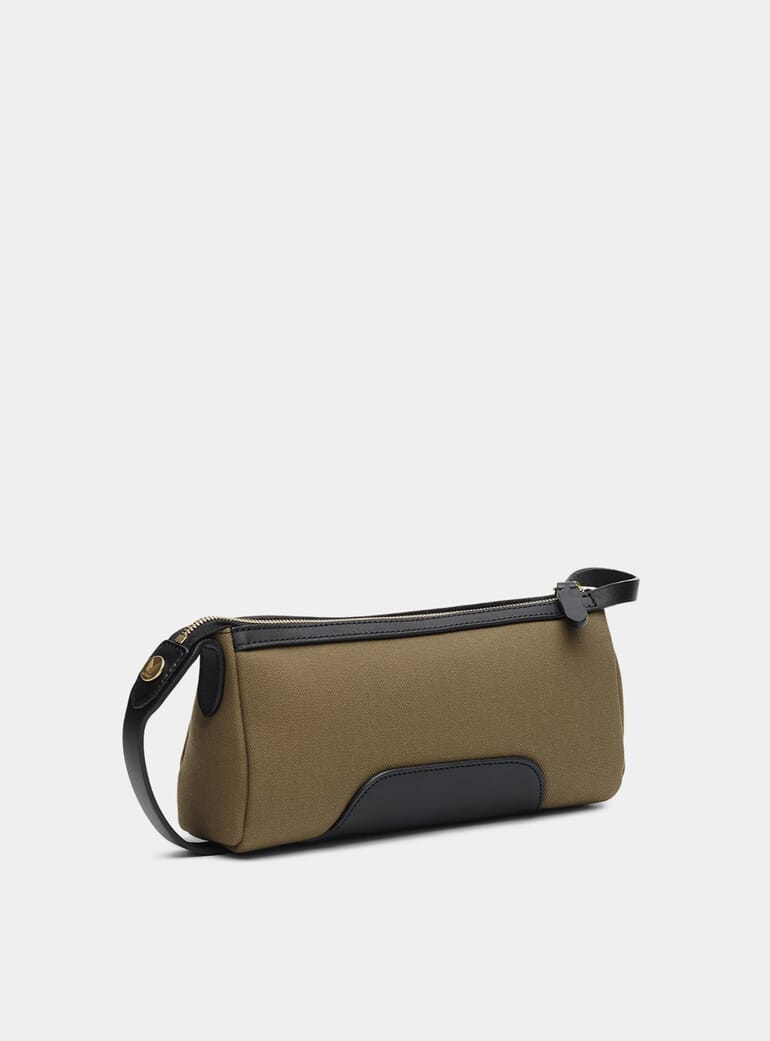 Khaki / Black M/S Prime Wash Bag