Whether it's a leather jacket or a lightweight overcoat, nothing in our wardrobe works harder at this time of year. Nothing makes us feel more confident than a new coat, as it is the one item of clothing that we'll become recognised for over the next few months. As usual, there is not a single type of jacket to be worn in autumn 2017, but rather a range of different options instead. To illustrate our point, we have linked up with Soulland to pick out four of the finest transitional jackets and to show you how to wear them this season.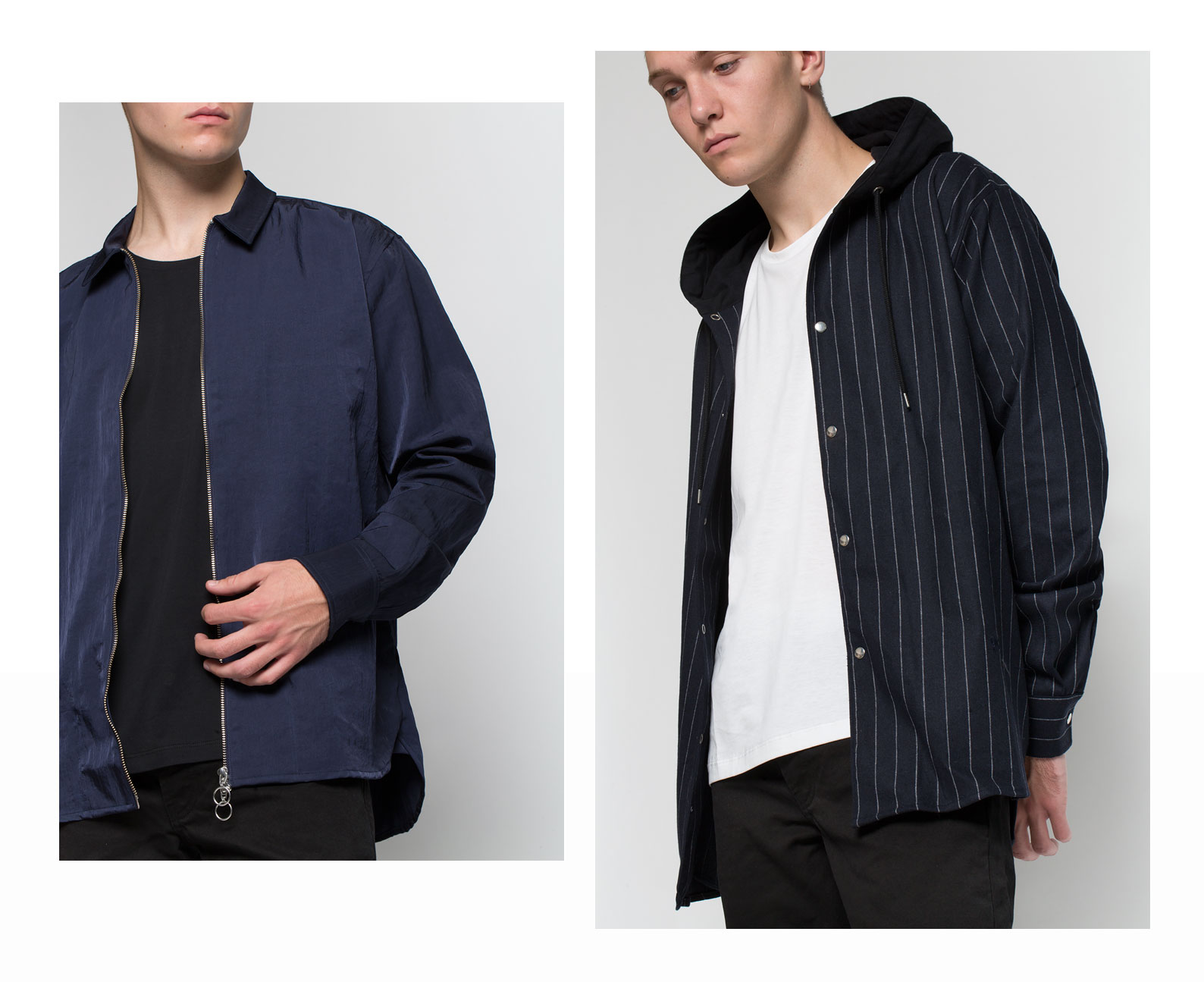 The Overshirt
Soulland's all-new Autumn/Winter collection has called upon a wide range of influences – ranging from everything from the music of Mozart to the wars of the latter 20th century – and this fusion of philosophies has translated into the Kvitrafn Shirt. Although the silhouette falls from the same sartorial tree as a classic Oxford shirt, Soulland has reinterpreted the shape through the introduction of the built-in hood. Not only does the hood add functionality but it also serves to rework the shirt with a skate-meets-streetwear edge – a signature of Silas Adler and Soulland's style. But what makes the Kvitrafn particularly special for autumn is the fact that it makes for a great layering piece. Simply layer up over a white tee and a slim-fitting jean to bring out the vintage-cut and workwear influences of the sharpened overshirt.
The Zip Jacket
Much like the fortunes of the aforementioned suede jacket, the zip jacket has also enjoyed a bit of a comeback of late, and considering the current obsession with sportswear, it's an unsurprising resurrection. Originally worn as a lightweight, waterproof layer by sports coaches, the zip jacket has evolved from a functional fastening mechanism to a standout feature. Today, the zip-based trend lives on in many different guises – from the 'streetwear staple' of the classic track top – to the more tailored silhouette of the David Shirt.
The David zip-up Shirt really caught our eye because it pleasingly treads the hazy line between smart and casual. With its classic back pleat which gives the jacket a more refined, tailored fit, the David comes complete with all the familiar trappings of a shirt (turn-down collar and shirt cuffs), but it also manages to look incredibly unique, with its restrained colour palette and smooth tech-jersey fabric. Although it is not traditional in terms of being a shirt or a zip jacket, it has more versatility than both. Which means you can wear yours, well, whenever you feel like it – as it's versatile enough to work with tailoring as well as more casual styles – but for a truly timeless look, nothing beats a plain black t-shirt or hoodie.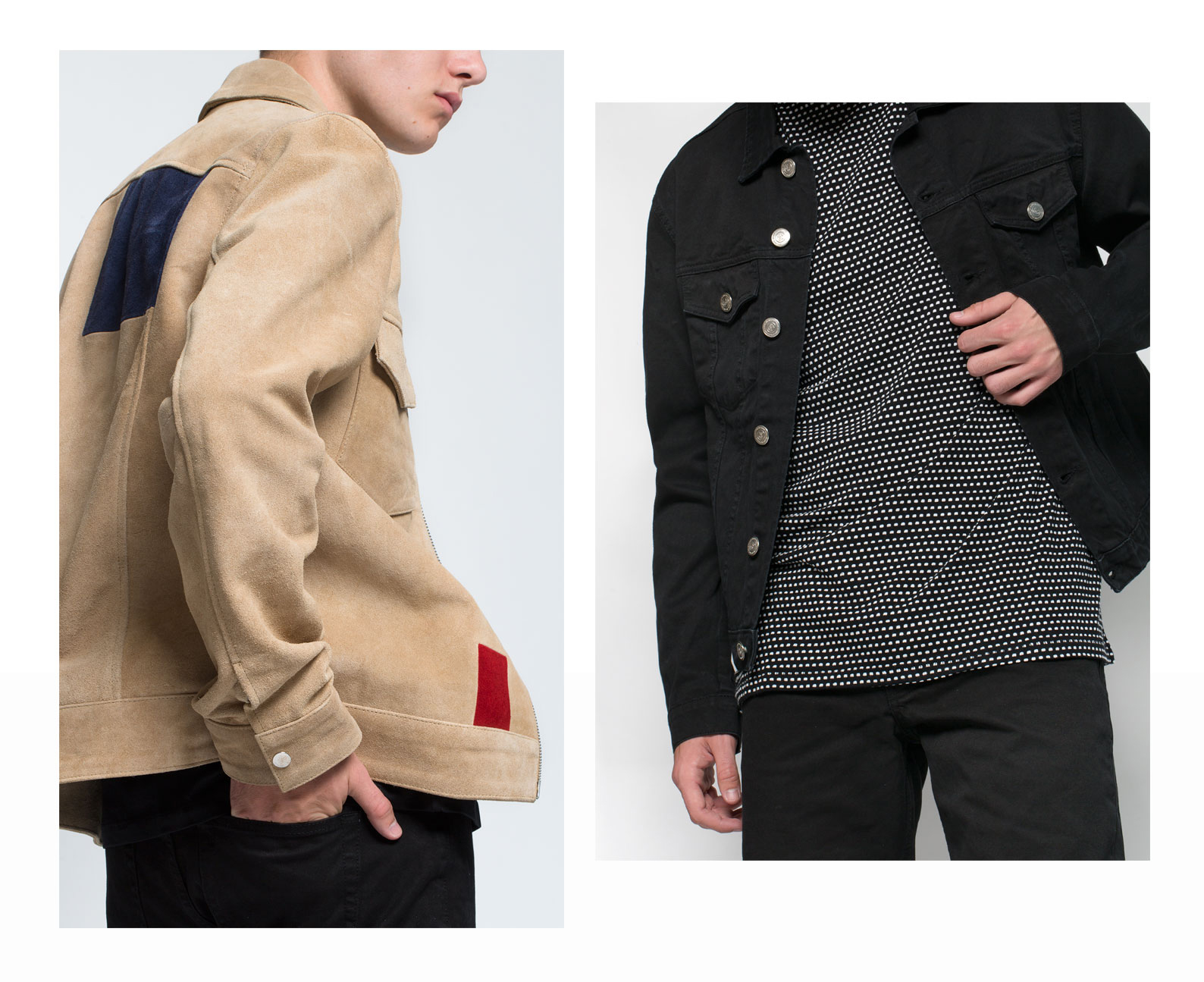 The Suede Jacket
The resurgence of suede continues this autumn; but the classic 1970s material appears thinner, lighter and brighter than ever before. Our favourite, the Soulland Light Camel Allen Jacket, is so soft in its structure that it almost looks like a relaxed shirt. The simple, straight fit is complemented by a straight turn down collar, deep chest pockets and block patch prints for a flattering finish. Entirely made in cow suede, the butter soft jacket is the perfect investment piece that can be simply worn with a navy tee and a retro wristwatch for a look that will survive for years to come.
The Denim Jacket
The denim jacket - despite it being the major culprit behind double denim and having questionable bleach finishes over the years - is one of the easiest jackets to wear this season. By combining the denim jacket with a couple of removable layers, you'll be ready for all-weather conditions as the combination of multiple pieces and contrasting textures will create a look full of depth and character. Pick fabrics and colour tones that complement each other, such as the Soulland Shelton Denim Jacket, the textured Soulland Lisner Sweat and the classic cut of the Soulland Black Greco Pant.
Not only does the Black Shelton deliver on modern day functionality with its short-length cut but it also features a range of traditional, utilitarian-details such as the double patch chest pockets, customised Soulland logo buttons and its mid-weight 12oz denim construction. The beauty of this superbly time-resistant design is that it's hard working in the sense that its welt-seamed construction will survive most situations, plus its minimal, masculine aesthetic will complement shirting and tailored trousers as well as more casual outfits too.
Shop the entire Soulland Autumn/Winter collection at OPUMO.
Be sure to read our ultimate guide to men's coats and jackets.