Unfortunately it just isn't possible, or suitable, to wear your favourite woollen overcoat all year. As the evenings get longer, the temperatures rise and people become, let's be honest, more fun, it's essential to have the perfect summer jacket in your wardrobe that is lightweight, durable and basically more comfortable. With that in mind, we've picked out three men's summer jackets – from modern Harringtons to suede bombers – that will see you through this summer and beyond.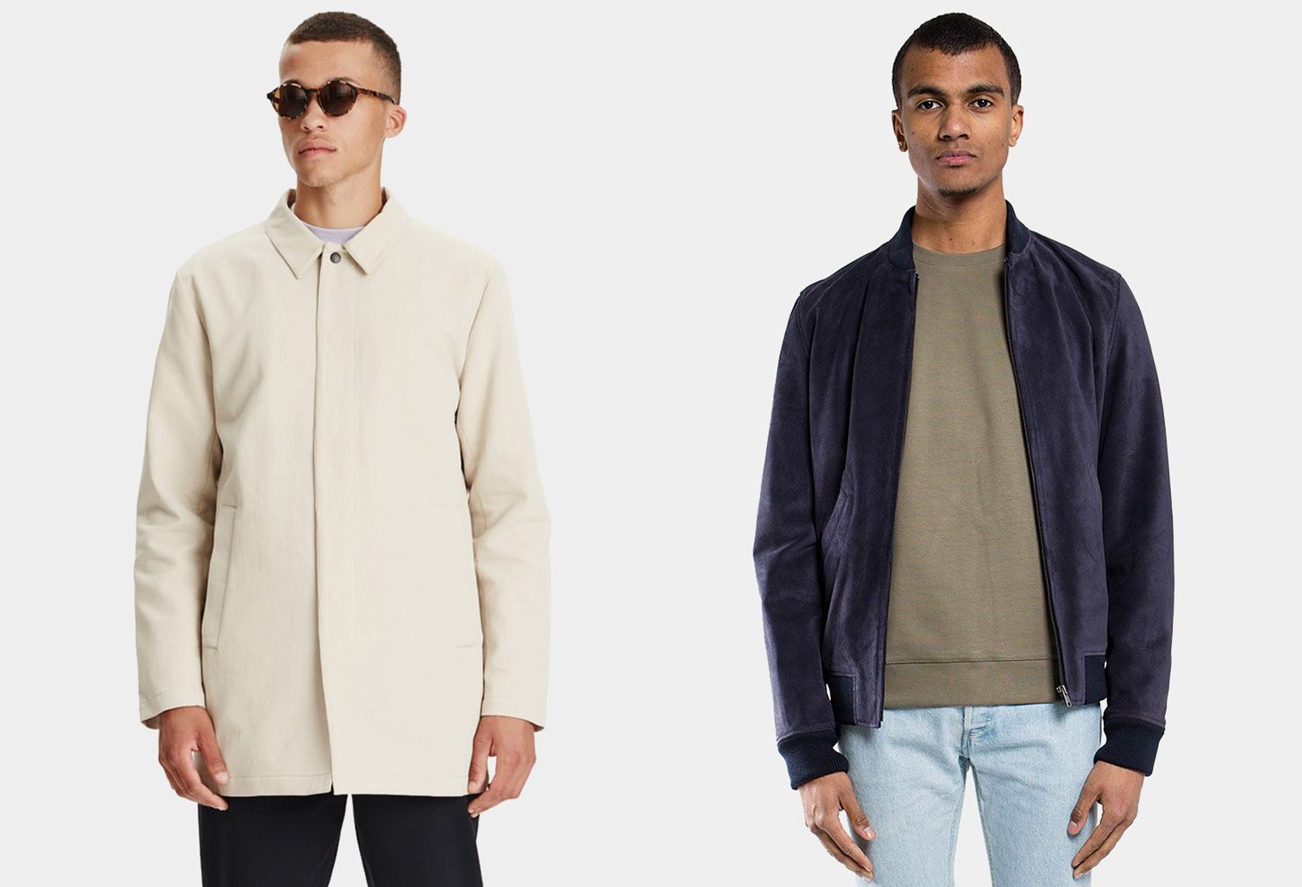 Legends Beige Spring Mac
The Beige Spring Mac from Legends is the perfect place to start when it comes to men's summer jackets. Legends was founded in 2013 in Copenhagen and its clothing pulls inspiration from the simple, timeless design of Scandinavia. The single-breasted construction of this mac along with the hidden button opening ensures that no detail is superfluous, making it the perfect finishing touch to a pop-colour t-shirt or jumper worn underneath. The cropped length of the jacket is another great attribute. Finishing just below the waist, the mac avoids the length of more formal jackets while maintaining an elegant edge over your average above-the-waist bomber jacket. Plus, the beige colour hue will match up to a lot of hues in your summer wardrobe; namely greys, khakis and navy.
A.P.C Navy Suede Ferris Louis W Bomber Jacket
There was a time where bomber jackets would never be mentioned in the same breath as 'elegance' or 'a formal piece of outerwear', but thankfully, those days are gone. Jean Touitou and Louis Wong are pretty much here to prove that the bomber jacket can be as classy as they come, too. The premium soft calf suede means that this W Bomber Jacket is an investment piece that will last a lifetime of summers and will look better each year. A.P.C has a history of showcasing the finest contemporary French design and this offering does not deviate from that path. Match it with a striped t-shirt and a pair of selvedge jeans and you will feel as though you're wandering the streets of Le Marais.
Sunspel Olive Cotton Drill Harrington Jacket
It goes without saying – even though we have said it many times before – that a classic Harrington, particularly in khaki, is an essential in every man's wardrobe. This week's new arrival from Sunspel is a contemporary update of the brand's classic Harrington Jacket that is perfectly suited to be worn with a sparkling white t-shirt underneath for summer. Cut from a luxurious lightweight cotton, this jacket also has a natural stretch that adds an element of comfort to a traditional menswear staple.
So, instead of seeing summer as a hiatus in terms of coats and jackets, see it as a chance to enrich your wardrobe. Winter will be back, and you will get a chance to wear your overcoat again, but for now pull on your new summer jacket and enjoy the weather for once.