It used to be that corduroy was for your dad. Or your grandad. Corduroy was for geography teachers or librarians. But like all good things, it's come back around. This autumn-winter it's the official return of corduroy. Having last made a real impression on the world of menswear in 2001, when The Strokes where at their optimum and skinny jeans didn't quite exist yet, the soft cotton fabric is back but it appears more casual, relaxed and versatile than ever before. Yes, the wide-cut cord trouser remains a long-time favourite especially when matched with a pair of classic Converse Chucks, but it's time to see cord in a whole new light. Which is precisely what Wax London are proposing with the release of their all-new Olive Bamberg Coach Jacket.
It's unsurprising that Wax London is a front-runner in this season's revival of corduroy. Originally described as an 'evolution of the current menswear landscape,' Wax London was established by friends and founders Tom, Rich and Steffy with the aim of bringing the actual 'making' tradition of British outerwear back to the UK. Naturally, the label succeeds in doing so by marrying quintessential British design – enter the corduroy – with Steffy's Scandinavian style of ease and function. Their latest Autumn/Winter collection rediscovers a range of old-school materials beyond cord, such as velvet and suede, but it is the fine-lined fabric that takes centre-stage with a strong and subtle look that takes inspiration from sixties icons Dylan, Jagger et al.
When treated with a disciplined cut, corduroy is a material that can give a sculpted, narrow fit while also being comfortable to wear through a cold winter. Its latest reincarnation at the hands of Wax London, The Bamberg Jacket, is a mark of corduroy's versatility, as the slim and slightly-tailored fit accentuates the shape and soft-touch of the material.
The coach jacket has caught our eye over the last few months as it is a jacket that treads gently across the hazy line between smart and casual. With an unlined interior which gives this corduroy jacket a more refined, tailored fit, the Wax London Bamberg Jacket comes complete with all the familiar trappings of a coach jacket (matte black poppers and a classic turn-down collar), but it also manages to look incredibly slick, with its restrained olive colour palette and the smooth, soft touch of the corduroy. Although it is not traditional in terms of what corduroy is usually used for, the coach jacket has more versatility than most. Which means you can wear yours, well, whenever you feel like it.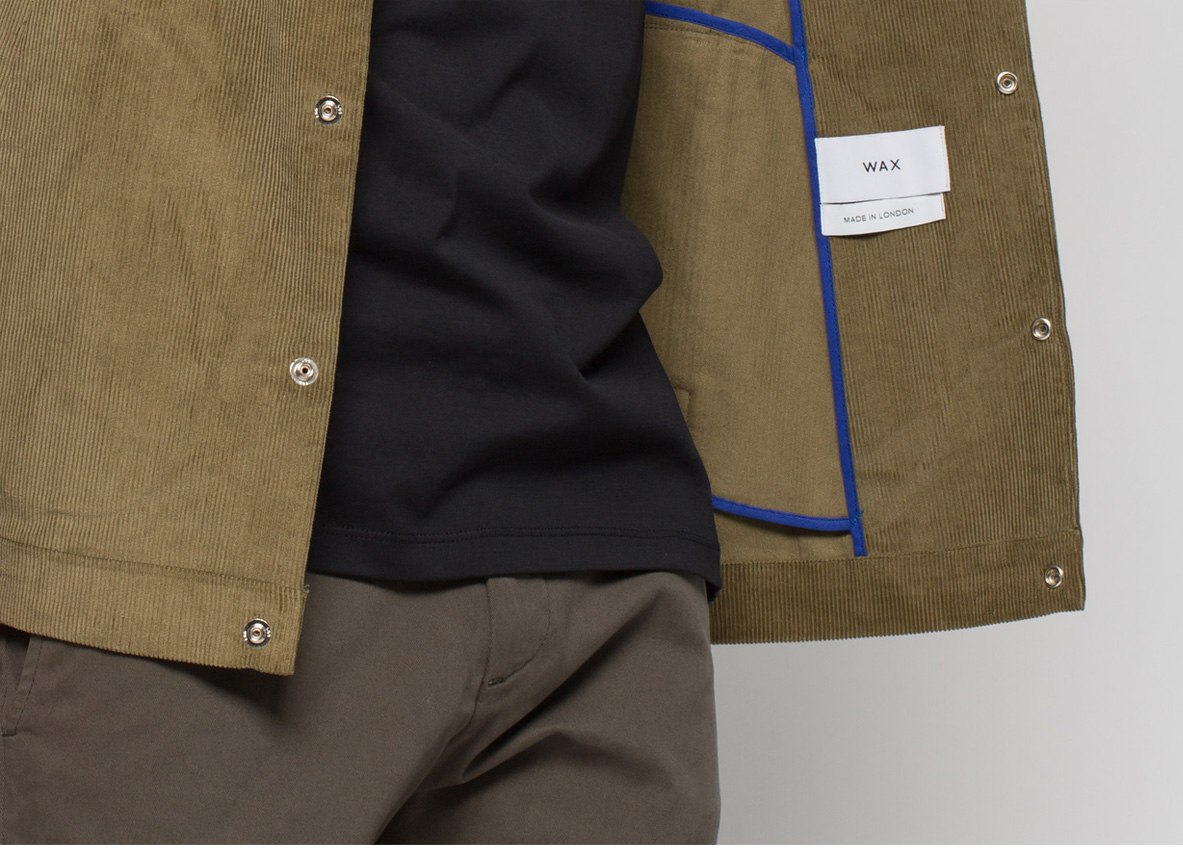 The Bamberg is versatile enough to work as a finishing touch to a classic everyday look alongside a plain black t-shirt or a hoodie. But it perhaps works best when you accentuate the jacket's smooth, disciplined cut. We'd recommend getting pairing with a relaxed trouser, such as the Wax London Chinos alongside a plain black Wax London Kreil T-Shirt and a slim-line Diemme Black Mohawk Loria Sneaker to ensure that the corduroy gets all the attention it deserves.
Shop the entire edit and the all-new Wax London collection at OPUMO.