It's time to get yourself a pair of corduroy trousers. Forget about the past, cords are cool again. They have been for a while in a big way. Wes Anderson has been rocking cords in plain sight for years and now he's got reinforcements. Donald Glover, Harry Styles, Robert Pattinson, all your favourites. If it was good enough for Paul Newman back in the day, it's good enough for you.
The benefits are not just aesthetic. Corduroy has had a legendary life, the cousin of velvet, it's been a fabric of royalty and a '70s anti-establishment material. It's been made into terrible, terrible hats but also made into excellent suits for the aforementioned Anderson. Worn as a trouser, it allows for the inclusion of solid earthy colours into an outfit, with welcome texture and slouchier, wider silhouettes with a bit of tapering to finish off. It can be made with 100% sustainable organic cotton and for a day to day trouser it's extremely comfortable.
How to style corduroy trousers
Corduroy is safest when worn as a trouser. Overshirts are great too, but wearing corduroy as a trouser brings texture where it's often missing. Corduroy trousers range from smarter, bookish professor style numbers to more casual drawnstring types for pairing down with sneakers and a hoody.
Corduroy trousers lend themselves to layering, working well up top with chunky knits, overshirts and larger winter style coats. Most on this list come in safer earthy shades - think copper, browns, olive, tan, black, grey and navy - and we wouldn't recommend anything in too bright a colour (see reds, yellows).
It's always important to match proportions, so for a baggier corduroy trouser, opt for a similarly loose fitting article up top and set atop a chunky sneaker or shoe. You should also steer clear of too much corduroy within one look, so don't go combining yours with a matching corduroy jacket or shirt.
Dress a pair up with a smart Oxford shirt and blazer, or keep it casual with a hoodie or sweatshirt, with a tapered trouser showing off a sneaker or mule sandal nicely. Here's our pick of the best men's corduroy trousers out there.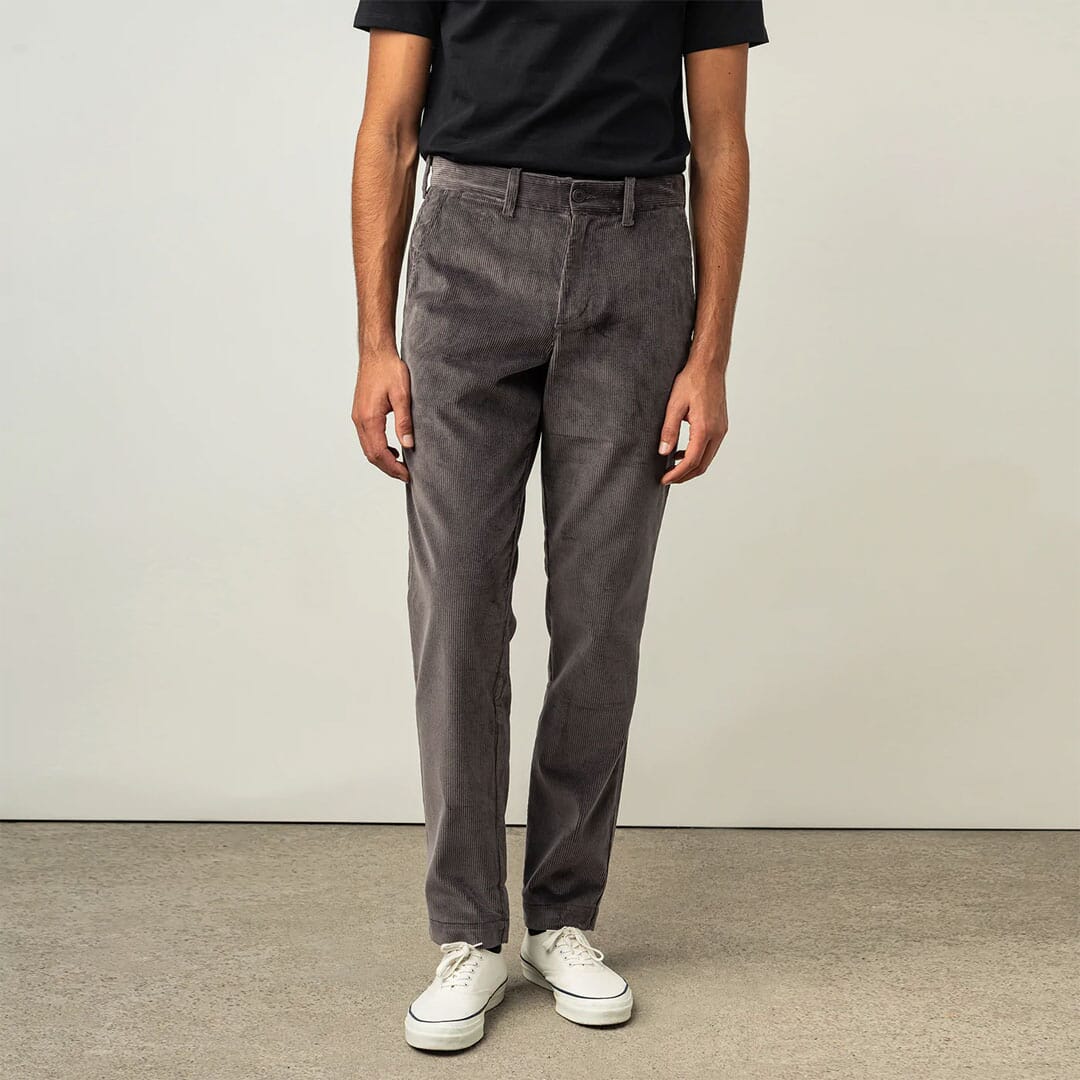 Best men's corduroy trousers to buy in 2023
ISTO. Men's Corduroy Trousers
For the uninitiated, ISTO. is all about seasonless, high quality staples. There's one collection and it has been refined according to what you, the customer, wants, with garments made from organic and natural materials. Transparent pricing too. If you're ever in doubt as to what you're paying for, ISTO. has a handy breakdown online for each garment. ISTO.'s corduroy trousers come in a classic chino cut and tapered fit in an extremely comfortable organic cotton baby corduroy fabric. A friend to sweatshirts and sneakers, wear them all year long.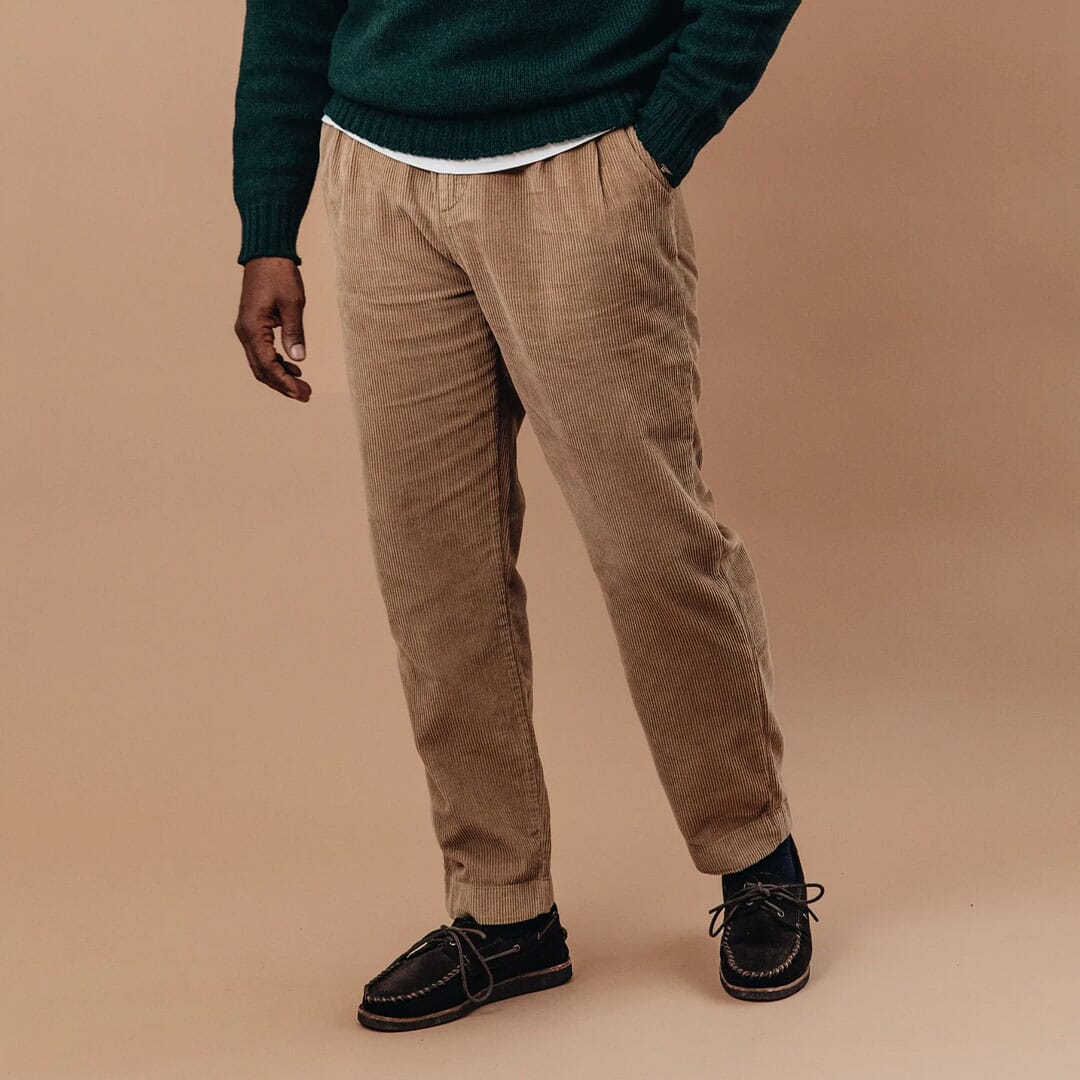 Form&Thread Cord Double Pleated Trouser
There's an extremely simple and considered approach to menswear at Form&Thread. 'Less, but better' is the mantra. The brand's cord trousers epitomise this. Made akin to Form&Thread's popular pleated trouser, 8 wale corduroy is used for a comfortable and robust Autumn classic. A slightly relaxed fit gives a timeless silhouette with a taper at the bottom that lends itself to showing off a sneaker or more formal shoe. Jet back pockets and corozo nut buttons finish off a stylish pair. Wear them with a merino jumper and shirt for serious preppy AW campus looks.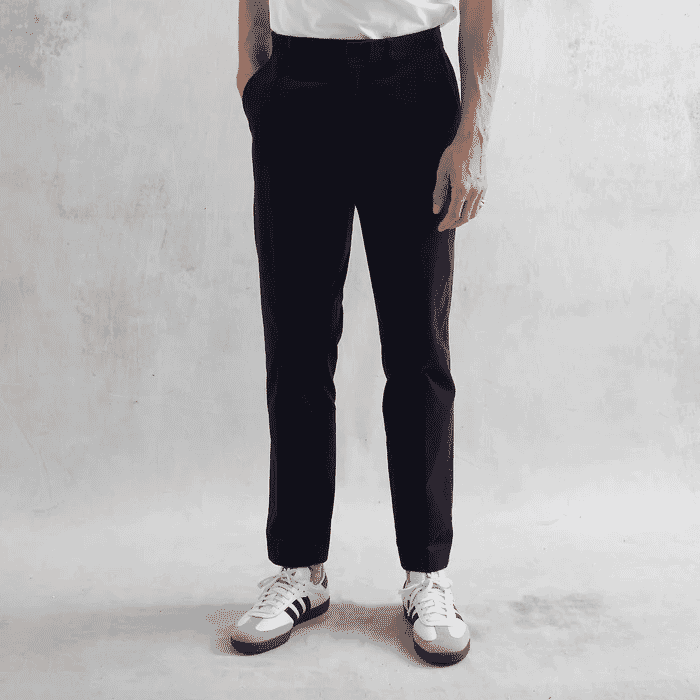 Wax London Cord Alp Trouser
Formalwear, but make it corduroy. Wax London have pulled out all of the stops to make sure these corduroy suit trousers, with a flat front and straight-leg fit are as comfortable as physically possible whilst still giving a formal refined look. Ideal for pairing with a t-shirt and overshirt when the changing of the seasons requires low temperature layering, or dress them up with Wax's matching blazer.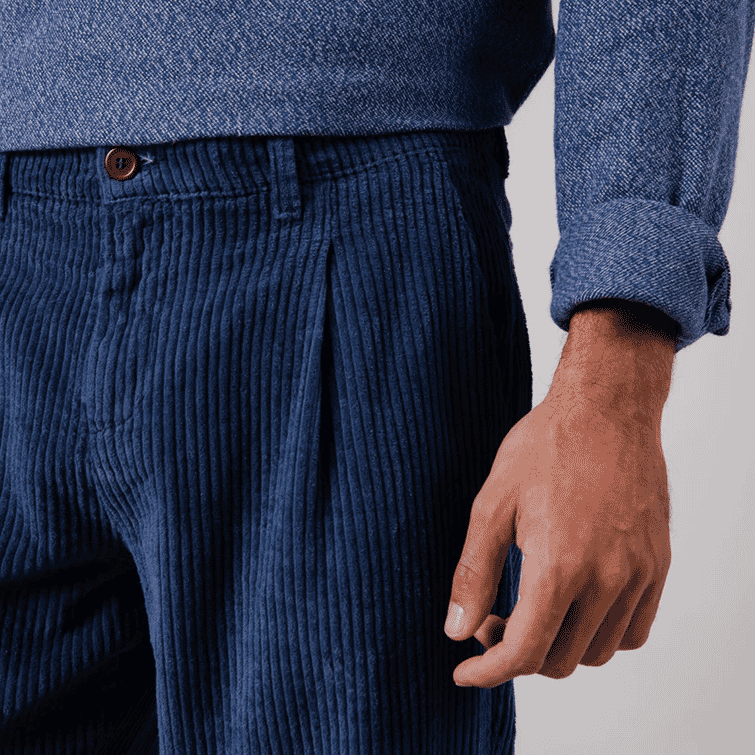 Brava Fabrics Corduroy Pleated Pants
Barcelona-based brand Brava Fabrics creates sustainable clothing for men and women, using premium fabrics and innovative manufacturing techniques that don't cost the earth. These men's corduroy trousers are ethically crafted in Portugal from 100% organic cotton and designed for ultimate comfort, thanks to a slightly slouchy fit. Team them with leather trainers and a heavyweight hoodie for an effortless sports-luxe look.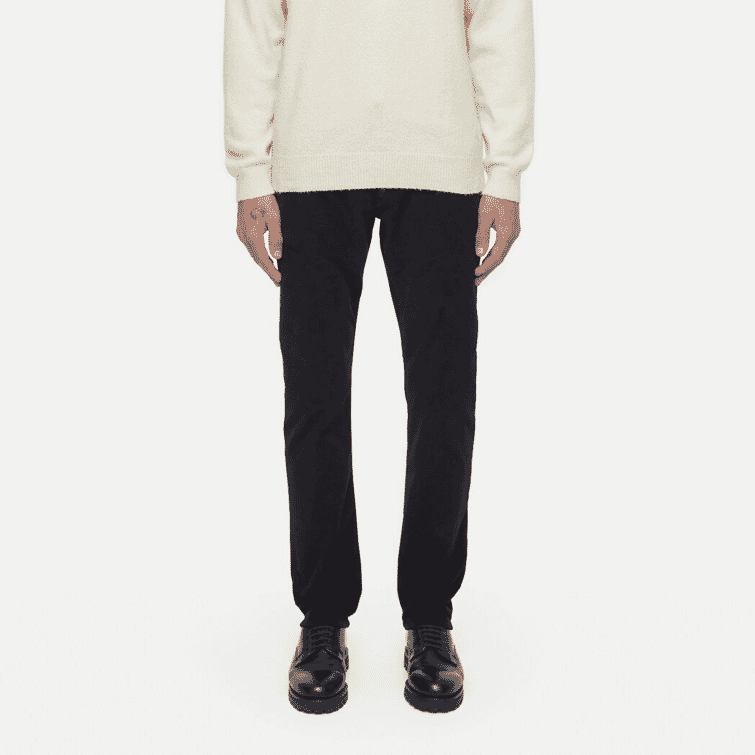 Closed Unity Slim Corduroy Pants
Whilst many opt for a relaxed fit cord that tends to be a bit baggier in the saddle and looser around the leg, Closed do a great slim leg corduroy trouser. Ideal for those in the market for a narrower silhouette. The Unity slim cord pant is a jean-like trouser that features five pockets, with mid waist and a slim leg. The corduroy has a bit of stretch to it, which is what you want in a slim pant, and the pants have been given a yarn dyed finish for a slightly worn-in look. Great with a statement Chelsea boot, throw on a big coat for autumn on top.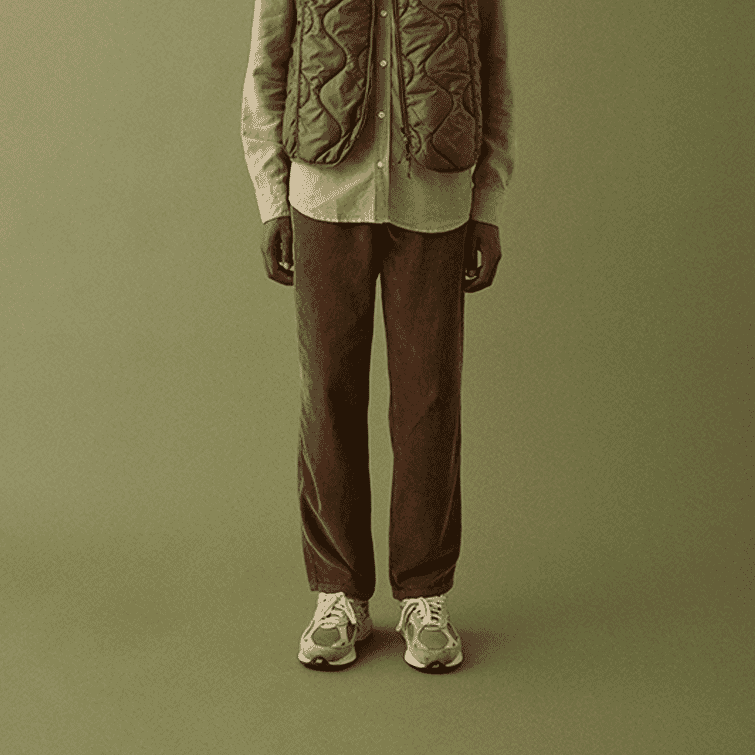 Forét Shed Corduroy Pants
Danish brand Forét is rooted in a nostalgic love of the great outdoors and a yearning to reconnect with the earth. Theirs is a responsible approach to clothing whilst also taking inspiration from the outdoors, channelling natural colour and texture with a slow fashion approach. Forét's Shed corduroy pant is at home at work as it is on a countryside stroll. With function at their core, the pants feature a slightly dropped crotch and a casual fit for ultimate comfort. Wear them with a chunky knit and boots.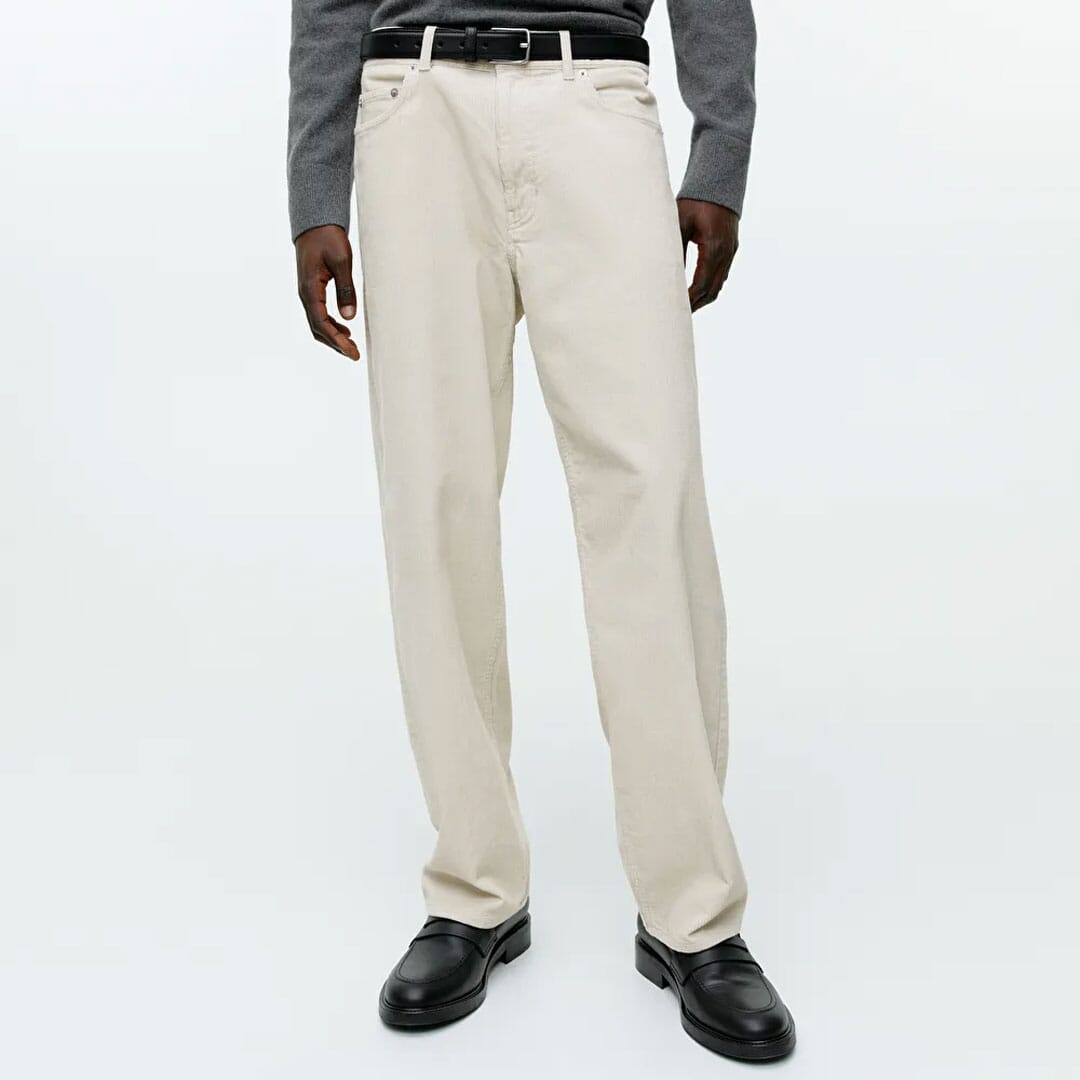 Arket Loose Men's Corduroy Trousers
Arket is all about the loose silhouette and the brand's corduroy loose trousers are true to form. Made from 100% organic cotton and featuring a straight leg, five pocket design, a mid rise and zip fly complete the deal. The brand's organic cotton is cultivated and harvested from non-genetically modified plants and without the use of chemical fertilisers and pesticides, so you can rest assured there's sustainability in every pair. Make a uniform out of them with an overshirt in the same shade and a chunky Derby or penny loafer.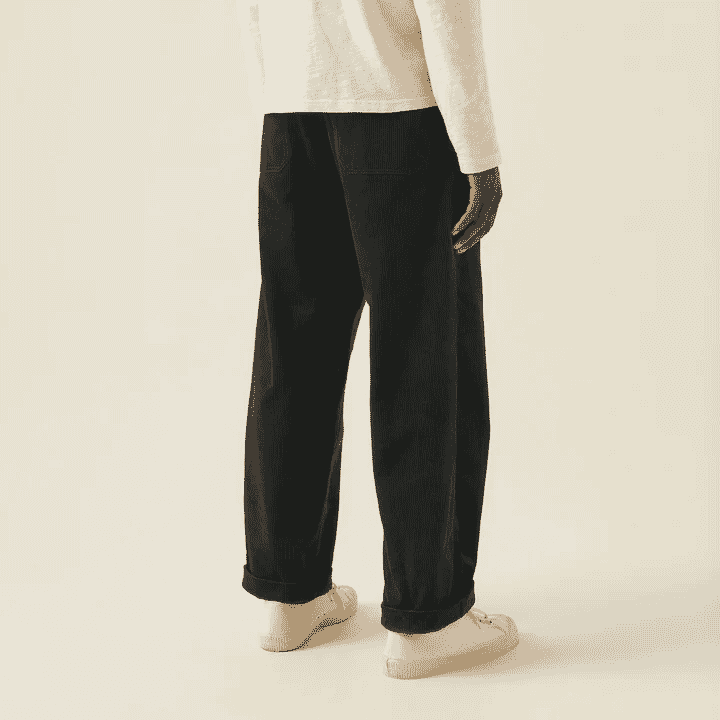 TOAST Rory Organic Cotton Cord Straight Leg Trousers
TOAST started in 1997 as a loungewear and nightwear-making operation, designed from a farmhouse in Wales. It's since evolved into a slow fashion company that still makes beautiful, functional and simple clothing. Wearing a pair of the brand's organic cotton cord straight leg trousers, you might be forgiven for thinking you're in sweatpants. They're that comfortable. But don't be fooled, they'll do the job with warm autumn-winter layering and a sturdy leather dress sneaker. With a wonderful vintage feel, they've got slanted and  back buttoned patch pockets as well as corozo buttons and a zip. Available in Brown Slate or Woodland Green.
Check out our pick of the best men's wide-leg trousers.
---
---