From the world's top tailors and prestigious designer stores to lesser-known independent gems and vintage emporiums, London is home to myriad menswear stores. The only trouble is knowing which ones are worth a visit. As bricks and mortar businesses enjoy a resurgence in the post-pandemic era, we're drawing attention to some of the best menswear stores in London. Because online shopping certainly does have its perks, but nothing quite beats the experience of an old fashioned in-store browse. Whether you're a long-time London local or planning a city break, these are the stylish retailers to know.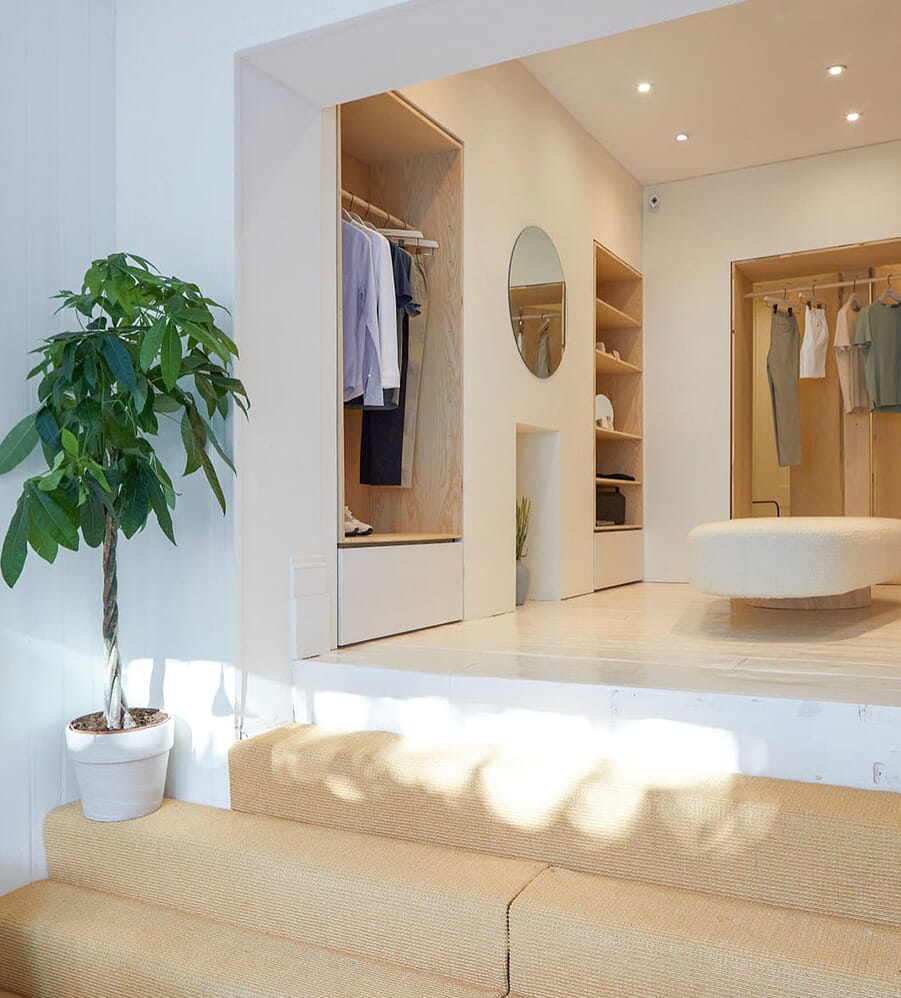 10 best menswear shops in London
L'Estrange
196 Westbourne Grove, W11 2RH
19 Earlham Street, WC2H 9LL
L'Estrange is renowned for its made-to-last menswear staples that are consciously designed with the planet in mind. The brand makes use of recycled and renewable materials, like organic cotton, recycled nylon and Kapok – a natural fibre from the nut of the Kapok tree. Just like its clothes, the L'Estrange stores are designed for versatility: each piece of furniture is collapsable and modular in nature so that it can be used again in future locations, thus reducing the brand's footprint.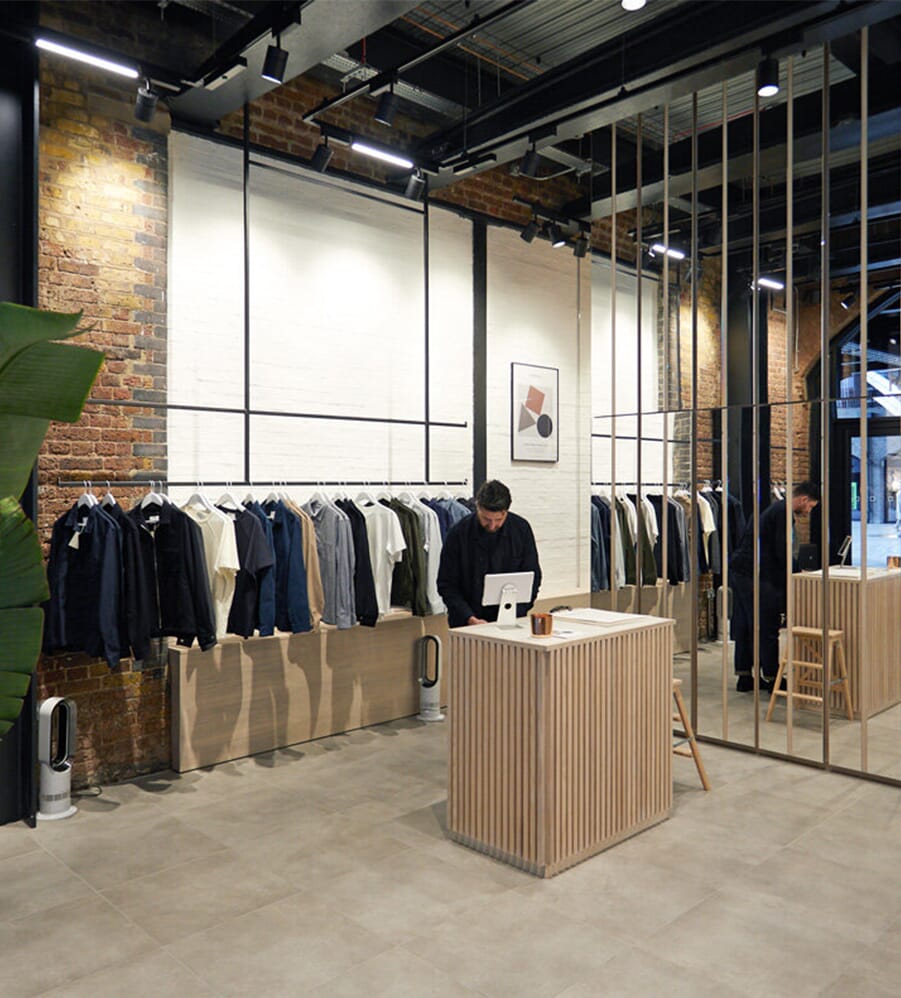 Form&Thread
35 Coal Drops Yard, N1C 4AQ
The Form&Thread store is located in Kings Cross' recently redeveloped Coal Drops Yard, a unique shopping and entertainment destination that blends industrial heritage with contemporary architecture. It seems a fitting setting for a brand whose design language is informed by such influences as minimalist architecture and old-school workwear. Be sure to drop in if you're on the hunt for understated and easy-to-wear staples like utilitarian-inspired overshirts and jackets and smart-casual double-pleated trousers.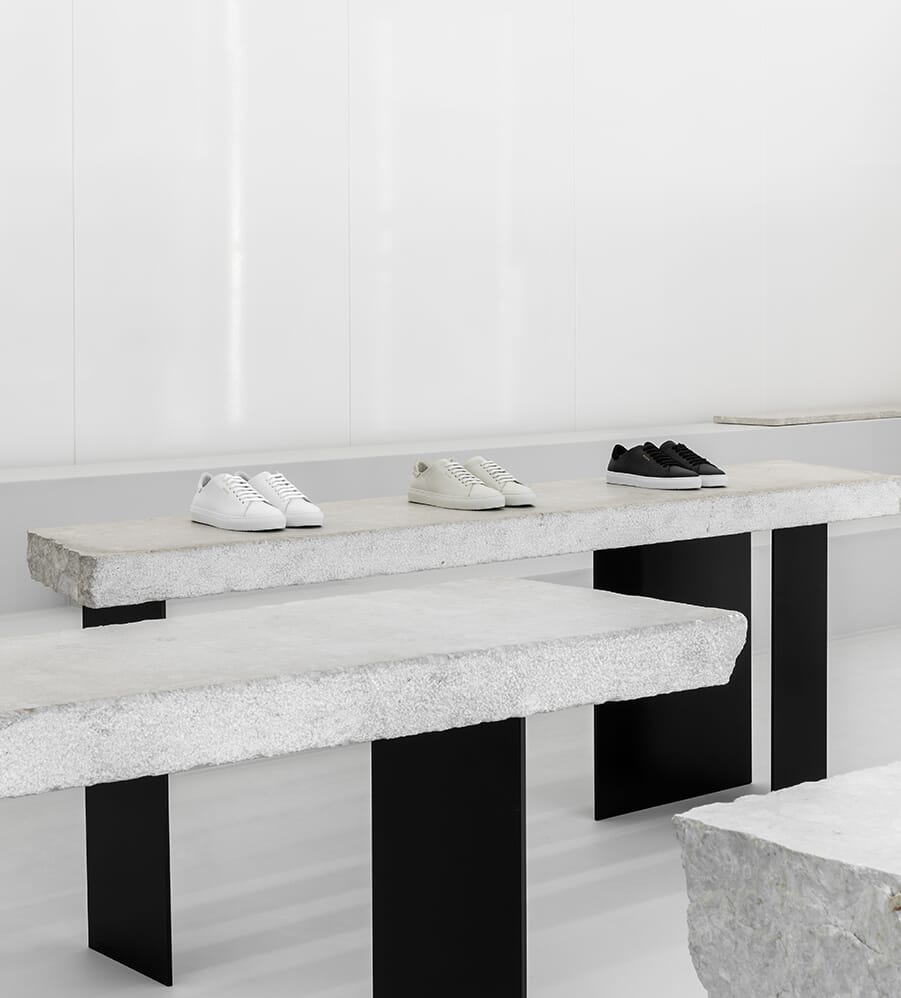 Axel Arigato
19-23 Broadwick Street, W1F 0DF
Axel Arigato's flagship store on Soho's Berwick Street was the first standalone store opened by the Swedish streetwear powerhouse. The store's design is the result of a collaboration between Creative Director Max Svardh and renowned Swedish architect Christian Halleröd: an intentionally clean and minimalist layout, featuring concrete, metal and mirrors, gives prominence to the Axel Arigato range. Walking around the store offers the sense of being in a gallery rather than just a retail space – this feeling is heightened by the presence of several 450kg tables carved from a boulder of terrazzo stone, each with different architectural characteristics. It's a must-visit if you're in the area.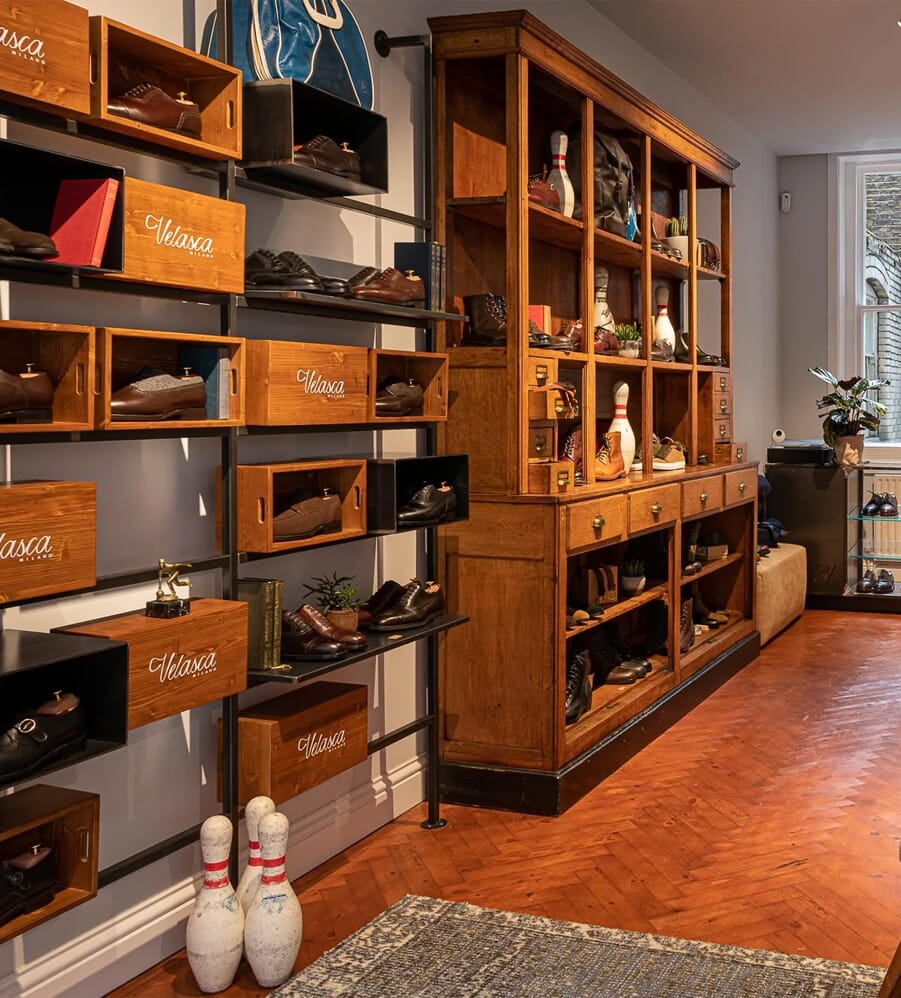 Velasca
5 Chiltern Street, London W1U 7PD
If you're in the market for beautifully handcrafted leather shoes, you mustn't miss a visit to Velasca. The Italian footwear label has set up shop in London's stylish Marylebone neighbourhood, decking out the store in '60s-era bowling paraphernalia. Dark wooden cabinets and shelves display sleek leather loafers, boots Derbies, Oxfords and sneakers, which sit amongst old-school bowling balls and pins. It's the perfect setting to while away an afternoon, trying on different pairs and chatting with the knowledgeable staff.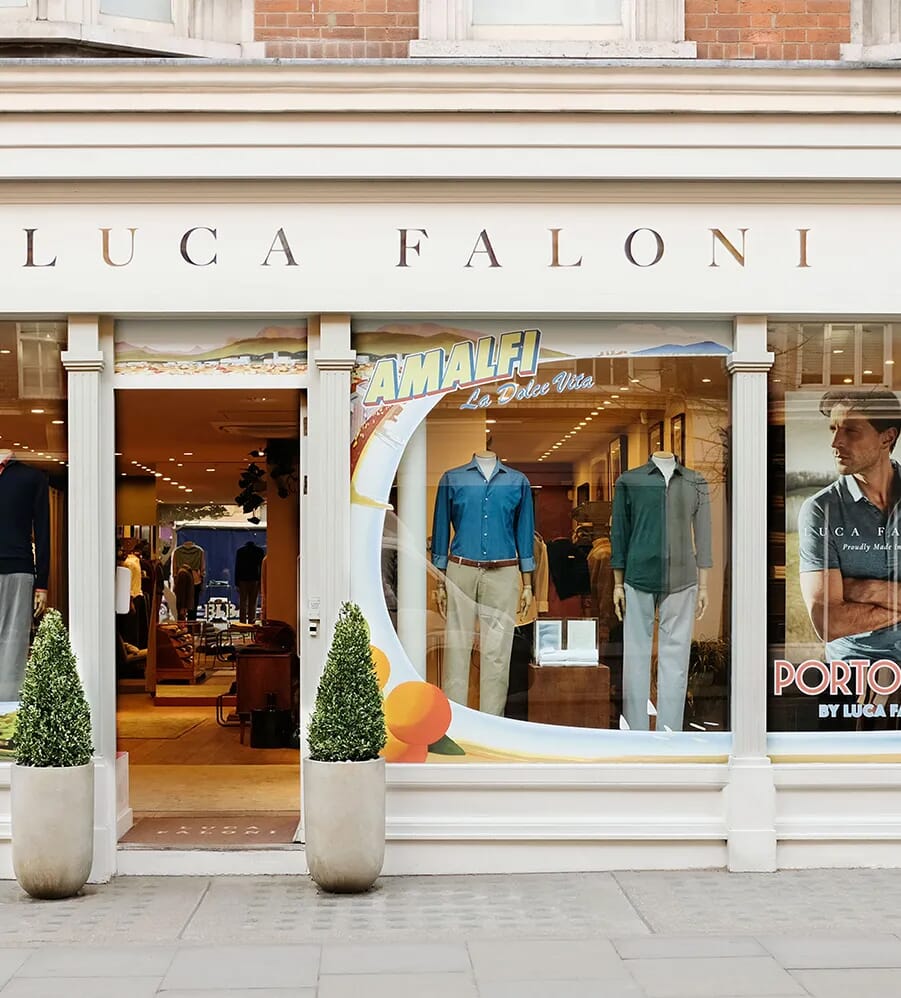 Luca Faloni
107-108 Marylebone High Street, London W1U 4RU
Luca Faloni's eponymous menswear label has garnered a cult following thanks to its expertly-made staples that fuse traditional Italian craftsmanship with timeless elegance. The brand's Marylebone High Street store is the place to go if you're after simple and versatile garments done well. You'll find everything from airy linen shirts in a rainbow of summer-ready hues to cosy cashmere knits made from the most prestigious yarns.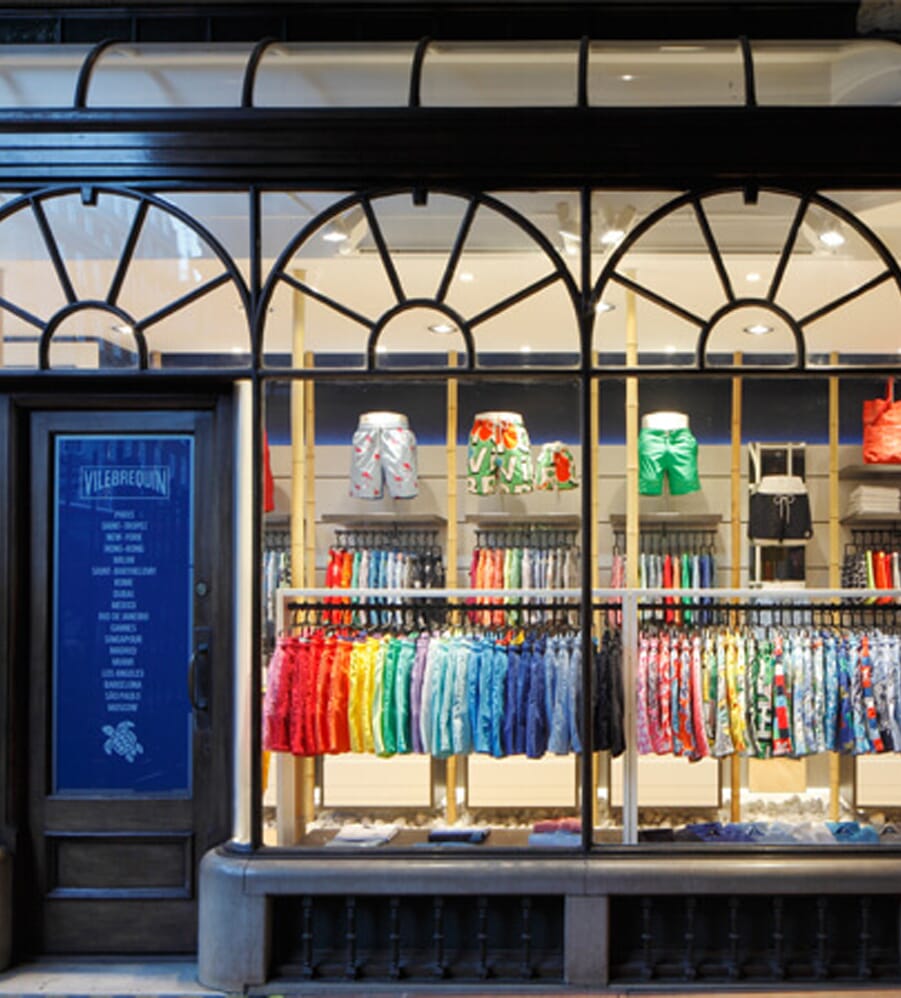 Vilebrequin
Burlington Arcade Unit 1/2, London W1J 0PA
23 King's Road, London SW3 4RP
Unit 2030A, The Village, Westfield London Shopping Centre, Ariel Way, London W12 7GF
Founded in St Tropez in the 1970s, Vilebrequin endures as an iconic swimwear and resortwear label today, renowned for its bold, characterful prints, including its signature turtle print. Luckily, the brand has multiple outposts in London, so you'll never be too far from your next swim shorts fix. While you're stocking up on swimwear, be sure to check out Vilebrequin's equally impressive range of holiday-ready attire, which includes linen shirts and trousers, as well as polo shirts, sweatshirts and accessories.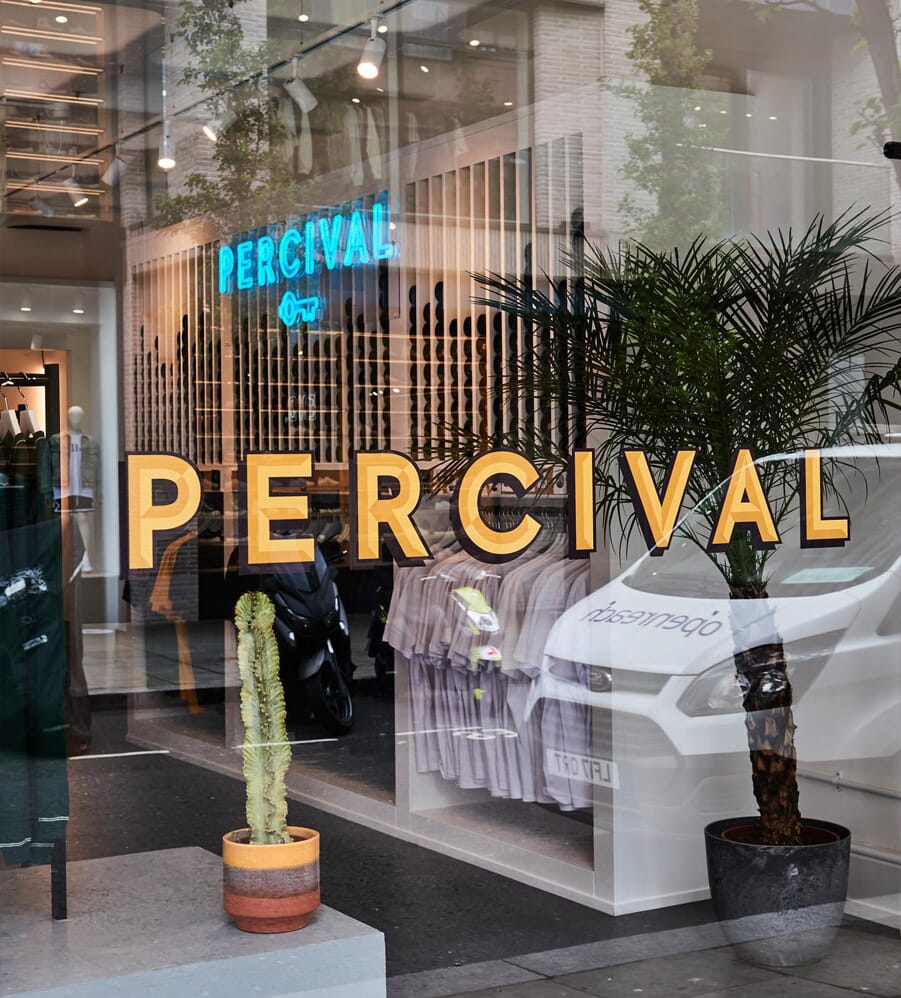 Percival
7 Marshall St, London, London W1F 7EH
When you find yourself in Soho, make a beeline for Percival. After a barrage of requests from its dedicated fans, the renowned London menswear label has recently opened a bricks and mortar store on Marshall Street. It is here that you will find all of the brand's signature bestsellers as well as new seasonal additions. Take your time trying them on and then be sure to pull up a seat at the shop's very own 'Percival Arms', where you can grab a beer (courtesy of Camden Brewery) or an AllPress coffee. Sounds like our kind of place.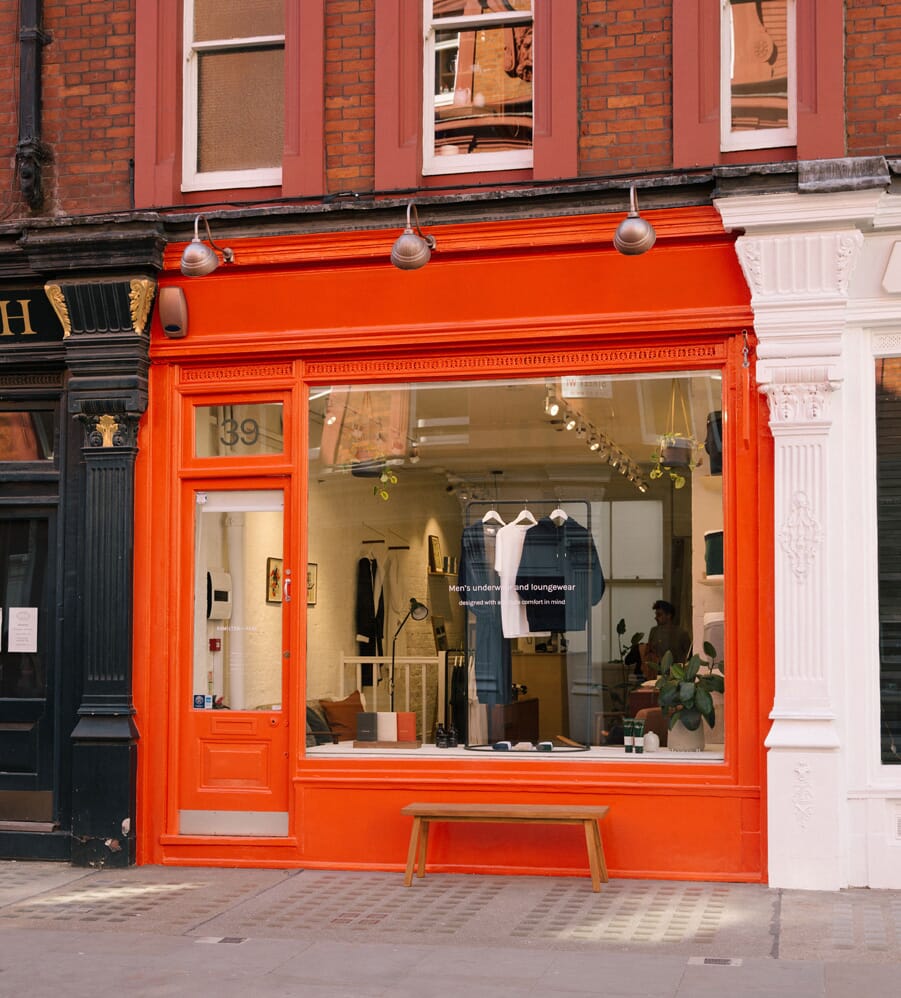 Hamilton and Hare
39 Chiltern Street, Marylebone, London W1U 7PP
If your underwear drawer is in dire need of a refresh, get yourself to Hamilton and Hare's recently revamped flagship store on Marylebone's stylish Chiltern Street. Step inside the bold orange shopfront and you'll find an elegantly understated interior, filled with the brand's luxurious underwear, loungewear and sleepwear staples. Beautiful mid century pieces, including a gorgeous sofa, lend the space a warm, homey feel.
Trunk Clothiers
8 Chiltern Street, London W1U 7PU
Chiltern Street stalwart Trunk Clothiers is one of the most iconic menswear stores in London. As well as its very own in-house Trunk label, the store offers an expertly curated edit of emerging and established brands around the world. From sharp tailoring to functional outerwear to cosy knitwear, every item in store is of exceptional quality and wearability.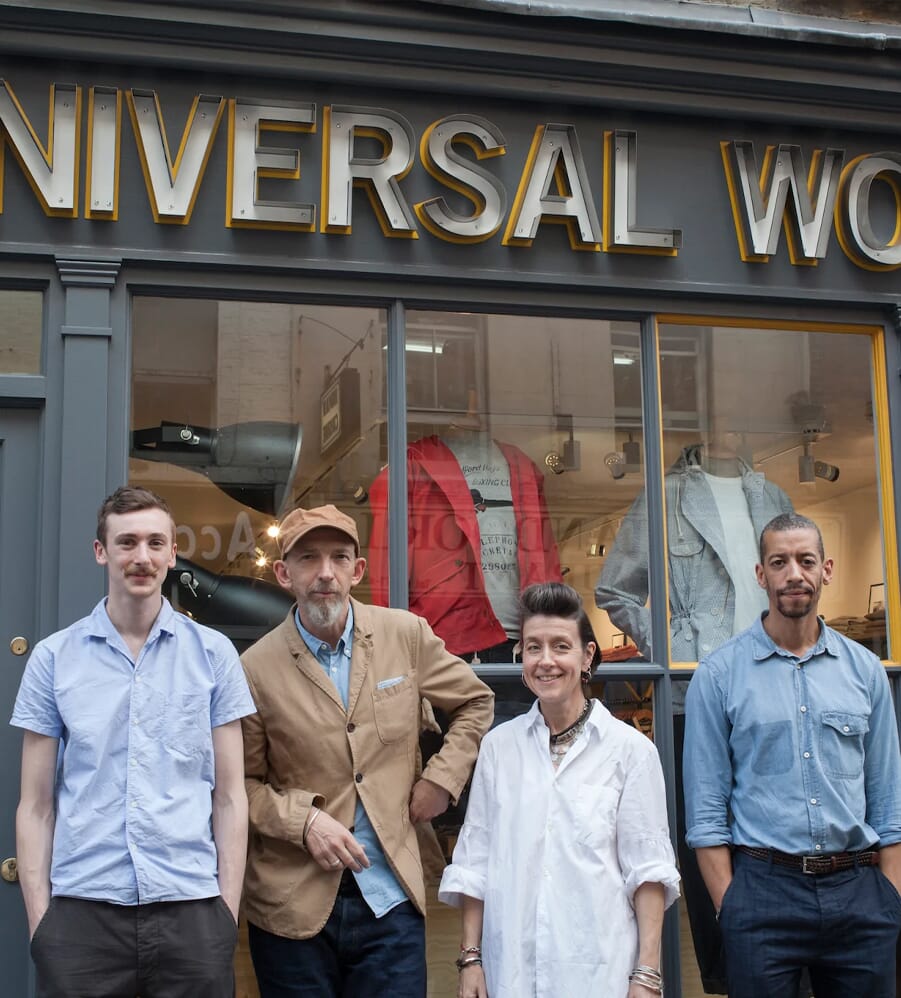 Universal Works
26 Berwick Street, London W1F 8RG
Unit 30 Coal Drops Yard London, N1C 4DQ
Championing skilled, small-scale production, independent Nottinghamshire-based workwear label Universal Works is a great go-to for those looking to shop more consciously. It has two men's clothing shops in London – one in Soho and one in Coal Drops Yard, both of which showcase the label's functional yet fashion-forward designs. Stock up on overshirts, outerwear and gilets.
Discover our favourite British brands.
Shop all men's clothing at OPUMO.
---
---