Back in the days of yore, silk shirts used to be reserved for aristocrats, folks of high standing, and just VIPs in general. However, nowadays, the flowy pieces have become something of a wardrobe staple for all men everywhere.
Thanks to pop culture icons like Donald Glover and Harry Styles (who wore some very fancy custom Gucci ones during the US leg of his world tour), men's silk shirts are now one of the most sought after clothing items of 2023. But with so many different colours, patterns, and even cuts to choose from, finding the best silk shirts for men can be a bit of a challenge. Don't worry though, as we've handpicked 10 of our favourite pieces to get you started.  
How to find the best silk shirt
There are a few things that you should bear in mind when getting your first silk shirt. First of all, you need to consider the lifestyle that you live and where you're planning to wear it. Silk shirts, in general, look and feel pretty boujee, so they wouldn't really be suitable for working in the office. Because of their breezy nature and satin sheen, they're more appropriate for the boardwalk rather than the boardroom.
Secondly, even though you'd probably wear them with the top buttons undone, it's essential that you buy the right size. There should be at least one finger's worth of space between the collar and your neck, and you should be able to comfortably button all of the buttons with no issues. If you can't, it can result in some awkward pulling, which isn't a good look especially for a material like silk.
Finally, it's worth noting that silk shirts can be quite pricey. While we're going to recommend a bunch from a wide variety of different brands and price points, they're considerably more expensive compared to your average dress shirt. This shouldn't come as too much of a surprise considering what fabric they're made from, but some price tags can leave some people a little speechless.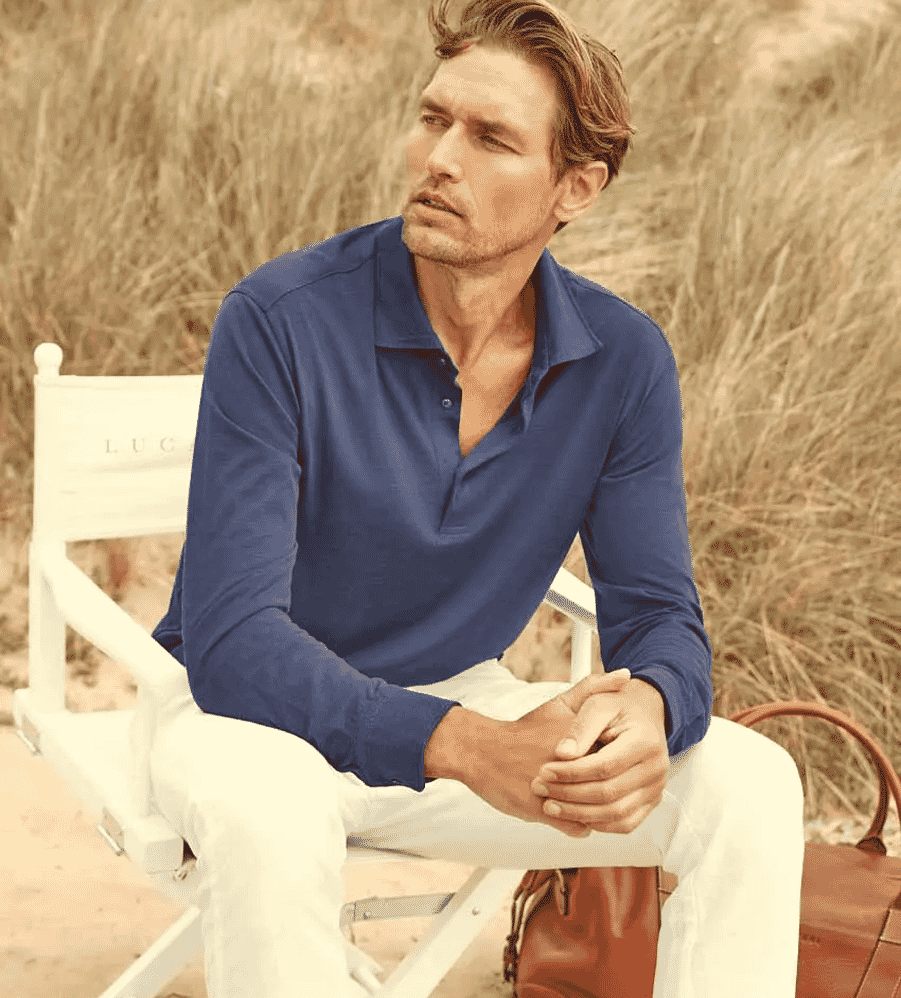 Best silk shirts for men in 2023
Luca Faloni Amalfi Polo Shirt
The Amalfi Polo Shirt by Luca Faloni couldn't be more appropriately named. Made for holidaying at the Amalfi Coast, this luxurious polo shirt is crafted from a mix of silk and cotton from Piedmont in Northern Italy. Designed with mother of pearl buttons and the cuffs of a shirt, it also boasts sleeves that can roll up for both casual wear and smart evenings out. As if that wasn't perfect enough, the Amalfi Polo Shirt also comes in eight different colour options and a wide range of sizes, so you can find one that's pretty much made for you.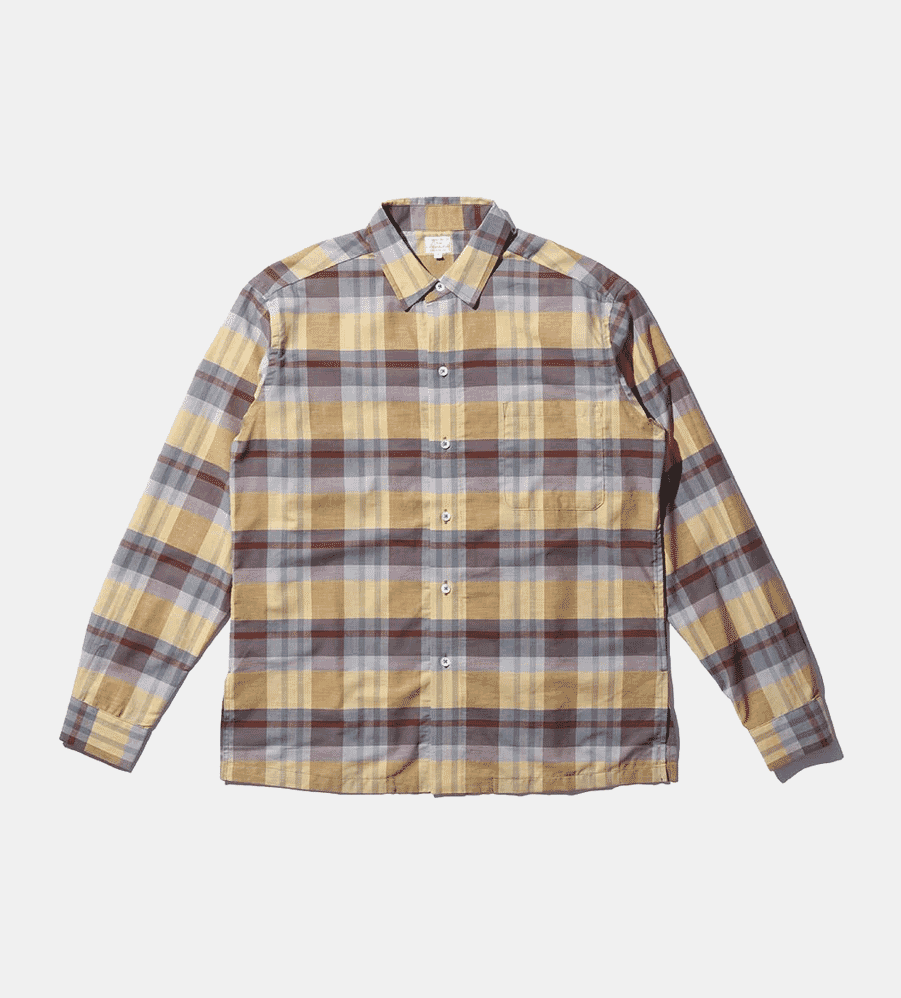 Anatomica Der Sammler Kamp Collar Shirt
The Anatomica Der Sammler Kamp Collar Shirt by Kinji Teramoto is cut from an impressive blend of Japanese cotton and silk. Featuring an old school check pattern, this design has been made to look like summer shirts from the '60s. Other retro details include a single chest pocket, open slit hems, and a series of contrasting white buttons that run down the entire front. It's worth noting that this piece is unwashed and is expected to shrink ever so slightly, so bear this in mind before buying this shirt. SHOP NOW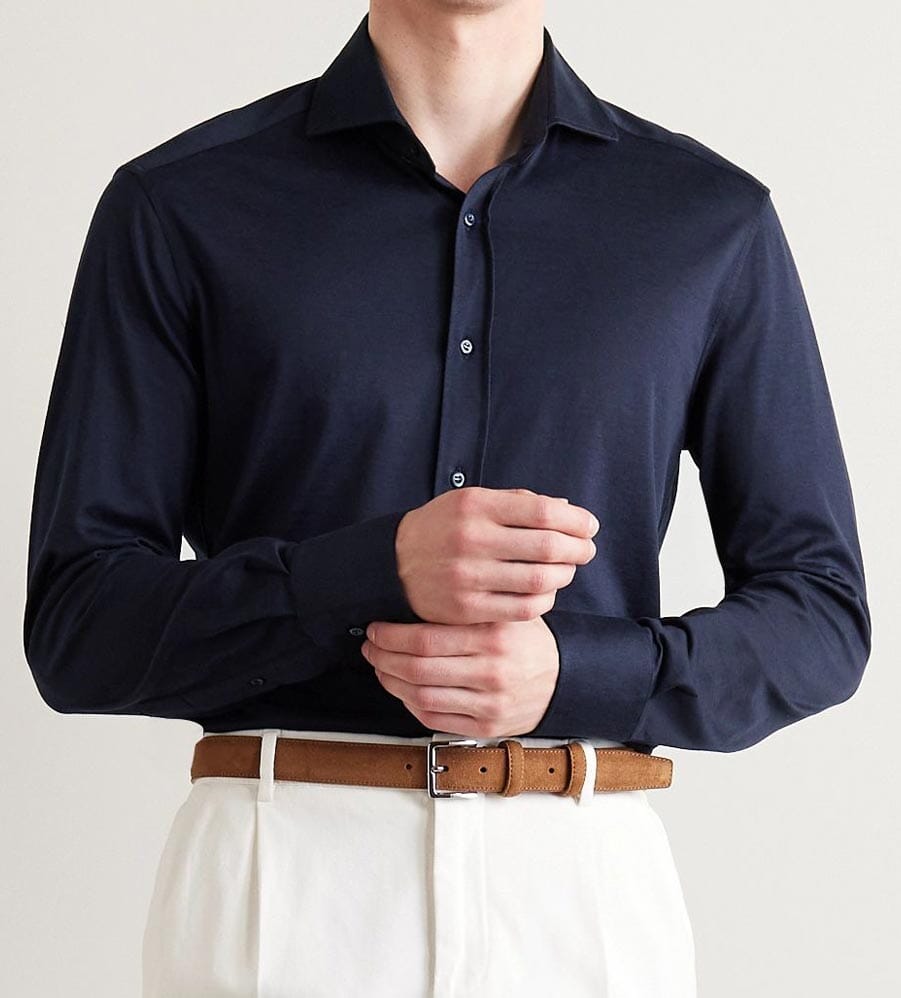 Brunello Cucinelli Cutaway-Collar Shirt
You honestly can't talk about the best silk shirts for men without giving Brunello Cucinelli a special shoutout. From their leather biker jackets all the way to their wool cardigans, the Italian house has always been known for their use of natural fabrics, and the Cutaway-Collar Shirt is the perfect example of this excellence. Crafted from a beautiful blend of silk and cotton, it looks wondrous with the top buttons undone. However, the collar has been specifically designed to accommodate even larger tie knots, making this one of the most versatile pieces in your wardrobe.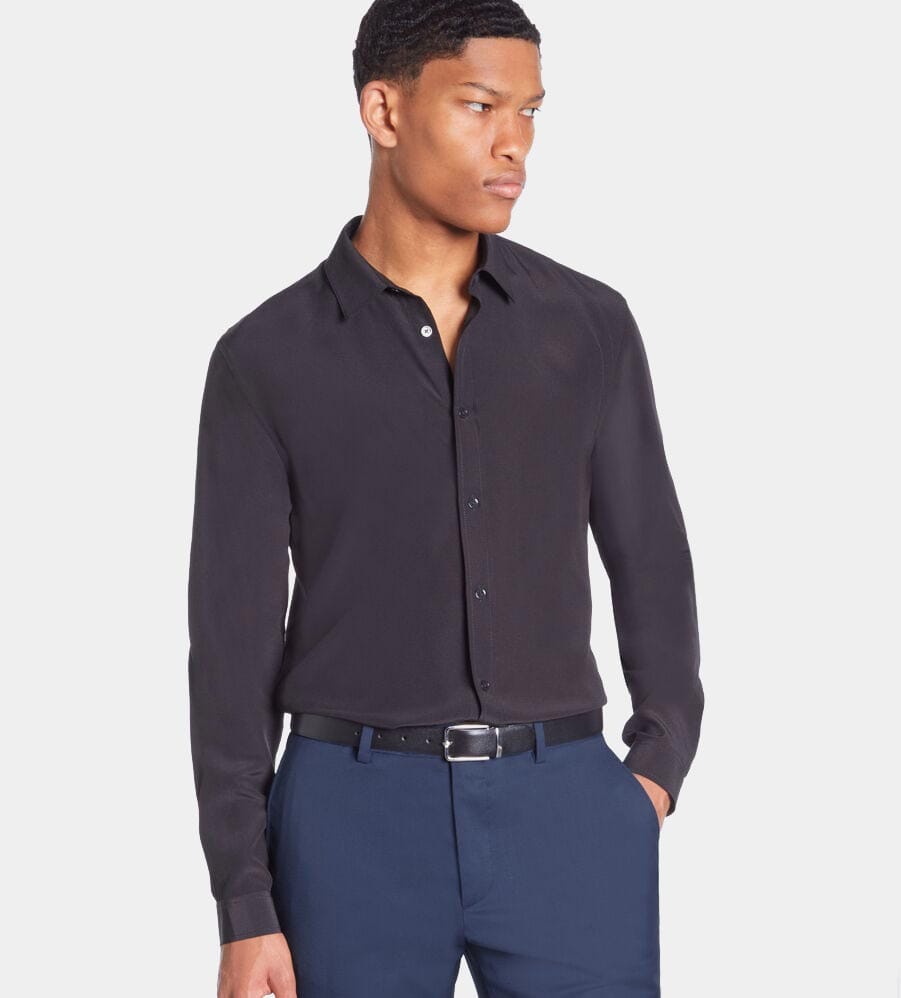 The Kooples Black Silk Shirt
Looking for a simple all-black silk shirt? Then The Kooples has exactly what you need. Known mostly for their rebellious punk-inspired aesthetic, the Black Silk Shirt is the ultimate piece for those who have a quarterly sales meeting at 5pm but a gig at 6pm. Made from 100% silk, it features a loose, comfortable fit and long cuffed sleeves. It's then finished off with complementary buttons that work impeccably with the rest of the piece.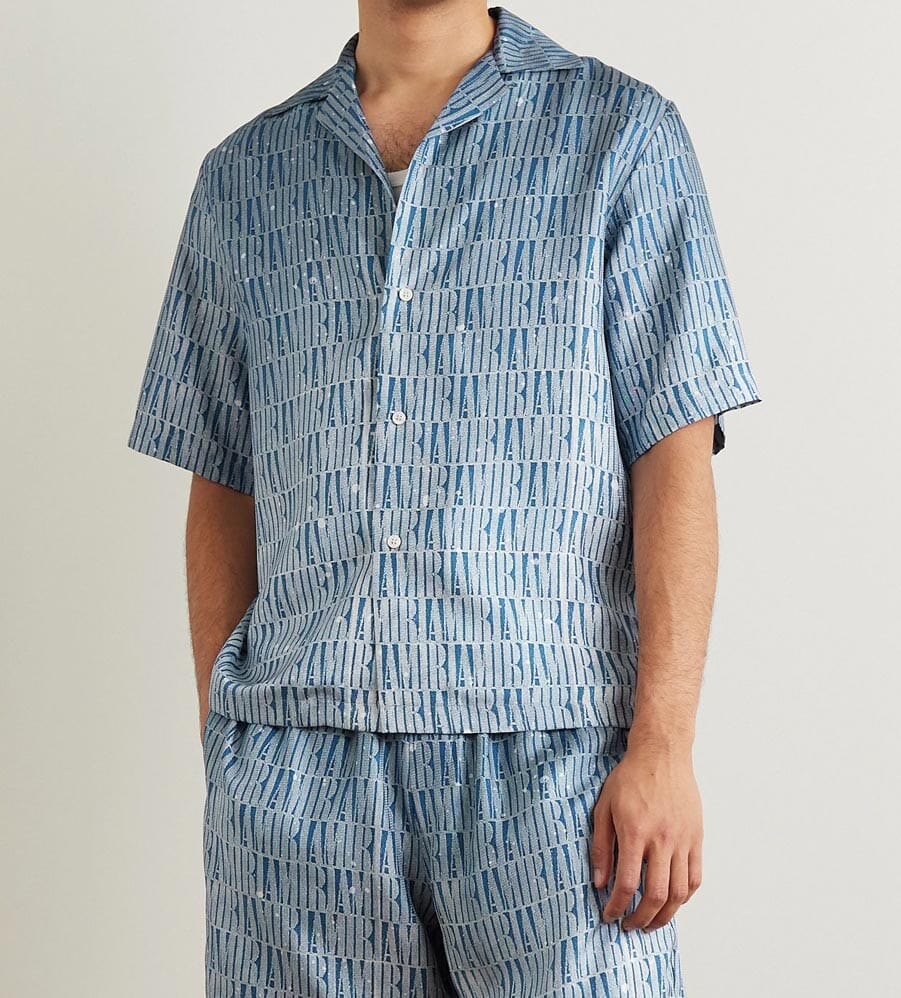 Amiri Convertible-Collar Shirt
It's true that Amiri is known mostly for their oversized hoodies and skeletal trainers, but the Los Angeles-based streetwear imprint also knows a thing or two about creating some of the coolest silk shirts out there. The Convertible-Collar Shirt is one of their best ones. With a casual boxy design, it boasts a silk-twill blend that's both loose and structured at the same time. A special convertible collar offers additional control over ventilation, and it's completely covered in the eponymous label's signature logo throughout for an eye-catching vibe.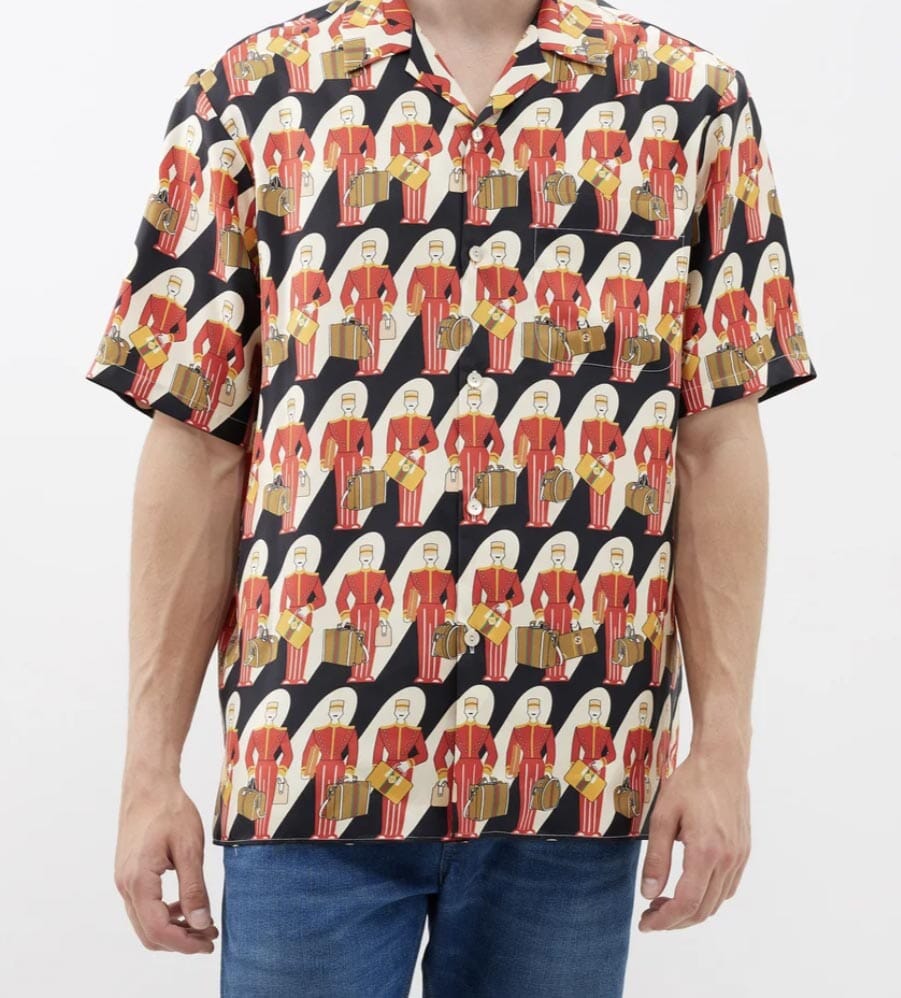 Gucci Porter Print Silk-Twill Shirt
At this point, we all know that Gucci is the king of men's silk shirts, and the Porter Shirt is one of their best ones ever. Inspired by the archives, this unique piece is decorated with rows upon rows of hotel porters holding the fashion house's most luxurious bags. Made in Italy from 100% silk, it features an oversized Cuban collar for a vacay-ready vibe. Of course, there's no denying that this is a little on the pricier side, but it's worth every single penny – we promise.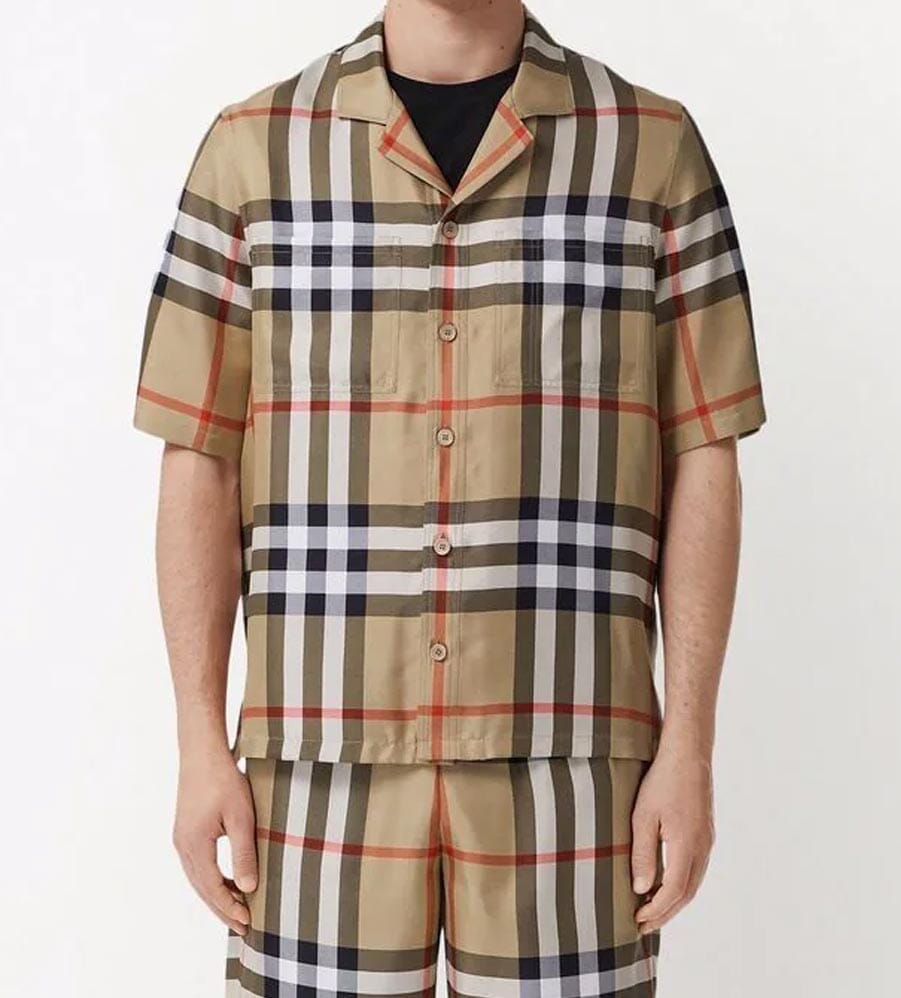 Burberry Short Sleeve Check Silk Shirt
It doesn't get more Burberry than this Short Sleeve Check Silk Shirt. Crafted from 100% silk, this piece, which was released as part of Daniel Lee's debut collection, is covered in the quintessentially British label's signature plaid pattern. Whether you decide to wear this on its own or layered on top of a T-shirt or vest, it'll be timeless next season, the season after that, the season after that, and, you guessed it, the season after that.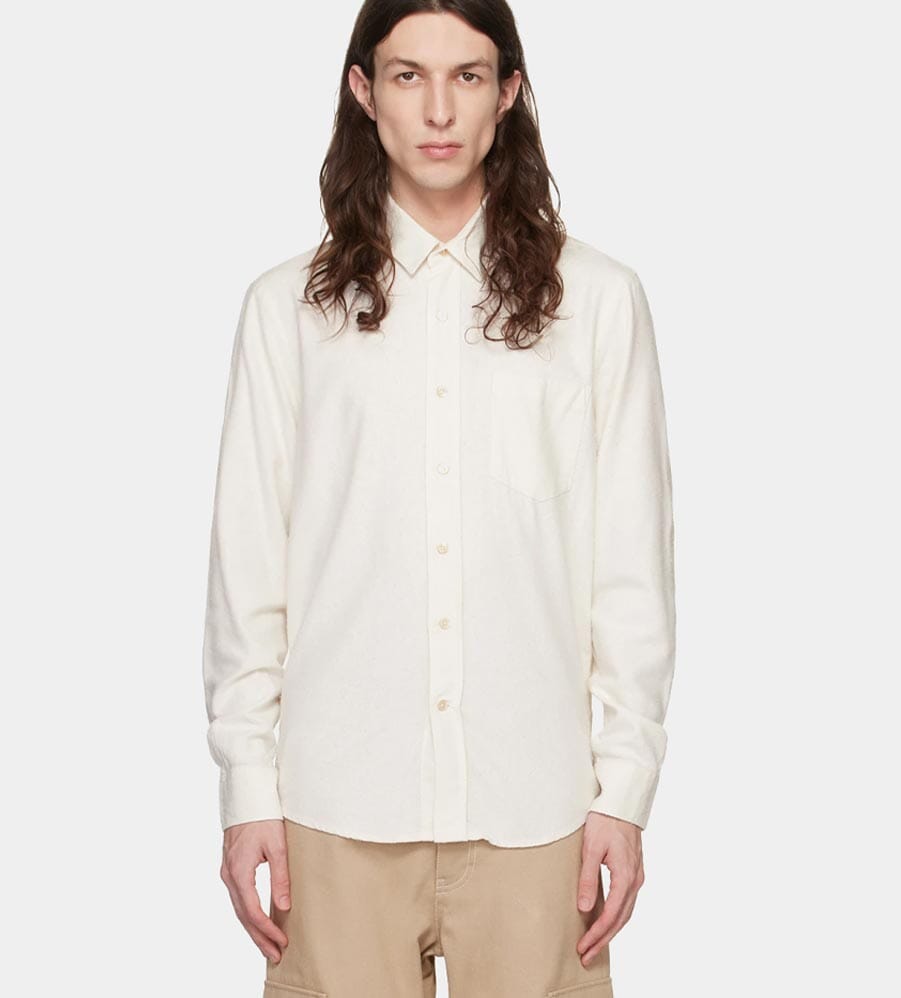 Our Legacy Classic Shirt
You just can't talk about silk shirts for men without mentioning Our Legacy. Since 2005, the Stockholm-based brand has released some of the best minimalist pieces that the fashion world has ever seen, and this Classic Shirt is definitely up there among the greats. Painted in a lick of off-white, it's detailed with a single pocket across the chest, mother of pearl hardware, and single-button barrel cuffs. Best of all, it's made entirely from premium silk that will last you for years and years to come.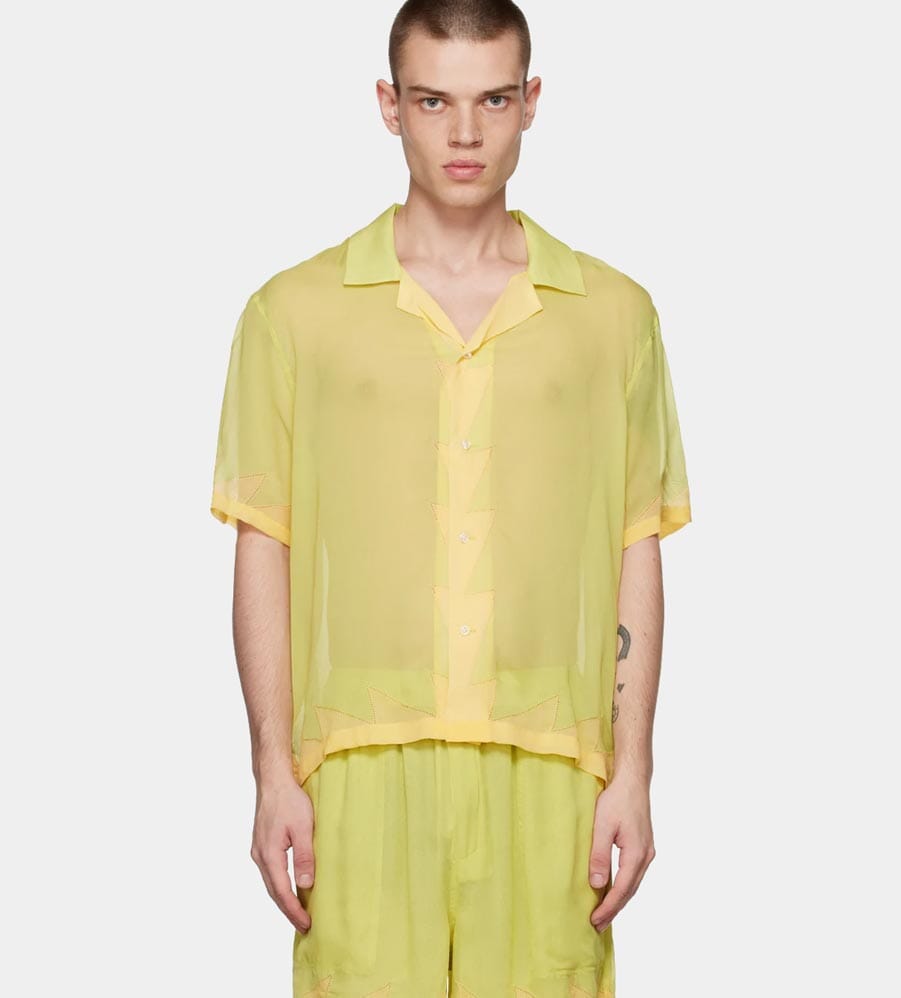 Bode Deco Zig Zag Shirt
Hype surrounding Emily Adams Bode Aujla's Bode has been absolutely skyrocketing over the past couple of months, and it's thanks to pieces like the Deco Zig Zag Shirt. Launched as part of their latest collection, it's painted in a soft yellow colour palette and is made from a semi-sheer silk that's exactly what you'd expect from the androgynous New York City label. The collar is slightly spread for a casual vibe, and the brand's logo is finely embroidered around the back. It's all in the details, people.
For something on the more casual end of the spectrum, check out our pick of the best linen shirts for men.
---
---