You've done it. You've built a solid basic capsule wardrobe. An expensive well-made suit, a few pieces of versatile footwear that will take you from smart to casual in a step, and some premium t-shirts, trousers and jumpers in natural tones. Two great jackets too, bravo. A solid base for dressing well. Give yourself a pat on the back. Level one completed.
Want to break those solid blocks of colour up a bit and bring some variety to your outfits? Invest in some striped shirts. The humble striped shirt in its various guises is a timeless piece. To wear stripes is to understand composition and lines of sight. The magic of dressing. Horizontal stripes will make you look wider whilst vertical lines will lengthen the body to give the impression of tallness. Let the shirt do the work, all you need to do is wear the right one.
Scroll on for our pick of the best striped shirts for men on the market today.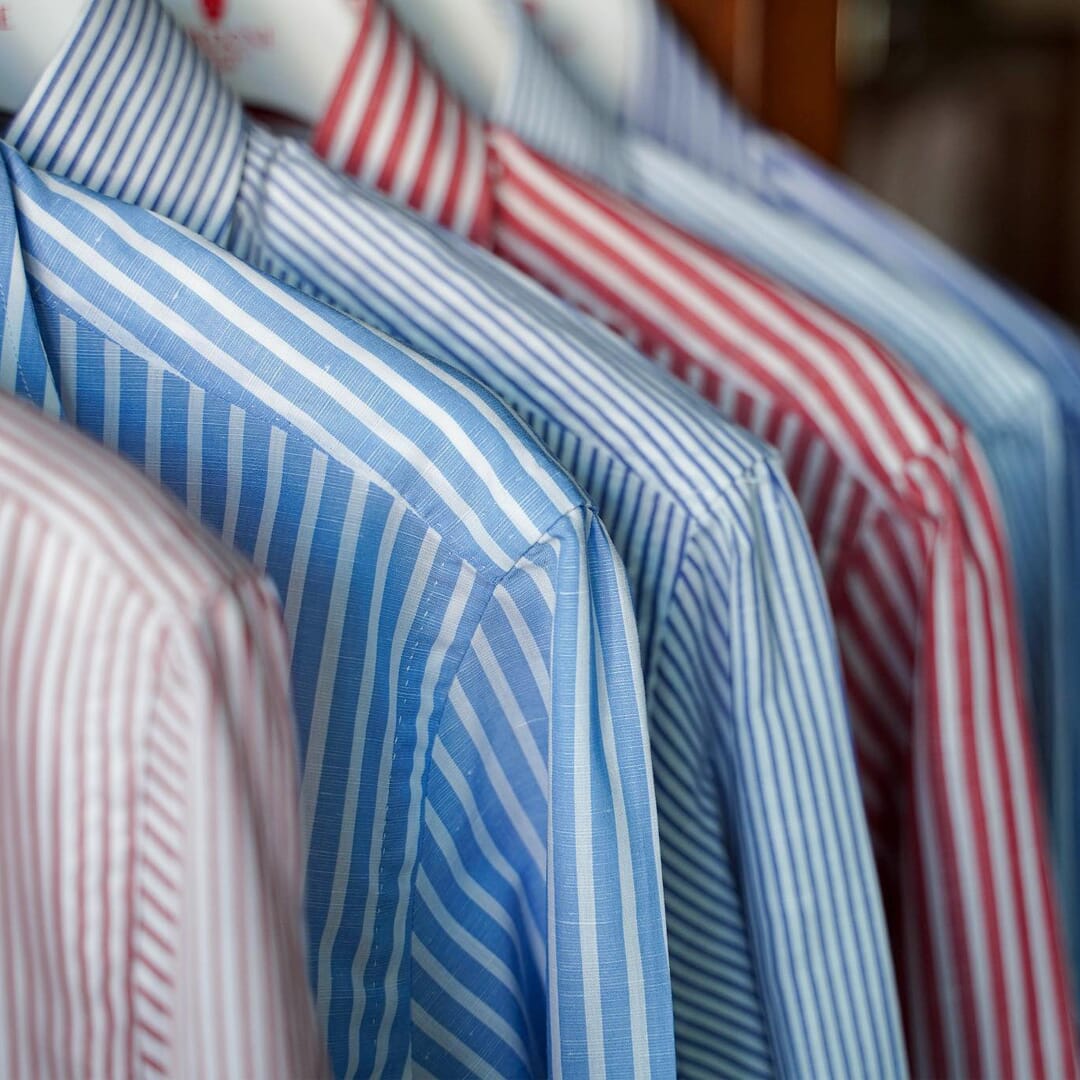 Striped shirts for men: buying considerations
As previously mentioned, the main two considerations when buying a striped shirt are the nature of the striping. Horizontal gives the impression of a wider silhouette, ideal for slim men. Horizontal meanwhile makes your torso and thus silhouette look longer, a good trick for shorter men aiming to look taller. Once you've decided which way you want your stripes to go, there's a few other considerations.
The thicker the stripe the bigger the risk. It's as simple as that. Thinner stripes are safe. For instance a plain heavy cotton shirt with thin candy striping in a pastel blue, green or pink is a safe and stylish option. Roll those sleeves up and wear it varsity campus style like you're in a Gant advert. Thicker, bold block stripes take you into potentially dangerous territory.
You don't want to look like a referee nor do you want to look like you're wearing a football shirt. There's a time and place for that. If you're going to wear a thick bold stripe you need to make sure to get the colour right, nothing too brash. Certainly not black and white. Otherwise, have a bit of fun with it. Mix your thickness of stripe up with a bowling shirt style or keep things minimal. Avoid wearing too much striping together and let stripes separate blocks of colour.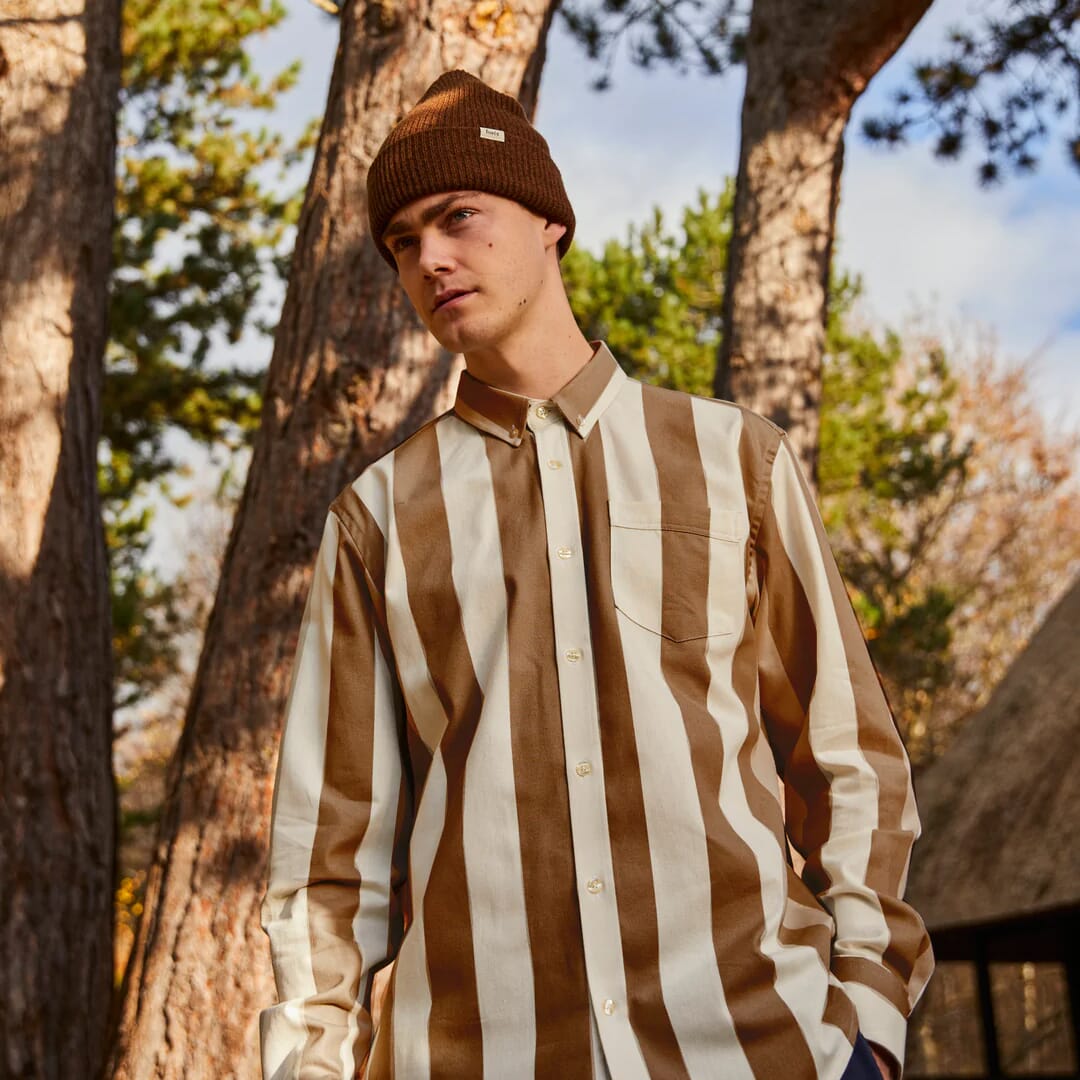 Best striped shirts for men in 2023
Forét Petal Shirt
The most disruptive shirt on our list. Nodding to nostalgic references, notably the big stripes of the '70s and '80s, this broad striped fabric petal shirt from Forét can be worn on its own as a casual wear statement or with tailoring for a smart casual look. Made from 100% GOTS organic cotton, it's comfortable and hardwearing, whilst not being too thick as to make it difficult to layer. The button down collar is a nice touch.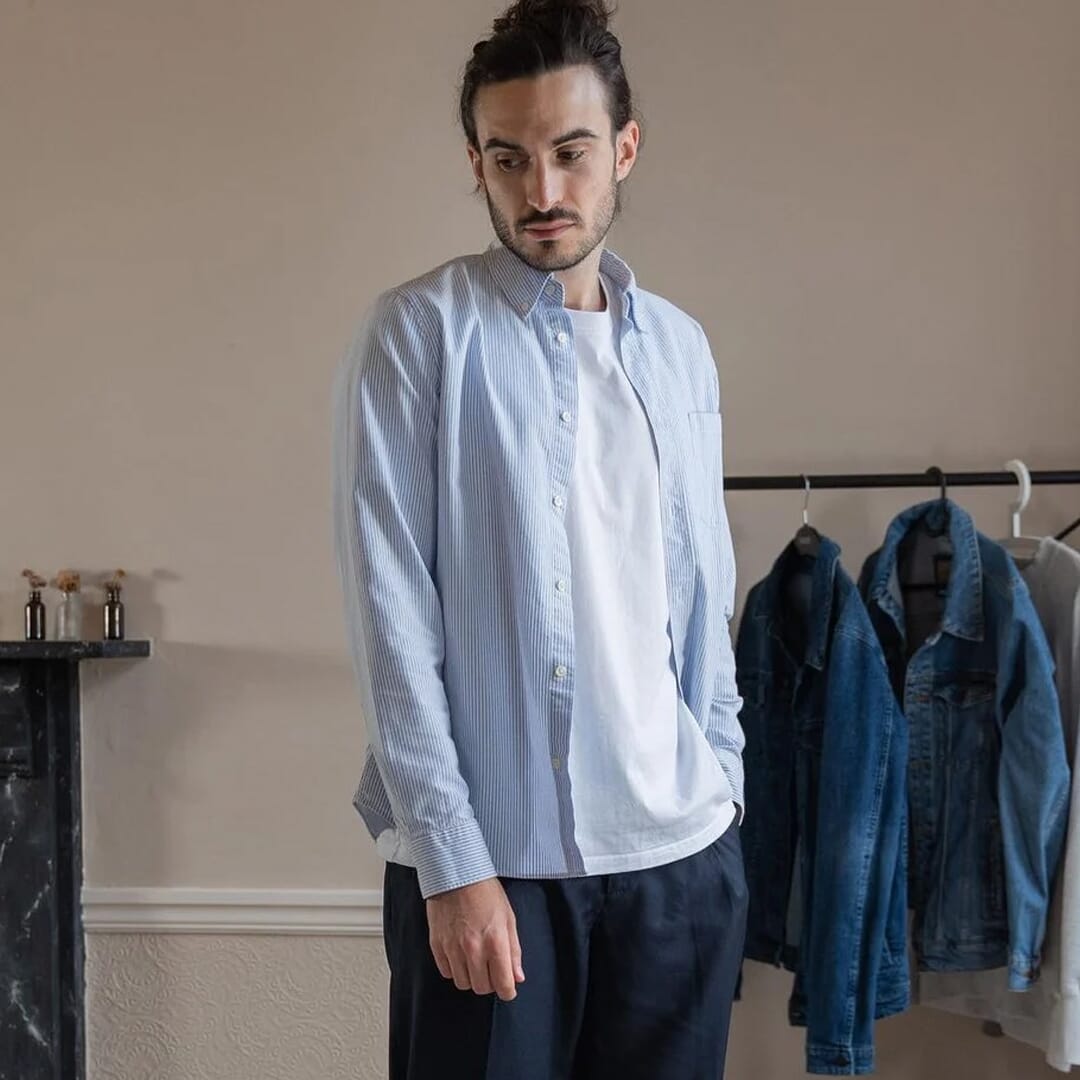 ASKET Blue Stripe Oxford Shirt
Wonderfully versatile, the classic Oxford cloth blue striped button-down shirt is in plain white t-shirt levels of capsule wardrobe staples. ASKET's take on the smart casual essential features a straight cut silhouette, soft brushed 100% organic cotton cloth and Mother of Pearl buttons. The softness of the cotton makes it a comfortable workhorse for daily wear whilst the cloth quality means it isn't going to perish in the wash. Wear it with jeans, trousers or shorts.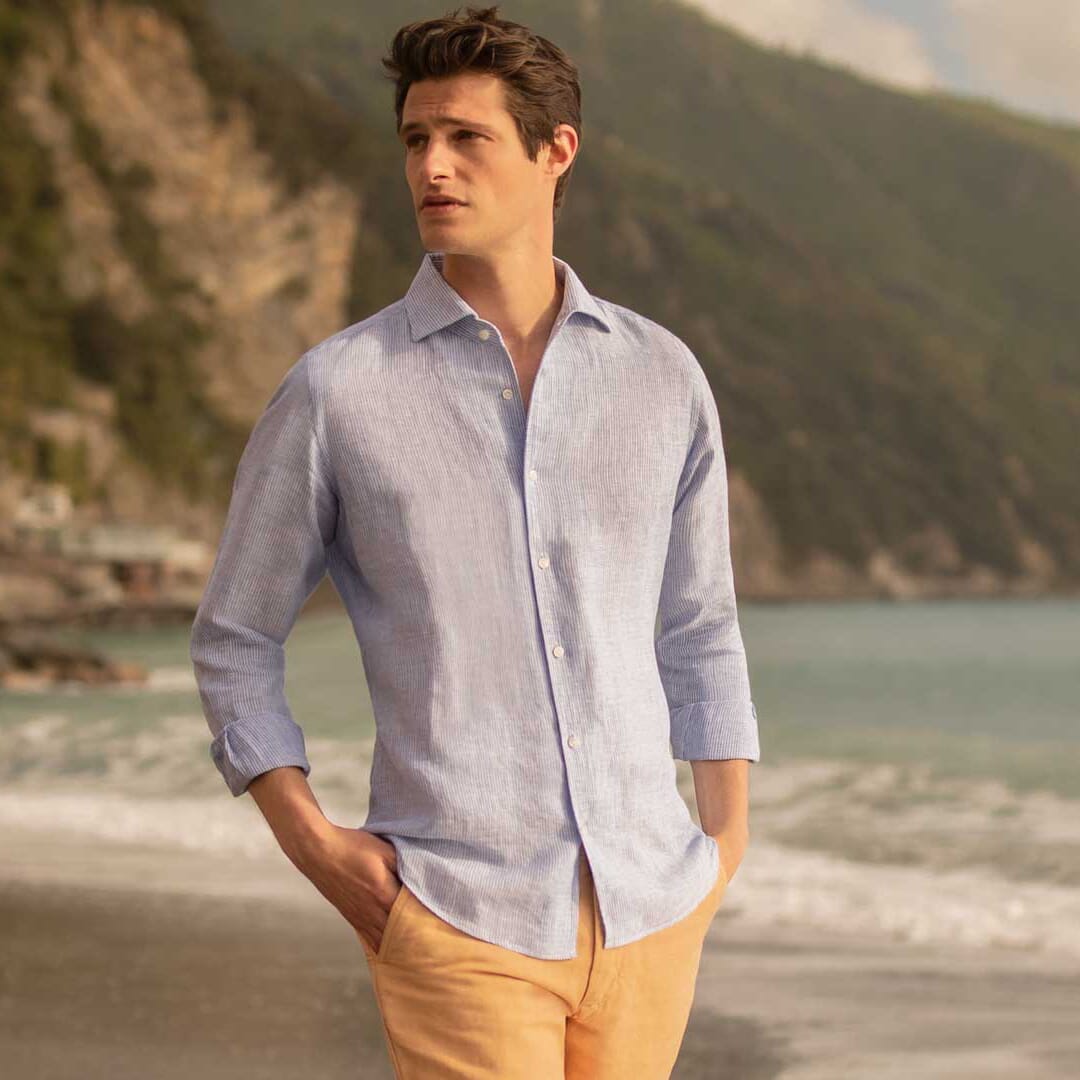 Luca Faloni Striped Sky Blue Portofino Linen Shirt
Proper Made in Italy shirt-making. Luca Faloni is a brand known worldwide for its superior craftsmanship and only the finest materials make it into the brand's garments. Prestigious Italian producers are put at the forefront of the brand's wares and Italian craftsmanship and tradition is celebrated. For an effortless striped shirt, consider Luca Faloni's Portofino linen shirt, made with pure linen from the oldest Italian mills. Available in slim fit and regular, it's seriously comfortable resort wear at its finest.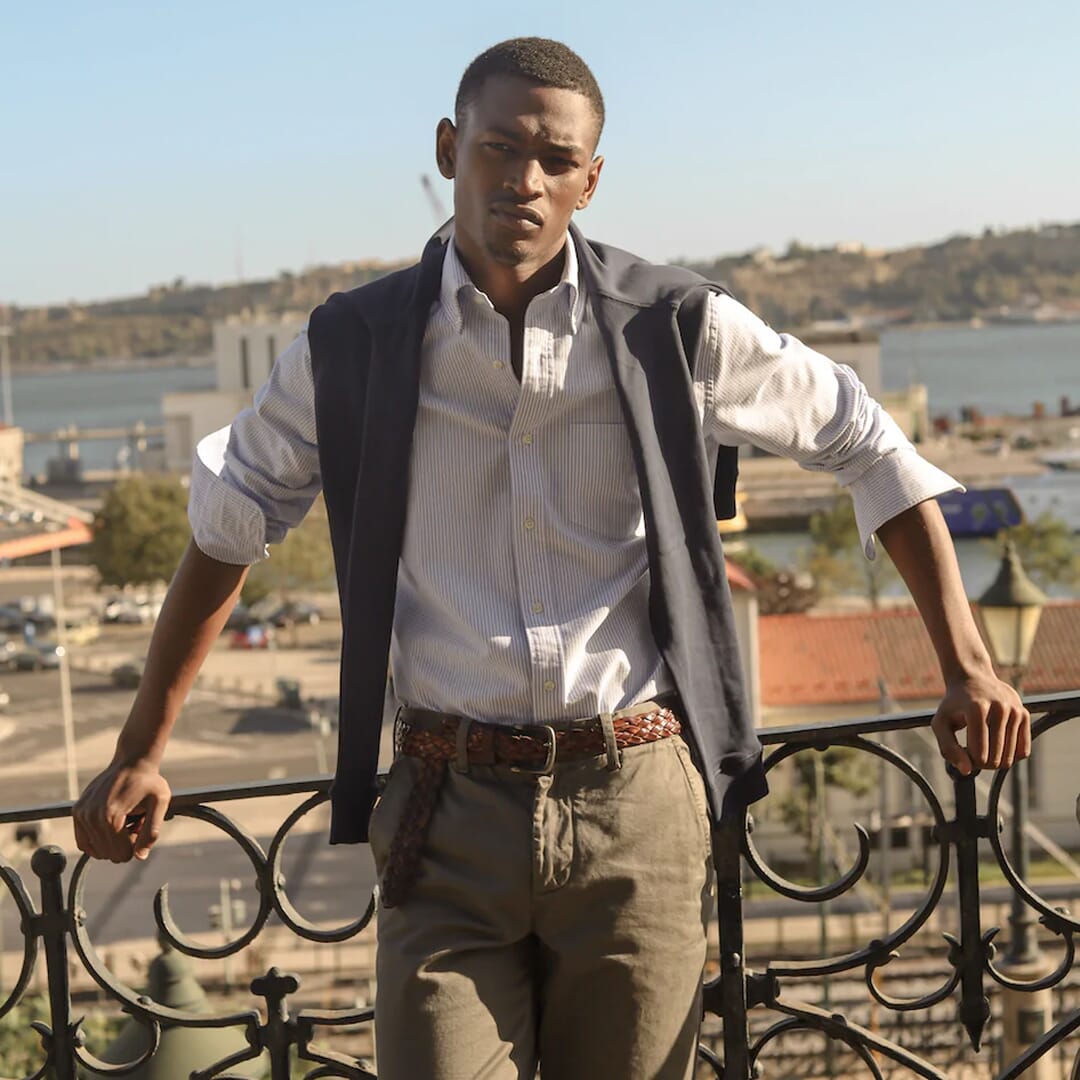 ISTO. Oxford Shirt
Transparency and quality is Portuguese brand ISTO.'s shtick and they just so happen to be especially proud of their striped Oxford shirts. Working with the best garment supplier and tailor in Portugal, they're more than happy to describe the results as "fancy." Heavy 175g/sqm organic cotton cloth is used for the shirt giving a light and breathable feel, with the fit classic and slim. Dress it up with a pair of chinos or wear it with shorts during the summer.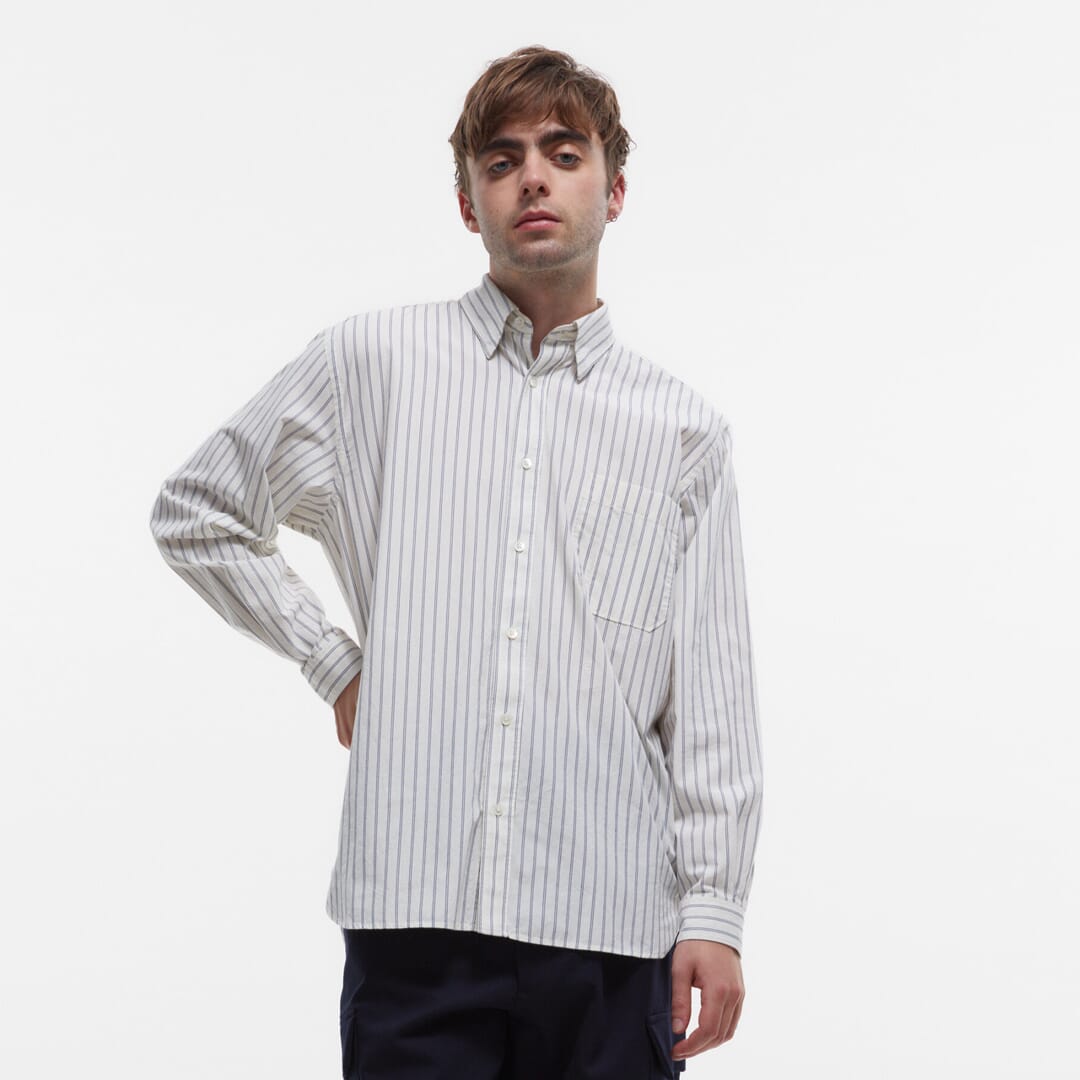 Closed Organic Office Stripe Shirt
Often your classic candy striped Oxford shirts tend to come in a slim fit with little differentiation. If you want something different, but still need a slightly smart casual feel, consider Closed's organic office stripe shirt. Made for a relaxed fit, the shirt is crafted in organic cotton with yarn dyed stripes and pearl buttons. Let it hang loose over baggy trousers and a chunky commando sole shoe.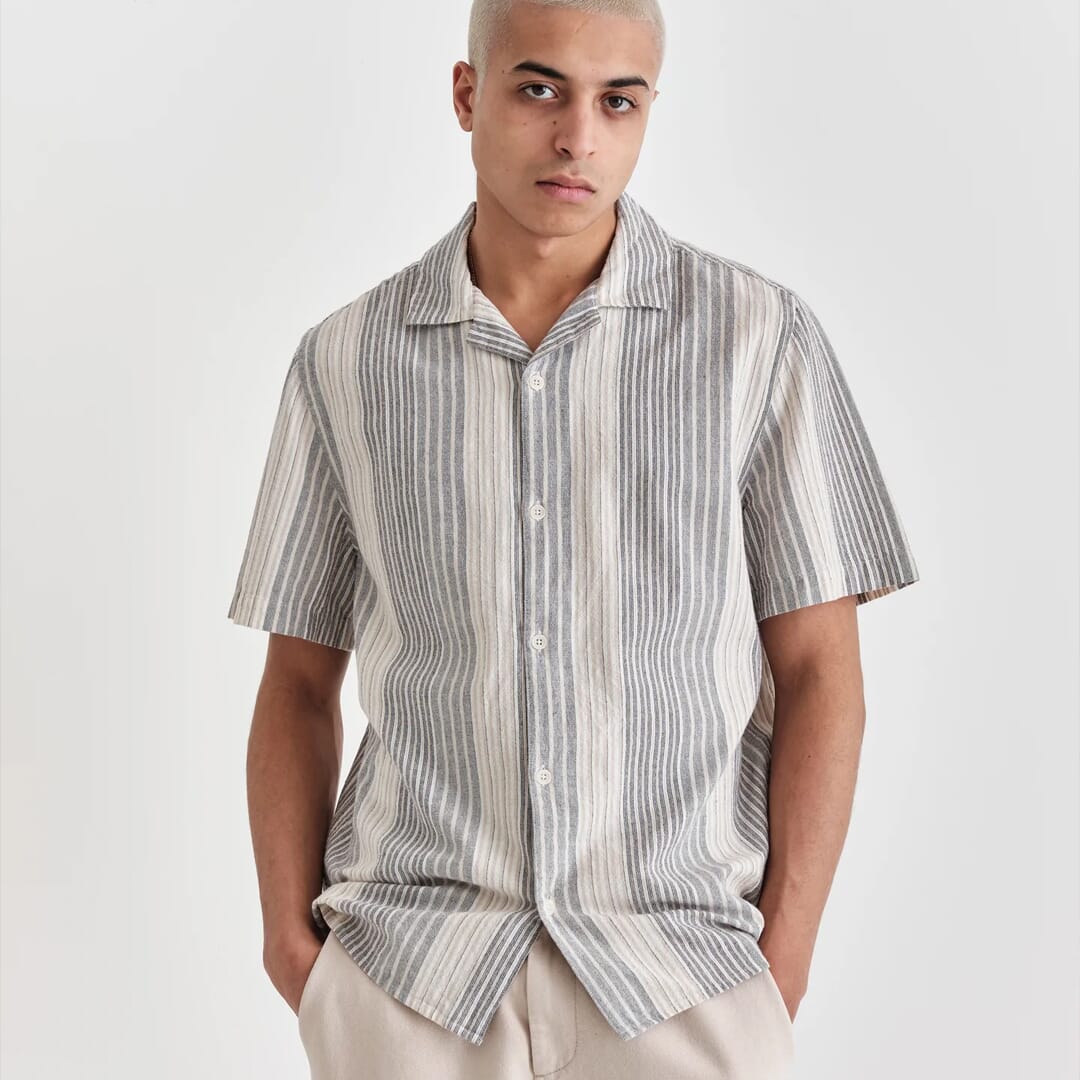 Wax London Didcot Shirt Navy/Ecru Crinkle Stripe
It's not all long-sleeve business vibes in the striped shirt game. There's casual options too and this short-sleeved bowling shirt style number from Wax London has certainly caught our eye. Available in a low-key, neutral navy and ecru with a nice textured crepe handfeel to the fabric, it's a good going out shirt and it'll work well when layered too. A welcome boxy fit, invest in it now for next summer.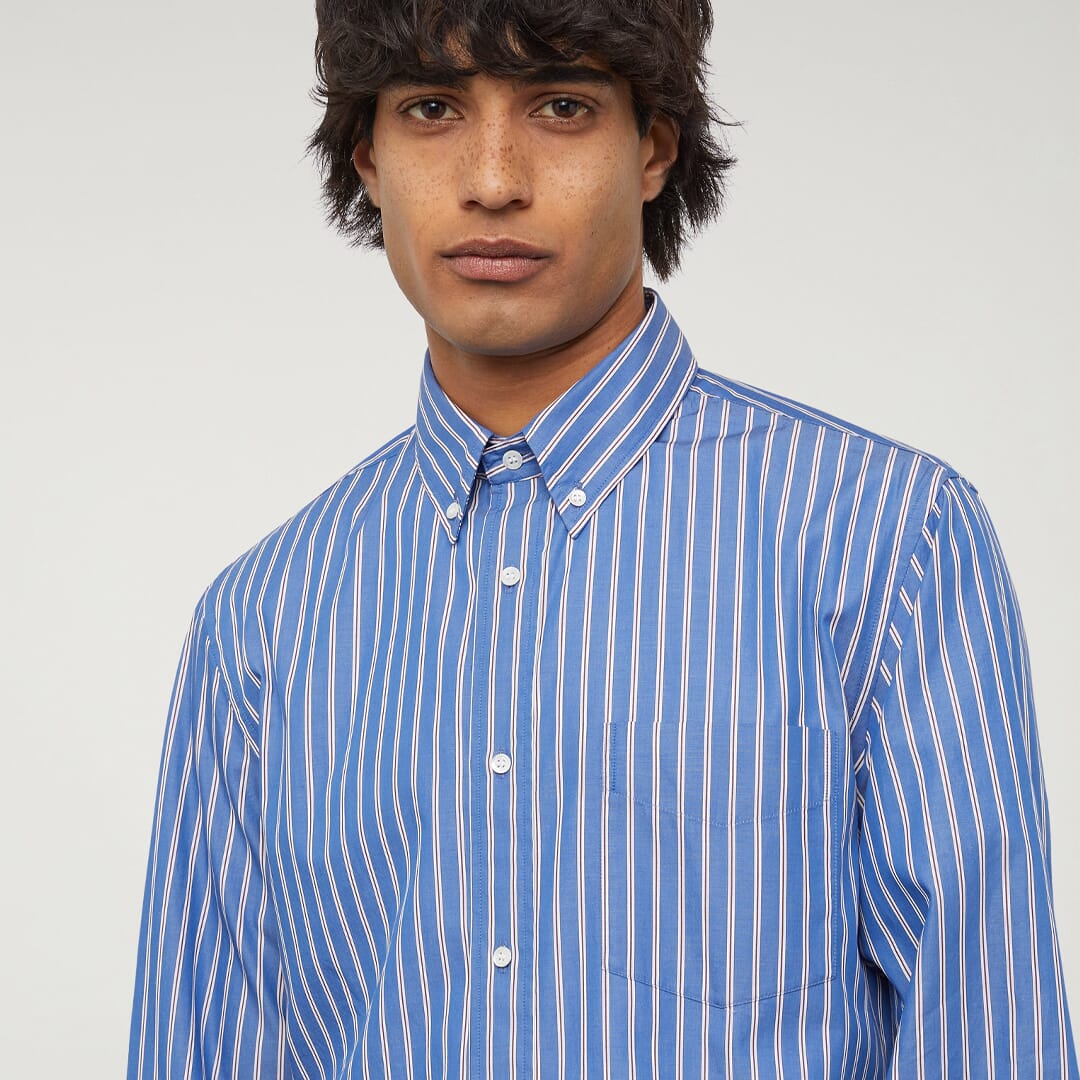 Aspesi Blue Striped Cotton Shirt
Big flowing shirts are cool. Get yourself one in bolder stripe like this Aspesi blue striped effort with contrast red striping and you're onto a winner. The Italian brand have got form when it comes to shirts, Aspesi was founded in 1969 and the first shirt it ever made was leopard print. Very ballsy. Whilst this may be more low-key it's no less punchy. Slim fitting and with a button down collar, it packs a breast pocket on the front and kick pleat at the centre of the back. Wear it with shorts or trousers for big artist vibes.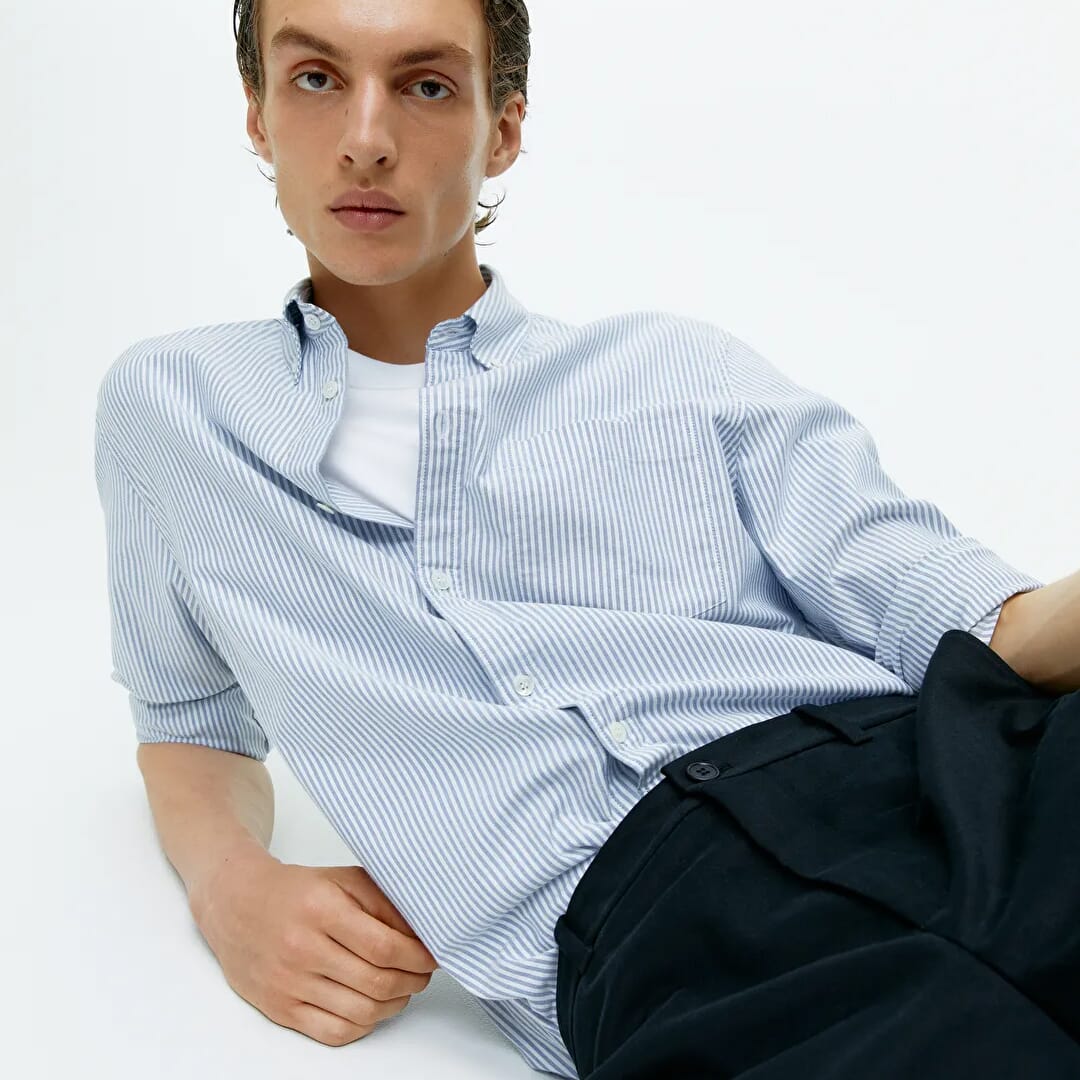 ARKET Blue Oxford Shirt
Last but not least, capsule minimalists and sustainable heads, ARKET. Unlike other brands who prefer slim fit, ARKET's classic archetypal Oxford shirt comes in a boxier regular fit nicely spilling over a waistband when tucked or hanging loosely when untucked. Made from organic cotton, with that robust Oxford weave, it brings a classic button down collar and rounded hem. Casual but well thought through. Style it with cotton twill trousers and a big winter coat.
You've found your perfect striped shirt, now discover our pick of the best striped T-shirts.
---
---