Tailored trousers play a very essential role in every man's wardrobe. Unlike denim jeans or chinos, the best tailored trousers for men offer a degree of formality without verging into suit pant territory. Truly versatile, you can literally wear them with anything from graphic tees to long-sleeve dress shirts, and they won't look out of place.
You can also pair them with white trainers or Oxford shoes and they'll still look perfect. However, with so many different designs, styles, and colour options to choose from, finding the best tailored trousers for men can be a bit of a challenge. Don't fret though, as we've hand selected ten of the greatest ones that should definitely be on your radar this season.
How to find the best tailored trousers
There are a few things that you should bear in mind when investing in your first pair of tailored trousers. Firstly, the waistband should sit comfortably on your waist and not on your hips, as this can cause a very unattractive sag effect. Speaking of which, there should be plenty of space around the hip section too, as if it's too tight it can cause the pockets to flare out, which isn't a good look.
Secondly, there should only be about one finger's worth of room at the waistband. This gives you just enough space to tuck in a tee or shirt. While we're on this topic, it's worth mentioning that your tailored trousers should overlap your shoes only by about half an inch. This is the best length as it means they're not short to point you're showing off your socks, and not long enough that they're trailing on the ground. 
Finally, when trying to find trousers that are tailored just for you (pun intended), think about your lifestyle. If you're always on the move, you might want to go for a more elasticated pair. If you live in a colder climate, consider some that's made from thicker, woolier fabrics. And the same goes for warmer climes – a pair of linen or cotton tailored trousers will be more suited to the temperature.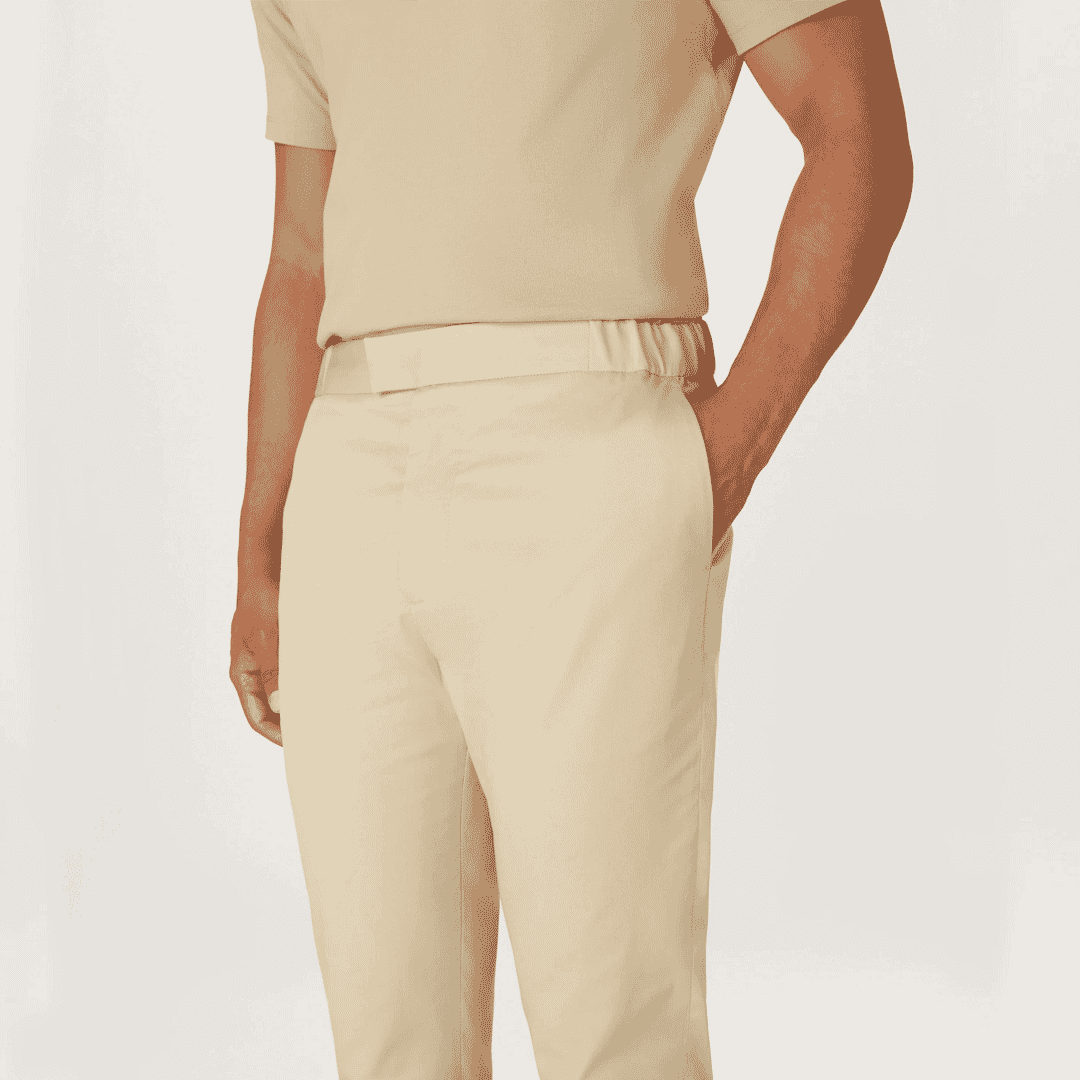 Best tailored trousers for men in 2023
L'Estrange 24 Trouser
If you've been searching for the ultimate trouser to travel in, L'Estrange has your back (and your behind). Aptly named The 24 Trouser, this piece has been specifically designed for you to commute all-day in pure bliss. Combining fine Italian tailoring with sweatpant level comfort, it's available in two fits, 12 colour options, and plenty of sizes, so you can get a pair that's been made just with you in mind.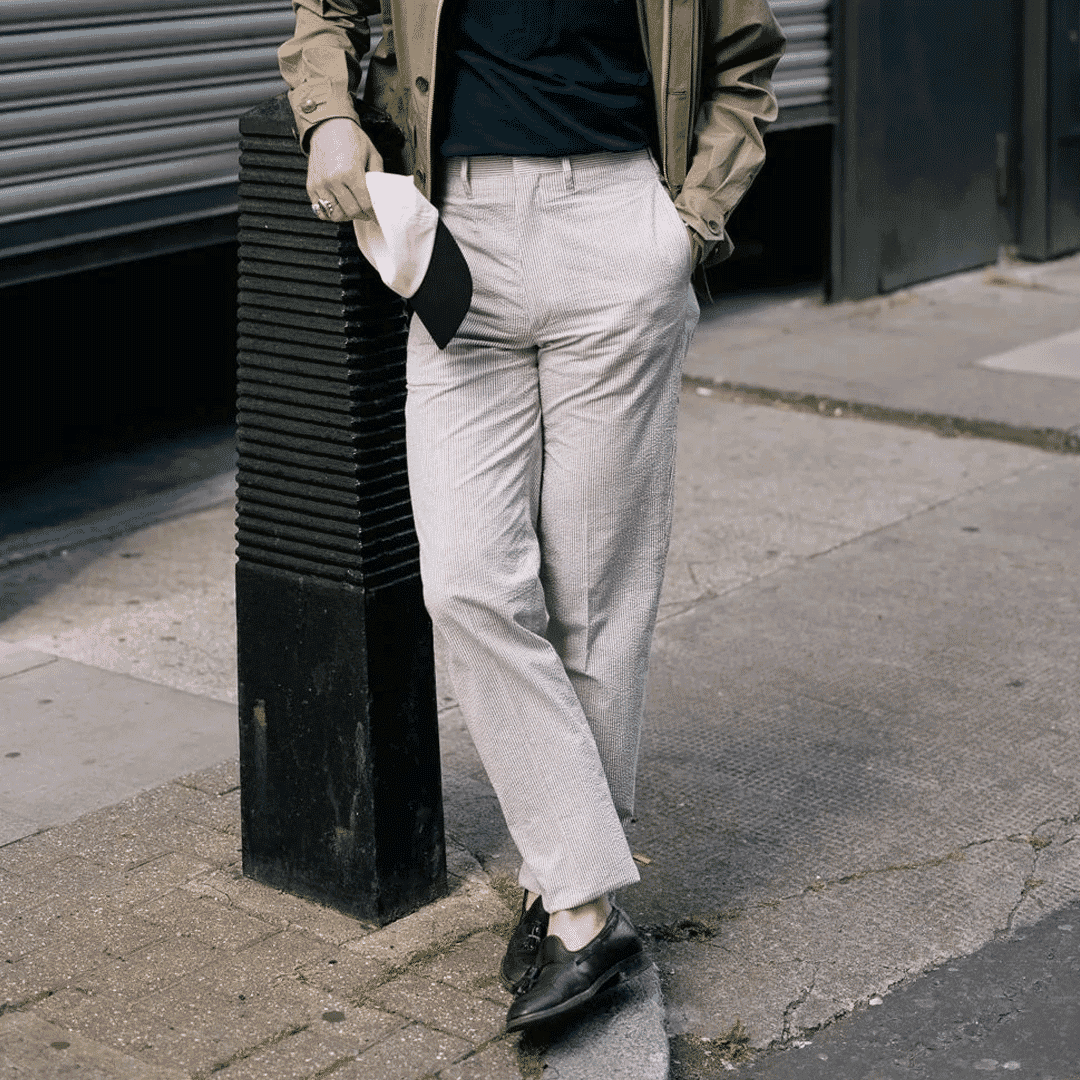 Anatomica Trim Stem Pants
Inspired by '60s Americana seen through a Japanese lens, the Trim Stem Pants by Anatomica is one of the cult label's most popular pieces – and it's very easy to see why. Constructed from 100% cotton seersucker, this lightweight and breezy material makes this the perfect trouser to wear during the warmer seasons. It's also equipped with a total of four pockets to store all of your essentials and unfinished hems for a more casual aesthetic.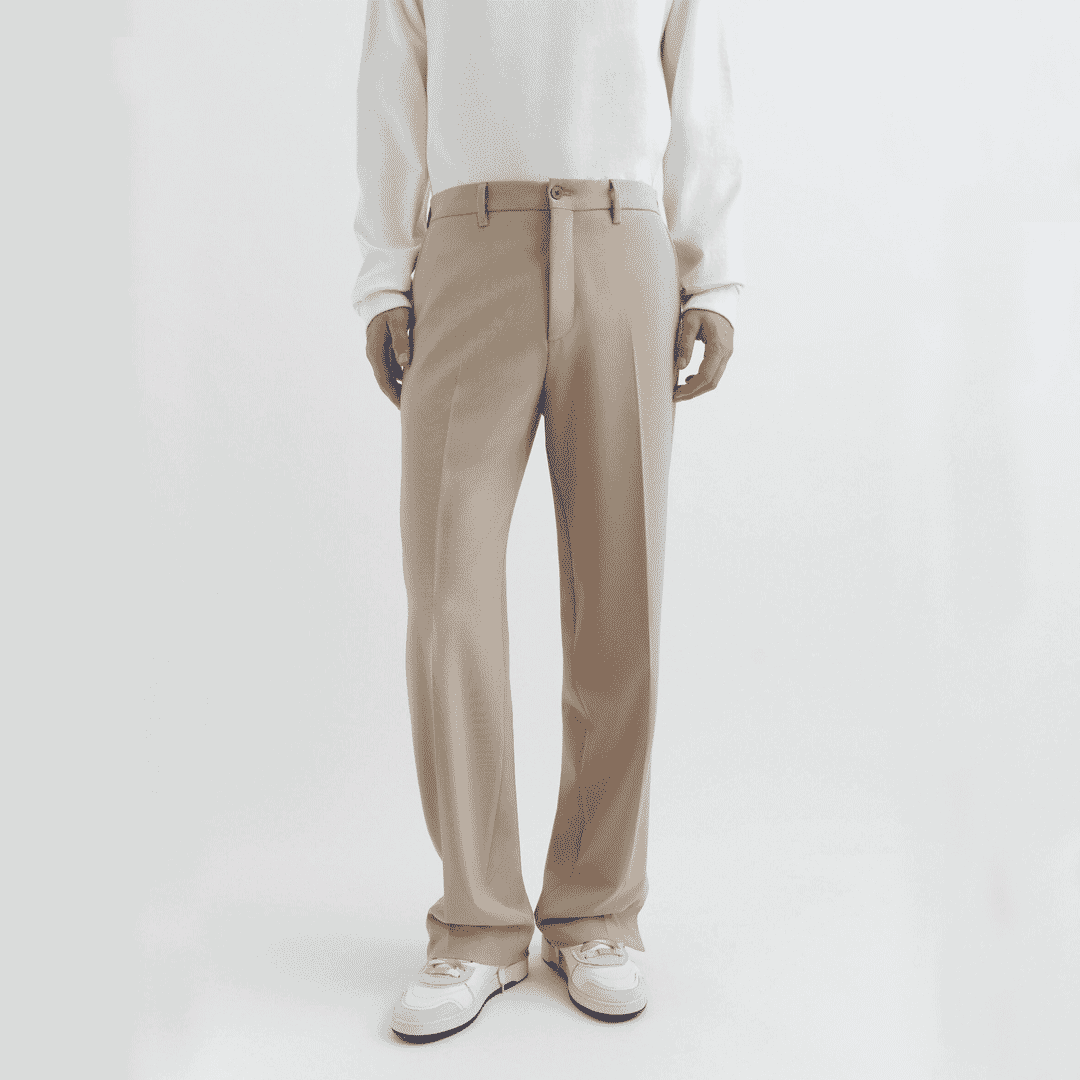 Axel Arigato Grade Trousers
Searching for men's tailored trousers with a streetwear edge? If so, Axel Arigato's Grade Trousers should definitely be on your menswear radar. Outfitted in an Italian viscose blend, they're designed with pressed creases across the front for a sartorially-inspired vibe. They also come in two tonal colourways so they'll work perfectly with those squeaky clean sneakers that you just picked up.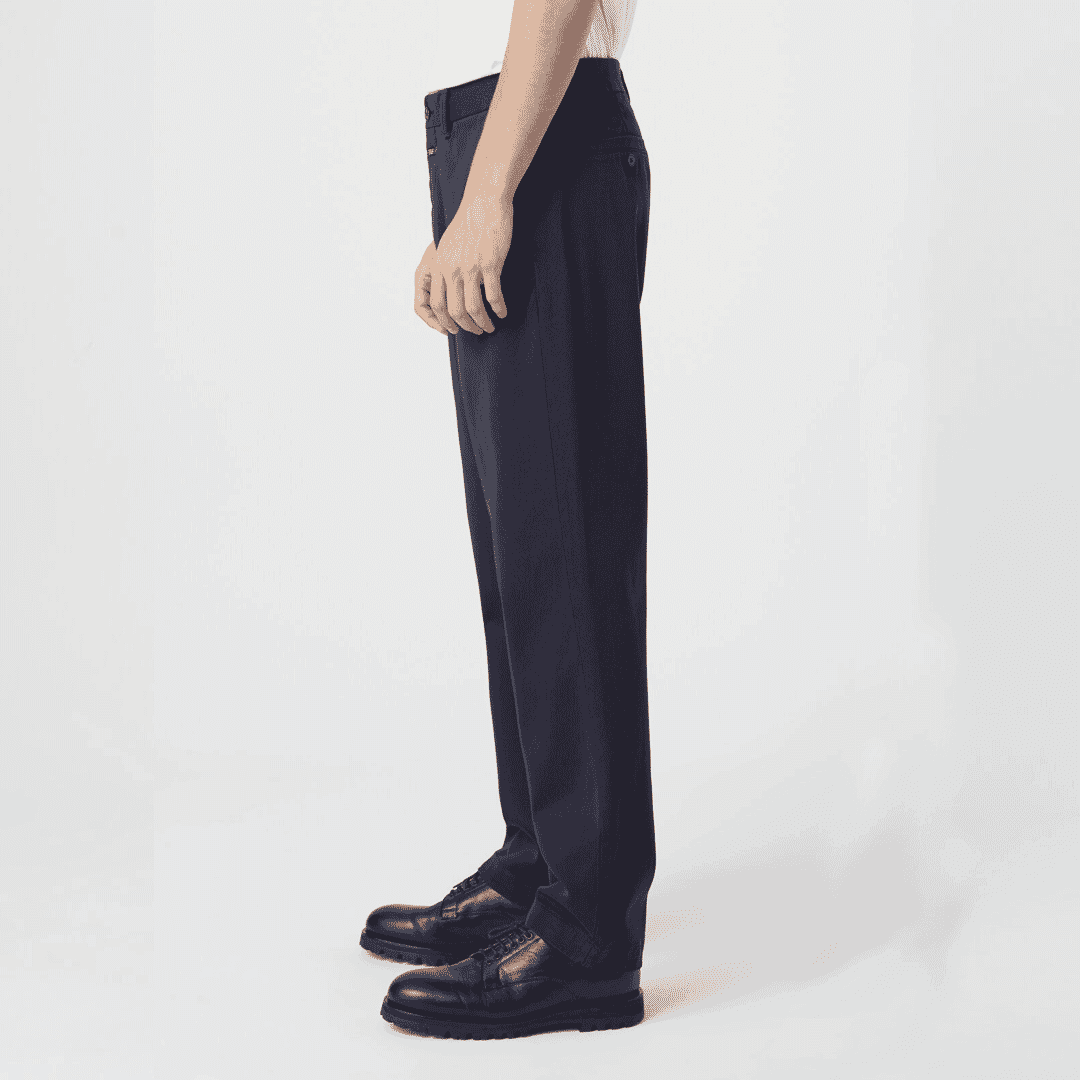 Closed Tacoma Tapered Pants
You just can't talk about the best tailored trousers for men without bringing up the Tacoma Tapered Pant by Closed. Crafted from a robust cotton twill fabric that's pure and organic, it's equipped with pockets across the sides and belt loops that surround the entirety of the waistband. The Closed logo is finely stitched across the front of the piece, while additional branding makes a cameo around the back in the form of a matte black badge.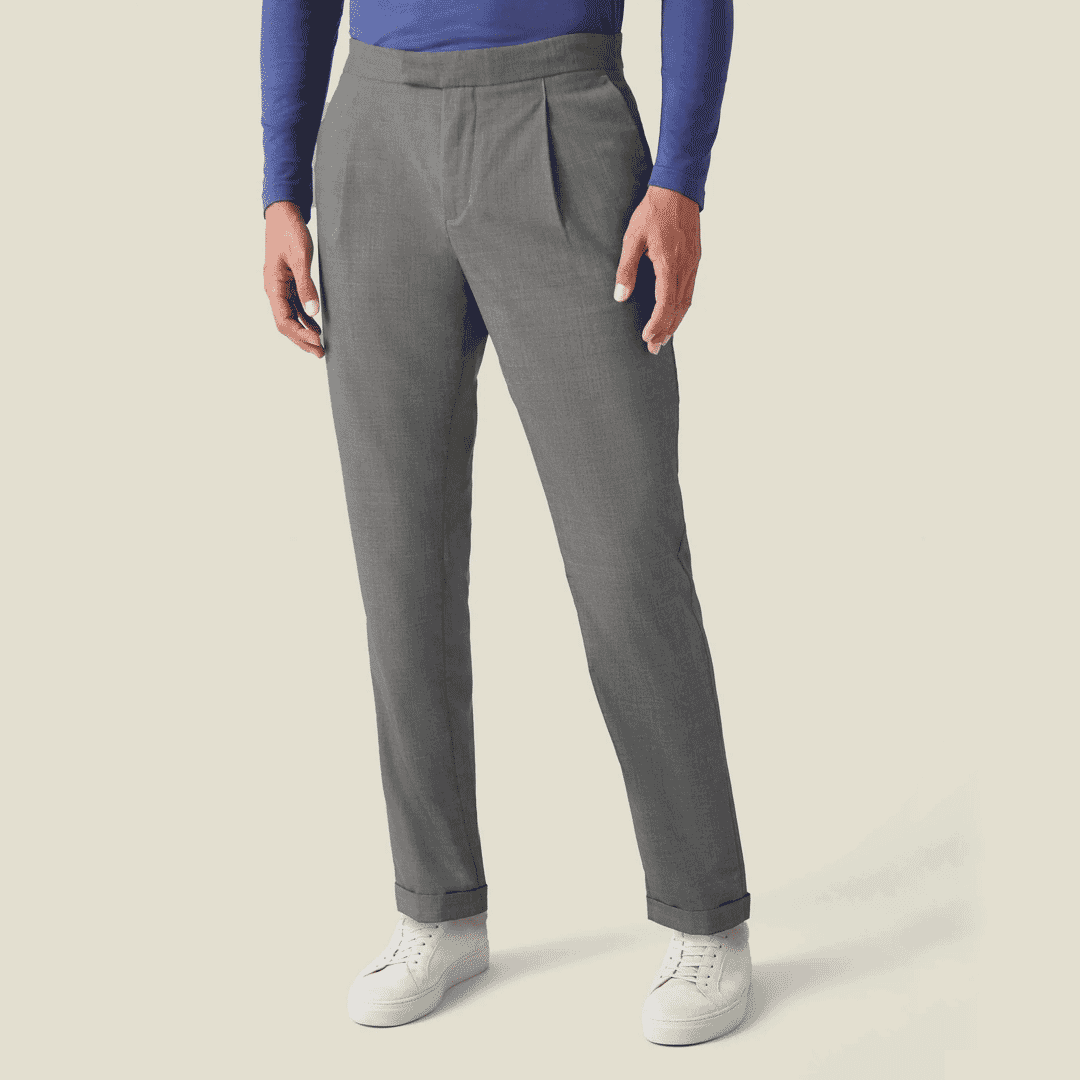 Luca Faloni Lightweight Wool Trousers
Crafted in Lago d'Iseo in Northern Italy, the Lightweight Wool Trousers by Luca Faloni are exactly what they say on the hypothetical tin. Made from 100% virgin wool from premium mill Vitale Barberis Canonico, they're extremely breathable and lightweight, and are designed with plenty of very clever details throughout. They also come with an internal drawstring waistband for added comfort. Seriously – what's there not to love?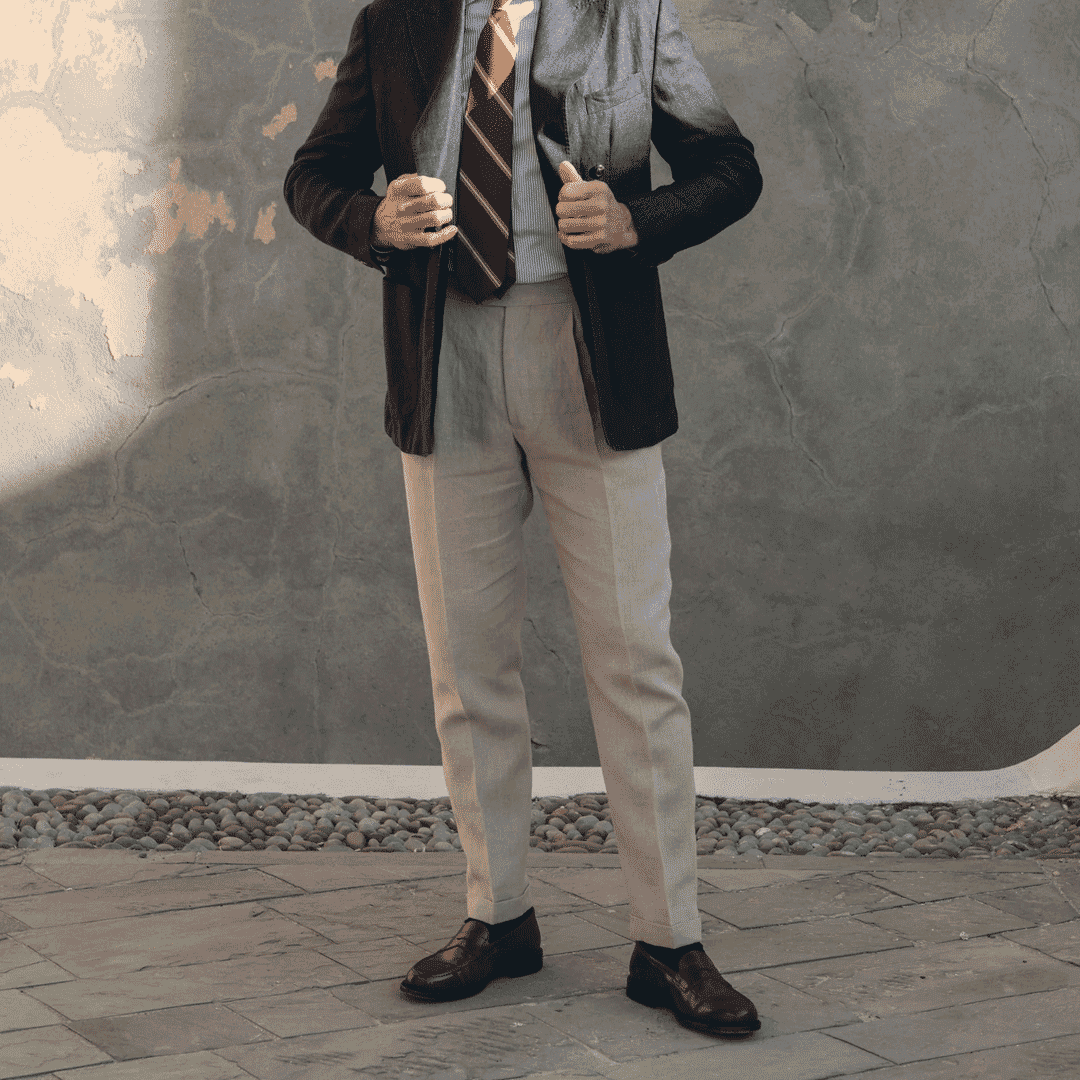 Velasca Salemi
The Salemi is one of Velasca's most popular pieces, and there's really no question why. Boasting a classic double-pleated design, what sets these men's tailored trousers apart from the rest is its 100% linen construction. But it's not just any linen though, it's Irish linen, which is known to be thicker and heavier than traditional types. It also creases less and is kinder to the environment, so not only will you look good, you'll actually do some good too.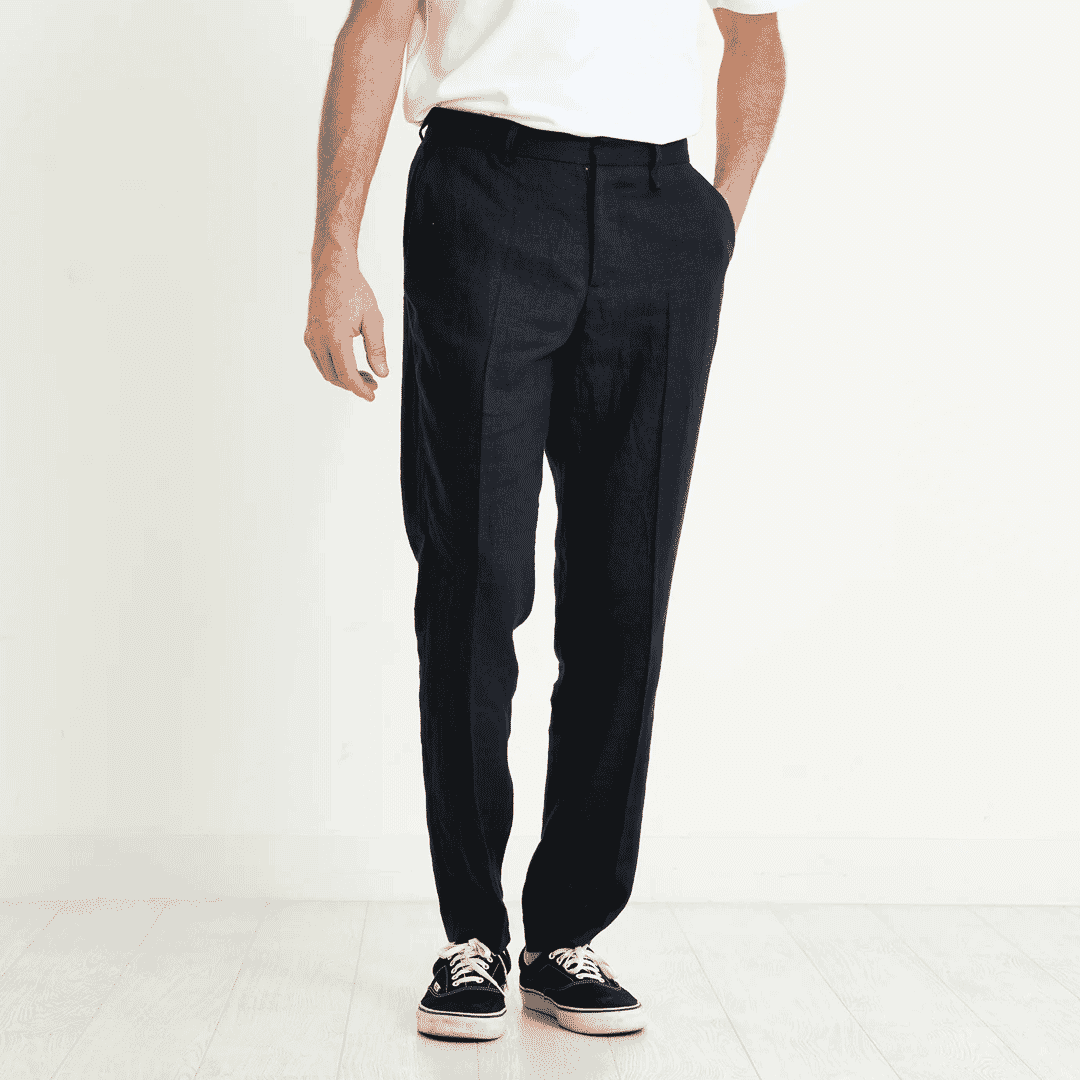 Wax London Alp Trousers
Are you looking for a tailored trouser that's a little more on the casual side? If so, check out the Alp Trousers by the good folks over at Wax London. Inspired by traditional straight fit silhouettes, this is made from 100% linen so it's very lightweight, very flexible, and very versatile. Wax London also makes a complementary blazer for those who want their whole ensemble to match impeccably.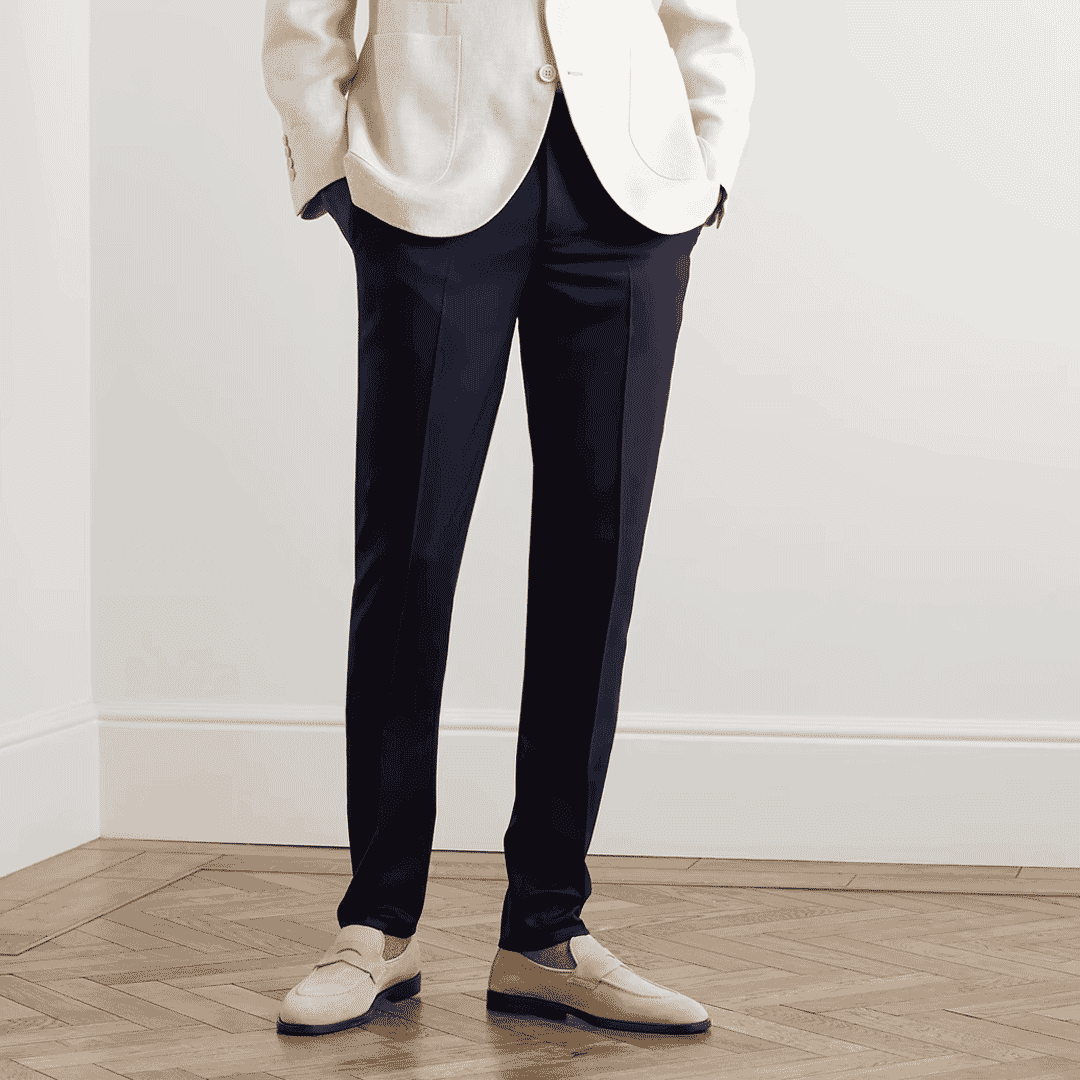 Brunello Cucinelli Slim Fit Tapered Trousers
While Wax London's Alp Trousers were made for more casual types, Brunello Cucinelli's slim fit tapered piece is a little more formal. Lovingly made at the label's workshop in Italy, they're cut from a mid-weight virgin wool and finished with natural horn buttons. This is the most expensive tailored trouser in this article, but believe us when we say that they're worth every single penny. It's a bold statement to make, for sure, but one that we fully stand behind.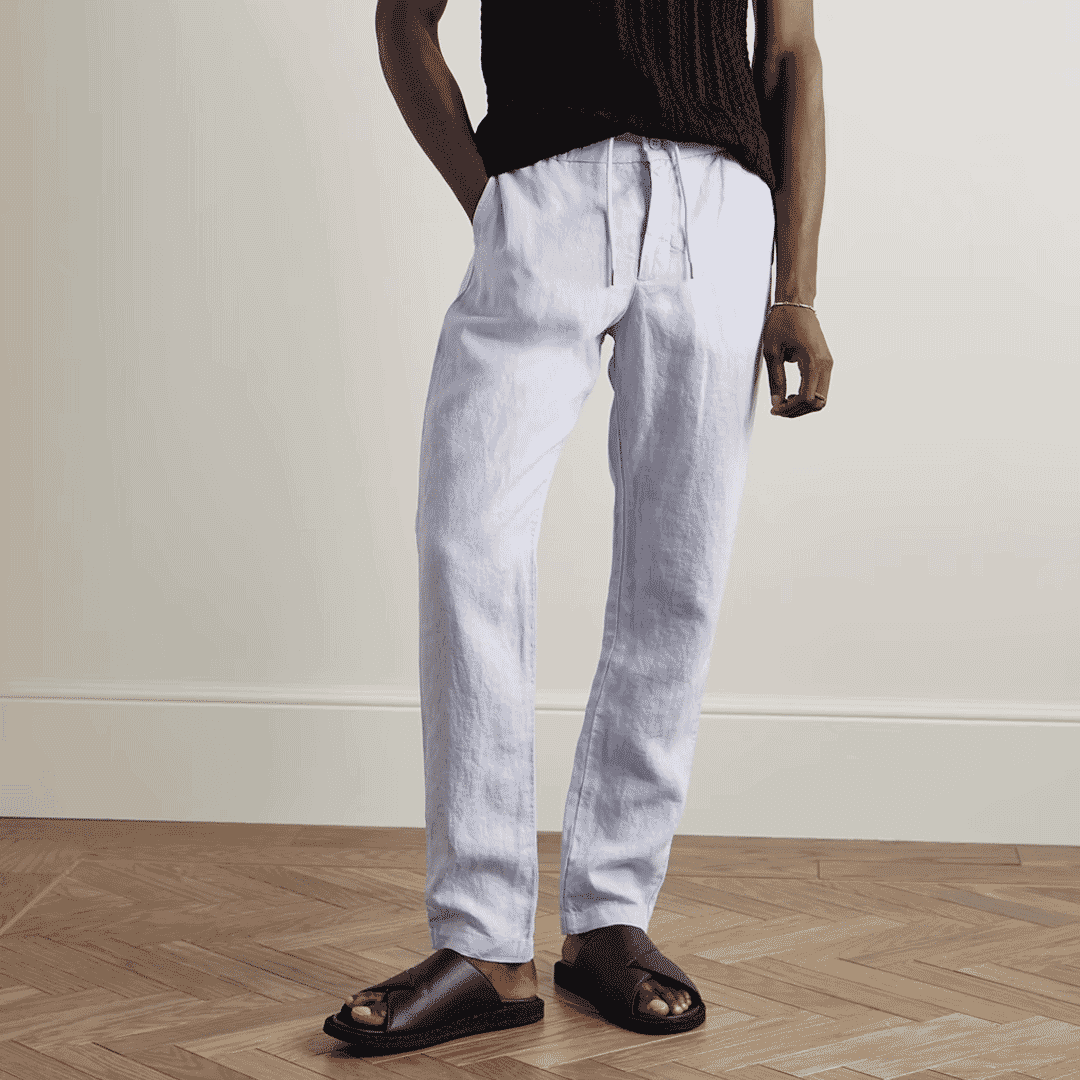 Orlebar Brown Cornell Trousers
While nothing in life is perfect, Orlebar Brown's Cornell Trousers come pretty close to it. Perfectly straddling the line between smart and casual, this piece is very clearly inspired by the classic suit trouser. With that said, they're dressed in a very breezy linen and cotton combination that's destined for summers in the country club. They're also painted in a Light Island Sky palette that we just adore.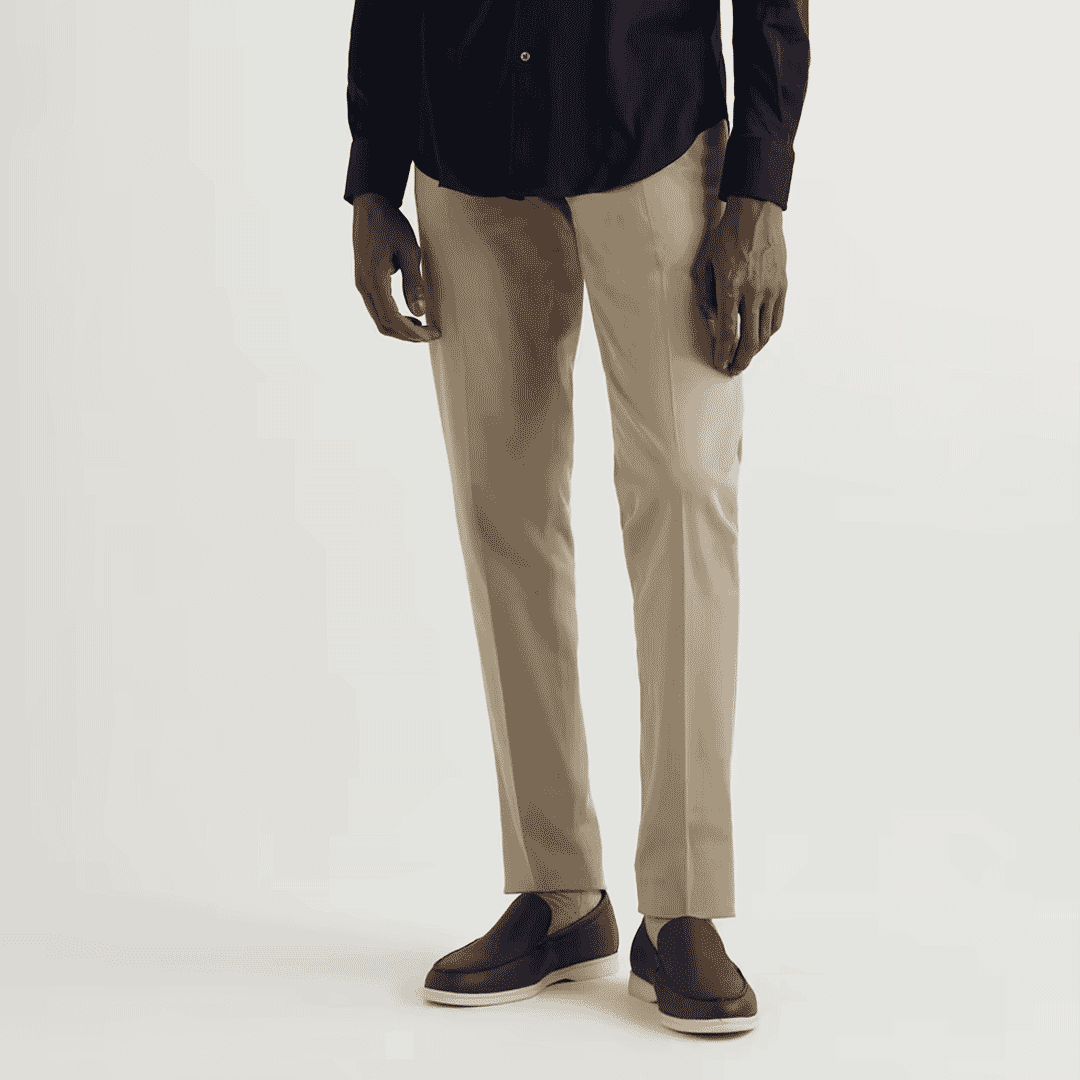 Loro Piana Slim-Fit Trousers
And last, but by no means least, we have Loro Piana's Slim-Fit Trousers. For the past 99 years, the Milan-based clothing company has been known for their ultra premium fabrics, and these are the perfect example of this material expertise. Made from a mid-weight cotton-twill and woven with a touch of stretch, this is an essential piece in every man's wardrobe.
---
---