In the realm of menswear, few brands have managed to redefine the standard of luxury essentials quite like CDLP. Founded in 2016 by Christian Larson and Andreas Palm, CDLP has evolved from its ambitious beginnings of revolutionizing men's underwear to becoming a full-fledged design house for both men and women. With a design philosophy that marries purpose with an effortless style, CDLP is a beacon of innovation and responsibility in the fashion world.
As we step into the spring and summer of 2024, CDLP invites us to embrace a collection that expands upon the brand's esteemed design codes while venturing into new territories of fabric, dyeing techniques, and proportions. This season, the brand reengineers separates through voluminous and generous cuts, visible in the standout Bermuda Swim Shorts and Short Sleeve Shirt. The swim shorts, crafted from brushed recycled nylon poplin, boast wide knee-length legs and a half-stretch waist with a belted front closure, promising both comfort and a statement style. The short sleeve shirt is offered in a breezy Etamine mesh and a luxurious blend of TENCEL™ Lyocell and linen, featuring a boxy fit with elbow-length sleeves that epitomize relaxed sophistication.
The collection's color palette is a thoughtful balance between the cool tranquility of Juniper and Steel Blue—now extending to the core underwear and T-Shirt collections—and the warmth of Poppy Red, Cinnamon, and Cantaloupe. These hues are presented in both solid tones and polychromic prints, introducing the eye-catching "Broken Check" pattern and bringing back a fan-favorite leopard print, this time in a rich blend of cinnamon and rust.
But perhaps the most intriguing aspect of this collection is the introduction of new dyeing processes, which serve as an avenue for playful expression. The ultra-lightweight "Parachute" recycled nylon achieves a marble-like effect through the use of two dye colors that are intentionally left unmixed. With the blending of hues beyond precise control, each pair of swim shorts emerges as a unique piece, slightly varied in appearance, ensuring that no two are exactly alike.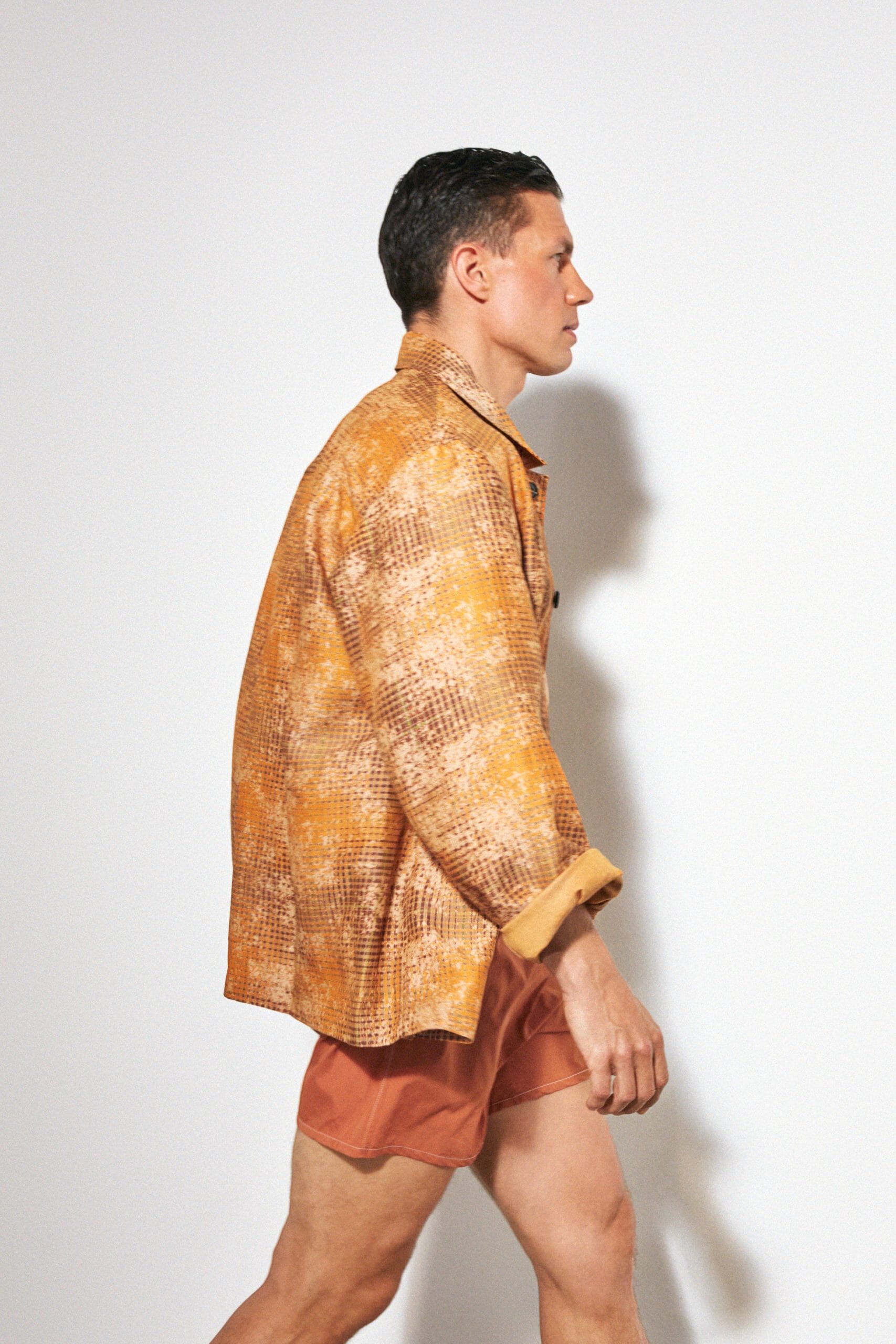 Each article in the collection is conscientiously constructed in Portugal and Italy, exclusively utilizing sustainable and organic materials. This commitment not only reflects the brand's dedication to ethical practices but also ensures that each piece carries with it a story of intention and care.
CDLP's Spring/Summer 2024 collection stands as a testament to the brand's innovative spirit and steadfast commitment to sustainability. It's a call to men who seek to intertwine the principles of responsible fashion with a wardrobe that speaks to both their style and values. This collection isn't just about clothing; it's about wearing your ethos on your sleeve, quite literally. As CDLP continues to illuminate the path for sustainable luxury, it invites discerning customers to partake in a sartorial journey that's as responsible as it is stylish. For those looking to elevate their wardrobe this season, CDLP offers an opportunity to do so with conscience and class.
Shop men's designer clothing at OPUMO.
---
---