The desire to push creativity usually prompts elaborate methods of design. Yet Laura Seppänen's Design Agency use simple, linear shapes and a clean, monochrome colour palette to create this tranquil apartment in the centre of Helsinki.
Sat in the beating heart of the Kallio district, the home was updated for the innovative pop musical composer/producer, Hank Solo, and takes inspiration from his existing work with the aim to inspire future compositions too.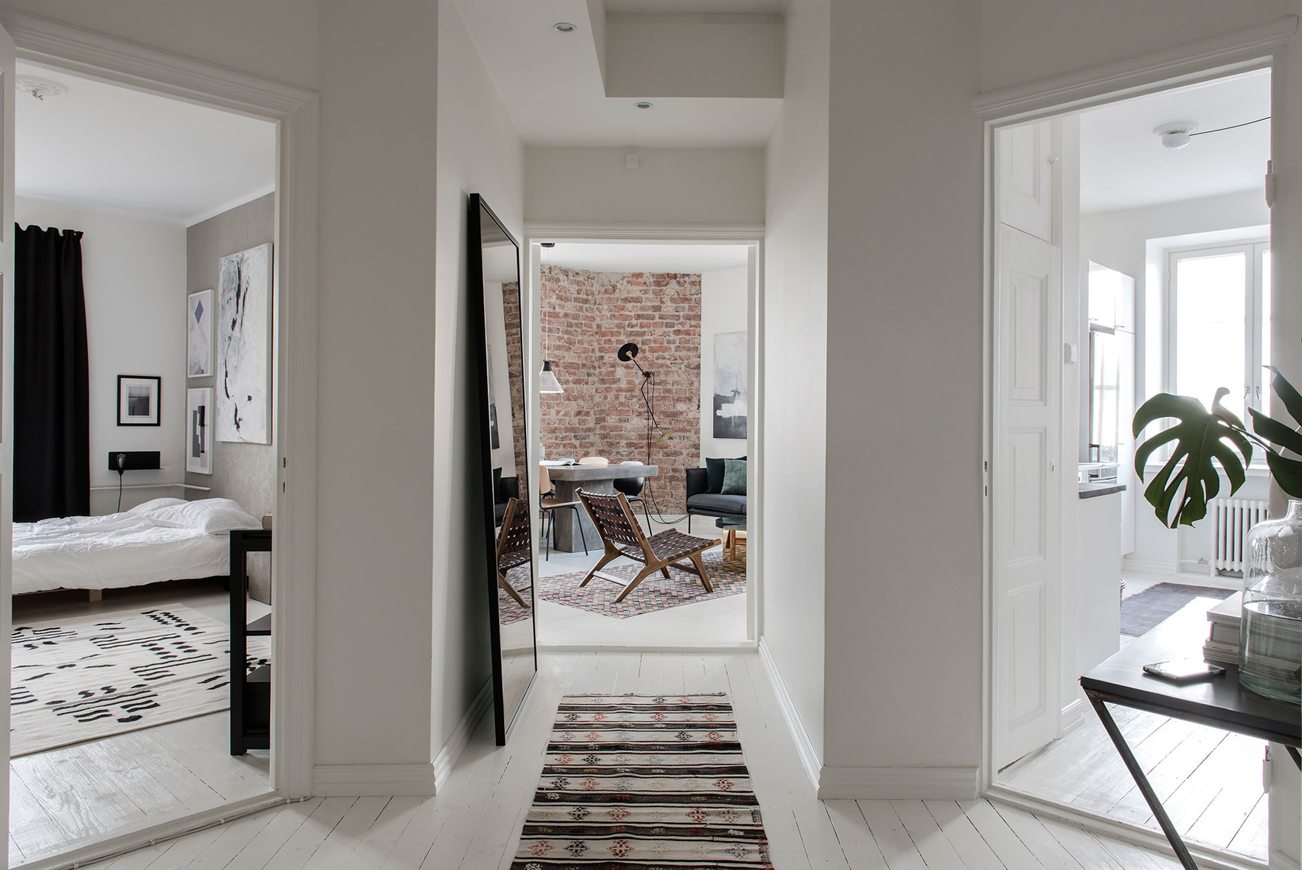 With the idea of an 'industrial and luxurious yet cosy New York-style hotel room' in mind, Laura Seppanen ensured the interior was incredibly versatile, and began by utilising the three-metre high ceilings to give the illusion of extra space and light – despite the apartment only being 72-square metres in total.
The simple design ethos transfers into the interior's colour palette, as the white and grey backgrounds are punctuated with subtle strokes of black and white, with natural colours and textures of wood and brick adding extra personality. The living room, as well as being the epicentre of the apartment, also acts as the perfect illustration for the design of the home. The original, custom-made works by Finnish abstract artist, Tanja Meski, for example, are displayed on the white-painted sections and the walls and they offset the adjacent exposed brick wall. Elsewhere, the monolithic concrete dining table adds depth to the entire room, but it is still overshadowed by the walnut wood piano which has been given a fresh makeover from Finnish graffiti artist Otto Maja – to now feature a swirling pattern of 'paper planes' sweeping across the front.
Take a tour of the Helsinki apartment in the image gallery above and be sure to follow Laura Seppanen on Instagram, @laurajuulia, and Facebook to keep up to date with all her latest projects.
Photography by Pauliina Salonen