Solar powered watches have been around for decades, but they're finally receiving the attention they deserve, thanks to an ever-increasing collective concern for the planet and a resulting shift in consumer habits. You see, a solar watch doesn't require a charger or battery and relies solely on the sun – or any source of light. This reduces the amount of landfill waste that would otherwise be produced from non-reusable batteries. It also means that you can go about your daily life without having to worry about regular watch maintenance. Eco-friendly and effortless, what's not to love?
Many of the leading watch companies offer limited ranges of solar powered watches alongside their broader offering, but there are relatively few brands that are solely dedicated to the category. One such label is Solios, a Canadian start-up whose solar powered watches are as stylish as they are sustainable. Read on for the full-low down on Solios, plus a detailed Solios review, with our own thoughts on the brand.
What's the story behind Solios?
Solios is the brainchild of two Montréal-based friends, Sam Leroux and Alex Desabrais, both long-time watch collectors and entrepreneurs at heart, with a shared desire to launch a business that would have a positive impact on the world and challenge current lifestyle habits.
It was while holidaying in Greece together that they noticed a profusion of minimalist style. Under the heat of the Grecian sun, a product idea came to them: a watch that combines minimalist design with sustainability and solar power. Months of research into materials and technologies led the pair to launching an ultra-successful Kickstarter campaign. And so, Solios was born in 2018.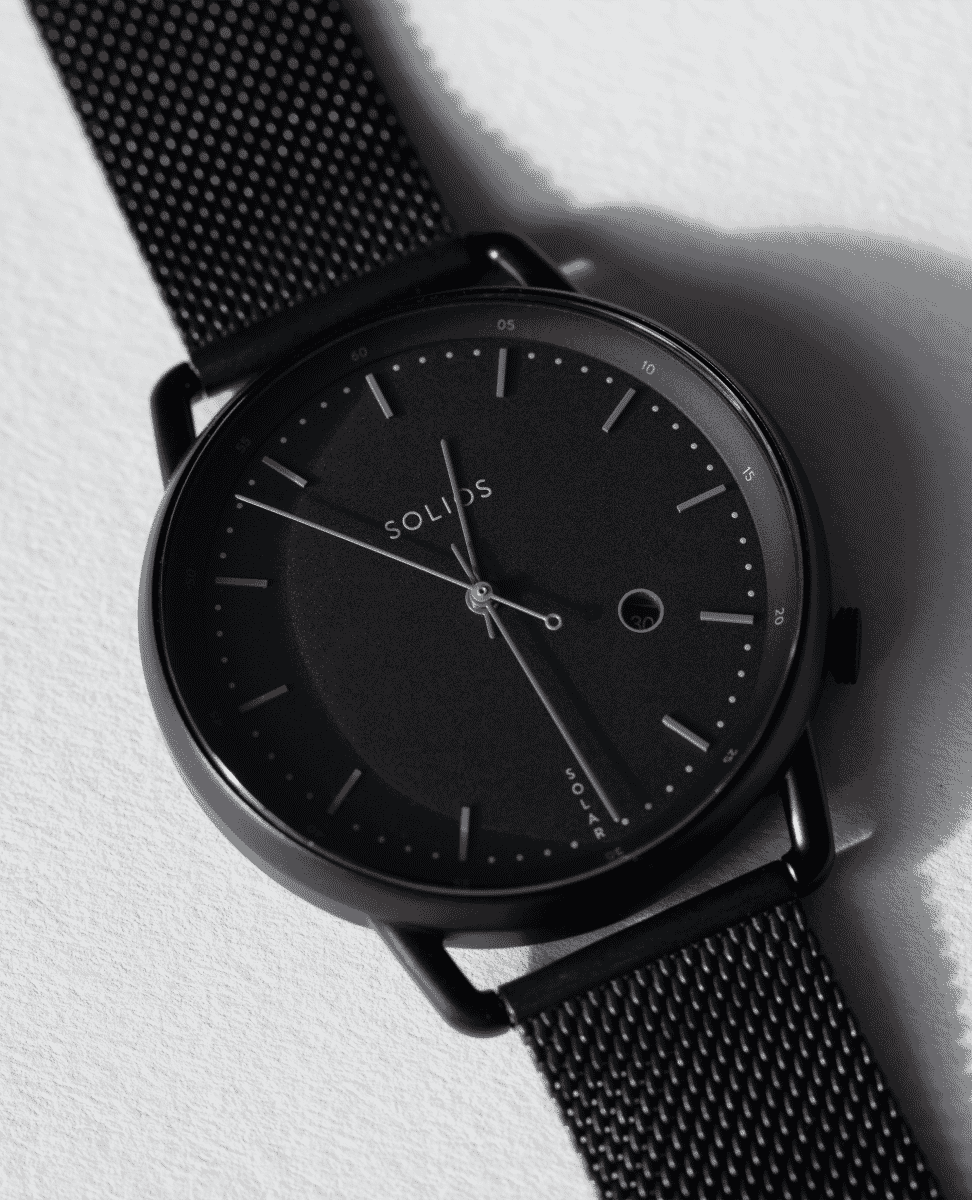 How ethical is Solios?
Solios remains committed to the original sustainability goals upon which it was founded. Alex and Sam see the wearing of a Solios watch as both a reminder of one's true priorities as well as a conversation starter for friends who might be interested in bettering their consumption habits.
"A single person can't have much of an impact on the planet, that's the unfortunate truth," says Alex. "But a mass of people can initiate a movement in the right direction. And if Solios can have a multiplying effect, if one person wearing a solar-powered watch can inspire five people to opt for a responsible consumption alternative, we'll have accelerated a wave of change."
Solios is the first watch company to become B Corp certified, meaning that it is legally required to "consider the impact of its decisions on workers, customers, suppliers, community, and the environment". Materials – including recycled stainless steel and cork vegan leather – are carefully selected for their sustainable properties (all Solios watches are 100% vegan). Plus, the brand donates to The Rainforest Trust, which protects endangered rainforests around the world. For each Solios watch sold, one acre of rainforest is restored.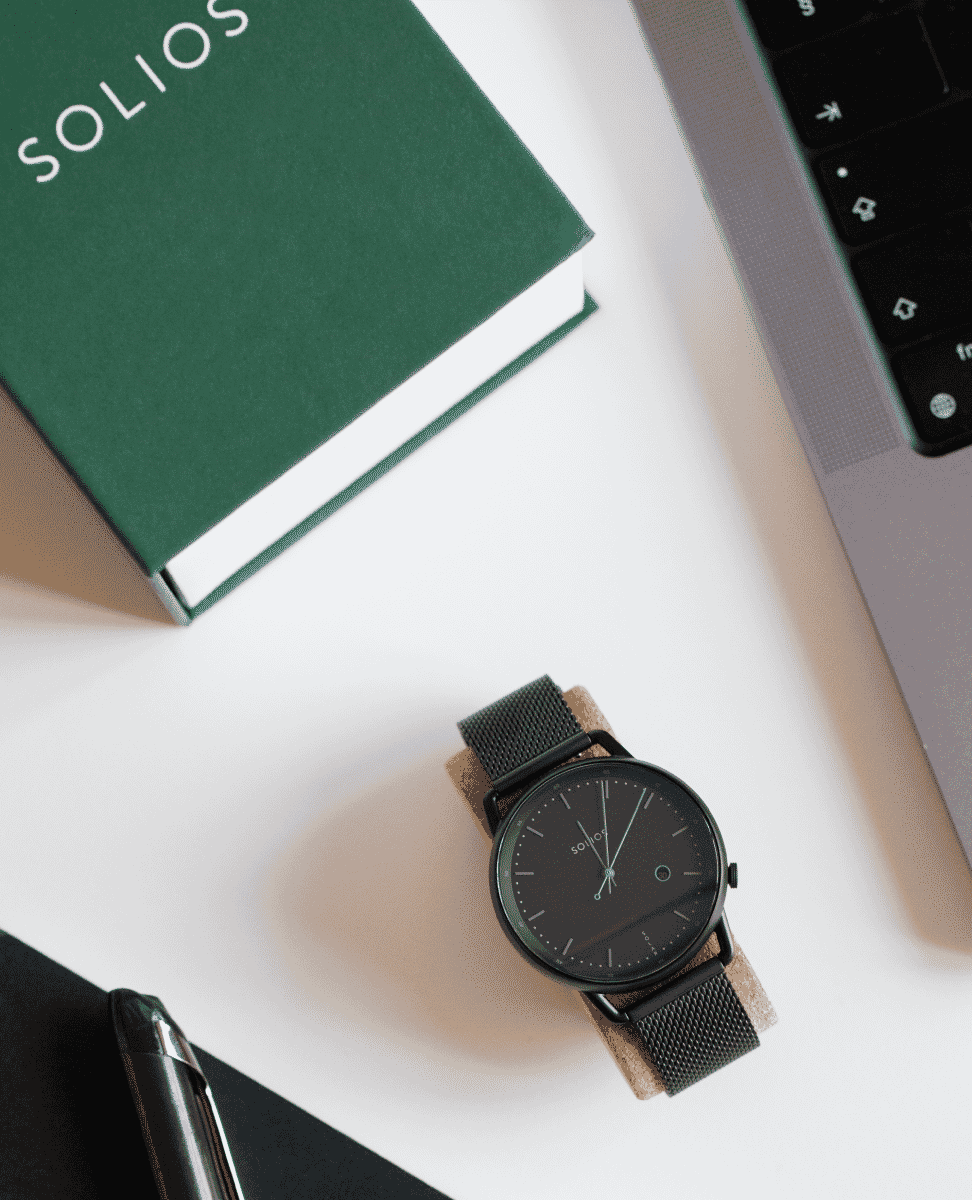 How do Solios watches work?
Each Solios solar powered watch comes with a tiny invisible solar panel that's hidden beneath the dial. It's small, but mighty, and enables your Solios watch to last a lifetime, relying purely on the power of light. Any light will do – natural or artificial. After two hours of light exposure, the solar cell can hold a power reserve of six months. So you can safely let your watch sit in a dark drawer for a few days without worrying.
Solios review
I've so far spent three weeks wearing Solios' bestselling Solar Watch. Here are my honest thoughts about the timepiece, including what I loved and what I think could be improved...
Solios Solar Watch
Specifications
Movement:

Quartz Solar Powered

Power Reserve:

6 months

Rechargeable:

With natural and artificial light

Glass:

Sapphire Coated Hardened Mineral Glass

Case:

Certified recycled stainless steel

Case Thickness:

8mm

Lugs (and strap) width:

18mm or 20mm

Lug to lug:

42.3mm or 47.0mm

Water Resistance:

3ATM (rain resistant)

Strap:

Easily interchangeable
Reasons to buy
Can be fully charged for 6 months with just 2 hours of natural or artificial light exposure

Solios is a B Corp company

No need to replace batteries

Strap can be swapped
Things to consider
Limited selection of watches to choose from

Only rain resistant - not appropriate for swimming or diving
Packaging
I was super impressed with the packaging that the Solar Watch came in. Keeping in line with Solios' sustainability commitments, the packaging is handmade locally in Montréal from 100% recycled and recyclable materials. Inside the box is a little sleeve with a mini pamphlet all about Solios, as well as a card detailing how to adjust the watch. The box also features a watch pillow, which is sustainably made from cork.
The look of the packaging is clean and minimalist, making use of a nature-inspired green and white colour scheme, with neat graphics and satisfying fonts.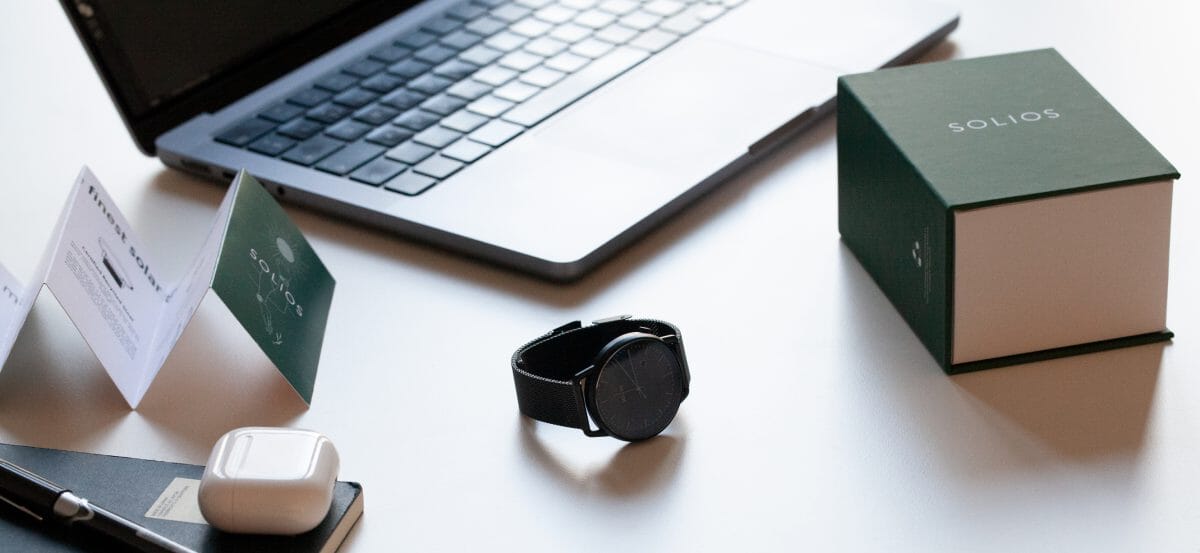 Style
The overall look of a watch is essential when I'm selecting a new timepiece to add to my collection. I tend to opt for sleek, minimalist accessories that complement rather than distract from the rest of my outfit, so I was very excited about the understated Solios aesthetic. I went for the classic combination of a black dial, black case and black mesh strap, in the 40mm size (36mm is also available). The dial is perfectly pared back and easy to read, with subtle silver hands and silver markers. There are no numerals or date box, which suits me just fine as I prefer an uncluttered look.
The mesh metal strap is also kept as low key-looking as possible. Plus, it's interchangeable, so you can easily swap it out for another Solios strap in a different colour mesh or vegan leather. Perfect for the indecisive among us (myself included).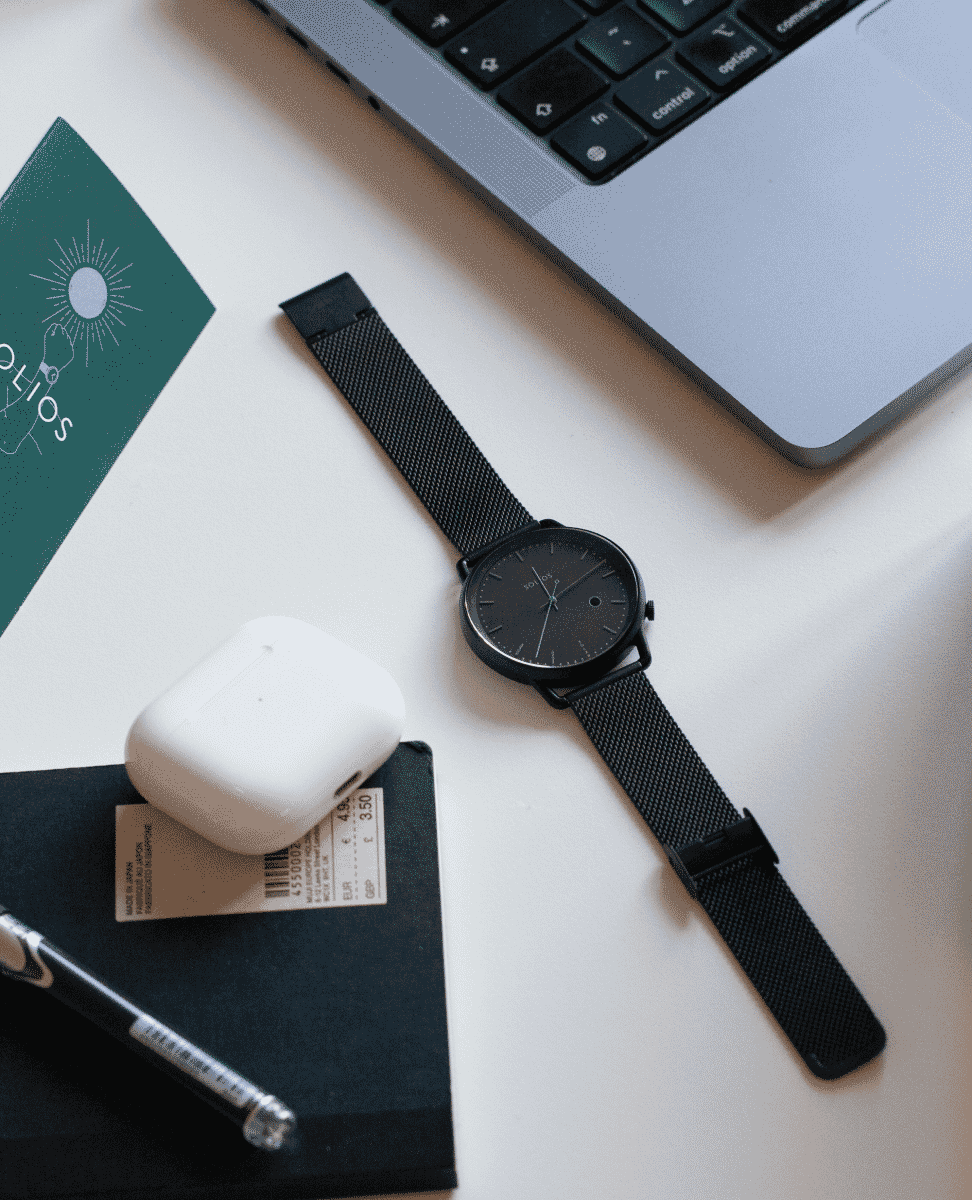 Comfort and wearability
I've been wearing the Solios Solar Watch all day every day for three weeks now, and I often forget I'm even wearing it, which is testament to its high comfort level. I can go about my daily tasks, including working, running errands and exercising with ease and without having to worry about it too much. As it is only rain resistant, I can't swim with it, but that's no problem as I have dedicated sports and diving watches that I can wear. The sapphire-coated mineral glass isn't as protective as pure sapphire crystal would be, but it's certainly better than just mineral glass, and it protects the glass from everyday scratches and bumps.
Discover the best quartz watches for men in 2023
---
---