They'll dress up your casual pieces, dress down a formal look. They're ready for just about any occasion, with a touch of premium attitude. Dress sneakers have become a central part of the discerning men's wardrobe in recent years. That's not least because this is very much footwear for all seasons, whether that's drinks at a private members' club, with a tweed suit at the Goodwood Revival or just hanging out teamed with jeans and sweatshirt over beer and hot dogs at your local. We've taken a look around to select our favourite dress sneaker brands and come up with some enticing ideas - but first a few hints:
What makes a dress sneaker?
In a word: quality. Your dress sneakers are in part defined by what they're not: high street sports brands are best kept in the closet or at the gym when it comes to sneakers suitable for both casual and for cocktails. That, in short, is the aim: sneakers that will dress up your favourite worn-out jeans for Saturday strolling to the coffee shop and dress down a suit when you're out at that Michelin-starred restaurant.
So, what to look for? Handmade is just about essential and high-end leathers or vegan options - either smooth or in suede - are a must-have. You'll be wanting a quality outsole too - with leather lining another luxury option. Monochrome is a safe bet, and don't ignore other colourways that suit your personal style.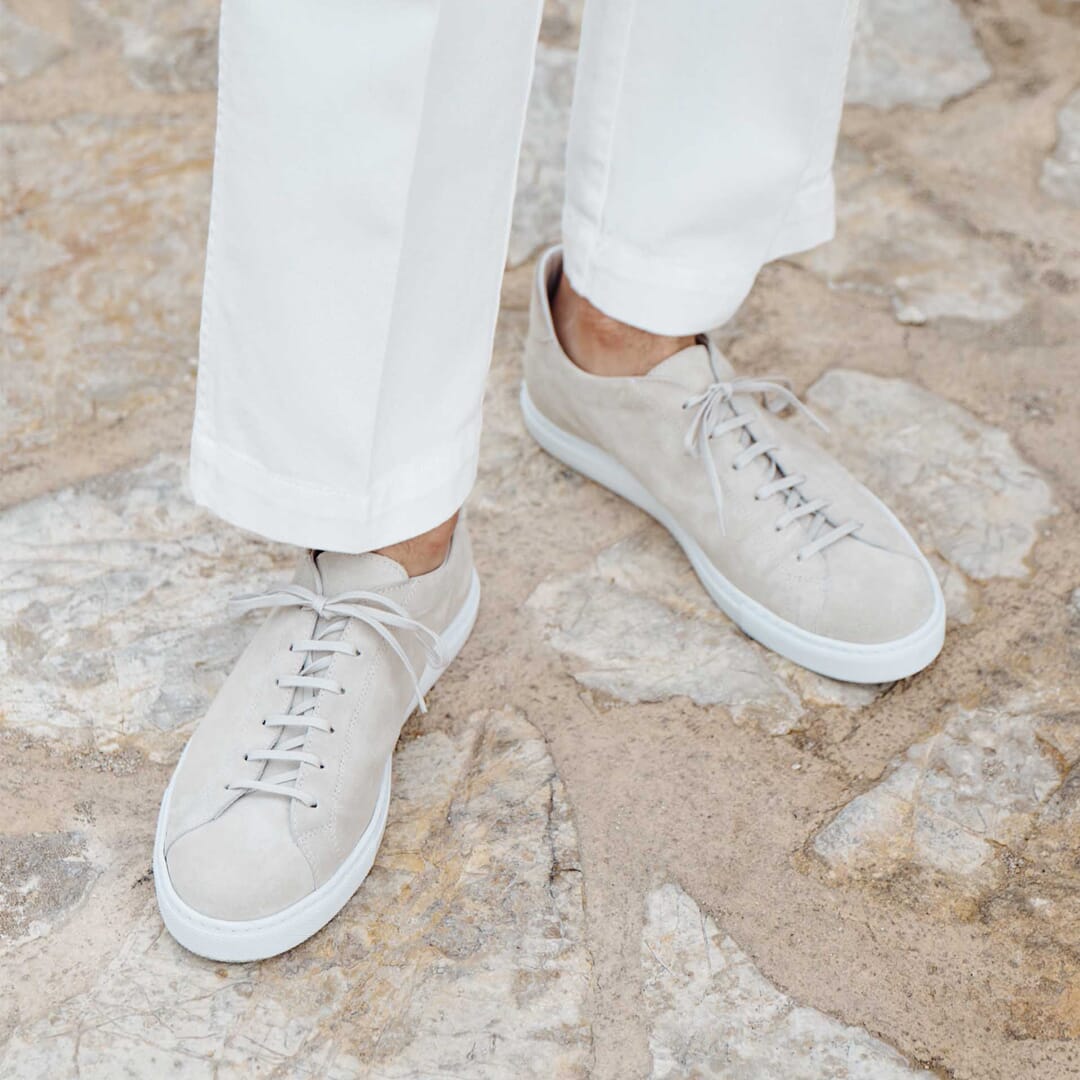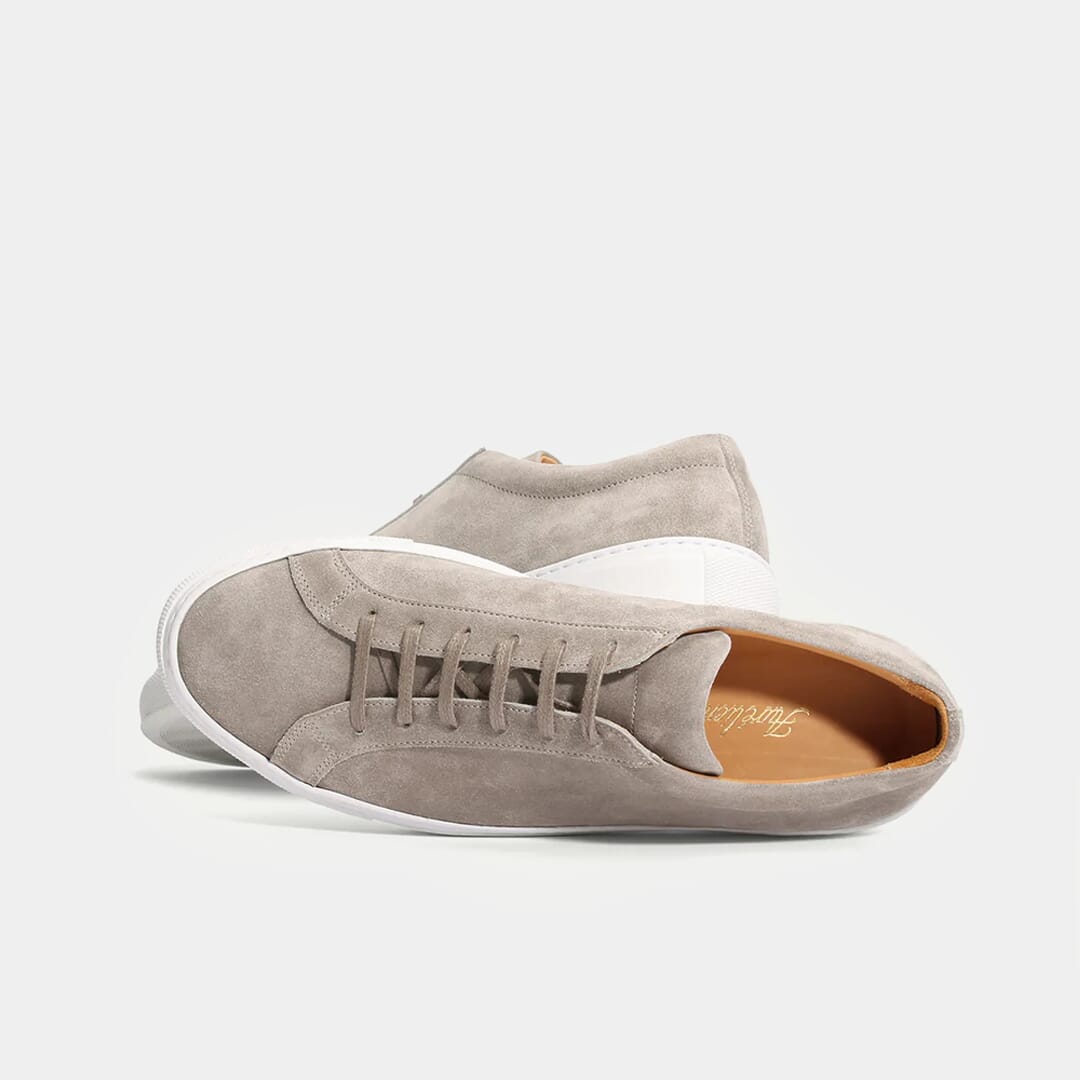 When it comes to silhouette: minimal is good, and a vintage sports look can work too, particularly given these are the nearest you're likely to be get, beyond commissioning them yourself, to couture sneakers. Guaranteed quality adds to the versatility of dress sneakers. Beyond the sneaker look, this is high-end footwear made to last. And last. The patina of age will simply add to their appeal. 
We've taken a look around to select our best dress sneaker brands for men.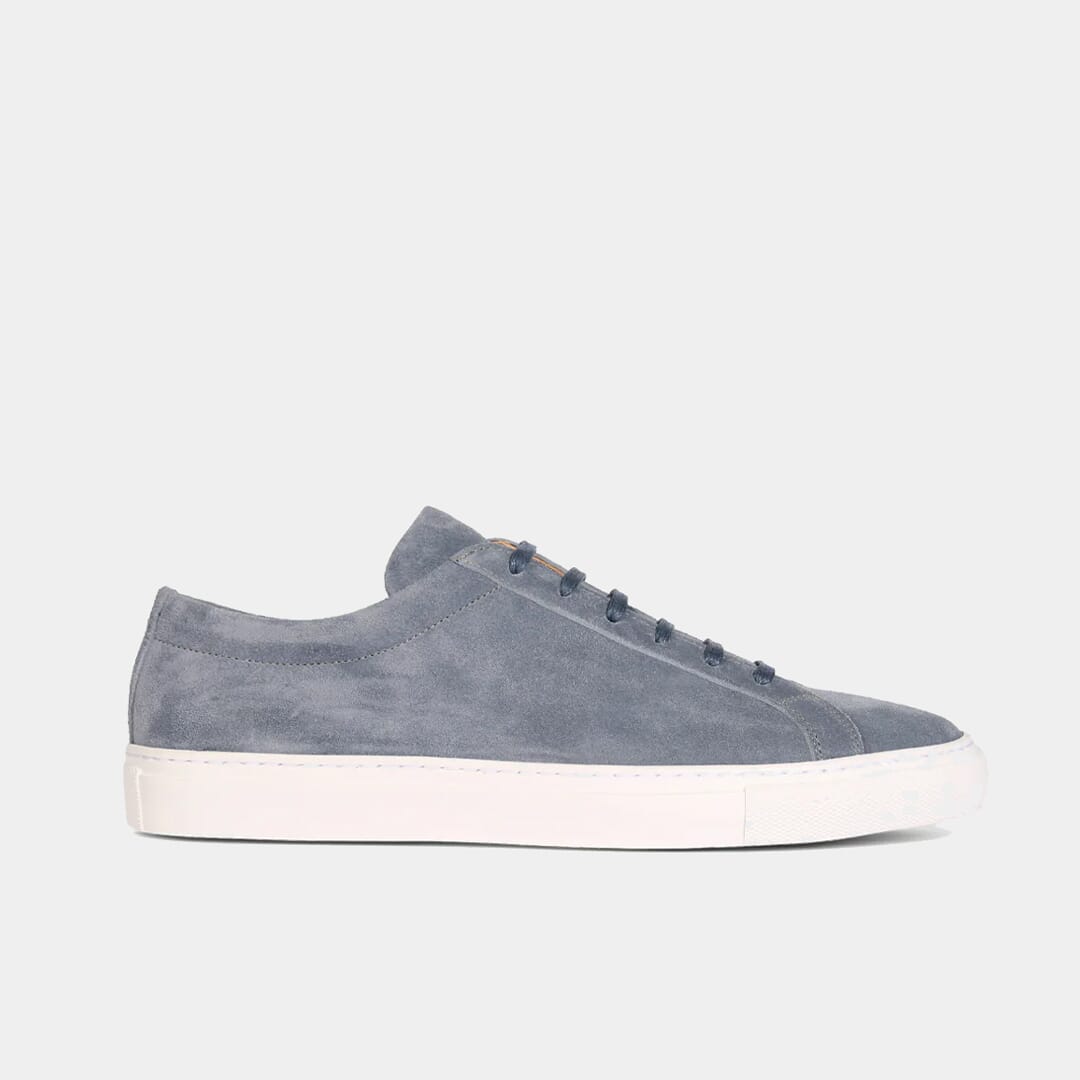 Best dress sneakers for men in 2023
Aurélien
The Mediterranean purveyors of "smart luxury" offer a wide choice of upscale dress sneaker options. Full-grain leather joins Aurélien's trademarked Softey Suede - in 100% French calfskin - among the options for construction of uppers and for linings. Artisanal crafting means there's a high level of expertise in each pair, that and cushioned rubber soles. A wide range of colourways allows you to add a personal stamp to your dress sneaker collection.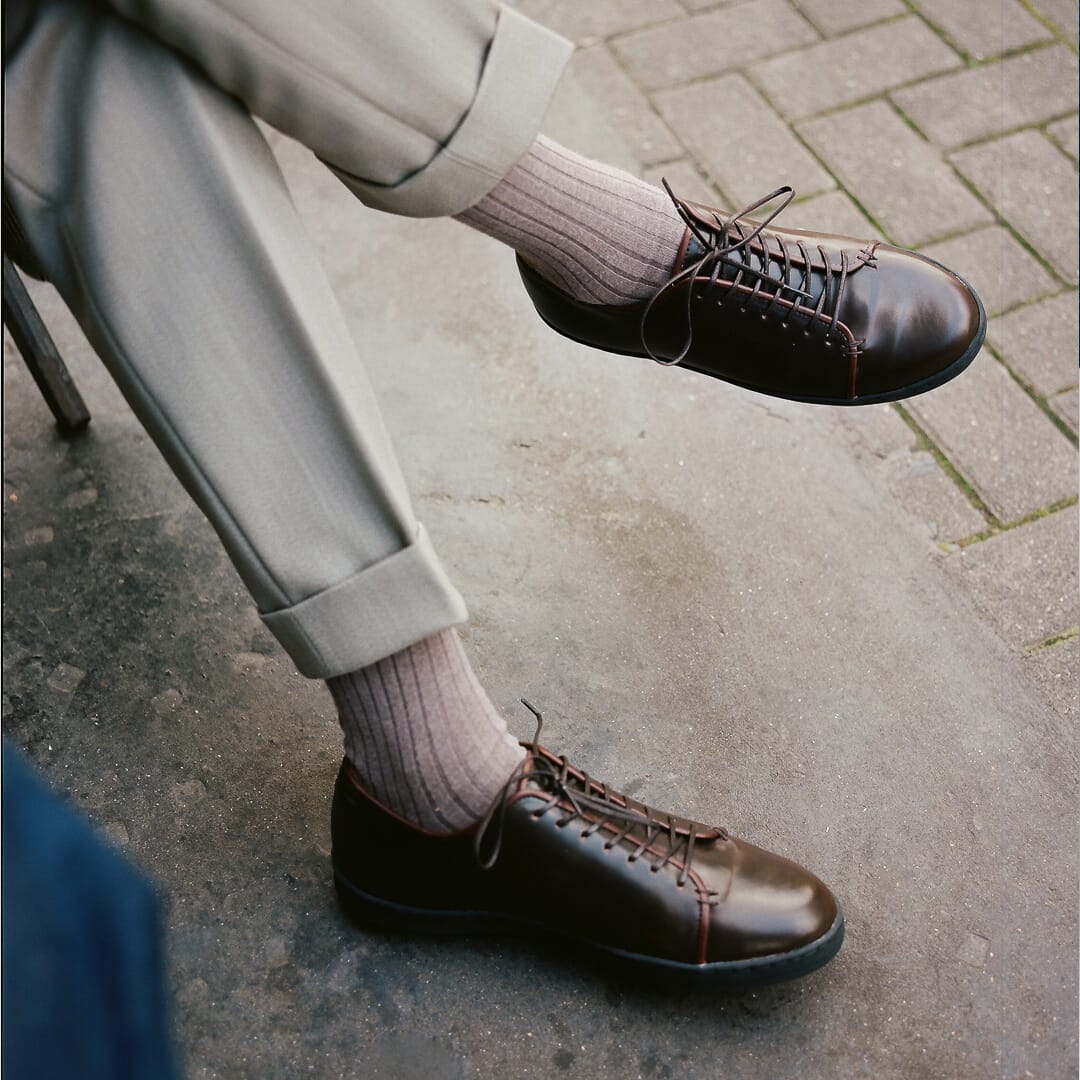 Crown Northampton
They know a thing or two about gentlemen's footwear at Crown Northampton, based in a city renowned for shoemaking and in business for more than 110 years. All of that history is hand-crafted into each pair of minimalist dress sneakers the company releases. Long-time suppliers Horween Company and C F Stead are responsible for the finest leathers and suedes, unique thermoplastic rubber soles are exclusive to Crown Northampton.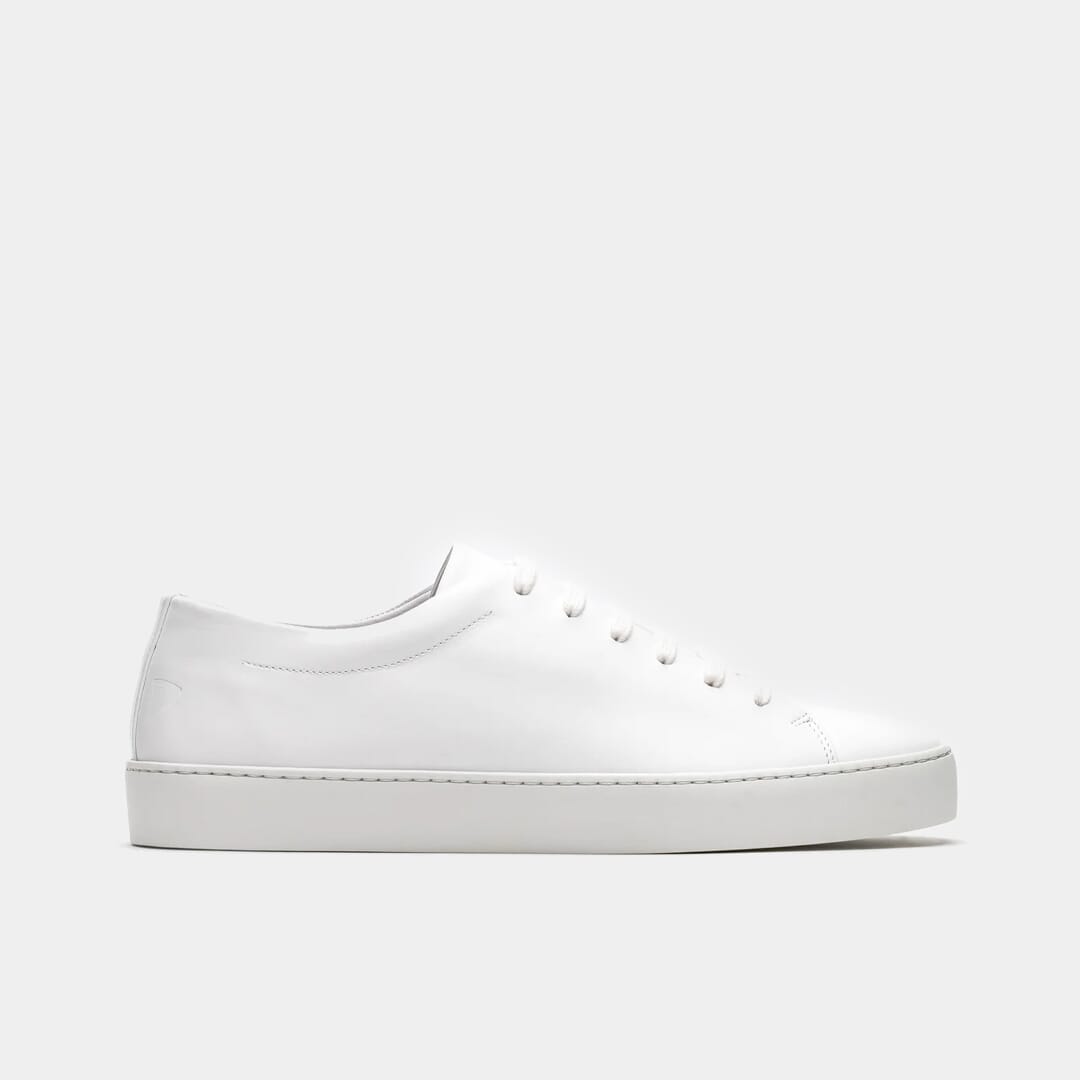 JAK
Innovative Lisbon label aims to redefine simplicity, with no compromise on premium quality. All sneakers are artisan-made in Portugal, with sustainability and ethics high on JAK's essentials list when it comes to choosing suppliers. Designs are minimalist in a range of all-season colourways, with elegant high-tops also available. Vegan options, with recycled elements, add to the appeal of this ambitious young brand.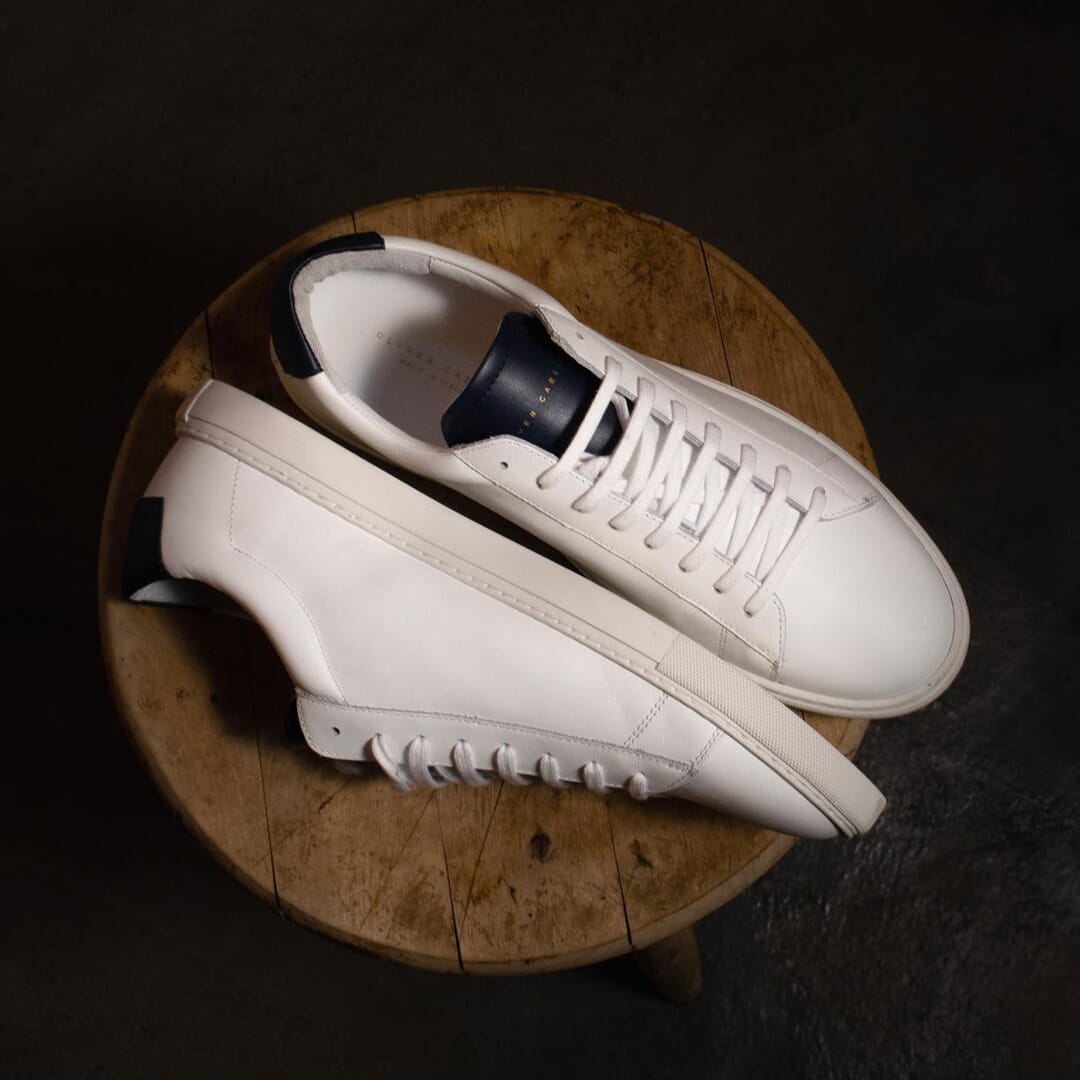 Oliver Cabell
Speciality of London-founded Oliver Cabell's handmade footwear, is combining latest materials with traditional techniques. Result is a select range of dress sneakers melding sophistication in design with Italian leathers, ethically sourced, and Margom outsoles, regarded as one of the industry's benchmarks. Oliver Cabell has won the attention of fashion aficionados for its exacting approach to casual footwear, not least because of this merging of casual style with long-established shoemaking methods.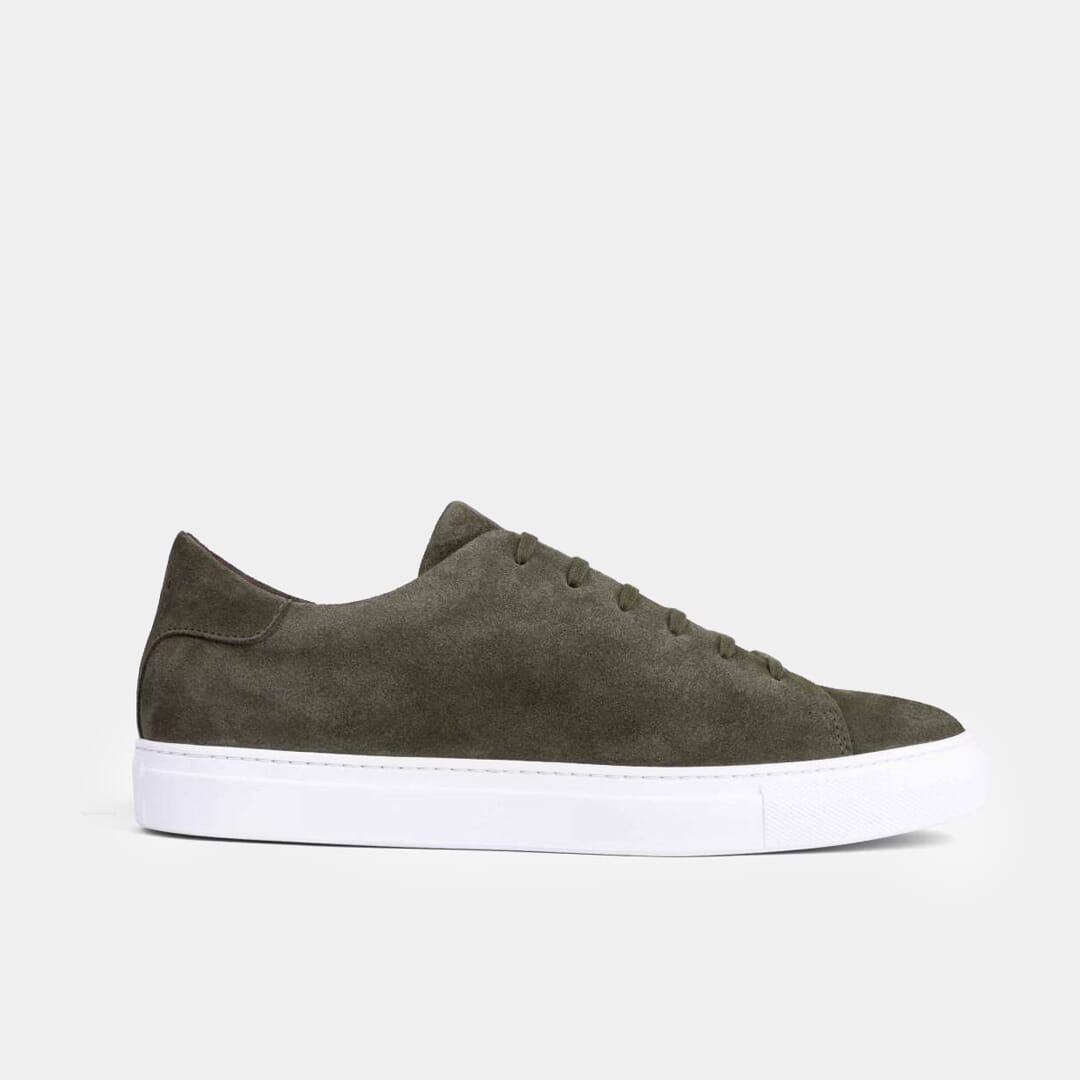 Dalgado
A quietly distinctive silhouette is ideal for a dress sneaker, and that's exactly what's on offer at Dalgado, the German design studio behind some rigorously imagined footwear. Quality and sustainability is built in to each pair they release, using high-end Italian leathers. Crafting is in long-established studios in Portugal, with high-tops and low-tops on offer in a range that takes in suedes and smooth leathers. Satisfyingly obsessive in quality and construction.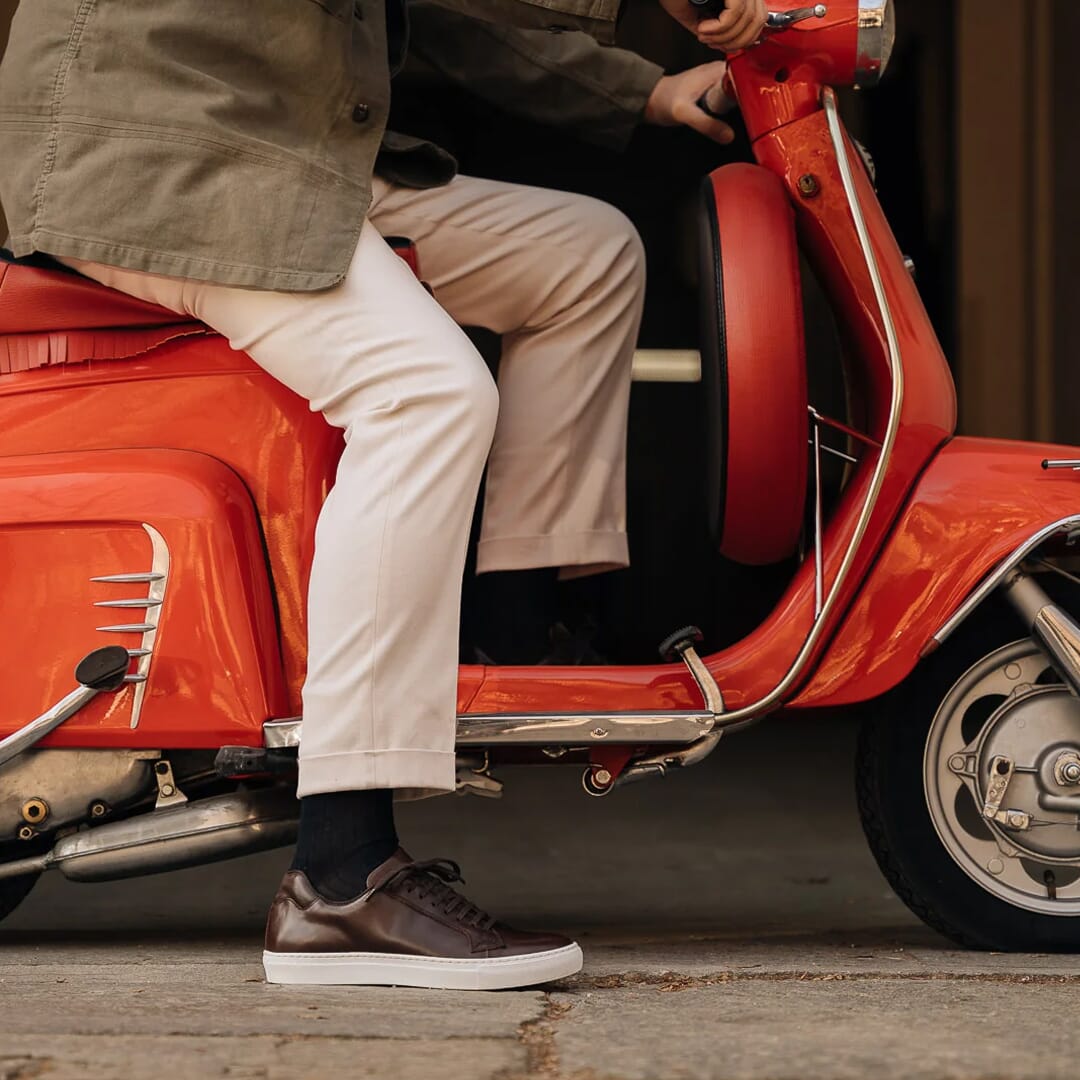 Velasca
Seasonless style is key in choosing your next pair of dress sneakers, and Velasca's stated aim - pieces that are "free from the decrees of fashion and the passage of time" - makes this Milan-based label the ideal choice. All pairs of sneakers in deliberately limited range - minimalist low and high top, lined and unlined - are proudly Made-In-Italy, using calfskin in smooth and suede variants. Rubber soles complete an Italian essential.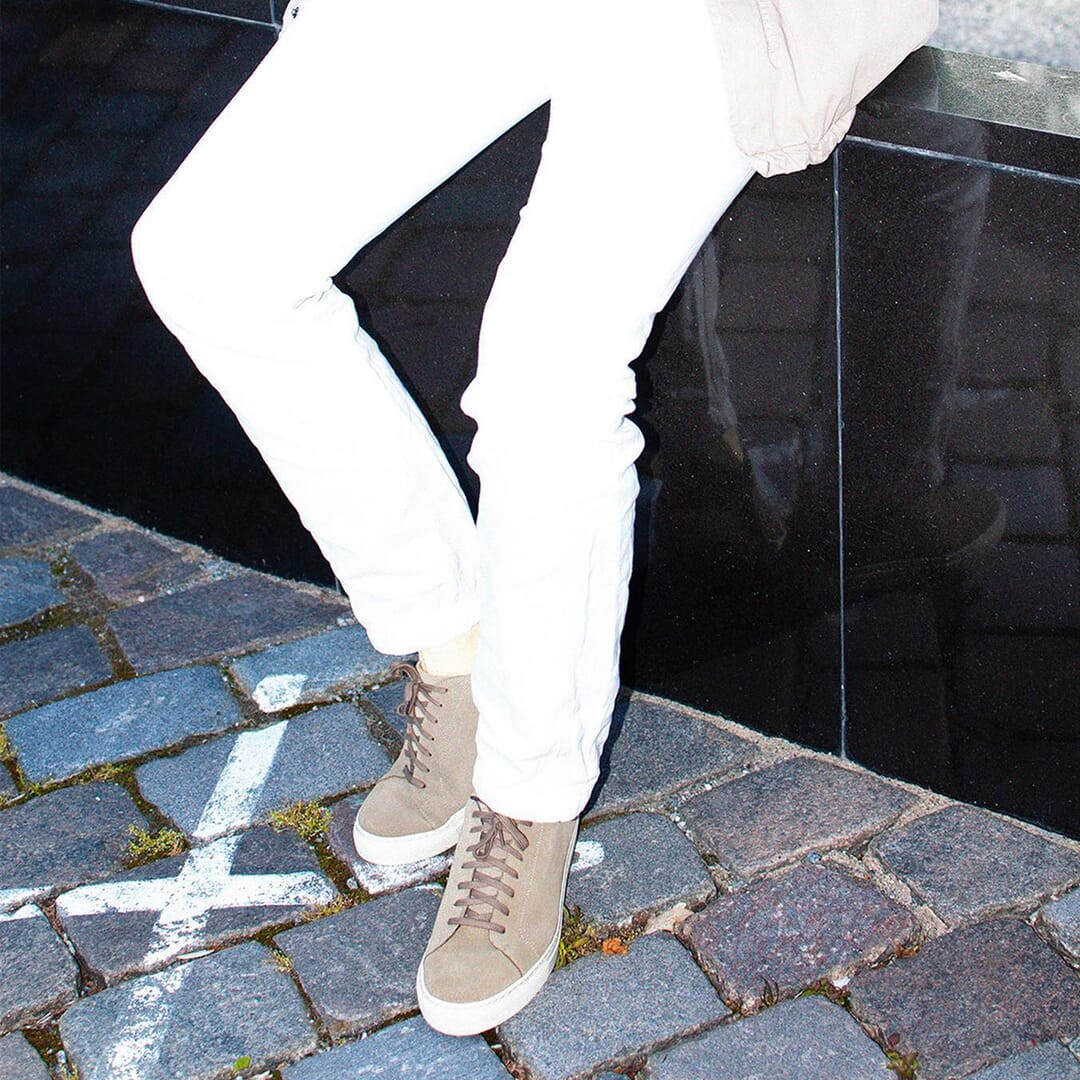 Myrqvist
Founded with the aim of providing more men with "the refined feeling of handcrafted shoes", Sweden's Myrqvist cuts no corners when it comes to the quality of their sneaker range, specifically designed to work in casual or more formal settings. All shoemaking is in established studios in Portugal, using time-honoured techniques. Sneakers are available in a wide range of suede colourways, as well as in smooth calf leather.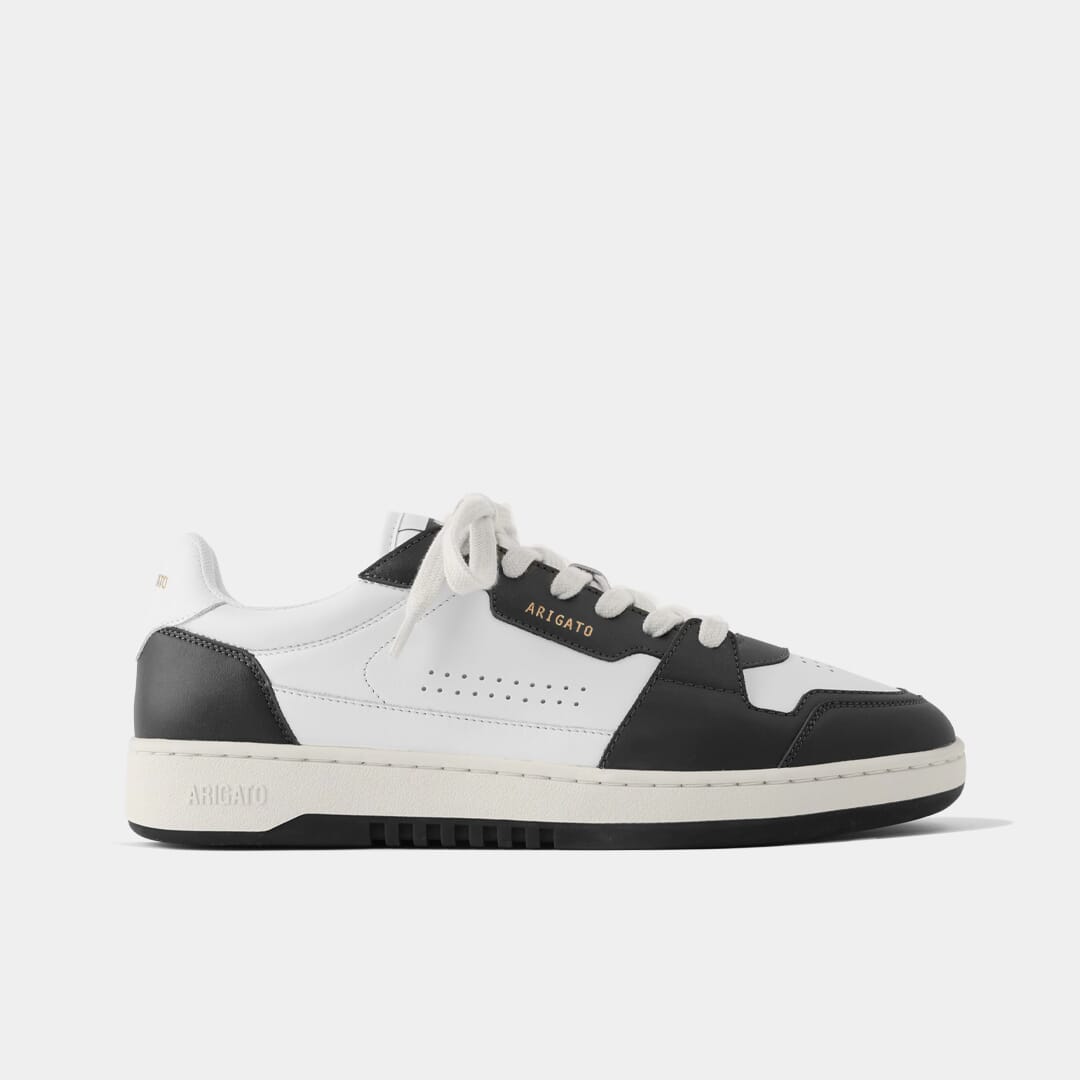 Axel Arigato
Choose from a selection of silhouettes at minimalists Axel Arigato. Swedes Max Svärdh and Albin Johansson emphasise "quality, craftsmanship and longevity" in all that they produce. Dress sneakers here range from form-follows-function smooth premium leather to vintage inspired sports-style sneakers that can easily finish off your suit with a dash of real panache, not least because of their hand crafting in Portugal. 
Discover the best classic sneakers of all time.
---
---