Funny what those trends throw up, isn't it? The humble men's sweater vest, or knitted vest depending on your terminology, is back in the mix. Thought it was resigned to cliched jokes about nerds on TV shows? Think again. Harry Styles has been wearing knitted vests for over a year now. He was especially fond of one with flowers on for a while. He walked so you can run.
Men's sweater vests have come a long way. They're not those itchy, heavy gauge potato sacks with arm holes that you might remember from yesteryear. They're boxy now, they're preppy, they're for wearing when it's warm out or for adding another layer underneath if it's cold. They're channelling '70s prints in a cool way and they're coming at you from high and low, be it Prada or Uniqlo.
Of course you need one. So we've pulled together a few of the best knitted vests for men right now, with a helpful styling primer on how to wear one.
How to style a knitted vest
There's a lot of inspiration out there when it comes to knitted vests for men. Harry Styles for instance looks best wearing his with a high waisted wide-leg trouser or flare, with a large collar shirt underneath, slightly unbuttoned with rolled up sleeves. All very '70s but also not at all as out there as his other outfits.
You don't have to don the flares per say, but you can channel Harry with a notably more vibrant sweater vest with a relatively simple white or neutral coloured shirt underneath. The shirt and knitted vest combo is an obvious one. This can be dressed up, with the layering element aiding suiting or dressed down with a simple trouser and sandal. Very Universidad prep.
Ryan Gosling is a good reference too. He's been known to don a knitted vest with slight patterning over a white T-shirt. He's also been spotted with one underneath a denim jacket. Tyler The Creator goes one further, channelling what can only be described as skateprep via the golf course with a vest and T-shirt combo above simple shorts and loafers with white socks.
The aim really is to work a knitted vest's layering abilities to your advantage, let the print on the vest do the heavy lifting and make sure there's subtle, but not overbearing contrast against what you're wearing above or underneath.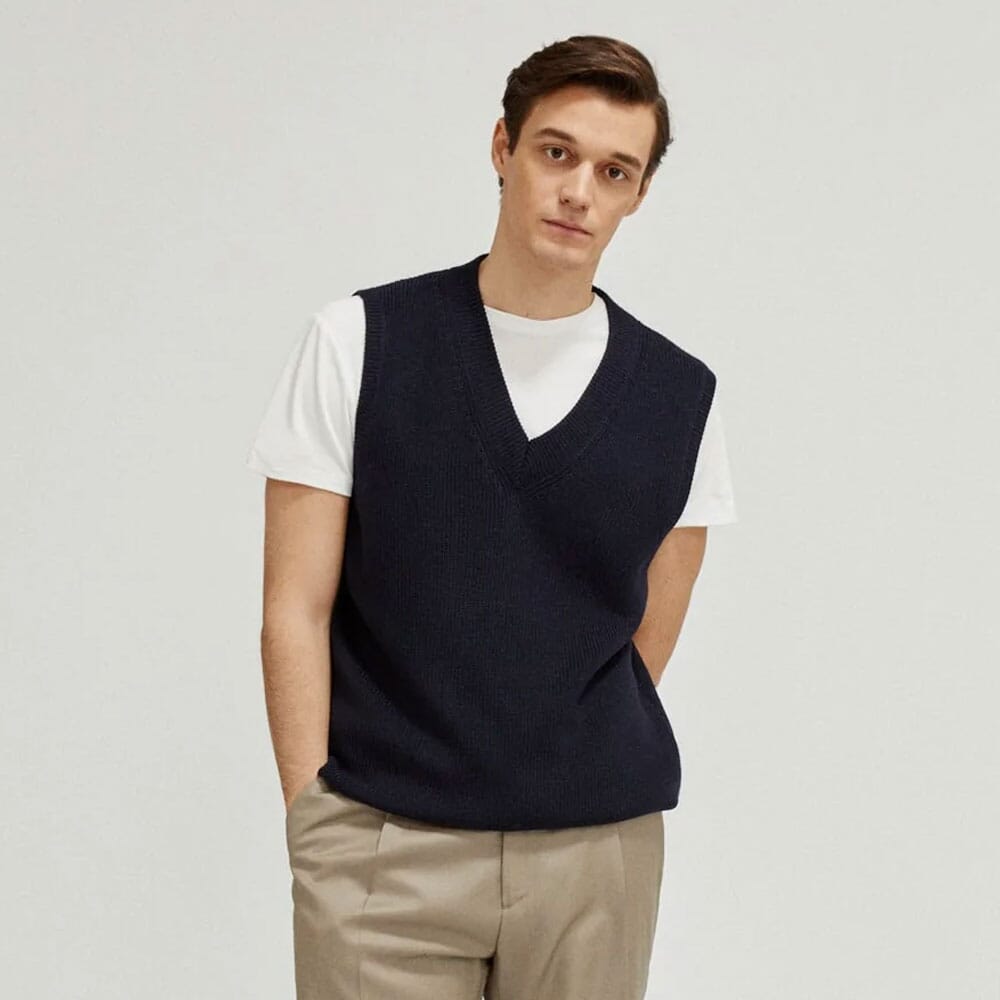 Best knitted vests for men in 2023
Artknit Studios Merino Wool Vest
You're going to see a lot of extra fine merino wool knitwear knocking about the men's sweater vest arena, and rightly so. You want one to feel soft and effortless, comfortable to the touch (skin even, if you're wearing it without anything underneath) with the benefits of breathability. Don't underestimate the breathability of premium quality merino wool. Artknit Studios' iteration is a V-neck, rib stitch number with ribbed collar, hem and armholes. Available in four natural tones, and using premium Italian heritage craftsmanship it's great for wearing over a simple white tee and some navy or beige pleated trousers.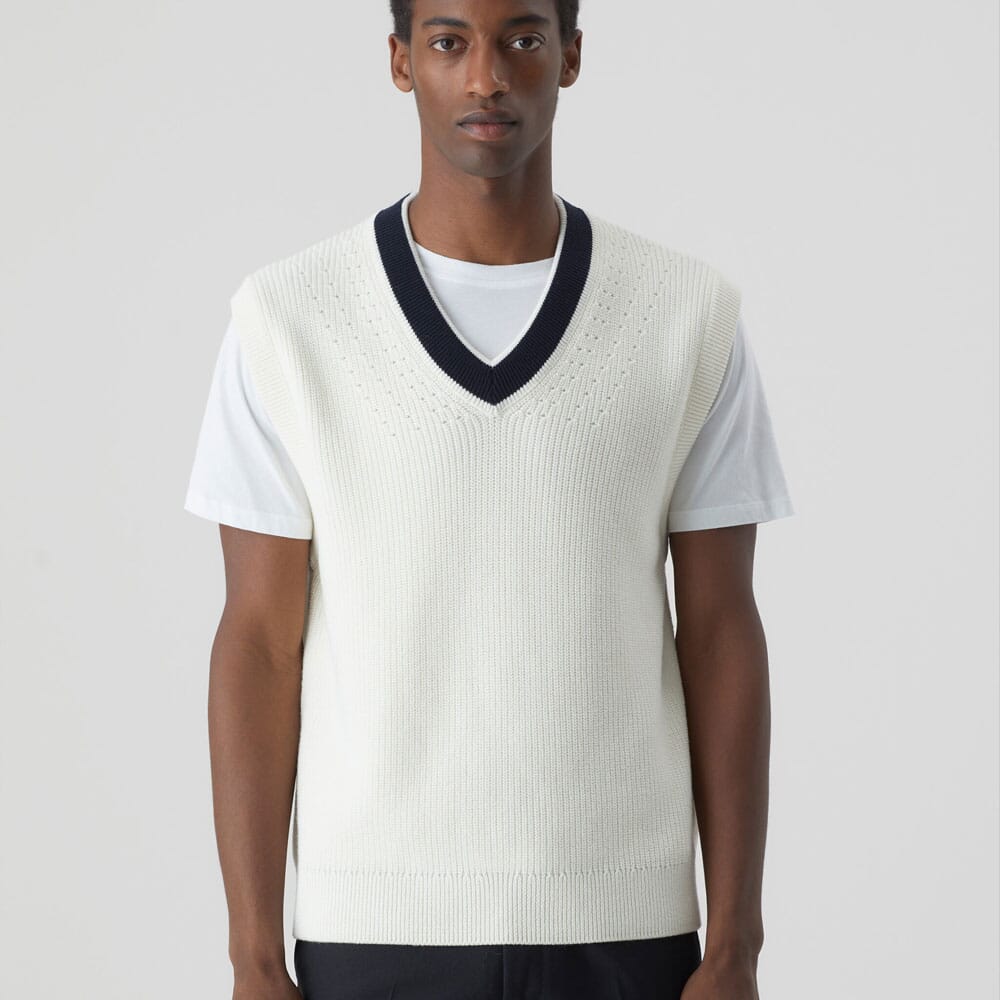 Closed College Sweater Vest
See, knitted vests for men are miles away from Wallace and Gromit. I mean look at this from Closed. Look at that fantastic bold V-neck and prominent stitching. Look how great it looks on top of a plain white t-shirt but also imagine how warm and comfortable that would be as summer moves to autumn. Made from a soft wool cotton mix, this medium weight knit has a fisherman's rib with openwork details around the shoulder and ribbed cuffs. It's casual and that bold contrast V-neck is gagging to be set off against a great jacket.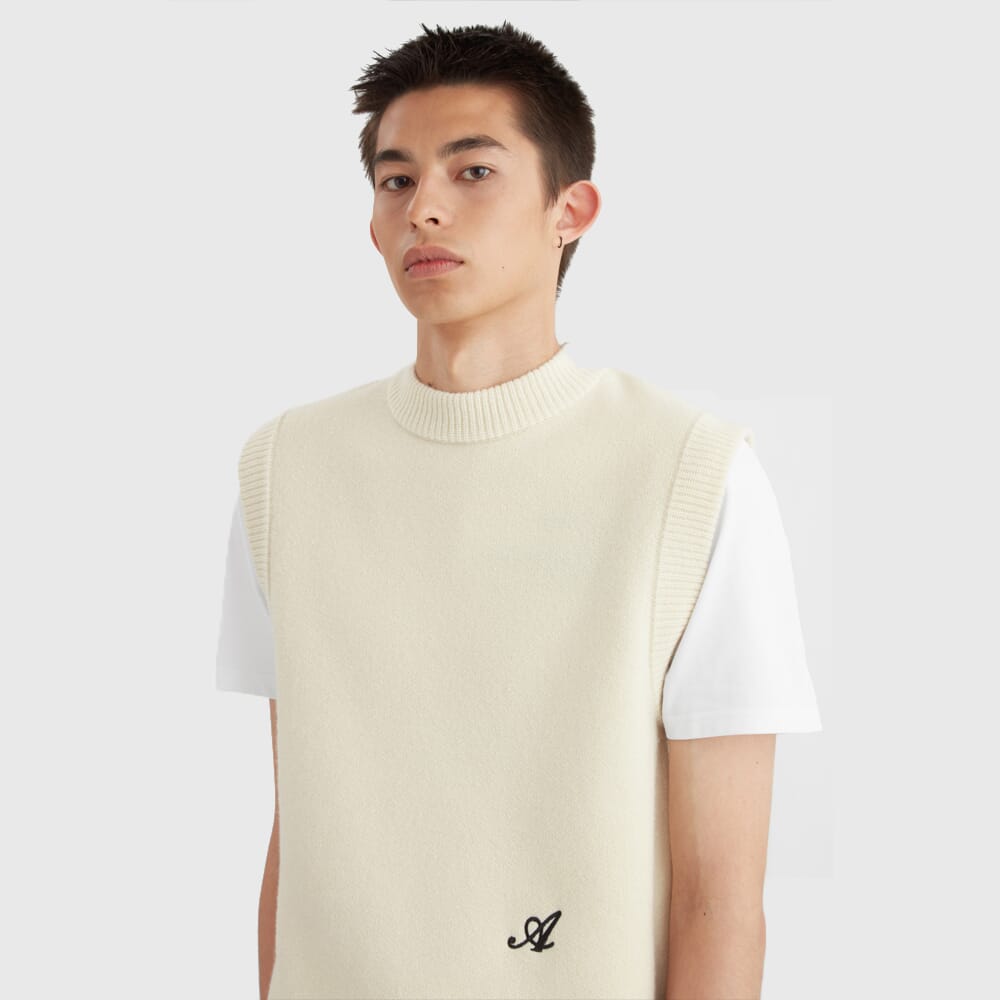 Axel Arigato Memo Vest
Axel Arigato's Memo Vest is a minimalist knitwear staple that you'll reach for time and again. Crafted from 100% lambswool, it's as cosy as they come. Team it with a plain tee, tailored trousers and leather trainers for a contemporary take on smart-casual style. Perfect for the office or everyday errands.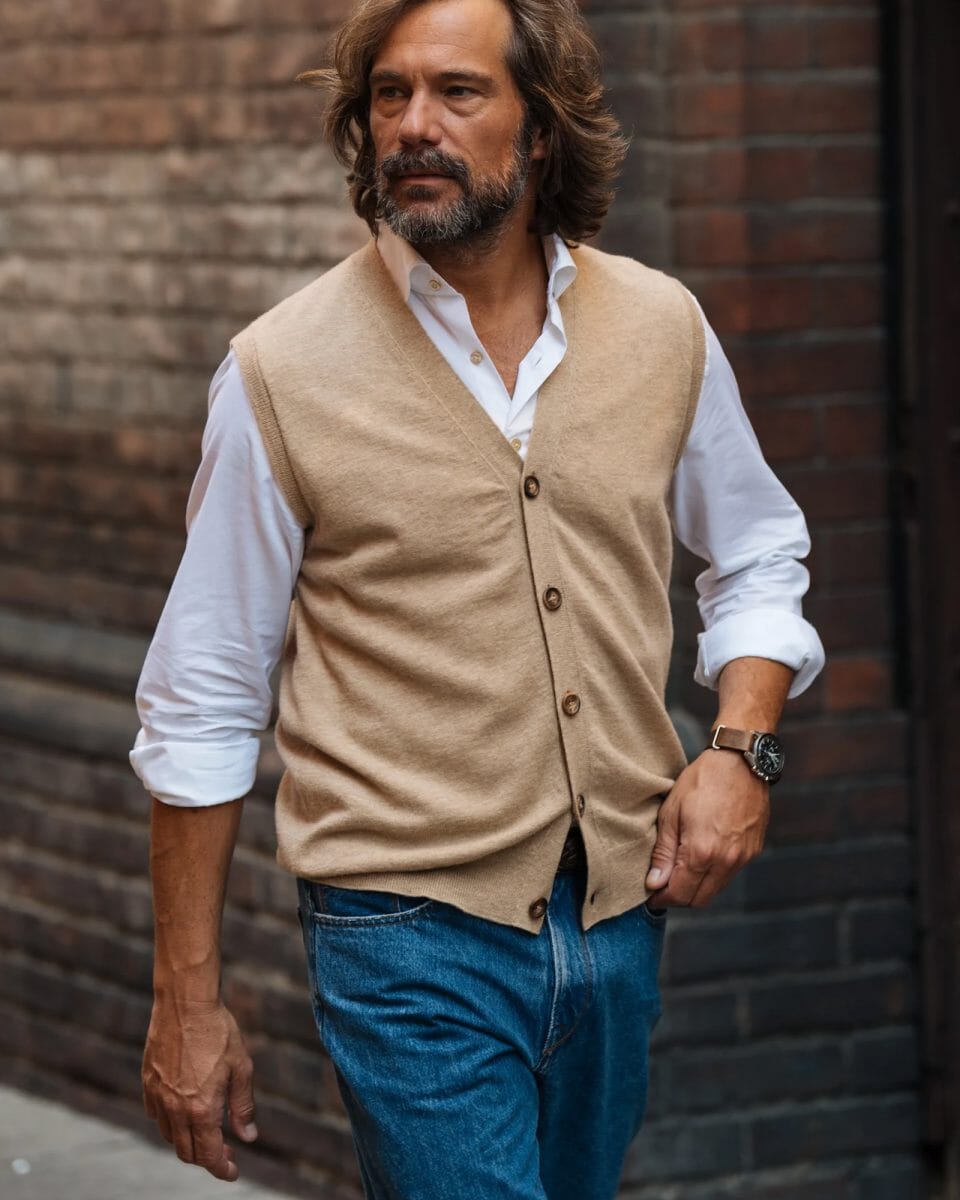 Velasca Arrone Sweater Vest
For a touch of laid-back luxury, look to Velasca. The label's Arrone sweater vest is beautifully crafted in Italy from 100% Merino wool and features four dark horn-effect buttons so that you can wear it buttoned or unbuttoned. Throw it on over a crisp white shirt and team with your go-to blue jeans and Derby shoes for an effortless look that will take you from day to night.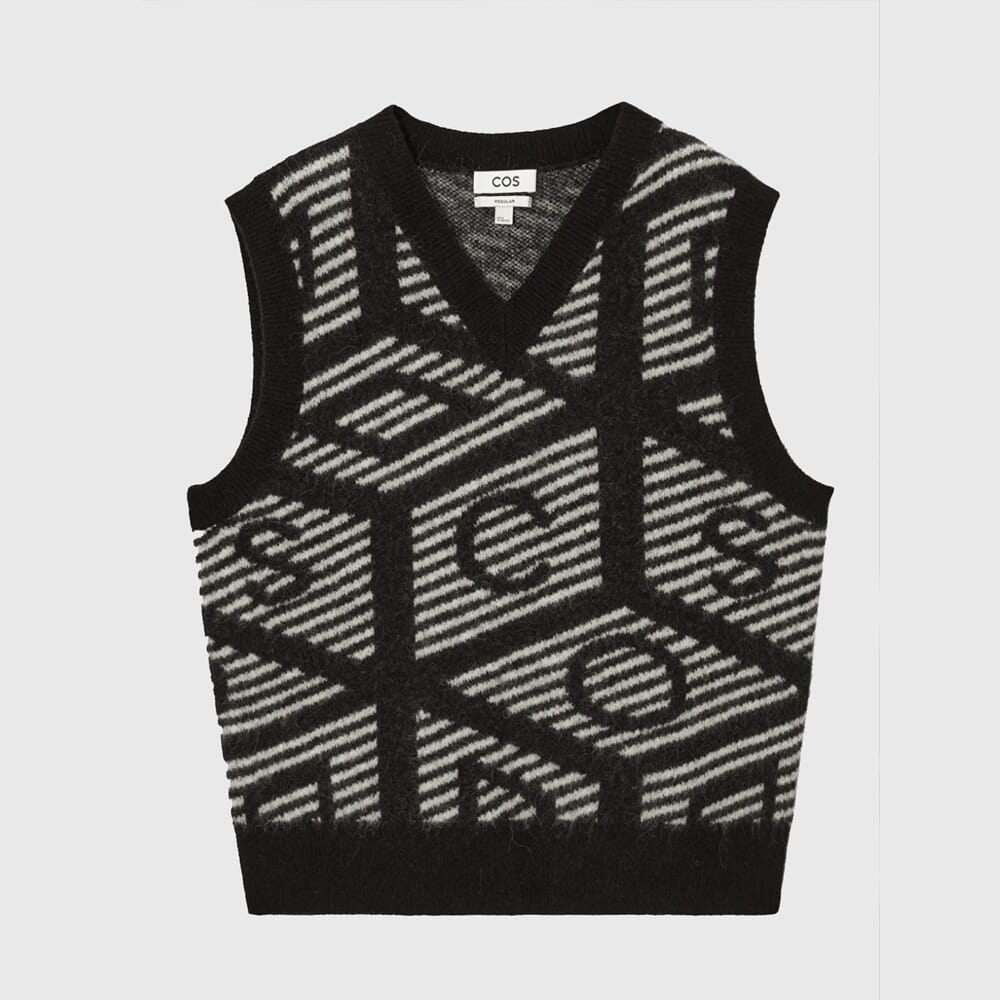 COS Logo-Jacquard Alpaca-Blend Vest
COS is the sort of place that you can rely on for a solid sweater vest. Sweater vests are premium COS. The brand's alpaca-blend V-neck knitted vest in a prominent geometric jacquard pattern is the ideal pop of colour to be contrasted against dark trousers and a trademark chunky sole COS-complimenting brogue. White Oxford shirt or T-shirt underneath, your choice.A boxy, relaxed fit lends it perfectly to layering.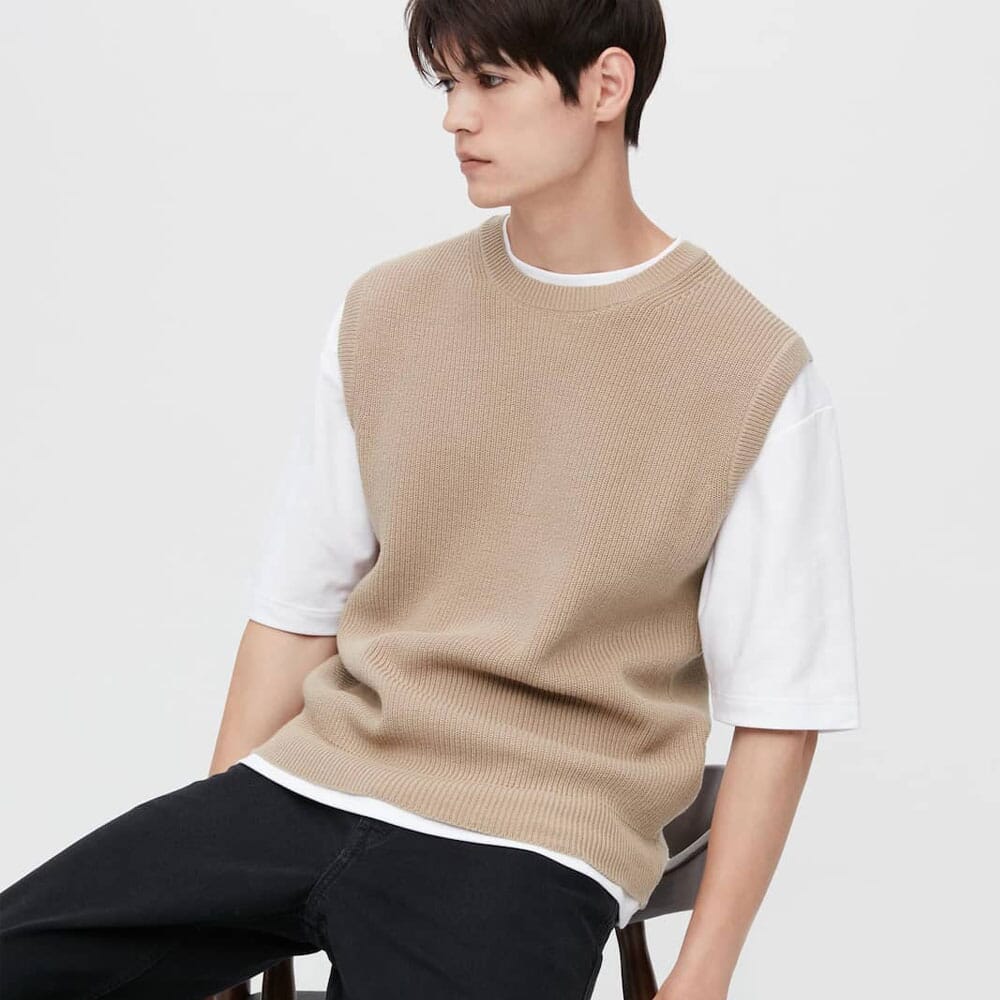 Uniqlo Cotton Crew Neck Sweater Vest
Of course you don't need to spend extortionate amounts on a knitted vest for men. Uniqlo do a solid crew neck version that's available in four highly workable colours. Perfect for dressing up or down. The looser knit gives the vest a slightly chunkier look whilst thick yarn also bolsters the chunky look but leaves the garment light and comfortable. Roomy, it's a great option for a slouchier fit, matching a wider, looser fit trouser with a T-shirt underneath.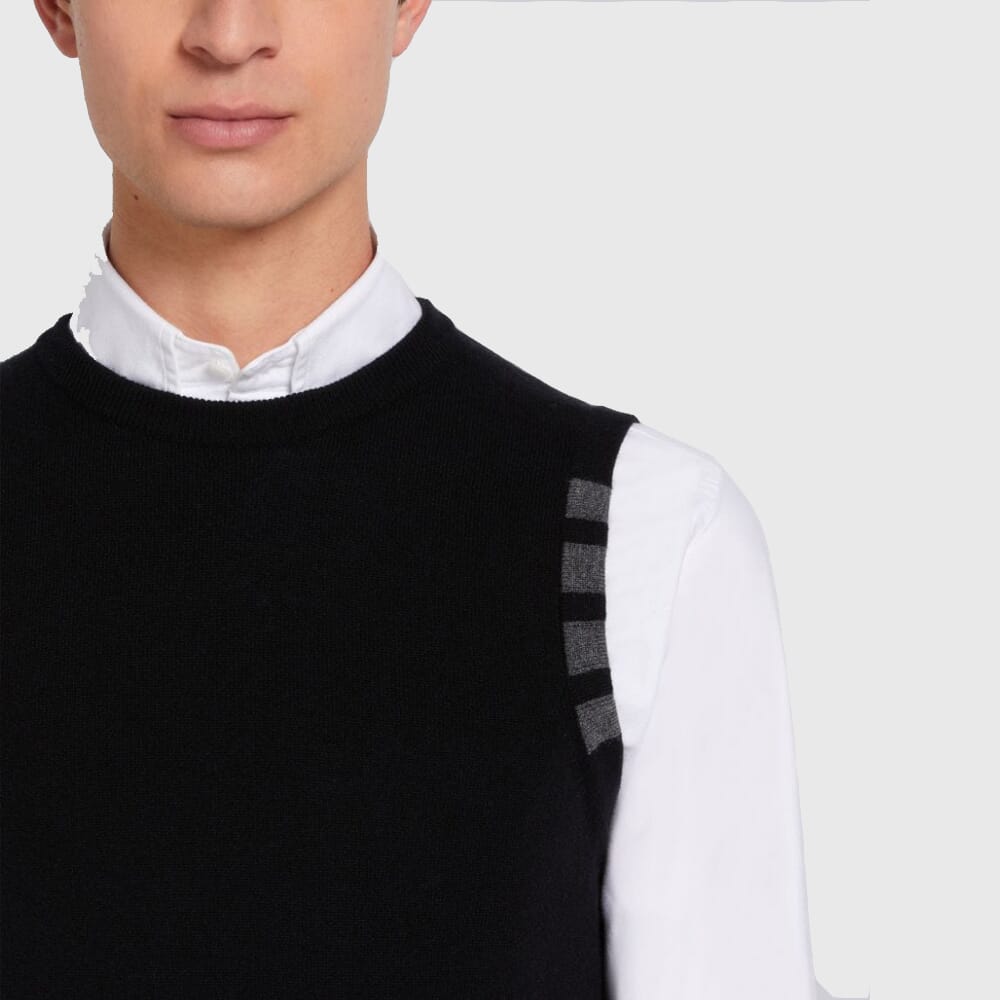 Thom Browne Dark Gret Cashmere 4-Bar Shell Top
Last but not least, a bank-busting sleeveless number from striped fashion powerhouse Thom Browne. The brand's cashmere 4-bar shell top is all kinds of luxury, with that all important four line striped detail as well as a crew neck and buttoned sides. Slim-fitting and sleek, wear this men's sweater vest over a white cotton shirt and let it do the talking. Made in Scotland from 100% cashmere.
Check out our pick of the best heavyweight hoodies for men right now.
---
---