Style doesn't need to go out of the window just because the weather's a little cooler. A distinctive cable knit jumper is a must-have for every man's winter wardrobe. We'd go so far as to say it's the nearest there is to a cooler weather essential. Choose well and - whether you're aiming to impress or just popping down the pub for last orders - your cable knit jumper will become a stylish go-to friend when conditions are less than tropical. Great on those cooler summer's evenings, too for added versatility. The key is finding exactly the right cable knit jumper, one that will feel like it's created especially for you. Luckily, we've had a few ideas. Scroll on for our pick of the best men's cable knit jumpers in 2023. Mulled wine? Don't mind if we do.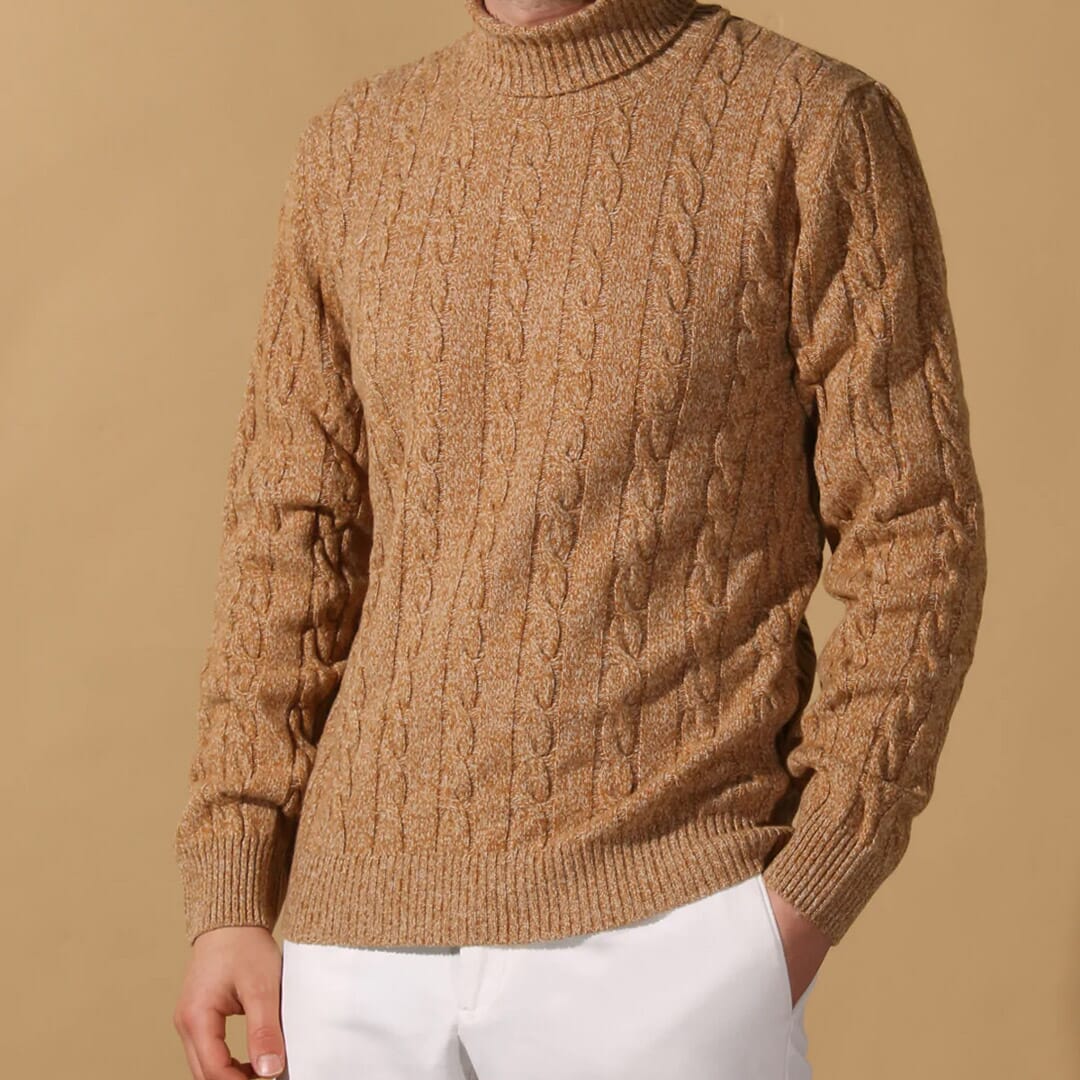 Best men's cable knit jumpers in 2023
Aurélien Dolcevita Cable Knit Sweater
Italian roll-neck cosiness, exuding sheer luxury. Aurélien's designers have used a heritage cable knit pattern for this deluxe roll-neck in their super-soft trademarked Cashwool®, with construction in selected Italian knitwear studios. This is the label that's all about bringing artisanal craft to Italian pieces, here designed to be part of your winter wardrobe for many cooler seasons to come. Dress up with black corduroys or dress down with your most lived-in jeans.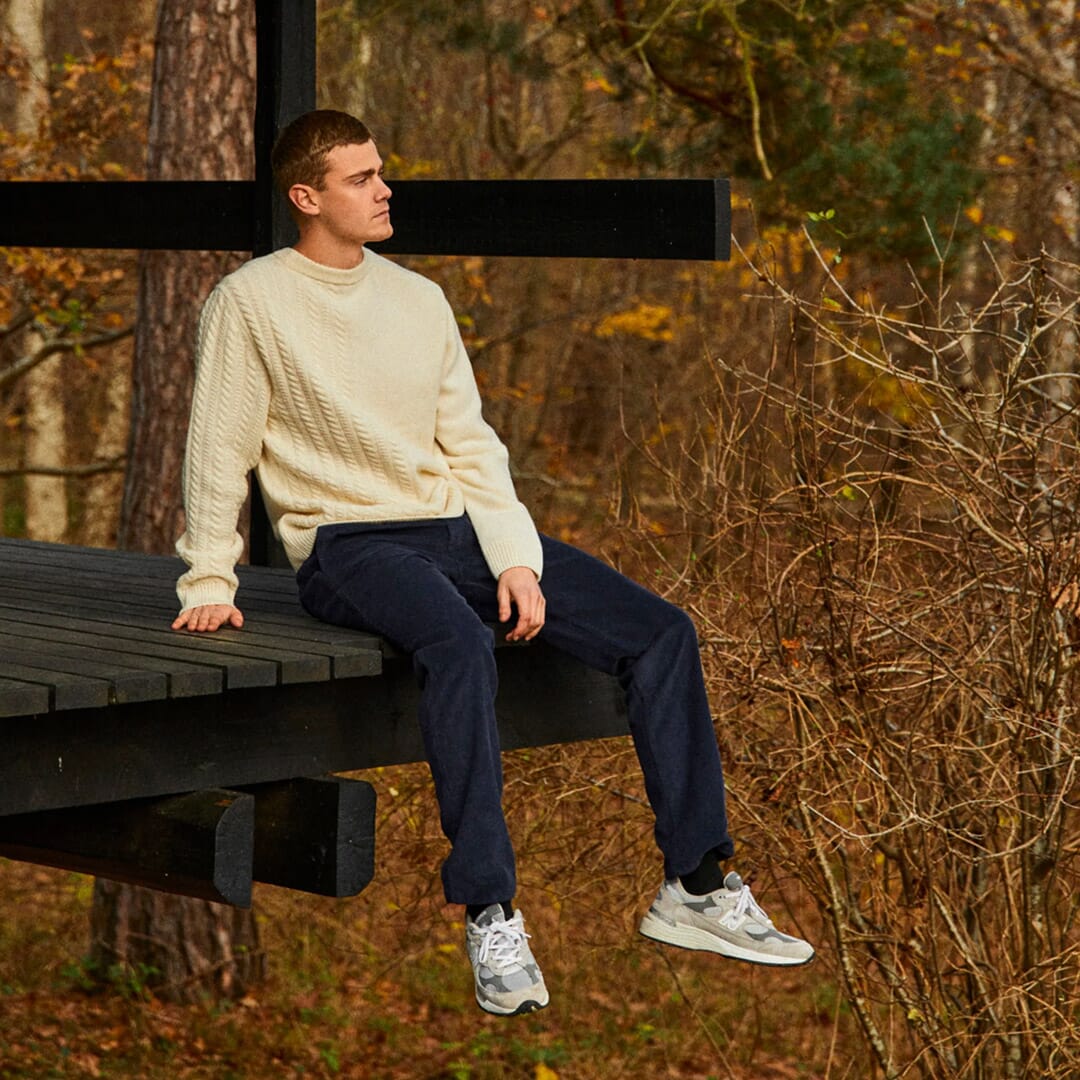 Forét Tundra Cable Knit
A Scandi-style cable knit jumper designed to take you outdoors, however cold the conditions. Design is vertically divided between intricate cable and plain knit, the better, say Danish outdoor minimalists Forét, to show off their Tundra Cable Knit's construction of 50% recycled wool, 30% wool and 20% technical fabrics, a combination chosen for warmth and style. Concept here is for a piece that will last season after season, in keeping with Forét's less is more ethos.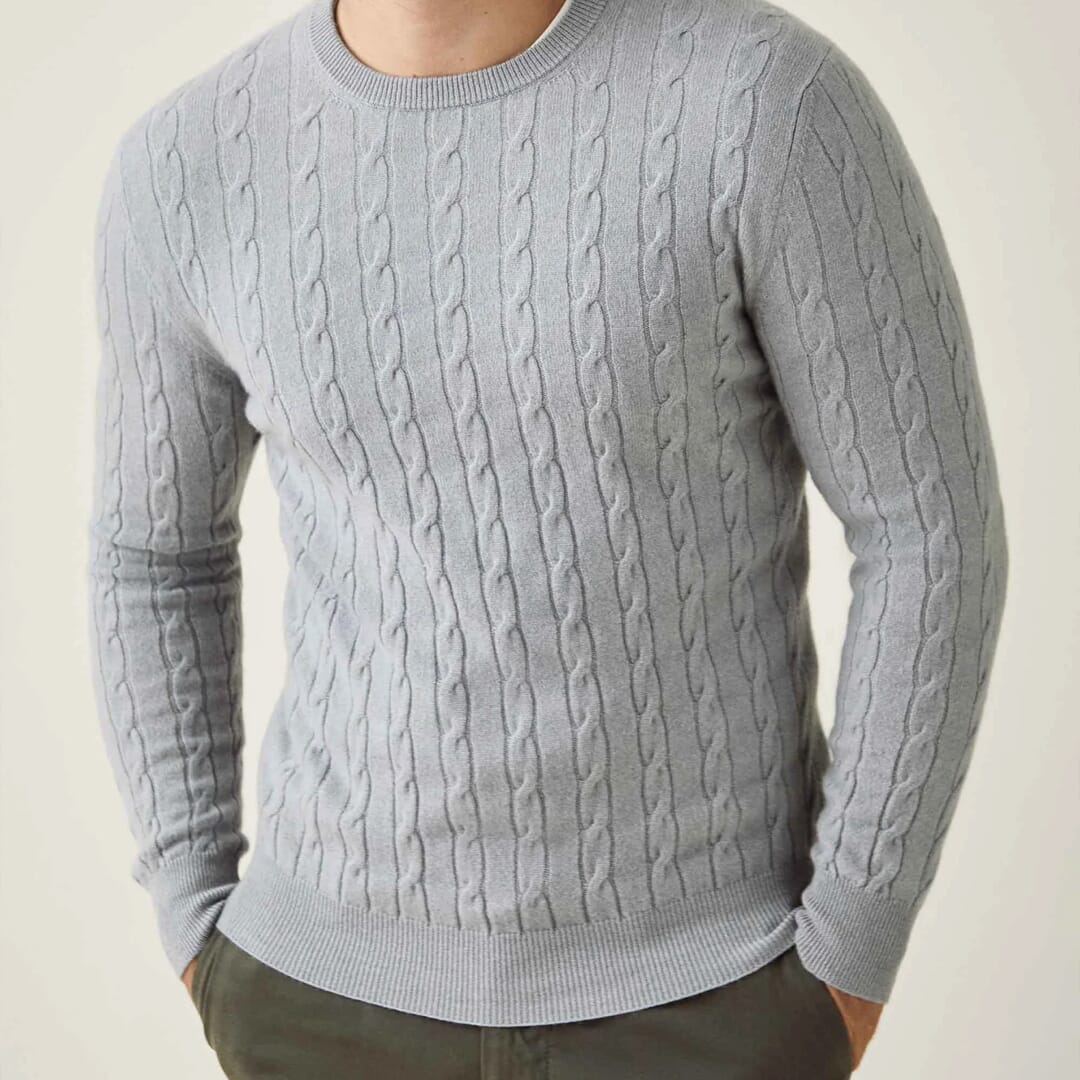 Luca Faloni Pure Cashmere Cable Knit
Classic look, super-luxe Italian style. Pure cashmere sourced from the long-standing experts at Cariaggi is knitted for Luca Faloni in Bergamo, northern Italy to create a deluxe piece with all the naturally insulating qualities and supersoft feel of cashmere. Luca Faloni was founded on the principles of slow fashion, with designs aimed to be beyond fashion and trend. Their Pure Cashmere Cable Knit is just such a piece, a cooler weather friend for seasons to come.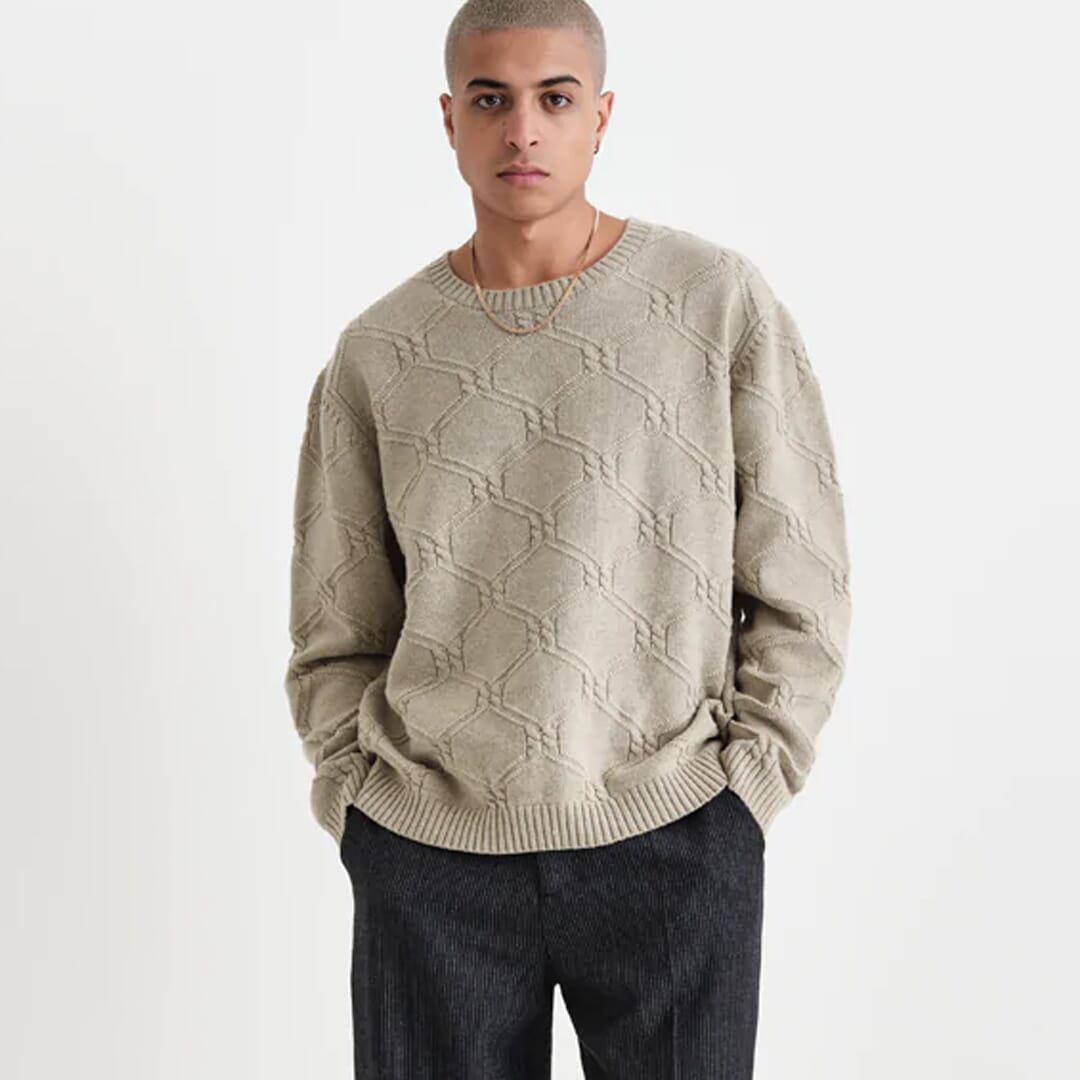 Wax London Grove Crew Sage
Wax London's mission is to elevate the everyday, as they like to put it. Nowhere more so than with their Grove Crew, featuring Wax London's take on the classic cable knit jumper. Construction here includes 50% cotton, with 25% wool and 25% nylon for stretch and fit, making the Grove Crew just as essential on a cooler summer evening as on a winter's morning. Looser fit for your casual lifestyle, with ribbed cuffs and hems.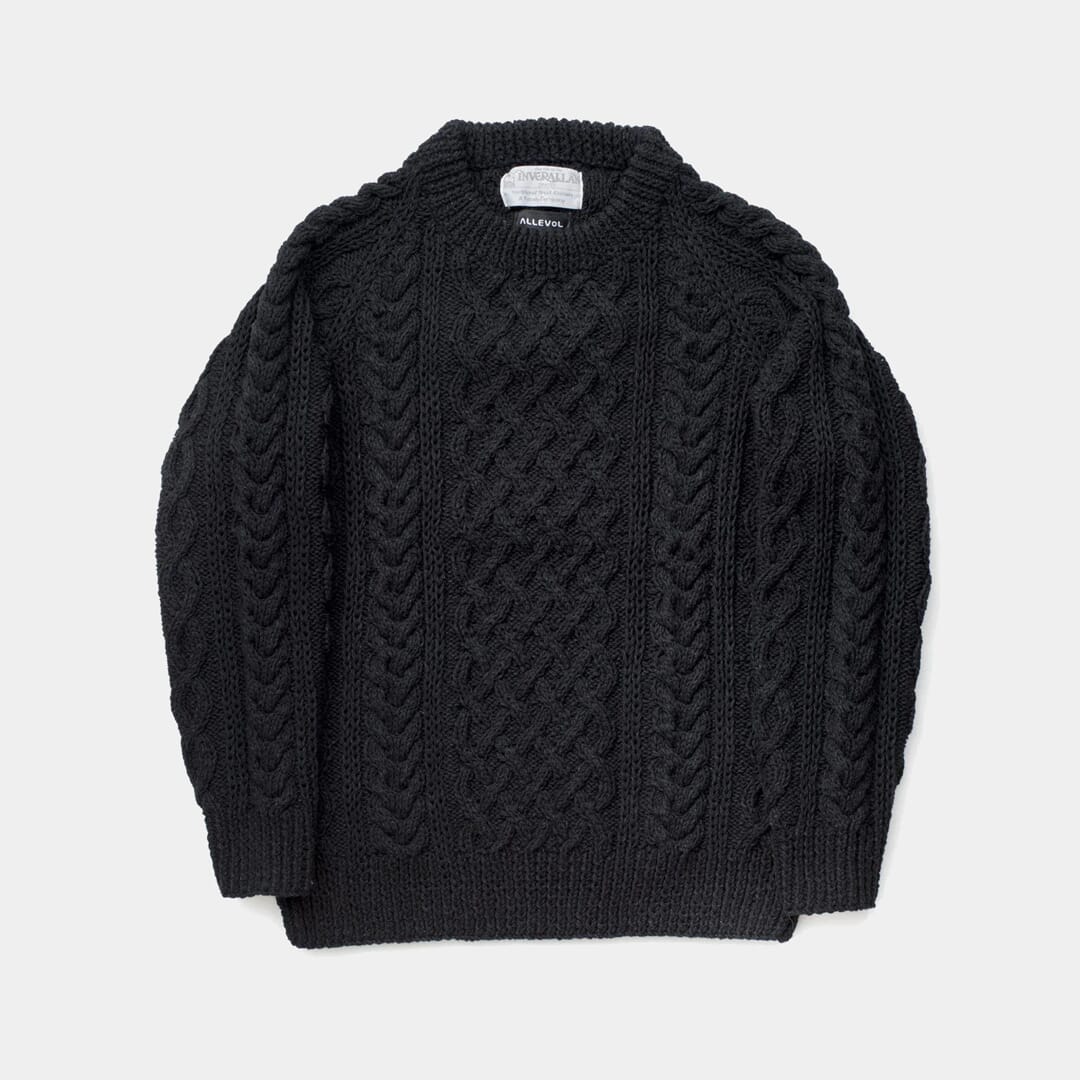 Allevol x Inverallan Cable Knit Crew 1A Black
Scotland's Inverallen release a strictly limited number of hand-knitted pieces each season, here in a collaboration with London lifestyle label Allevol. The men's cable knit is super-chunky in the traditional style. Each Allevol x Inverallan Cable Knit Crew 1A is effectively unique, the work of Interverallen's expert team who handmake their knitwear. Construction is of 100% cotton, with mock turtle neck  and crafted wooden buttons.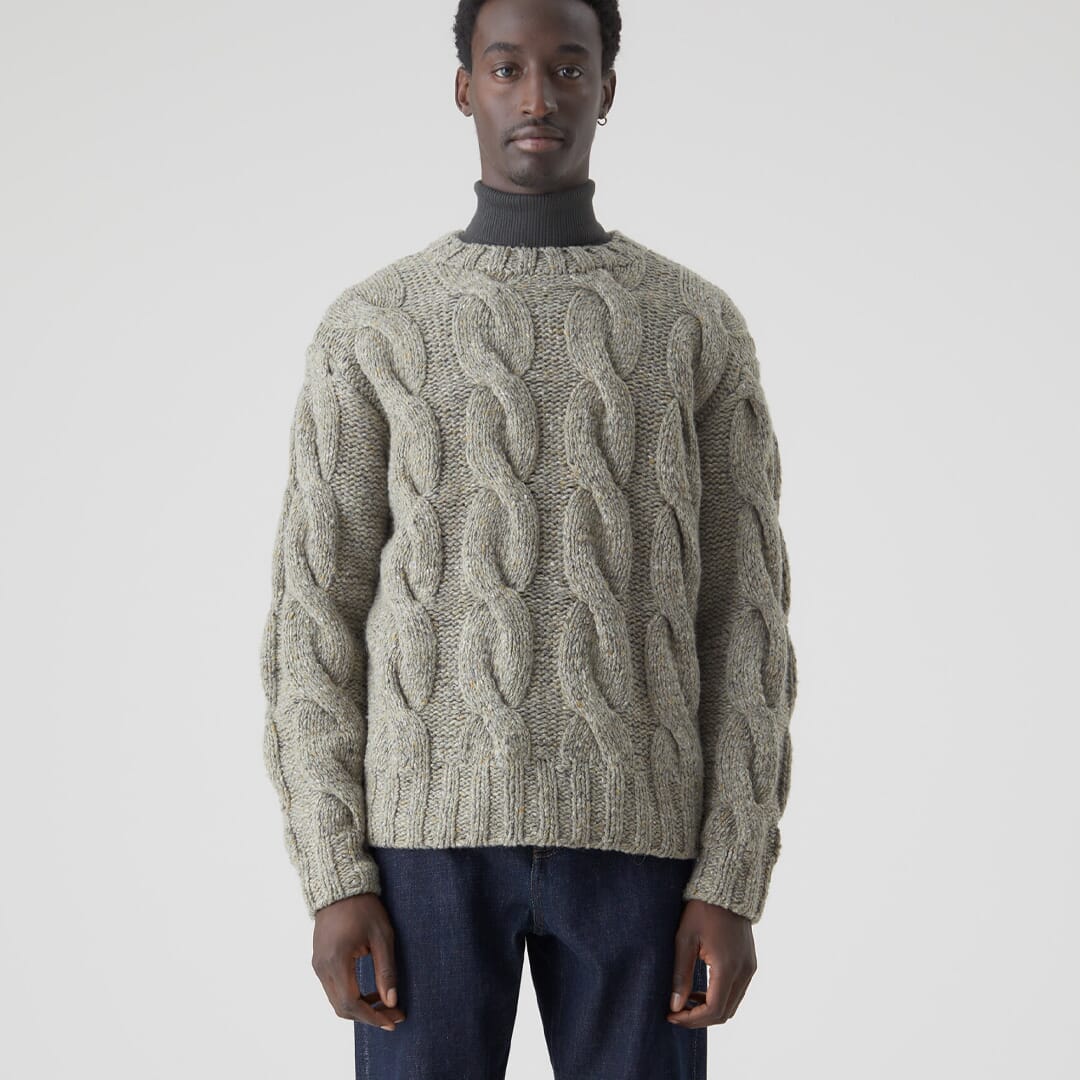 Closed Chunky Hand Knit Sweater
Relaxed fit, rugged style in this Chunky Hand Knit Sweater from the German casualwear specialists at Closed. Bold raised cable knit design is hand-crafted in 65% wool, with 30% recycled polyamide for structure and 5% Alpaca for a deluxe touch. Crew neck and laid-back overlapping shoulder adds to supreme versatility, ribbed cuffs and hem add visual detailing to an easy essential.
For more luxe knitwear, check out our pick of the best Merino wool sweaters.
---
---