Are you a man who values his footwear as much as his attire? If so, you're in the right place. In this guide, we're diving into the world of shoe cleaning kits—the unsung heroes of impeccable footwear care. Whether you're dealing with muddy kicks, luxurious leather shoes, delicate suede, or the need for on-the-go maintenance, we've got you covered. Discover the best shoe cleaning kits in the market, tailor-made to suit your specific shoe care needs.
Why you need shoe cleaning kits
Before we delve into the specifics of shoe cleaning kits, let's understand why they are essential. A shoe cleaning kit is not merely a collection of products; it's a symbol of your commitment to preserving your shoes' longevity and elegance. Shoes, especially high-quality ones, are an investment worth protecting. They're your companions through rain and shine, and they deserve care and attention.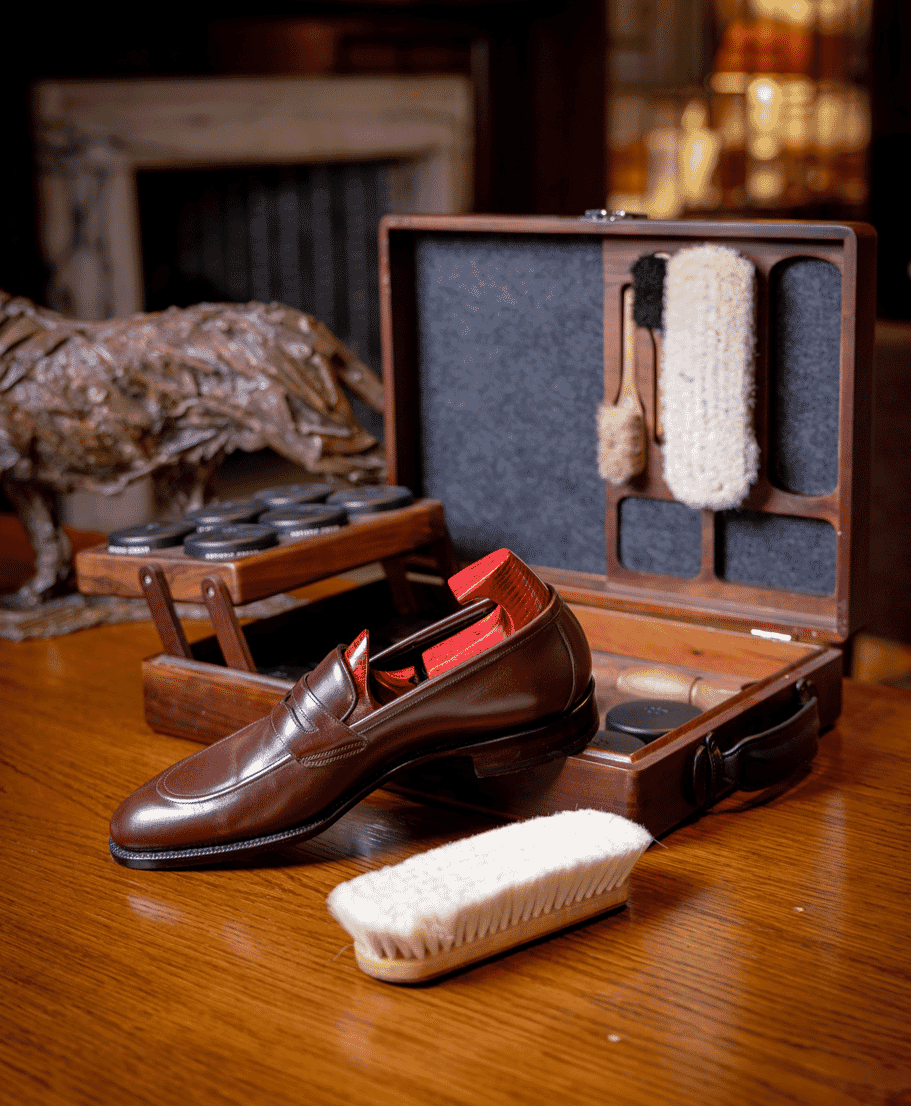 Different materials require different care, and a shoe cleaning kit ensures that you provide the right treatment to your footwear. Neglecting shoe care can lead to premature wear, loss of shine, and even damage to your beloved pairs. Whether you own sneakers, leather shoes, suede footwear, or dress shoes, a shoe cleaning kit is your key to maintaining their pristine condition.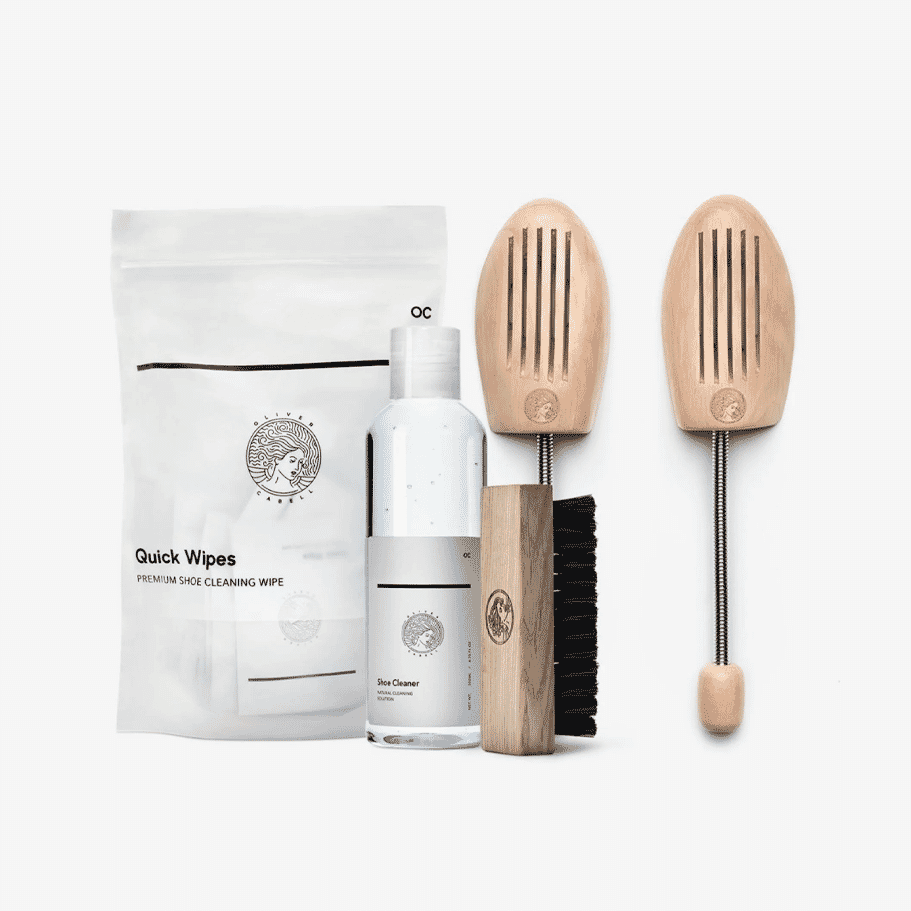 Best shoe cleaning kits in 2023
For muddy kicks
When your sneakers bear the brunt of muddy adventures, the Oliver Cabell Distressed Kit comes to the rescue. Distressed doesn't mean dirty, and this kit proves it. It includes a bottle of Premium Shoe Cleaner, a Shoe Cleaning Brush, Wooden Shoe Trees, and 24 Quick Wipes. With these essentials, you can swiftly clean your sneakers and restore their original glory.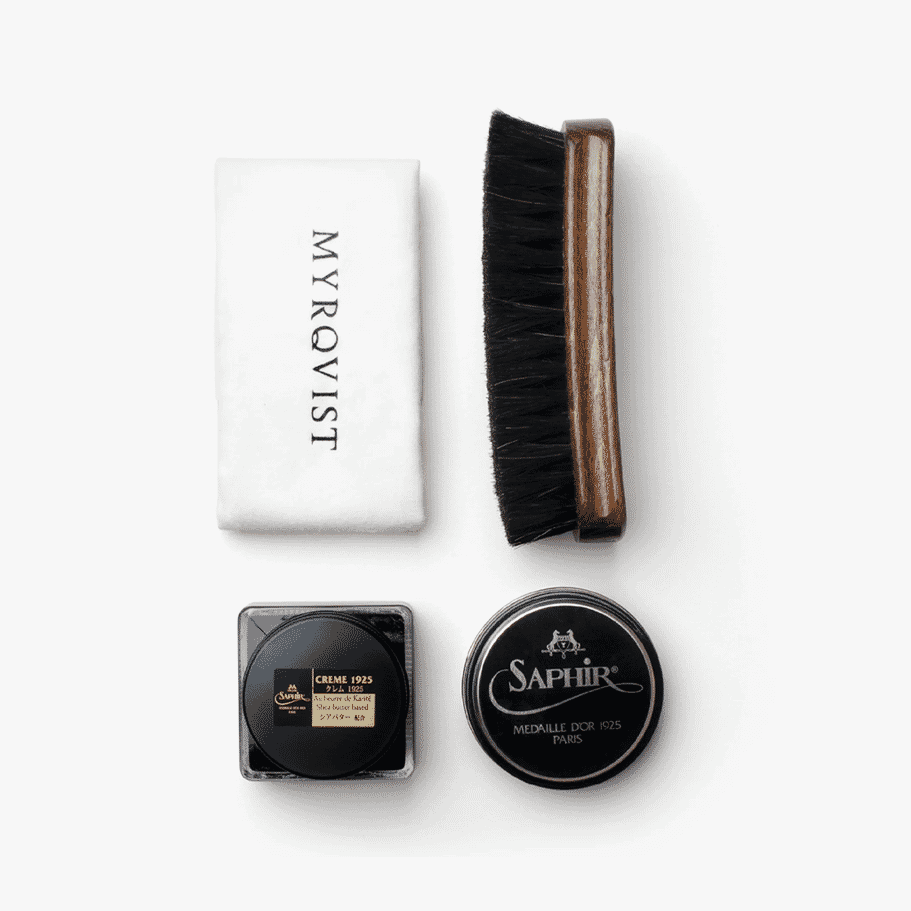 For leather shoes
Leather shoes deserve special care, and the Myrqvist Shoe Care Kit delivers just that. This comprehensive kit includes Saphir Pommadier (available in Black, Dark Brown, or Neutral), Saphir Pate de Lux (also in Black, Dark Brown, or Neutral), a Myrqvist Shoe Brush, and a Polishing Cloth. Keep your leather shoes looking dapper with this meticulous kit.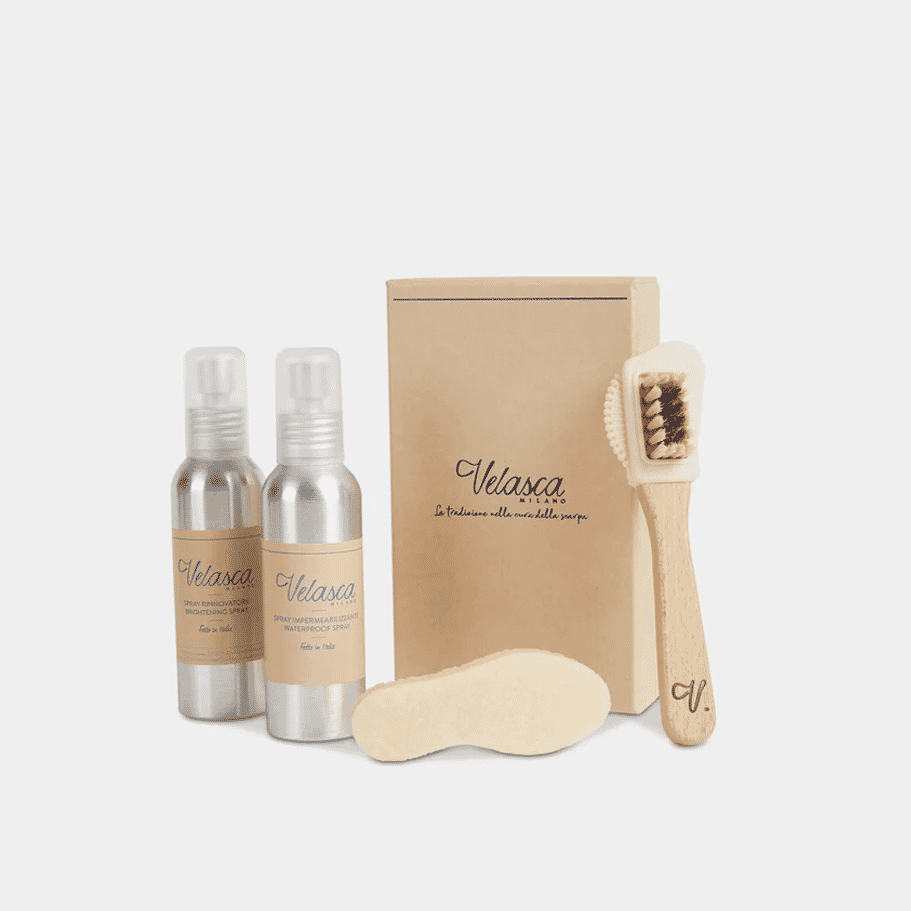 For suede leather shoes
Suede leather demands precision, and the Barlüsent Piscinin Shoe Cleaning Kit by Velasca delivers exactly that. Compact and efficient, this kit is designed for suede leather care. It includes two sprays—one for water protection and one to enhance its appearance—along with two brushes. These compact accessories ensure your suede shoes remain in top-notch condition, and they won't take up much space in your suitcase.
For men on the move
Life moves fast, and sometimes your shoes need a quick refresh while you're on the move. JAK's Sneaker Wipes are the perfect solution. These lemon-scented shoe cleaning wipes are double-textured and come in individual packages. They are water-based, skin-safe, non-toxic, and non-irritating. With a box of 30 individually packaged wipes, you'll always have a convenient cleaning solution at hand.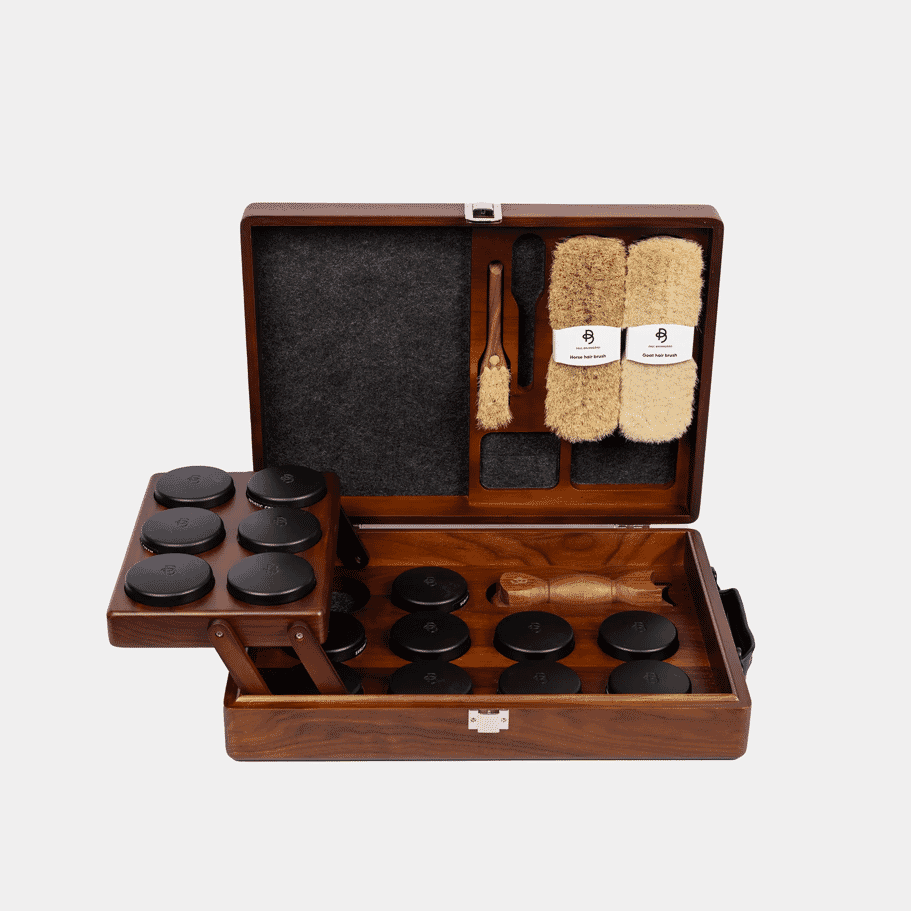 For high-shine dress shoes
When it's time to shine your dress shoes, nothing beats a high-quality shoe wax from Arterton. This wax, specially formulated in Sweden, facilitates a mirror-like shine on smooth leather. Its hard structure allows you to build multiple layers of shine, providing natural protection against moisture and dirt. With natural ingredients like carnauba, rose wax, and beeswax, this French-made shoe wax is designed for high-gloss polishing and creating a beautiful patina.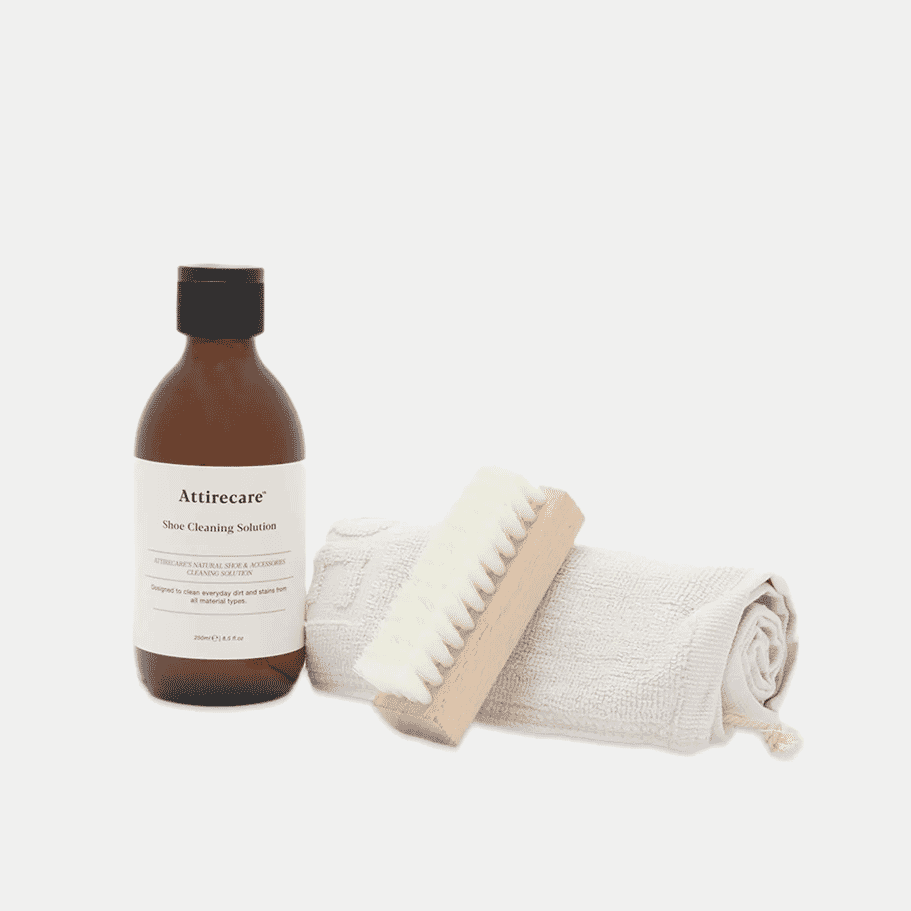 For simple sneakers
Attirecare's shoe cleaning kit is a must-have for sneaker enthusiasts. Crafted with an all-natural cleaning solution, a wood-handled brush, and a soft cotton cleaning cloth, it ensures your sneakers stay fresh and pristine. Environmentally conscious, the kit is also eco-friendly and biodegradable, offering a sustainable way to care for your favorite footwear, so you can enjoy them for longer. Keep your sneakers looking their best with this luxury plant-derived set from British label Attirecare.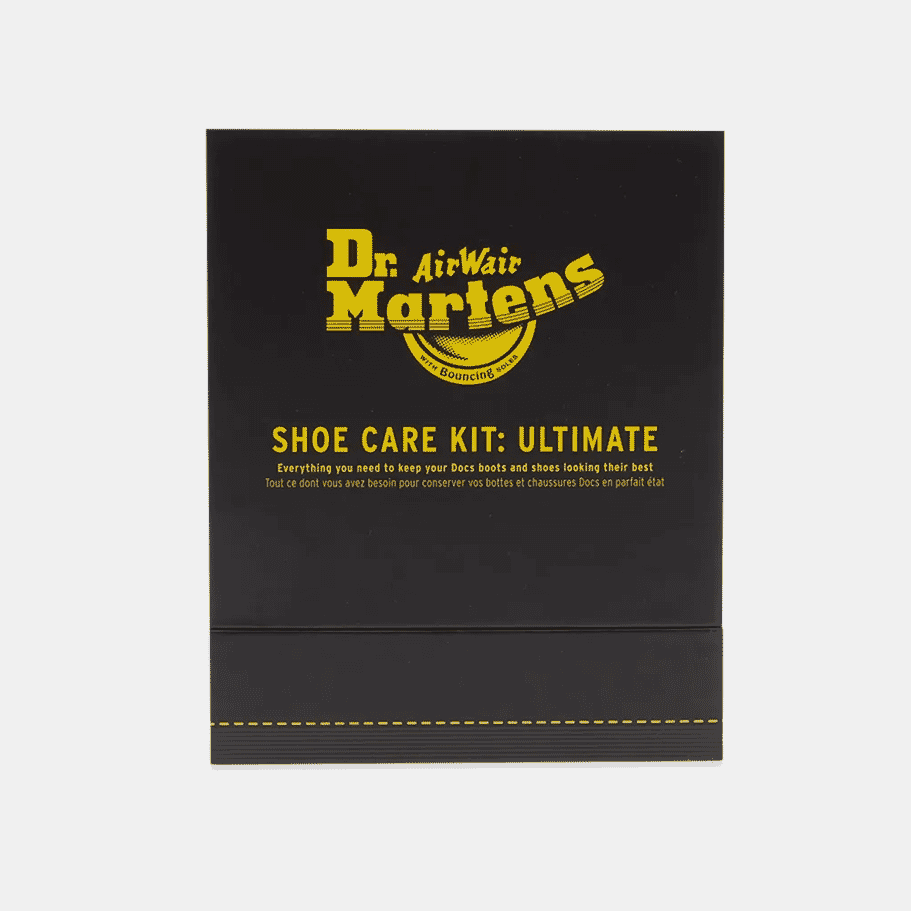 For boots
Maintain your beloved Dr. Martens boots with this essential three-piece shoe care kit. It includes a 75ml Wonder Balsam to nourish and condition, a 150ml Ultra Protector to shield against dirt, UV rays, and stains, and a 100ml Shoe Freshener to eliminate odors. Complete with a handy brush, this kit ensures your Docs stay in pristine condition, ready to conquer any terrain with style and comfort.
From luxury sneakers to formal shoes, shop men's designer footwear at OPUMO.
---
---