No wardrobe is fully complete without a solid pair of men's velvet loafers. If you're a big fan of smart shoes like Derbys and Oxfords but you're looking for something that makes more of a statement, velvet loafers are a no-brainer. First invented centuries ago, they were originally made for members of aristocracy and VIPs. But now, absolutely everyone can own a pair. With that in mind, we've hand selected ten of our favourites that you should definitely consider if you're thinking of diving head first into this very fancy footwear trend.
How to style men's velvet loafers
While velvet loafers aren't made for everyone, as soon as you own a pair, you'll quickly find out that they're one of the most versatile shoes in your entire wardrobe. Not only can it be worn as part of a formal ensemble like a full suit, if you're opting for something a little more smart casual such as denim jeans, chinos, or corduroy trousers, it'll work wonders as well.
One of the most hotly-debated topics when it comes to velvet loafers is if you should wear them with socks or without. This depends entirely on personal preference, but most guys go down the no-sock route. However, odours and potential foot agitation can become problems in the long run, so it might be worth investing in some decent no-show socks for the best of both worlds. We also wouldn't recommend wearing these when the weather is wet and rainy. While cleaning velvet is possible (with a lot of patience), when the fine fabric comes in contact with water, it's not a good look.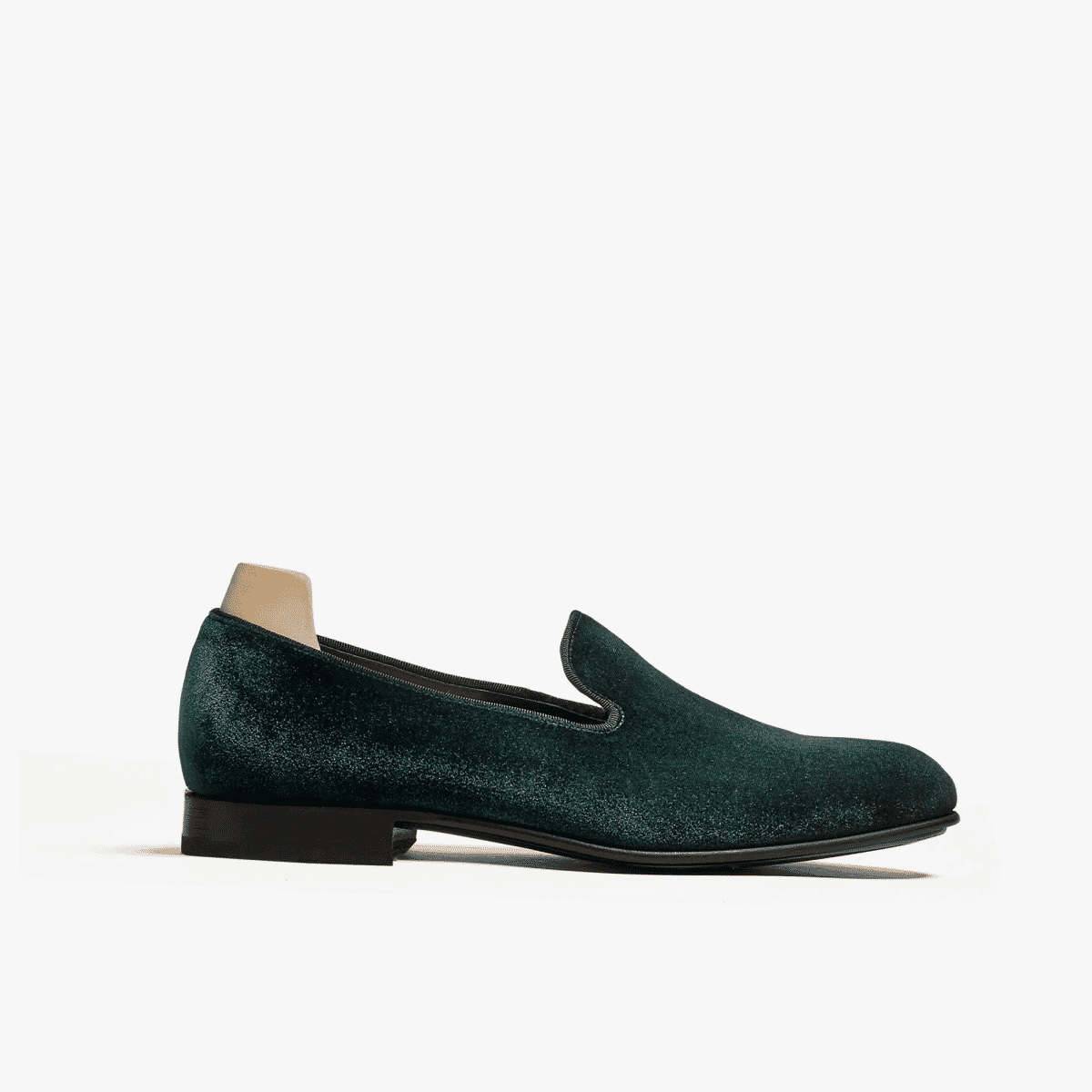 The best men's velvet loafers for 2023
Myrqvist Muskö
If you're looking for the ultimate velvet loafers for men, the Muskö by Myrqvist should definitely be on your radar this season. While the Stockholm-based brand is known for its more traditional shoe types, this has slowly but surely become a fan favourite. Boasting a classic whole cut slipper design, it's handmade in Portugal from supple green velvet and rests on top of a black leather sole that feels incredibly sumptuous. You really need to try these on in person to see what all the hype is about.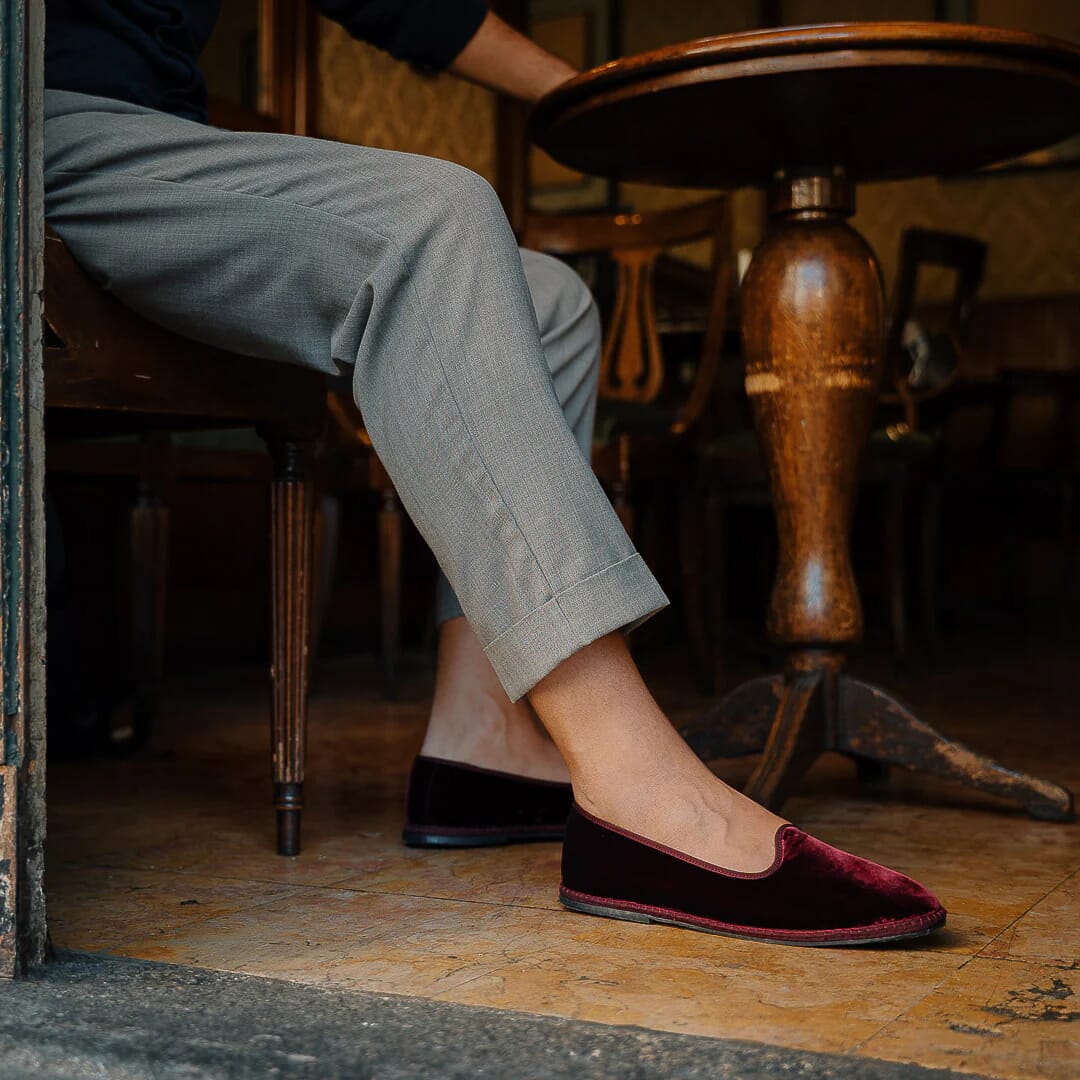 Velasca Piscinina
When it comes to velvet loafers, Velasca is certainly no stranger to them. A love letter to historical Friulane shoes that were originally made by women from villages in the mountains, the Piscinina is finished in a luscious red velvet and hand stitched with the same techniques that skilled artisans from the past used. They then sit on top of a classic rubber sole that's perfect for any fit you decide to throw on. If, for whatever reason, this colourway isn't your thing, it's also available in five other palettes and material combinations.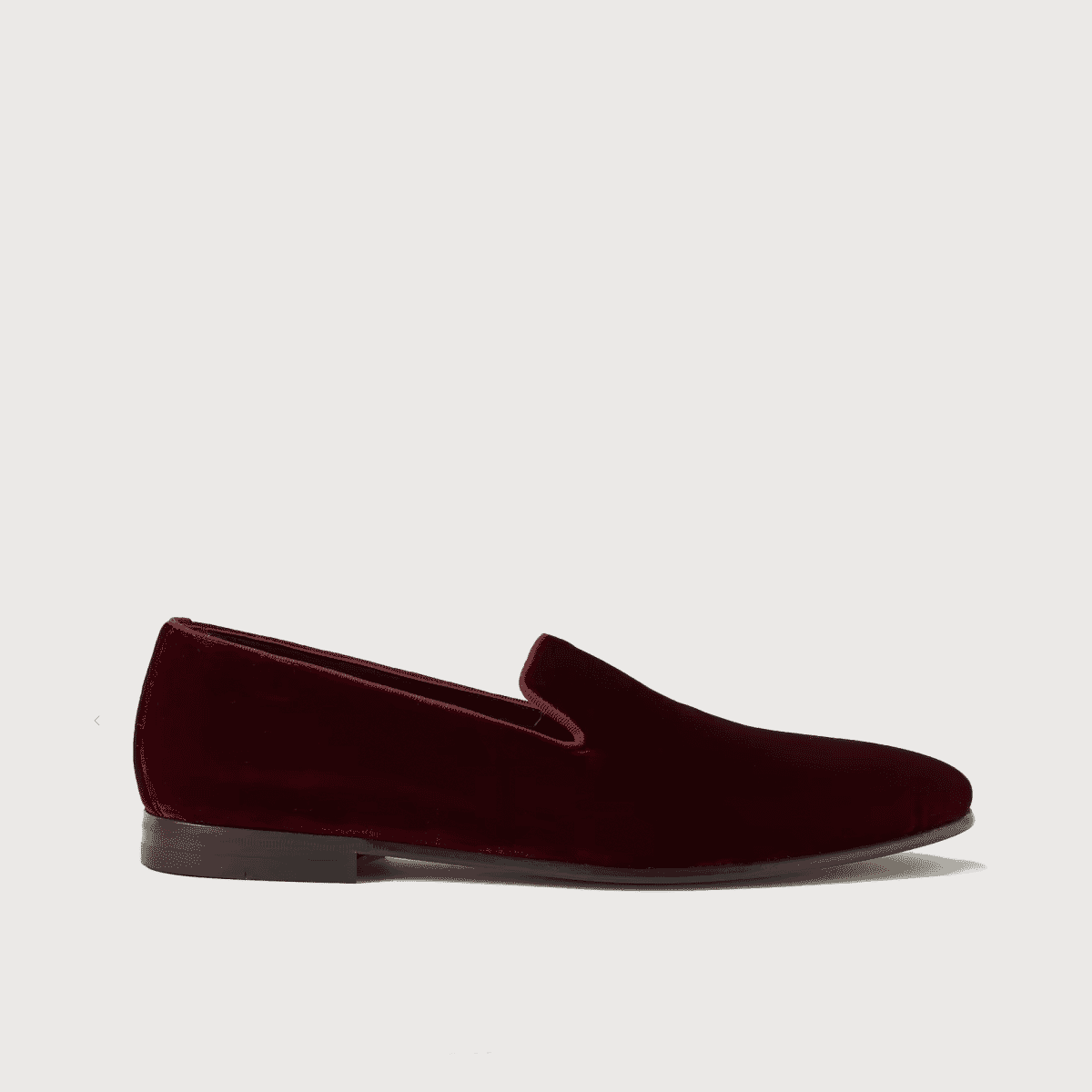 Manolo Blahnik Mario
Manolo Blahnik is one of the greatest fashion designers living today. Truly self-made and self-taught, the Spanish legend began designing men's shoes in the '70s, and this sartorial elegance is still reflected on loafers like the Mario even decades later. Outfitted in dark red velvet, it's delicately trimmed with grosgrain throughout. Just in case that wasn't premium enough already, Blahnik has also added a luxurious leather lining that's as comfortable as it gets.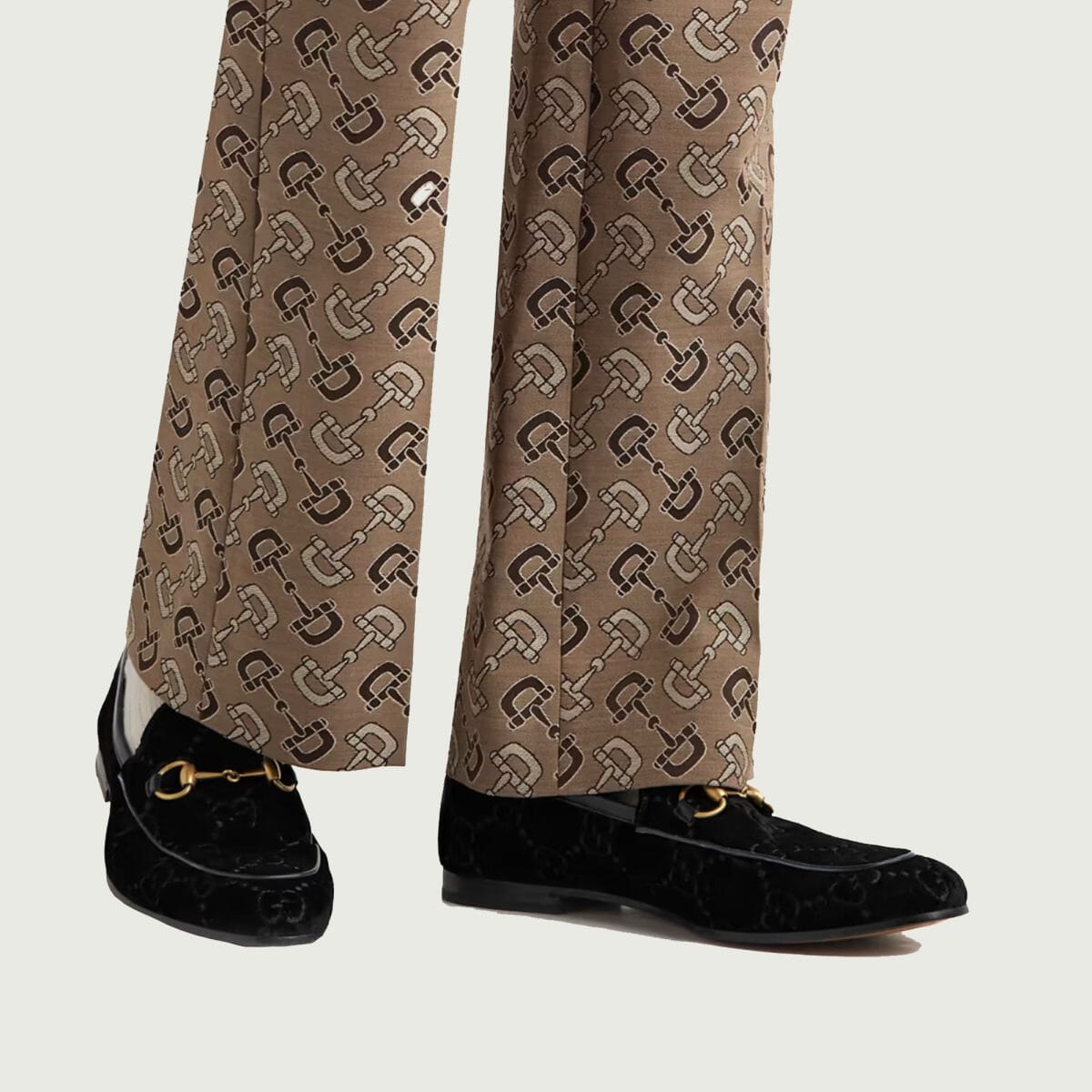 Gucci Velvet Loafers
The Jordaan has been a Gucci icon for literal decades, but thanks to the creative genius of Alessandro Michele, the classic silhouette has finally been updated for the modern era. Crafted in Italy, they've covered in beautiful black velvet and decorated with "GG" monogramming throughout the entire upper. Gold buckle detailing adds to the fanciness, while the insoles are finished in tan leather. These Gucci velvet loafers fit quite large, so if you're thinking of grabbing these, consider going half a size smaller than usual.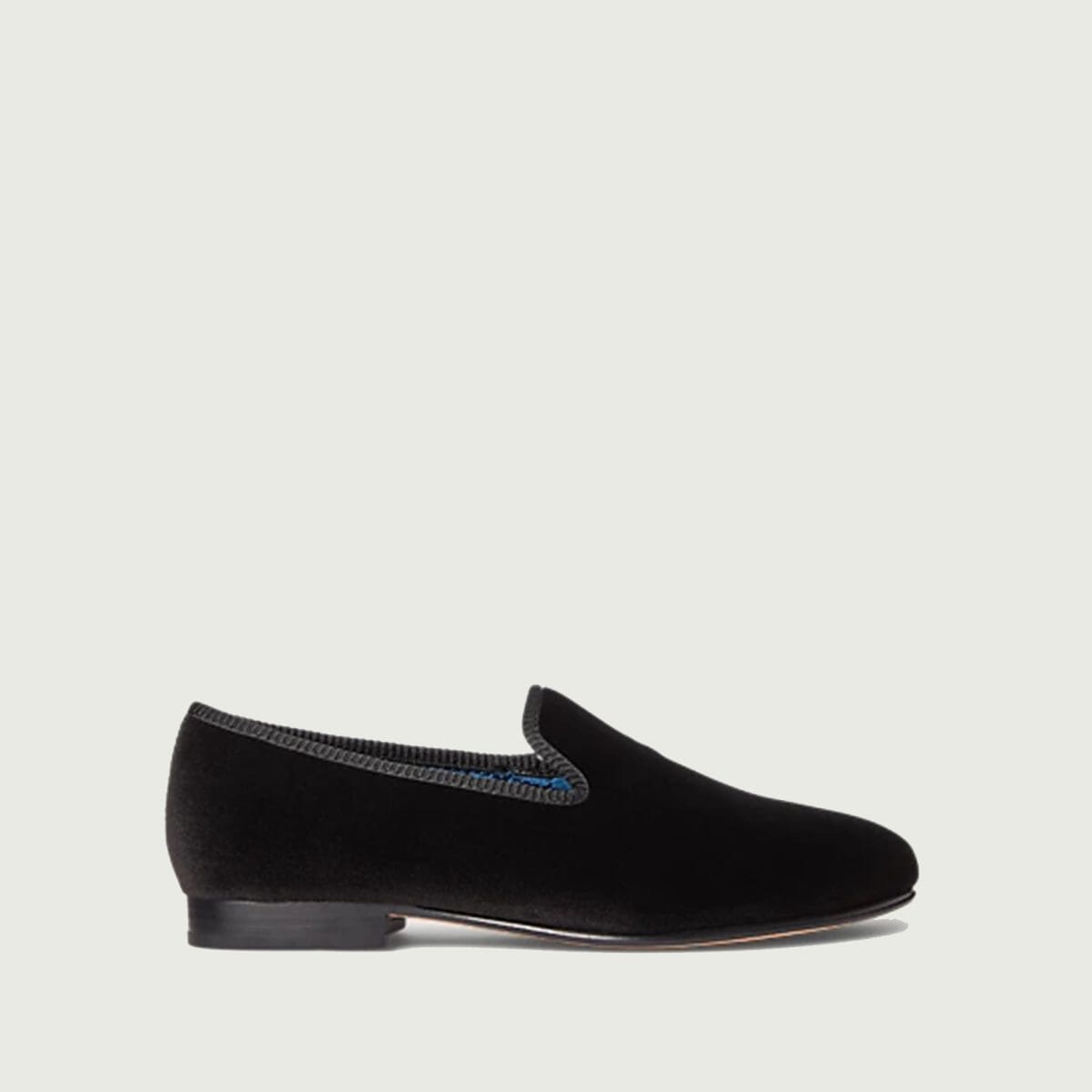 Polo Ralph Lauren Paxton
Searching for well-designed, high quality menswear that's made to last? Then Polo Ralph Lauren's black velvet loafers is one of the first pairs that you should consider. For its take on the classic footwear model, the American fashion house has given the Paxton a no-nonsense all-black velvet construction that makes a statement by being understated. As if that wasn't cool enough already, PRL has then rounded off the pair with some quilted satin insoles for unbelievable comfort. While most people won't even see these, for the brand, even the hidden details mean a lot.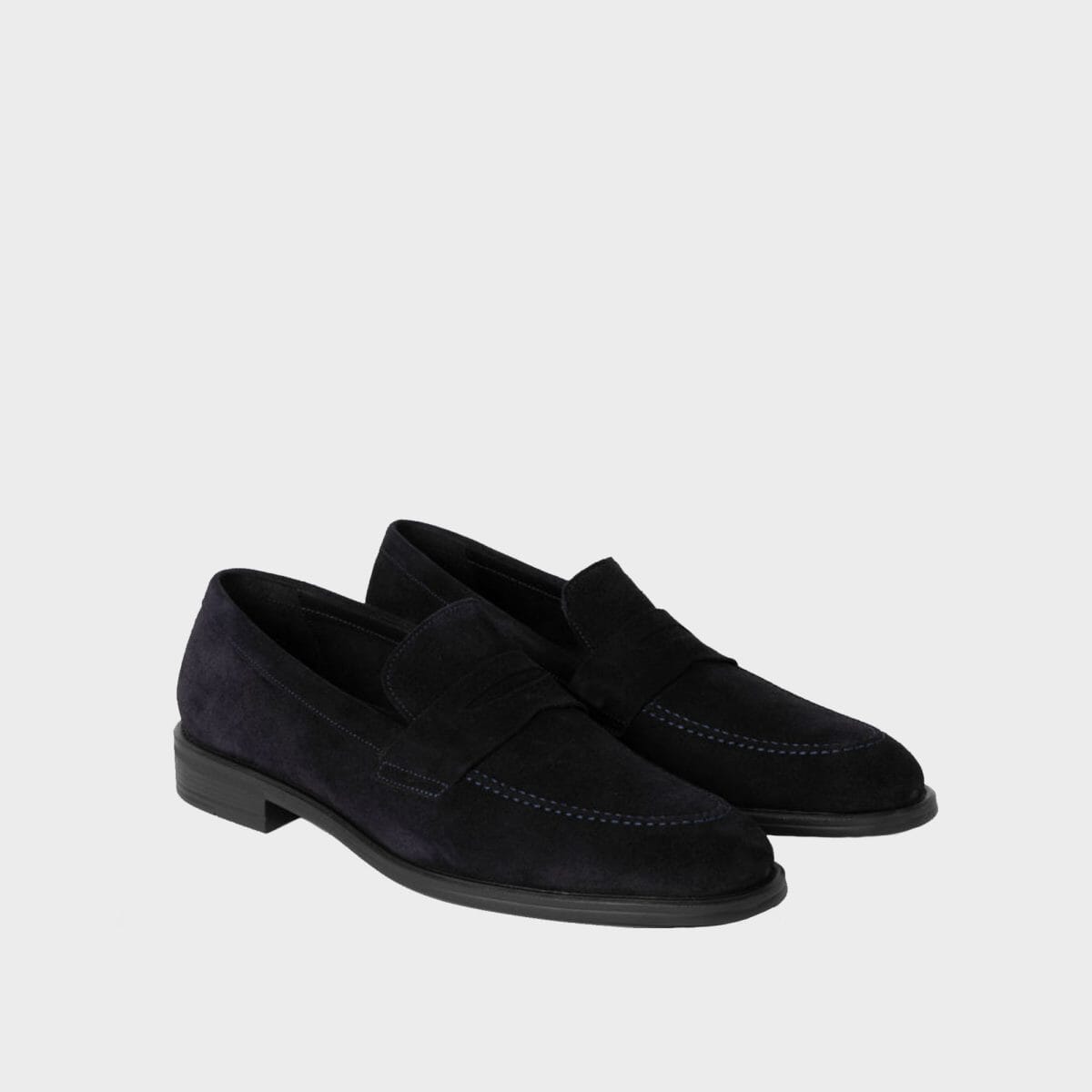 Paul Smith Remi
It really doesn't get more timeless than the Remi from Paul Smith. Simple, sleek, and seriously sophisticated, the eponymous label's take on the loafer style is made in Portugal and completely submerged in dark navy so you can rock them with literally anything you want. Blue stitching runs across for a pop of contrast, and if for whatever reason this colour scheme doesn't tickle your fancy, the Remi is also available in three other palettes, but this is probably the best of the bunch.
Hawes & Curtis Crest
There's no way you can talk about the best men's velvet loafers without giving London's very own Hawes & Curtis a special shoutout. This pair is undeniably charming, and the perfect balance between formal and casual. Covered in soft black velvet, they're fully lined in leather and finely embroidered with a golden crest along the front for a look that's quite literally fit for a king. Even the soles themselves are made from leather, because you just can't have enough of it.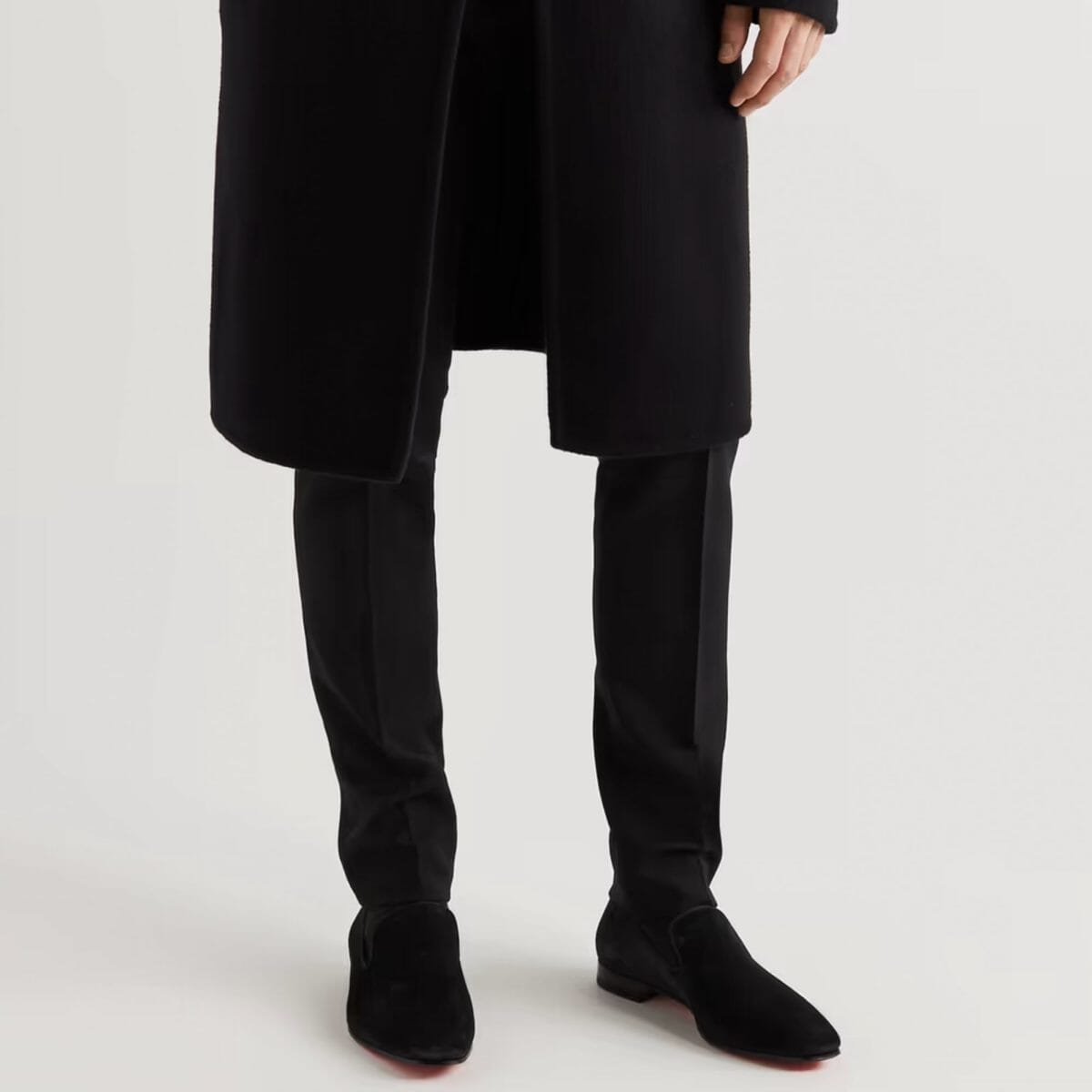 Christian Louboutin Men's Velvet Loafers
It shouldn't come as a surprise to anyone, but Christian Louboutin knows a thing or two about creating some of the best shoes in the history of the planet. From the French designer's first stiletto to these men's velvet loafers, if they're etched with his legendary signature, you just know you're in for a good time. Whether you're pairing them with a sweater and some neatly-pressed trousers or a full tux, you just can't go wrong with these. Made in Italy from smooth velvet and lined in leather for comfort, they're then signed off with the iconic fiery red sole underfoot.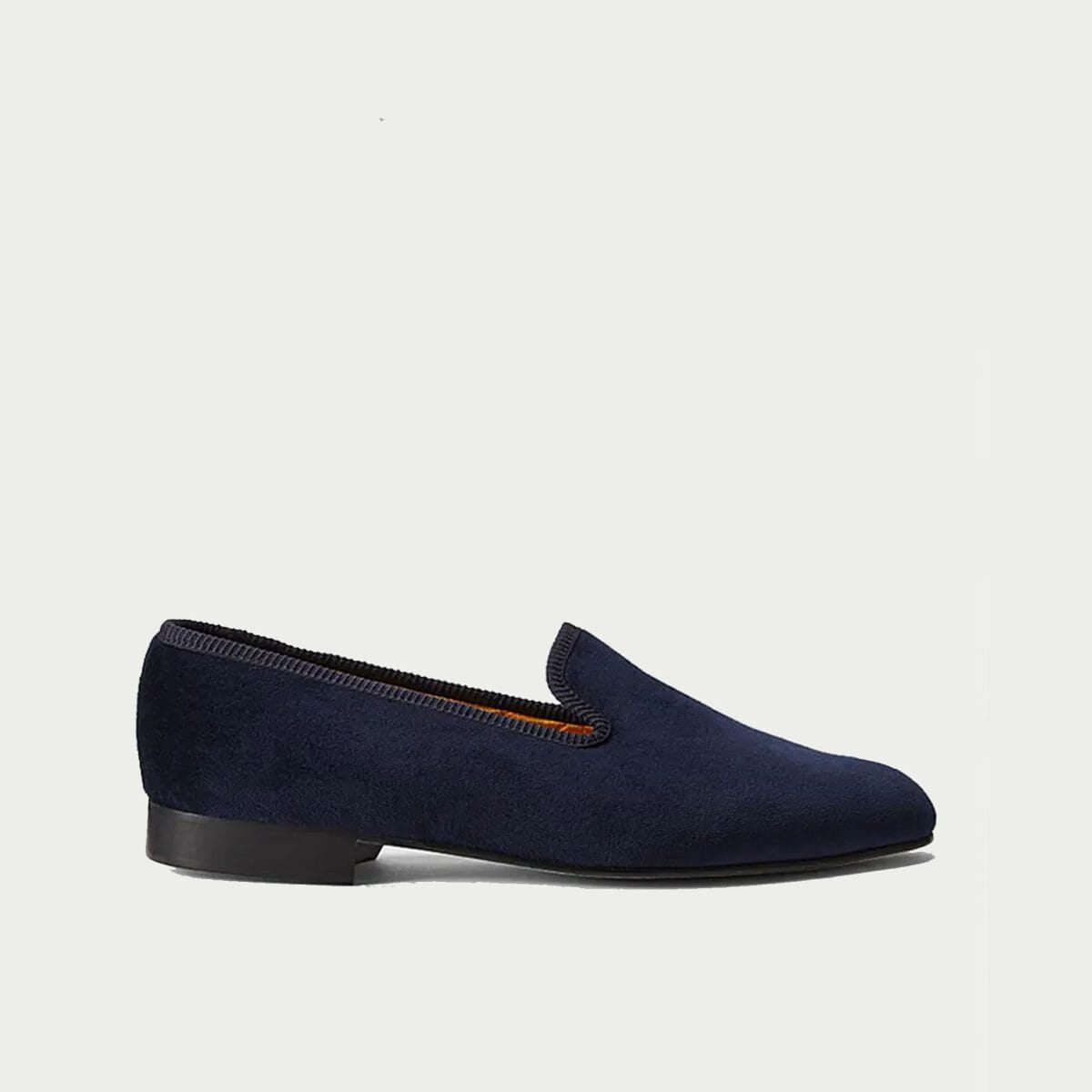 New & Lingwood Dress Slippers
While New & Lingwood is known mostly for its truly wonderful outerwear and knitwear, its footwear also deserves your attention too. Over the years, the British brand has offered a vast selection of different slipper styles to suit all kinds of tastes, and these velvet ones are some of its most popular. Painted in a lick of navy, they're contrasted by a bold orange satin lining that's quilted to perfection. If they weren't special enough already, New & Lingwood also offers a bespoke service whereby your initials, coat of arms, or even piece of tapestry can be applied on to make your loafers even more exclusive.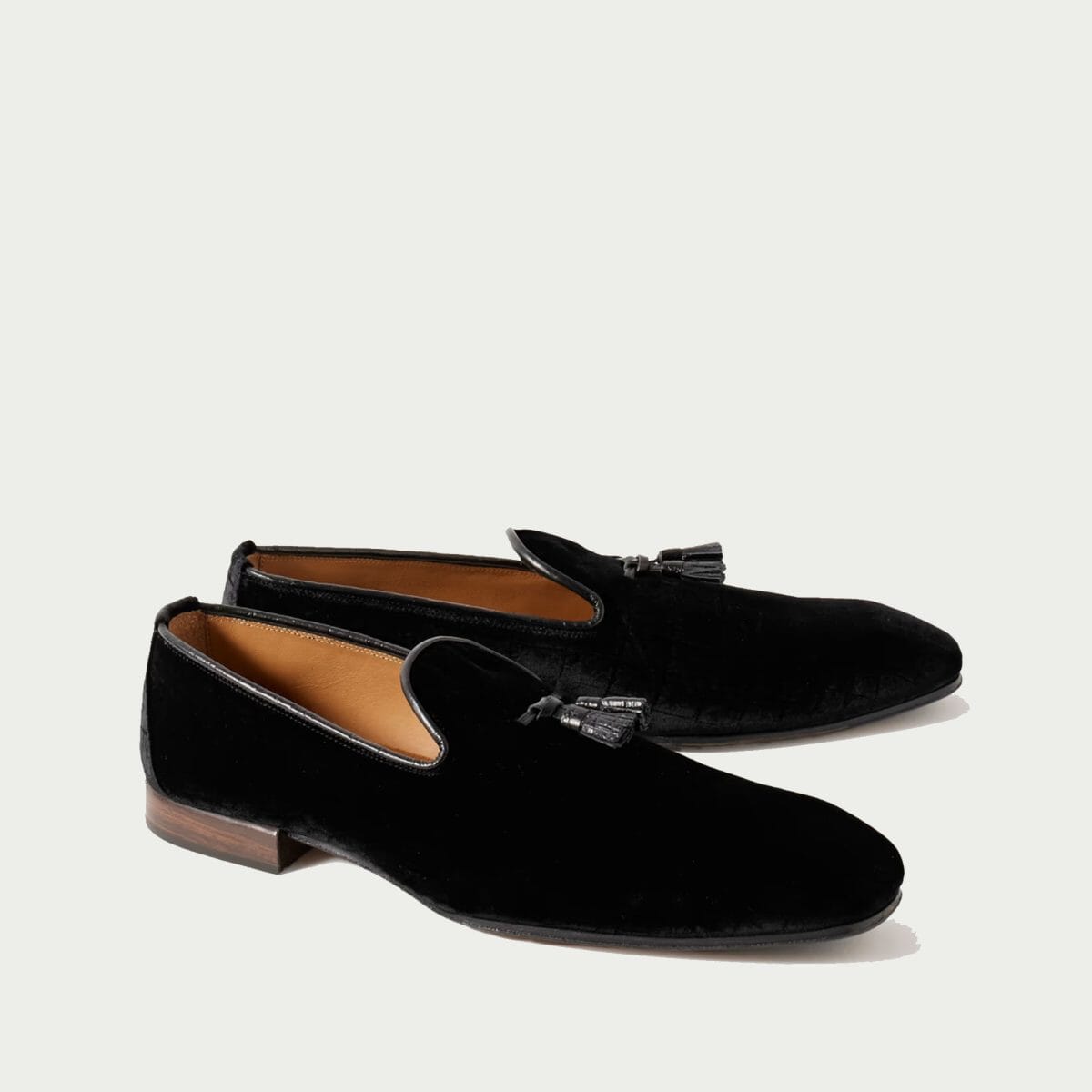 Tom Ford Bailey
And last but by no means least, we have the Bailey by Tom Ford. Adding a dash of character and sophistication to your fits, while most of the velvet loafers for men in this piece feature a sleek and smooth design, these are debossed with a crocodile effect that delivers an exotic aesthetic that is sure to turn heads wherever you go. The Bailey is then finished with a contrasting tan leather lining and traditional tassels, which fans just adore.
Looking for something more casual? See our pick of the best suede sneakers for men.
---
---