The new year means many things: a fresh start, sometimes a whole new you, but one thing for certain – back to work. It's never a smooth transition, one day you're waking up naturally as daylight filters through your curtains, and the next day your slumber is rudely interrupted by an alarm before the sun has even risen. It takes a little while to get back into the swing of things, but there are ways to make the transition easier. Our favourite method is to incentivise your return to work and the best way that we've found to do this is by upgrading your work paraphernalia, from stationery supplies to minimal briefcases. We've rounded up the best back-to-work gear from Property Of…, Mismo, Mishmash and Carl Friedrik that's easing us back into the working world.
Property Of…
Having noticed that the world of leather briefcases needed a revamp, designers Peter Teo and Richard Chamberlain founded Property Of…. Since 2006, the label has produced a collection of lightweight travel bags, high-quality tote bags and small leather goods that aim to streamline your daily journey.
Property Of… Alex 24h Backpack 
The Property Of… Alex 24h Backpack is a completely versatile alternative to a leather briefcase. It features a range of small and large pockets, including a 15" laptop compartment. Our favourite feature of this travel backpack is the fact that it can be packed like a cabin suitcase. Unzip the bag from the back to make the most of the space. Not only is the Alex 24h Backpack highly functional, its water repellent polyester construction is crafted from 35 recycled plastic bottles. 
---
---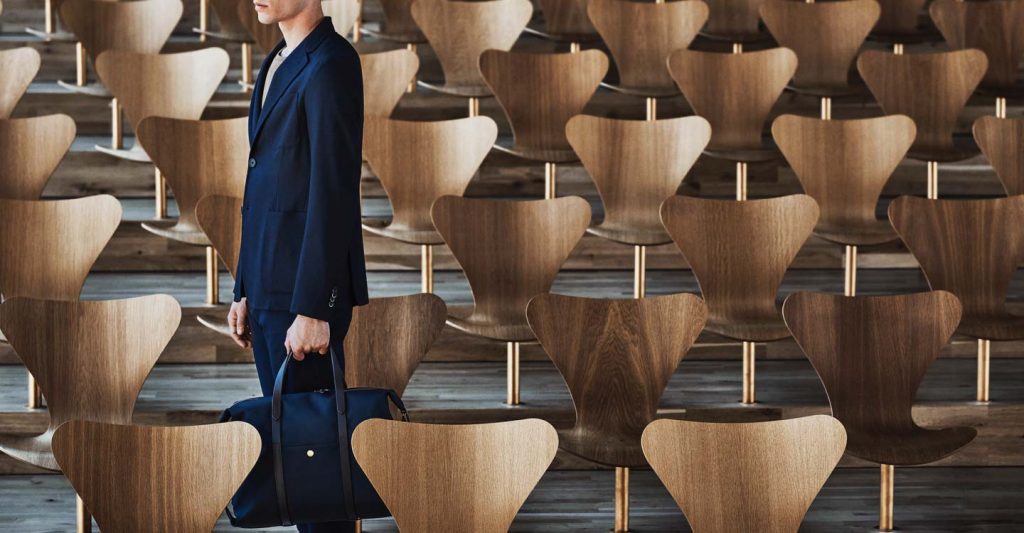 Mismo
If you were to guess where Mismo is based, we reckon that you'd probably say Copenhagen and you'd be completely correct. Mismo's laid-back approach to designer luggage embodies the subtle sophistication that characterises the Danish capital. The label creates men's weekend bags, minimal backpacks, luxury briefcases and more that blend a meticulous eye for detail with tough, premium materials.
Mismo M/S Utility 
We've often been told to settle for a bag that does most of the things that we want it to do. We will settle no more. Instead, we'll reach for our Mismo M/S Utility Bag in the knowledge that it ticks every single box. This Scandinavian-style bag is made from water-repellent cotton & nylon canvas to protect your goods when you're out and about and, once you've packed everything in, you can adjust the size of the bag using a sleek clip system. Mismo's signature refined design combines with a focus on utility to make this bag the perfect work-ready accessory.
---
---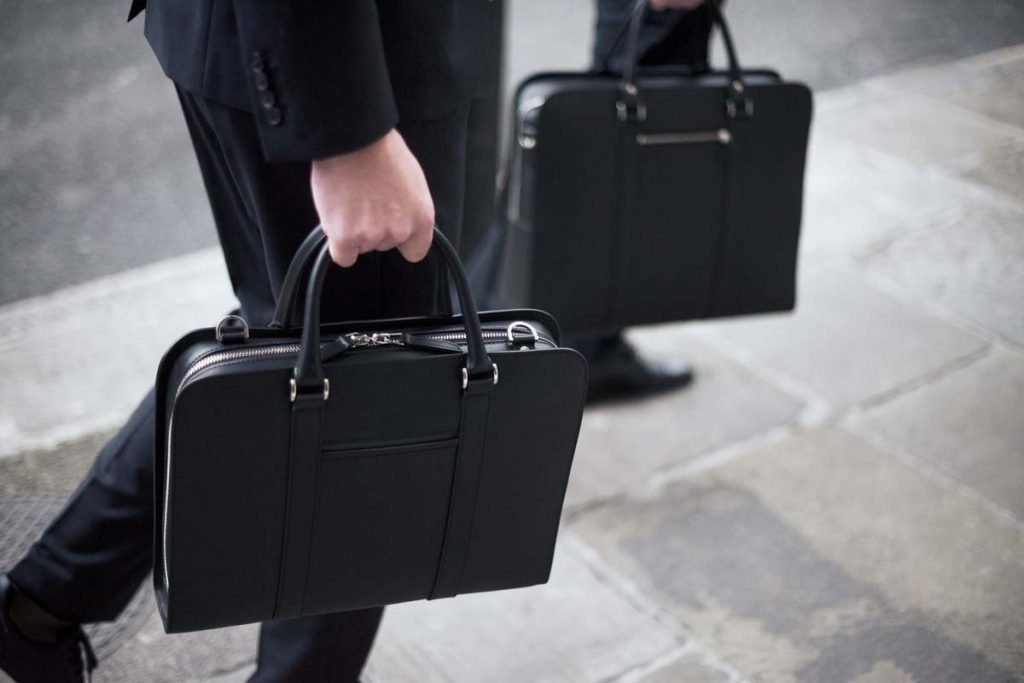 Carl Friedrik
The world of leather goods, whether it's a leather phone case or just a simple leather coin purse, has grown exponentially in recent years. Back in 2012, however, brothers Niklas and Mattis were shocked by the lack of high-quality leather items available so set about to change it. Carl Friedrik works with naturally tanned leathers and artisanal craftspeople to make a collection of premium leather bags, men's leather wallets and more.
Carl Friedrik Black / Orange Lining Palissy 25HR Briefcase
Traditional briefcases saw a fall from grace towards the end of the 20th century, transforming from high-quality leather cases to ugly, heavily padded cotton sacks. Luckily, it appears that labels like Carl Friedrik have brought back the beauty in briefcases. Take the Palissy 25HR Briefcase as an example. This stylish work bag blends traditional qualities with contemporary flair embodied by its statement orange lining. A large central compartment is accompanied by zip pockets and a padded laptop compartment to give you the options you need for modern working life.
---
---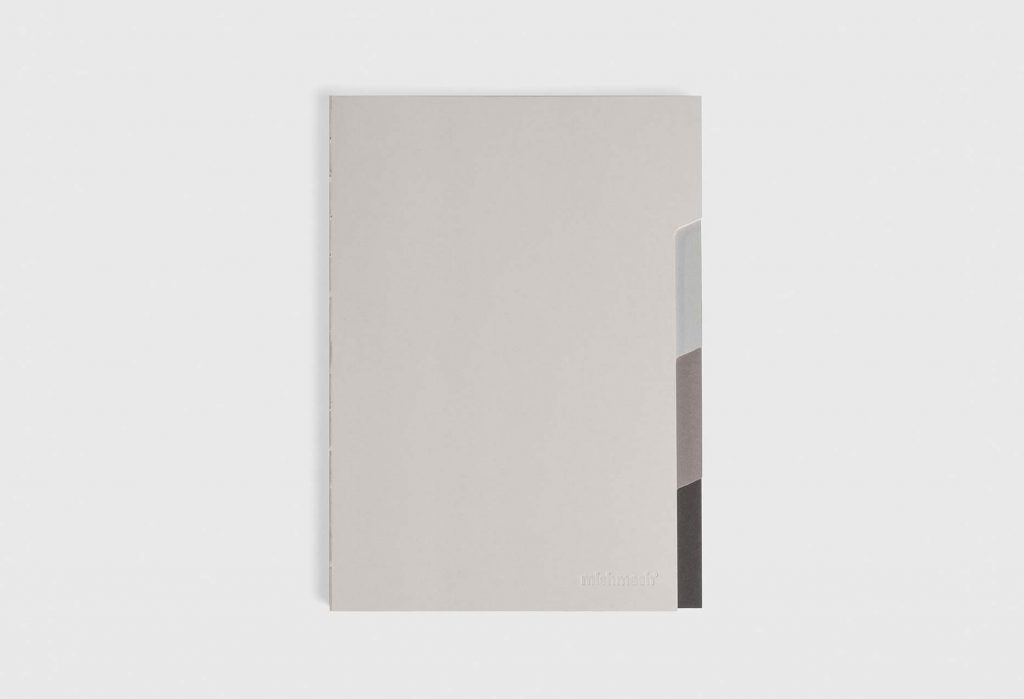 Mishmash
When it comes to stationery, there are so many options. That's why it helps when a brand like Mishmash comes along with a clearly innovative mindset. Founded in Portugal, Mishmash has earned a reputation as a world-class, minimal stationery provider thanks to its willingness to see everyday objects from a refreshing new perspective. 
Mishmash The Monochrome Notebook
Getting into the habit of writing notes down on paper rather than digitally will revolutionise your working life. Being able to visualise projects is a luxury that few appreciate in the modern day, but with the help of Mishmash's Monochrome Notebook, you can bring it back. Little details make this such a special planner, one of our favourites is the exposed spine stitching which allows you to lay the A5 notebook flat. It sounds simple, right? So why doesn't every stationer do it? 
---
---
Shop all designer bags at OPUMO.
Set yourself a New Year's resolution with a lofty target? Help yourself along with the year's best gym bags.
---
---