The black denim jacket is an essential part of every single man's wardrobe. The perfect layering piece, especially during the autumn and winter months, unlike the classic blue version, these are more understated, blending in but standing out at the same time. 
Whether you're throwing on a graphic tee or a flannel shirt, slipping on a pair of cargo pants or jeans, black denim jackets will literally go with everything. They also work well with all types of footwear too, including retro sneakers, Oxford shoes, and combat boots. The possibilities are truly endless. Scroll on for our pick of the best black denim jackets for men, plus a few helpful hinters on finding the perfect one.
How to find the best black denim jacket
If you're looking for your first one, there are a few things that you should bear in mind. Firstly, even though they're called a black denim jacket (emphasis on "black"), they actually come in various different shades and washes. Make sure you know exactly what kind of style you're looking for before you fully commit to it.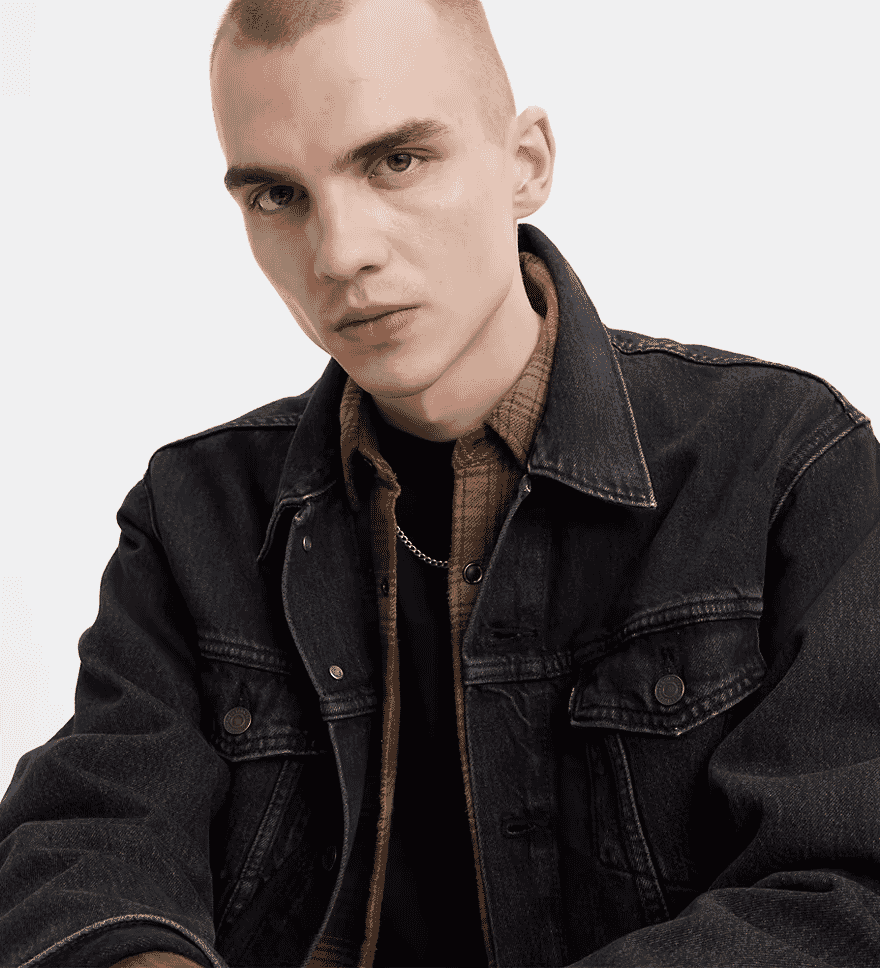 Secondly, there are also plenty of fits to choose from too. Some jackets feature a more cropped cut, while others are slightly oversized for a more casual, relaxed vibe. If you're not sure which aesthetic to go for, opt for a more classic style instead. This is by far the most versatile, and once you put it on, you'll never want to take it off.
Finally, sometimes black denim jackets are marketed as "denim," but it's worth keeping a close eye on the small print. There are pieces out there that are made from a cotton blend, and others that are crafted using vegan-friendly materials. Make sure you know exactly what you're buying so you don't end up disappointed down the line. With all that said, we've hand selected 10 of the greatest ones that should definitely be on your radar this season.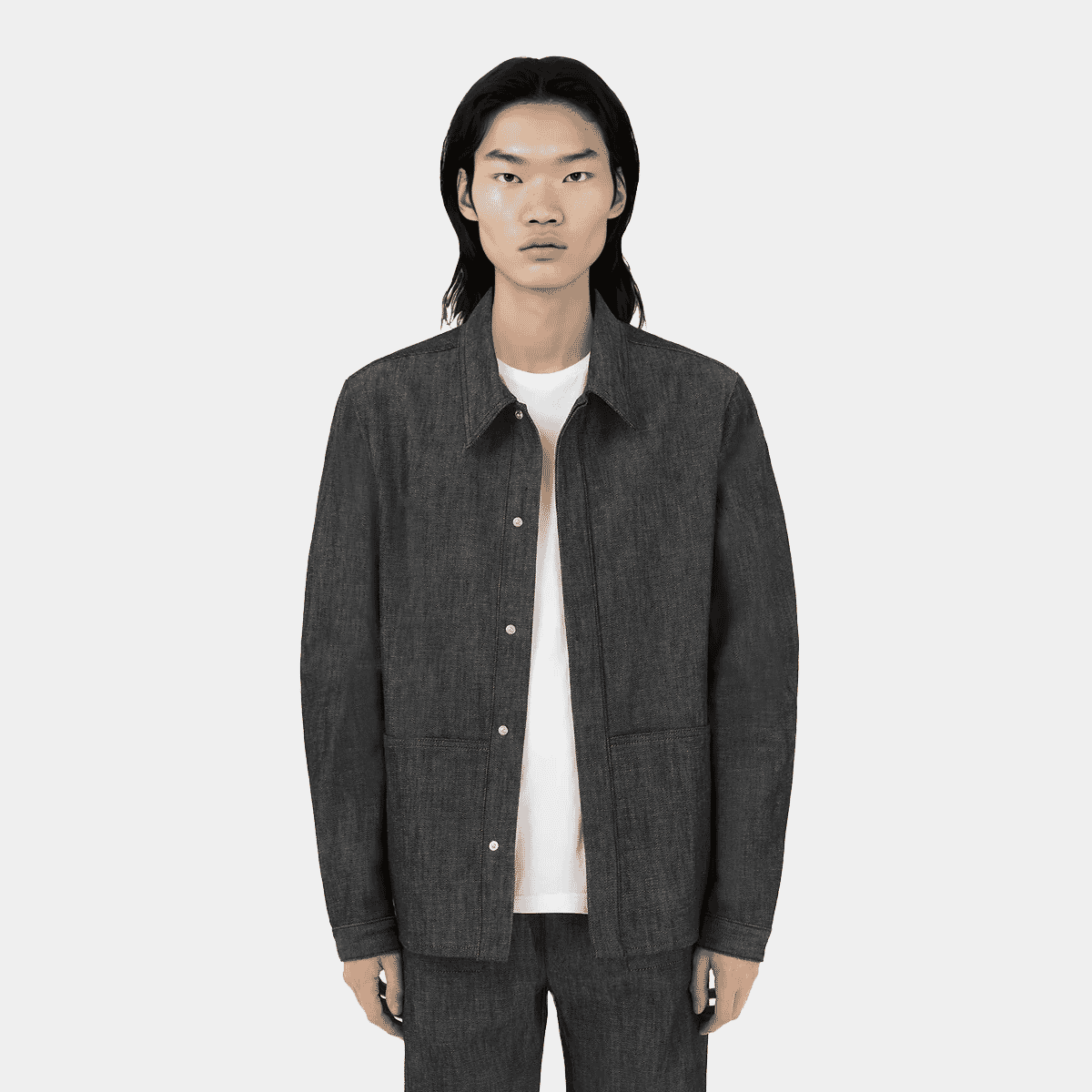 Best black denim jackets for men in 2023
Non Work Jacket
Searching for a simple, no-nonsense black denim jacket? Then Non's Work Jacket was made exactly with you in mind. While most pieces are lined with stitching and decorated with plenty of details throughout, this one has a design that's very sleek and very streamlined to the point it almost looks like something from the future. To add to this, it's crafted from an organic cotton blend that's PETA-approved and vegan-friendly, so if you're looking for something that's a little kinder to the environment, this is the one for you.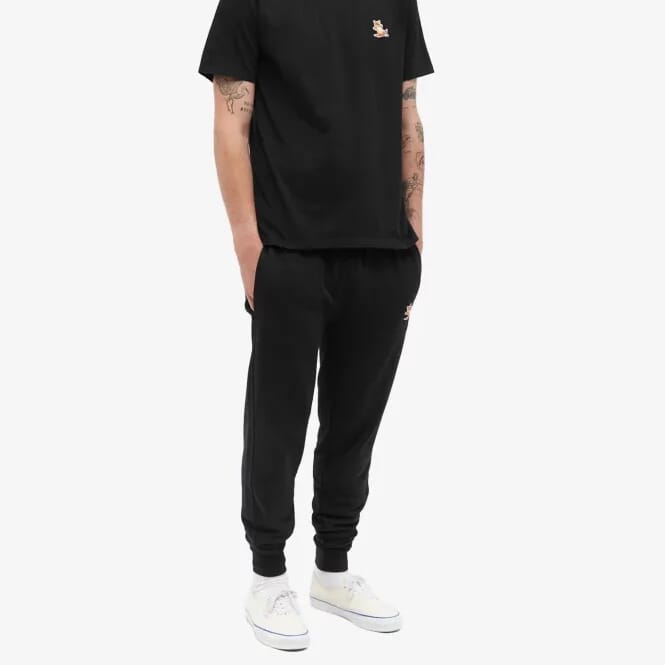 Maison Kitsuné Cafe Trucker Jacket
Unbeknownst to many, Maison Kitsuné actually started its life as a record label in Paris. Founded by Gildas Loaëc and Masaya Kuroki, eventually, the duo decided to channel their love of music into a lifestyle label, and the rest is history. The Maison Kitsuné Cafe Trucker Jacket is one of their most popular pieces, and it's easy to see why. Constructed from 100% cotton, it's cut to a straight fit and is embroidered with the French brand's iconic fox at the breast pocket. For this jacket, it's all in the details.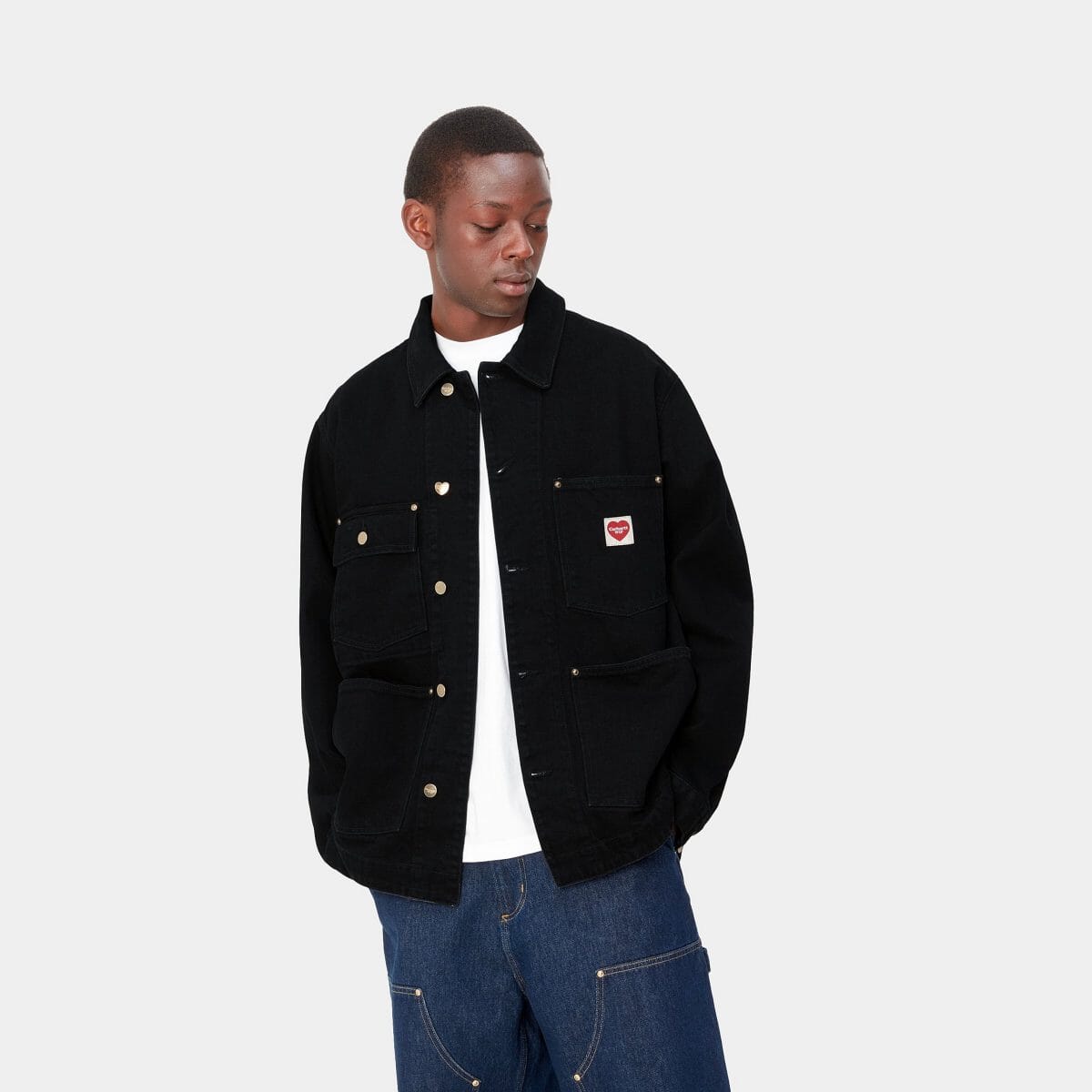 Carhartt WIP Nash Jacket
At its core, the denim jacket is a workwear piece, and Carhartt WIP is one of the most iconic workwear brands of all-time, so not giving them a special mention would be considered to be pure blasphemy. Constructed from robust Smith denim, the Nash Jacket has been stone-washed for a subtly worn-in appearance. Triple-stitched details, multiple front pockets, and metal rivets nod to the item's utilitarian origins, and to the chest, you'll find a woven Heart Label that we just can't help but love.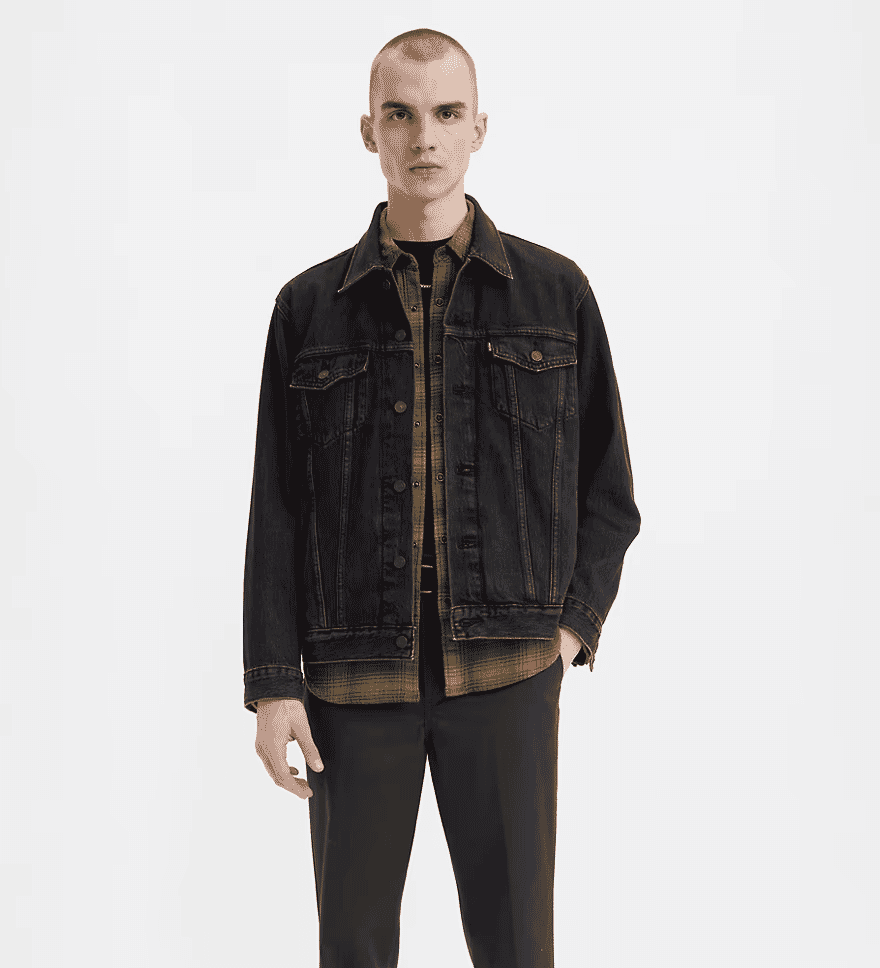 Levi's Trucker Jacket
Of course, you just can't talk about the best black denim jackets for men without bringing up Levi's. Since 1853 (that's exactly 170 years ago), the San Fran-based clothing company has been producing some of the greatest denim pieces ever, and this Trucker Jacket is among them. Boasting a versatile, relaxed fit, it's made from washed black cotton and is equipped with all of the original details. Branded metal buttons and tapered "V" stitches make it instantly recognisable, and it's finished off with the legendary red "Levi's" tag that adorns the left chest pocket. What's there not to love?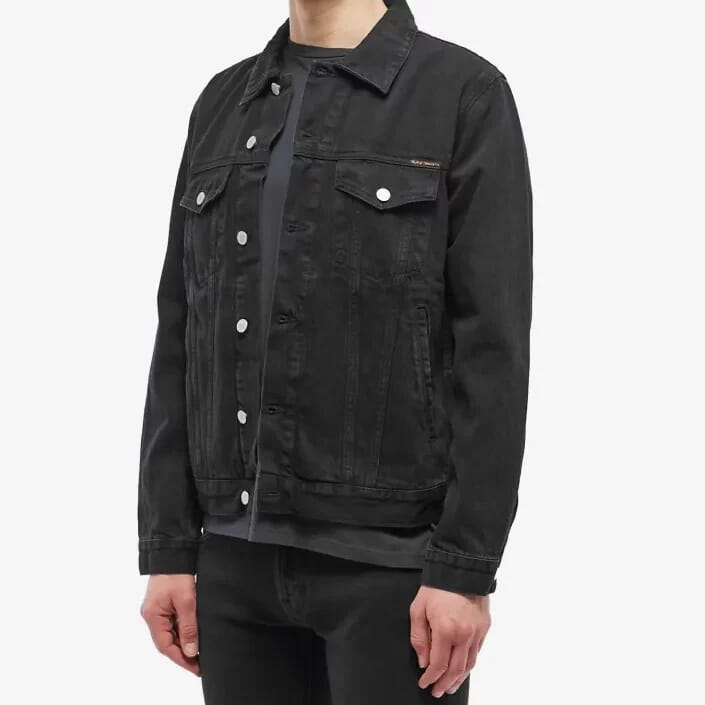 Nudie Jeans Co Robby Denim Jacket
During the early '00s, Marina Erixon was working for a denim company that shall remain anonymous. She wasn't entirely content with their sustainability practices, so in 2001, she decided to start her own label in the form of Nudie Jeans Co. Since then, the Scandi brand has been at the forefront of eco-friendly fashion, and the Robby Denim Jacket has become a true icon. Made from organic cotton and given a worn-in finish, one of the coolest things about this item is that it's made to be repaired. So if it ever rips or tears on you, simply go to any Nudie location and they'll fix it, free of charge.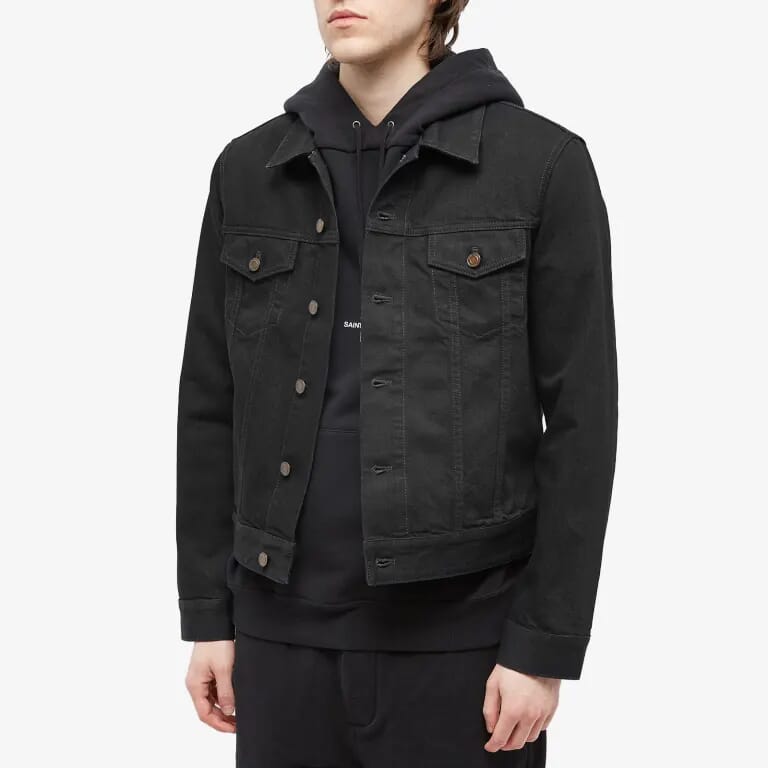 Saint Laurent Denim Jacket
Since the dawn of time itself, Saint Laurent has always been the go-to brand for those looking for high-end apparel and accessories that are imbued with an archaic aesthetic. If that sounds like something that you've been looking for, then this Denim Jacket deserves a spot in your wardrobe ASAP. Made in Italy, this boasts a vintage wash and is decorated with brass-toned hardware throughout. It's also equipped with four pockets so you can store all of your everyday essentials with ease.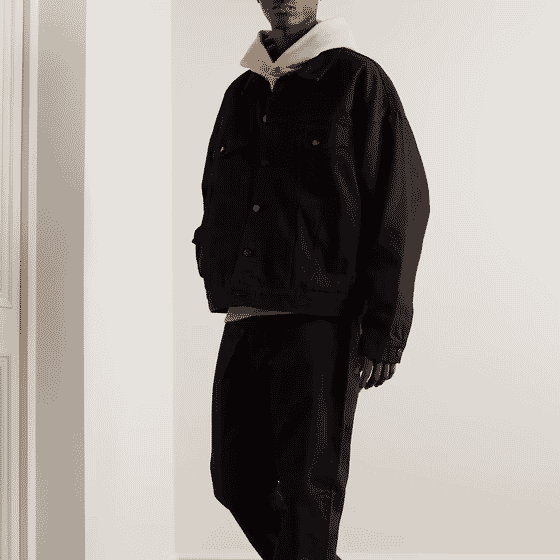 Fear of God Essentials
Not only is Jerry Lorenzo's Fear of God Essentials the king of loungewear, they also know a thing or two about creating the ultimate black denim jacket. Simple, sophisticated, and seriously stealthy, this outerwear piece from the Los Angeles streetwear imprint is painted in black, black, and even more black. Cut in a relaxed shape with structured seams through the front, it's finished off with a subtle logo at the back. What more do you need?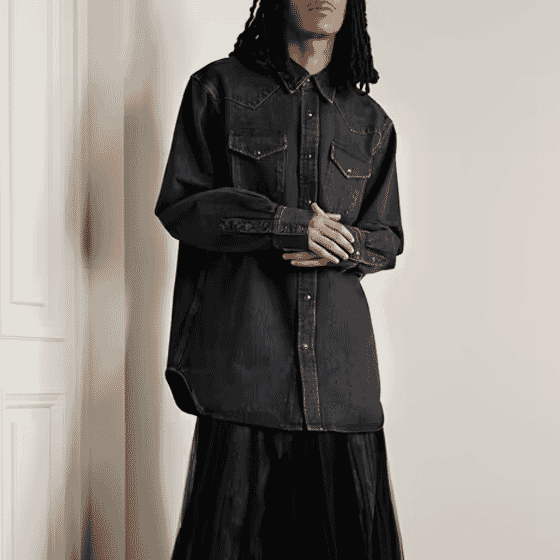 Acne Studios Karty Denim Overshirt
Back in the '90s, Acne Studios was a creative agency based in the Swedish capital of Stockholm. In 1997, its co-founder Jonny Johansson decided to create 100 pairs of raw denim jeans with red stitching, which he gave to his friends and family. While he didn't know it at the time, this would be covered by fashion magazines worldover, and it eventually led the Scandi company to become one of the biggest names in denim. The Karty is one of Acne's most popular pieces at the minute. Cut for comfortable layering, it has an angular yoke and snap fastenings borrowed from Western styles. While this isn't, strictly speaking, a jacket, its thick 100% cotton construction ticks all of the boxes.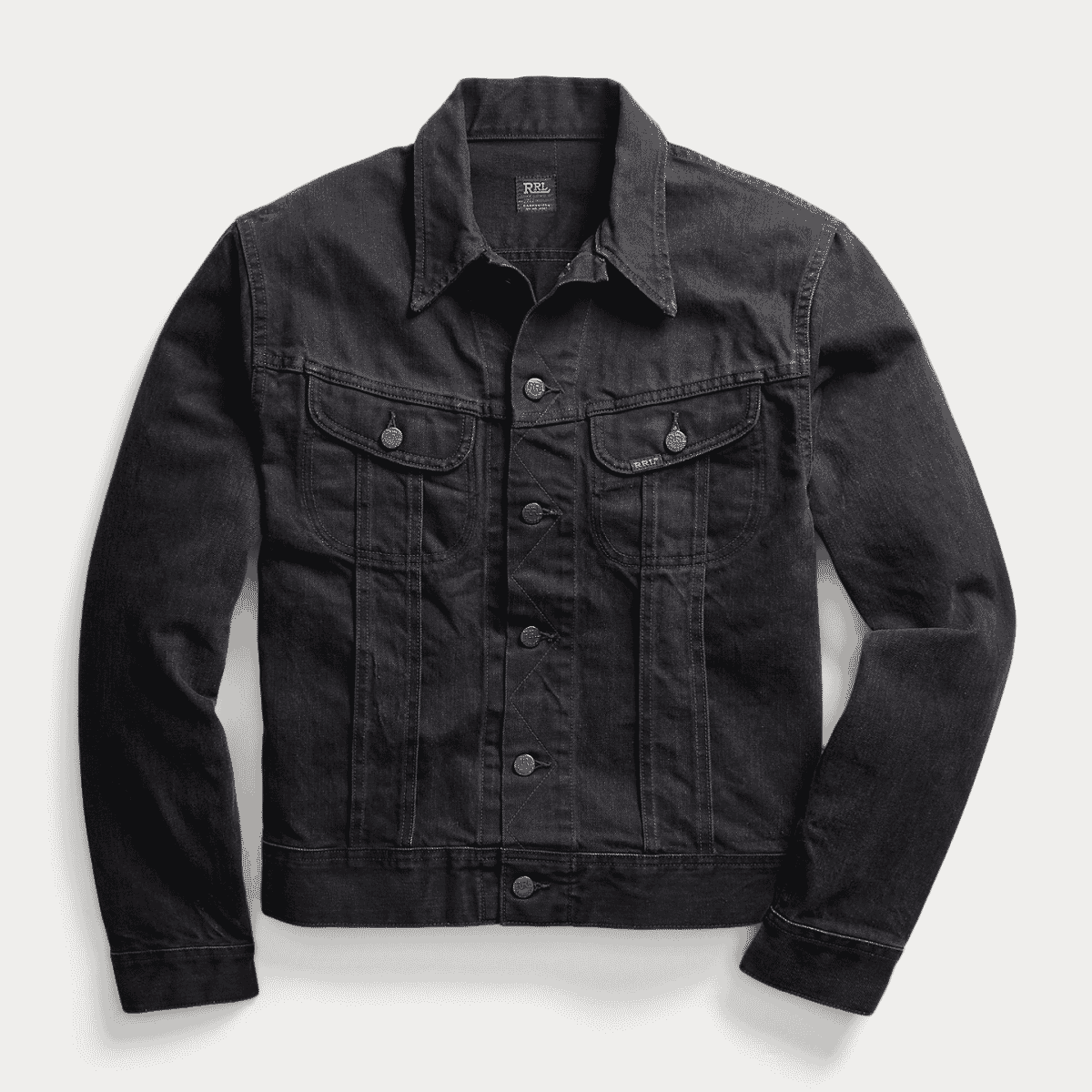 Ralph Lauren Denim Trucker Jacket
Made from quality 13.6 oz. black denim, this Denim Trucker Jacket by Ralph Lauren is inspired by styles from the early 1950s. Featuring a classic design, it's reinforced with double-needle stitching at the seams, and is fitted with brushed metal hardware for a timeless aesthetic. You'll also find intricate zig-zag detailing throughout that gives it a somewhat Wild West vibe, and it's finished off with a "RRL" tag across the left chest pocket. It's not cheap, but it's worth every single penny.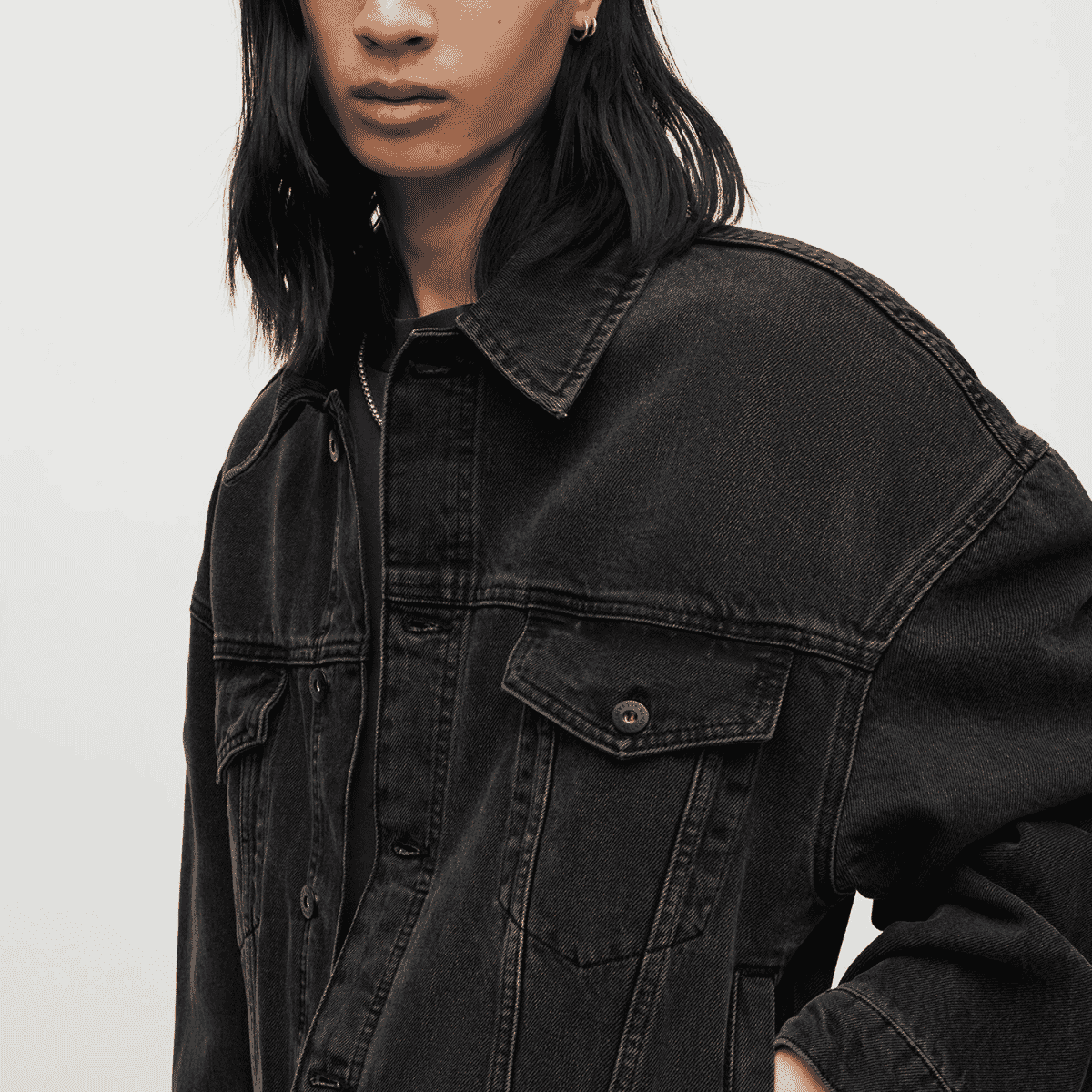 AllSaints Avets Oversized Denim Jacket
And last but by no means least, we're showing off the Avets by AllSaints. Unlike many black denim jackets, this one features an oversized fit that's influenced by the streetwear scene. It's also finished with a vintage wash, giving it an archival aesthetic that's made to turn heads wherever you go.
Feeling brave? Try a double denim ensemble.
---
---