With origins on the factory floor - when workers cut off their collars to avoid them being caught in machinery - the grandad collar shirt has graduated to become a gentleman's wardrobe essential. You won't want to be without one on holiday and increasingly they're indispensable as part of your day-to-day style too. There's less formality than an Oxford shirt and a little more than a polo, so the grandad collar shirt fills an important gap in your personal style choices. We've picked out eight of the best grandad collar shirts - some in always-elegant linen, others in cool cotton and contemporary blends - for you to select from and first a few ideas:
How to wear a grandad collar shirt
Loosen up your style. You'll be pleasantly surprised to find just how versatile your grandad collar shirt will be. We'll confidently predict it'll become a go-to piece in your wardrobe more times than you can imagine. 
Reach for it when you're planning an island holiday - and it's ideal worn unbuttoned over a t-shirt and shorts for those long afternoons at the beach. Buttoned up over cotton trousers and you're ready for a stylish night out, eating under the stars after elegant cocktails.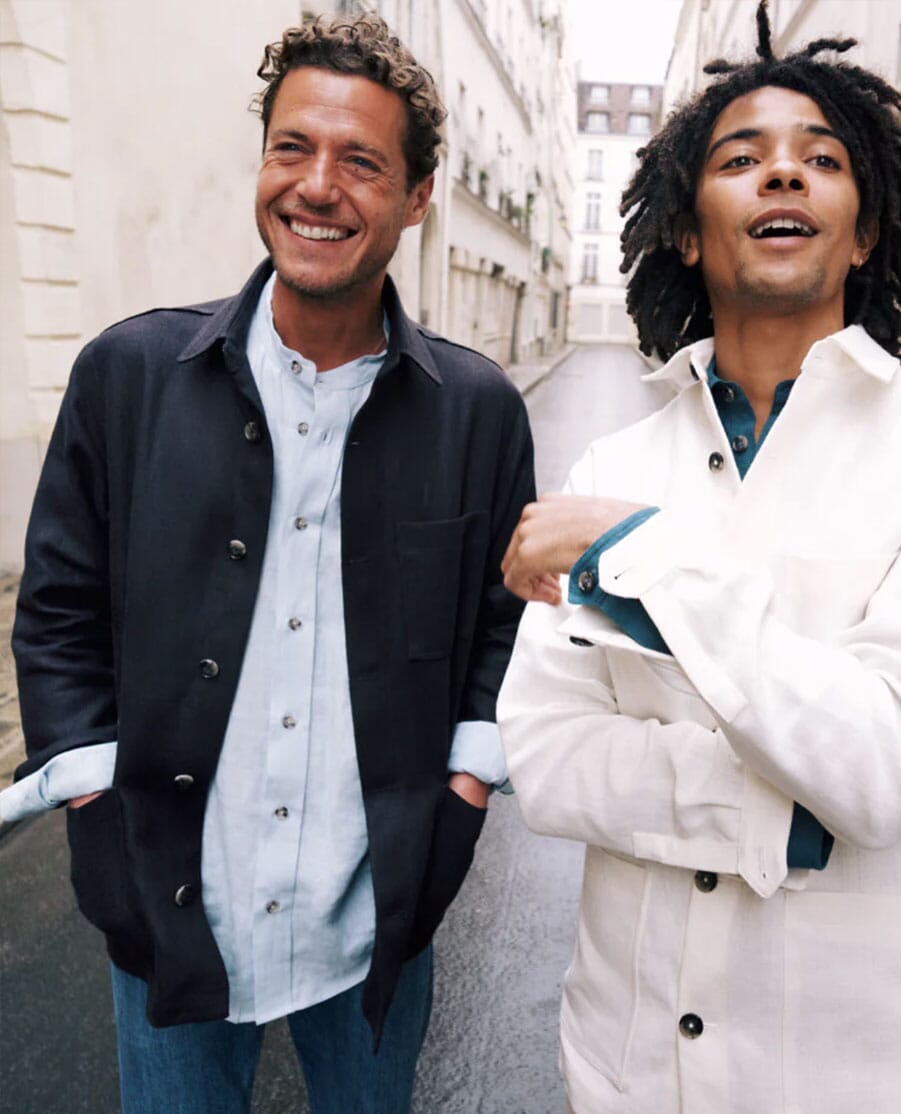 Because of its workwear origins, the grandad collar shirt is totally classless, supremely above mere fashion. So while it's perfect as beach and holiday wear that's just part of the story. Summer garden at the pub for superior hamburgers? That'll be grandad collar territory. For picnics in the park, it's an easy sartorial companion to smoked salmon and French Champagne.
We'd go further, too. Try your grandad collar shirt under a formal jacket and chinos on dress-down days at the office, and you're ideally set for after-work drinks too. This is a piece that's destined to become part of your signature style - whether in linen, cotton or an innovative blend. Only decision now: which of our selection of the eight best grandad collar shirts for men to choose. 
Best grandad collar shirts for men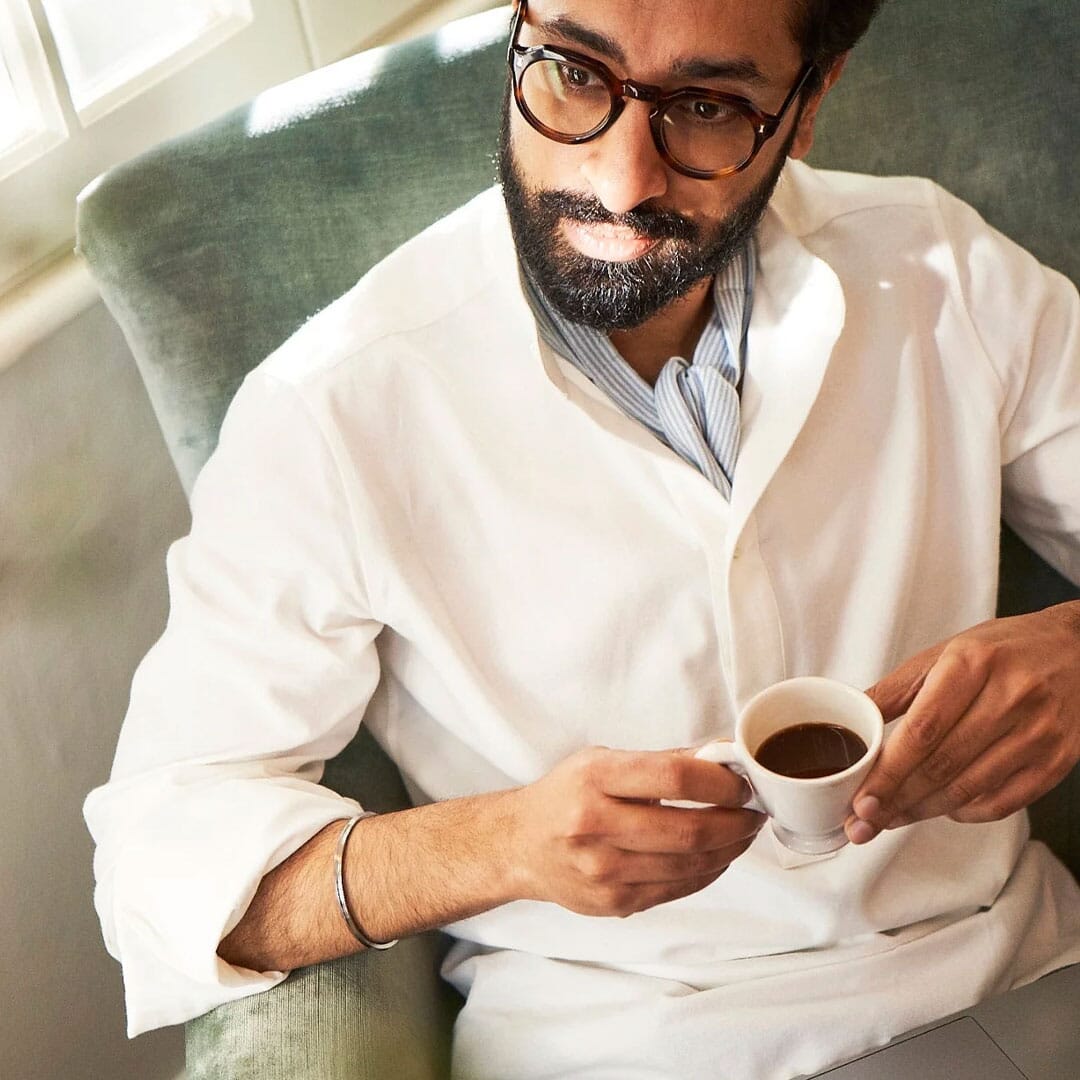 Neem Recycled White Nehru Collar Shirt
London-based label Neem is known for its sustainability efforts, so you can rest assured that its garments are as good for the planet as they are for your wardrobe. This shirt epitomises the brand's eco-conscious approach: ethically crafted from a blend of recycled cotton and organic cotton, its production emits 40% less greenhouse gas emissions and 93% less water than that of a standard shirt.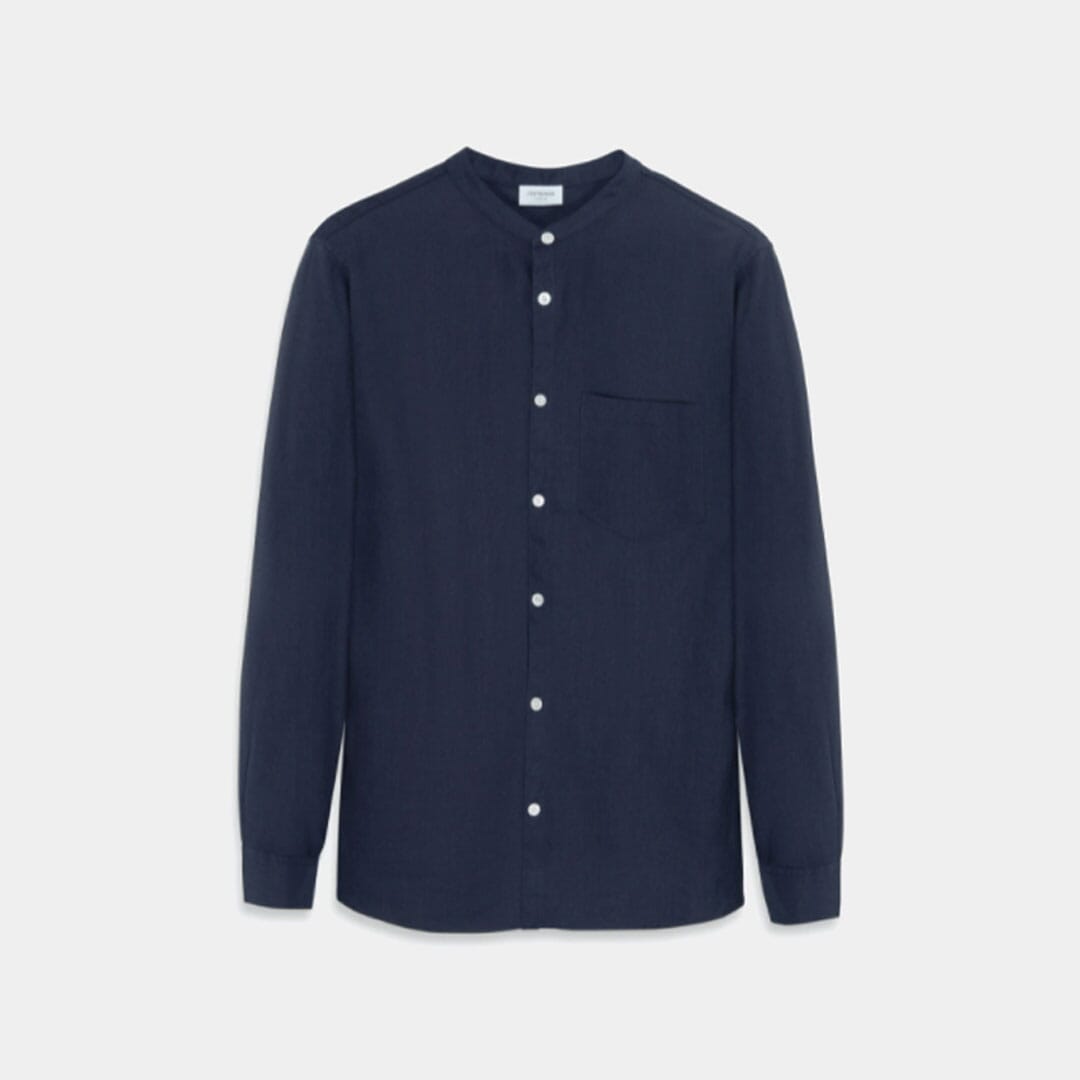 L'Estrange London The All Day Shirt Linen Collarless
Organic linen forms the basis for this perfectly judged piece from the minimalists at L'Estrange London. Fabric includes cotton to add breathability and year-round wear with elastane for a little stretch and yet more comfort. L'Estrange calls it "re-engineering" linen, so that it's softer - with all of linen's chic and the additional benefit of being ready for casual summer wear with beach shorts, or teamed with a jacket and jeans on a spring night out.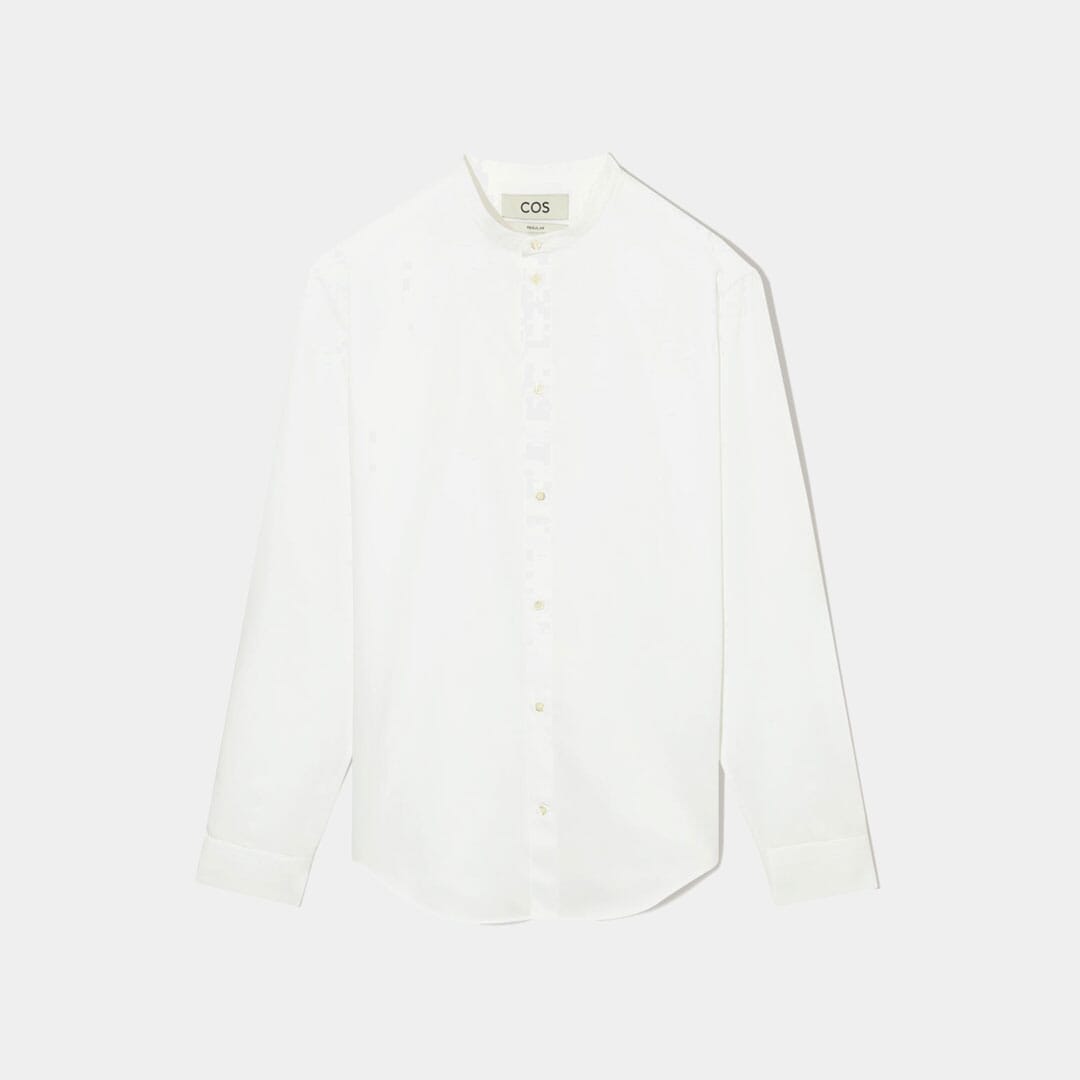 COS Regular Fit Grandad Collar Poplin Shirt
Timeless design specialists COS have added a beach detail to their essential Grandad Collar Poplin Shirt to remind you where it'll be most at home: buttons are in iridescent seashell. It's the final touch to a 100% cotton-poplin shirt with a tailored hem, forward-facing shoulder seams and classic shape to add to ease of wear. Tailoring means it's perfect for all-season use too, tucked in or out of shorts or chinos, ready to add personal style to any occasion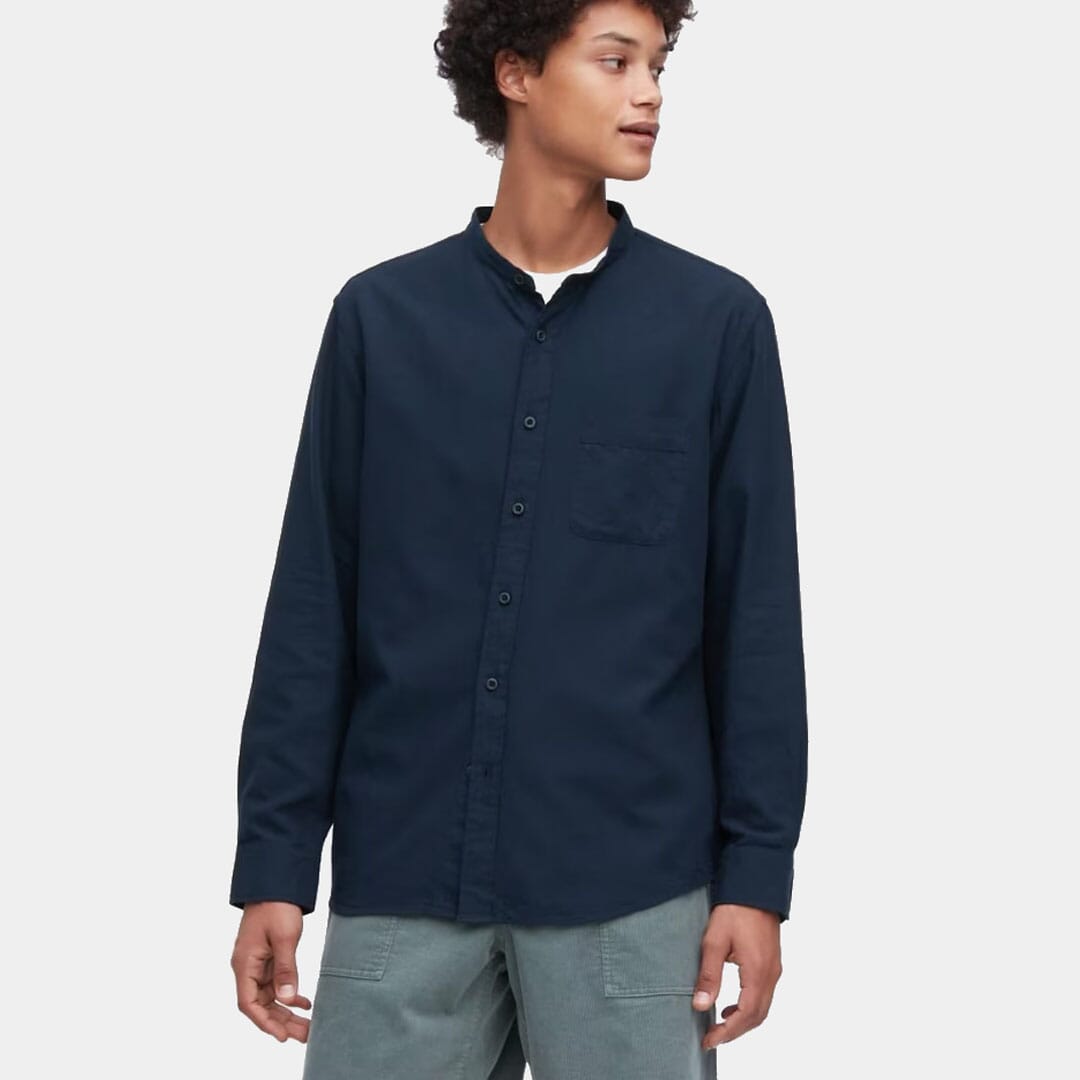 Uniqlo Soft Twill Regular Fit Shirt (Grandad Collar)
Trust the Japanese wardrobe essentials connoisseurs at Uniqlo to come up with the wear-every-day alternative. Designed to be thrown over a t-shirt for super-casual, super-stylish Sunday brunch or on its own as you choose, whether that's under a jacket or over a pair of beach shorts. Construction is in 100% cotton twill fabric, selected to be soft to skin and to touch. Button up to impress or leave top buttons open for relaxed look.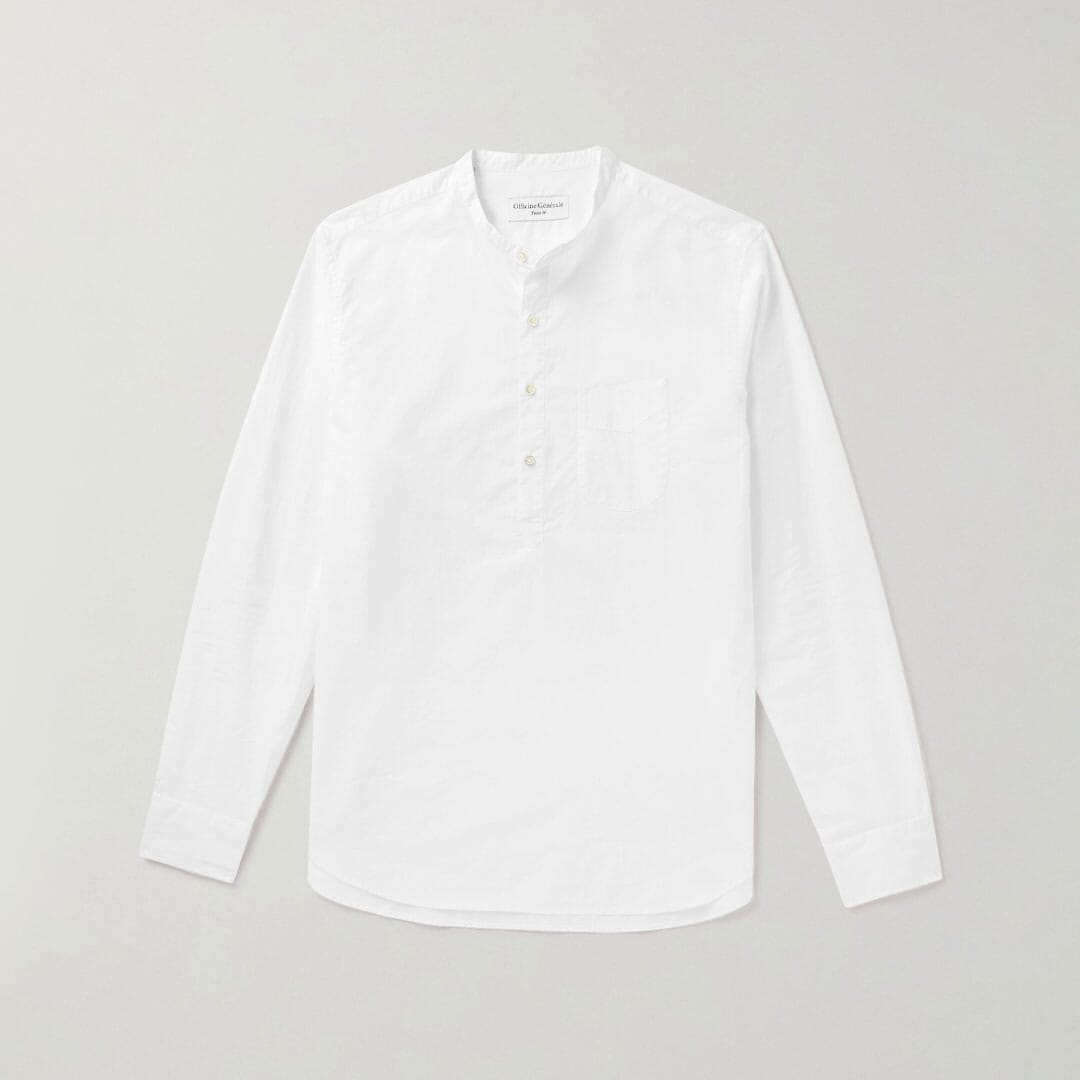 Officine Générale Auguste Grandad Collar Cotton Poplin Half Placket Shirt
Need another white shirt for your capsule wardrobe? Try this beautifully imagined grandad collar shirt from Pierre Mahéo's Officine Générale label, presented in 100% cotton poplin and tailored with a four-button placket for a classic grandad look and added personal style. Premium construction and fabric means this is a piece you'll be reaching for again and again to freshen your everyday and after-hours look.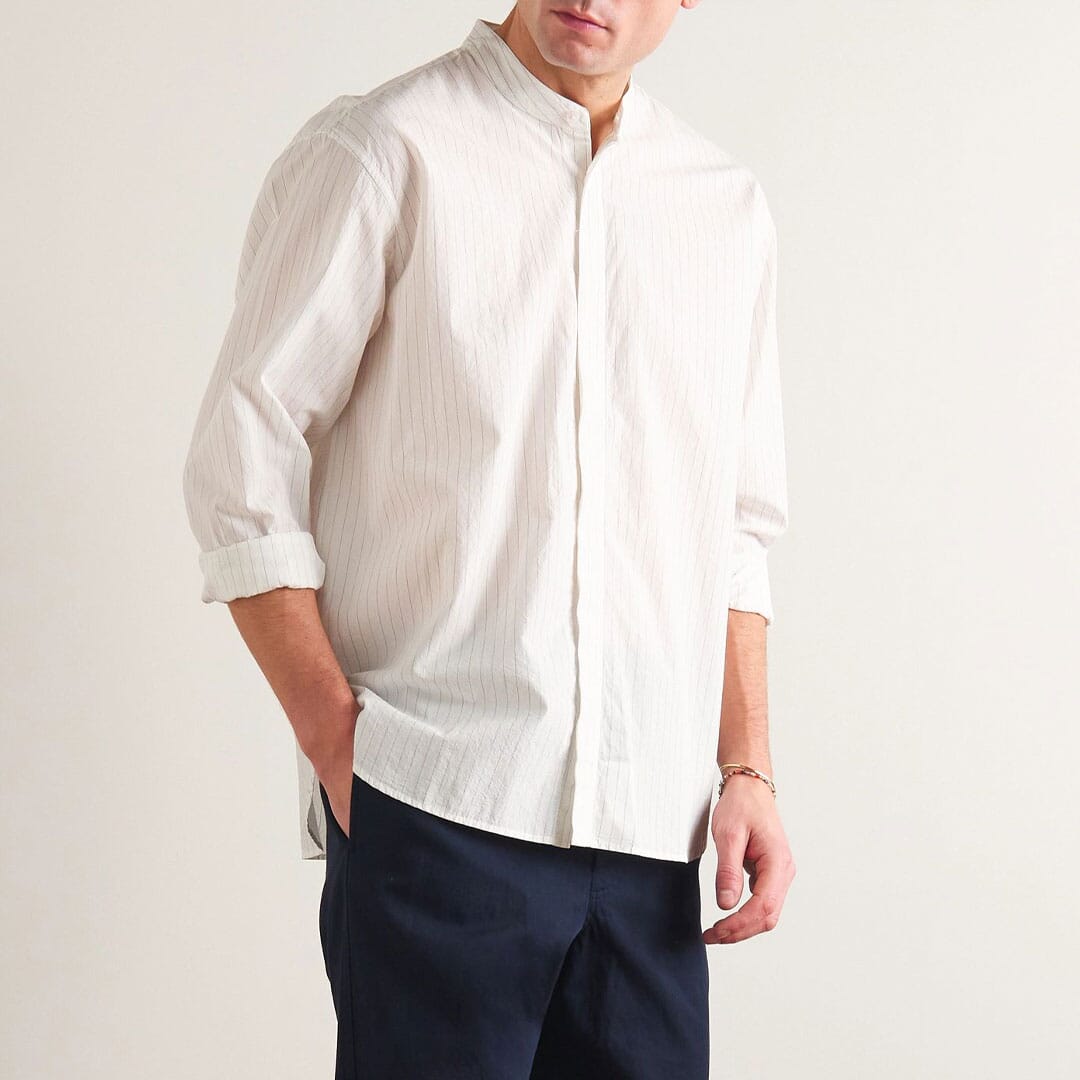 Orlebar Brown Dekker Grandad Collar Pinstriped Cotton Poplin Shirt
Photographer Adam Brown founded his label Orlebar Brown to specialise in beach and casualwear. The brand's quietly brilliant Dekker Grandad Collar Shirt plays with the idea of formal by using a subtle pinstriped white and black cotton-poplin - that's 100% cotton - tailored with through-fastening and concealed buttons for added elegance. Idea is that this is a piece squarely aimed at the beach, knowing you'll be headed for that upscale beach-side grill for a calamari lunch afterwards.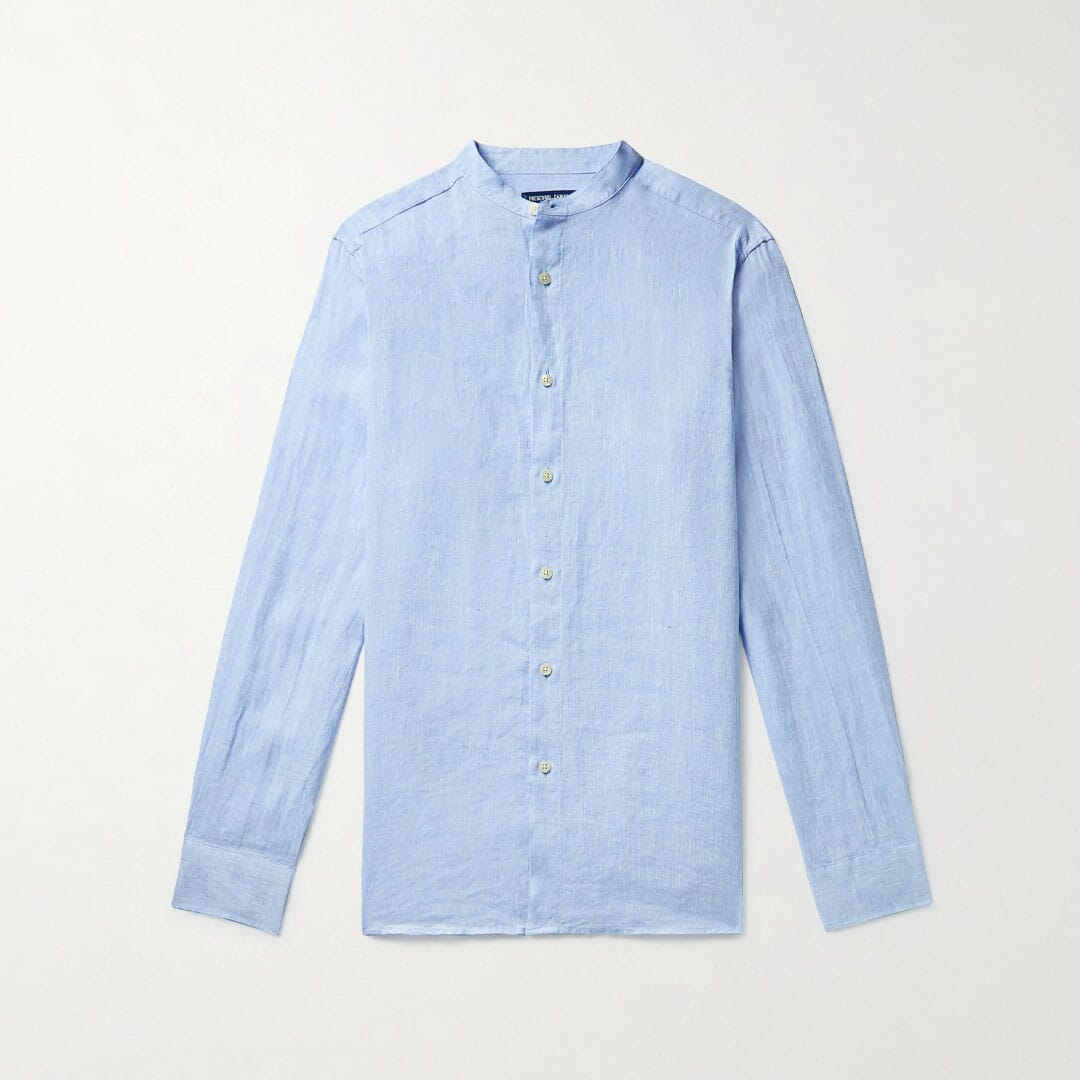 Frescobol Carioca Jorge Grandad-Collar Linen Shirt
Looking for the style, panache and sheer sunshine of Rio's Copacabana beach? Look no further. Frescobol Carioca aim to bring the style of Rio de Janeiro to your wardrobe every day and nowhere more so than in their Jorge Grandad-Collar shirt. Cut here is entirely classic in always-cool, in every way, 100% linen with full-length sleeves just asking to be rolled up and buttons demanding to be undone over your crisp white T-shirt. Plane ticket to Brazil not included.
Discover our pick of the best flannel shirts for men.
---
---