It's that time of the year where we ponder the best men's work boots. A staple year-round but especially important when the weather proves challenging. When you're on the job and it's cold and wet and the conditions are increasingly fraught, you'll be grateful for a pair of boots that stand up to the job at hand. That might mean something lightweight, it might mean a pair of slip-ons or it might mean something with a steel toe cap. 
Whatever work boots best suit the job at hand, we've pulled together a selection of the best out there to help you get the work done.
What are work boots?
Put simply, a work boot is something that you wear for work. For that reason, it's most likely you'll need a boot with a certain set of characteristics. First and foremost, a work boot needs to be either waterproof or water resistant. A robust rubber sole with added grip is also important, with lugs helpful for traction on muddy and uneven surfaces.
If the work you are undertaking has innate risks such as crushing or machinery-related hazards, a steel toe cap is essential, with specific boots also packing regulation-standard safety, such as thickness of materials, resistance to electric shock and added protection against puncturing. A sole should be thick, ensure grip and traction and ideally be welted. 
The best men's work boots should also provide added support, which often means that hiking styles work especially well. Lacing further towards the toe, padded collars and cushioning all work to provide support and comfort for long days spent stomping around, keeping your ankle solidly in place.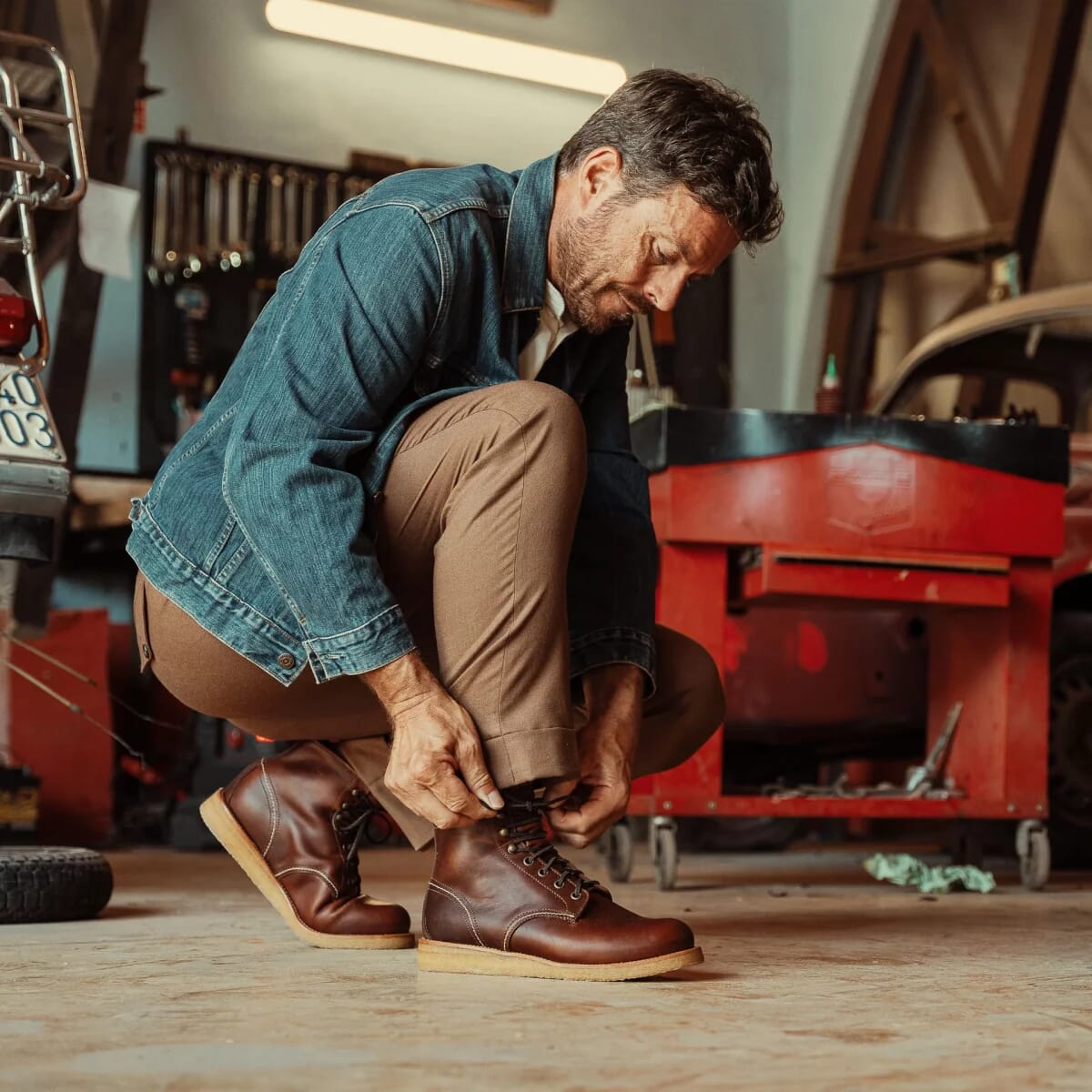 How to clean work boots
It's worth investing in a robust brush for the best men's work boots to remove grime and dust. Leather should be thought of in the same way as a second skin, thus regular cleaning and moisturising with dubbing style products. Suede will require a suede brush and specific cleaning and protective products.
For most boots warm water and a soft brush should do the trick with a harder brush used on cleaning in between the lugs of the sole. An all-weather protector is worth using before first use and from thereon in order to ensure the longevity of boots. 
How to break in work boots
Chances are the best men's work boots will take some breaking in. Whilst it's something of an inevitability, you can do yourself a favour from the off by ensuring the boots fit properly. That may mean going up or down sizes. Don't rely on a pair of socks to make the space up, ill-fitting footwear will always result in a blister somewhere.
Whilst there's no magic bullet to breaking in boots, wearing them prior to work with blister plasters in common blister risk areas, be it around the house or out will loosen them up. Using a leather moisturiser or balm from the moment you get them will also go a long way in softening the leather allowing it to mould to your feet easier and less painfully.
There's plenty of daft myths out there to avoid. Don't submerge them in water. Don't use a hairdryer to apply heat. Use a shoehorn to put them on and take them off.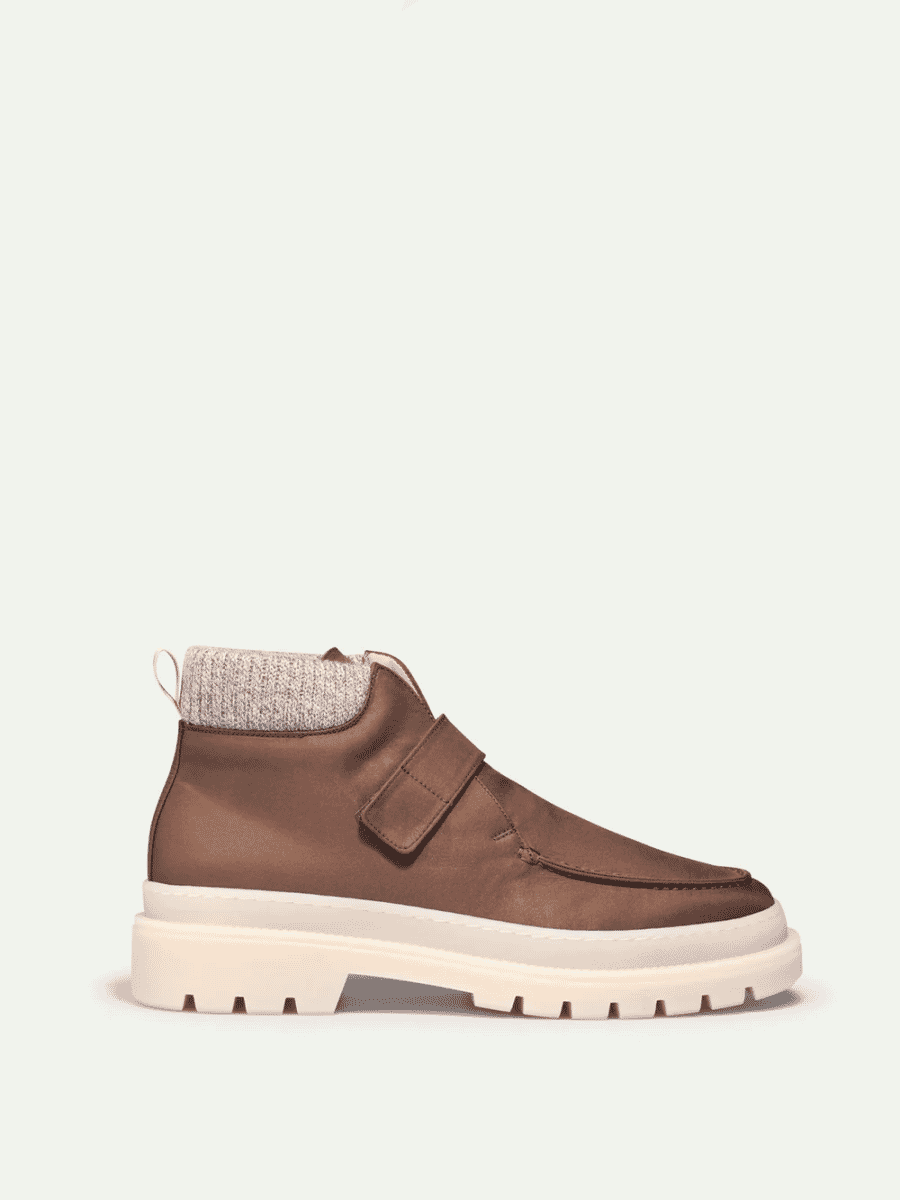 What are the best work boots for men in 2023?
Best lightweight work boots
Full disclosure: these boots from Aurelien will not protect you from falling girders, industrial machinery or electric shocks. They will however provide a solid, lightweight and stylish snow boot for wintry conditions and slippery terrain. There's safety in a grippy, chunky rubber sole, believe us. Made from a waterproof suede and with a Cashwool trim, they're snug, stylish and comfortably light. Great winter boots for stomping around.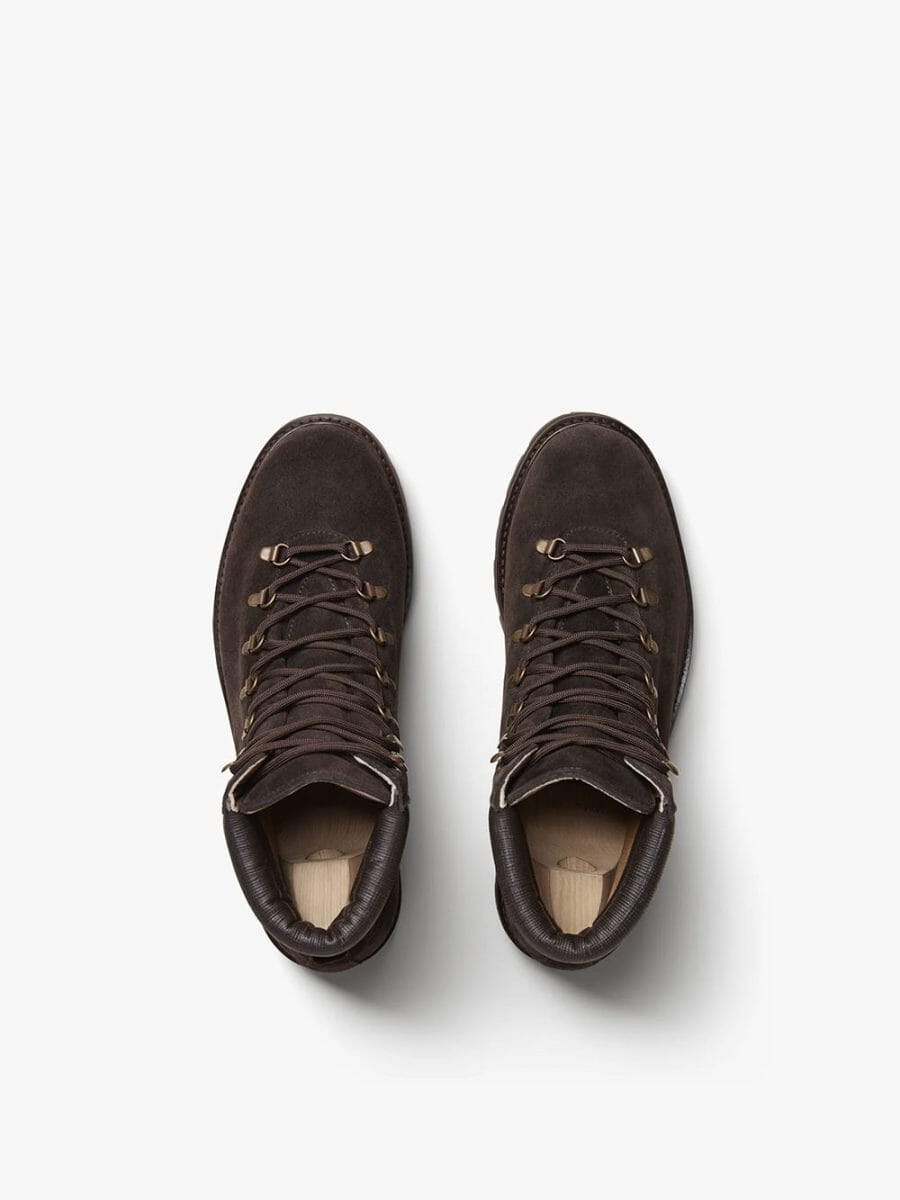 Best comfortable work boots
For handsome looks and the boot equivalent of each foot being hugged by small, warm animals, go with the Myrqvist Duved II dark brown suede boot. An update on the brand's bestselling 2021 boot, The Duved, mark two has been given an upgrade with improved construction. This version comes in water repellent British suede, completed by a hiking sole, water tongue and waterproof lining and an all-important padded collar for ultimate comfort.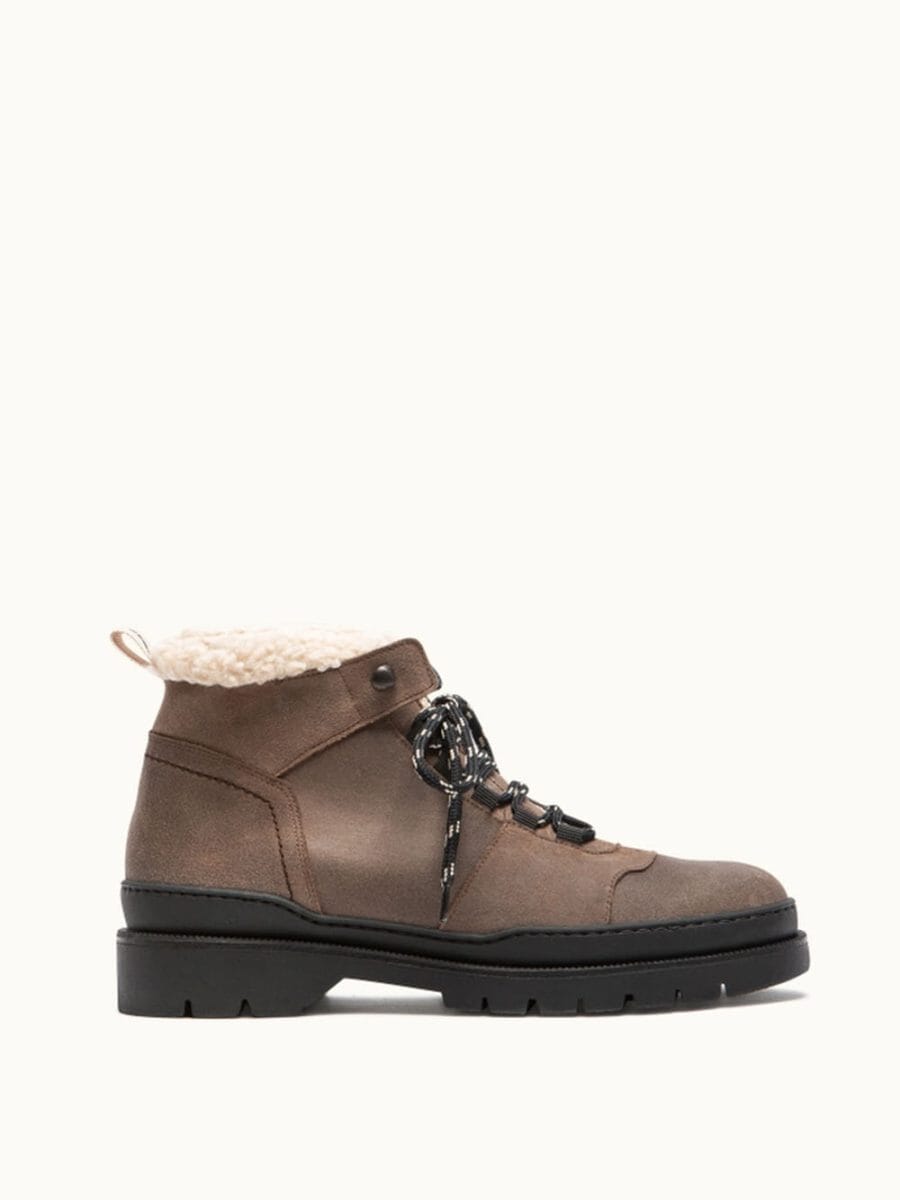 Best winter work boots
French heritage brand Kleman is a great brand to keep an eye on for all of your footwear needs. Underrated and often more affordable for particular styles. The Alpin EC WL with its wintry wool lining is the ideal winter work boot for keeping your feet warm when the temperature drops. Made in France with a solid hiking sole and chestnut brown leather uppers, they will take a beating and keep your feet snug at the same time.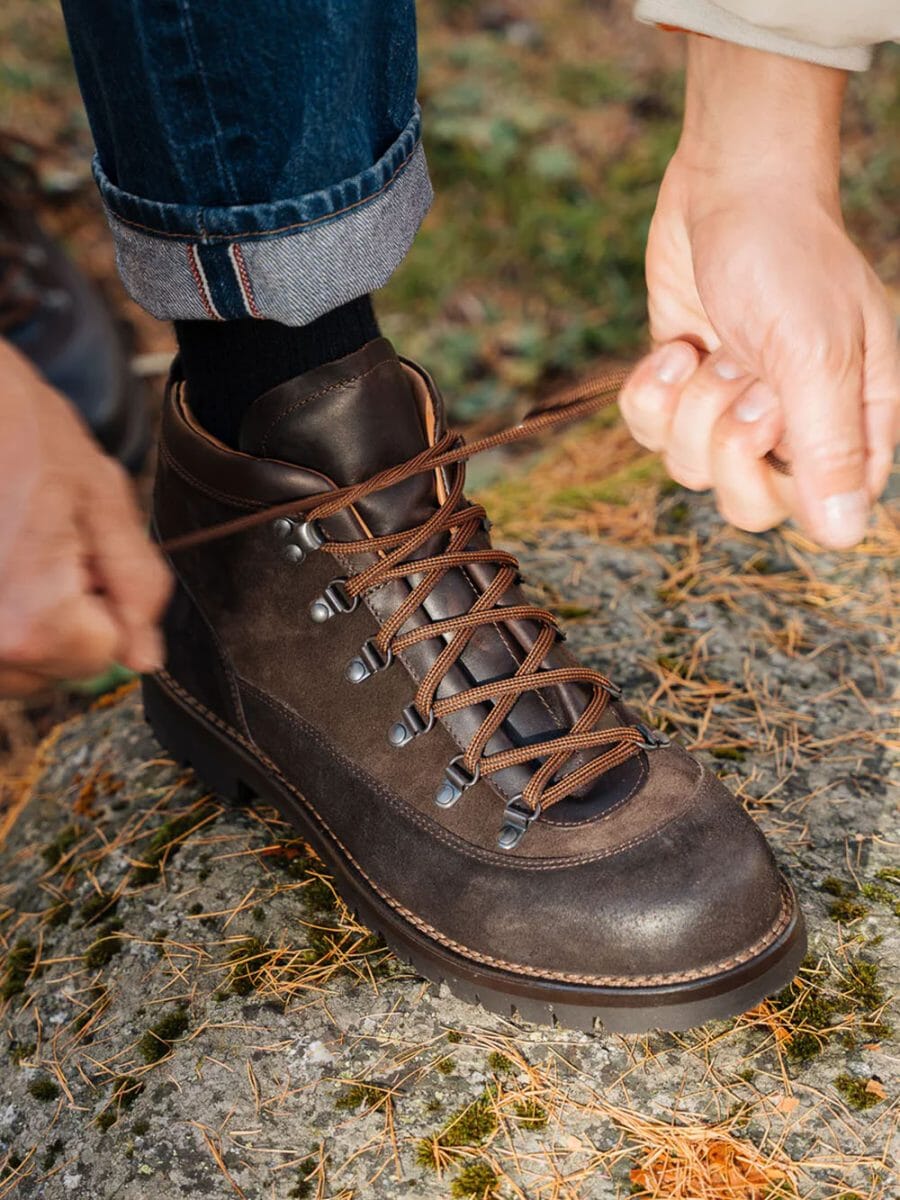 Best waterproof work boots
You can get yourself an obviously waterproof boot (read: a Wellington boot) or you can get yourself a boot that looks great, isn't solely made of rubber and still keeps the water out. Step forward the Stagnaa hiker from Italian shoemakers Velasca. Rugged vintage hiker visuals, with three leather finishes, a waterproof leather inner and chunky Vibram sole ensure the water stays out whatever altitude you're working at. The Stagnaa seamlessly fits into your weekend rotation too with a classic aesthetic.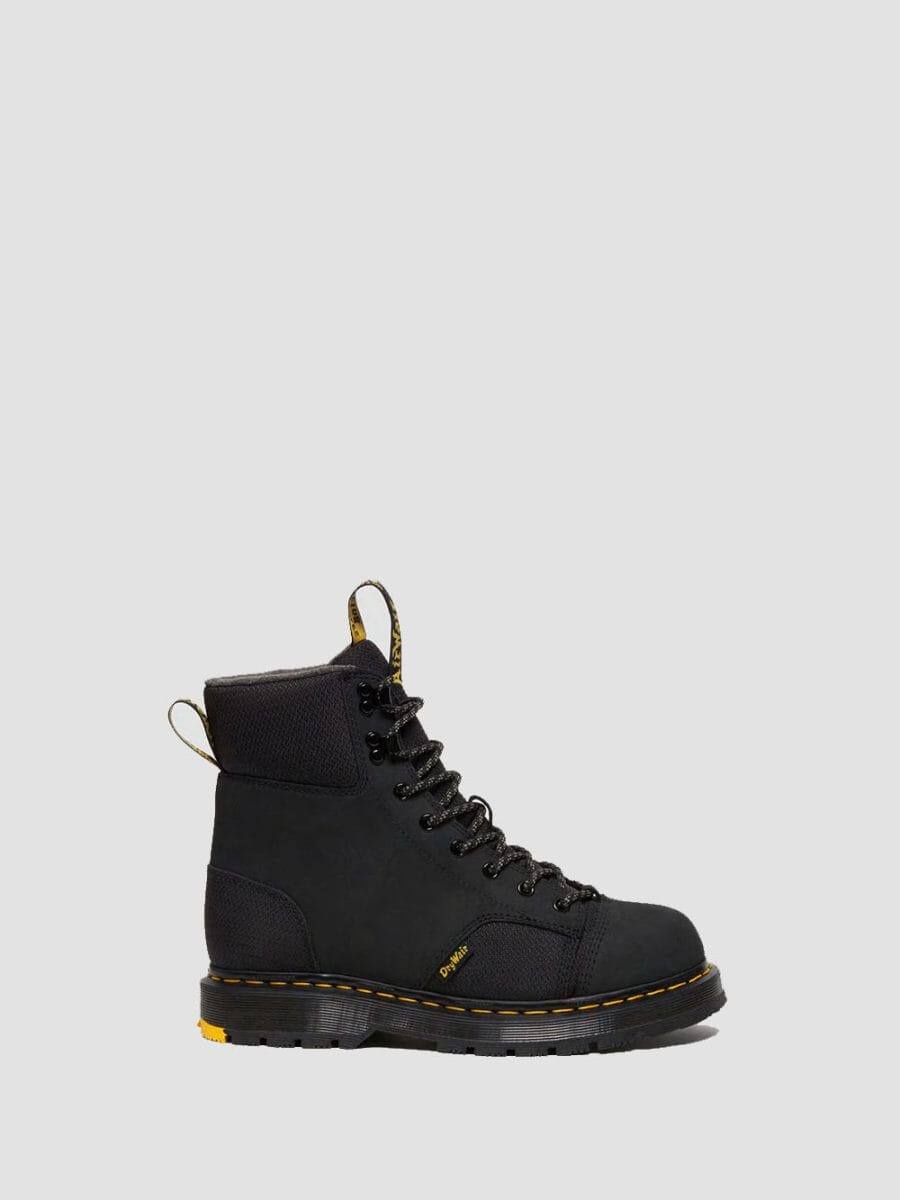 Best work boots for walking all day
It's hard to do any list of boots without a nod to docs. The Dr. Martens 1460 Trinity Waterproof slip resistant boots are a technical take on the brand's classic eight eyelet work boot. Super comfortable from day one with little breaking in to be done (a blessing), Kaya WP nubuck is a solid water resistant leather and the internal fleece lining makes the boots super winterproof. Slip resistant treads keep you moving through rain, snow and ice and a double scripted hoop on the back of the boot ensure they're easy to put on and take off.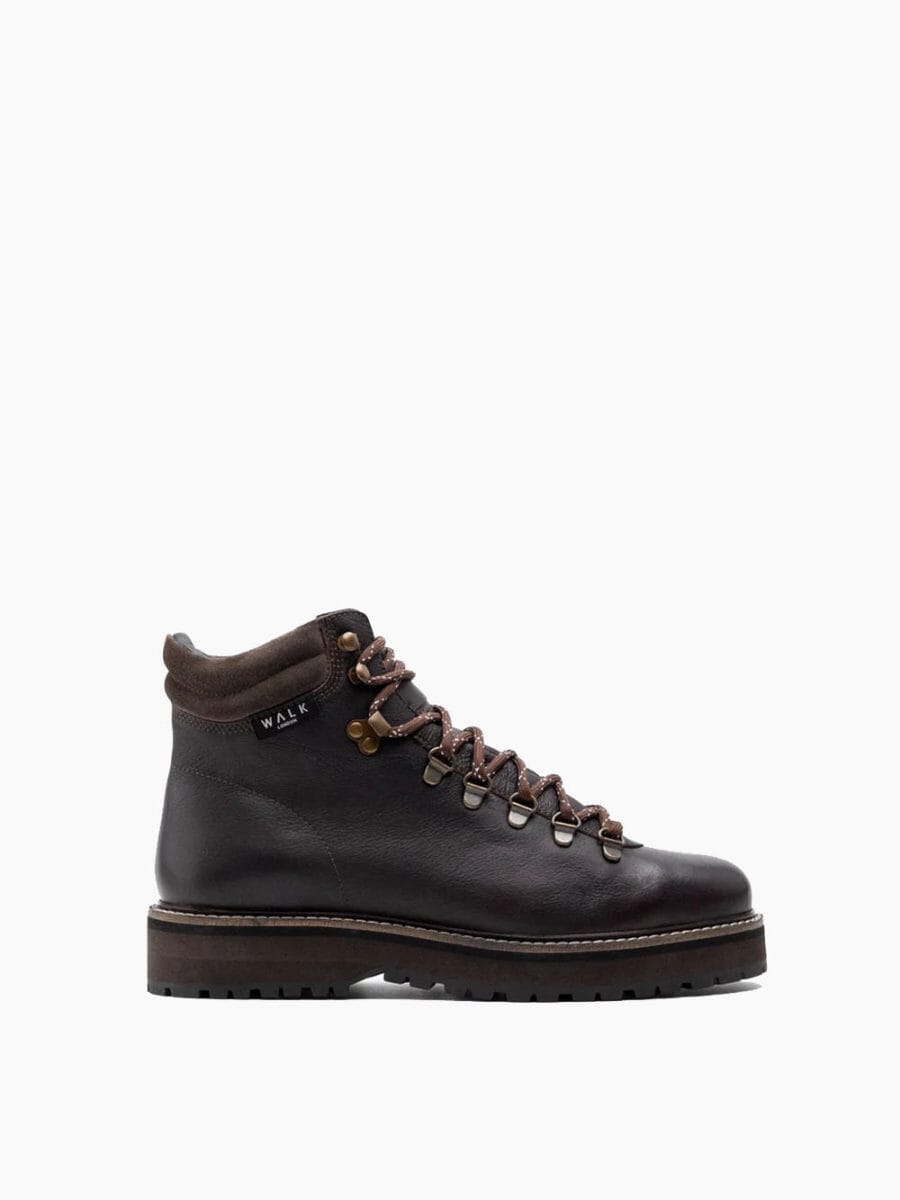 Best budget work boots
The Walk London Connery hiking boot packs in a lot for the price, making it a great value budget work boot. Vintage 80s American hiker good looks combine a dashing brown leather upper with a heavy lugged rubber outsole. Hiker-style D ring fastening is inkeeping with the vintage hiker looks and a bellows tongue ensures a weatherproof, snug foot. Great for stomping around the countryside and city on a budget.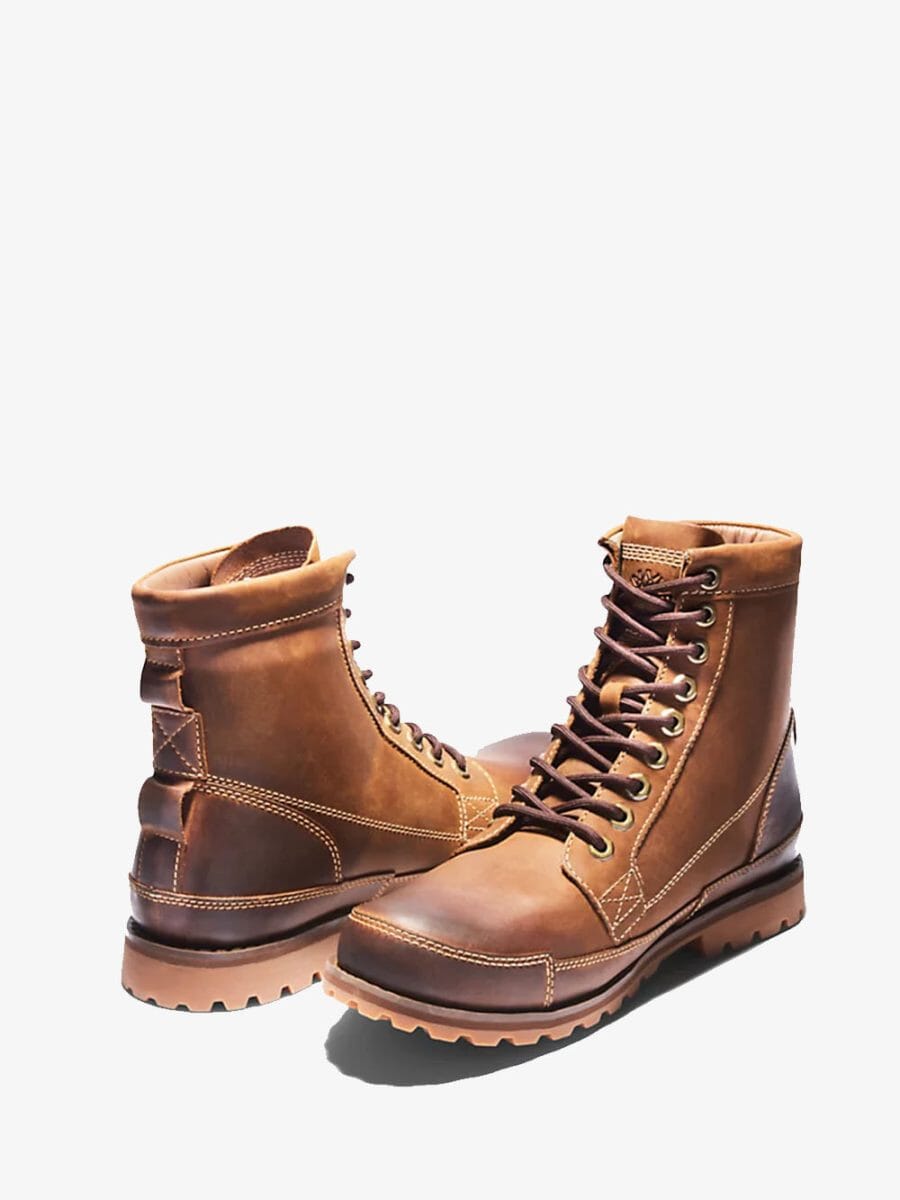 Best lace-up work boots
When it comes to boots, you can't beat a pair of Timberlands. One of the most iconic boot brands on earth. For a sturdy lace up, the Timberland Originals six inch boot in light brown is a solid choice. Made for comfort and versatility, EVA-blend foam cushioning takes the hit every time you step and a rugged rubber outside and arch support complete a comfortable but no less robust option.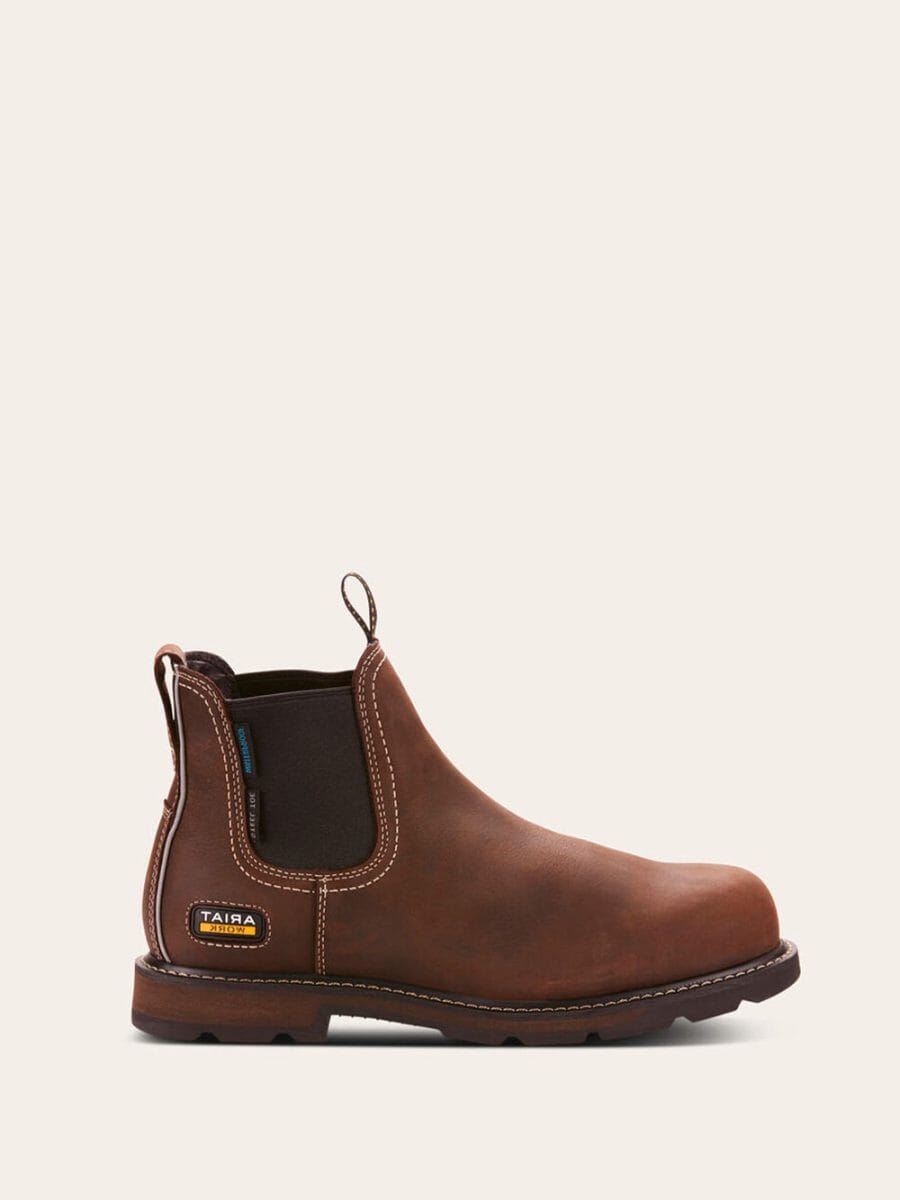 Best slip-on work boots
For a steel-toe work boot that's easy to slip on and off, Ariat's groundbreaker Chelsea boot mixes comfort, safety and multi-surface traction for a great all-rounder. Waterproof full grain leather ensures dry feet in challenging weather and 4LR provides support and cushioning. With the full gamut of safety boxes ticked, from puncture resistance to heat, these will see you through from building site to factory floor.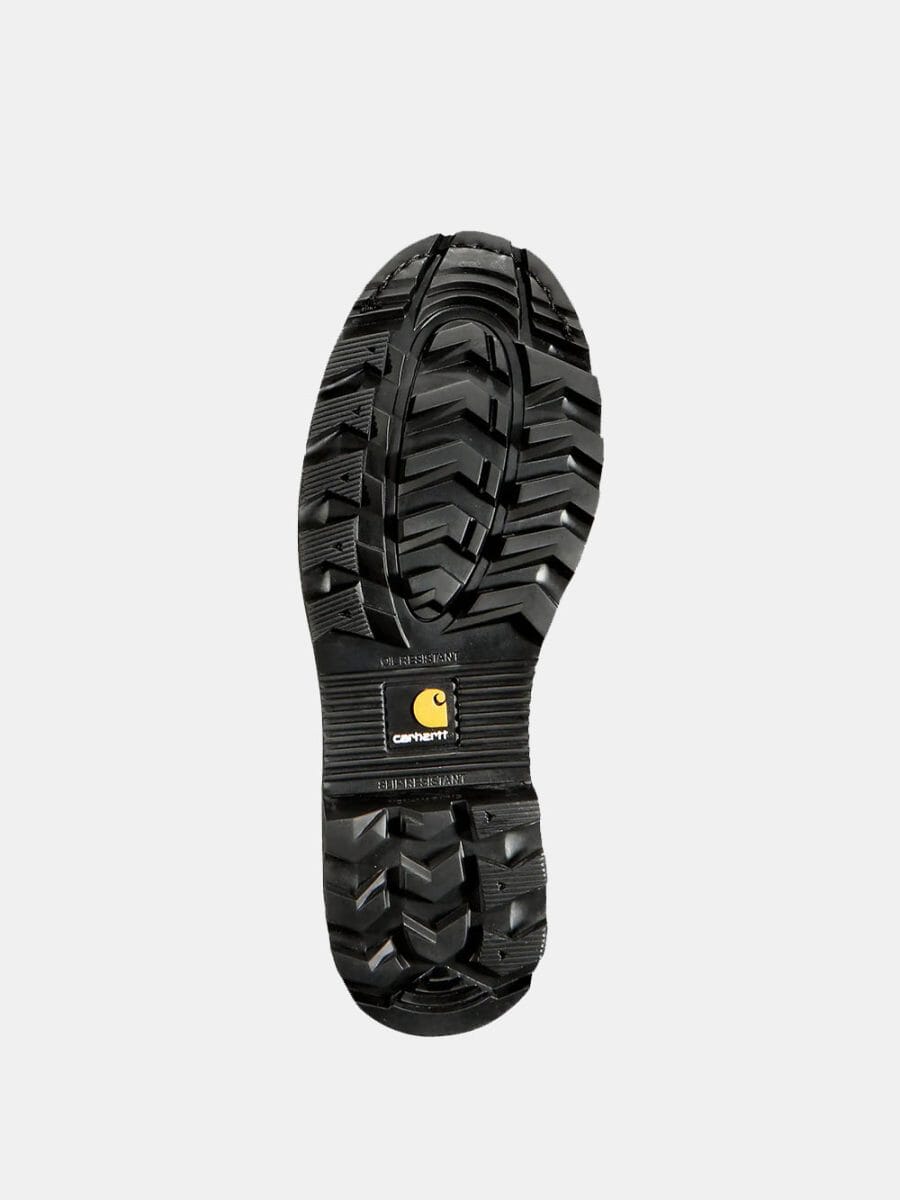 Best steel-toe work boot
When it's not a work in progress, Carhartt is a serious workwear brand relied upon by heavy industry for serious gear, be that heavy, hard-wearing outerwear or a solid toe-capped boot. If you're looking for something that'll last on site and protect your digits from the dangers of machinery, consider the brand's traditional welt six sinch steel toe work boot. Blocks rain, wicks sweat, supports and absorbs shock. Steel toes meanwhile are up to national standards, protecting against impact and compression.
Shop men's designer boots at OPUMO.
---
---