When it comes to acing a job interview, your qualifications and experience certainly matter, but your first impression can be just as crucial. Dressing appropriately is a key part of making that great first impression, and that's why we're here to guide you through the best interview outfits for men in 2023.
Whether you're entering the corporate world or a creative industry, nailing your interview attire is essential. So, let's dive into the dos, don'ts, and the best job interview outfits for men to ensure you stand out in the interview room.
How to dress for a job interview in 2023
DO: Familiarise yourself with the office dress code
Before you even think about what to wear, do some research on the company's dress code. Understanding the office culture and expectations will help you choose an outfit that fits right in. Remember, it's always better to be slightly overdressed than underdressed.
DO: Identify whether or not to wear a suit
Suits are classic interview attire, but they're not always necessary. If the company leans towards a more formal environment, a suit is a safe bet. For startups or creative roles, a well-put-together business-casual look might be more appropriate.
DO: Keep your hair (and facial hair) neat
Personal grooming matters. Make sure your hair is tidy, and if you have facial hair, keep it well-groomed. A neat appearance reflects your attention to detail.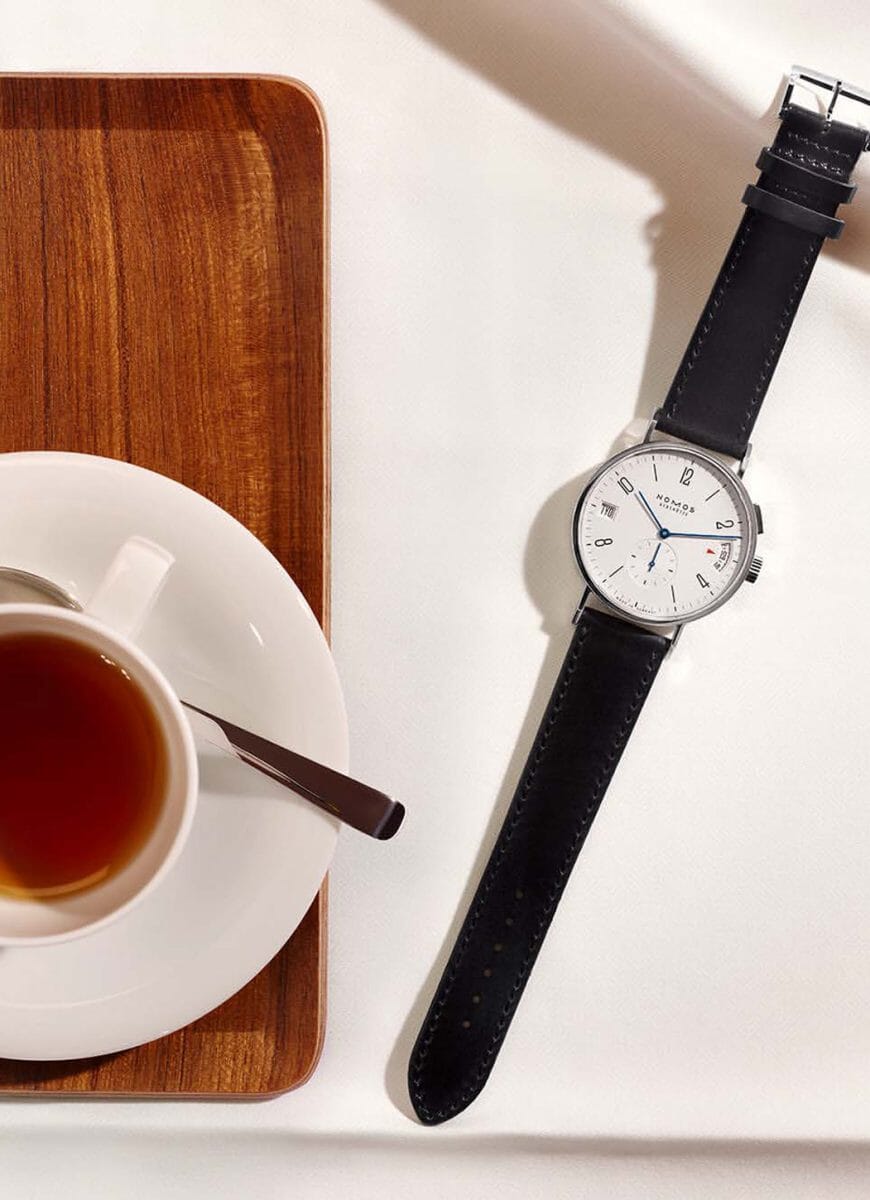 DO: Plan your outfit in advance
Don't wait until the last minute to choose your outfit. Plan it well in advance to avoid any last-minute wardrobe malfunctions or style dilemmas. Planning ahead also gives you time to make any necessary alterations to ensure a perfect fit.
DON'T: Wear jeans
Even if the company has a casual dress code, jeans are generally a no-go for interviews. Opt for dressier pants like slacks or chinos. These choices convey a sense of professionalism and show that you take the interview seriously.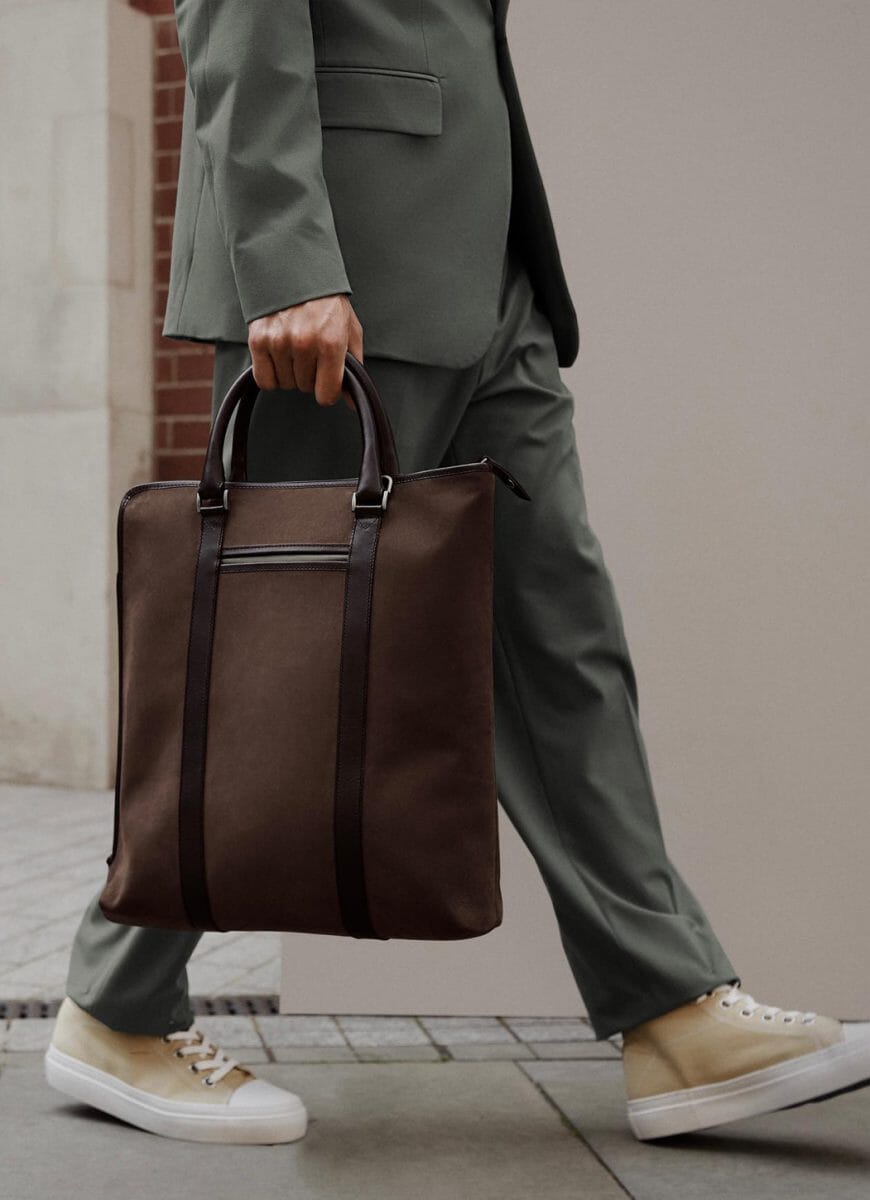 DON'T: Stress out too much
While dressing appropriately for your job interview is important, don't stress yourself out too much. Confidence is key during interviews, so make sure you feel comfortable in whatever you choose to wear. Overthinking your outfit can lead to unnecessary anxiety. Trust your judgement and focus on showcasing your qualifications.
DON'T: Wear sneakers or open-toed shoes
Leave your favourite sneakers at home. And it should go without saying, but sandals or flip-flops are absolute no-nos. Choose closed-toe dress shoes that complement your outfit and look professional. A well-polished pair of Oxfords or Derbies is always a safe choice.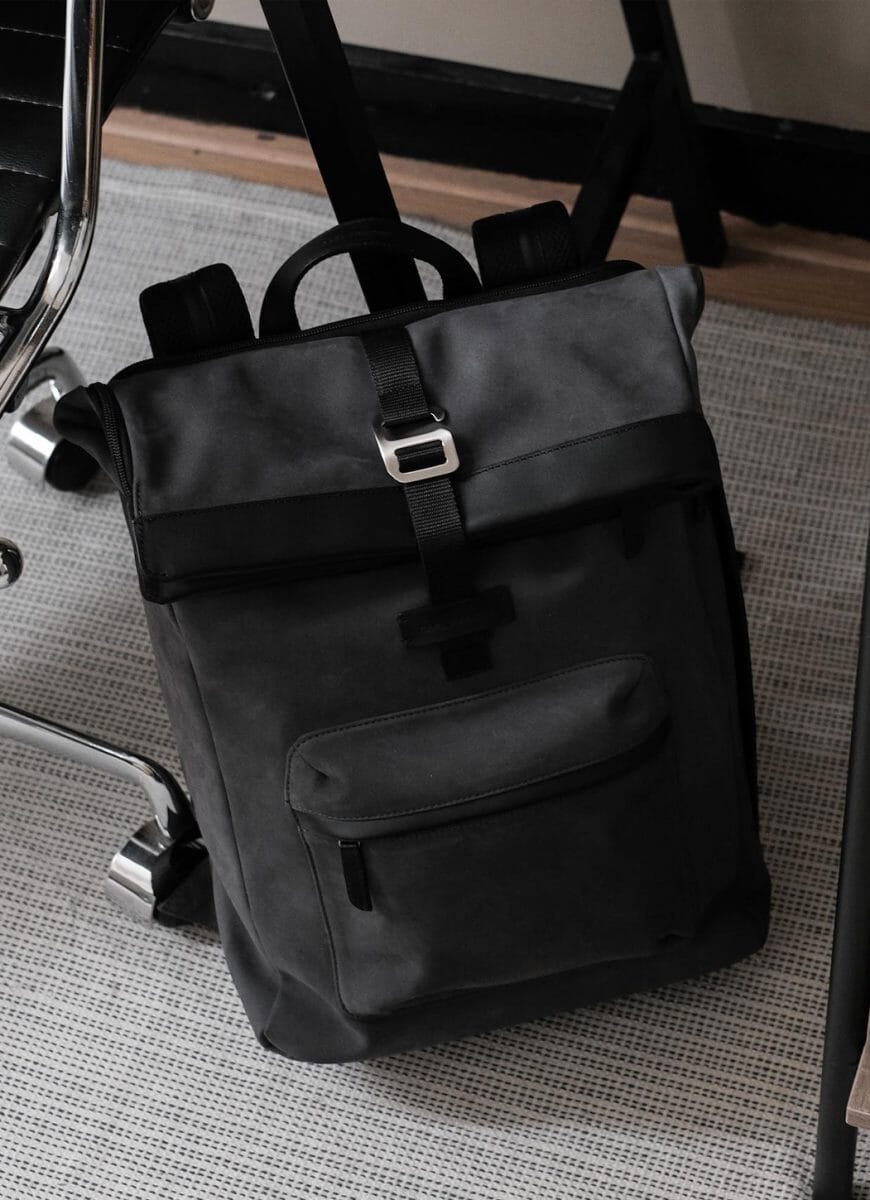 Best job interview outfits for men in 2023:
Unstructured suit and T-shirt
For a modern twist on traditional tailoring, consider an unstructured suit (in a neutral hue like navy, grey or beige) paired with a crisp black or white T-shirt. This ensemble strikes the ultimate balance between smart and casual, making it perfect for interviews in creative industries. The unstructured suit provides comfort without sacrificing style, while the T-shirt loosens the look up ever so slightly. Complete the outfit with simple black or brown Derby shoes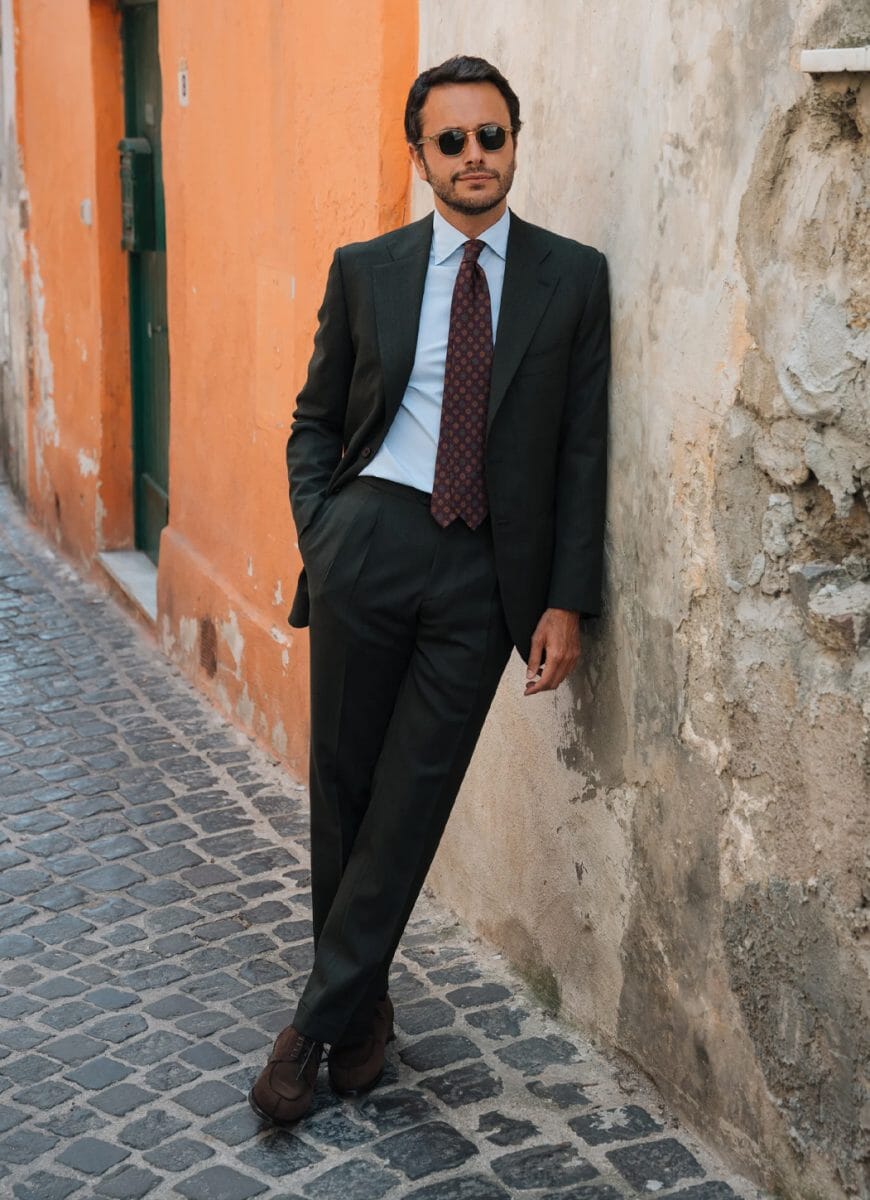 Full suit, shirt, and tie
When the office dress code calls for formal business attire, go for the timeless suit, complete with a well-fitted shirt and tie. Choose a classic colour like navy or charcoal grey for a professional yet versatile look. A well-tailored suit is a hallmark of sophistication and a symbol of respect for the company, so ensure it fits perfectly (this might involve getting it professionally tailored).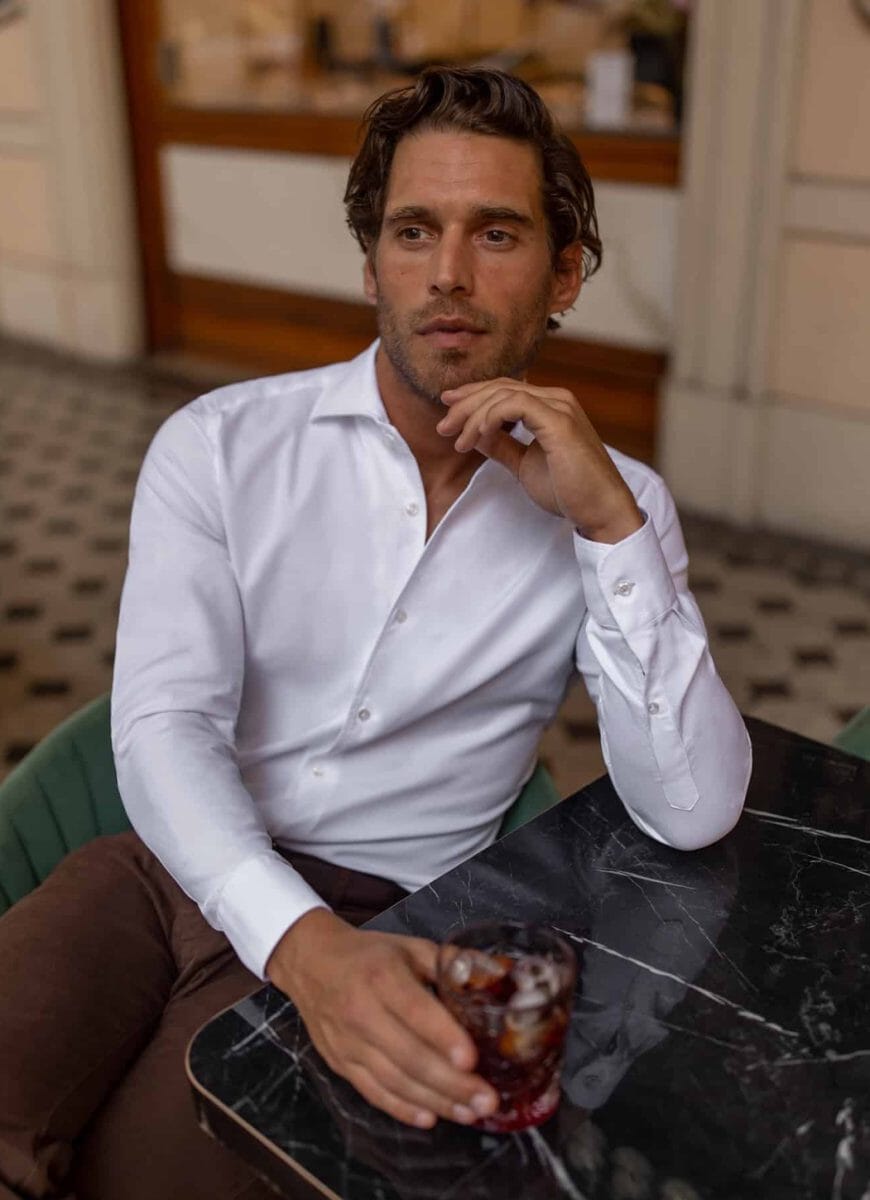 Pair your suit with a crisp white Oxford shirt and a tasteful tie. Avoid bold patterns or overly flashy colours. Instead, opt for subtle patterns or solid colours that complement your suit. Don't forget to complete the outfit with polished dress shoes and a classic leather belt: it's a tried-and-true option for a reason.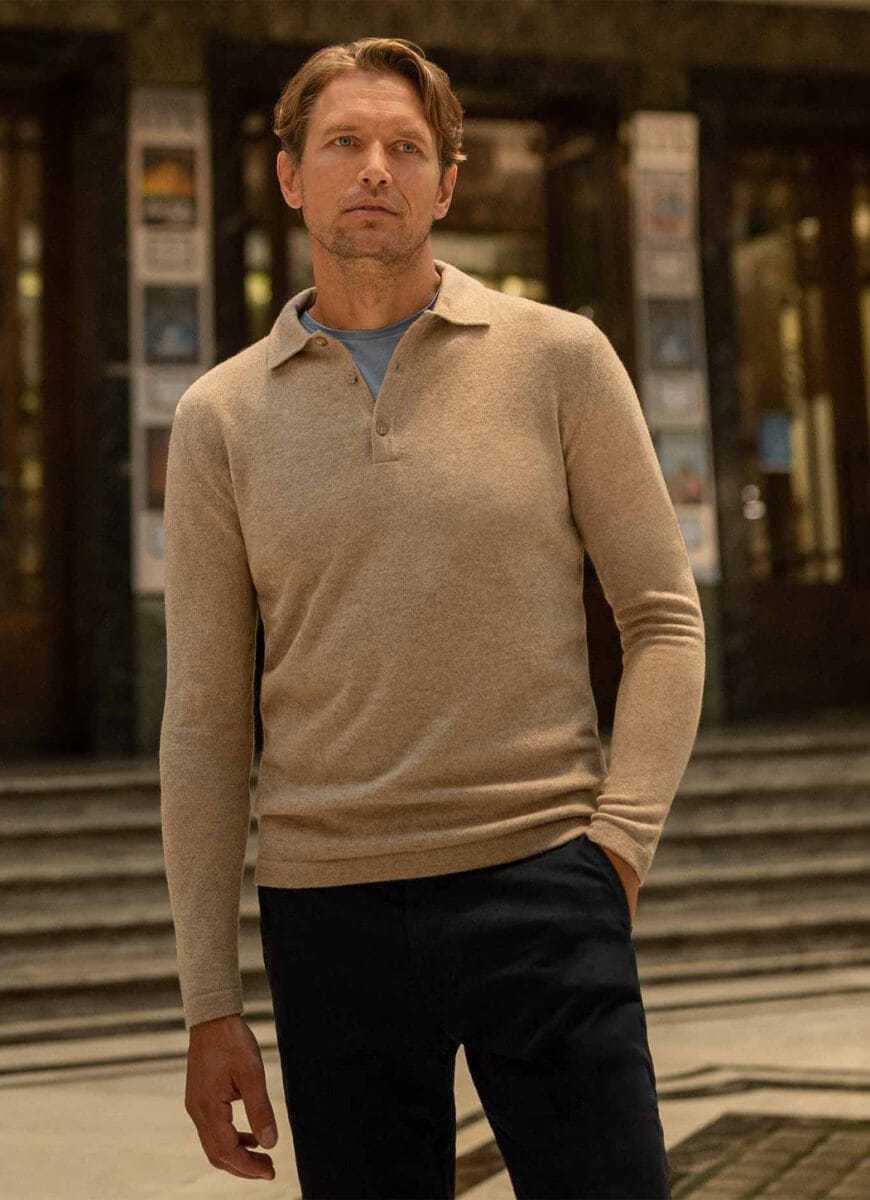 Polo shirt and smart chinos
For a more relaxed smart-casual interview setting, opt for a high-quality polo shirt paired with well-fitted chinos. This look exudes confidence and style without being too formal. It's a great choice for startups, tech companies, or any organisation with a relaxed dress code.The key to making this outfit work is selecting a polo shirt that's both well-fitted and of good quality. Avoid polo shirts with logos or overly casual designs. Instead, go for a solid colour or subtle pattern. Your chinos should be well-pressed and in a neutral tone like khaki, navy, or grey.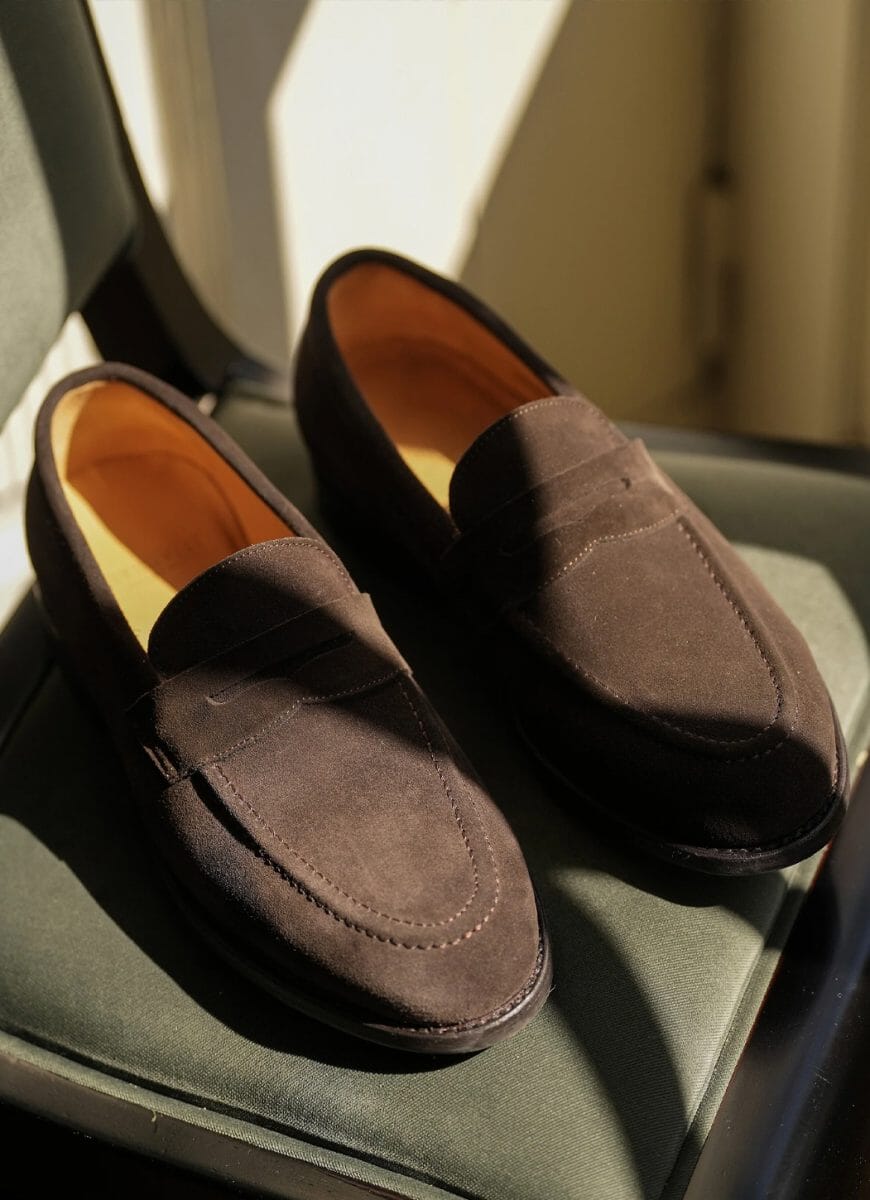 Plain blazer and chinos
A plain blazer worn over chinos is a versatile choice that can adapt to various interview scenarios. You can dress it up or down, depending on the occasion. Add a classic Oxford shirt to complete the ensemble, and you'll be ready to make a lasting impression.This outfit is especially suitable for industries where a full suit may be too formal, such as marketing, media, or creative fields. The blazer adds a touch of professionalism, while the chinos keep the look relaxed.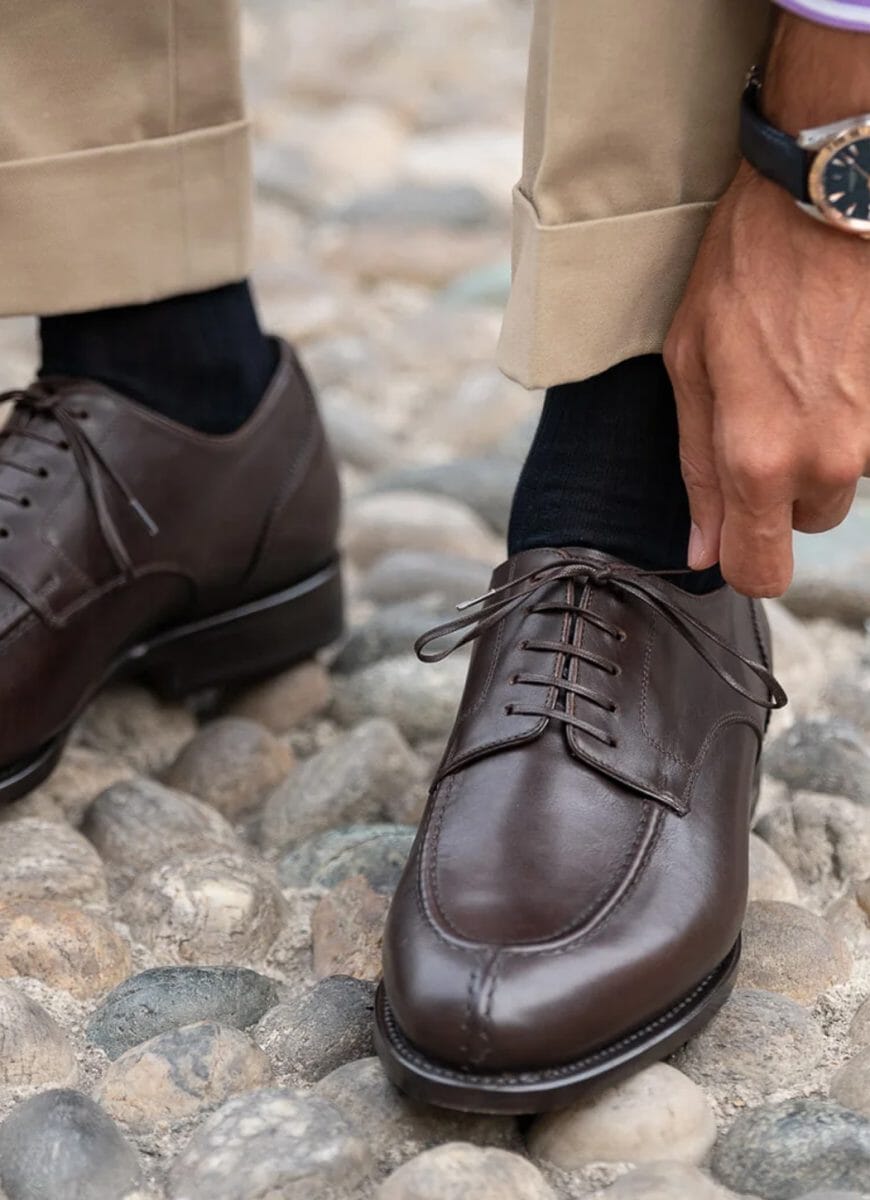 Simple socks and classic Derby shoes
When it comes to interview attire, it's essential not to overlook the details. Simple, solid-coloured socks and classic Derby shoes can enhance your overall look. They may seem minor, but these details matter in the world of interview outfits for men. Opt for socks that match the colour of your trousers or shoes. This creates a cohesive look that draws the eye upward. Avoid flashy or novelty socks; instead, go for a clean and polished appearance.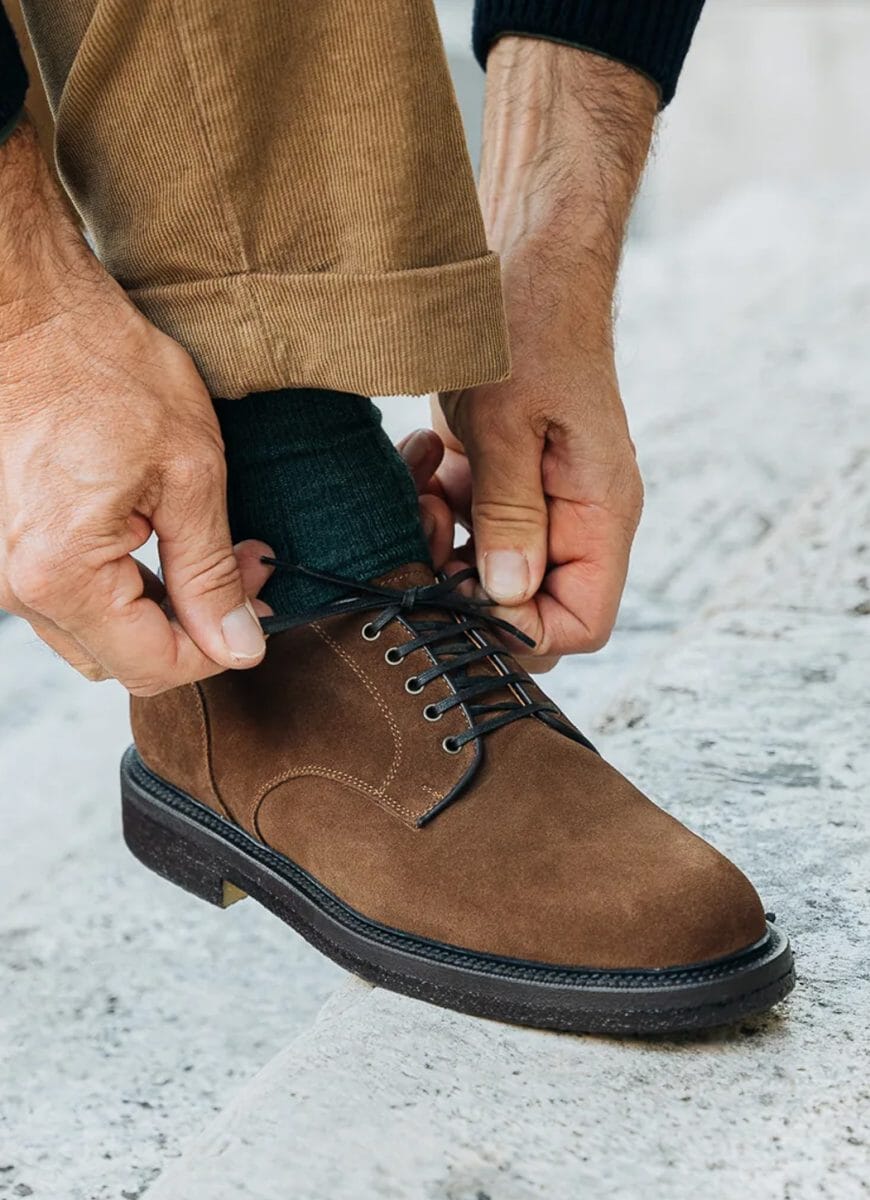 Classic Derby shoes are a versatile choice that complements various outfit styles. They have an open lacing system, making them comfortable and accommodating for different foot shapes. Choose a pair in black or dark brown for a timeless and professional look.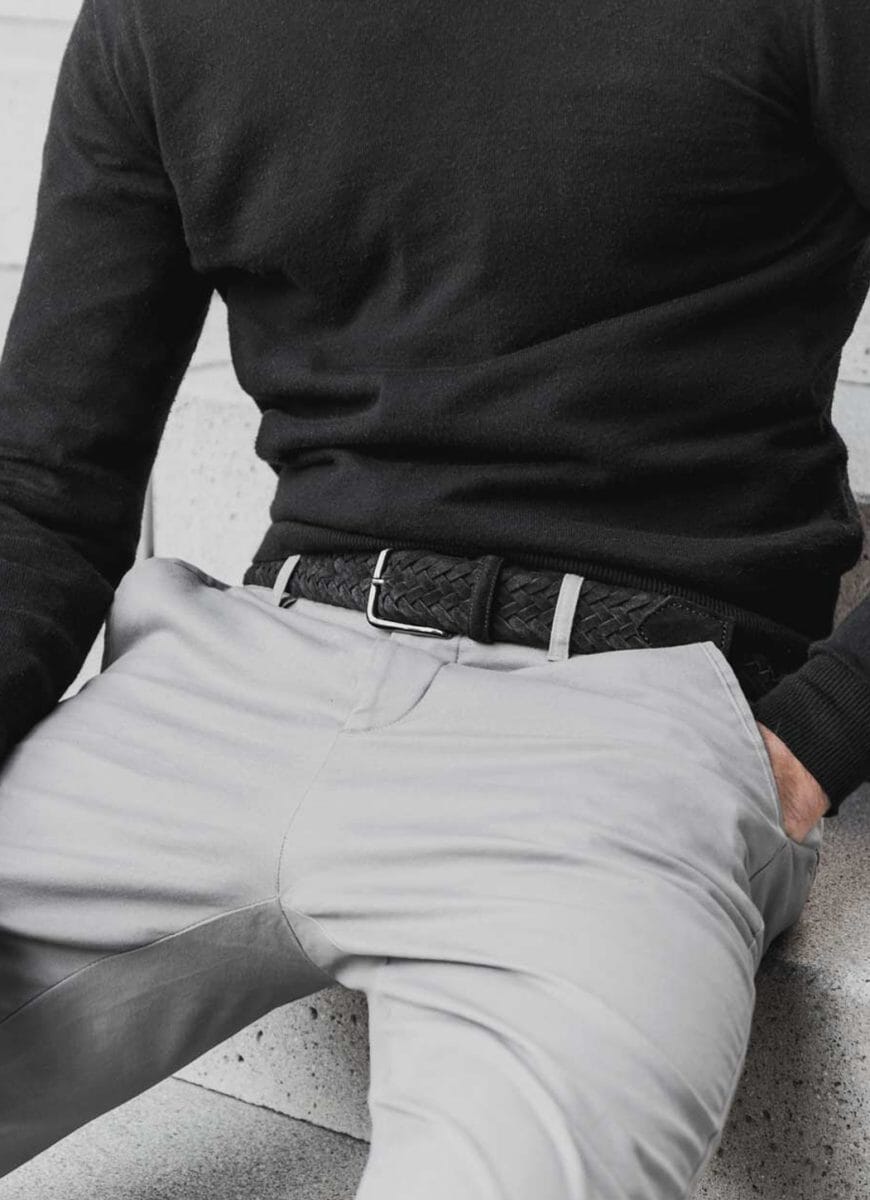 Sleek leather belt and simple accessories
Never underestimate the power of accessories. A sleek leather belt is a subtle but essential accessory that ties your outfit together. Keep other accessories minimal – a classic dress watch and a simple tie bar can add a touch of sophistication.Your belt should match the colour of your shoes. If you're wearing black shoes, opt for a black leather belt; if you're wearing brown shoes, choose a brown belt. When it comes to watches, a timepiece with a leather strap is a safe choice. Avoid overly sporty or flashy watches; instead, go for a classic design that complements your outfit.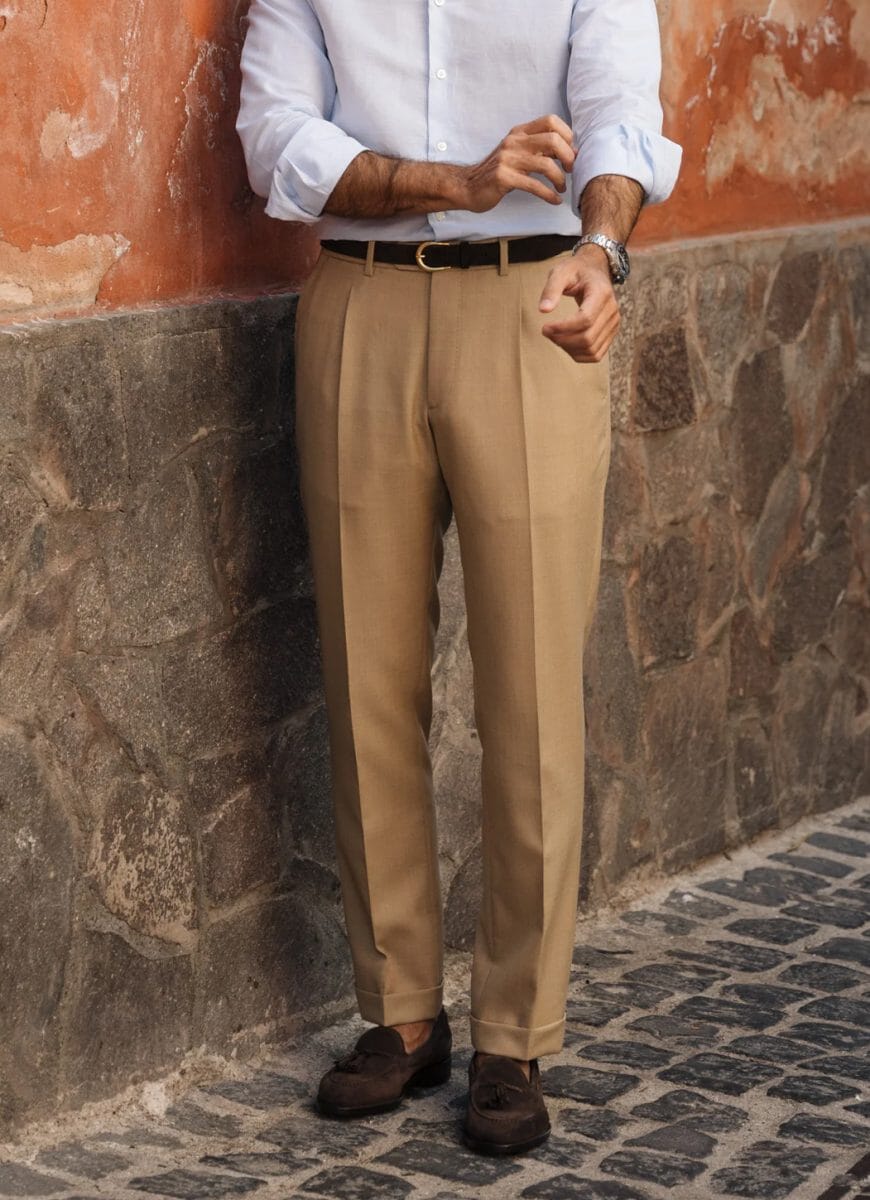 Corduroy blazer and pleated trousers
For interviews taking place in the cooler months, consider a more textured and stylish look with a corduroy blazer paired with pleated woollen trousers. This combination is perfect for autumn and winter interviews when you want to stay warm without sacrificing style. Corduroy is a durable and textured fabric that adds visual interest to your outfit. Opt for a blazer in a rich colour like deep brown or olive green. As for footwear, classic Chelsea boots or brogues are ideal for a polished look that can handle the cooler weather.
You've nailed the interview, now find your perfect work bag.
---
---