The men's trucker jacket has been around for decades and endures as a beloved menswear icon today. It serves as a versatile wardrobe staple, a trend-transcending classic – just like the perfect Oxford shirt or blue jeans. If you're looking to get your hands on one, you've come to the right place. Scroll on for our ultimate guide to men's trucker jackets, including our pick of the best ones to buy in 2023.
History of the trucker jacket
The origins of the trucker jacket can be traced back to the 1960s, when iconic American denim brand Levi's launched its 'Type III' jacket. The jacket was a slimmed-down version of previous denim jacket iterations, with two V seams running over the pockets and toward the hem, and high chest pockets with pointed flaps. The style was quickly adopted by the likes of George Harrison and John Lennon, and soon became a staple of everyone from mods to metal heads. Fast forward a few decades and musicians as diverse as Kanye West and Liam Gallagher have been seen repping the look.
What is the difference between a trucker jacket and a denim jacket?
The terms denim jacket and trucker jacket are often used interchangeably, but there are a few key differences that should be pointed out. While a trucker jacket refers to a certain style of jacket, it's not always necessarily made out of denim. You can find trucker jackets in a range of materials, including suede and corduroy, whereas denim jackets refer only – as the name suggests – to jackets made from denim. Classic trucker jackets often feature a slim tailored cut, spread collar, pointed flap chest pockets, button tab waist adjusters, and two V-shaped seams that run from chest pocket to waist. Some styles also feature a contrast collar, whether shearling or another textured fabric like corduroy.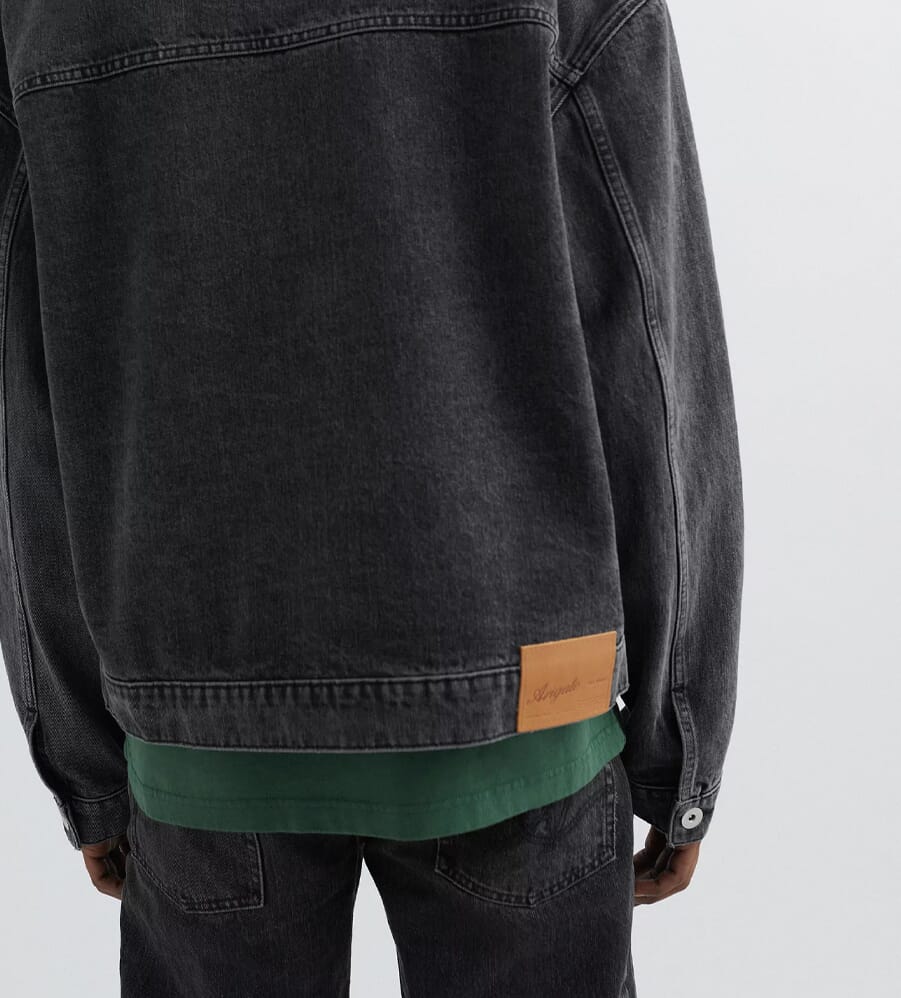 How to wear a trucker jacket
The great thing about the men's trucker jacket is its versatility. This is a wardrobe hero that you'll reach for time and again. Team a denim trucker with tailored trousers and loafers to put the casual in business-casual, or master a relaxed weekend look by styling it with a plain white tee, chinos and leather sneakers. You could even try your hand at a double denim look. If going down this route, it's best to keep the washes of your jacket and jeans a couple of shades apart: we recommend a darker shade on the bottom and a lighter one up top.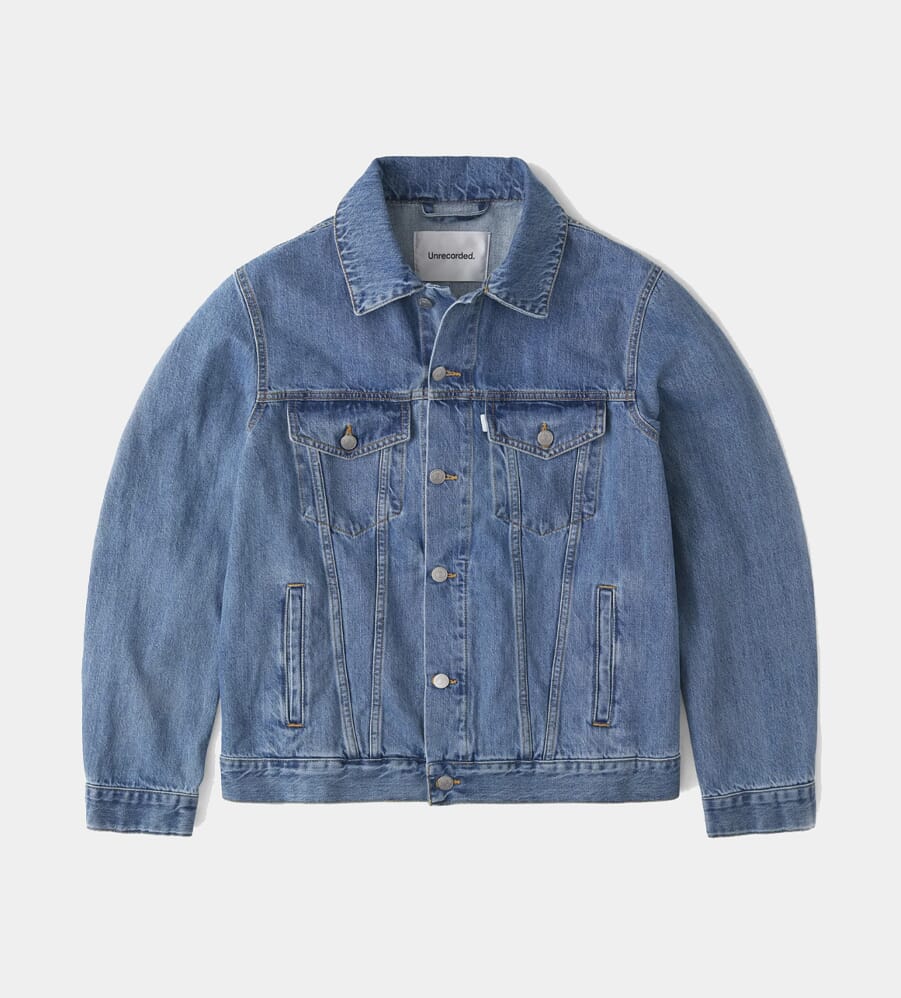 Best men's trucker jackets in 2023
Unrecorded Denim Trucker Jacket
This boxy denim trucker jacket from Dutch label Unrecorded is as sustainable as it is stylish. Crafted from 100% organic cotton, it's then stone washed using the eco-friendly E-Flow system, which uses significantly less water, chemicals and energy than traditional denim washing methods. Team it with Unrecorded's Straight Jeans for an understated and ultra-cool take on the double denim trend.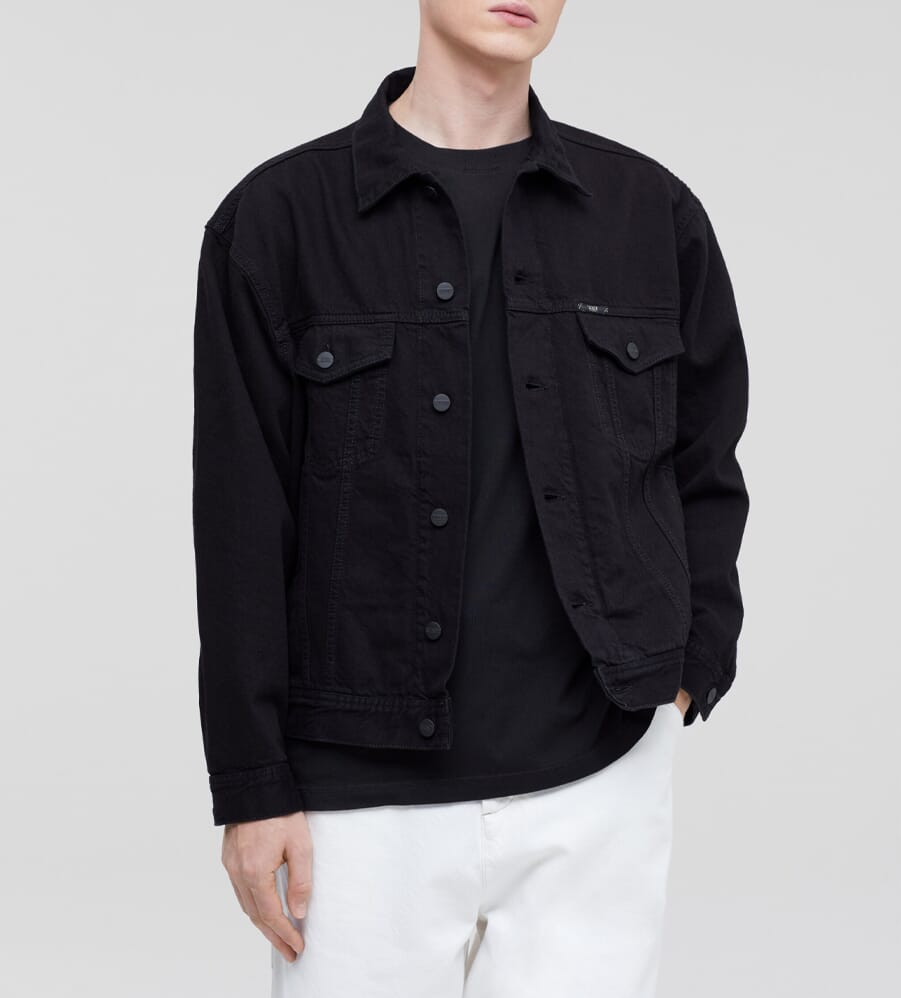 Closed A Better Blue Black Jacket
This men's trucker jacket from Closed is another eco-friendly option, created as part of the brand's 'A Better Blue' sustainable denim line. It's crafted from organic cotton and dyed using a water and energy-conserving technology called Kitotex, so you can feel good about your purchase. Elevated by a dark rinsed-wash, it's ideal for those every-tricky smart-casual occasions. Simply add a crisp white tee, pleated trousers and Derby shoes.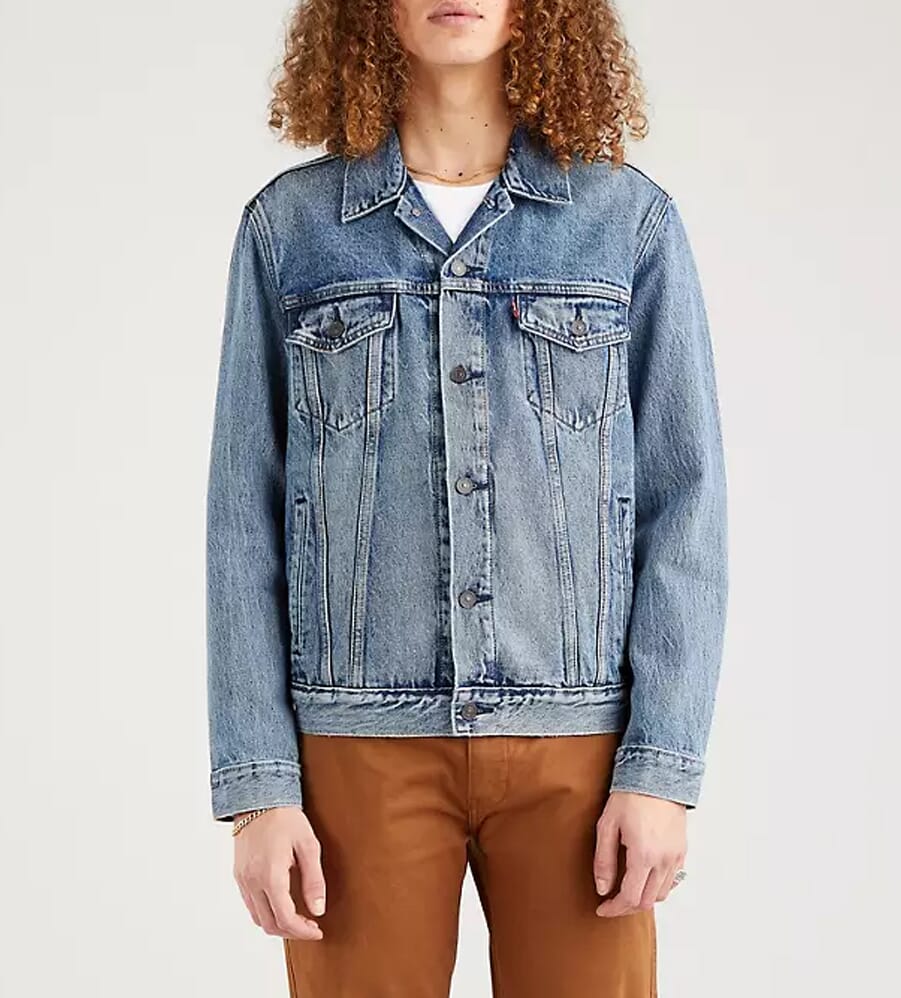 Levi's Trucker Jacket
The brand that started it all, Levi's remains a firm favourite for classic men's trucker jackets. The label's denim trucker stays true to the original 'Type III' style from 1967, with its hip-length cut, pointed collar, button-flap patch pockets and side hem adjusters. Made to last a lifetime, it will only get better with age, as it develops natural fading and moulds to your body shape.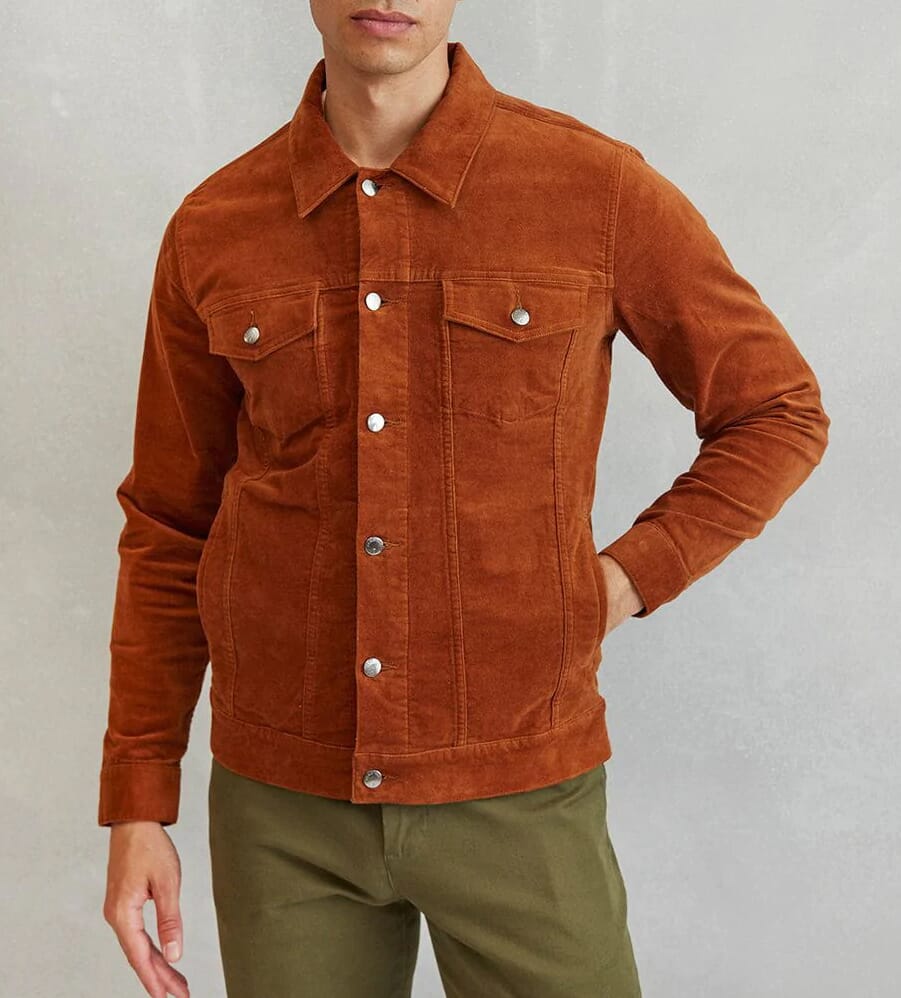 Percival Western Jacket
This Western-inspired corduroy trucker jacket from London-based menswear label Percival will inject just the right amount of Americana-cool into any outfit. It's perfect for day to wear wear, or take it up a notch with a button-up shirt and smart shoes.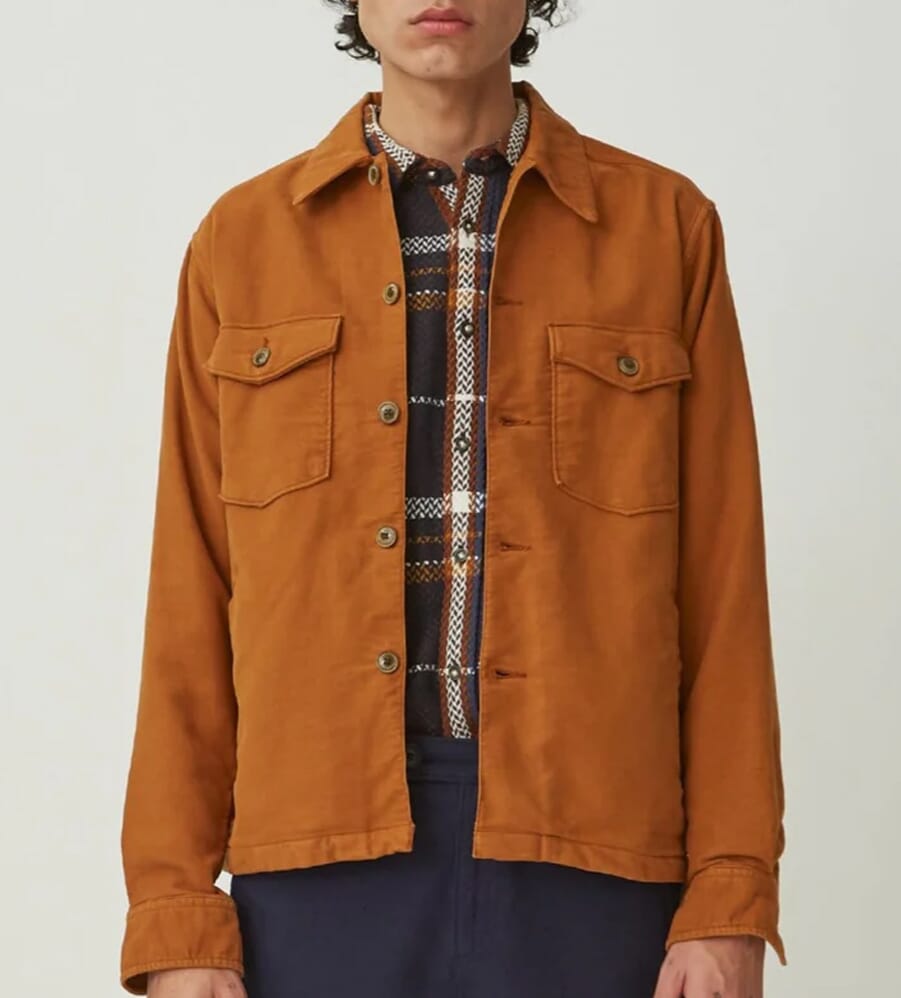 Corridor Moleskin Thrush Military Jacket
Taking inspiration from traditional military garb, NYC-based brand Corridor presents its own version of the trucker jacket. It's more stripped-back than the original style, but retains some of the key features, including flap chest pockets and welted hip pockets. Crafted from mid-weight garment-dyed moleskin, it's a trusty layer that will serve you well year-round.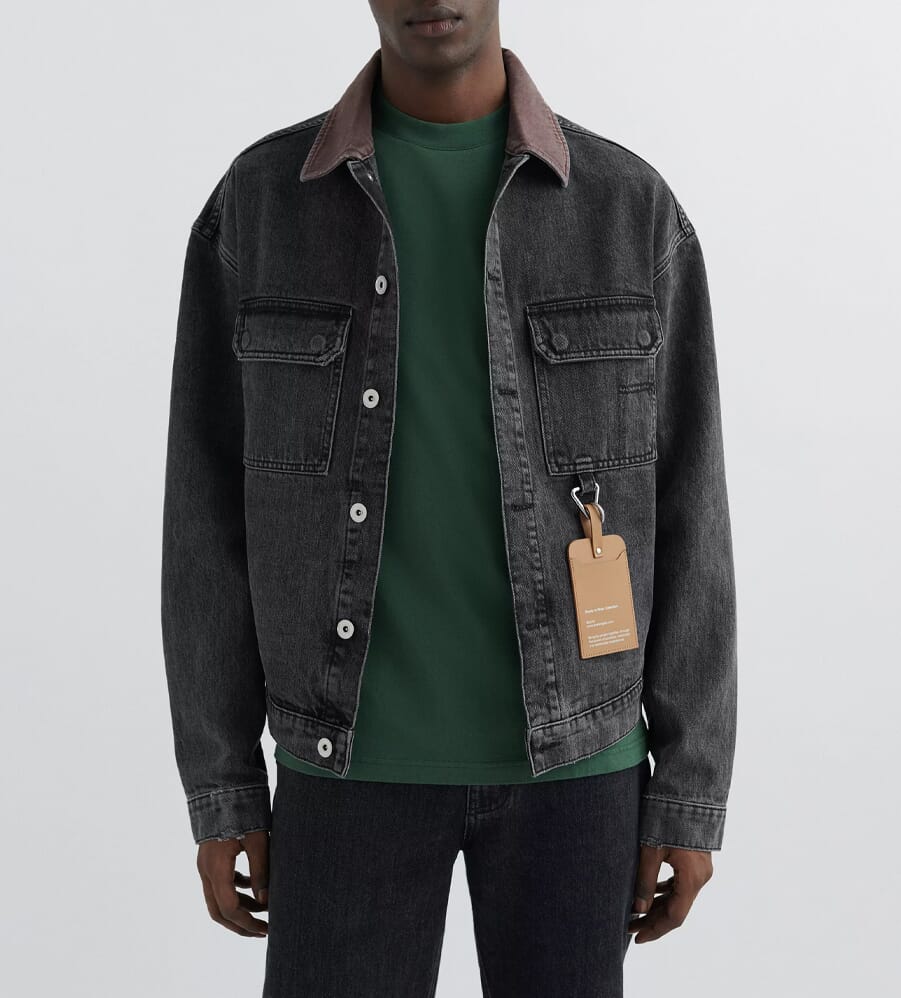 Axel Arigato West Jacket
As its name suggests, Axel Arigato's West Jacket offers a nod to traditional Western-style trucker jackets, but it's clear that this is an Axel original. There's a contrast collar and flap pockets, as well as the brand's signature luggage tag and leather label. Cut from partly recycled denim, it features a flattering boxy fit and slightly cropped length.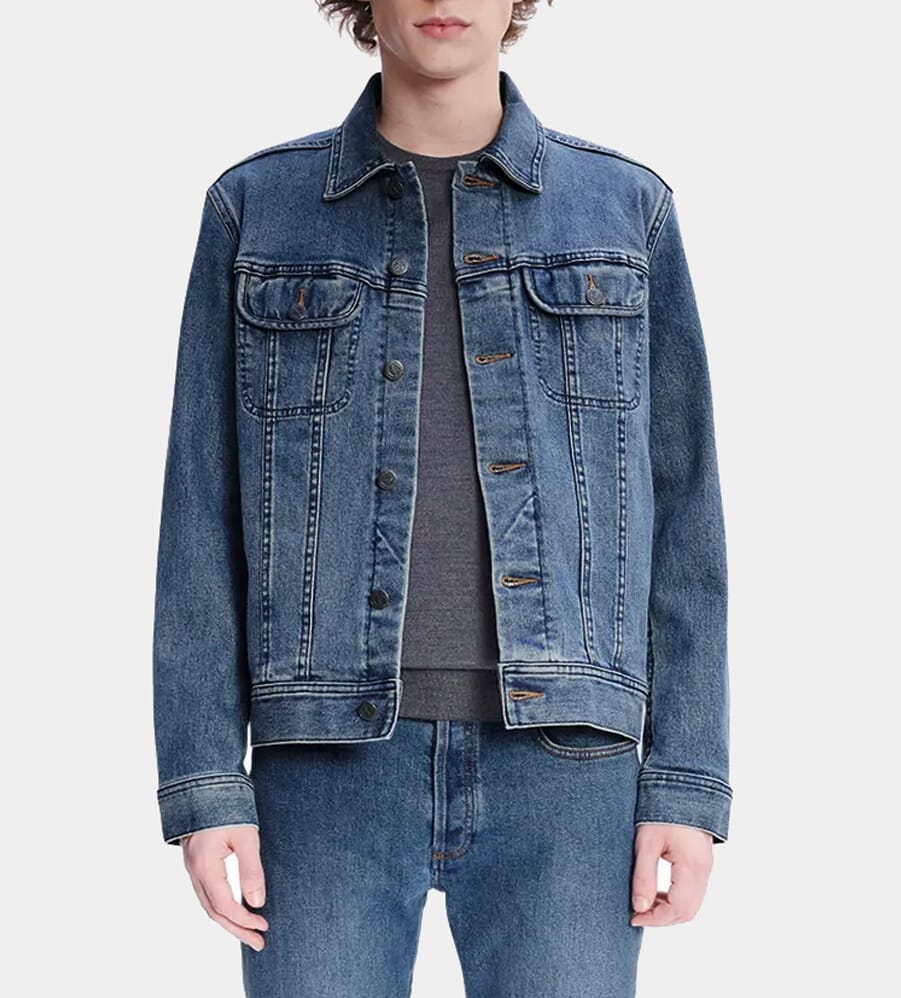 A.P.C. Veste Jean US
Parisian label A.P.C. is renowned for its meticulously-made denim pieces and this trucker jacket epitomises the label's attention to detail. Crafted from stonewashed Japanese stretch denim, it features all the hallmarks of a classic trucker, lending it an enduring timelessness. Channel classic French style by throwing it over a Breton striped tee and teaming with beige chinos and a pair of minimalist trainers.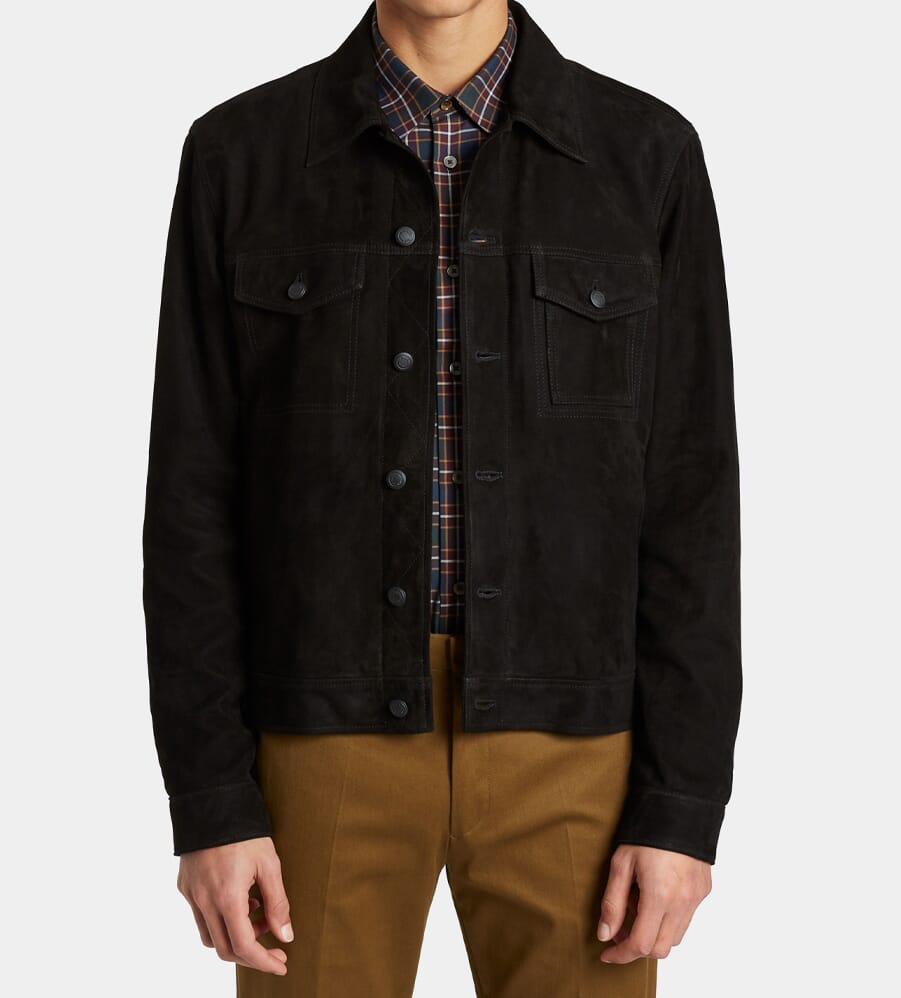 Paul Smith Suede Trucker Jacket
Beloved menswear label Paul Smith has given the classic men's trucker jacket the suede treatment. Its version is crafted in Italy from premium suede, with a soft two-tone lining inside. A flattering tailored cut makes it a smart-casual staple that will team perfectly with jeans and Chelsea boots in the cooler months. Fewer than 100 pieces of this jacket have been made, making it extra covetable.
Discover another classic men's outerwear hero: the chore jacket.
---
---