Leather belts for men are an underrated accessory. A good belt is the outfit upgrade that tells people: "I know what I'm doing here." Just like a pocket square, a tie or a pair of cufflinks, as well as being practical, a belt shows that you've curated every part of your outfit. It provides a point of interest and you would be surprised how many people will comment on these features when done right.
A belt is also an appreciation of craft and materials. Many of the options below are hand-crafted, using the finest European leathers which gives each belt a special character. As your body changes throughout your lifetime, garments naturally come and go but a belt can withstand the change and be the sort of item that when bought once, properly, will see you through. Here's a our pick of the best men's leather belts.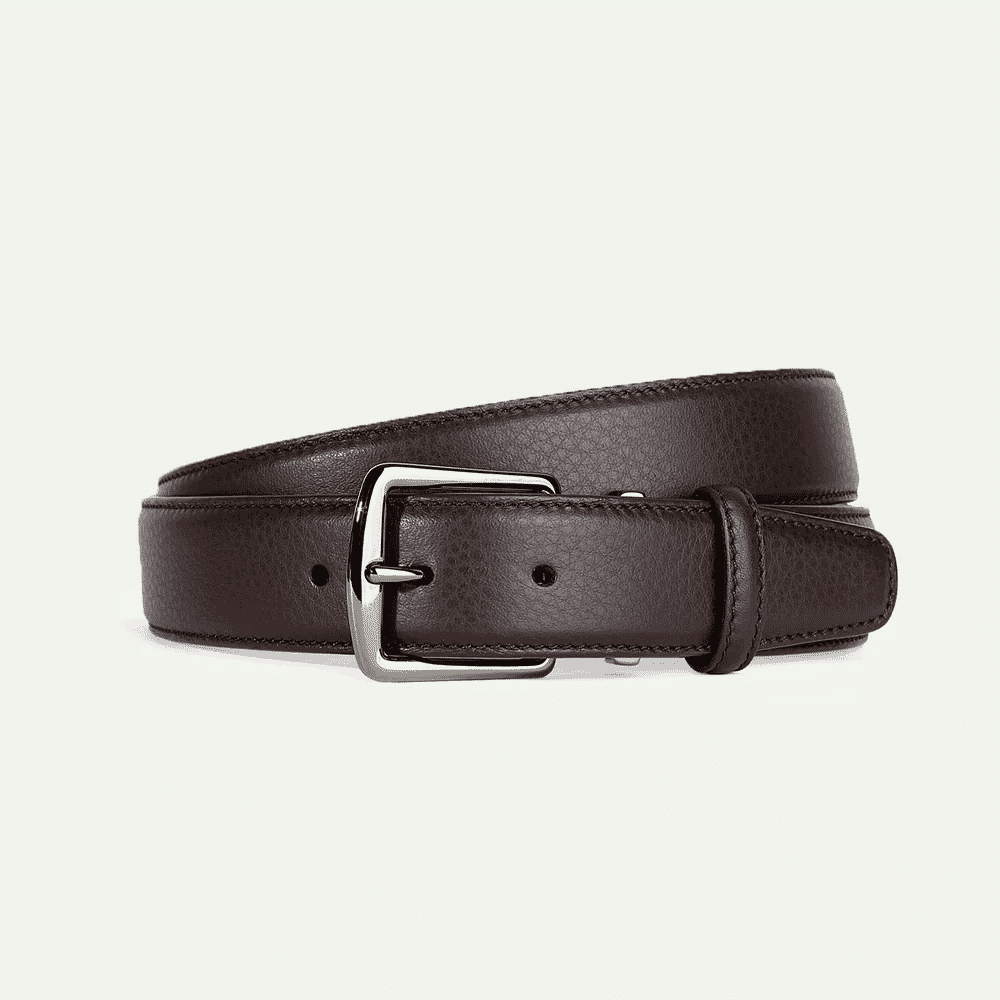 Best brown leather belts for men
Aurelien
If you want luxury materials at a smart price, consider Aurelien. The Mediterranean-inspired brand's chocolate brown grain belt is highly supple, made from a soft grain leather and nubuck lining, the leather sourced from Italy. An ingenious interchangeable gunmetal buckle means you can swap it out for different straps.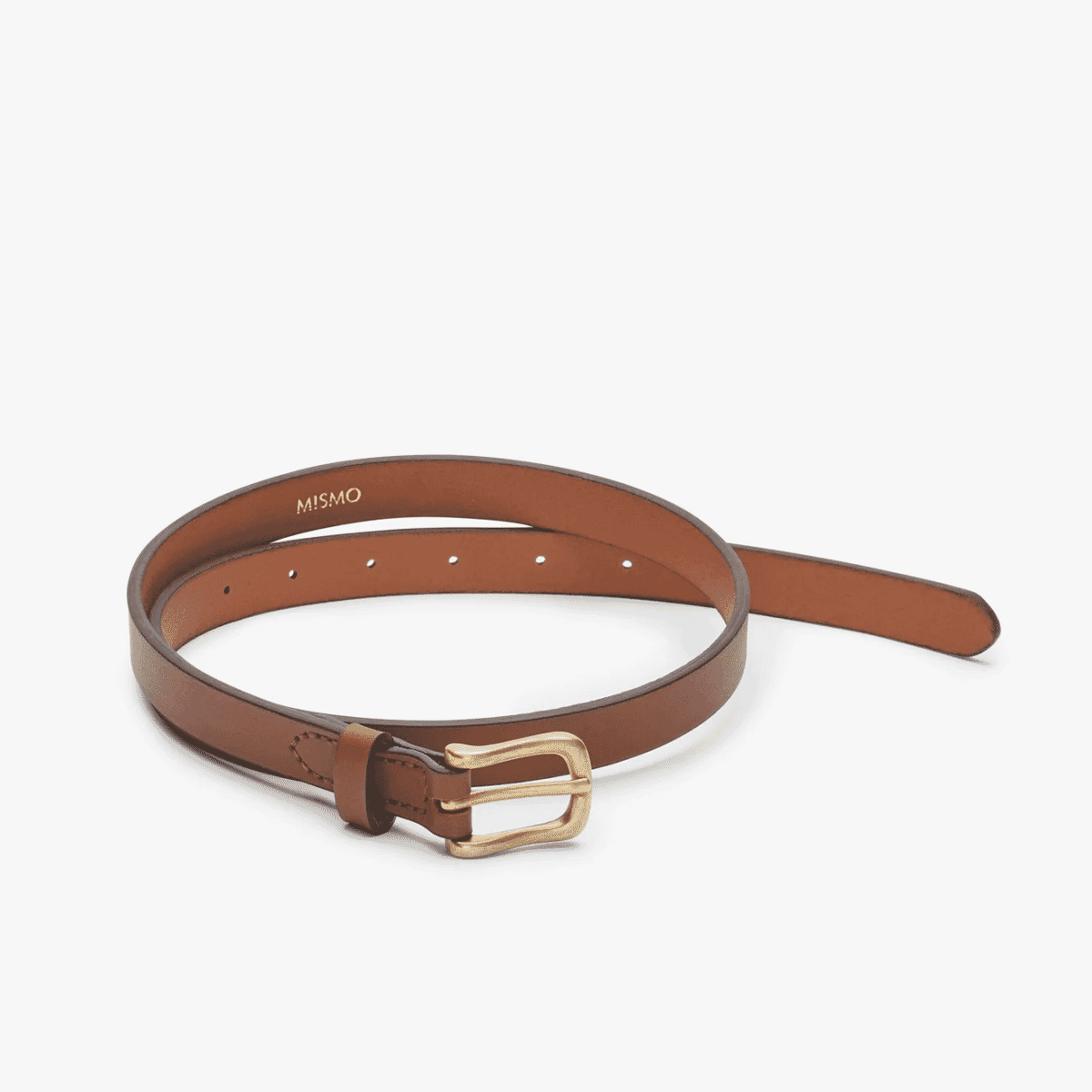 Mismo
If you're looking for something thinner, Mismo does great leather belts for men. The brand's slim belt is a 20mm wide unisex belt cut from vegetable tanned full-grain bridle leather. It has seven holes instead of the standard five making for more fit options. A brass buckle and hand detailing finishes off a solid option.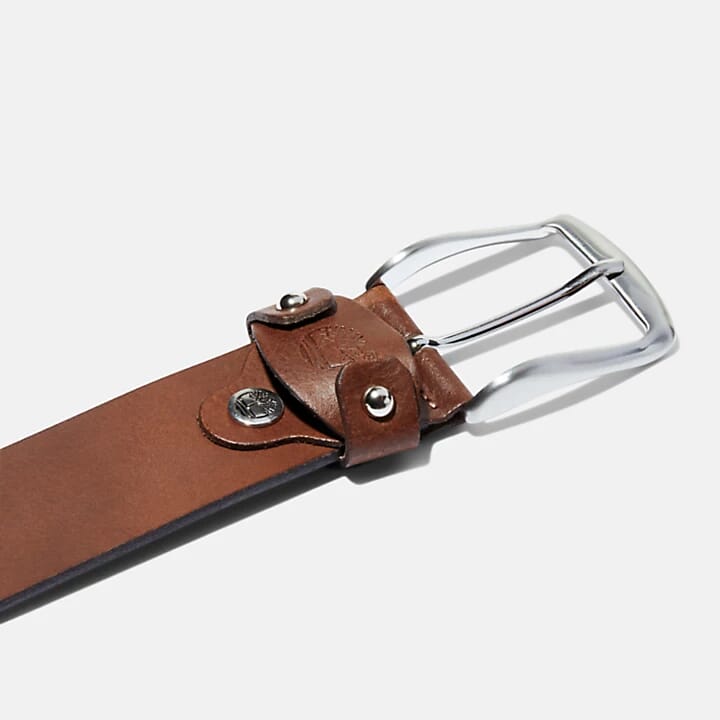 Timberland
Made from 100% Timberland premium leather, this is a great option for those after a square buckle. A casual option, the belt also features antiqued silver hardware and an embossed Timberland logo on the keeper loop. Let your belt match your boots.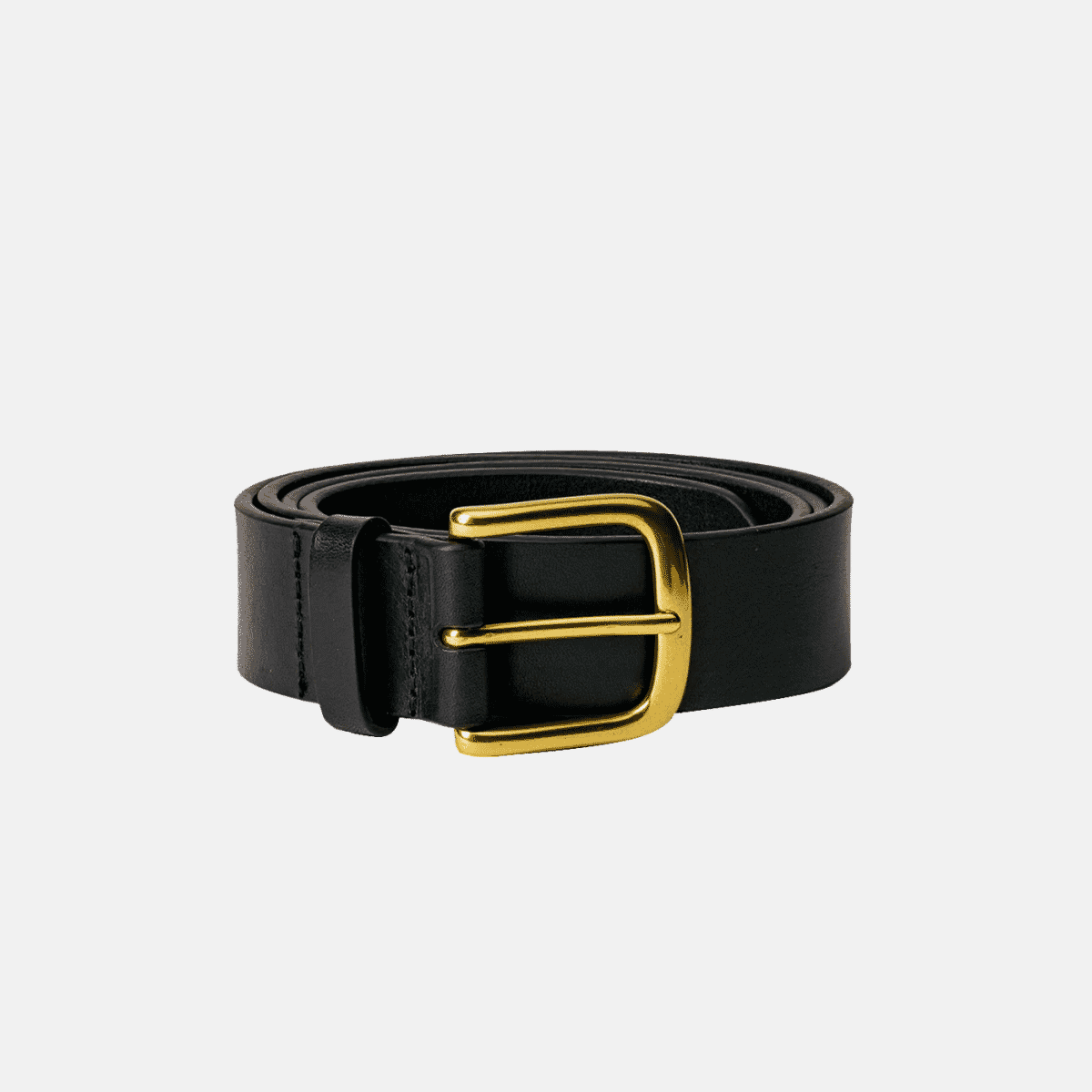 Best black leather belts for men
ISTO
This ISTO belt is one of the better leather belts for men we've seen of late. A classic buckle, luxury vegetable tanned, Italian aged Santa Crocce leather. The belt has been designed, cut and handcrafted in Portugal and the leather itself has been treated using natural tannins including mimosa and tree bark.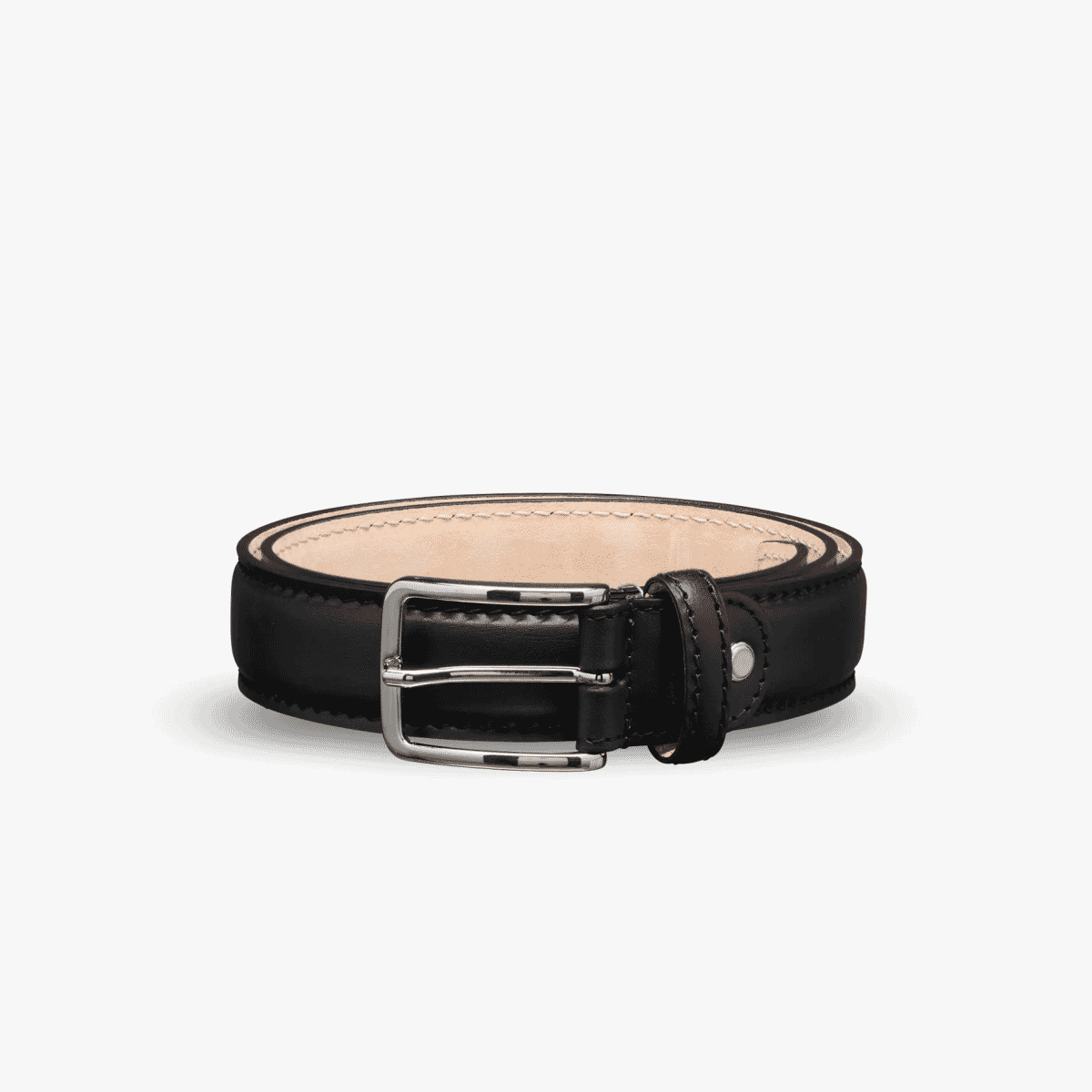 Myrqvist
Match your black leather shoes to your black leather belt. This piece from Myrqvist is made in Italy from premium leather and features bordered detailing along edges of the belt. At 32mm wide it's the perfect size and the buckle is an understated glossy silver. A must have accessory for tailoring.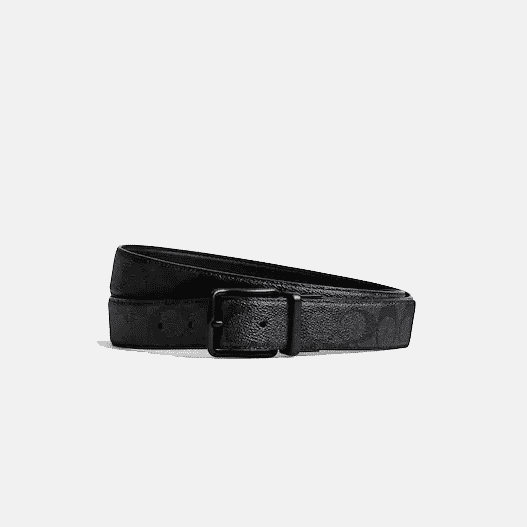 Coach
Coach is a trustworthy brand when it comes to leather goods and the brand's harness cut to size reversible belt is a versatile option. Signature coated canvas on one side, buttery soft glove-tanned leather on the other. A simple twist reverses the wearing option and the fit is completely customisable, just cut with a pair of scissors.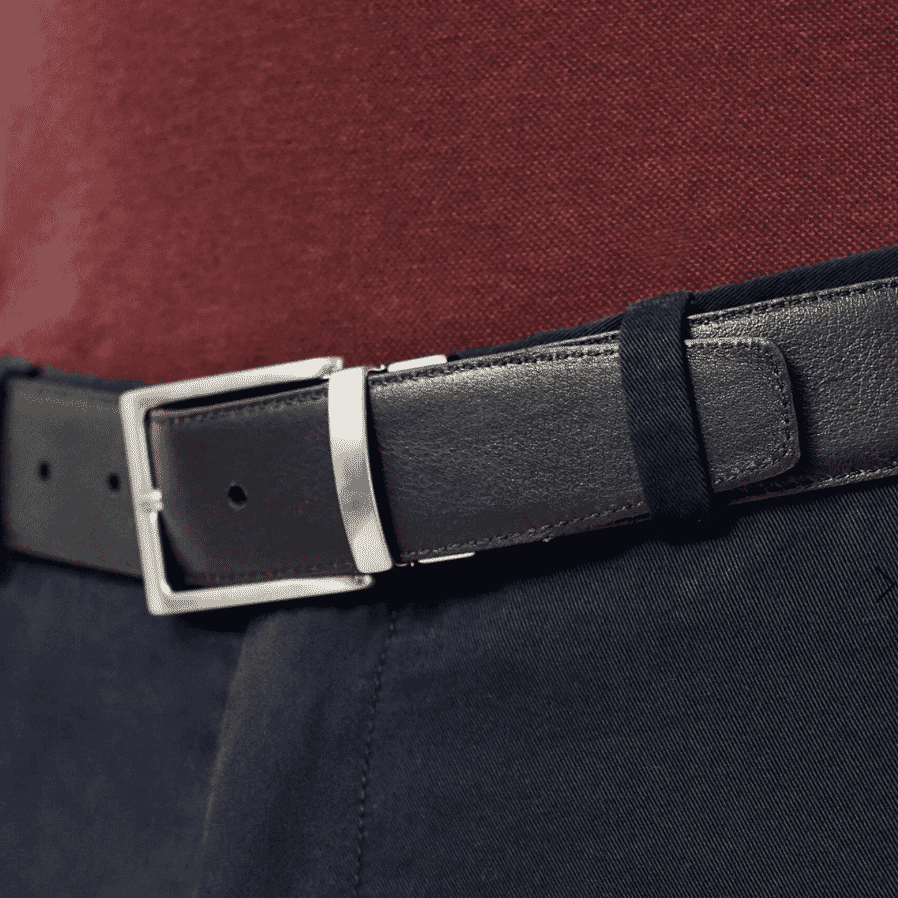 Best reversible leather belts for men
Luca Faloni
Leather belts for men but make it ultimate luxury. The reversible Luca Faloni black brown belt in the finest calf leather is a solid purchase. Reversible at the buckle for the best of both worlds (colours), the belt makes for a handy and versatile travel option. Handmade in Bergamo, it's a timeless piece that is great for gifting.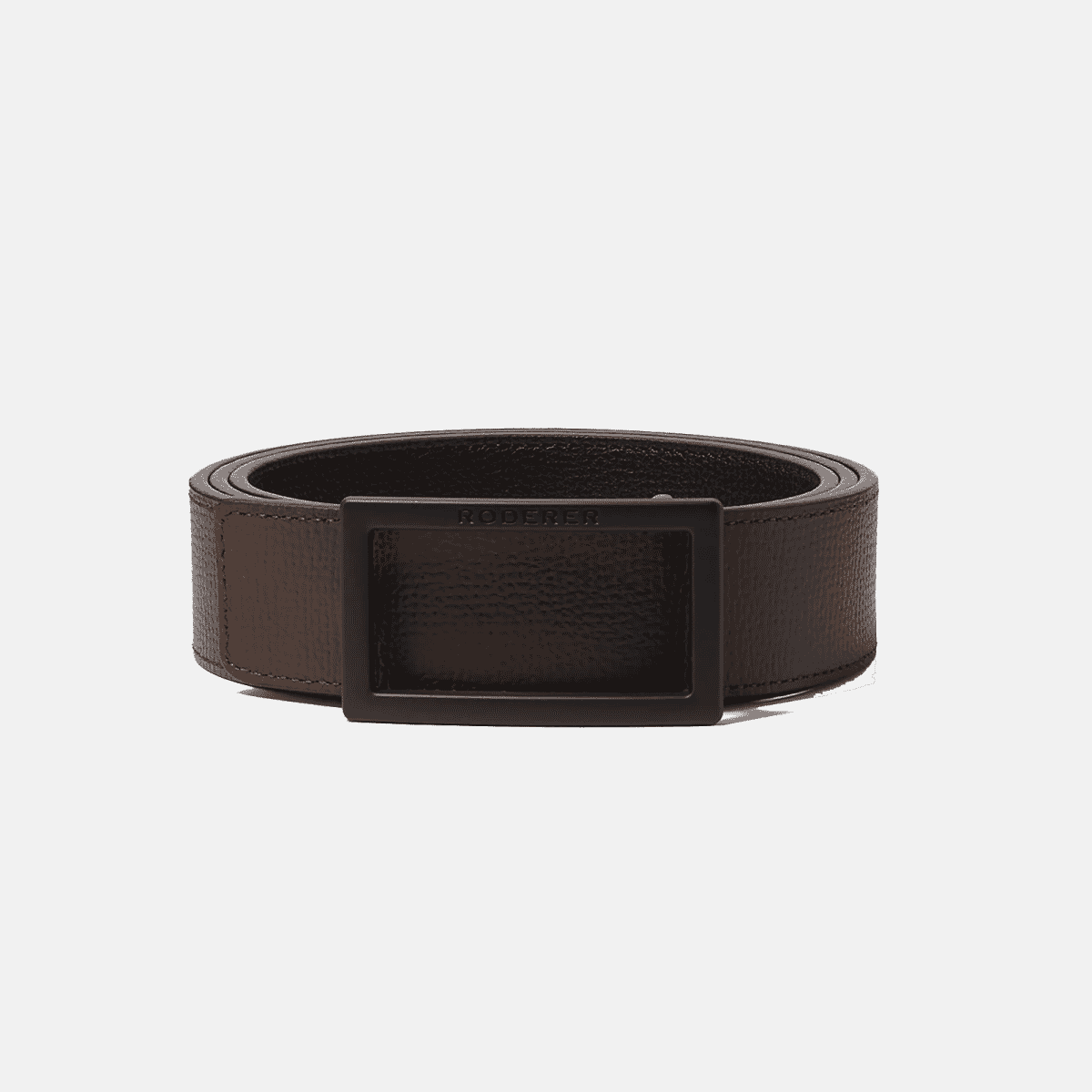 Roderer
For a men's leather belt with more of a contemporary feel, the Roderer Ace reversible belt is a versatile option that goes with anything. It's all about less is more. With contrasting black and brown on either side, it offers versatility and understated style. The black matte buckle is also a modern point of difference.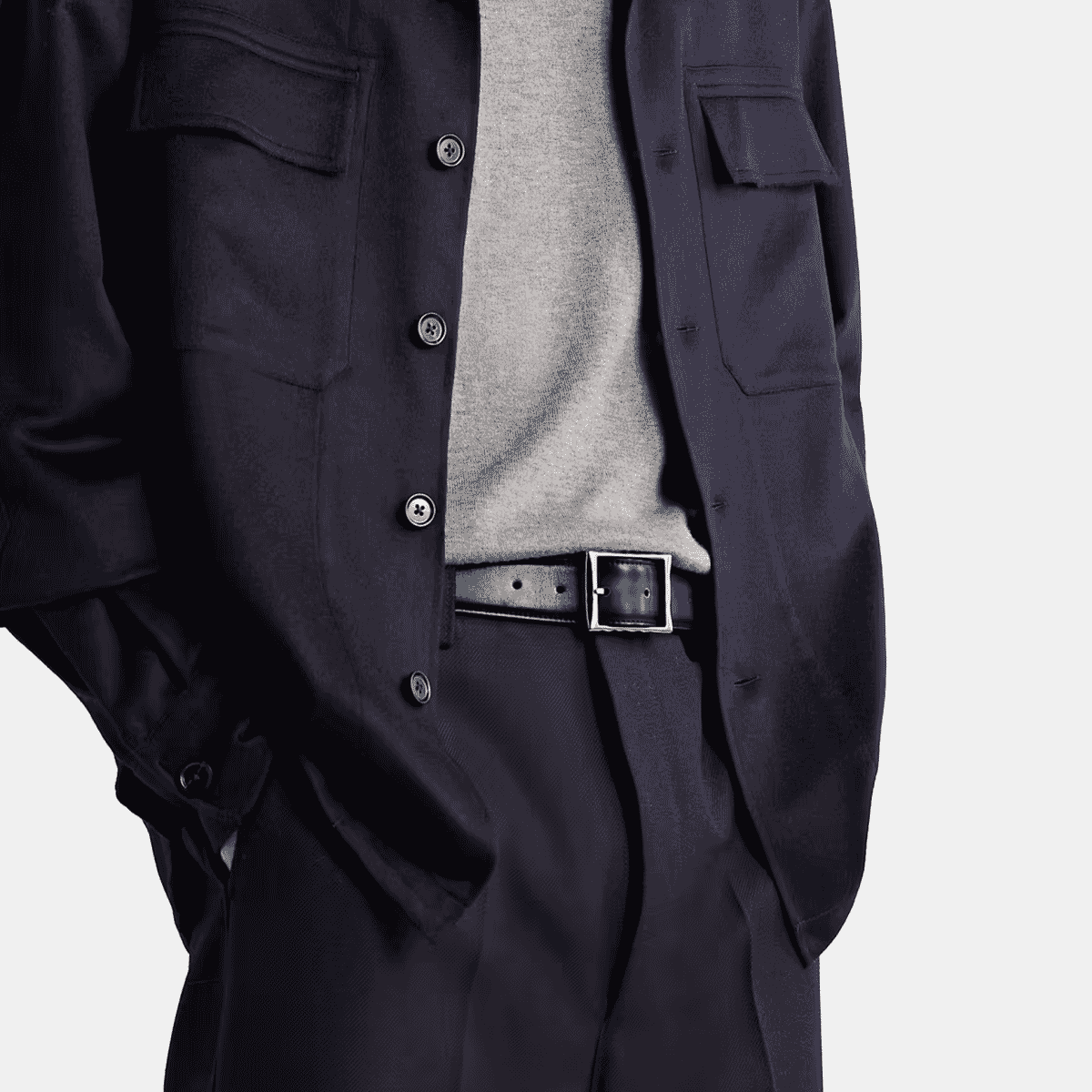 Berluti
For something luxuriously Italian, with the versatility of a reversible belt, Berluti offers a stylish option in a combination of tonal blue and dark brown. An heirloom piece in the making, the blue side is hand-polished for a lavish patina. The hammered silver tone buckle is a welcome feature.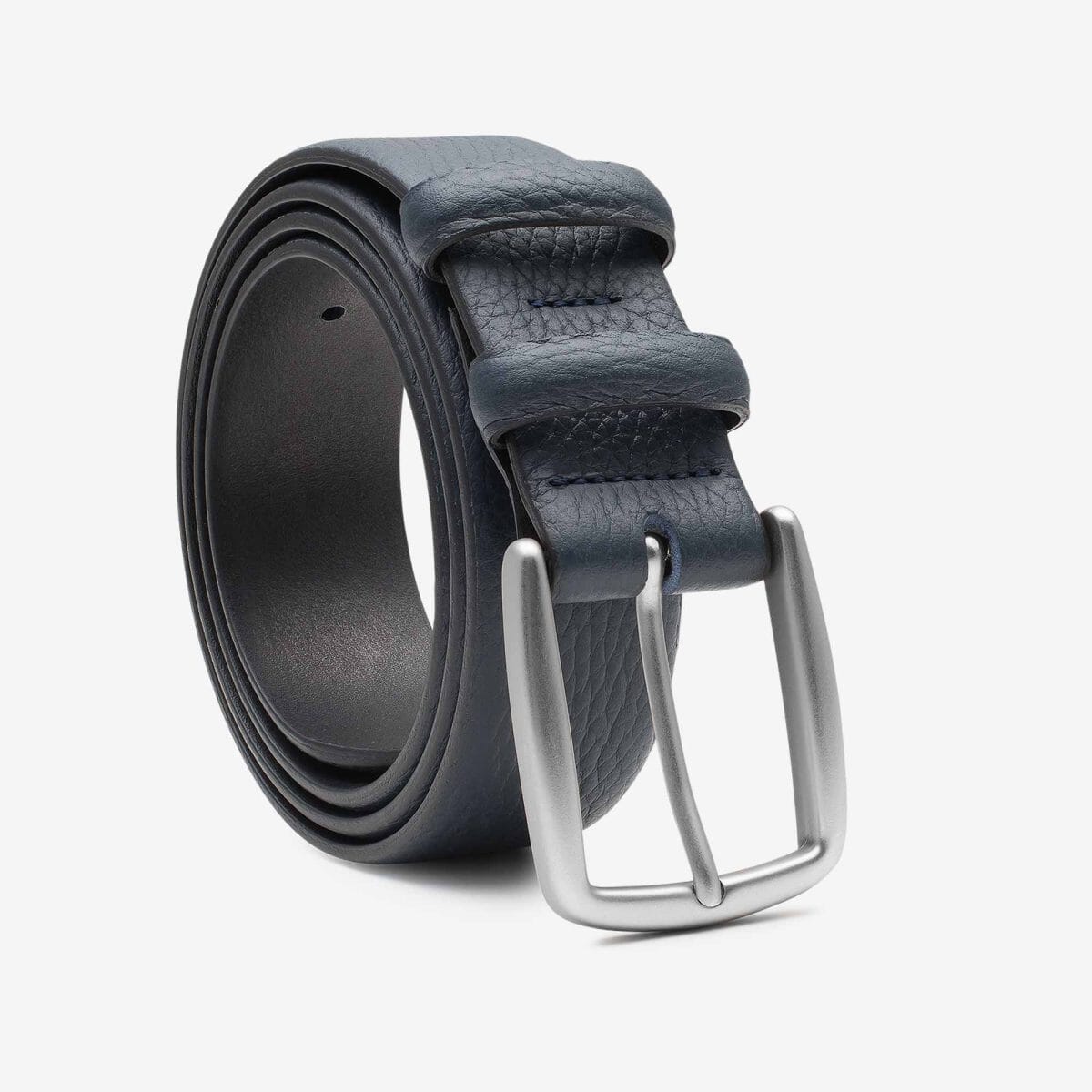 Best statement leather belts for men
Dalgado
Grab them whilst you can. Dalgado leather belts for men go quick. Handmade in Germany from premium full grain French leather, there's a vegetable tanned full grain leather lining and the buckle is a made from matte grey solid brass with paladium plating. The belt is crafted in Germany's oldest beltmaking factory. A true statement piece.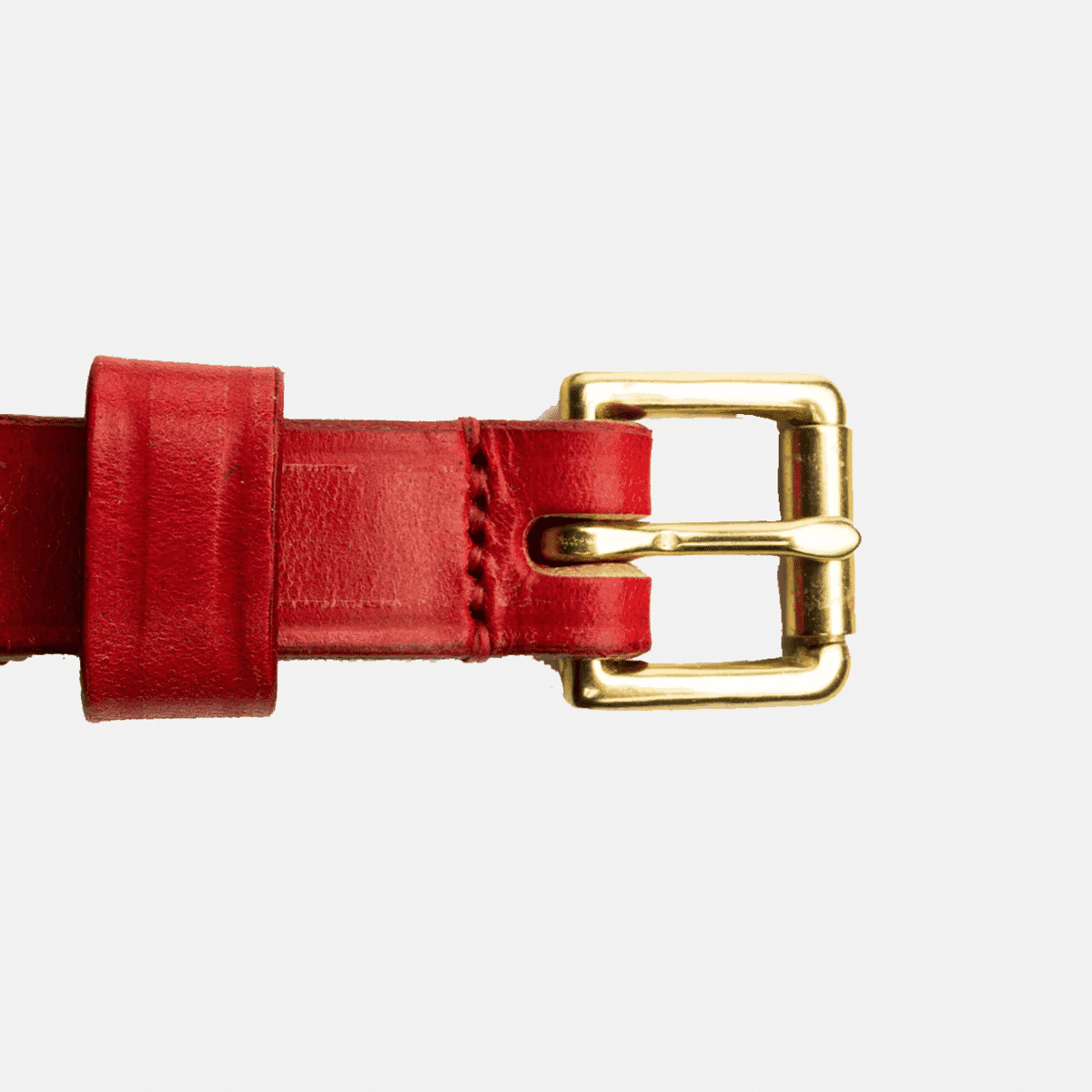 Clutch Cafe
You can always make a statement with Clutch Cafe-sourced pieces. Made to last. Made to age well. Made to rekindle a time gone by. Cut from English bridle leather, the Allevol narrow belt is a classic utilitarian piece in a bold red colourway. Hand crafted and inspected for blemishes in a small workshop, it's a piece to be cherished and cared for.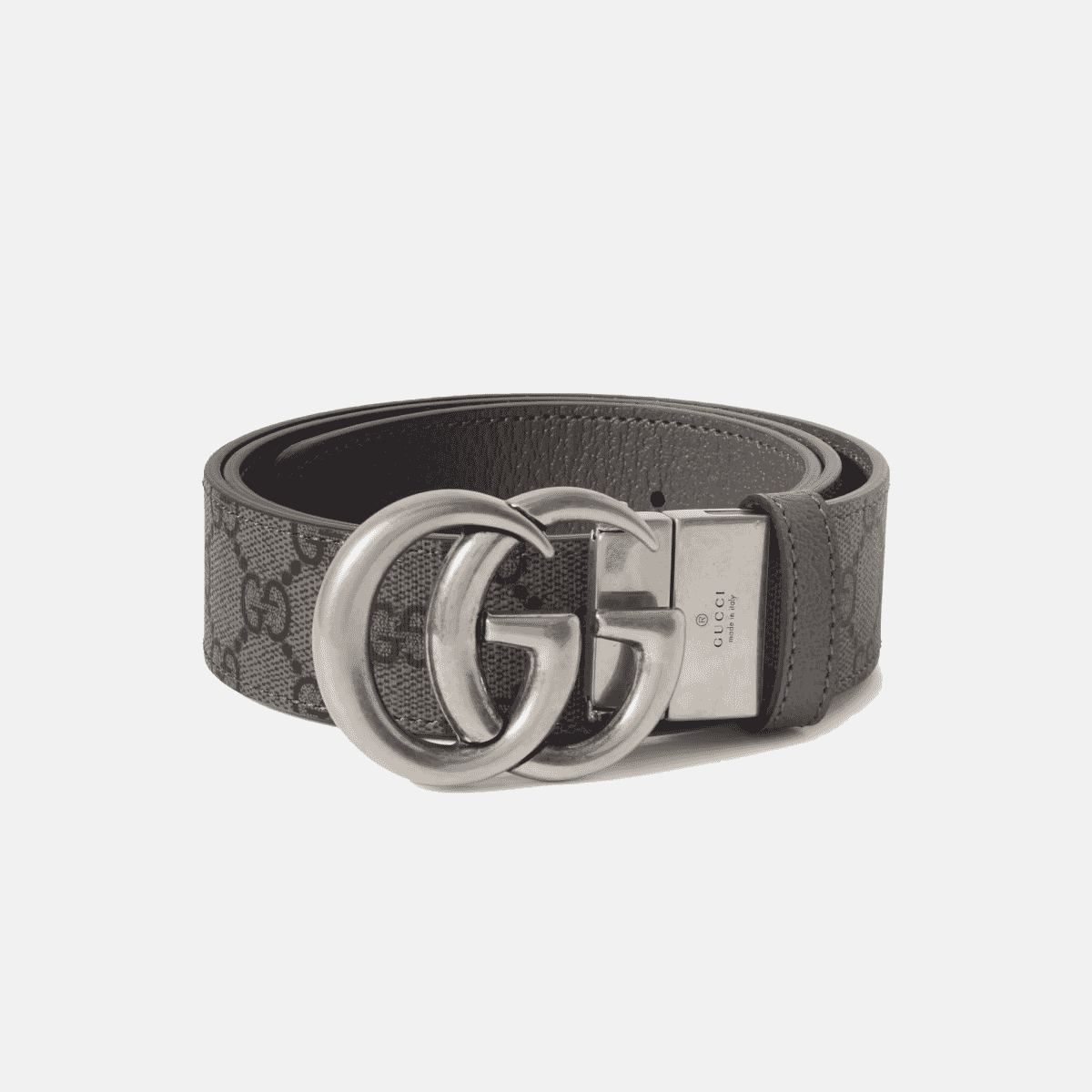 Gucci
If you want people to admire your waist, a surefire way to get eyes in that direction is the double G belt buckle. Gucci's Marmont belt is a luxury ode to the 70s, with monogrammed canvas on one side and a sleek leather on the other. A silver tone buckle keeps it together and it'll look the part splitting up double denim.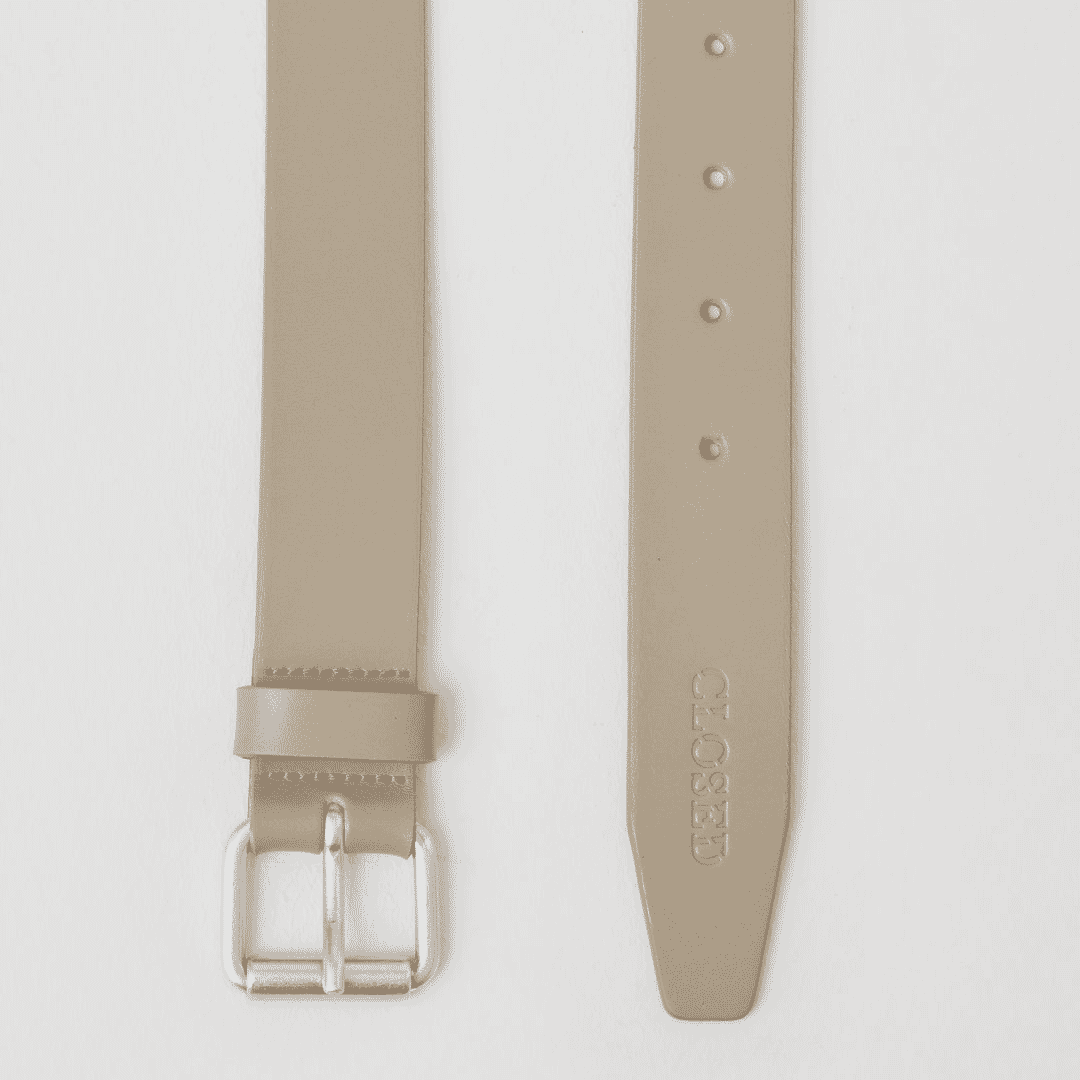 Best cream leather belts for men
CLOSED
No fancy names here, the thing you buckle around your waist is called a belt at CLOSED and it comes in two excellently named colours: chino beige and brazil nut (a dark brown). Made from premium leather that's vegetable tanned in Italy, this men's leather belt features hand dyed and polished edges.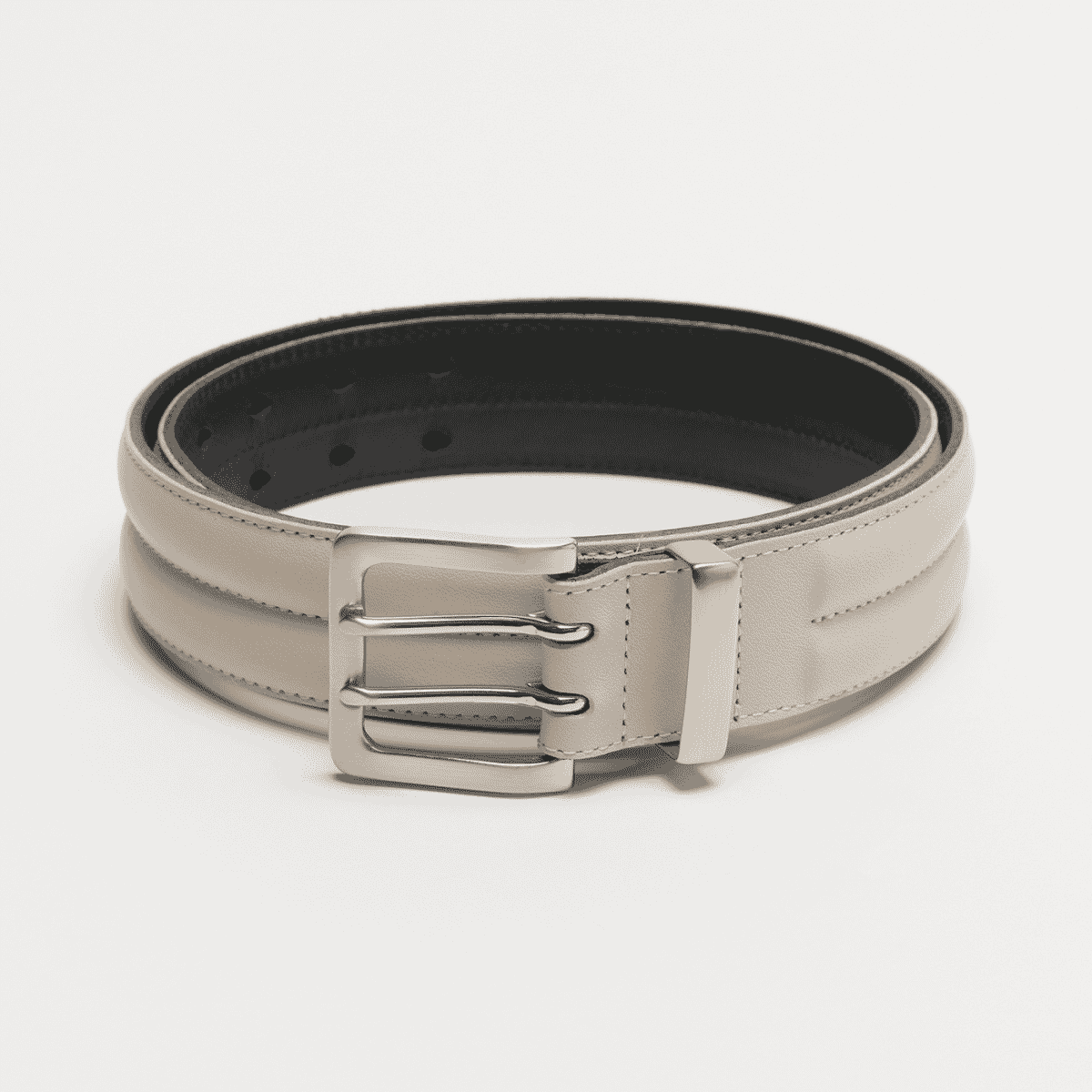 Our Legacy
Need a belt to go with your Our Legacy Camion boots? Look no further than this creamy number. A wider than usual 40mm, the belt is made from a Portuguese leather with a double pin buckle and a padded construction. A bold choice for breaking up your outfit.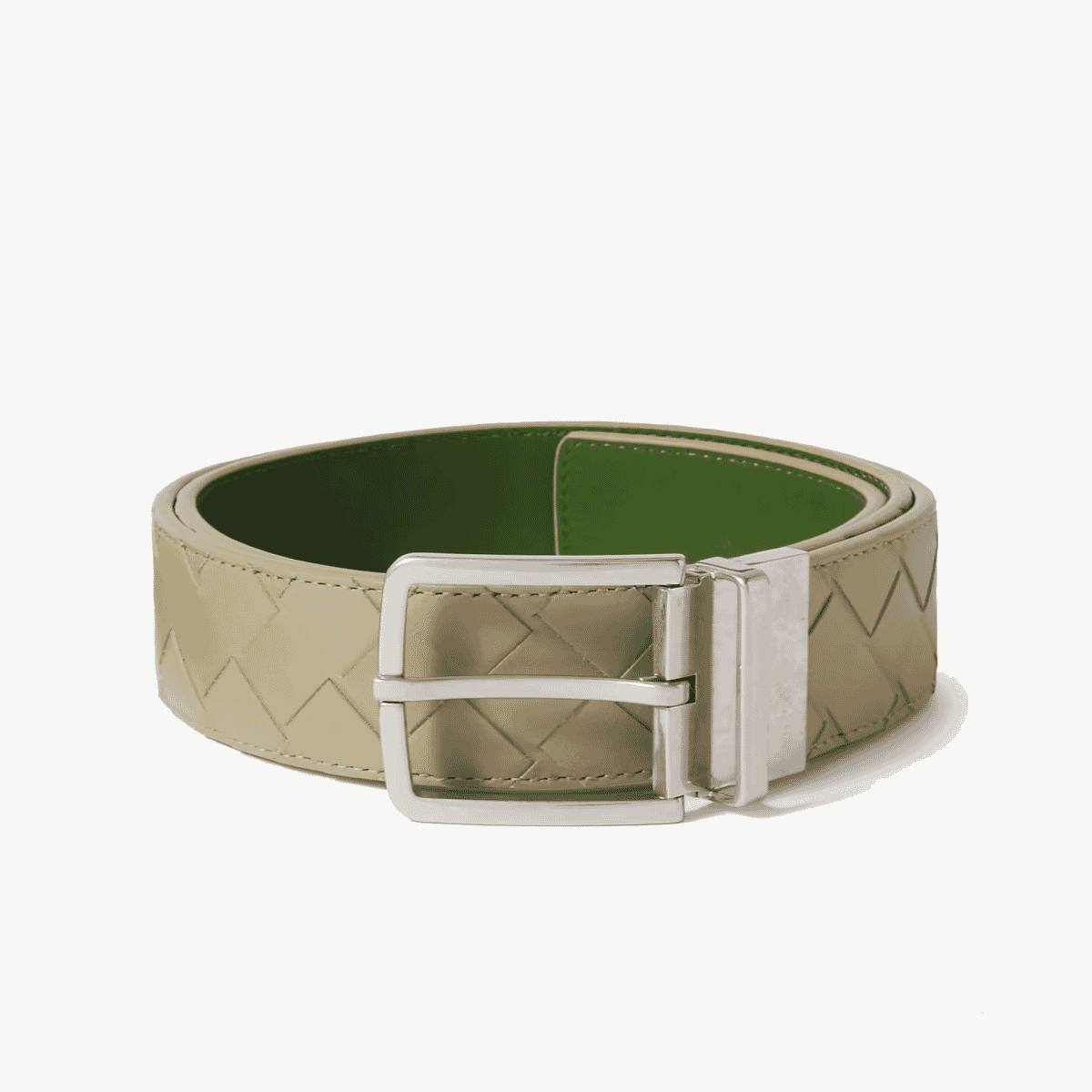 Bottega Veneta
Capping off our round-up of men's leather belts is this beauty from Bottega Veneta. Woven from strips of calf leather (BV's intrecciato technique) with two colour options, the signature technique makes the material more robust. Contrasting reversible options make it versatile and fun.
Shop men's designer belts at OPUMO.
---
---