In the realm of men's fashion, there's nothing quite as captivating as the enduring charm of a well-crafted denim outfit for men. This versatile and timeless wardrobe staple effortlessly melds rugged durability with classic sophistication. As the seasons change and autumn's cool breezes beckon, now is the perfect moment to explore the art of curating your very own denim outfit for men.
OPUMO is proud to present an exclusive guide that invites you to embark on an enriching journey through the world of denim outfits for men. From classic blue jeans to the refined allure of denim shirts and jackets, we'll delve deep into the diverse elements that make denim a perennial favorite among fashion aficionados.
Within our comprehensive styling guide, we'll guide you through the intricate process of pairing denim with complementary pieces, be it a casual urban ensemble, a laid-back weekend look, or even a smart-casual office attire. With a plethora of outfit inspirations and expert advice at your disposal, you'll discover how to seamlessly incorporate denim into your daily wardrobe rotation.
Yet, the true beauty lies in the details. From selecting the perfect denim wash to mastering the art of layering, our guide empowers you to make informed decisions that elevate your outfit to the next level. We'll even venture into the realm of accessories, revealing how to complement your denim attire with the ideal footwear, belts, and timepieces, adding an exquisite finesse to your overall look.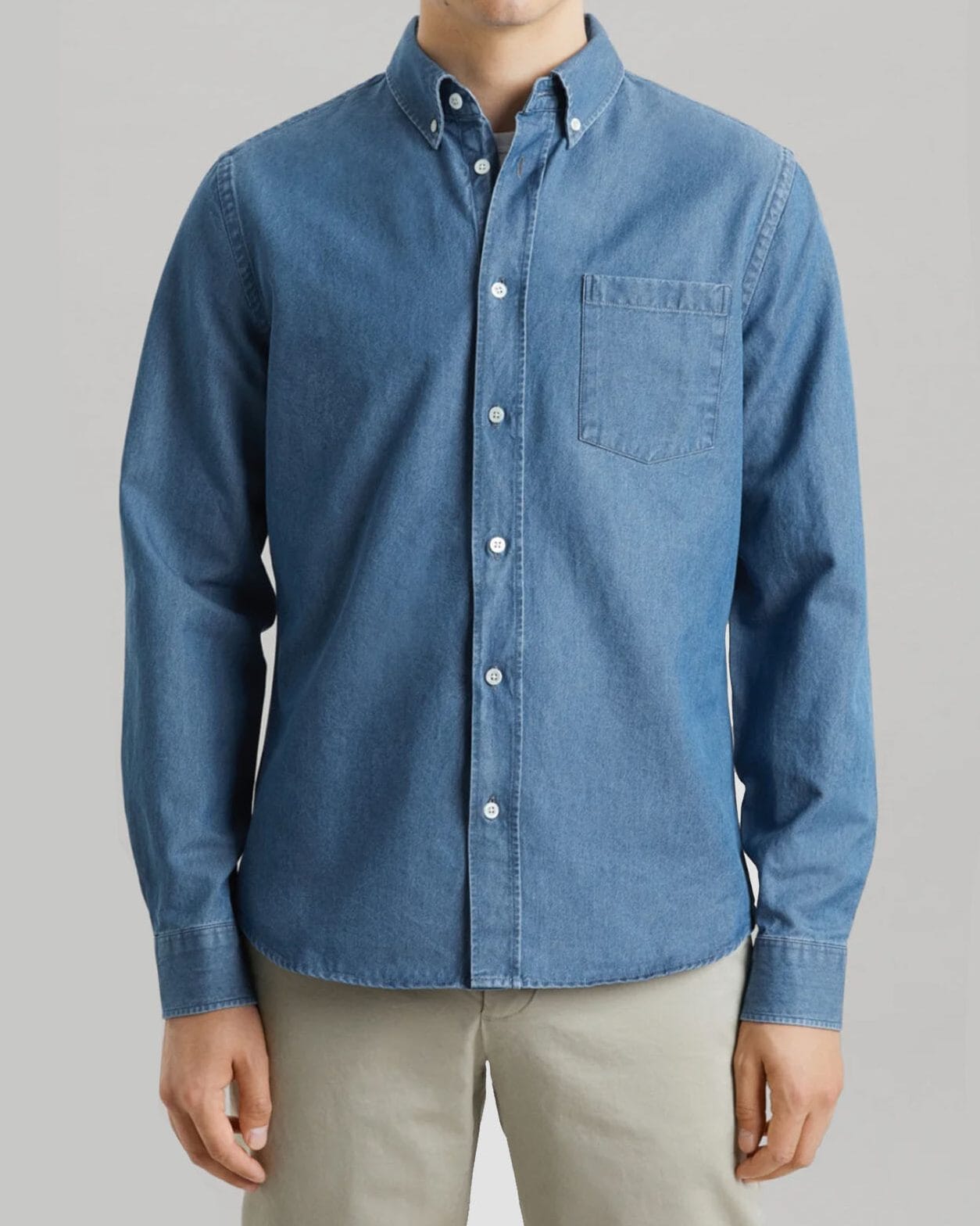 So, gentlemen, fasten your seatbelts and embark on a stylish journey into the captivating world of denim outfits for men. Whether you're a dedicated denim enthusiast or a novice, this guide serves as your key to unlocking the boundless potential of this beloved fabric. Immerse yourself in the denim experience—a timeless, versatile, and undeniably stylish cornerstone of contemporary menswear.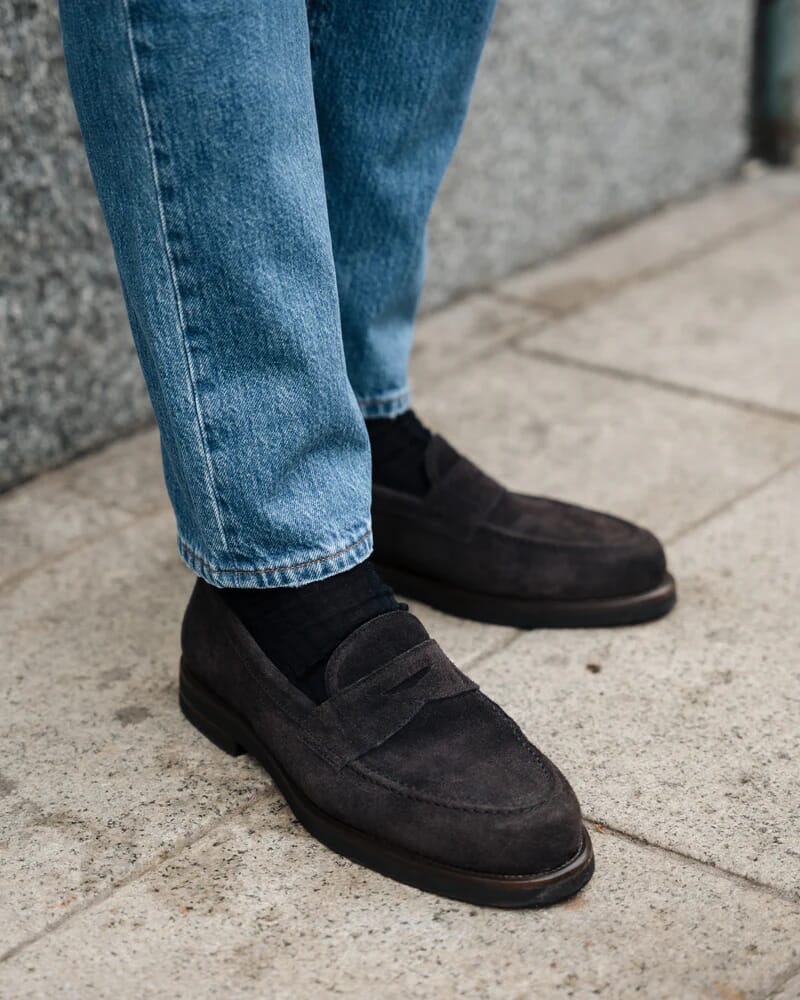 How to style a denim outfit for men
Embarking on a stylish journey through the world of men's fashion, our focus today lies in crafting the perfect denim ensemble. Denim, with its timeless allure, offers an expansive canvas for sartorial expression. From classic blue jeans to denim shirts, jackets, and beyond, this rugged fabric has transcended generations, enduring as an iconic staple in every man's wardrobe. To help you master the art of assembling a versatile denim outfit for men, we've curated a selection of essential tips that will elevate your look. Whether you're aiming for a casual day out, a smart-casual office look, or a trendy night on the town, these styling tips will ensure that your attire exudes confidence and individual style.
Choose the Perfect Denim Pieces: Commence your journey to the ideal denim outfit for men by selecting the right denim pieces. Whether it's jeans, shirts, or jackets, prioritize well-fitted, tailored options.
Mix Denim Washes Strategically: When crafting your denim outfit for men, explore the art of combining different denim washes. For instance, pair dark denim jeans with a lighter denim shirt to achieve a captivating contrast.
Elevate with Smart Accessories: Enhance the impact of your denim outfit for men with thoughtfully chosen accessories. Consider adding a stylish leather belt, seamlessly complementing your denim pieces, or elevate the ensemble with a classic wristwatch.
Tailor Denim to the Occasion: Opt for a polished, well-fitted look for formal events while embracing a relaxed, casual style for everyday wear.
Strategically Layer Your Denim: Incorporate layering techniques into your denim outfit for men to introduce depth and visual appeal. Experiment by layering denim jackets over T-shirts or denim shirts under blazers, creating a versatile and stylish appearance for your denim outfit for men.
Footwear Choices: Select footwear that complements your denim outfit for men according to the event or setting. Boots or dress shoes are ideal for refined looks, while sneakers or loafers perfectly complement more casual denim outfit for men styles.
Personalize with Patches and Pins: Infuse your individuality by customizing your denim jacket or vest with patches or pins that reflect your personality and interests.
Explore Subtle Distressing: For a laid-back, casual look within your denim outfit for men, explore denim pieces featuring subtle distressing. However, exercise caution to avoid excessive distressing, which may compromise the overall aesthetics of your denim outfit for men.
Introduce Colored Denim: Broaden the horizons of your denim outfit for men beyond the classic blue and black by considering colored denim options like grey or olive. These hues add a touch of diversity and versatility to your denim outfit for men.
Cuff Your Jeans with Care: To imbue a contemporary flair, experiment with cuffing the hems of your jeans. This stylish touch allows you to showcase your chosen footwear within your denim outfit for men, whether it's sneakers, boots, or loafers.
By embracing these styling tips, you'll effortlessly create versatile and trendsetting looks suitable for various occasions, all while highlighting your unique sense of style within the realm of men's fashion.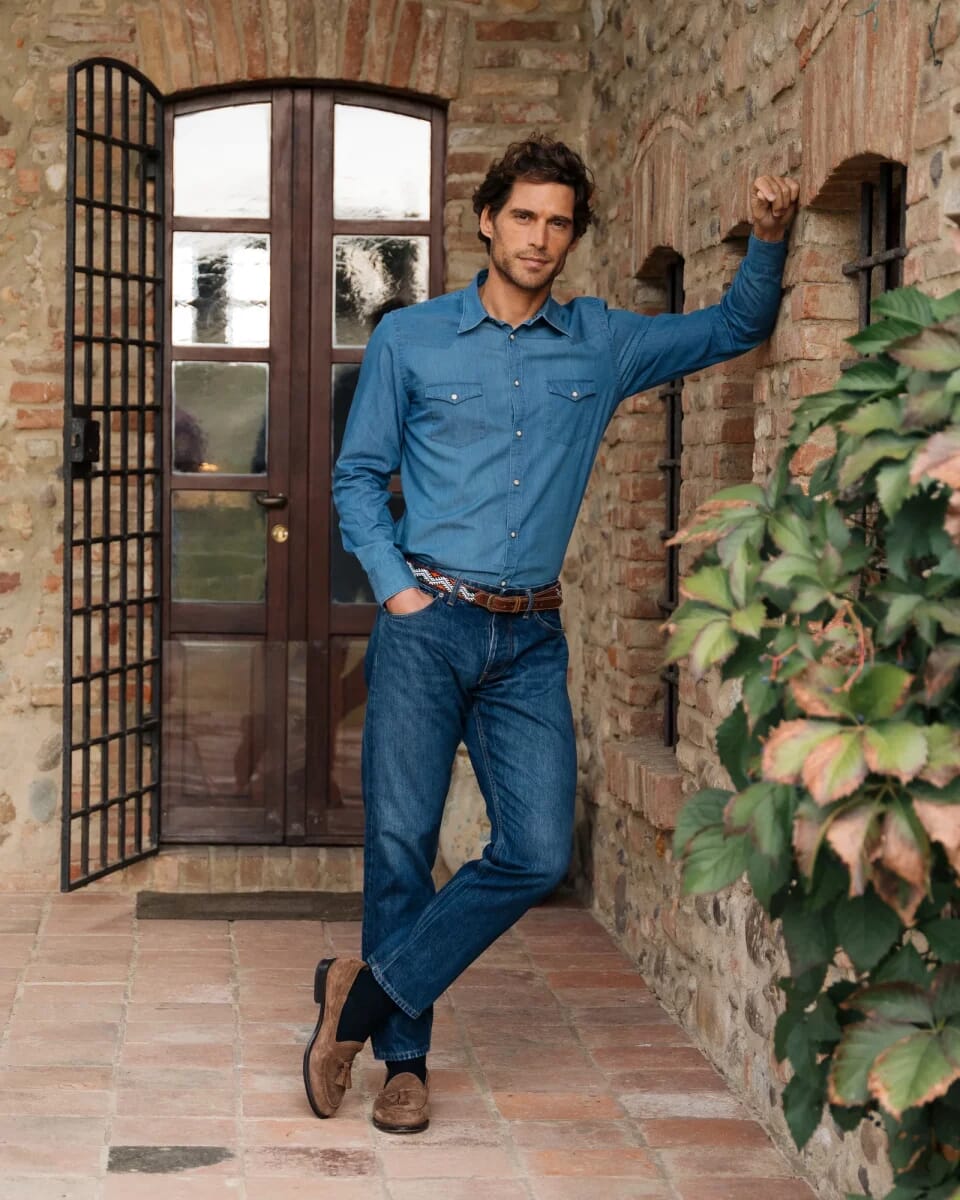 Best denim outfits for men in 2023
The Classic Denim-on-Denim Look
When it comes to creating a timeless denim outfit for men, the classic denim-on-denim ensemble is a must-try. Start with a well-fitted dark indigo denim shirt and pair it with equally well-fitted jeans in a slightly lighter shade. To elevate this look, opt for high-quality leather accessories like a belt and boots. Finish with a tailored blazer for a touch of sophistication. This combination exudes rugged charm while maintaining a sleek and polished appearance.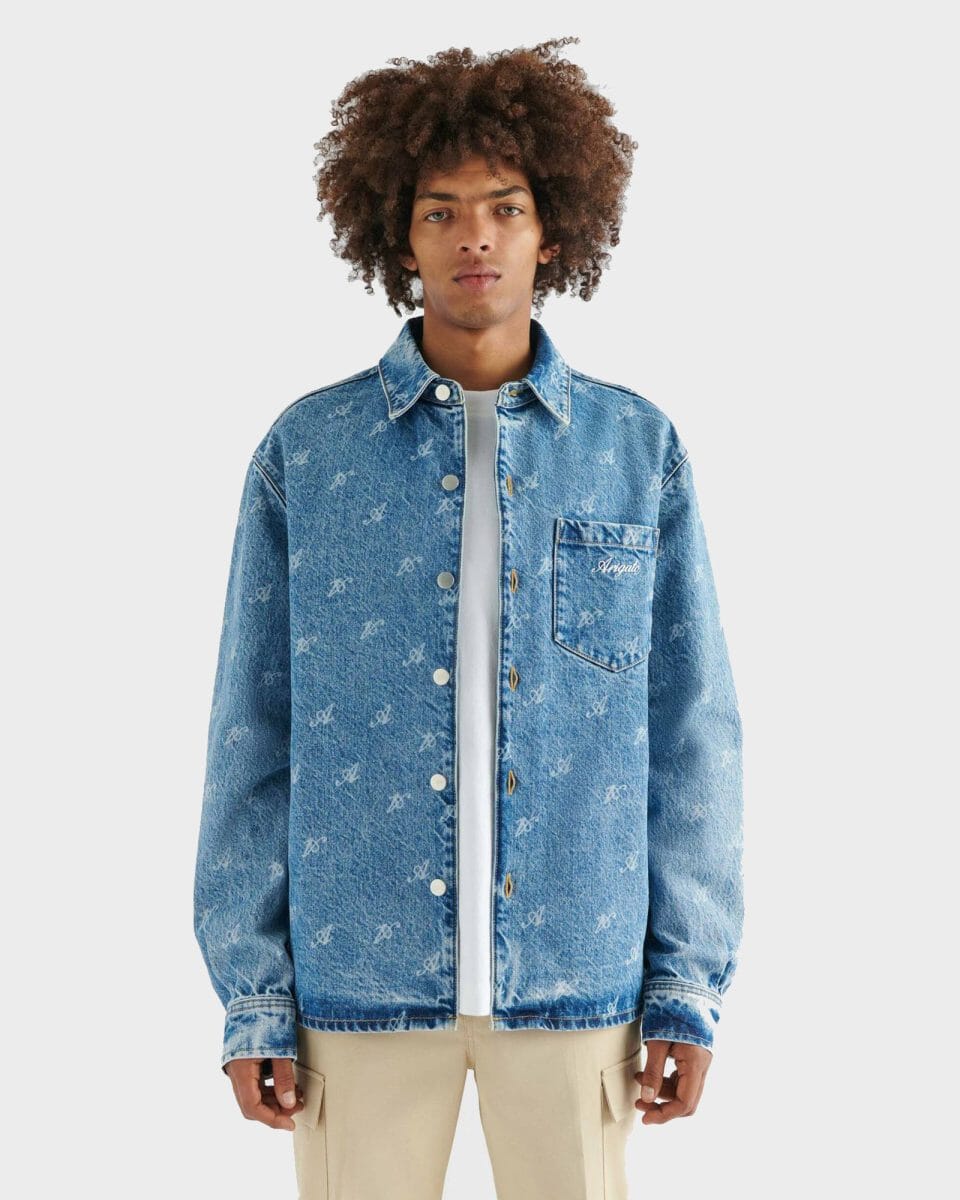 Casual Cool: Denim Jacket and Chinos
For a relaxed yet stylish look, try layering a classic denim jacket over a crisp white t-shirt. Team this with slim-fit chinos in a complementary color, such as khaki or olive. The key to pulling off this denim outfit for men is to ensure a proper fit for all components. Add a minimalist watch and some clean white sneakers, and you'll effortlessly achieve that effortlessly cool aesthetic.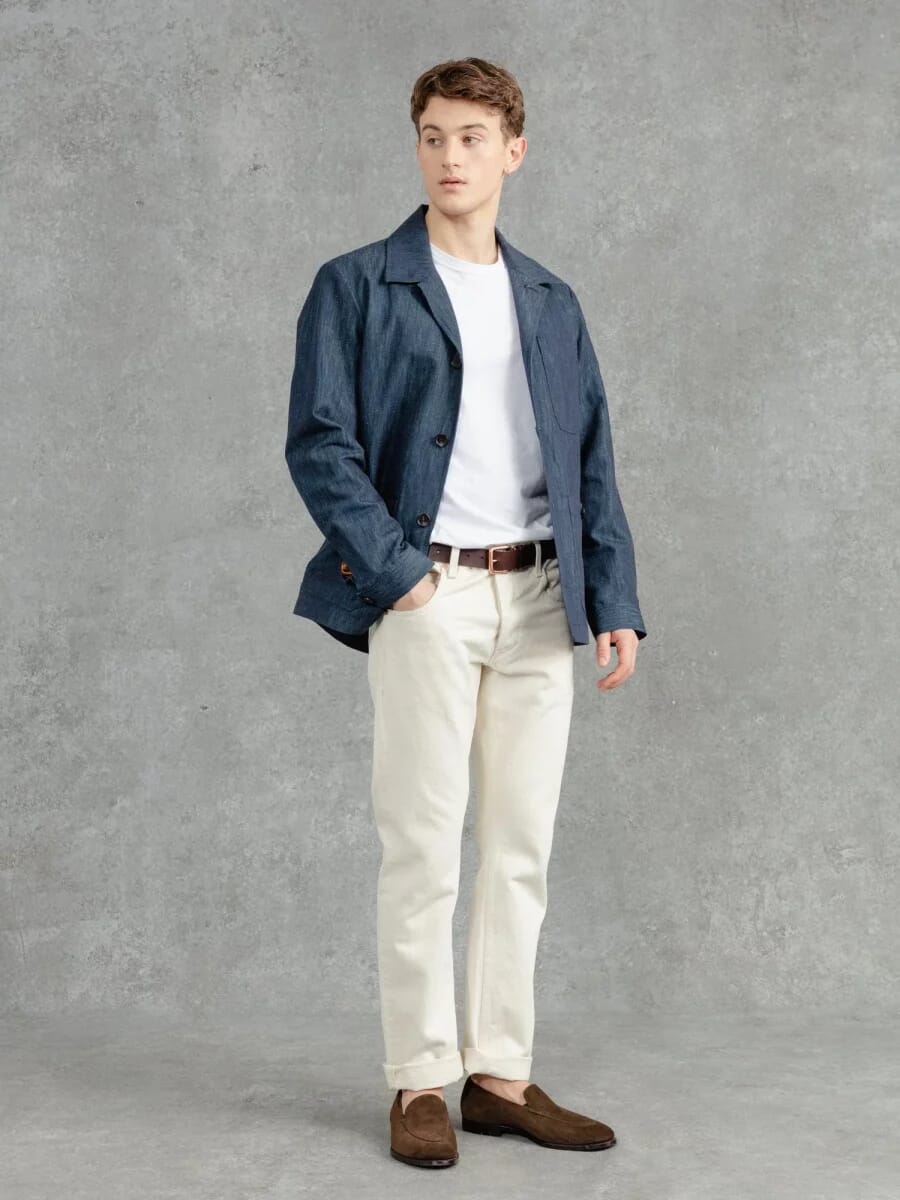 The Smart-Casual Denim Suit
Elevate your denim game with a smart-casual denim suit. Opt for a dark, tailored denim blazer and matching trousers in this sophisticated denim outfit for men. Pair it with a light-colored dress shirt and a silk tie for a dash of refinement. Keep the shoes sleek and sophisticated, like brown leather brogues. This denim outfit for men seamlessly blends comfort and style, making it ideal for a variety of occasions, from business meetings to semi-formal gatherings.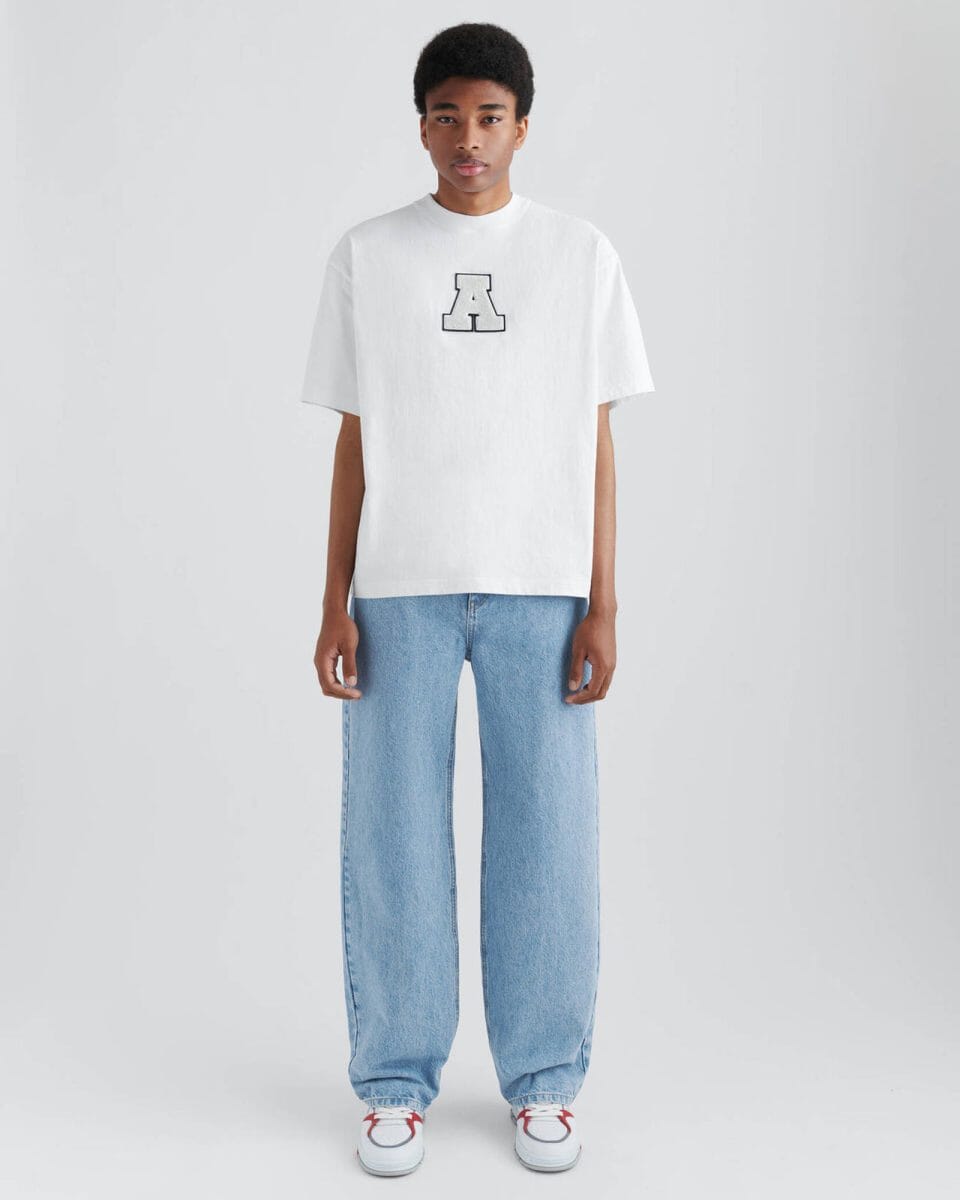 Weekend Warrior: Distressed Denim and Graphic Tee
For a laid-back weekend, go for distressed jeans paired with a graphic tee that reflects your personal style. Throw on a pair of high-top sneakers and accessorize with a leather bracelet or a rugged watch. The distressed denim adds a touch of edge, while the graphic tee allows you to showcase your individuality.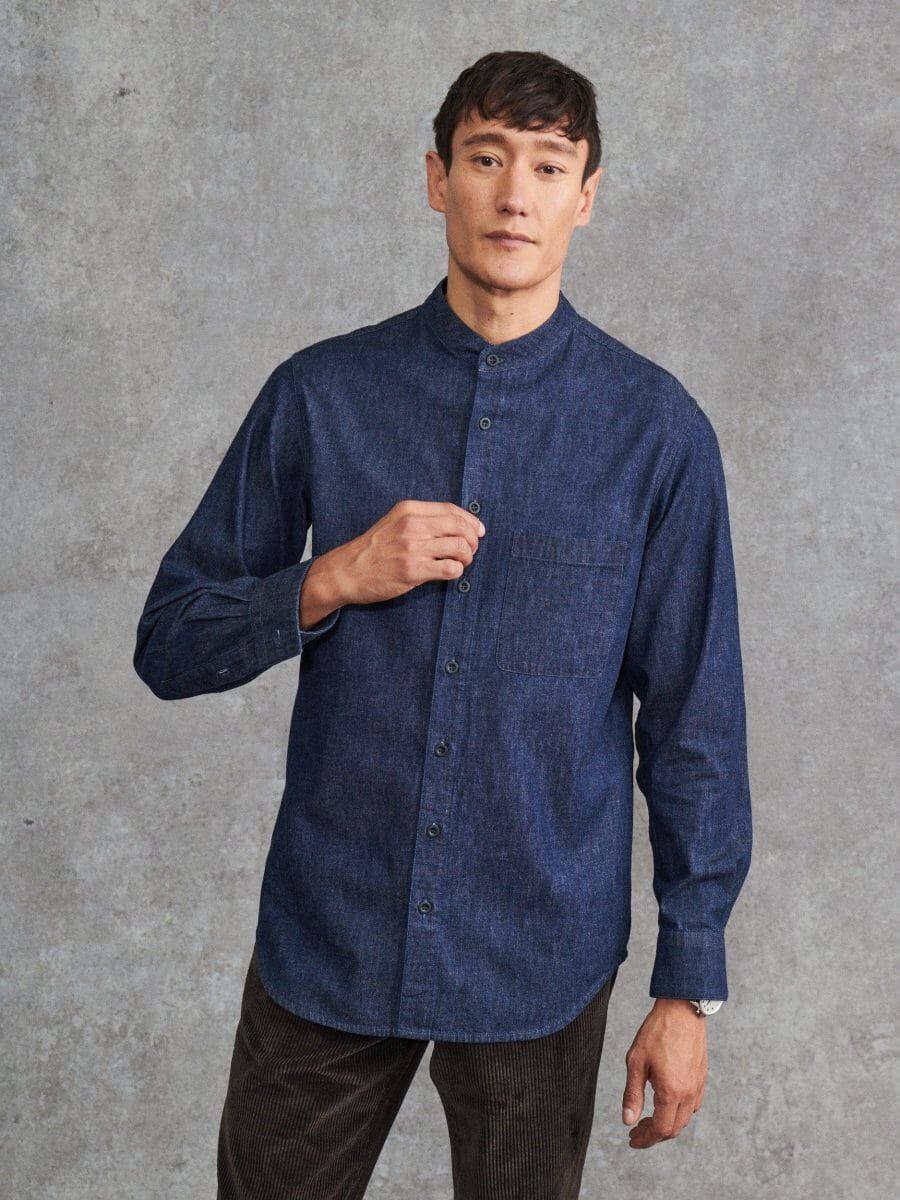 Denim Overalls for a Vintage Vibe
Embrace a vintage-inspired look with denim overalls. Keep it contemporary by choosing a slim-fitting pair and layering it over a plain white or striped tee. Roll up the cuffs for a casual touch and complete the outfit with canvas sneakers or chunky work boots. This outfit exudes nostalgia and is perfect for a weekend getaway or a day of urban exploration.
These outfit ideas showcase the versatility of this wardrobe staple, proving that a well-curated denim outfit for men can effortlessly transition from casual to upscale, ensuring you look stylish in every situation. Elevate your denim game by investing in high-quality pieces that fit like a dream, and you'll be ready to conquer any fashion challenge that comes your way.
---
---