Every stylish man should own a suit; its importance cannot be overstated. Whether for a wedding, job interview, or formal event, the need for a well-fitted, tailored look arises at least once a year. In this concise guide, we'll focus on casual suits for men, emphasizing their versatility and providing styling tips. A casual suit seamlessly adapts to various occasions, from weekend brunches to evening gatherings, elevating your look with sophistication and confidence.
With our comprehensive guide, you'll learn to effortlessly style casual suits for men, stay updated on the latest trends, and explore reputable brands and options. Regardless of your preferences, body type, or budget, we'll equip you with the knowledge to embrace the transformative power of a well-chosen casual suit.
Prepare for a sartorial journey where sophistication meets versatility. A casual suit for men isn't just a wardrobe staple; it's a timeless investment in your personal style and self-assuredness.
Casual suits for men: The when, where and why
In the ever-evolving landscape of men's fashion, the casual suit has emerged as an indispensable wardrobe staple. It's not just a piece of clothing; it's a versatile, timeless investment that every modern man should consider. In this article, we'll delve into the reasons why a casual suit for men is a worthy addition to your closet, exploring when and where it can be worn, and how it can elevate your style and confidence.
First and foremost, let's address the why. Why should you invest in casual suits for men? The answer lies in its adaptability and transformative power. A well-fitted casual suit serves as the cornerstone of versatile dressing, effortlessly transitioning from formal to casual settings. It embodies the essence of contemporary menswear, striking a harmonious balance between laid-back comfort and sartorial sophistication.
So, when can you wear a casual suit? The beauty of this wardrobe essential lies in its versatility. Here are some occasions and settings where a casual suit truly shines:
Casual Fridays: Many workplaces now embrace the concept of "Casual Fridays." A well-chosen casual suit allows you to maintain a professional appearance while infusing a touch of relaxed elegance into your office attire.
Weekend Brunch: Heading out for a weekend brunch with friends or a date? Opt for a casual suit, and you'll effortlessly stand out in the crowd. Pair it with a crisp white shirt and loafers for a look that exudes understated charm.
Weddings: While traditional weddings often call for formal suits, many modern ceremonies lean towards a more casual and relaxed dress code. A tailored casual suit in a tasteful shade can be the perfect choice for such occasions, allowing you to look dashing while feeling comfortable.
Cocktail Parties: A casual suit is your secret weapon for cocktail parties and evening gatherings. Its versatility means you can dress it up or down with ease, making it an ideal choice for social events where the dress code falls somewhere between formal and informal.
Dinner Dates: When you want to make a lasting impression on a dinner date, a casual suit is your best ally. It showcases your style and attention to detail, demonstrating that you've put thought into your appearance without going overboard.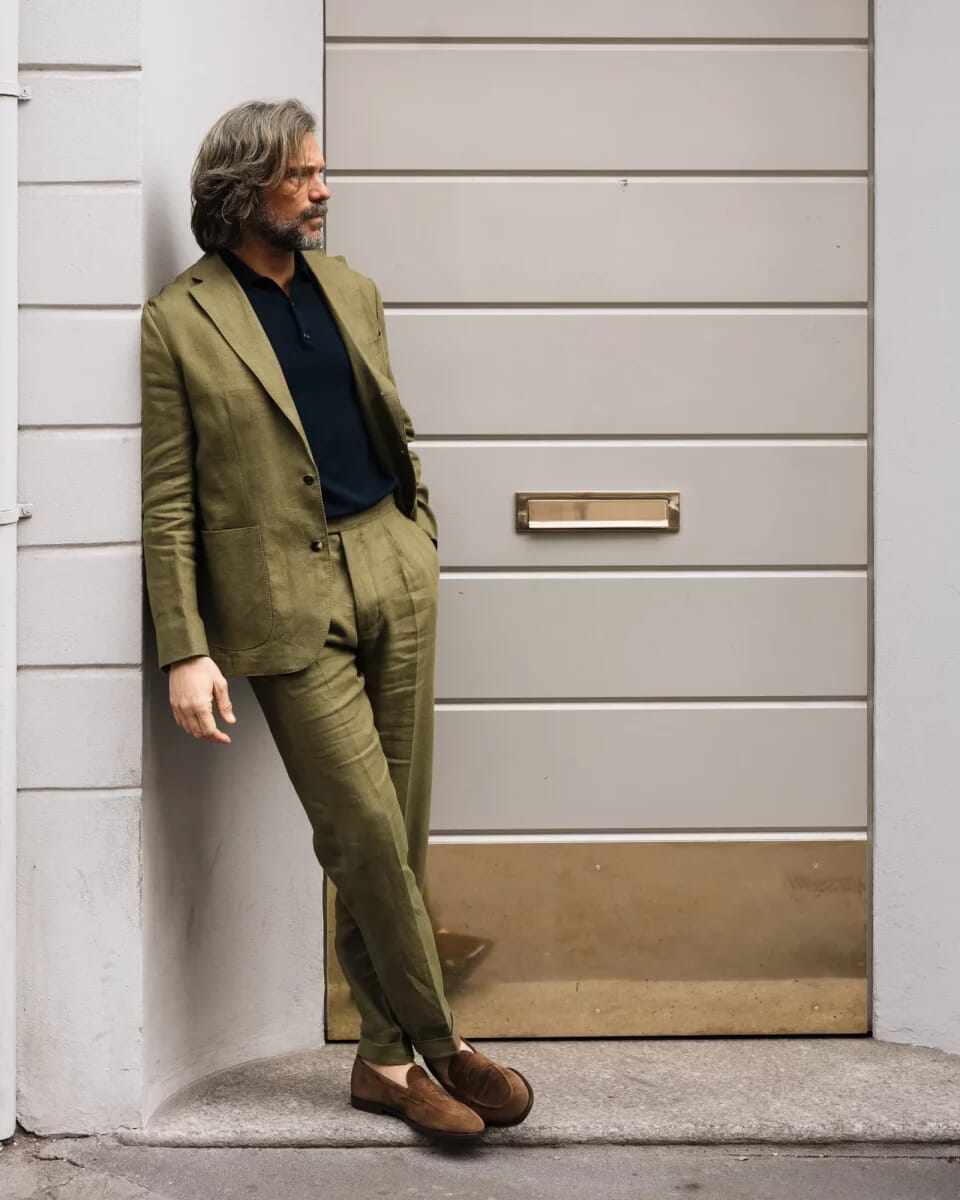 Now, let's address the investment aspect. Why are casual suits for men a worthy investment in 2023?
Timeless Style: Unlike trendy fashion items that quickly come and go, a well-made casual suit boasts timeless appeal. Its classic design and versatility ensure that it remains a relevant and stylish choice for years to come.
Confidence Booster: A suit has a transformative effect on one's demeanor. It boosts confidence, making you feel more self-assured and capable. Whether it's a job interview or a social gathering, the right suit can be your secret weapon.
Versatility: The ability to dress a casual suit up or down makes it an incredibly versatile wardrobe piece. By mixing and matching different shirts, ties, and shoes, you can create various looks that suit different occasions and personal styles.
Quality Craftsmanship: Investing in a high-quality casual suit ensures that it will endure daily wear and tear while maintaining its shape and appearance. Quality craftsmanship means it will last for years, making it a sustainable choice in the long run.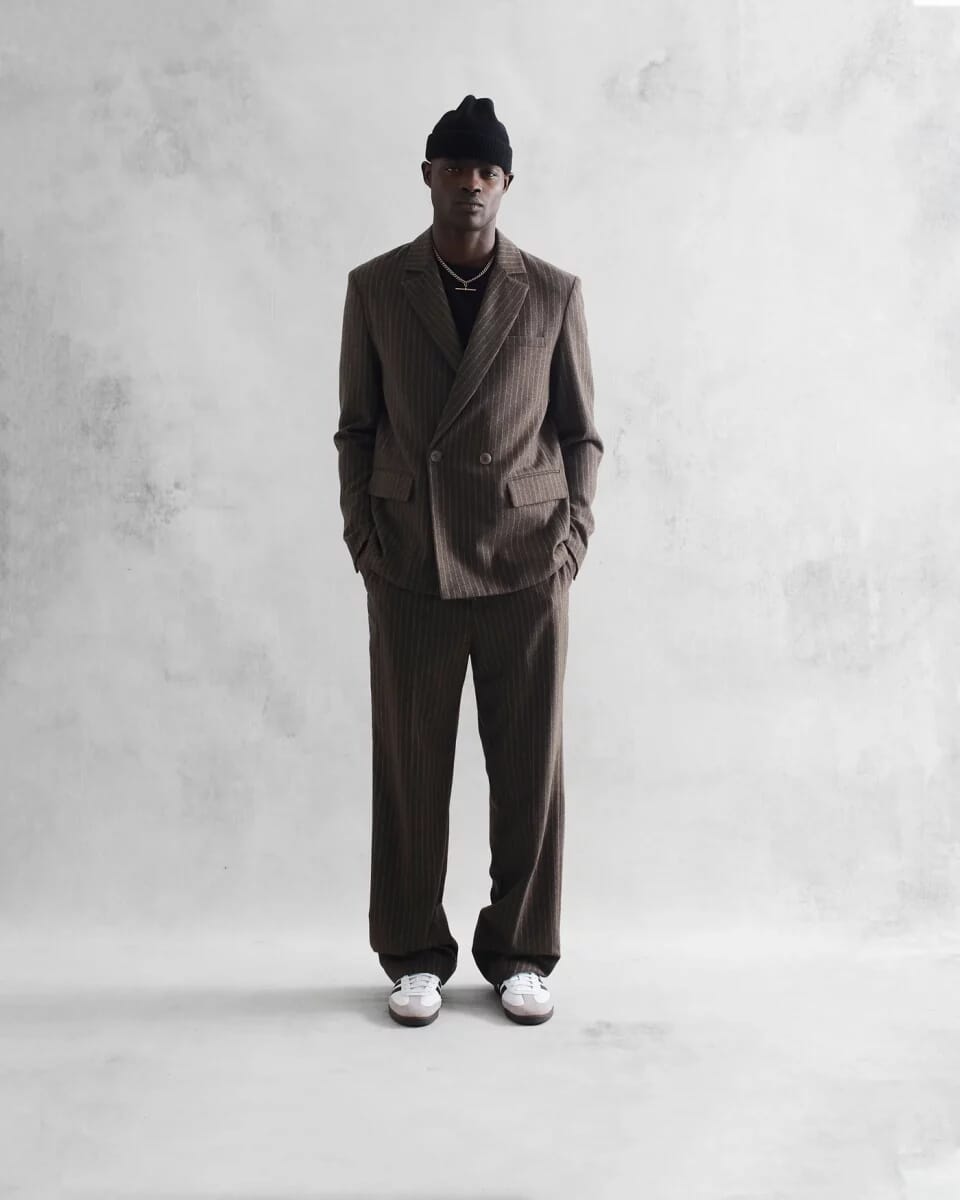 Best casual suits for men in 2023
Men's brown suit by Wax London
For Autumn/Winter 2023, Wax London introduces the Gekko Suit, redefining sophistication in casual men's suits. This ensemble combines a relaxed tailored silhouette with meticulous attention to detail, making it the go-to choice for modern men seeking style and comfort.
The double-breasted Gekko Blazer, crafted from a luxurious wool blend chalk stripe fabric, offers a relaxed fit without sacrificing style. The chalk stripe design adds a touch of individuality, making it perfect for contemporary menswear enthusiasts.
Completing the Gekko Suit are matching Ari Trousers, designed for a relaxed fit with a straight leg and a split waistband detail for adjustments.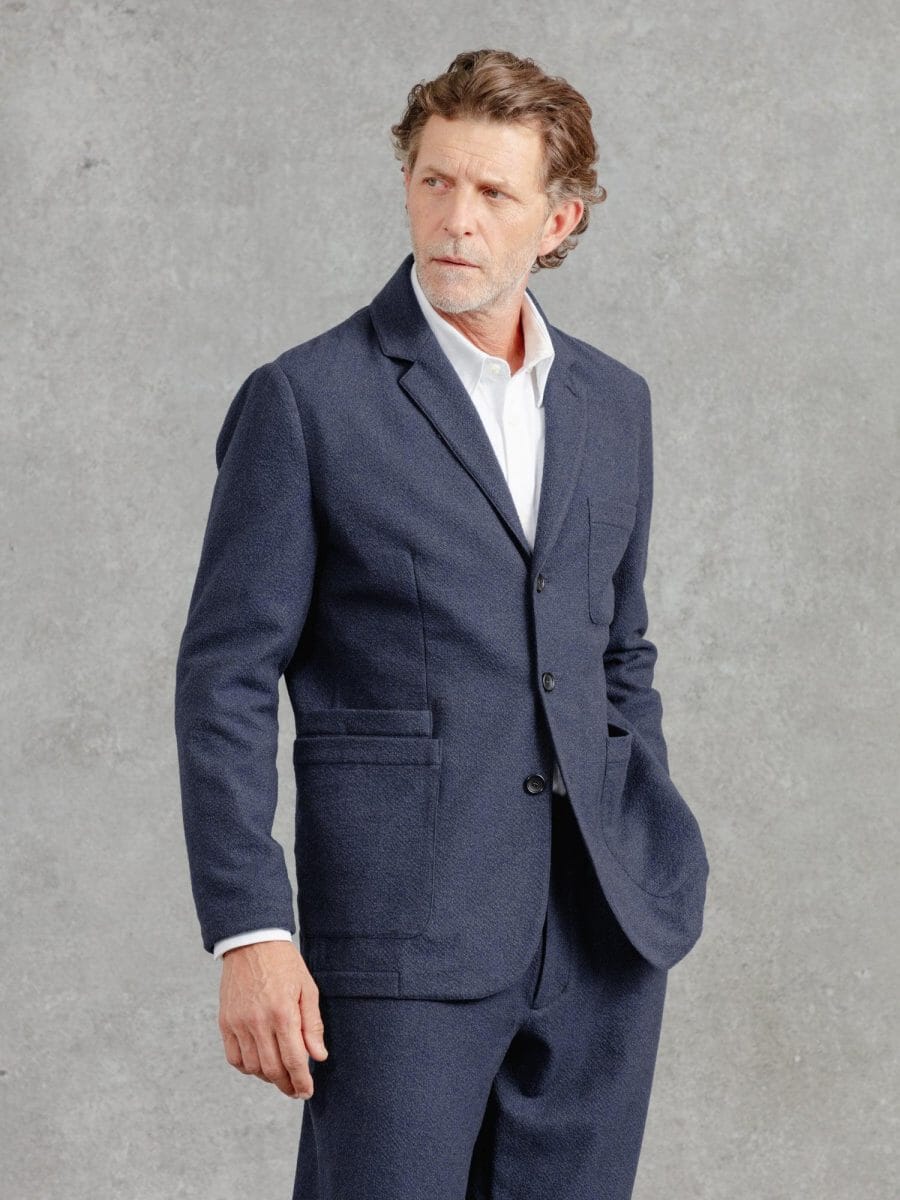 Men's navy blue suit by Private White V.C.
Private White V.C. presents the ultimate navy blue suit that embodies the essence of casual sophistication for men. Handcrafted in their Manchester factory, this unlined, unstructured notch lapel blazer redefines versatility. It's tailored from a luxurious wool and cotton seersucker blend, offering just the right amount of stretch (2% elastane) for a comfortable and stylish fit.
This navy blue suit is the ideal choice for a casual yet refined look. The blazer, designed in a regular fit, combines comfort with sophistication. It features notable details like patch pockets, real-horn buttons, and etched copper rivets at the back neck. Additionally, its intentional sleeve length allows for easy and affordable adjustments, ensuring a perfect fit for every body shape.
To complete the ensemble, pair the blazer with Private White V.C.'s Seersucker Drawstring Trouser. These trousers are tailored with practicality in mind, featuring an elasticated waist with a drawstring tie for effortless wear. Slanted welt pockets and a military-grade copper fly zip from RIRI of Switzerland add functional style to the trousers. They also come with real-horn, British-made combat buttons.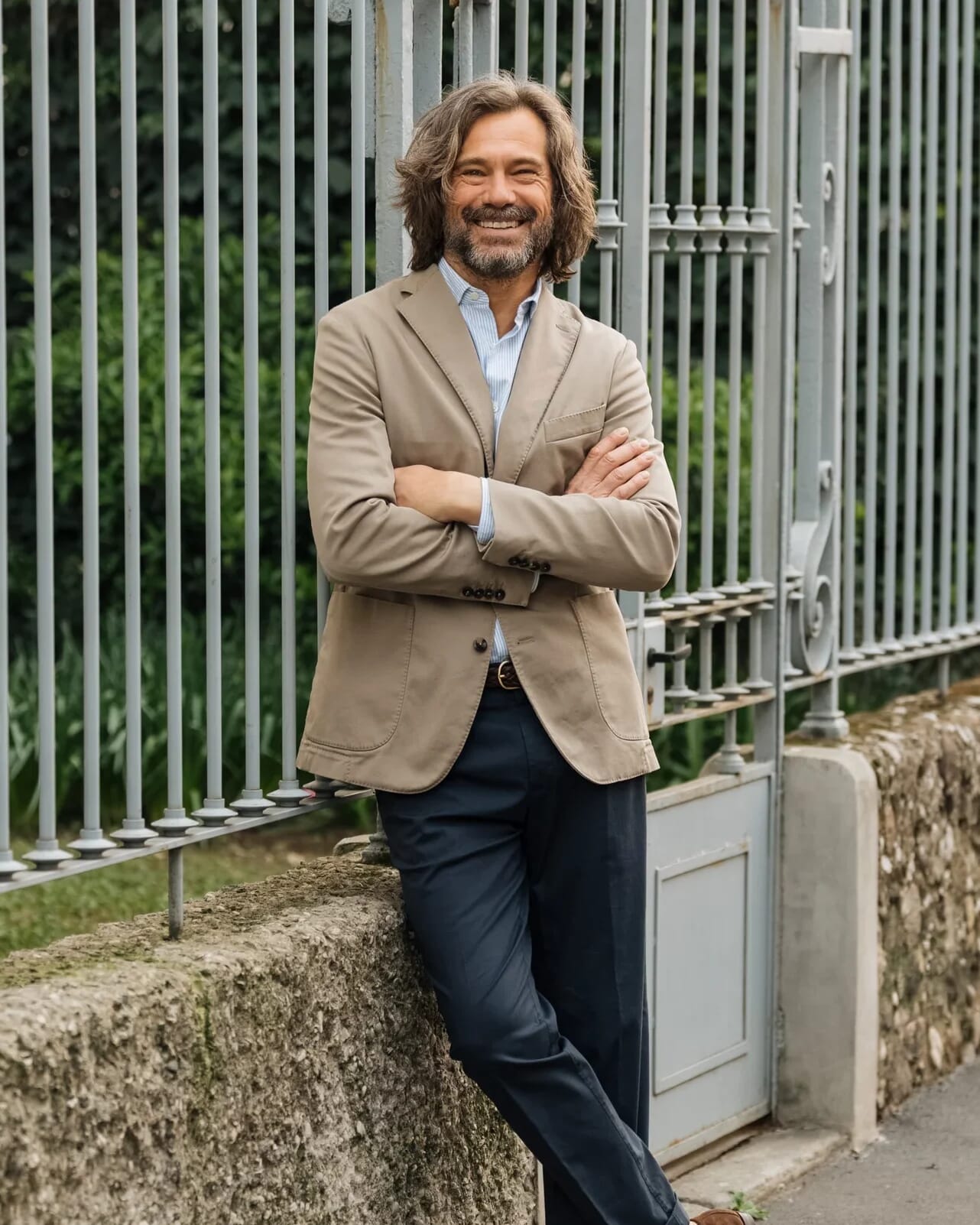 Men's tan suit by Velasca
Velasca's Greccio blazer offers a perfect blend of style and comfort. Made from stretch cotton gabardine (98% Cotton, 2% Elastane), this men's tan suit provides a relaxed, contemporary fit for modern men.
The deconstructed design ensures comfort without compromising on sophistication. It's half-lined with a breathable cotton lining in Ecrù, featuring 4-hole light horn buttons and a regular fit.
With two front pockets and two internal pockets, it's practical and stylish. Crafted in Riese Pio X, Italy, it proudly bears the "Made in Italy" stamp, reflecting Velasca's dedication to Italian craftsmanship.
This is the ideal choice for casual elegance, delivering comfort and style in one remarkable package.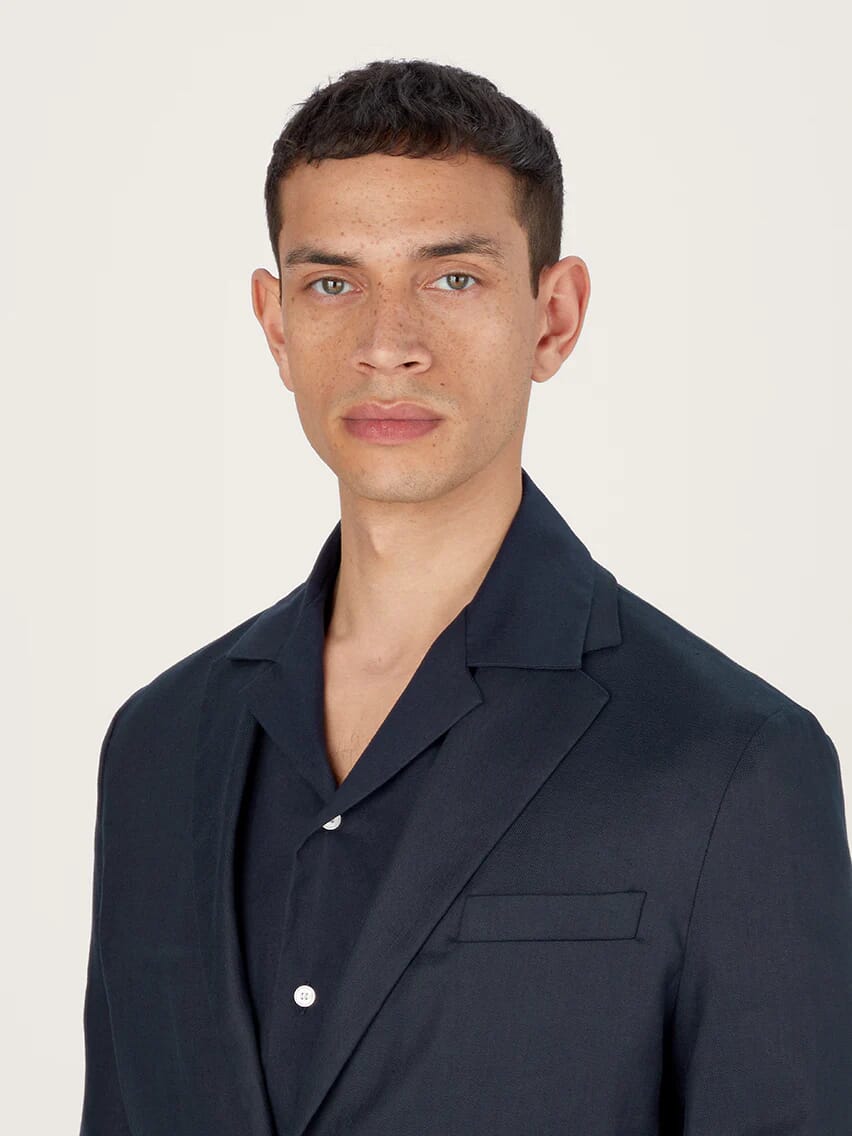 Men's blue linen suit by L'Estrange
The blue linen suit by L'Estrange is the perfect casual suit for men who appreciate style, comfort, and versatility. Crafted from breathable linen and organic cotton with added stretch, this suit offers a unique blend of softness and crease resistance.
Unlined and unpadded, it provides freedom of movement without sacrificing style. The modern design features two single-breasted buttons, making it suitable for relaxed gatherings or semi-formal events.
With inside and breast pockets, functionality is paramount. Whether you're headed to a casual dinner, a day at the office, or a weekend getaway, this casual suit for men by L'Estrange ensures you look effortlessly sharp while staying comfortable.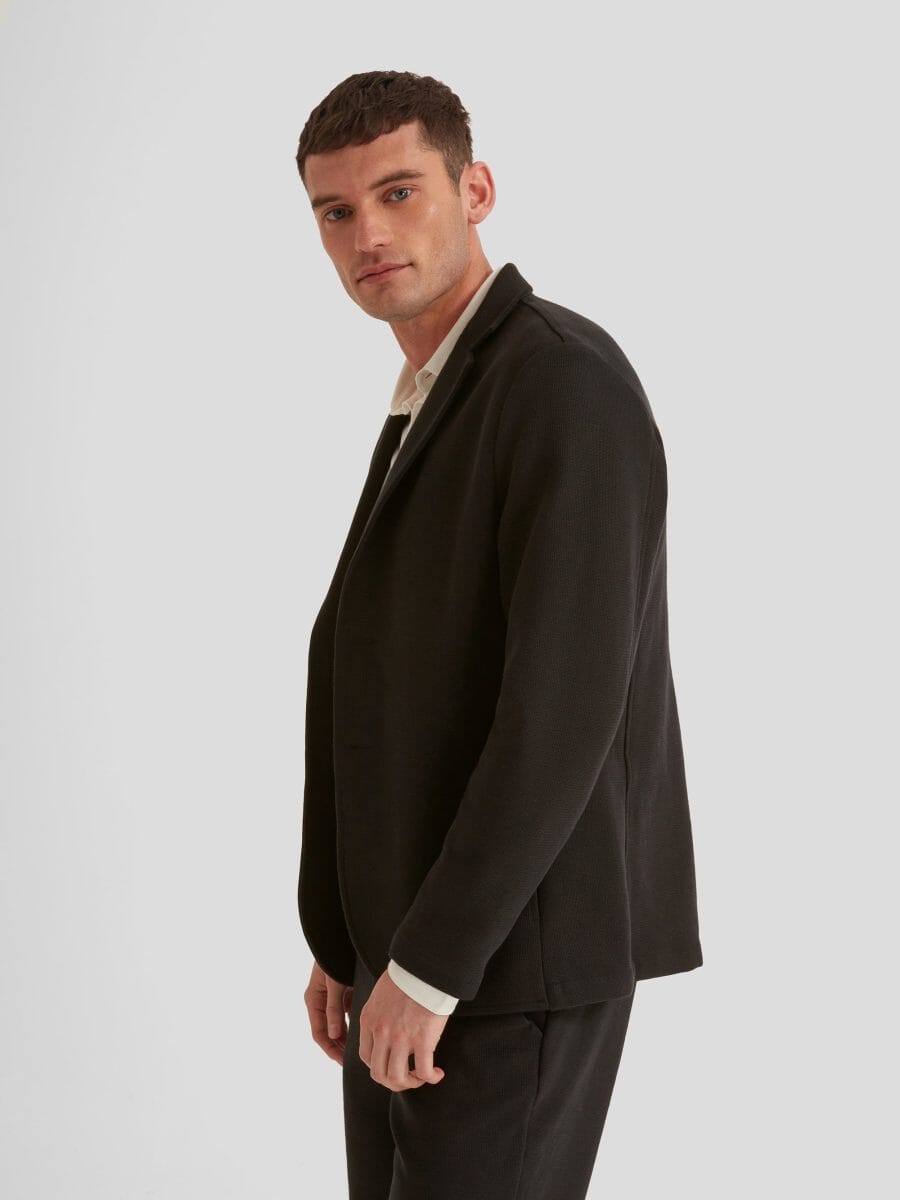 Men's green suit by Hamilton + Hare
The Hamilton + Hare versatile unstructured blazer is a remarkable piece inspired by the spirit of Chiltern Street. Crafted from microwaffle, a knitted jersey fabric infused with a touch of elastane for unparalleled comfort, this blazer strikes the perfect balance between smart and casual. Ideal for both business and leisure, it's the ultimate choice for men who seek both style and ease while on the go. This blazer boasts thoughtful details, including an interior zip pocket for your phone or passport, as well as a triple-stitch button closure that adds a touch of sophistication to its relaxed silhouette.
Designed for the modern man, it effortlessly combines style and comfort, making it the perfect companion for those who want to look sharp and feel at ease. Whether you're heading to a meeting or embarking on a journey, this blazer is tailored to suit your every need.
Shop men's designer clothing at OPUMO.
---
---