In the ever-evolving realm of men's fashion, one classic pairing remains eternally chic and versatile: Chelsea boots with jeans. This iconic combination effortlessly blends the timelessness of Chelsea boots with the rugged charm of denim, creating a look that's both stylish and practical. In this comprehensive guide, we'll explore the synergy between these two wardrobe staples, offering you valuable insights on how to craft impeccable men's Chelsea boots outfits with jeans.
At this point, you may be wondering why you should wear Chelsea boots with jeans. The answer is simple: Chelsea boots are the unsung heroes of footwear. These ankle-high boots, characterized by their elastic side panels and sleek silhouette, exude an air of sophistication while retaining their comfort and functionality. Chelsea boots are a contemporary classic, fit for the discerning modern man.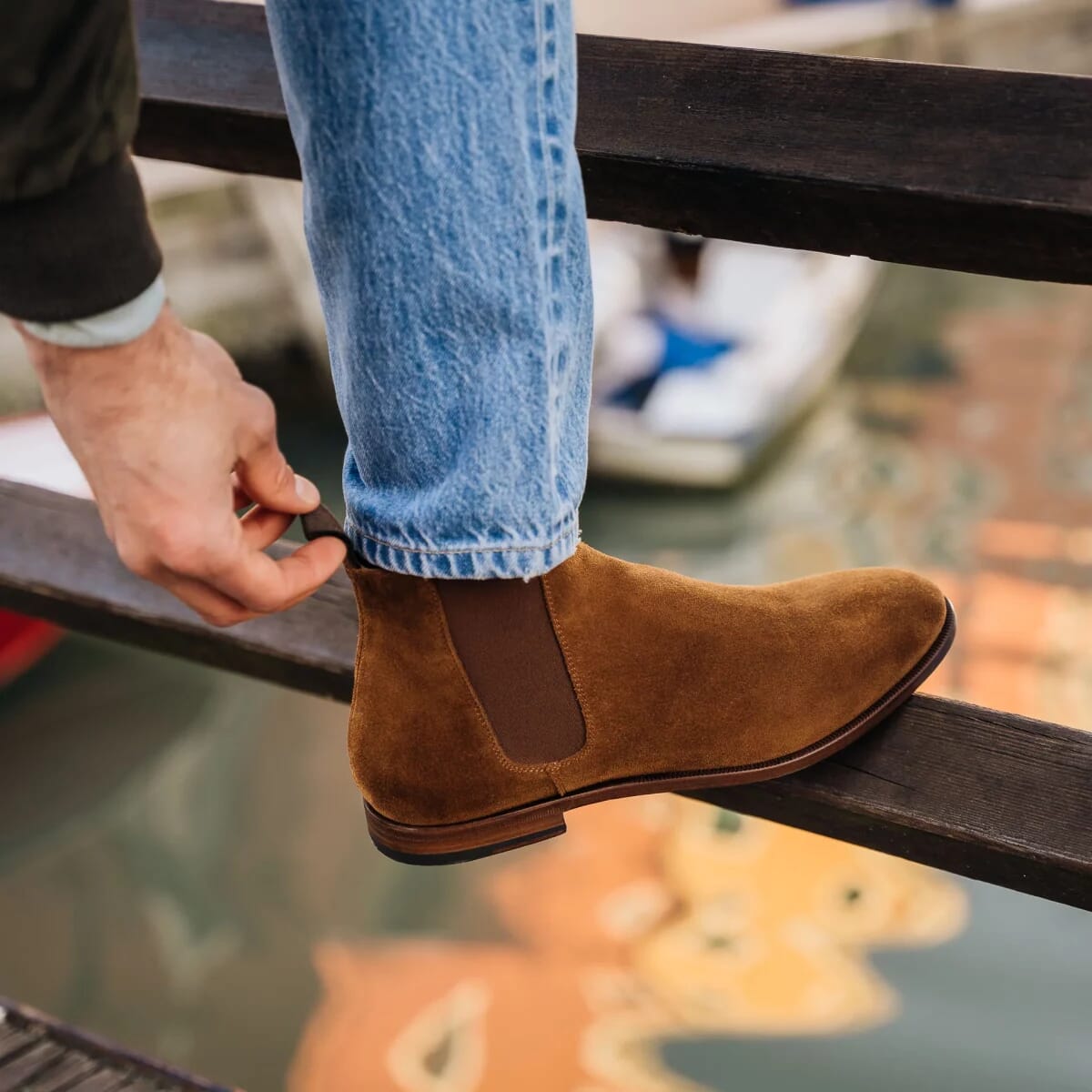 Jeans to wear with Chelsea boots
Pairing the right jeans with Chelsea boots is crucial for achieving that impeccable look. The type of jeans you choose can significantly impact the overall aesthetic of your outfit. Here are some options to consider:
Skinny jeans: Slim-fitting and tailored, Chelsea boots with skinny jeans effortlessly create a sleek and polished appearance.
Straight jeans: With a relaxed fit, straight jeans with Chelsea boots maintain a timeless and versatile look.
Ripped jeans: For a rebellious edge, opt for ripped jeans. The rugged texture pairs excellently with the refined design of Chelsea boots.
Black jeans: A pair of black jeans provides a sleek and sophisticated contrast when worn with Chelsea boots, making it an ideal choice for more formal occasions.
Baggy jeans: Achieve a relaxed, street-style vibe by pairing baggy jeans with Chelsea boots, creating a comfortable yet fashionable ensemble.
Bootcut jeans: Although less common, Chelsea boots with bootcut jeans are a fantastic choice that allows you to showcase the boot's stylish design.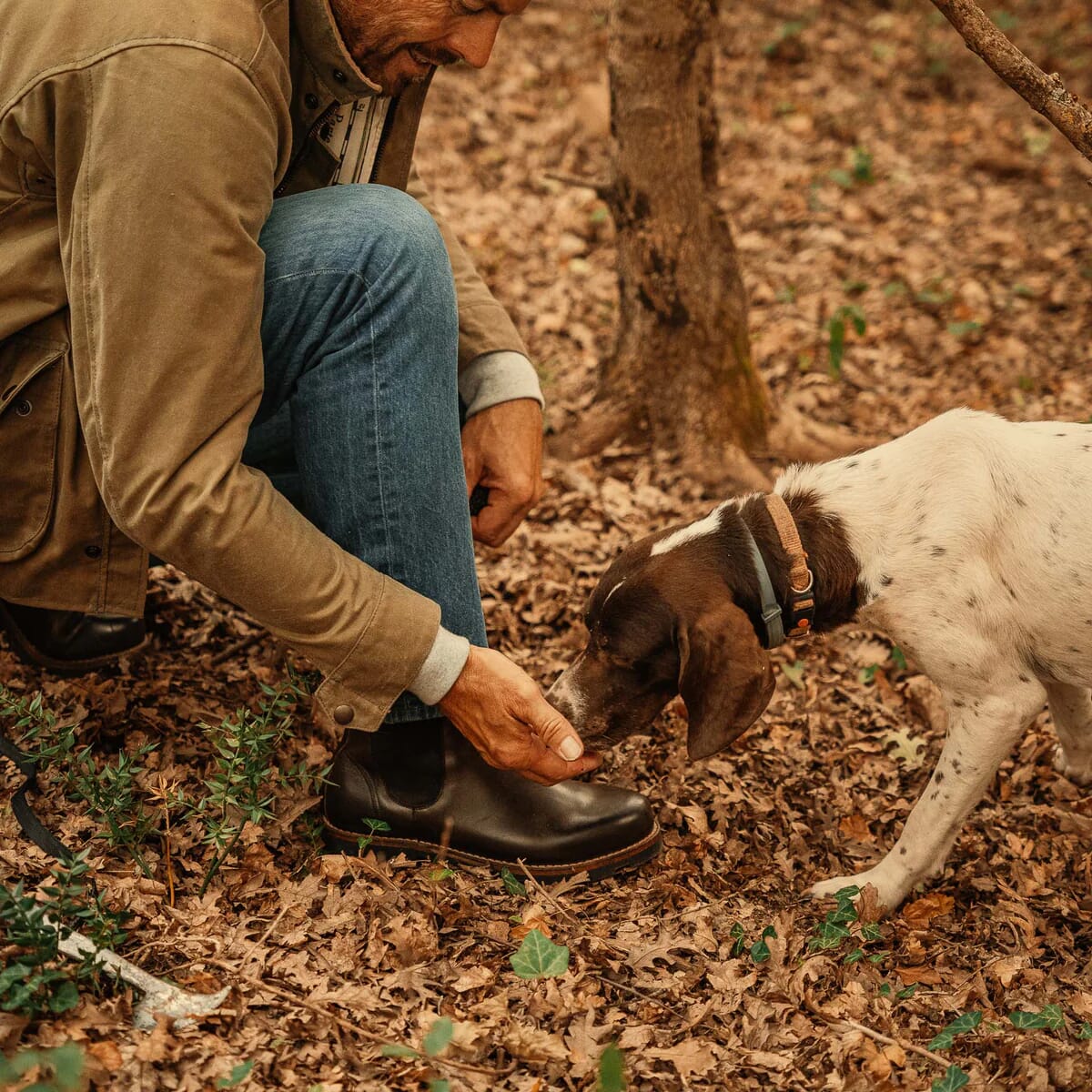 Chelsea boots to wear with jeans
Before diving into styling tips, let's acquaint ourselves with the diverse array of Chelsea boots for men. Chelsea boots come in various materials and designs, each offering a unique blend of style and practicality.
Doc Martens Chelsea boots: A blend of ruggedness and sophistication, Doc Martens Chelsea boots offer durability and iconic style. Pair them with distressed jeans for an edgy look.
Timberland Chelsea boots: Known for their outdoor heritage, Timberland Chelsea boots combine functionality with fashion. Perfect for casual outings, they pair exceptionally well with straight or slim-fit jeans.
Platform Chelsea boots: Elevate your height and style with platform Chelsea boots. These boots make a statement and go best with skinny or straight jeans for a balanced silhouette.
Tan Chelsea boots: For a more casual and rustic look, opt for tan Chelsea boots. These versatile boots can be worn with various jean styles, enhancing your overall outfit.
Waterproof Chelsea boots: Practicality meets style with waterproof Chelsea boots. Ideal for wet weather, these boots offer protection and fashion-forward looks when paired with your favourite jeans.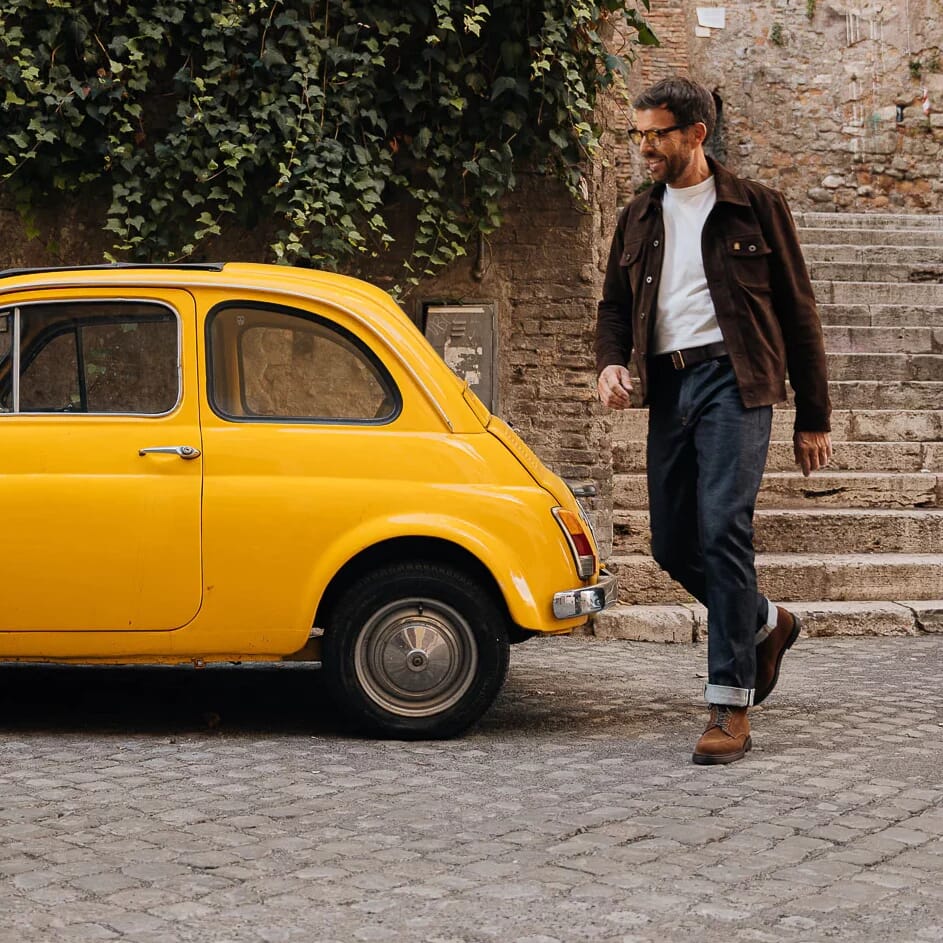 What colour Chelsea boots to wear with jeans
The choice of Chelsea boot colour when pairing them with jeans holds significant importance in achieving a well-coordinated and stylish look. It's all about creating a harmonious aesthetic that complements the shade of your jeans, as well as striking contrasts that draw attention to your footwear. Beyond aesthetics, the colour of your Chelsea boots can convey different moods and suit various occasions. Brown Chelsea boots often exude a casual and rustic vibe, while black leans towards formality. Navy or suede Chelsea boots can add a unique touch to your outfit, expressing your individuality. Seasonal considerations play a role too, with darker tones like brown and black being preferred for autumn and winter, and lighter shades like tan or cream working better for spring and summer. Ultimately, your choice of Chelsea boot colour allows you to express your personal style and versatility, making it a crucial factor in crafting a cohesive and fashionable ensemble when wearing them with jeans.
How to wear Chelsea boots with jeans
In this section, we dive into the art of pairing Chelsea boots with jeans. It's a classic combination that exudes sophistication and edge.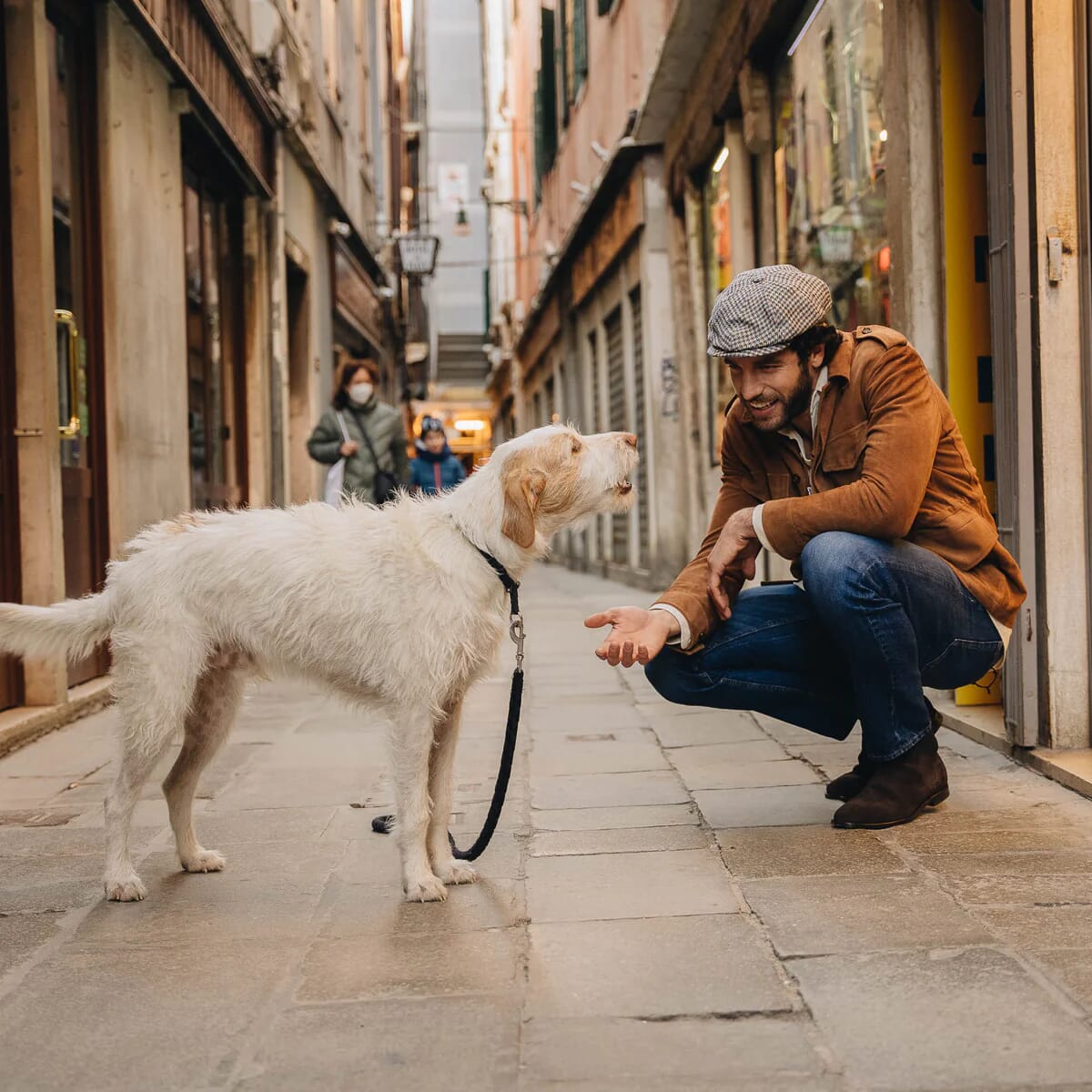 Smart-casual charm
When it comes to achieving a contemporary and streamlined look, pairing Chelsea boots with skinny jeans is a winning combination. Start by choosing a dark wash pair of skinny jeans, as they create a sleek silhouette. Opt for classic black Chelsea boots for men with a clean design. Tuck the jeans into the boots for a seamless transition. On top, go for a slim-fit button-down shirt in a neutral tone, like white or light grey. Layer with a well-fitted leather jacket for added edge, or a tailored blazer for a smart-casual twist. Accessorise with a minimalist watch and a leather belt that matches your boots. This ensemble not only emphasizes your figure but also exudes confidence and modern style, making it perfect for nights out or casual Fridays at the office.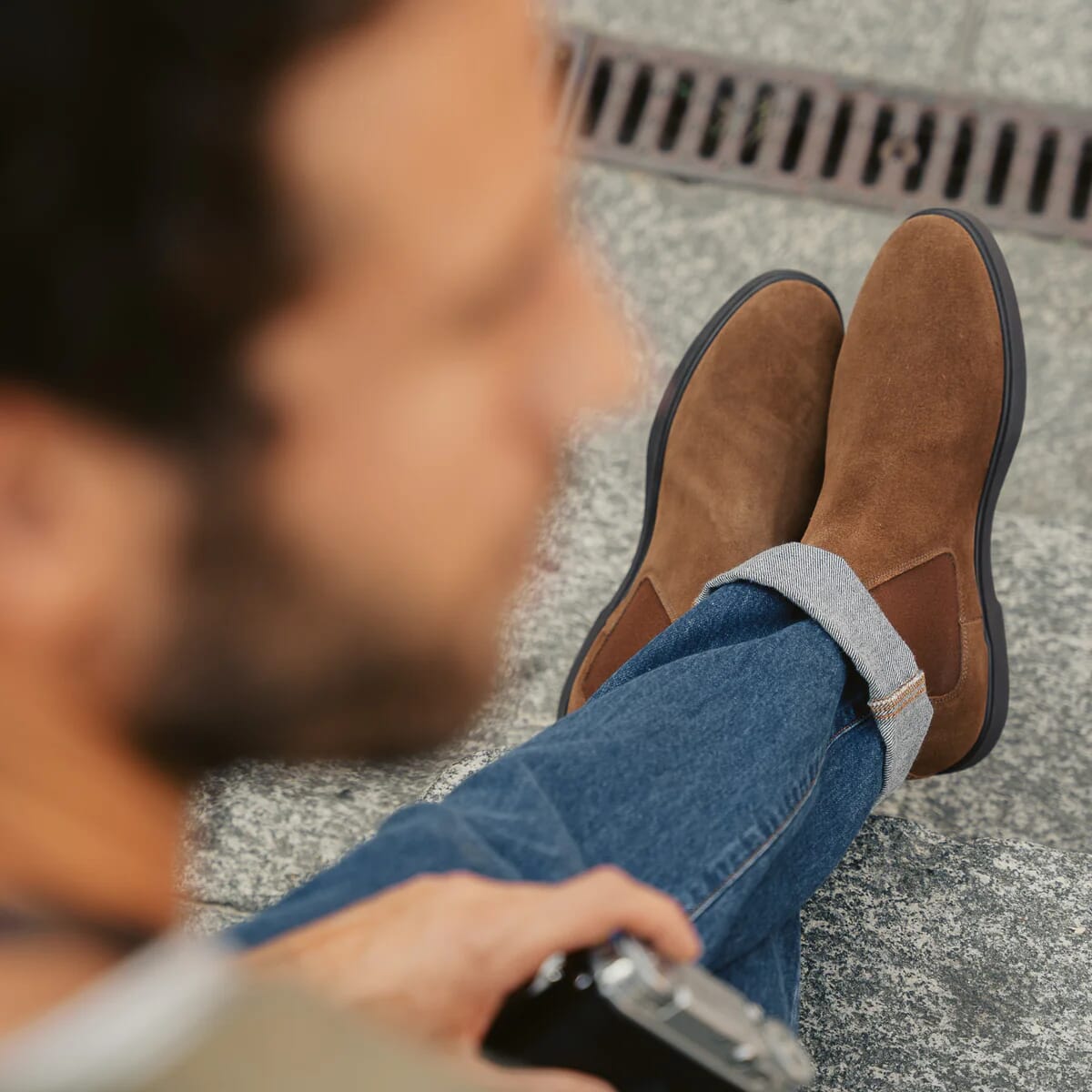 Sophisticated office attire
When professionalism meets fashion, Chelsea boots can be your secret weapon for a sophisticated office ensemble. Start with a pair of tailored, slim-fit trousers in a classic charcoal or navy hue. Tuck in a crisp, white dress shirt and add a sleek leather belt that matches your Chelsea boots. Opt for a high-quality, well-fitted blazer that complements the overall colour scheme. Your choice of Chelsea boots should lean towards a sleek black or dark brown, exuding an aura of confidence and refinement. Accessorise with a subtle tie and a timeless wristwatch. The streamlined silhouette of Chelsea boots perfectly balances formal and fashionable, ensuring you look sharp and composed for important meetings or presentations. This outfit demonstrates that you can make a powerful statement in the boardroom while embracing modern style with your choice of footwear. Chelsea boots with office attire? Absolutely – and the result is sophistication personified.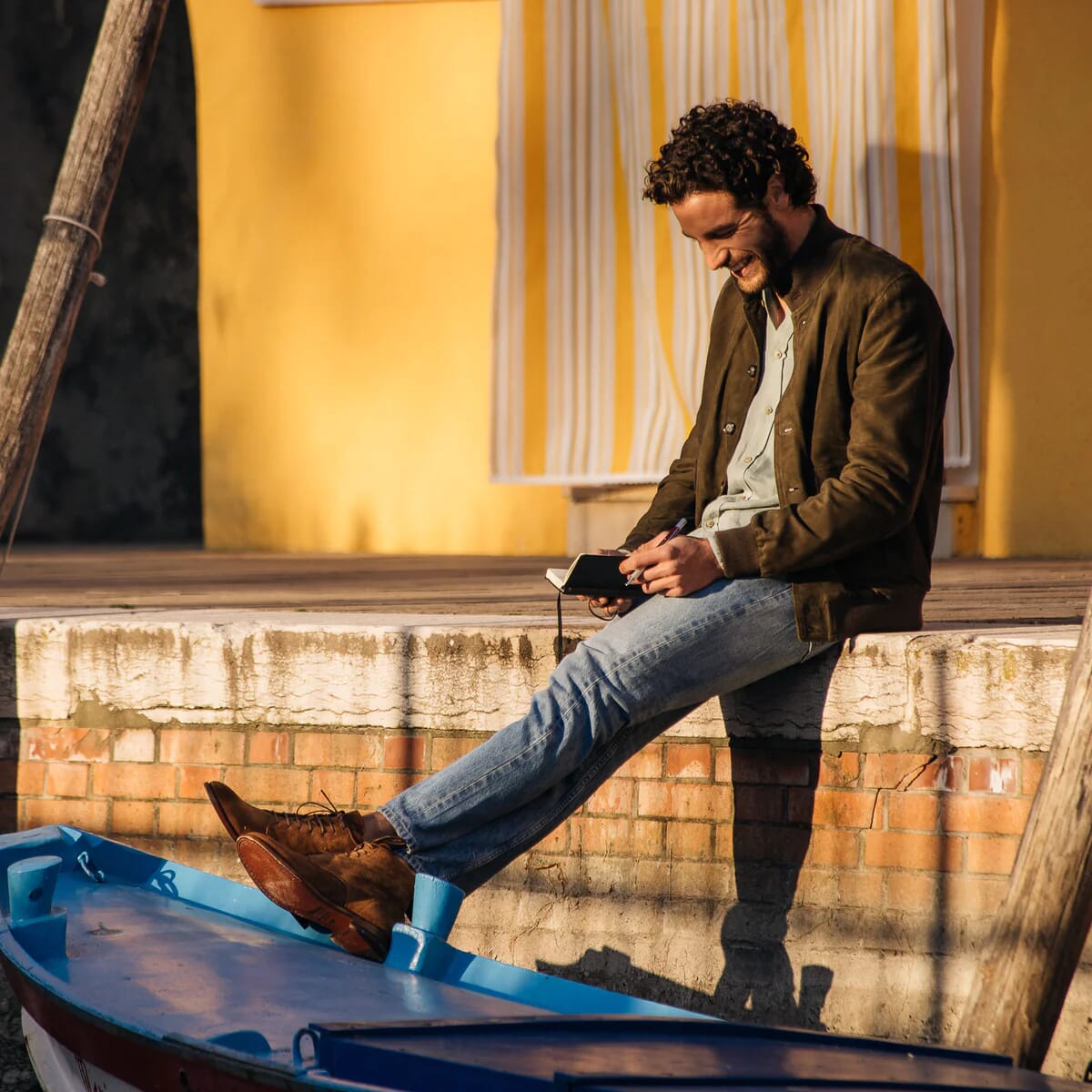 Casual everyday look
For those laid-back days when comfort meets style, a casual everyday outfit with Chelsea boots is your go-to choice. Begin with a pair of well-fitted, medium-wash jeans that offer both ease of movement and a relaxed feel. Slip on your favourite Chelsea boots – brown or tan hues work beautifully for a warm and inviting look. Keep things comfortable on top with a soft, fitted crew-neck t-shirt in a complementary colour. Layer with a lightweight, neutral-toned cardigan or a denim jacket, depending on the season. Don't forget to accessorize with a minimalist leather belt and a watch to add a touch of sophistication to your look. This ensemble effortlessly blends comfort and style, making it ideal for a leisurely day out or a casual office setting. Chelsea boots add a touch of sophistication to your everyday wear while keeping your feet comfortable throughout the day.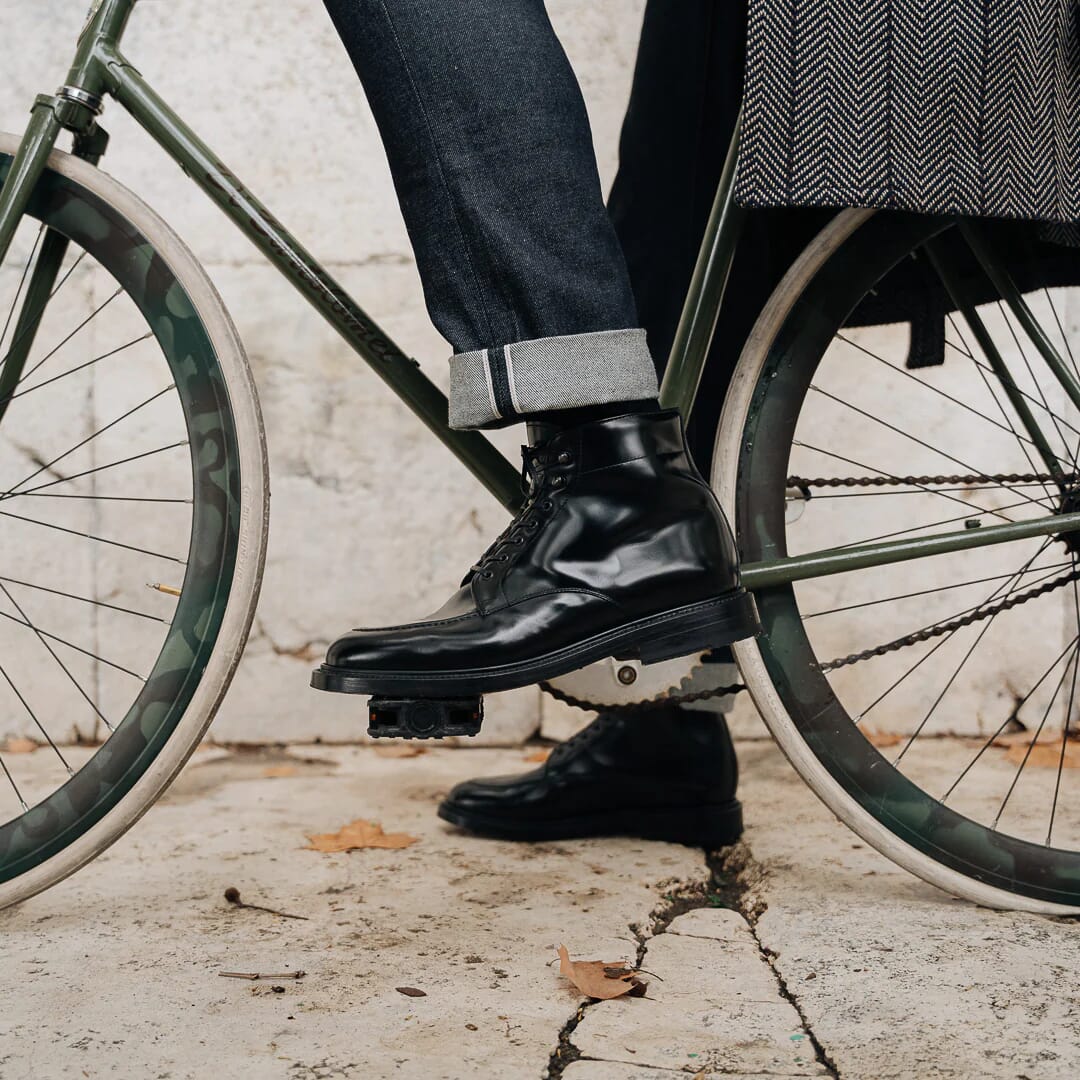 Rock 'n' roll edge
When you seek a dash of rock 'n' roll flair with an elegant twist, turn to Chelsea boots for that refined edge. Start with fitted black skinny jeans for comfort and style. Complement them with a deep-hued dress shirt, neatly tucked in. Layer with a sleek leather blazer and opt for black leather Chelsea boots with a minimalist design.
Accessorise with a quality leather belt and a subtle, high-end watch. Maintain a well-groomed look, and style your hair with sophistication. This ensemble strikes the perfect balance between rock 'n' roll spirit and refined luxury, whether for exclusive events or elevating your daily attire. Chelsea boots are your secret weapon for an understated, sophisticated edge.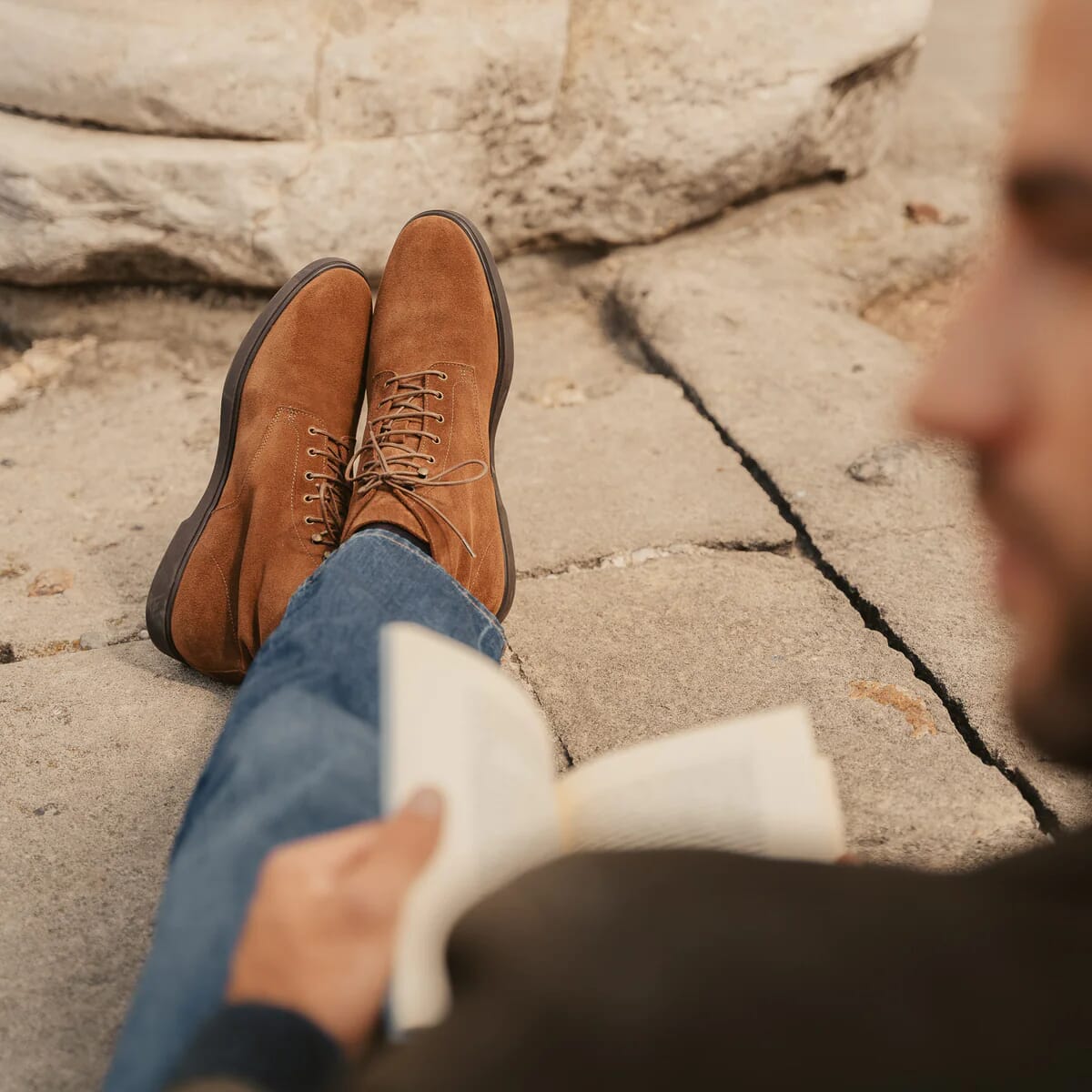 Weekend explorer
For weekend exploration, equip yourself with waterproof Chelsea boots for men that combine style and functionality. Pair them with sturdy denim jeans in earthy tones.
Layer up with moisture-wicking basics and a lightweight insulated jacket for variable weather. Waterproof Chelsea boots keep your feet dry during outdoor excursions. Accessorise with a rugged backpack, hat, and sunglasses for protection.
This outfit offers both style and practicality for your outdoor adventures. With waterproof Chelsea boots, you're ready to explore in comfort and style.
Now that you know how to style Chelsea boots with jeans, see our pick of the best men's velvet loafers.
---
---