The days are shortening and the leaves are starting to fall. Fall is almost upon us, which means it's high time to start preparing your transeasonal wardrobe. For the modern gentleman, fall offers an opportunity to showcase his sartorial prowess, embracing layers, textures and rich colour palettes. In this article, we'll explore the best fall outfits for men in 2023 – featuring everything from double denim to cosy knitwear. Whether you're strolling the city streets or embarking on a weekend adventure, these stylish ensembles will have you looking and feeling your best.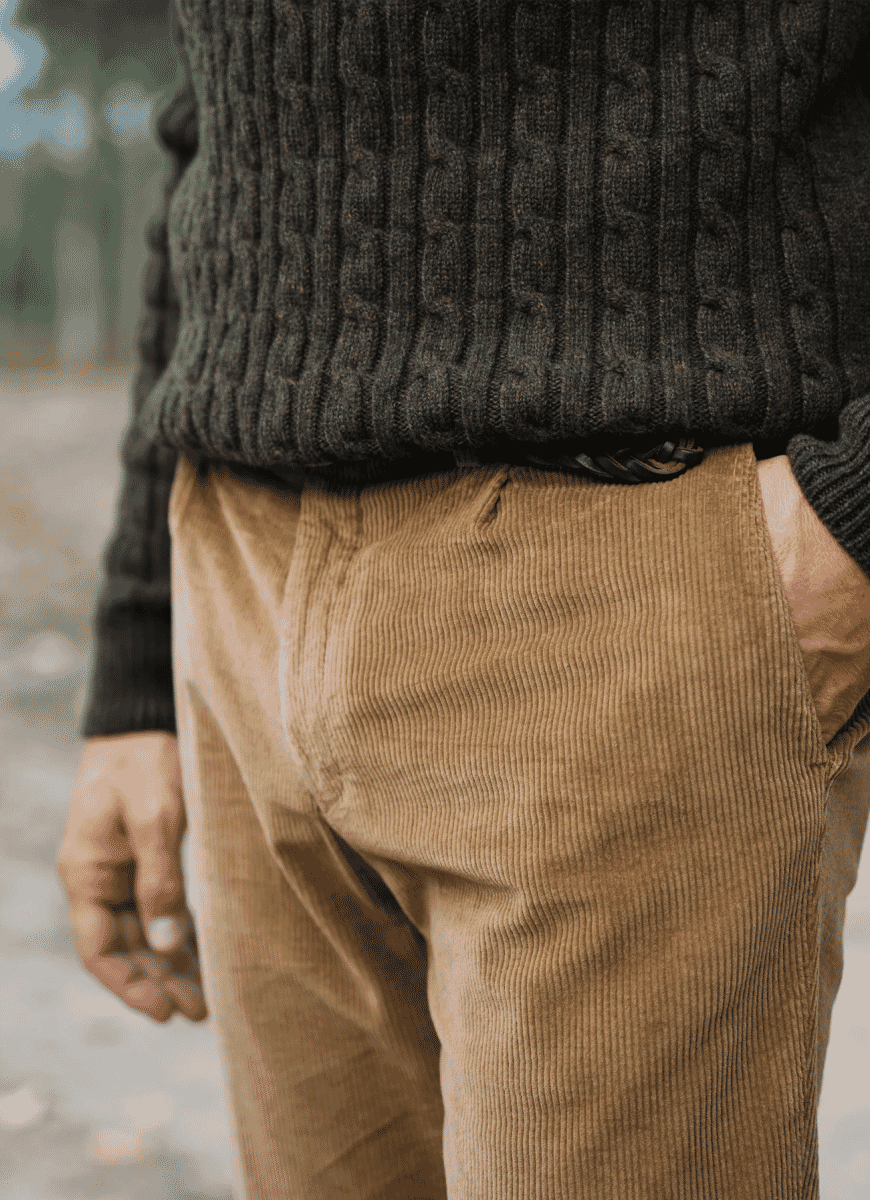 What colour palettes best suited for fall?
As the natural world transforms, so too should your wardrobe. Fall is synonymous with warm and rich colour palettes that mirror the changing surroundings. Earthy tones take centre stage, with deep burgundies, rust oranges, and rich browns evoking a sense of cosiness and warmth. Consider incorporating these hues into your autumnal ensembles through sweaters, trousers, and outerwear. Don't shy away from experimenting with forest greens and muted mustards that capture the essence of the season. These jewel tones not only complement the fall aesthetic but also provide versatile options for mixing and matching.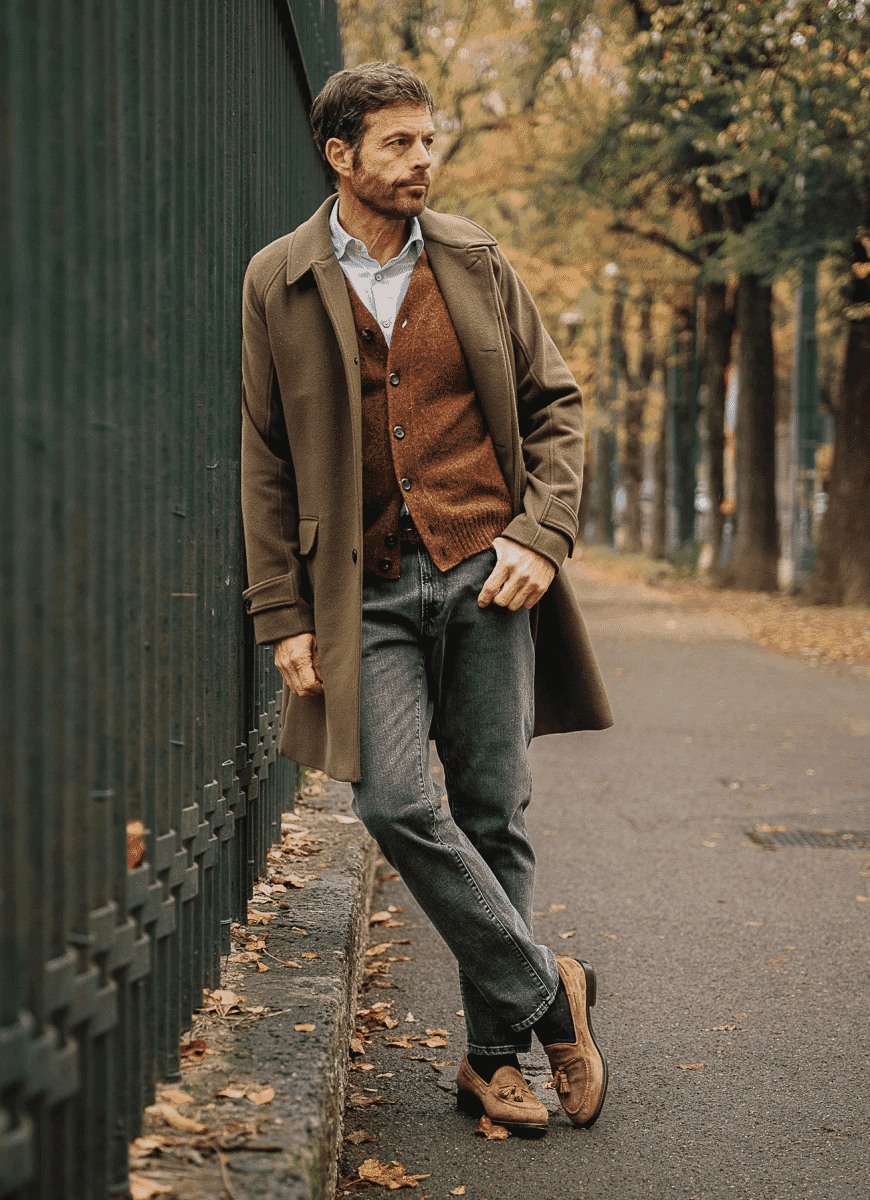 How do I layer effectively in fall?
Mastering the art of layering is essential for navigating the fluctuating temperatures of fall. The best fall outfits for men start with a lightweight base, such as a long-sleeved tee or a thin turtleneck, and are built upon it with carefully selected pieces. A classic combination sees a well-fitted denim jacket layered over a button-down shirt, topped off with a slouchy overcoat. Don't forget to add a scarf for both style and practicality. Layering not only keeps you warm but also adds a sense of depth and dimension to your outfit. Experiment with different textures and proportions to achieve a balanced and polished look.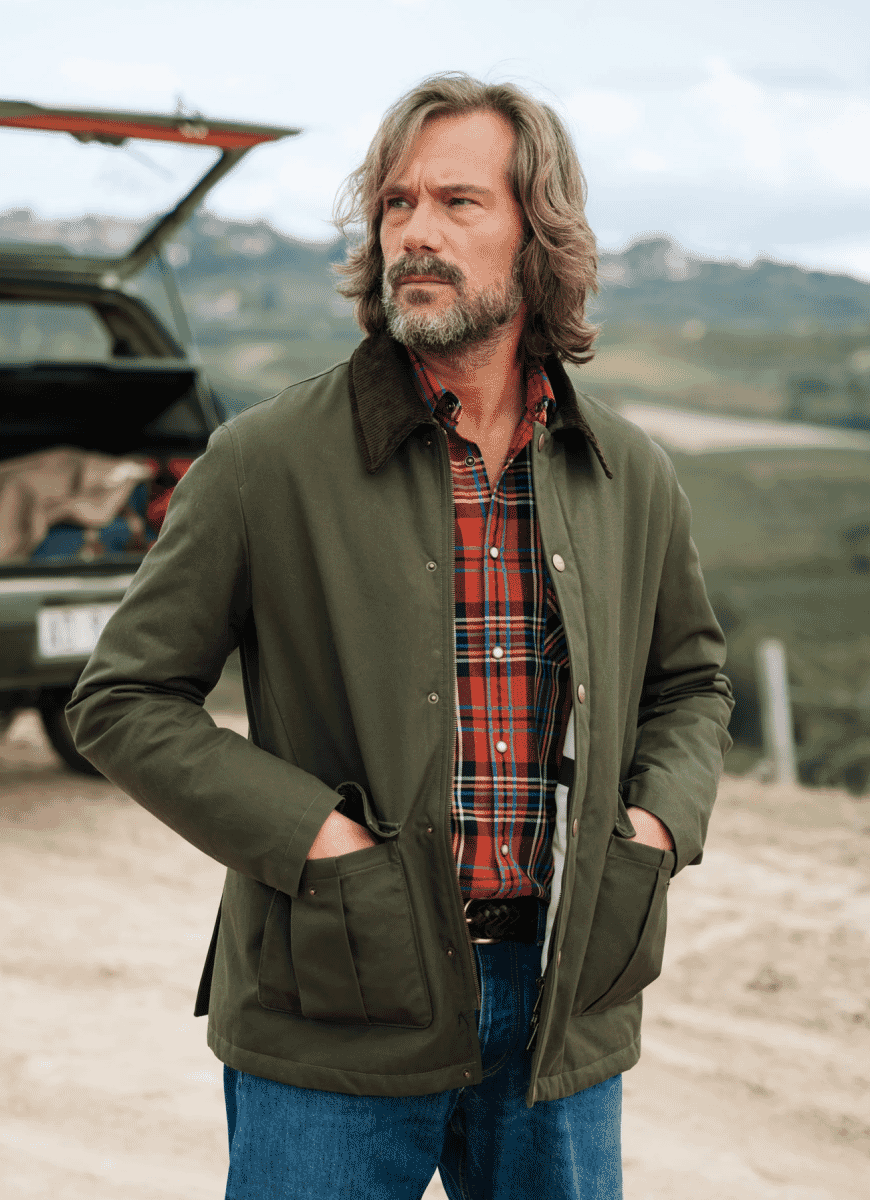 What key menswear pieces are essential for fall?
Before delving into specific outfit ideas, it's important to highlight the key menswear pieces that will form the foundation of your fall wardrobe. Corduroy emerges as a frontrunner, offering a perfect blend of style and comfort. A pair of corduroy trousers or a corduroy blazer will instantly elevate your ensemble while exuding a vintage-inspired charm. Additionally, statement knits, such as chunky sweaters with intricate patterns (think Fair Isle or modest stripes – nothing too outlandish), serve as both a cosy layer and a fashion statement. Sturdy footwear, like sleek leather Chelsea boots or chunky Derby shoes, not only complete your look but also provide protection against the elements.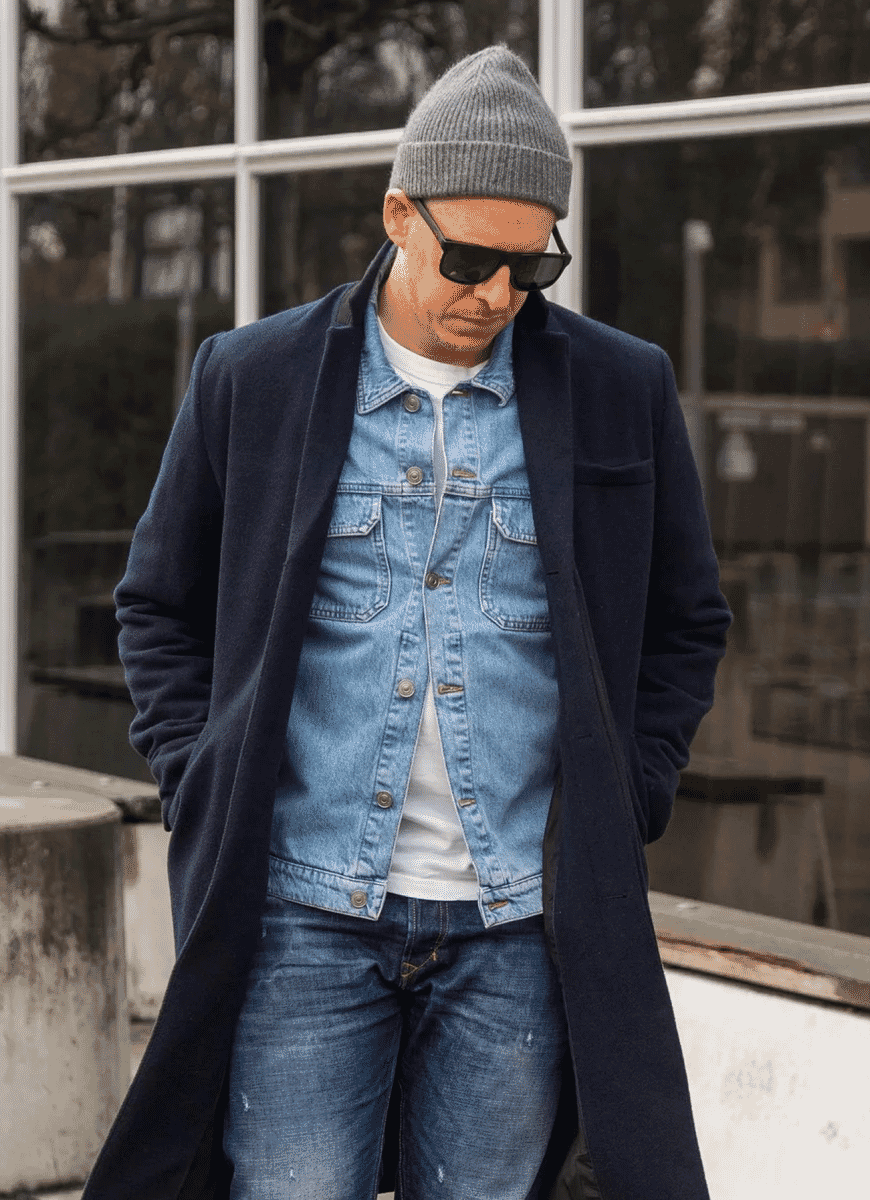 Best fall outfits for men in 2023
Double denim: Mastering the art of rugged sophistication
Double denim, once considered a fashion faux pas, has now evolved into a stylish statement for fall 2023. Embrace the rugged charm by pairing your favourite denim jeans (straight leg preferably) with a boxy denim jacket that's not too fitted. To achieve a balanced look, opt for contrasting shades of denim – a darker wash jacket with a lighter pair of jeans, for instance. Complete the ensemble with a crisp white t-shirt and a pair of sturdy leather boots for a James Dean-approved look. This effortlessly cool outfit is perfect for casual outings and can easily be elevated with the right accessories, such as a striped scarf or a sleek leather belt. For a more polished look, incorporate a neutral-toned cashmere crewneck underneath the denim jacket. Complete the outfit with leather loafers or suede sneakers for instant elegance. This ensemble seamlessly transitions from daytime to dinnertime, making it ideal for the tricky in-between months.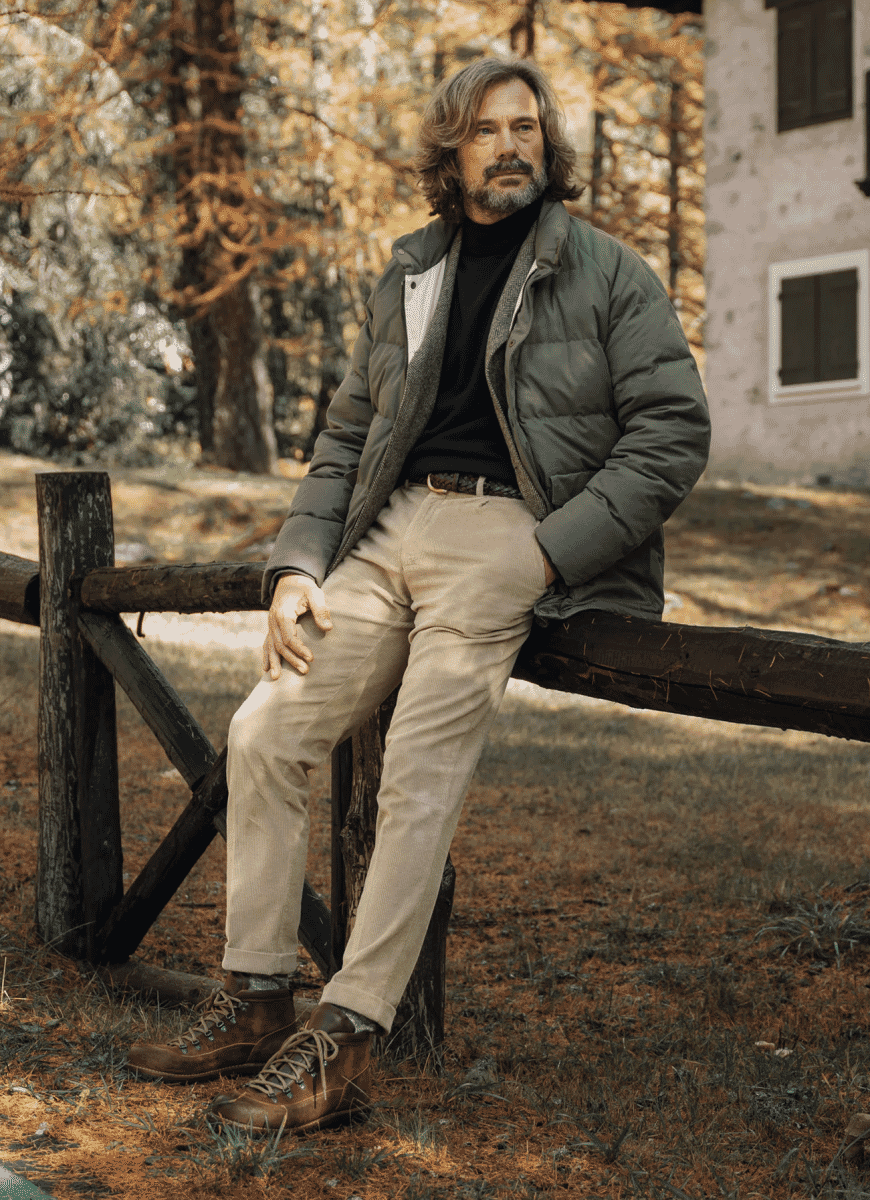 Corduroy is king: Luxurious texture for fall
When it comes to fall fabrics, corduroy takes the crown in 2023. This plush and textured material adds a touch of elegance to your seasonal wardrobe. Consider a tailored corduroy jacket in rich autumnal hues like deep burgundy or olive green. Pair it with a lightweight knit sweater for added warmth and style. If you're feeling brave, add a pair of slim-fit corduroy trousers to create a polished look that will take you from the office to an evening gathering. Don't forget to accessorise with an elegant dress watch or a vintage-inspired tie to complete the sophisticated ensemble.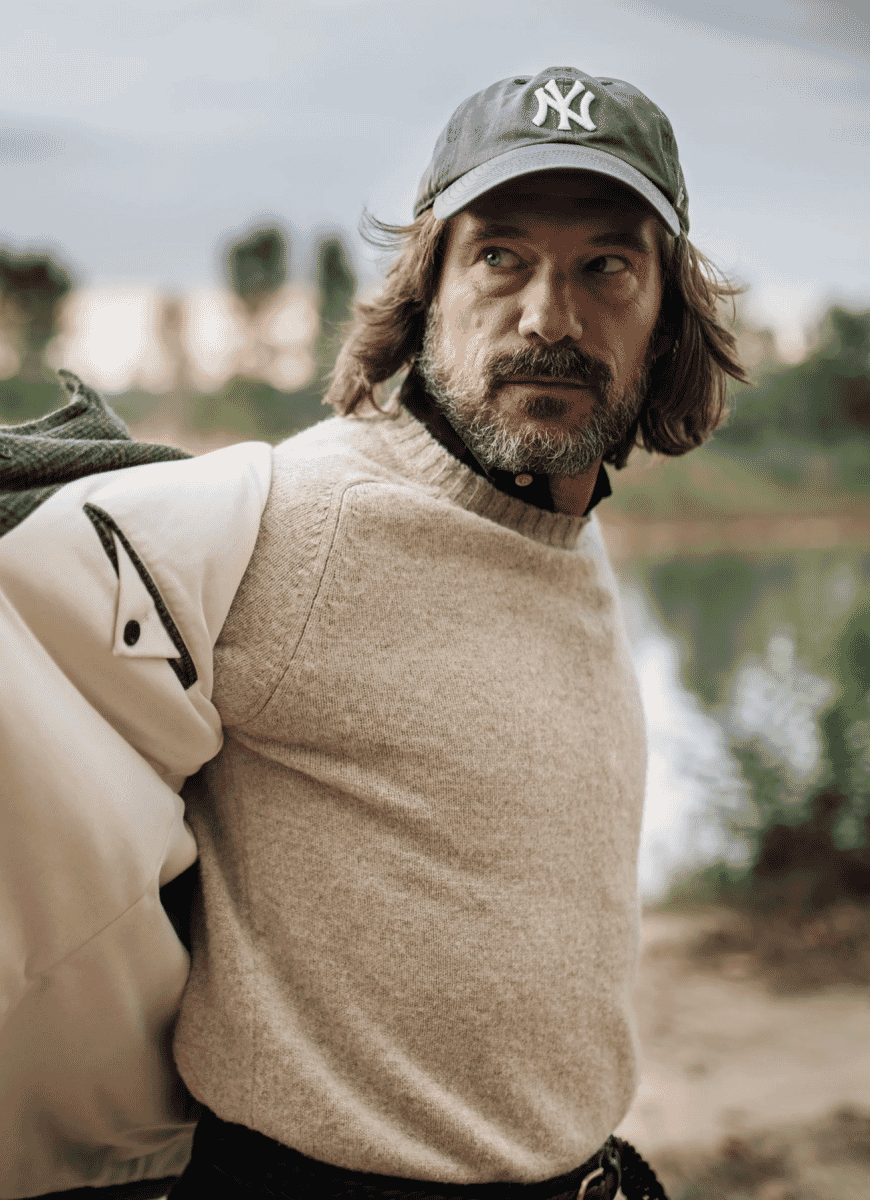 Slouchy silhouettes: Effortless comfort with a modern twist
This fall, comfort meets style in the form of slouchy silhouettes that exude a sense of nonchalant sophistication. Embrace oversized sweaters crafted from luxurious materials like cashmere or merino wool. A relaxed-fit sweater not only provides comfort and warmth but adds an element of interest to your look. Pair yours with tailored trousers or dark-wash jeans for balanced proportions and elevate the look with a pair of fashion-forward sneakers or suede loafers for a laid-back yet refined outfit.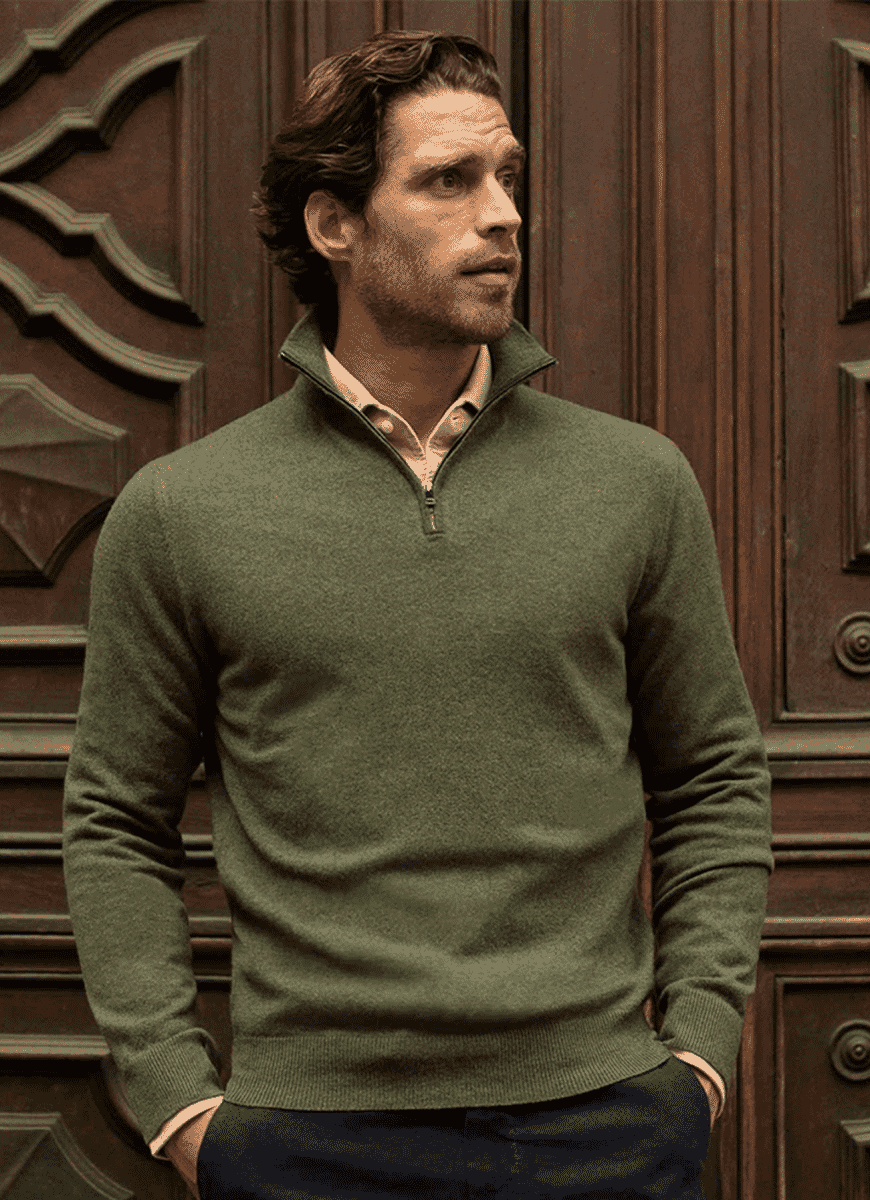 Statement knits: Taking cosiness to the next level
When the temperature drops, it's time for your wardrobe to make a statement – and what better way than with an eye-catching knit? Fall is the season to showcase your affinity for unique textures and patterns. Choose chunky knit sweaters with intricate designs, cable-knit detailing, or bold colour blocks to add visual interest to your outfits. For a versatile and polished look, pair a statement knit sweater with wool trousers and sturdy leather boots. This combination strikes the right balance between comfort and style, making it ideal for casual Fridays at the office or weekend brunches. Don't shy away from experimenting with different knit textures and patterns – they're the perfect antidote to a drab fall wardrobe.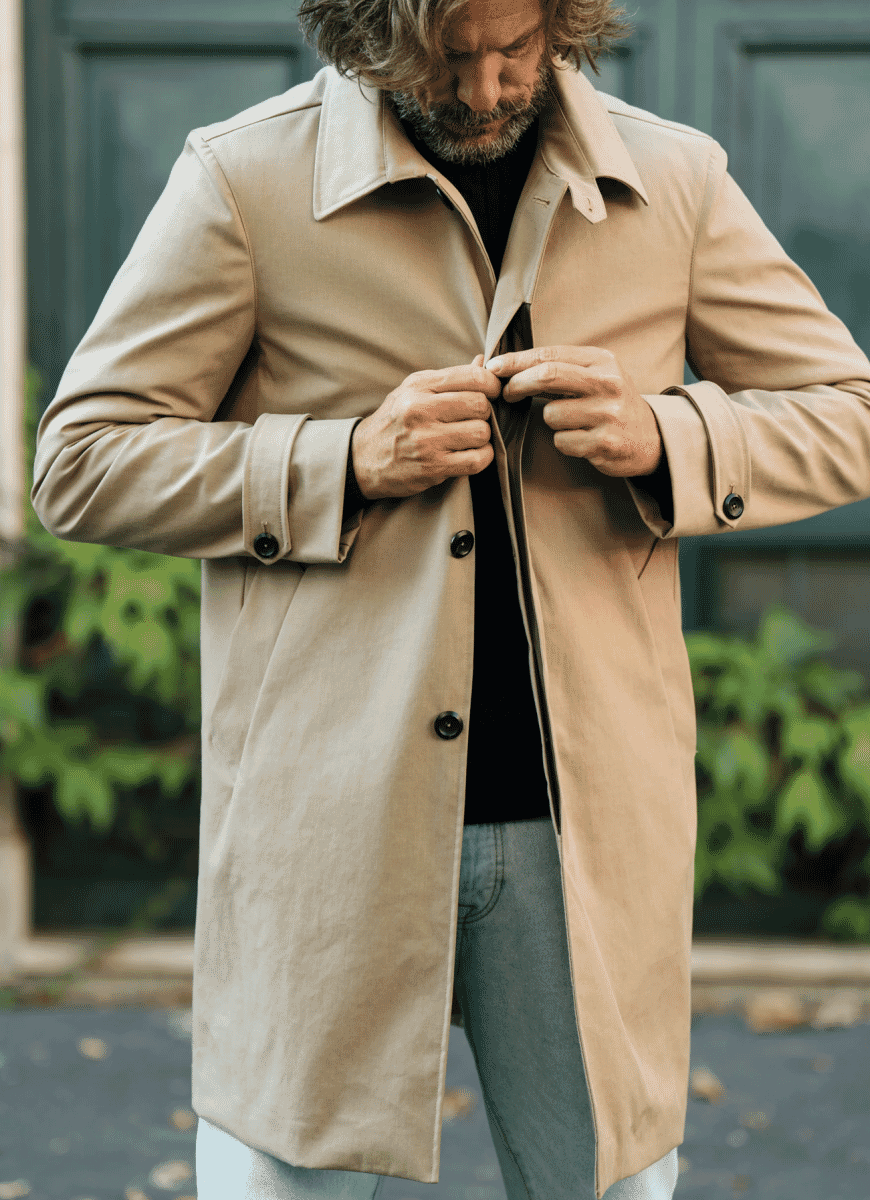 Layer up: The art of mastering fall layering
When it comes to planning the best fall outfits for men, layering is essential. Combining a number of layers in one outfit offers practicality – you can add and remove as the temperature fluctuates during the day – as well as depth and dimension. Start with a lightweight, long-sleeve base layer – a henley shirt or a plain tee works well. Layer it with a versatile denim or flannel overshirt for added warmth and style. Top off the look with a tailored safari jacket or a mac coat. Experiment with colour palettes by mixing grey, black and beige with earthy tones like rust, mustard and forest green for a cohesive aesthetic.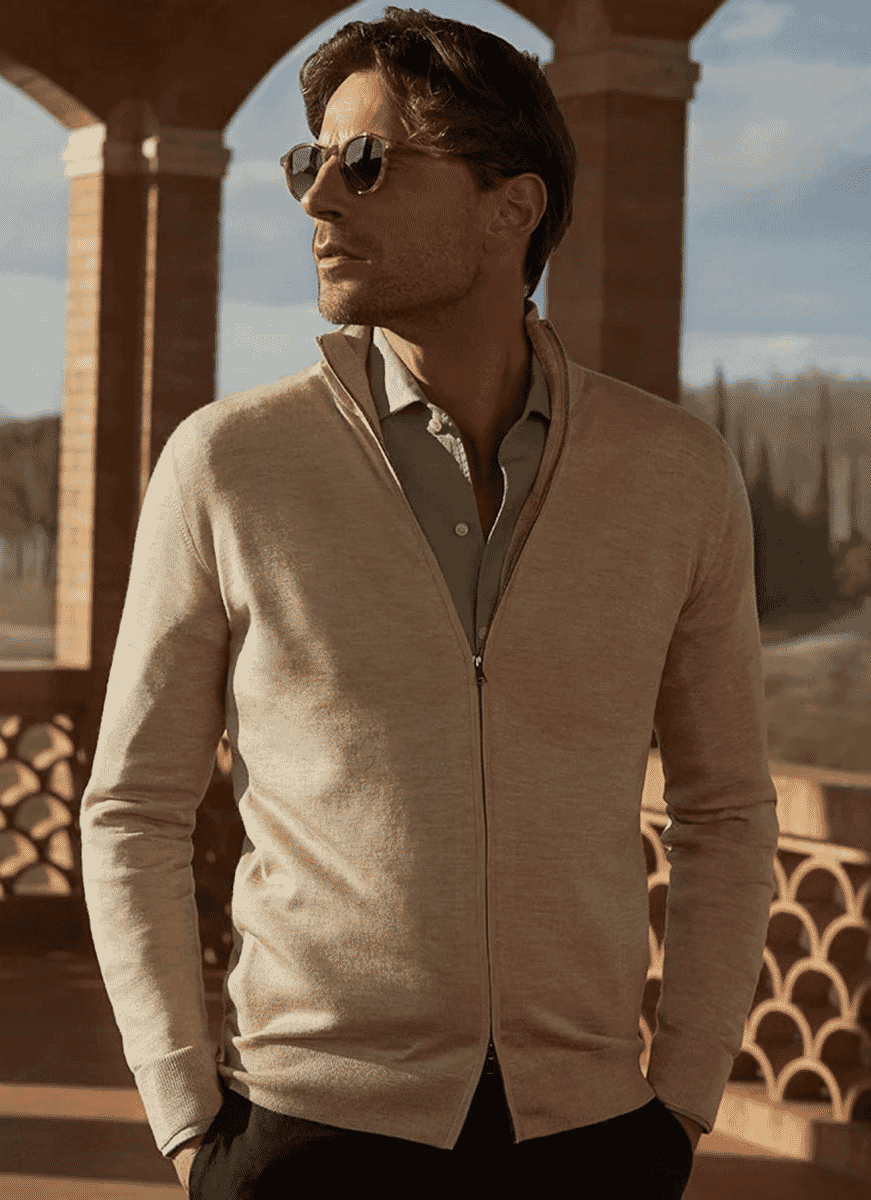 Earthy tones: Embracing nature's palette
Fall fashion is all about embracing earthy tones that reflect the beauty of the season. Incorporate shades of rust, olive, and deep brown into your outfits for an autumnal vibe. Consider a pair of slim-fit olive chinos paired with a warm-toned sweater for a harmonious ensemble. A versatile camel overcoat serves as a statement piece that ties the look together while providing an extra layer of warmth. Complete the outfit with leather Chelsea boots for a polished yet rugged appearance.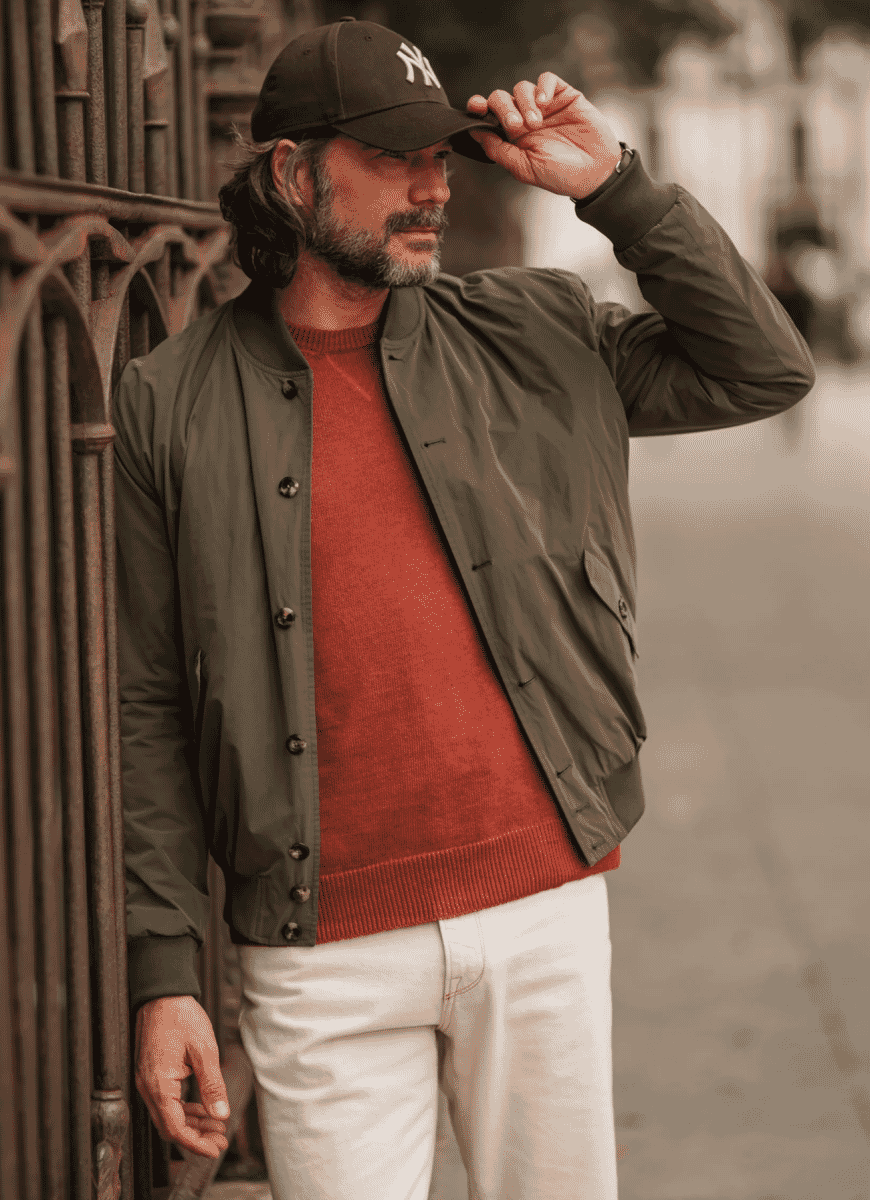 Combine textures: Mixing and matching for visual interest
Elevate your fall fashion game by experimenting with different textures that create a visually appealing and tactile experience. Combine a suede bomber jacket with a fine-gauge roll-neck sweater for a luxurious contrast. Incorporate wool or tweed trousers to introduce another layer of texture and warmth. A silk pocket square peeking out of the jacket pocket adds a touch of refinement. Remember, the key is to strike a balance between contrasting textures while keeping the colour palette cohesive.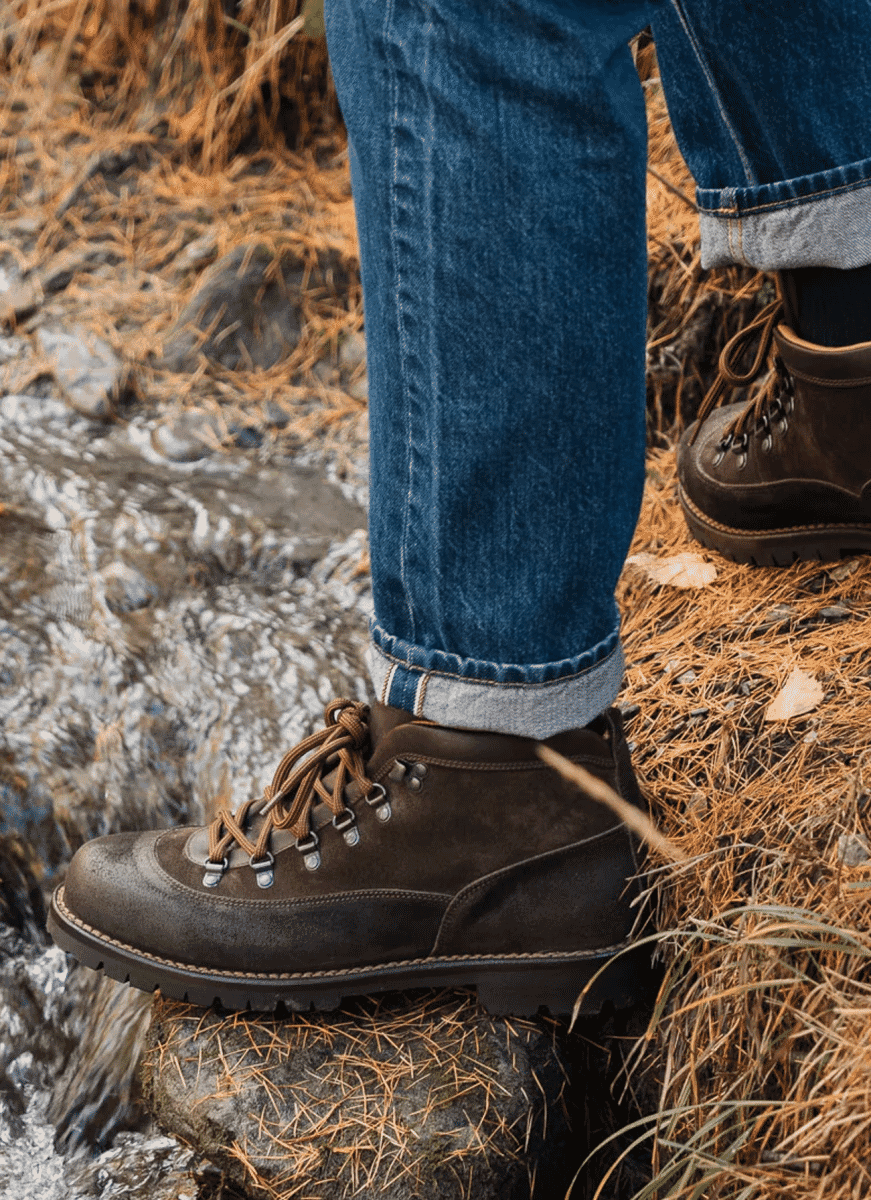 Sturdy footwear: Navigating fall terrain in style
When it comes to fall footwear, prioritise both style and functionality. A pair of sturdy boots is a must-have for tackling unpredictable weather while maintaining a fashionable appearance. Opt for classic lace-up boots in rich leather or suede – they pair effortlessly with various fall outfits. Chelsea boots are another versatile option, offering a sleek silhouette that complements both jeans and tailored trousers. Be sure to look for rubber-soled options for added grip and durability during wet or slippery conditions.
Check out our pick of the best fall jackets for men.
---
---