The world of automotive excellence, where luxury and engineering prowess converge, finds its zenith in Mercedes-Benz, and at its pinnacle, we discover the most expensive Mercedes cars of all time. Synonymous with sophistication and performance, the brand has consistently pushed the boundaries of innovation and elegance. Among the many facets that contribute to Mercedes-Benz's illustrious reputation, one stands out in particular: the creation of the most expensive Mercedes cars of all time.
From the moment Karl Benz unveiled his Patent-Motorwagen in 1886, the automobile industry embarked on an unprecedented journey of evolution and transformation. Mercedes-Benz has been at the forefront of this evolution, crafting some of the most sought-after vehicles on the planet. These are not just cars; they are masterpieces of engineering, design, and luxury, each a testament to the brand's commitment to pushing the envelope.
In this comprehensive exploration, we delve into the world of extravagance and opulence, taking you on a thrilling ride through history to discover the most coveted and valuable Mercedes-Benz automobiles ever produced. From vintage classics to modern marvels, these are the vehicles that have captured the hearts of discerning collectors and enthusiasts worldwide. Join us as we uncover the stories, craftsmanship, and, of course, the jaw-dropping price tags that define the most expensive Mercedes cars in the brand's storied history.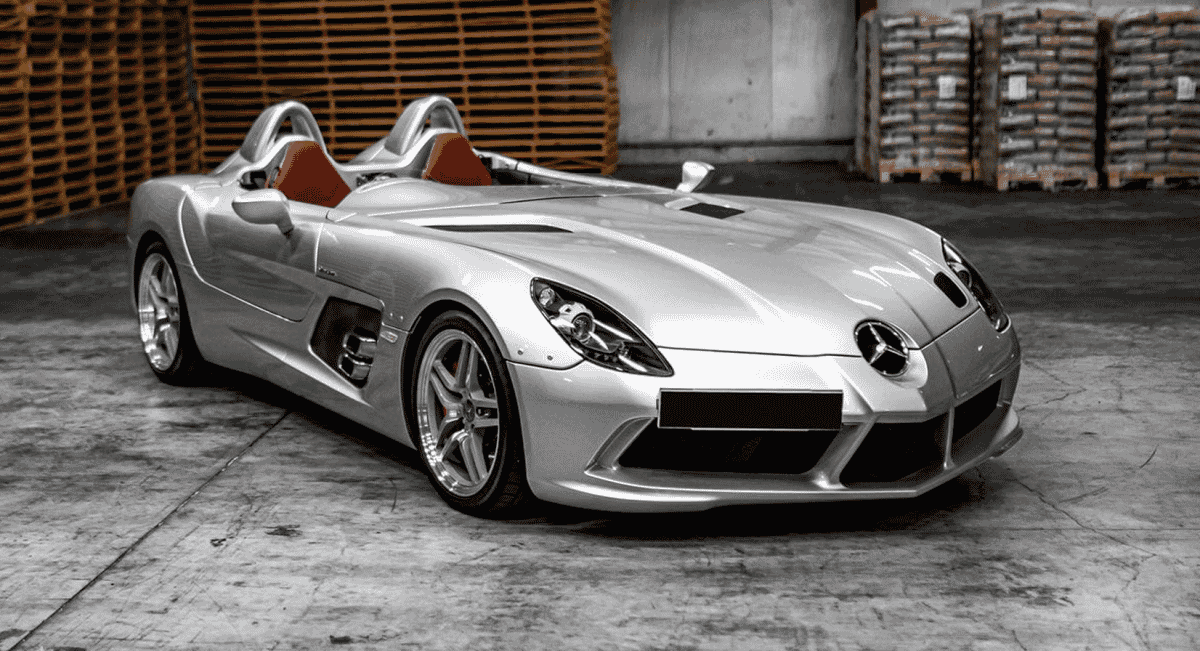 Most expensive Mercedes cars of all time
2010 Mercedes-Benz SLR Stirling Moss
You might think one of the most expensive Mercedes supercars ever might at least have a windscreen. The SLR Stirling Moss does without one. There's no roof either. Another essential you might expect on an expensive Mercedes Benz. Result is an exhilaration designed to emulate that which Stirling Moss himself experienced in his epic drive in the 1955 Mille Miglia, the punishing Italian road race which he famously won in a 300 SLR, easily one of the most expensive Mercedes ever, were it to come up for auction. You'll need goggles and possibly a helmet for your SLR Stirling Moss, which will be one of just 75 made, and around £2m to buy it.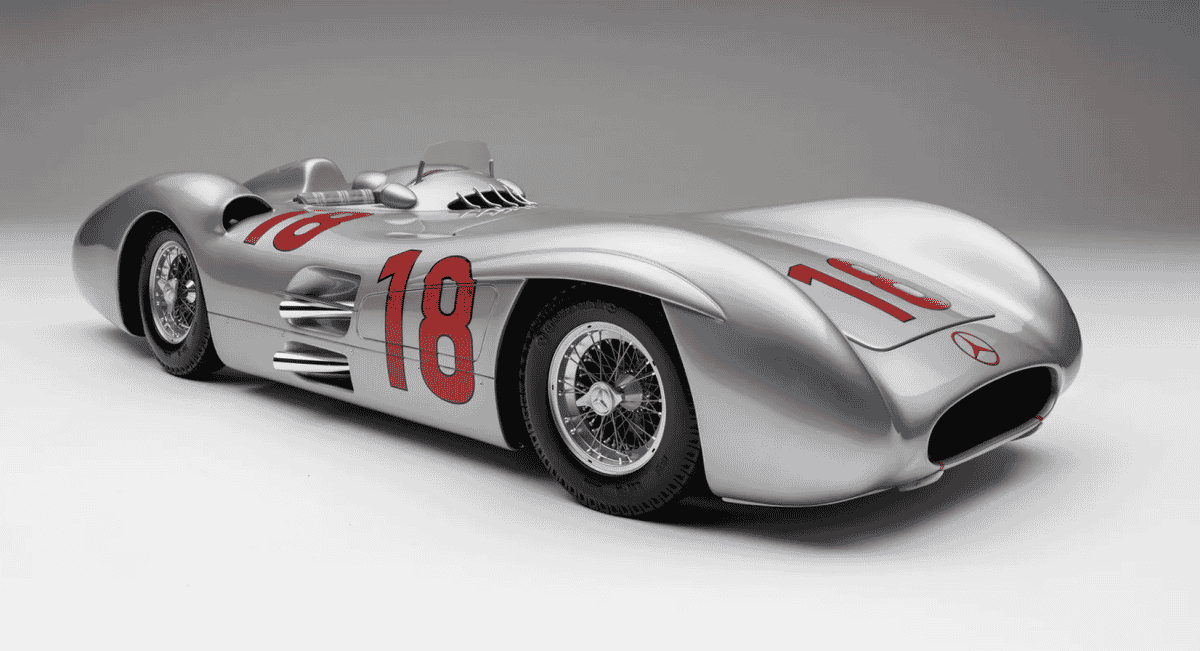 Mercedes-Benz 1954 Formula 1 race car
Value, when it comes to assessing the most expensive Mercedes cars ever made, is partly about rarity and partly about who sat in the driving seat. It's unlikely the great Juan Manuel Fangio even once wondered what is the most expensive Mercedes ever as he sat behind the wheel of the car in which he won the 1954 Formula 1 World Championship. Truth is the W196R, to give it its full title, is very much on the most expensive Mercedes list. As for rarity: only one W196R model is in private hands, with a handful of others in museums. As the ever-modest Fangio put it: "In my estimation, 75% of the credit for a win went to the car and the group whose work backed it up. The remaining 25% went to the driver - and to luck … " Cost is more or less irrelevant for this expensive Mercedes-Benz, but expensive it is, with that one privately-owned example reaching £19m at auction.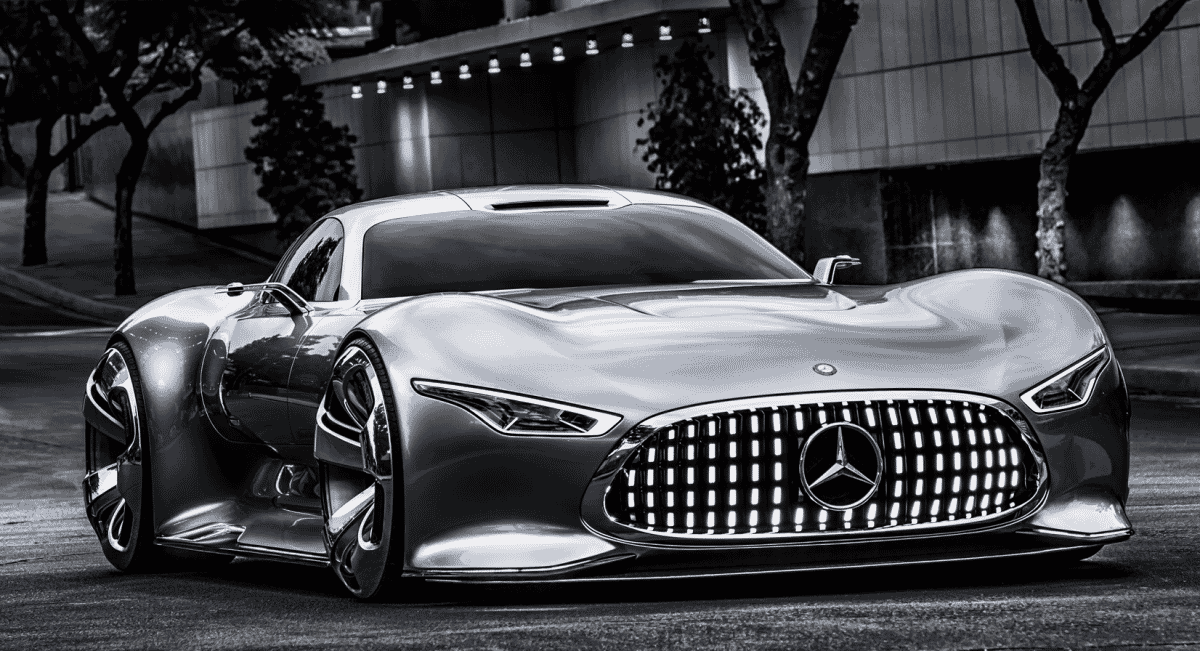 Mercedes-Benz C112, Vision SLR Concept and AMG Vision GT Concept
Not one, but three entrants into our list of most expensive Mercedes cars ever made. Though, in this instance, "made" is a relative word, so take care if you're asked in a pub quiz for the most expensive Benz, because all three of these cars are concepts. The C112 was a sleek 1991 sports car, a one-off made in Italy by Carrozzeria Coggiola specifically to test then-new systems such as advanced ABS braking systems and active aerodynamics. The Vision SLR Concept was the prototype that led to production of the SLR-McLaren hypercar, and presented to widespread acclaim in Detroit in 1999. By contrast the jaw-dropping AMG Vision GT Concept will be mostly familiar to players of Gran Turismo 6 as a virtual racer. A non-virtual prototype was made for the 2013 Los Angeles Motor Show. Now, that's an expensive Mercedes. One with no pricetag attached, and that goes for all three of these.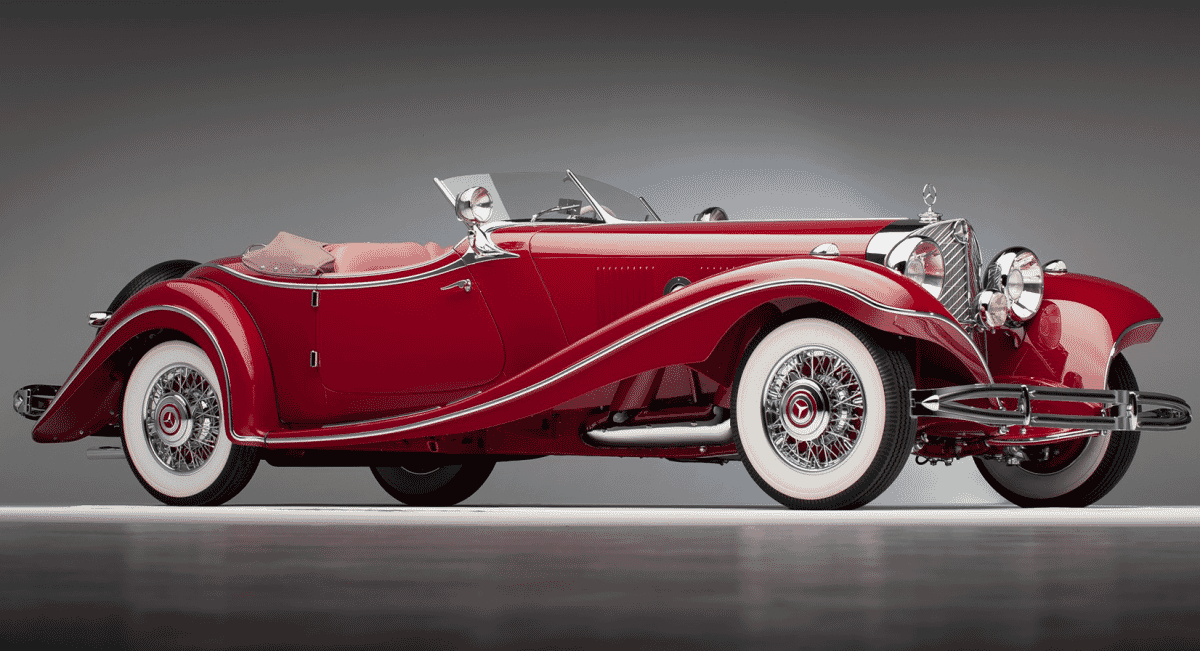 Mercedes-Benz 500K Roadster
If you're in the market for the multi-million machines, you may want to be noticed. That might just be where the 500K Roadster comes in. Even back in 1935 this was one of the most expensive Mercedes Benz cars ever made, painstakingly designed and made for its place at the very top of Stuttgart's premium motor car range. Hand-built detailing of these open-top cars was exquisite - mother of pearl to the dashboard, anyone? - with just 32 of the 342 production run of the 500K model carrying elegant Roadster coachwork. Long bonnet concealed supercharged straight-eight engine, allowing for swift progress with relatively little stress on the power unit, and no stress at all for pampered driver and passenger, who had the luxury of hand-stitched leather chairs for their comfort. You'll have competition as auctioneers hope they'll be answering the question of what is the most expensive Mercedes ever with the winning bid. Take along £3m, just in case.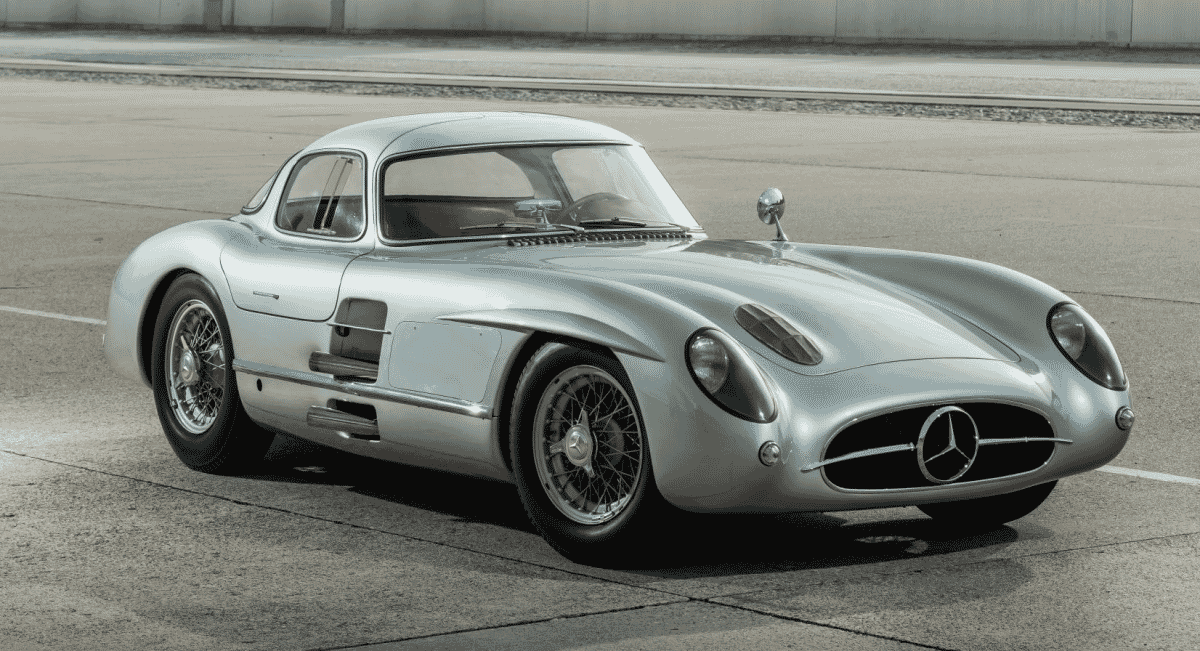 Mercedes-Benz 300 SLR Uhlenhaut Coupé
This coupé is a remarkable landmark in automotive history, the fastest road car of its time. So, put aside all questions for a moment - and just look at this automotive sculpture. Just two SLR Uhlenhauts were made, the work of engineering genius Rudolf Uhlenhaut, who used one to commute between Stuttgart and Munich, covering 160 miles in less than two hours, remarkable now let alone in the 1950s. The Uhlenhaut was not just another expensive Mercedes 300 SL, the classic gullwing coupe that itself is on our most expensive Mercedes list, but a high-speed variant. Eye-catching front end was all-new for aerodynamic reasons, with signature off-set bonnet bulge to accommodate up-rated in-line eight-cylinder engine capable of propelling the Uhlenhaut to 180 mph. While you can see one of these show-stopping machines in the Mercedes-Benz Museum in Stuttgart, the second was auctioned for charity. Winning bid was £114m, making it not just the most expensive Mercedes ever, but the most expensive automobile ever sold.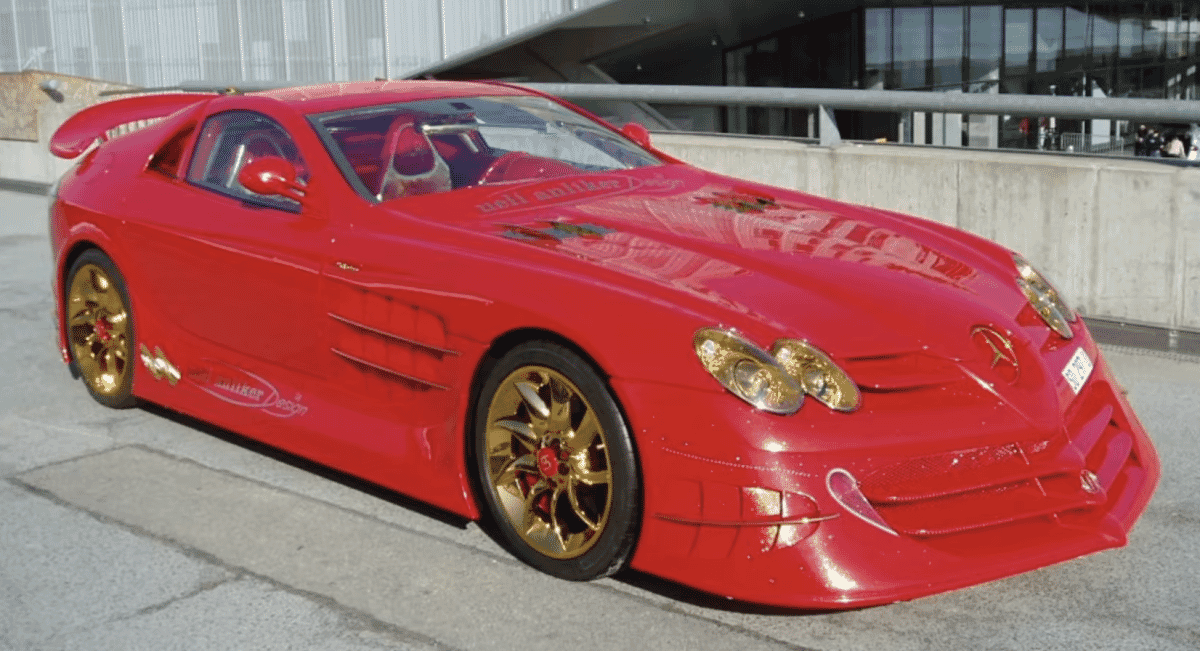 Mercedes McLaren SLR Red Gold Dream
Not everyone loved the gold-plated aura of this most expensive models designed by a Swiss extrovert. Ueli Anliker decided that the standard McLaren-Mercedes SLR was just not flashy enough, despite its look-at-me styling. So he added gold, gold and more gold, quite possibly after the most expensive Mercedes ever built tag. Gold to every possible interior surface? Done. To wheels, badging and headlamps? Of course. Oh, and gold dust was mixed with that red paint before application, just for good measure. Then there is the bodykit that Mr Anilker decided to add to this already overly priced ride. Outlandish is one polite description of the result, and we're not privy to which words the high-ups at Mercedes HQ used, presumably after they'd had a long sit-down. The whole point of a Benz is a degree of subtlety. The Red Gold Dream is anything but. As for price, Ueli Anliker estimates he spent around £5m on the car. Did we mention that there are 600 rubies applied here, there and everywhere?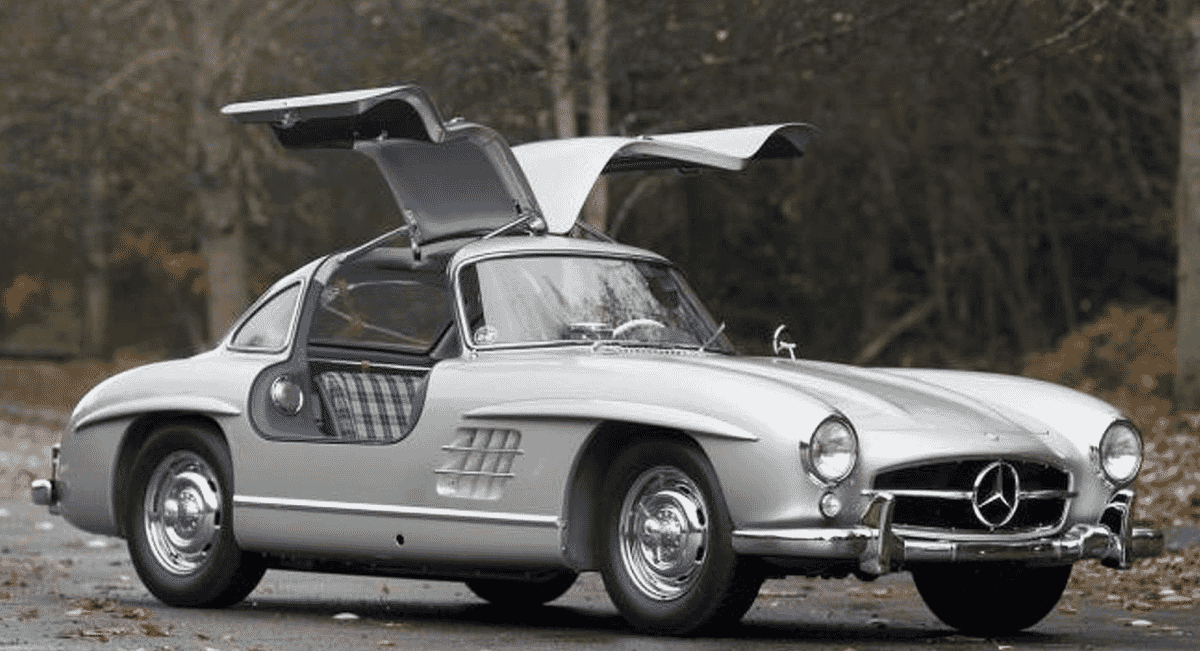 1955 Mercedes-Benz 300 SL Alloy Gullwing
There is perfection in one of the most expensive models ever sold and then there is this remarkable Coupé. The basic Gullwing was a road-going version of a highly successful Mercedes race car, the signature doors a necessity because of a high tubular chassis which made conventional openings impossible. Most of these already expensive sports cars were made of steel, but 29 of the 1,500 production run were in lightweight alloy and equipped with an uprated engine. The Alloy Gullwing is highly sought after not least because examples proved highly successful in competition so that makes it easily a candidate for the most expensive Benz ever offered on the open market. Collectors loved it from the beginning and today, particularly if fitted with extras such as bespoke luggage - an essential, surely? - you'll need £5m to buy one at auction. We'll be driving ours to Stuttgart for lunch.
For more million-dollar machines, discover the ten most expensive BMW cars ever sold.
---
---