It's the most wonderful time of the year. No, not Christmas, but big coat season. Men's dress coats Christmas. The time of the year where you get to cruise around in the biggest, sleekest coats feeling snug and tailored. Big collars, buttons, wool, maybe even a duffle snuck in there for good measure. Some people enjoy dressing for summer the most, others for Autumn and Winter. Dress coats and overcoats are a big part of what makes the latter so good.
Men's dress coats are a big purchase. It's an investment piece. You're paying for something that will get a lot of wear, needs to still be practical (not necessarily technical) and look the part. That means the best materials, premium design and timeless styles. We've picked out our favourites to help you choose the best men's dress coat for wintry months for years to come.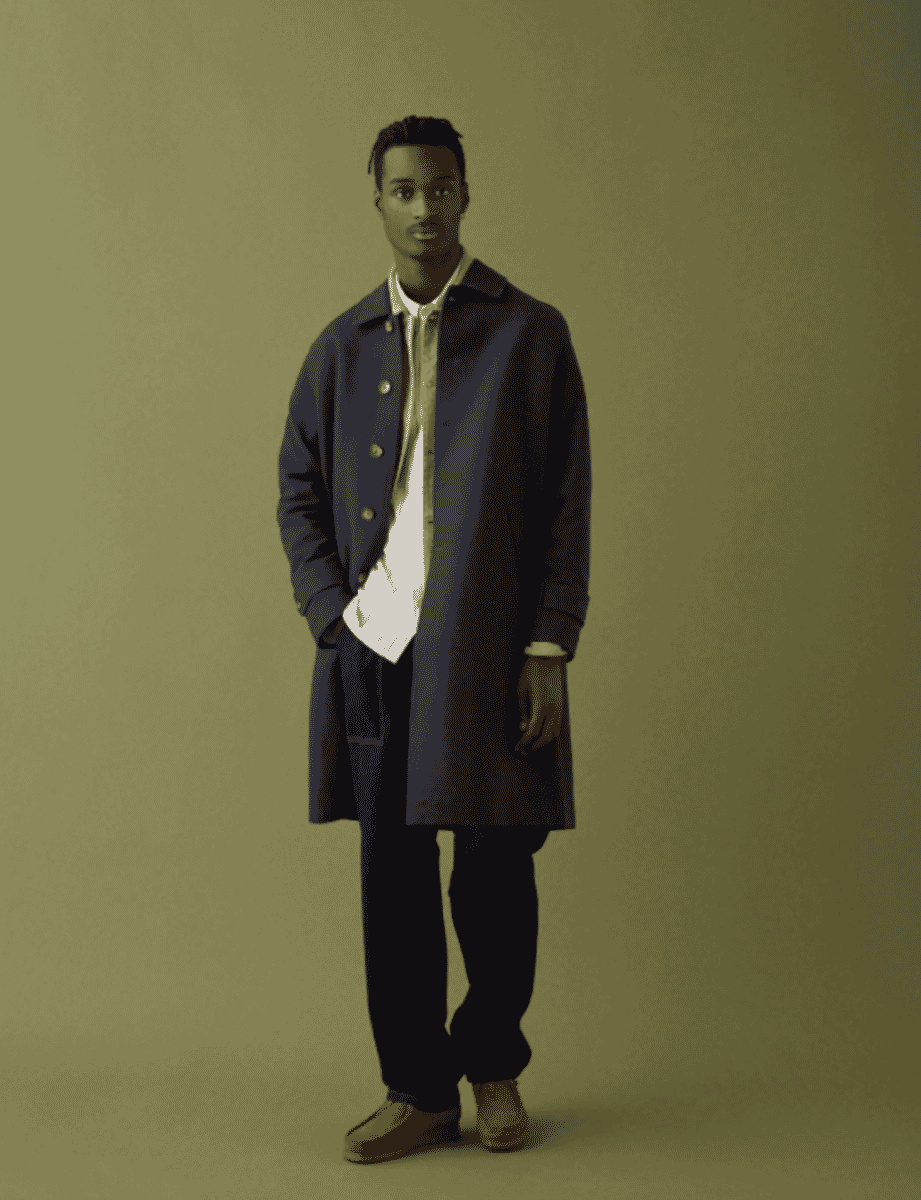 12 Best men's dress coats for 2023
Foret
Gimme (the) Shelter long wool coat in navy from Foret. Made from 100% wool, this single-breasted overcoat features horn look buttons and a long, draped silhouette to the knee. The versatile cut makes it perfect for smarter outfits as well as an outer layer for everyday wear. Build up the layered collars underneath and twin with earthy tones in the trouser and a trusty moccasin.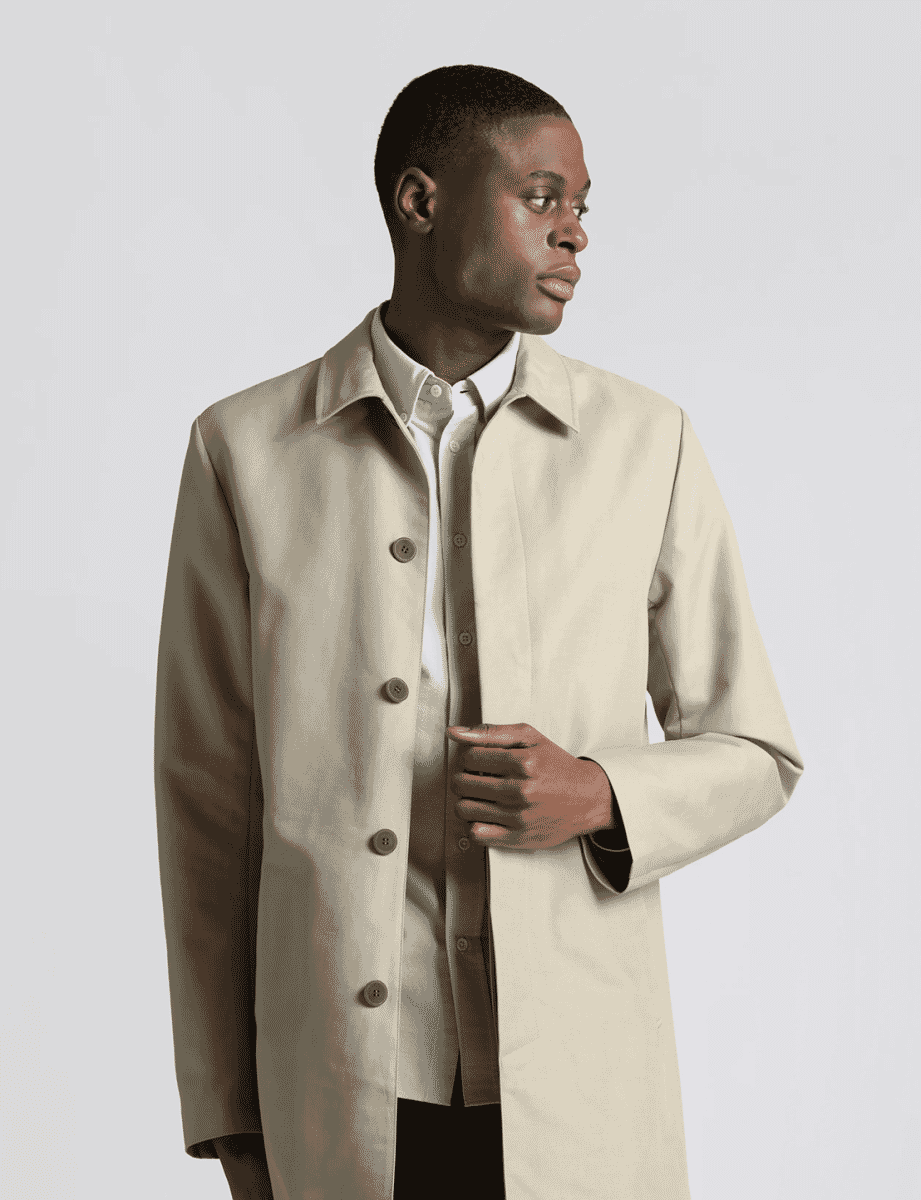 ASKET
As sleek behind the wheel as it is worn at the bus stop, the Asket car coat is a smart option for those on the hunt for a classic beige number for the capsule collection. Made from an organic cotton twill weave, given a water repellent treatment, the coat also features taped seams ensuring protection from the weather year-round. Aligning with Asket's ethos of longevity and sustainability, every component from the zips to the lining have been carefully considered to last and reduce environmental impact. Also available in handsome navy.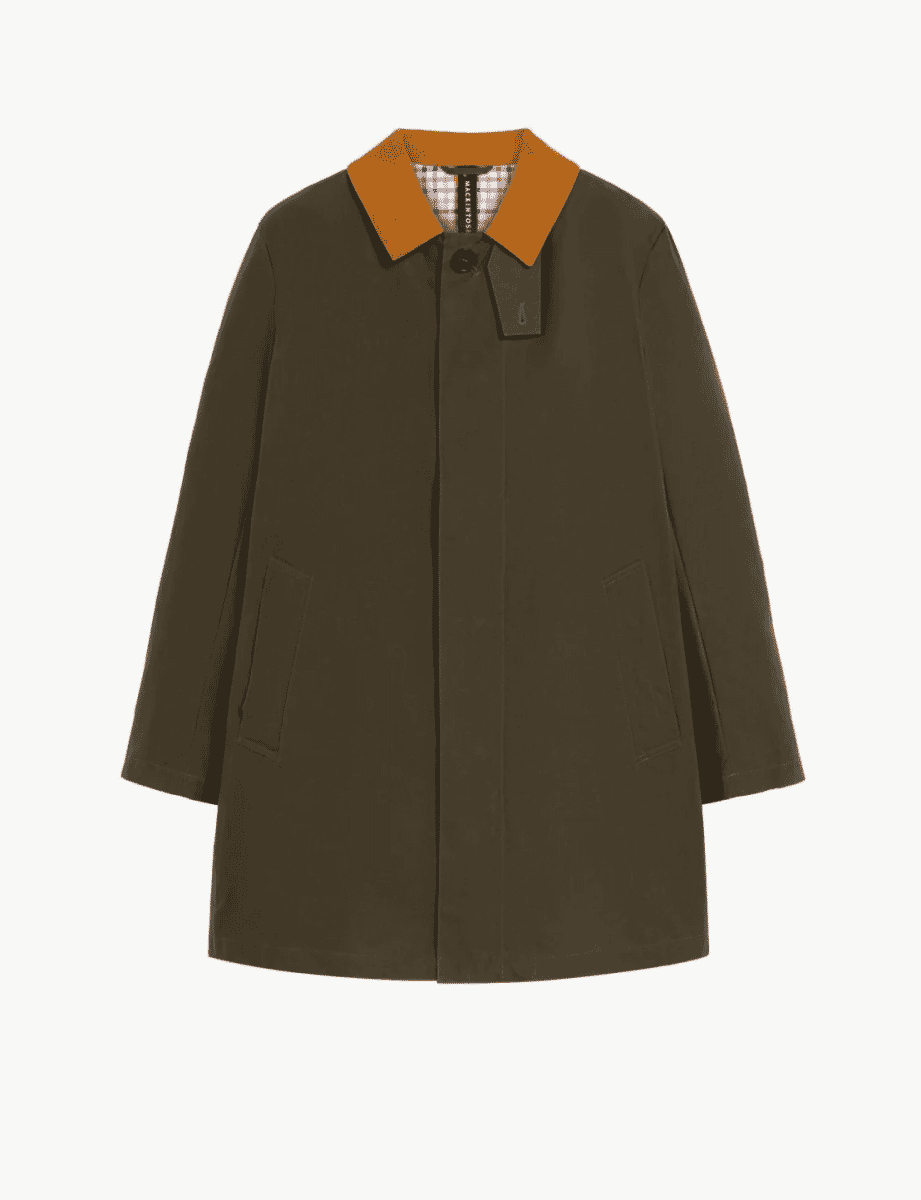 Mackintosh
One of the great British coat brands and one of the world's most influential coat makers, Mackintosh continues to craft some of the best coats money can buy. Their Norfolk khaki brown waxed cotton coat uses a dry-waxed cotton for an all-important waterproof shell but then also mixes things up with a detachable throat latch (we're into this), contrast corduroy collar and internal tab for the respective collection's optional liner vests. Made in the UK at the brand's Nelson factory, it's a welcome twist of classic and modern.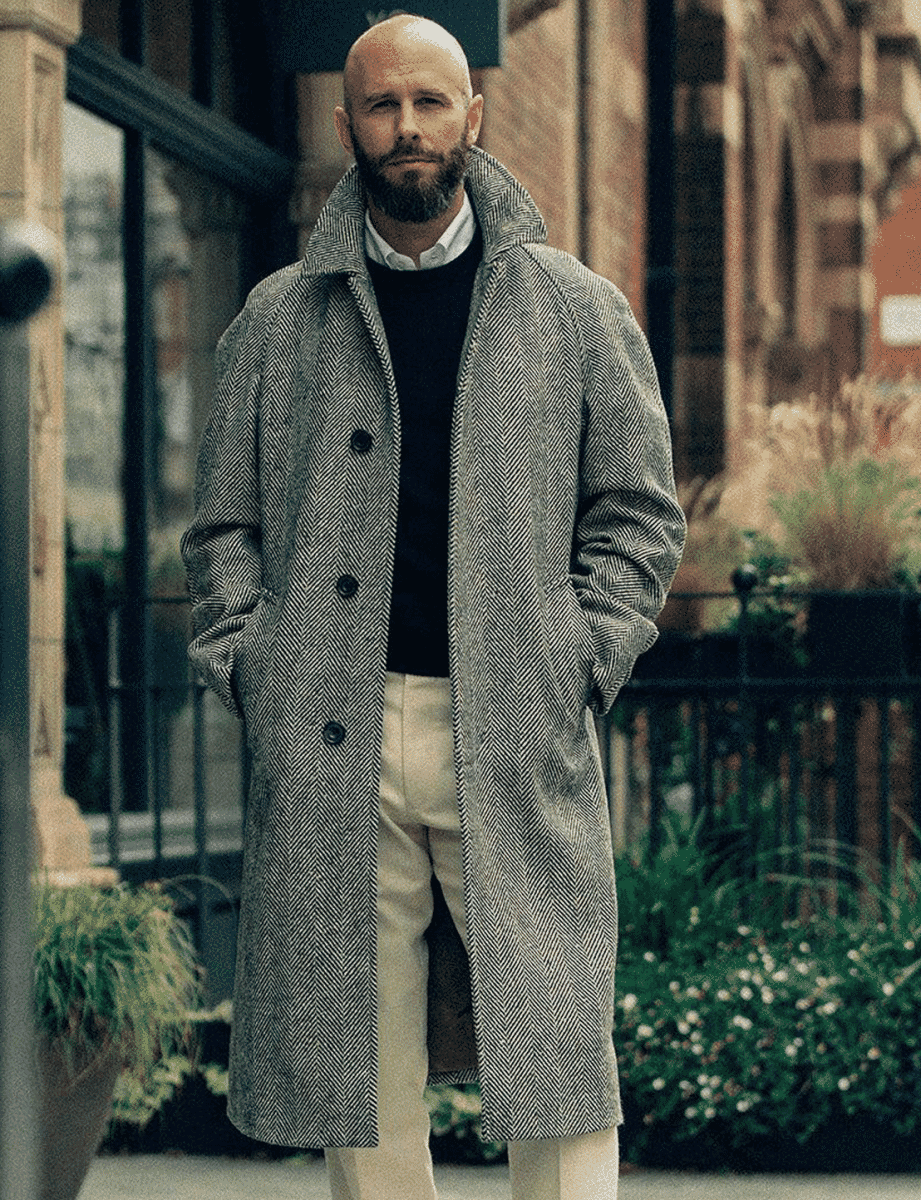 Private White V.C.
If it's good enough for Simon Crompton of Permanent Style fame, it's good enough for us. The Donegal coat from Manchester brand Private White has become something of a calling card. Just look at that collar. The limited edition piece comes in an exclusive herringbone (either black and cream or navy) woven by Mallalieus of Delph, one of the UK's most respected textile manufacturers. From 100% cashmere pockets to the etched copper rivets. It's the ultimate coat and if you've got the money, a sensible investment.
Wax London
A lot of people shy away from double-breasted, be it in tailoring or coats, when actually, it might well suit them. A lot of this tends to be due to the myth that only wider, stockier body types suit it. The Santoni coat from Wax London is good option for beating this belief. Cut in a relaxed fit with wide lapels, it features cuff tabs, a back vent and internal glove pockets. Match it with a baggier fit underneath and prepare to stand out.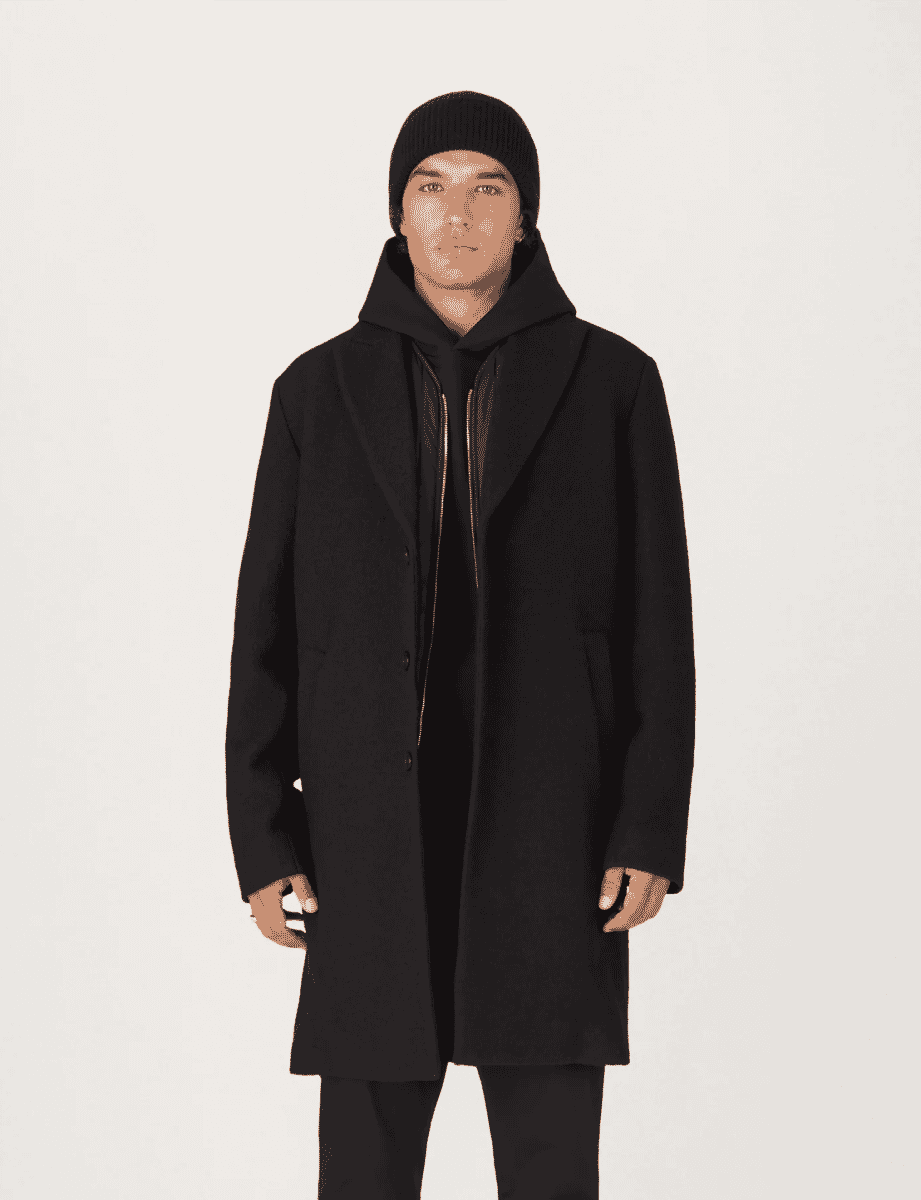 L'Estrange
The Jersey Wool Coat by L'Estrange is the epitome of relaxed elegance. Crafted from textured knitted wool, it boasts a classic design featuring corozo nut buttons, hidden welt pockets, and pointed lapels. What sets it apart is the innovative modular attachment at the center-back neck, allowing for versatile layering with L'Estrange's Modular Shell and Vest styles. This coat effortlessly combines timeless style with modern functionality, making it a must-have addition to any winter wardrobe.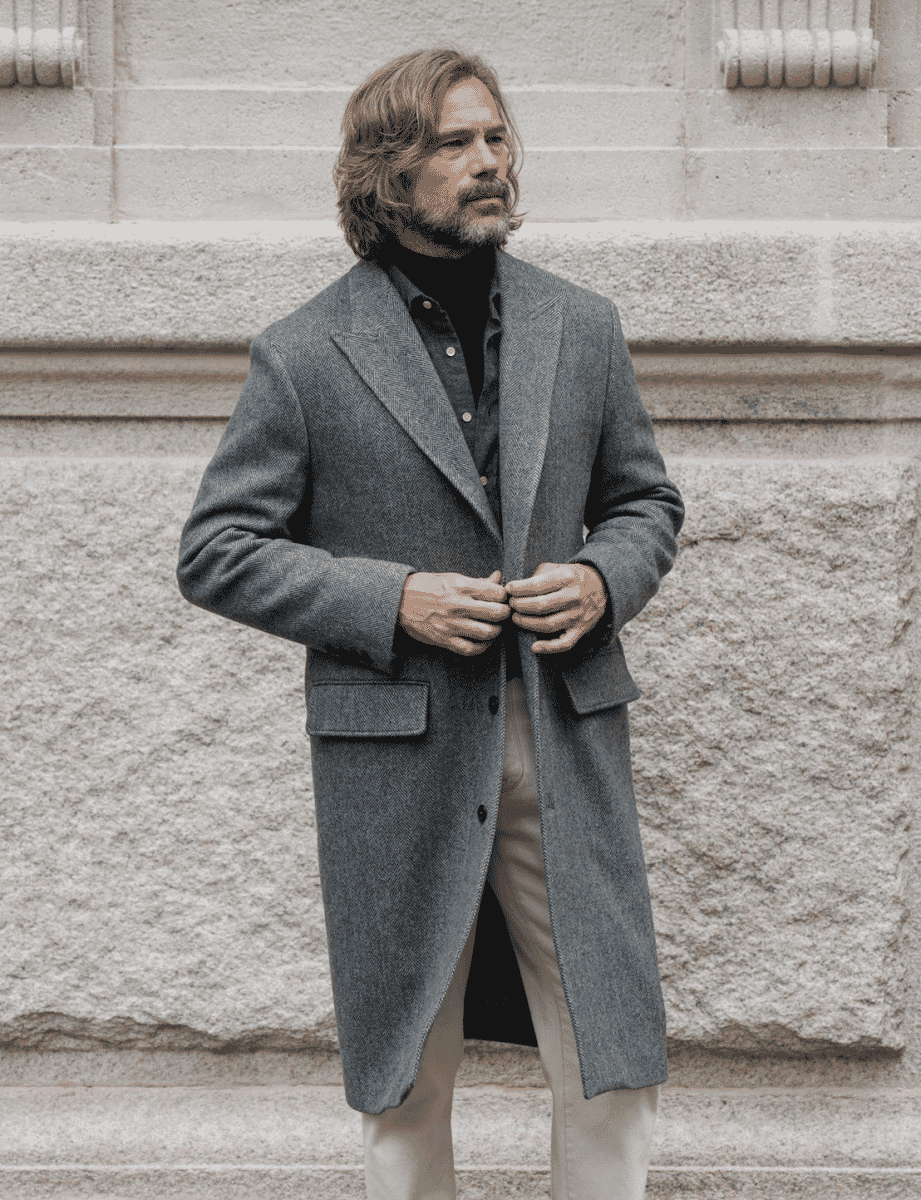 Velasca
Here's Velasca again with another chef's kiss of a coat and plenty of styling expertise to go with it. The Cella Monte single breasted herringbone tweed coat is an Autumn Winter classic. Also equally dashing in the green and blue versions. Made in Italy, from a virgin wool mix, the coat takes a classic silhouette, the V lapels accentuating the shoulders and waist, with a rear vent for manoeuvrability and the horn buttons a classy touch. As stylish over separates or a suit as worn as a wintry outer layer above light denim and a solid boot.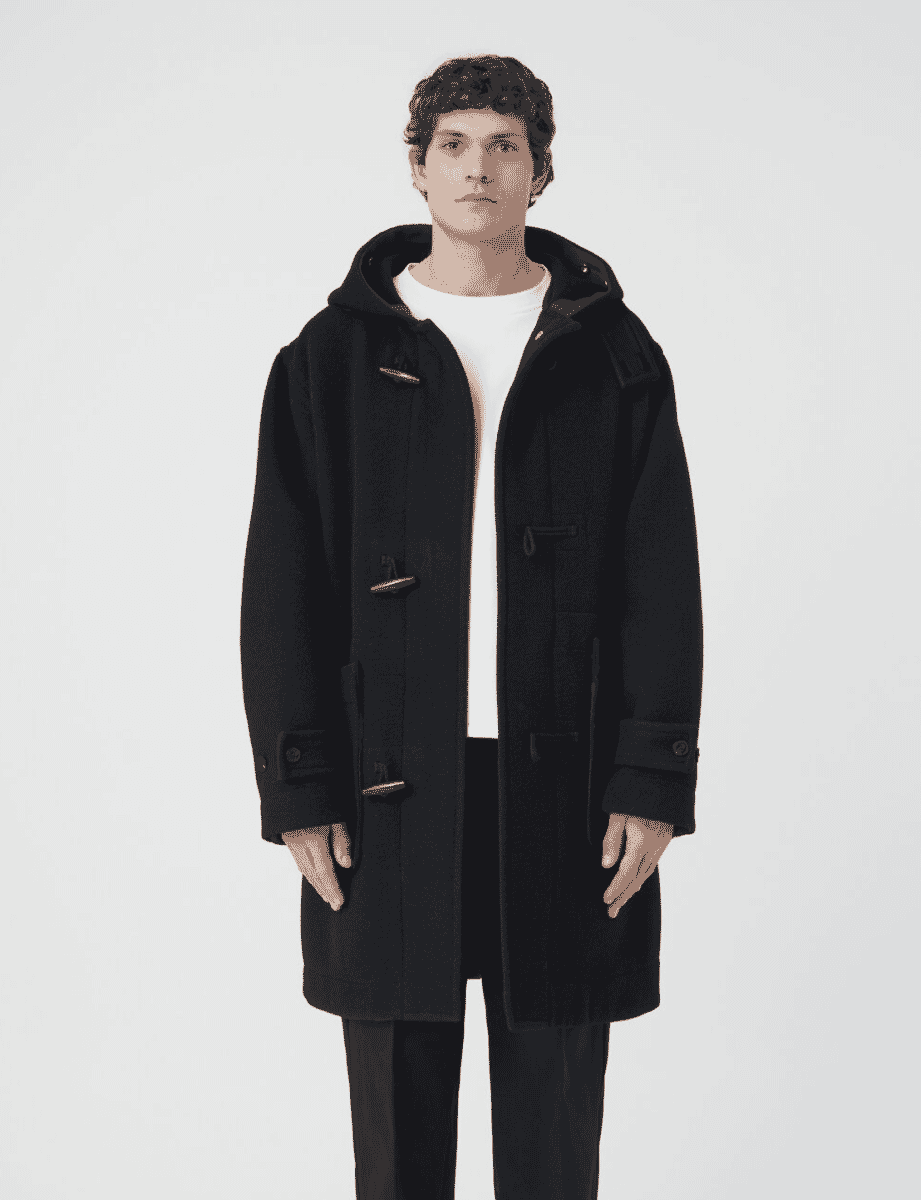 Closed
If something with a collar isn't your thing, consider the cosy, hooded confines of the humble duffle coat. Closed do an excellent one that's long, authentic and comes in a regular fit. A high wool content ensures the coat is an extremely warm winter option, whilst the nylon mix ensures it isn't too heavy on the body. Complete with a hood, press stoods, classic toggle fastenings and a throat latch, it's a welcome alternative to the more dressier options out there.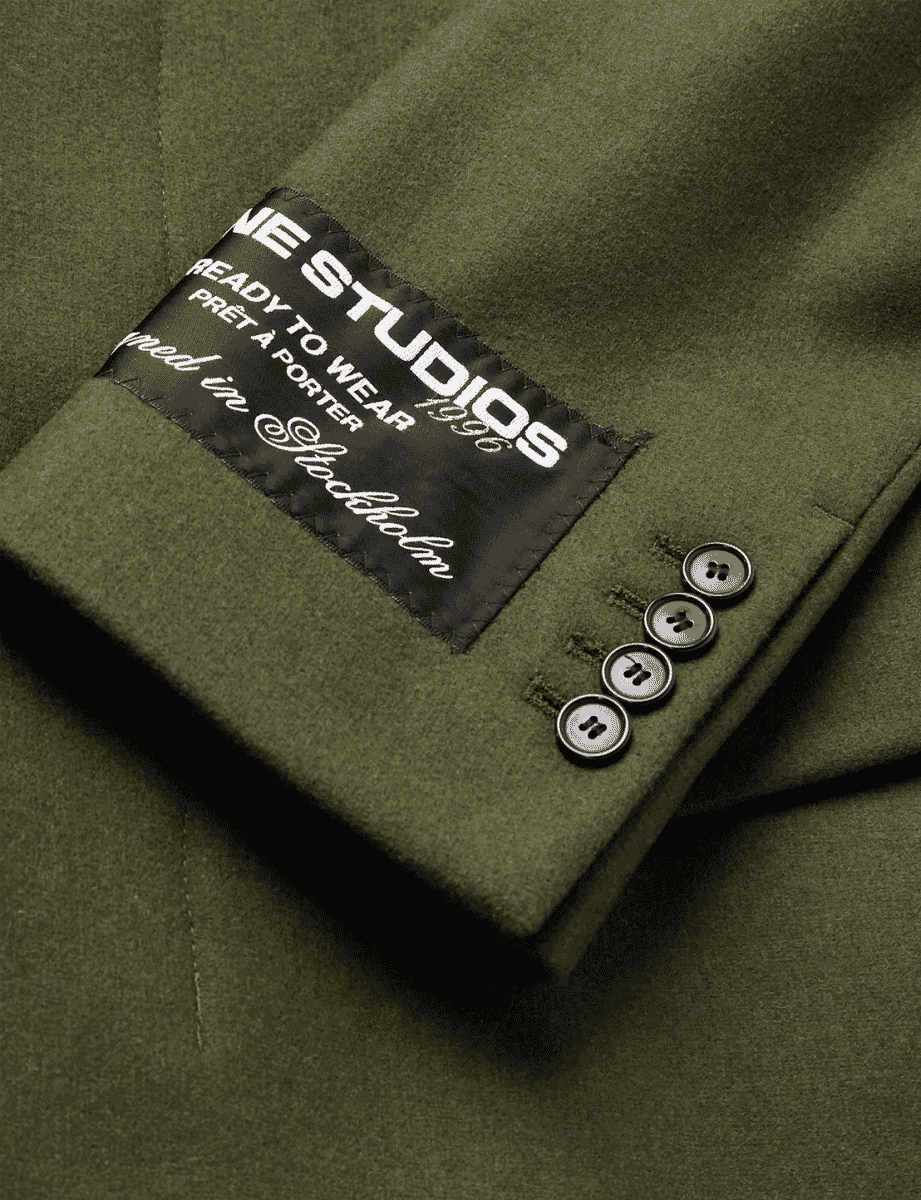 Acne Studios
For something luxurious, elegant and tailored, the Orkar wool blend coat from Acne Studios is a showstopper. Made from a dramatic green wool blend and capped off with a classic faille collar, look closely and there's bold applique detailing on the cuff. One to be worn with a loud pair of trousers and signature loafer.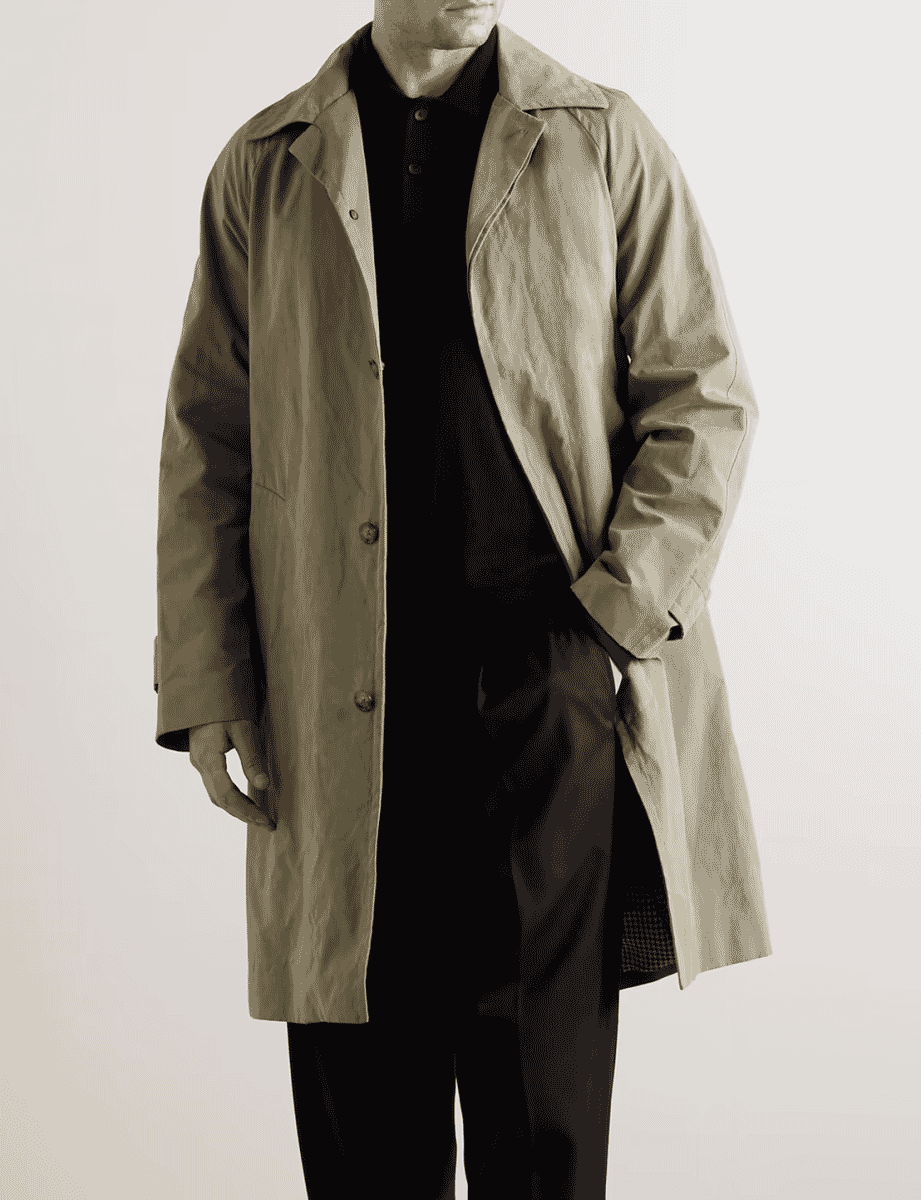 Valstar
This is fun from Valstar. A classic belted trench, beloved of 70s detectives, crafted from a midweight waxed canvas. But wait, dig deeper, and, yes, this is a trench inspired by the classic belted styles of the 1800s. You learn something new every day. Waxed canvas ensures a robust layer that's water repellent whilst a herringbone patterned lining is a nice touch. Sits nicely above the knee, fedora optional.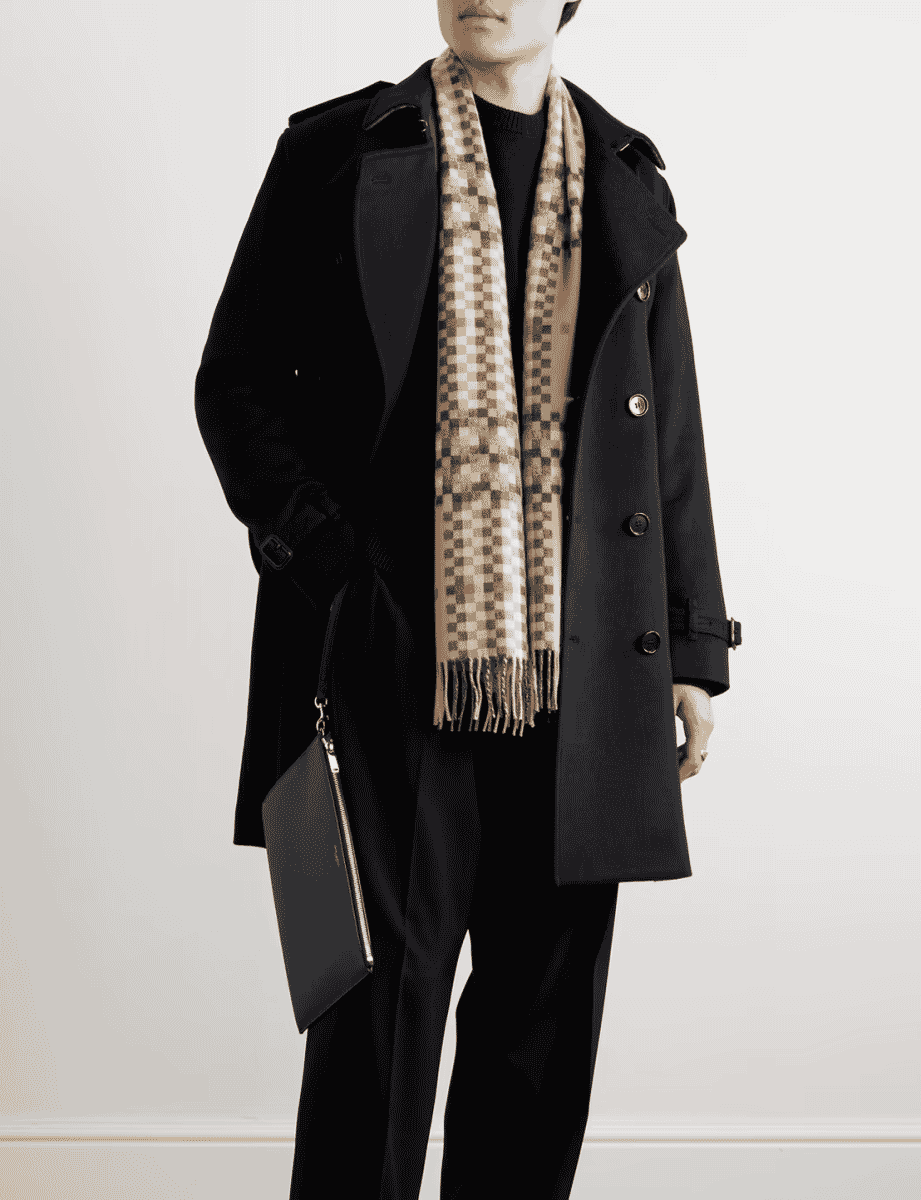 Burberry
You're not allowed to make a list of men's dress coats without Burberry. Don't ask us why. We don't make the rules. Icons are icons for a reason. Belted trenches don't get more notable than these. The Kensington double-breasted cashmere coat is as opulent as it sounds. A flash of the iconic check is just a collar pop away.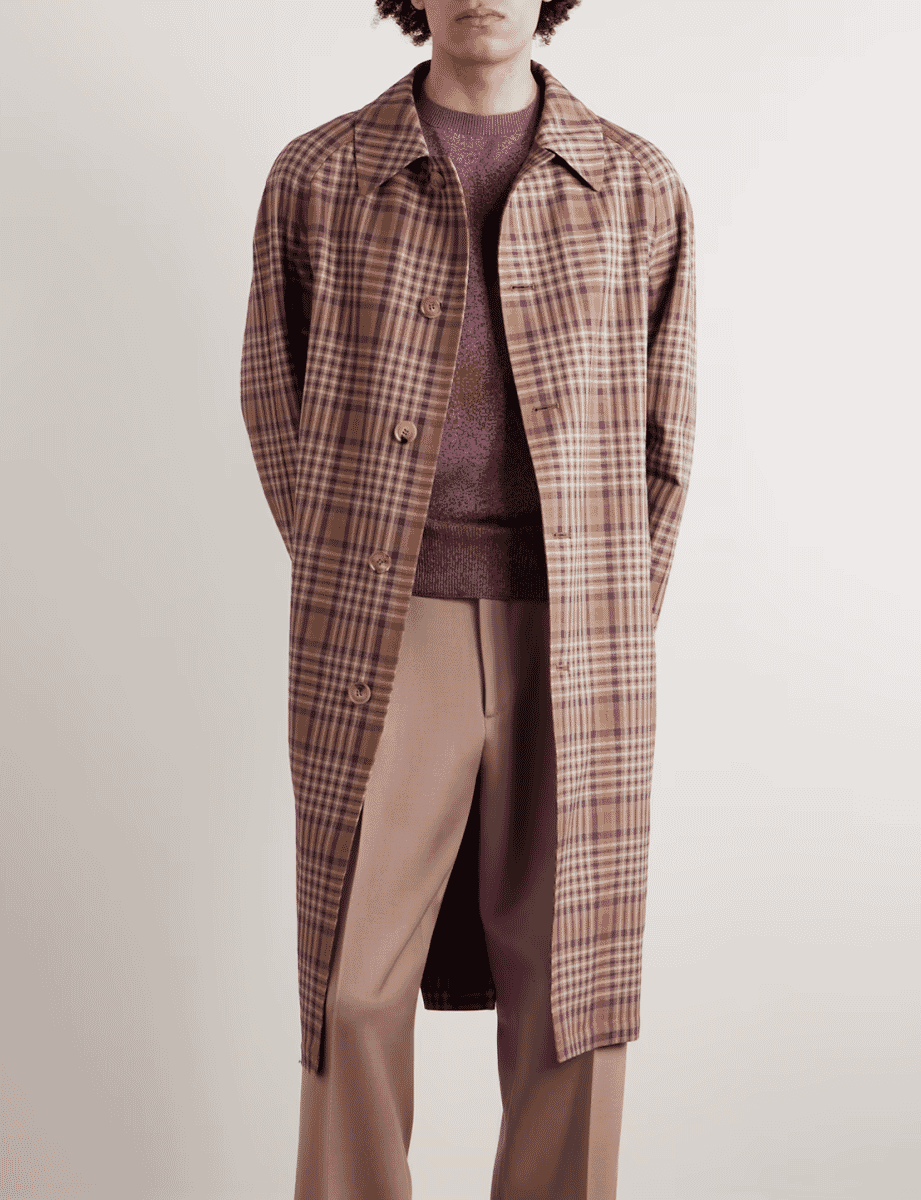 Piacenza
Stand out in Piacenza's red checked cotton coat, a bold style that cuts through the safe space of Navy and beige, and adds a welcome smarter option for winter. Woven from cotton with a distinct heritage pattern, the garment is made in Italy using the finest materials. Let the colours pop with some toned-down luxury essentials underneath.
Now that you have a dress coat, how about a waterproof winter jacket?
---
---