Loafers with jeans: a classic pairing that effortlessly combines comfort and sophistication. In the world of luxury menswear, this ensemble stands as a testament to timeless style and refined taste. Our styling guide is an ode to this iconic combination, offering insights and inspiration to help you master the art of styling loafers with jeans.
Within this guide, we'll explore the intricacies of crafting the perfect look, from choosing the ideal pair of jeans to selecting the right style of loafers. We'll delve into the versatility of this pairing, showing you how to effortlessly transition from business meetings to casual outings, all while maintaining an air of understated elegance.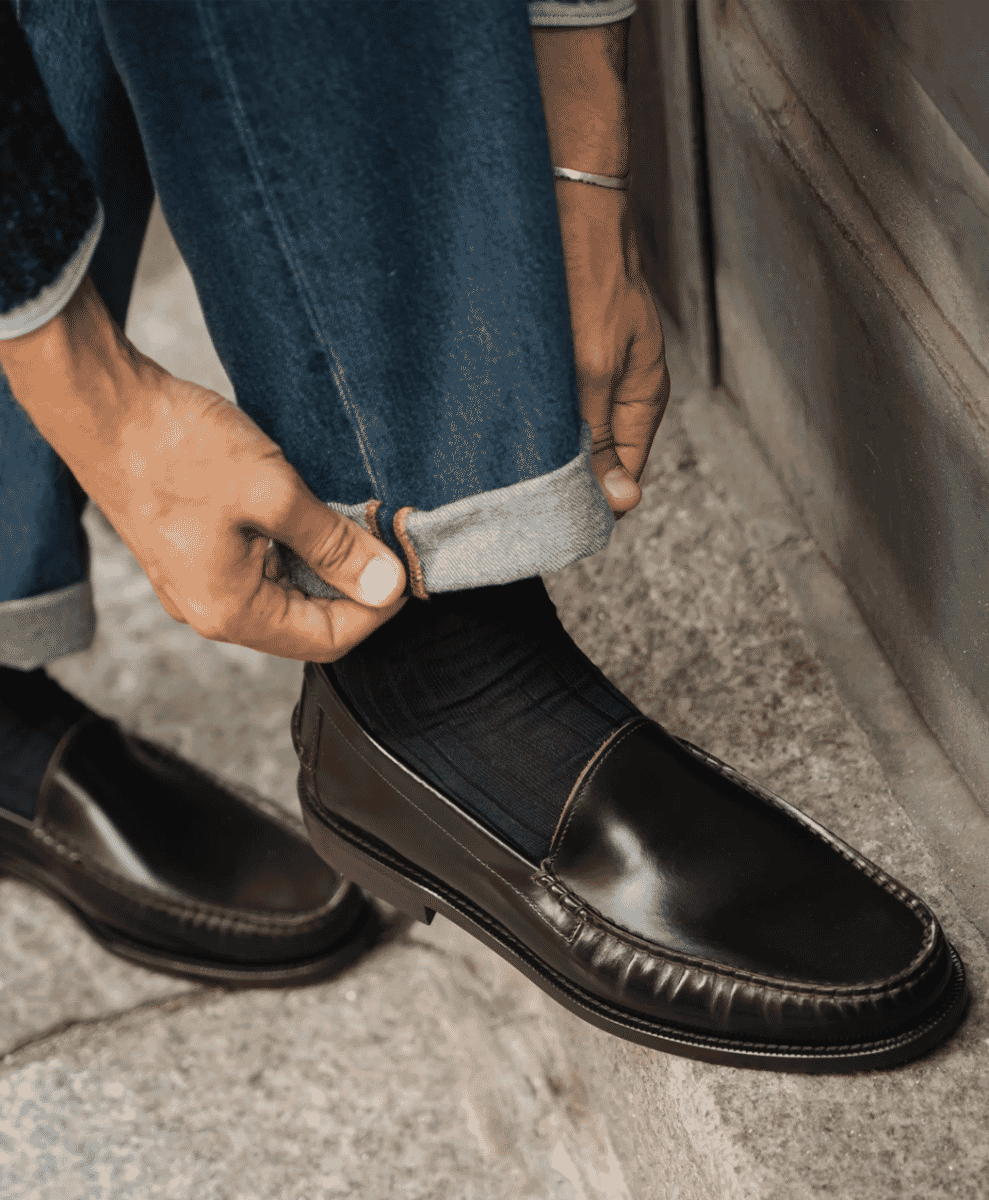 Join us on this sartorial journey as we celebrate the enduring charm of loafers with jeans. Whether you're a seasoned fashion enthusiast or just beginning to explore the world of luxury menswear, our guide is designed to equip you with the knowledge and confidence to make this combination your own, expressing your unique style with every step.
Loafers with jeans: When, where and why
When and where to wear loafers with jeans
Wearing loafers with jeans is appropriate in a variety of semi-casual to smart-casual settings. This versatile combination can be effortlessly donned for a range of occasions, including weekend outings, relaxed dinners, social gatherings, and even certain business-casual environments. The key lies in the details: opting for well-fitted, dark-wash jeans with minimal distressing and pairing them with high-quality loafers can instantly elevate the look. It strikes a perfect balance between comfort and style, allowing men to exude a sense of polished refinement while maintaining a relaxed, approachable demeanor.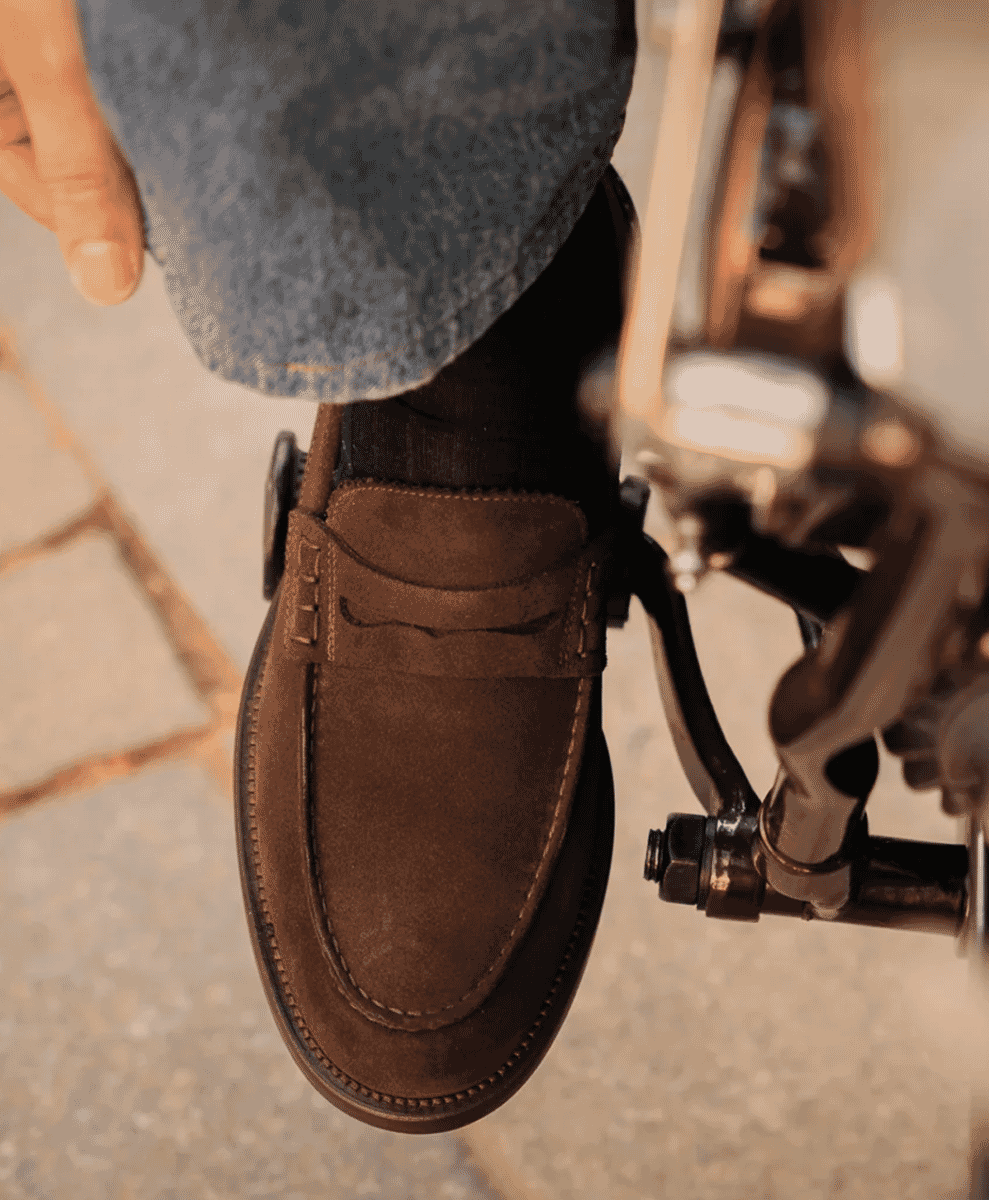 Why wear loafers with jeans
Men should wear loafers with jeans because it effortlessly merges comfort and style, offering a versatile canvas for self-expression. Loafers, whether classic or contemporary in design, exude a timeless charm that complements the casual elegance of denim. This combination is perfect for various occasions, from laid-back weekend outings to semi-formal events, allowing men to convey confidence and sophistication with ease. The pairing showcases a sartorial finesse that stands out in any setting, making it an essential addition to every man's wardrobe, where comfort meets a refined aesthetic, creating a winning formula for modern style.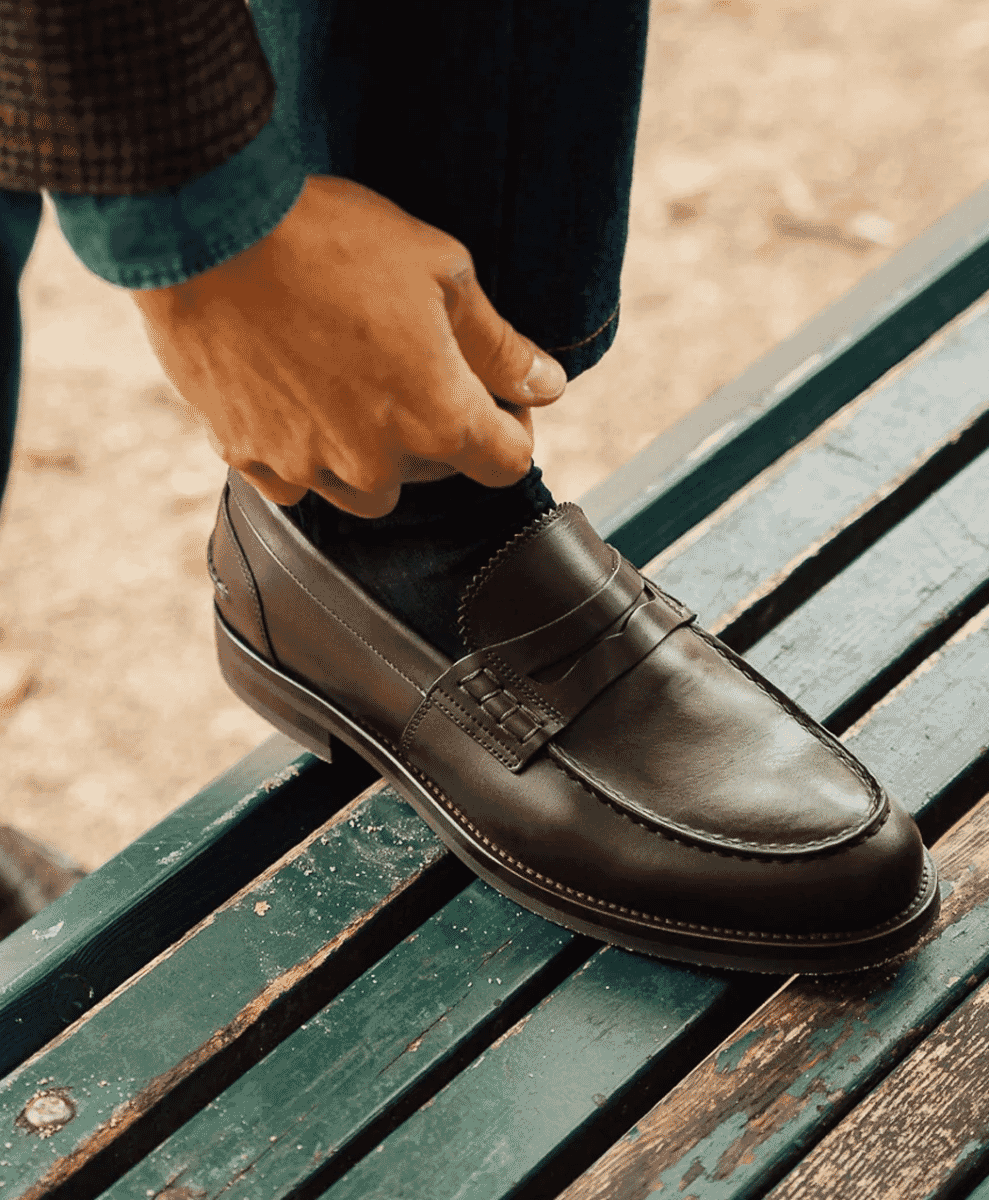 How to wear loafers with jeans
Loafers with jeans represent a timeless fusion of style and comfort. In this concise guide, we present eight essential tips to help you achieve a polished and versatile look.
Choose the Right Fit: Ensure your jeans fit well – not too loose or too tight. A slim or straight-leg cut often works best with loafers, creating a clean, streamlined look.
Opt for Dark Wash: Dark wash jeans exude a more polished appearance, making them an excellent choice when pairing with loafers. They effortlessly transition from day to night.
Minimal Distressing: Avoid jeans with excessive distressing or heavy embellishments. A cleaner, more classic pair of jeans complements the sophistication of loafers.
Cuff with Care: If you prefer to cuff your jeans, keep the cuff small and tidy. It should hit just above the ankle, allowing your loafers to shine.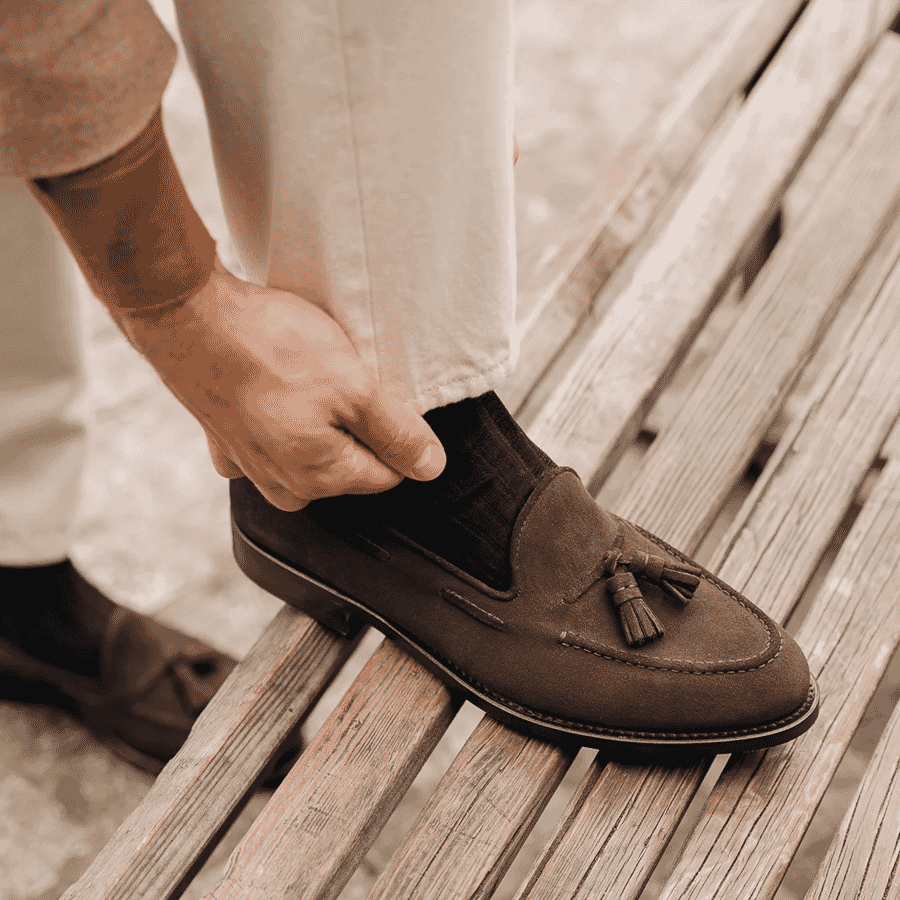 Sock Selection: Choose no-show or low-profile socks to maintain a sleek and minimalist look. Alternatively, you can go sockless, but remember to use foot inserts or powder for comfort and hygiene.
Experiment with Loafer Styles: Loafers come in various styles, from penny to tassel to bit loafers. Experiment with different styles to match the occasion and your personal style.
Match the Leather: Coordinate the color and texture of your loafers with your belt and other accessories. This cohesive approach enhances the overall appearance.
Casual vs. Formal: Understand the context. Loafers with jeans work for smart-casual to semi-formal events. Reserve more formal loafers, such as black penny loafers, for dressier occasions, and opt for suede or leather options for a relaxed look.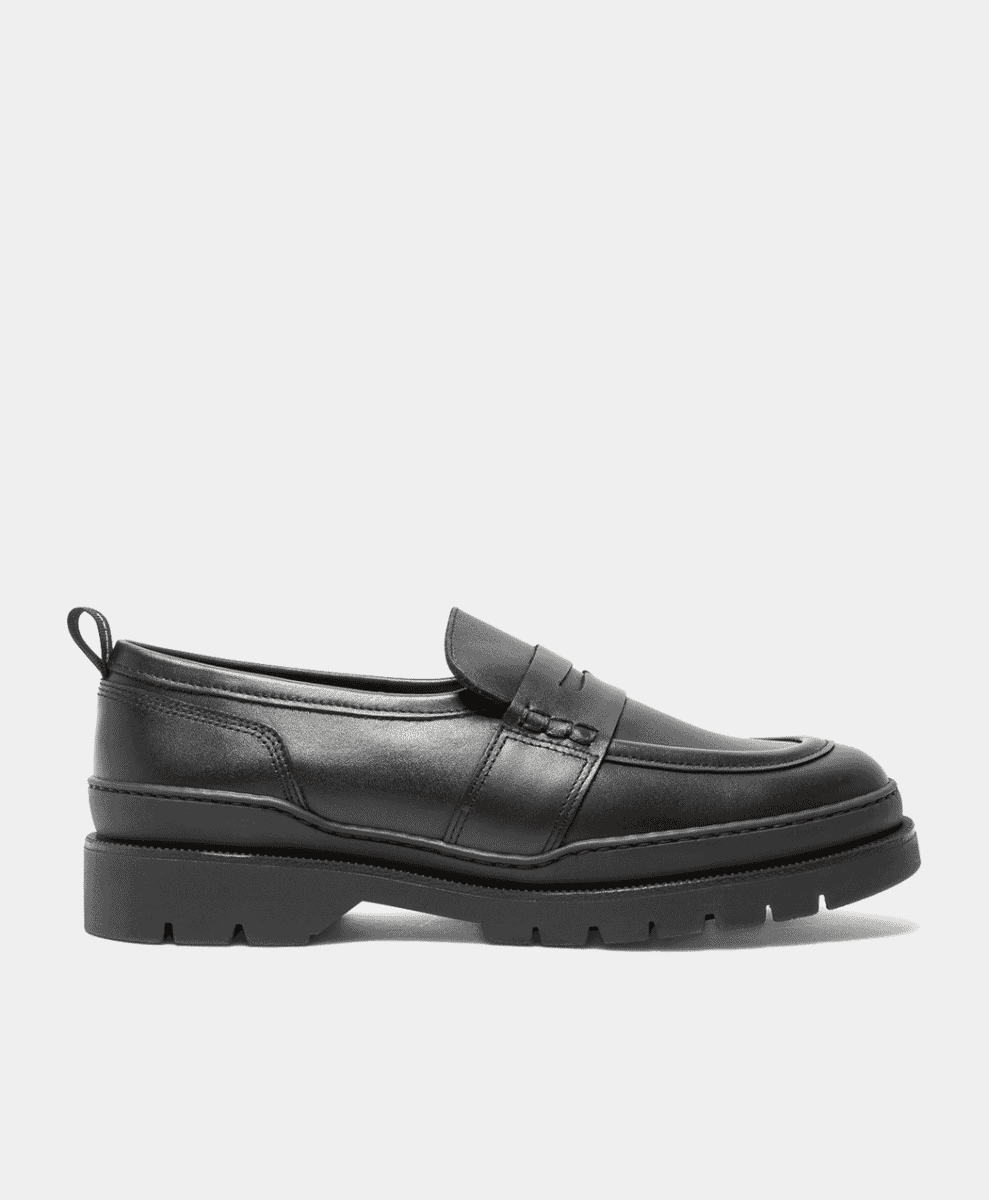 Loafers with jeans: Choosing the best pair
Penny loafers
Penny loafers are a quintessential men's footwear style characterized by a sleek, slip-on design featuring a distinctive leather strap across the front, often adorned with a diamond-shaped slot, historically used to hold a coin (hence the name). These classic shoes offer timeless charm and versatility, making them an ideal choice for pairing with jeans. The clean, minimalist design of penny loafers effortlessly complements the casual aesthetic of denim, striking a perfect balance between smart-casual and relaxed. Their leather construction exudes refinement, elevating the overall look while ensuring comfort. Penny loafers with jeans epitomize a fusion of style and ease, making them a go-to choice for the modern man.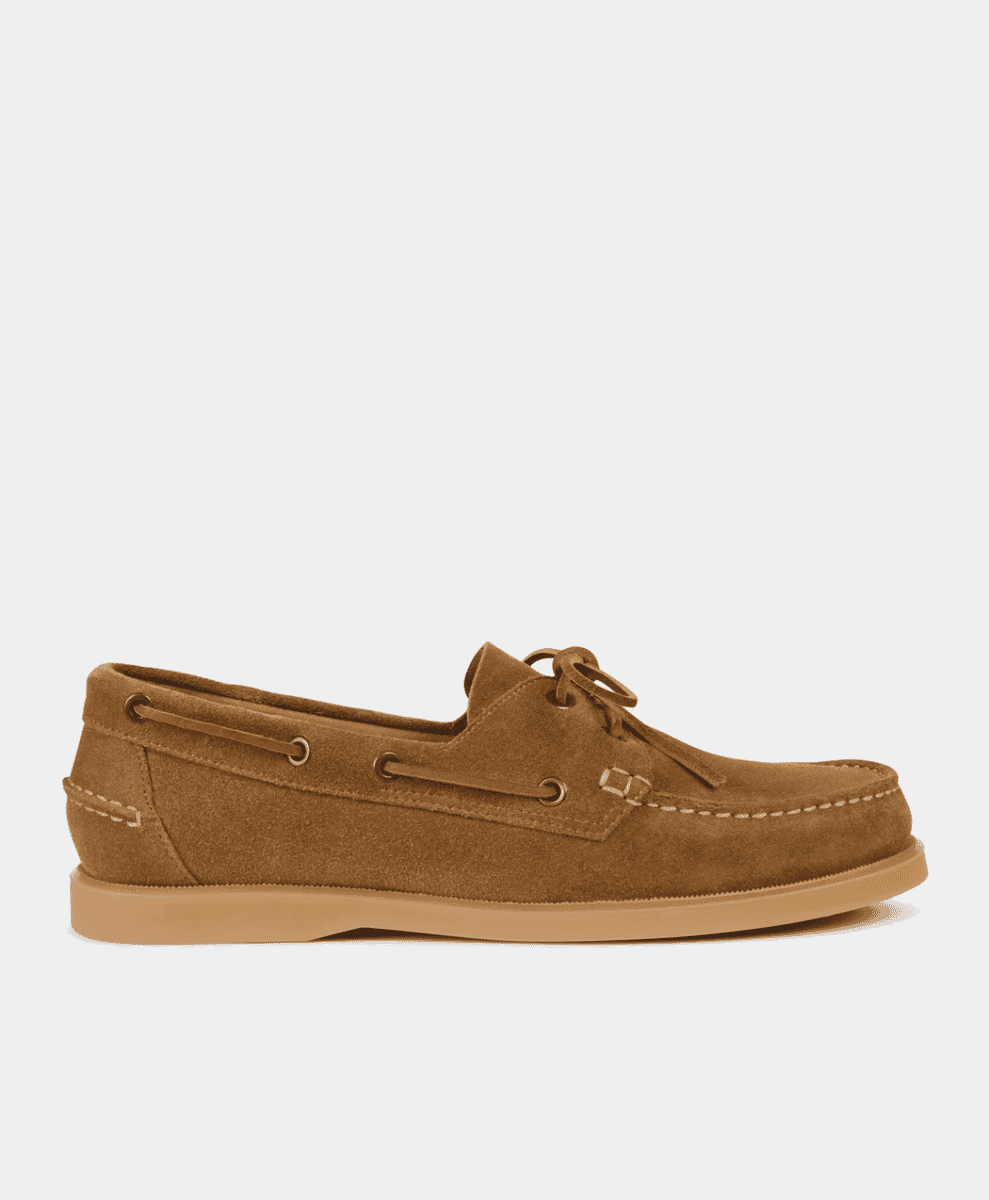 Boat shoes
Boat shoes, originally designed for sailors, are characterized by their moccasin-style construction, non-marking rubber soles, and lacing system that wraps around the shoe. These features make boat shoes highly suitable for pairing with jeans in a loafers-inspired outfit for men. The rugged yet casual appearance of boat shoes complements the relaxed nature of denim, creating a stylish and comfortable look. The non-slip soles provide practicality for various settings, while the lace detailing adds a touch of nautical flair. Boat shoes with jeans offer a seamless blend of classic and contemporary styles, making them a versatile choice for the modern wardrobe.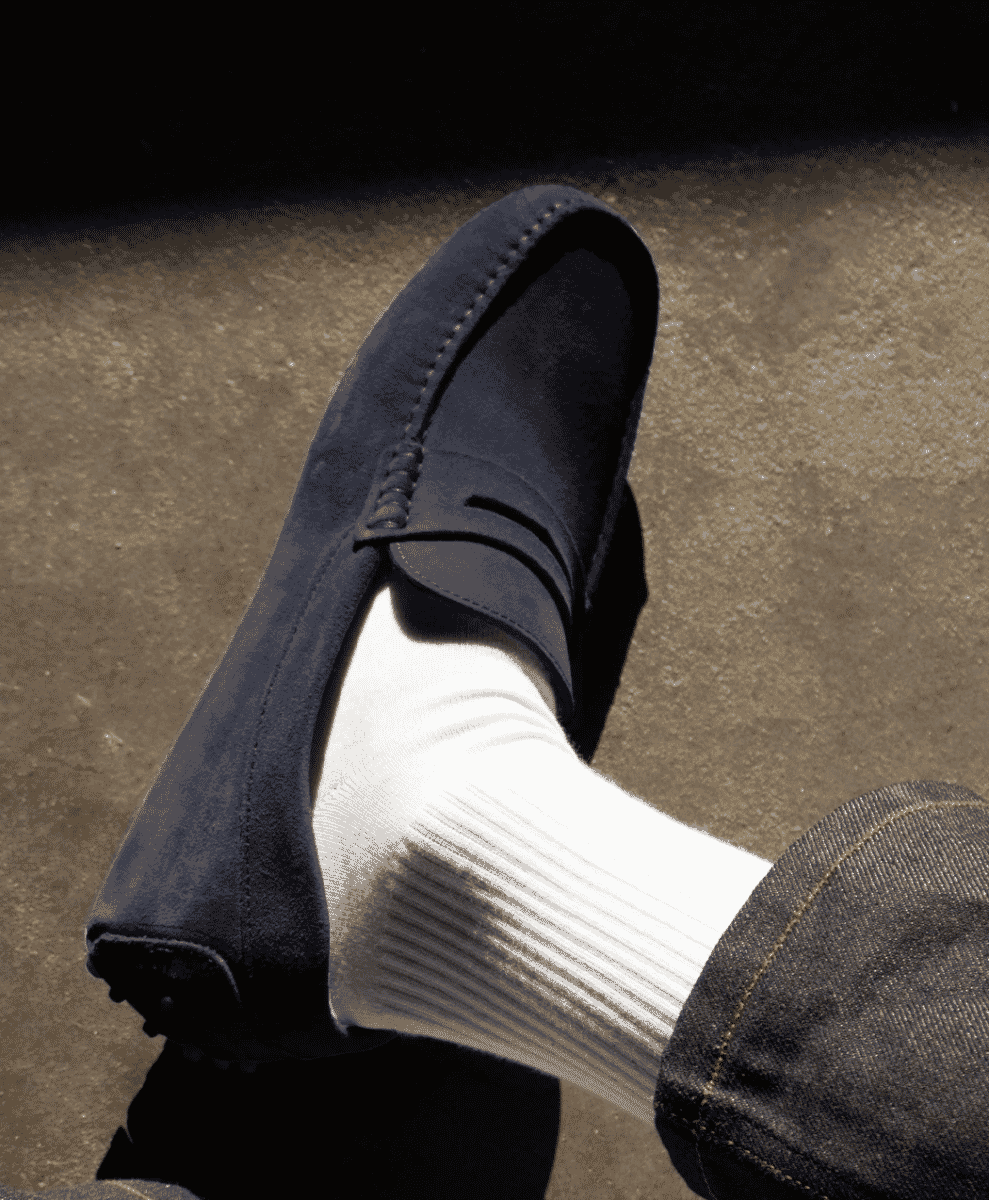 Driving shoes
Driving shoes, also known as driving moccasins, are a distinct style of footwear appreciated for their soft, flexible construction, rubber pebble-studded sole, and minimalistic design. These shoes were initially created for driving, with the sole's nubs offering excellent pedal grip. When pairing them with jeans for a men's outfit, opt for slim or tapered jeans that highlight the shoes' clean lines and comfortable fit. Driving shoes complement the casual nature of denim, making them an excellent choice for a relaxed and stylish appearance during various occasions, especially for weekend outings and everyday wear.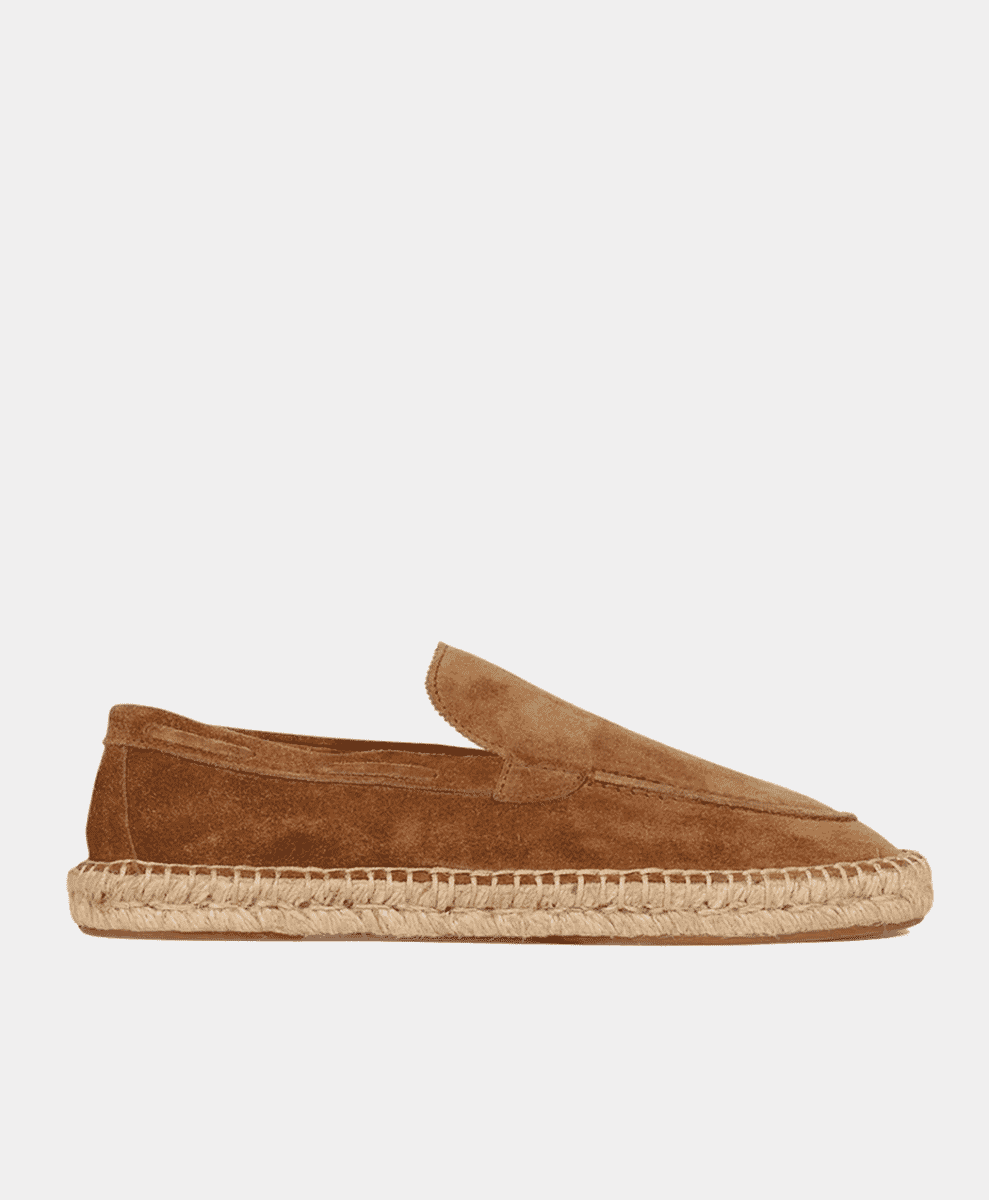 Espadrilles
Espadrilles are lightweight, casual shoes characterized by their woven jute or rope soles and typically canvas or fabric uppers. They exude a laid-back, summery vibe, making them a versatile choice for warm-weather ensembles. To style espadrilles with jeans for men, opt for slim or tapered jeans that provide a clean, tailored look. Roll or cuff the jeans slightly to showcase the espadrilles' charm. Choose a neutral or complementary color for the espadrilles, allowing them to add a subtle pop to your outfit. This pairing effortlessly combines comfort and style, making it perfect for casual outings, beach days, or relaxed urban adventures.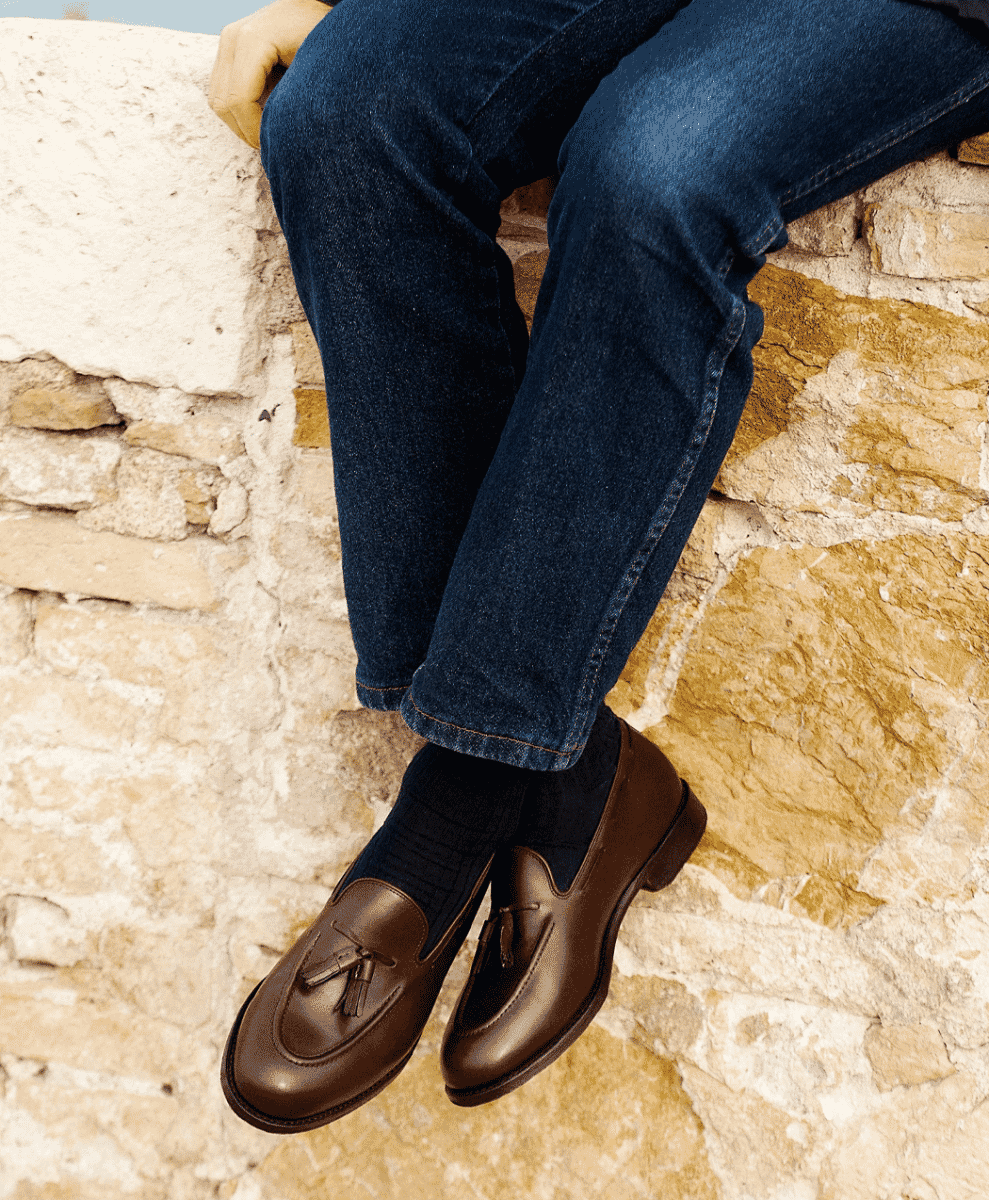 Tassel loafers
Tassel loafers are a classic men's shoe style characterized by their slip-on design and decorative tassels that adorn the front. These sophisticated shoes offer a touch of refinement while maintaining a relaxed appeal. When styling tassel loafers with jeans, opt for slim or straight-leg jeans in a dark wash for a polished yet casual look. The clean lines of the loafers contrast beautifully with the denim. Pair them with a well-fitted button-down shirt or a casual blazer for a balanced ensemble. Tassel loafers and jeans strike the perfect balance between comfort and elegance, making them an ideal choice for a variety of occasions, from semi-casual gatherings to relaxed evenings out.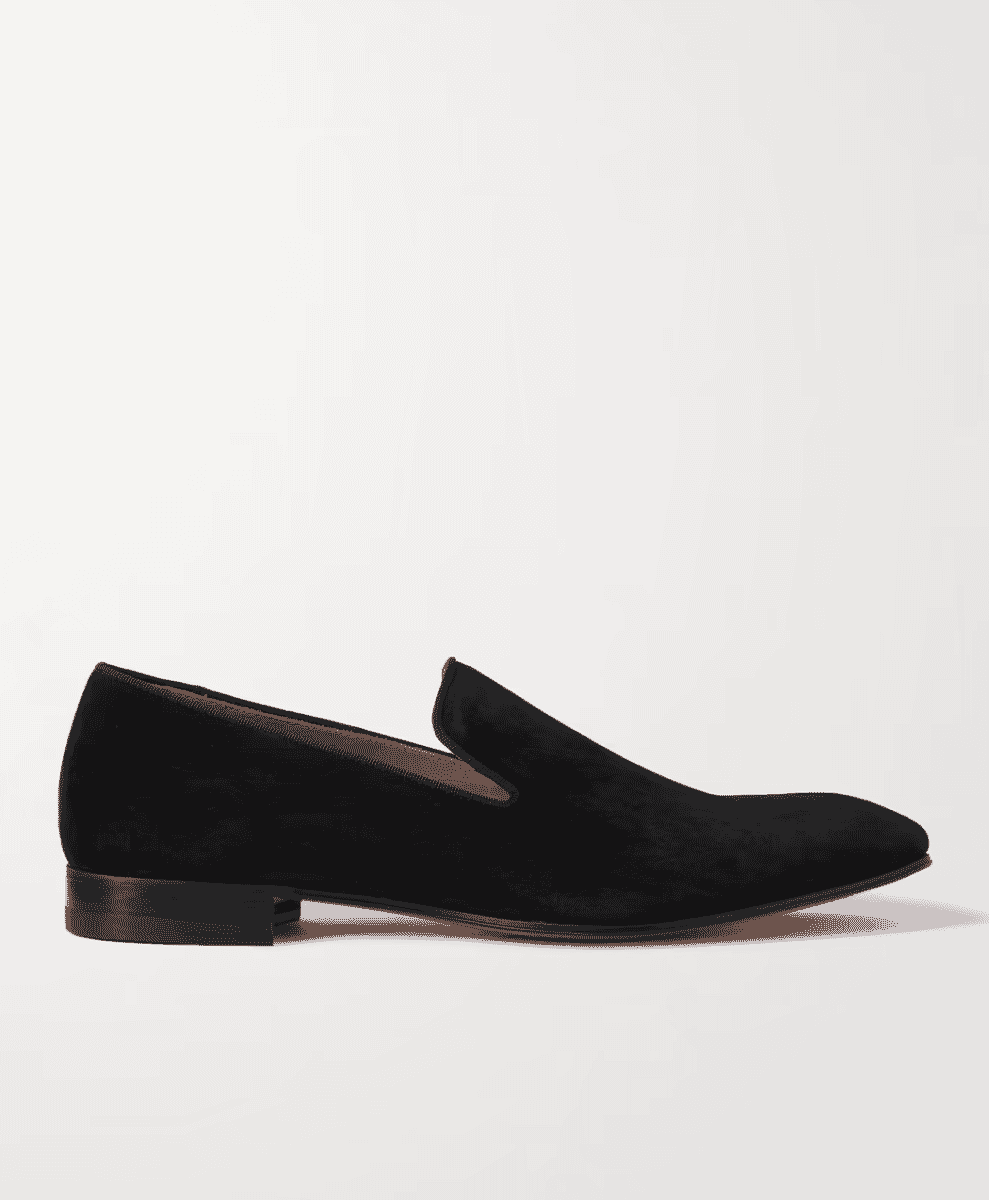 Velvet loafers
Velvet loafers are a luxurious men's footwear option known for their opulent, soft-textured uppers made from velvet fabric. These elegant shoes exude sophistication and offer a unique twist on the traditional loafer design. Styling velvet loafers with jeans can create a striking contrast between casual and opulent elements. Opt for well-fitted, dark wash jeans to provide a sleek backdrop for the plush velvet. Pair them with a crisp dress shirt or a lightweight sweater for a balanced look. Velvet loafers and jeans are an excellent choice for semi-formal occasions or events where you want to make a memorable, stylish statement with a touch of extravagance.
Horsebit loafers
Horsebit loafers are a distinguished style of men's footwear, recognized by their classic silhouette and a decorative metal horsebit ornament across the front vamp. Originating from Gucci, these shoes exude timeless charm and a touch of equestrian elegance. When pairing horsebit loafers with jeans, select a slim or tapered jean style to achieve a balanced look. Dark wash jeans offer a refined backdrop for the sleek, polished appearance of the loafers. Pair them with a fitted button-down shirt and a leather belt that complements the metal hardware for a sophisticated ensemble suitable for casual evenings out or semi-formal gatherings.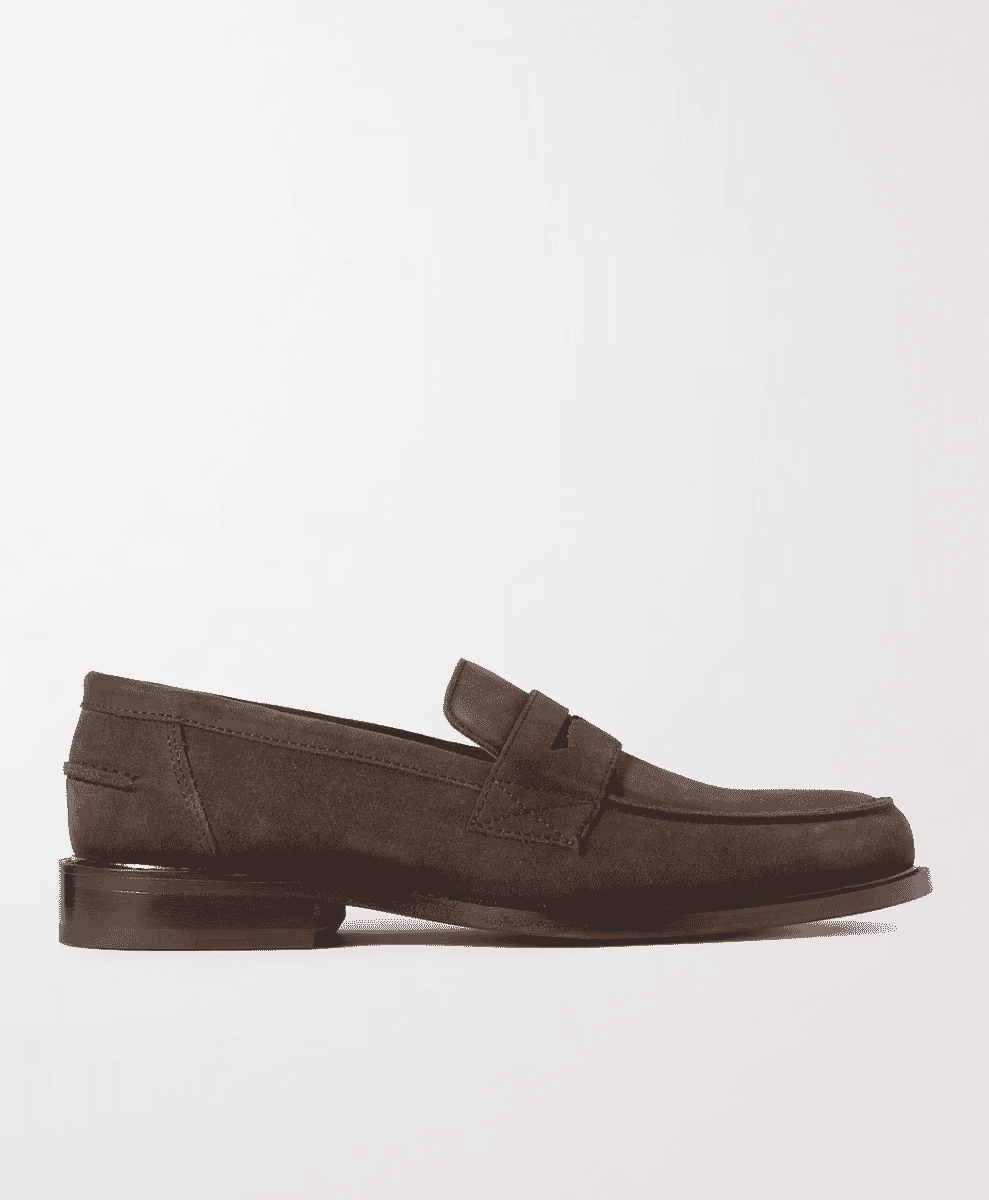 Suede
Suede loafers are a stylish footwear option for men, featuring uppers made from soft and textured suede material. These loafers offer a more relaxed and tactile alternative to their leather counterparts. Styling suede loafers with jeans creates a refined yet laid-back look. Choose well-fitted, slim or straight-leg jeans in a complementary color to the loafers. The soft texture of suede complements the rugged charm of denim, striking a harmonious balance. Pair them with a crisp white shirt or a lightweight sweater for a smart-casual ensemble that works for various occasions, from casual gatherings to weekend outings, adding a touch of tactile sophistication to your attire.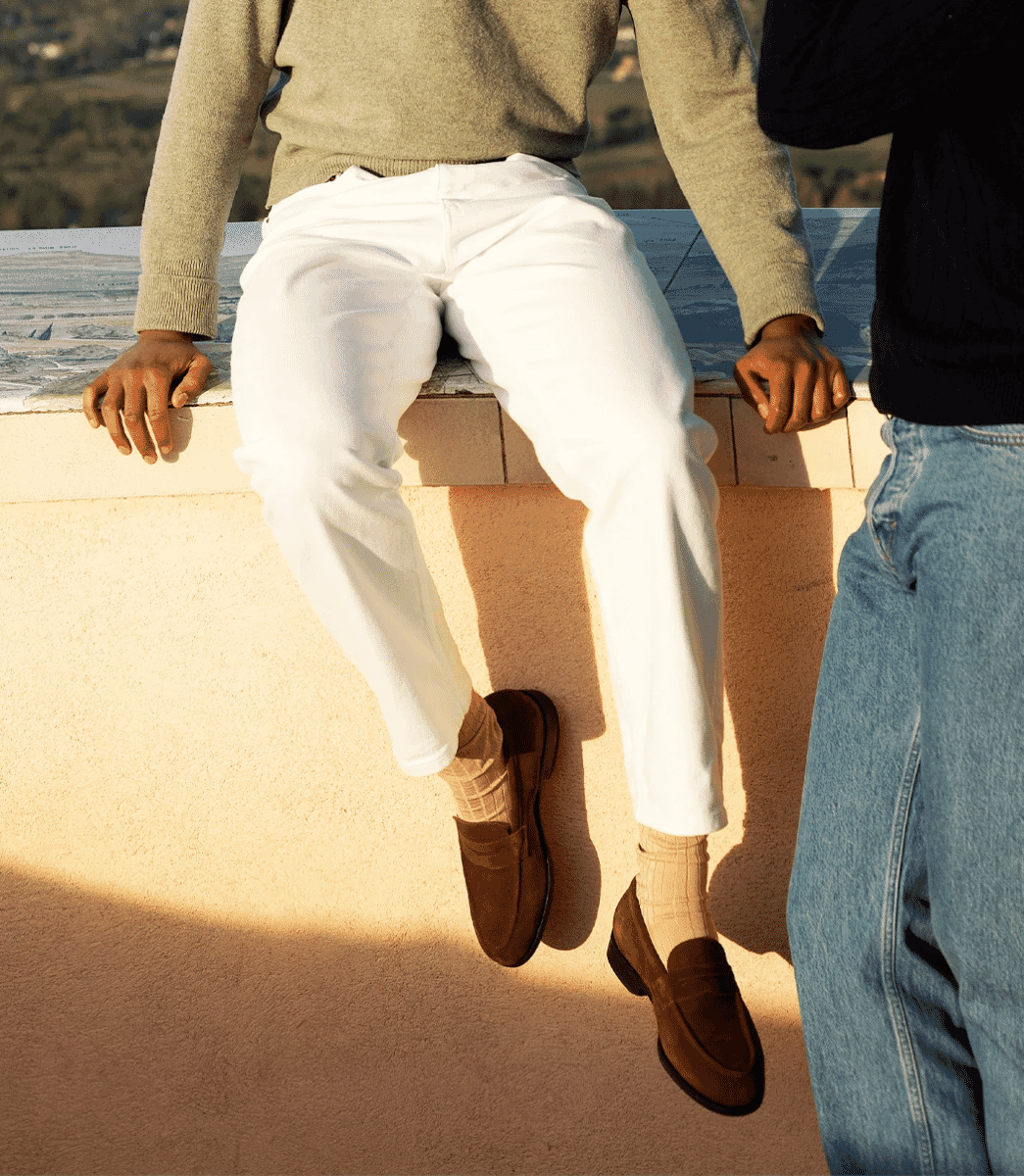 Loafers with jeans: 5 outfit ideas for men
Weekend warrior
Combine slim-fit, medium wash jeans with classic brown leather loafers. Pair these with a navy crew-neck sweater for a timeless, relaxed look. The simplicity of this outfit allows the loafers to take center stage, showcasing their refined design. This ensemble is perfect for a weekend brunch, effortlessly blending comfort and style while maintaining a casually sophisticated appeal.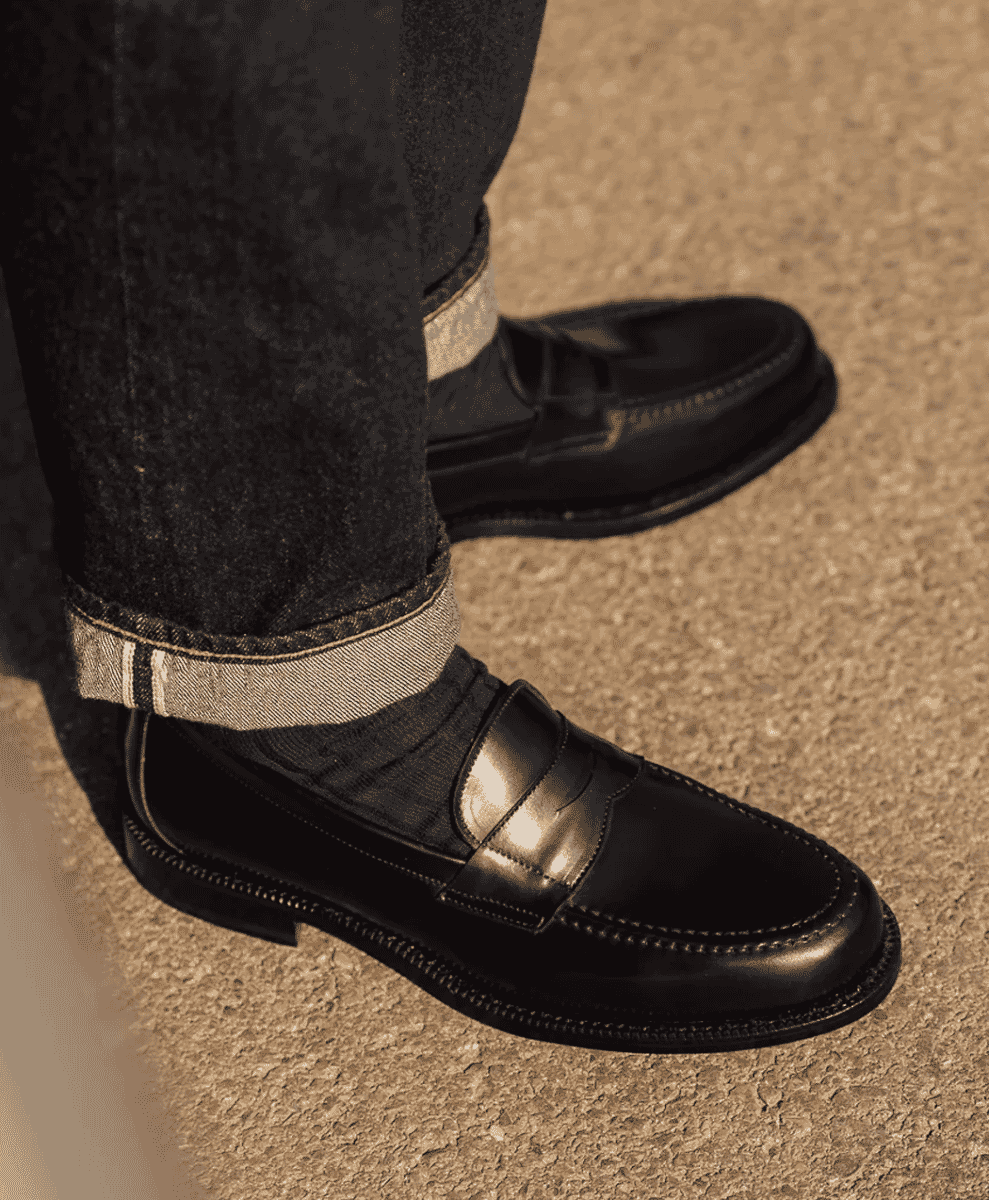 Office ready
Elevate your office attire by pairing impeccably tailored dark wash jeans with sleek leather loafers. These classic penny or tassel loafers exude a professional yet comfortable charm. Complement the ensemble with a well-fitted dress shirt, a silk tie, and a tailored blazer. The dark denim provides a refined foundation, while the loafers add a touch of sophistication. This ensemble strikes the ideal balance between smart and relaxed, making it suitable for business-casual workplaces or important meetings. Not only will you feel comfortable throughout the day, but you'll also exude confidence and style, setting a standard for professional refinement in the office.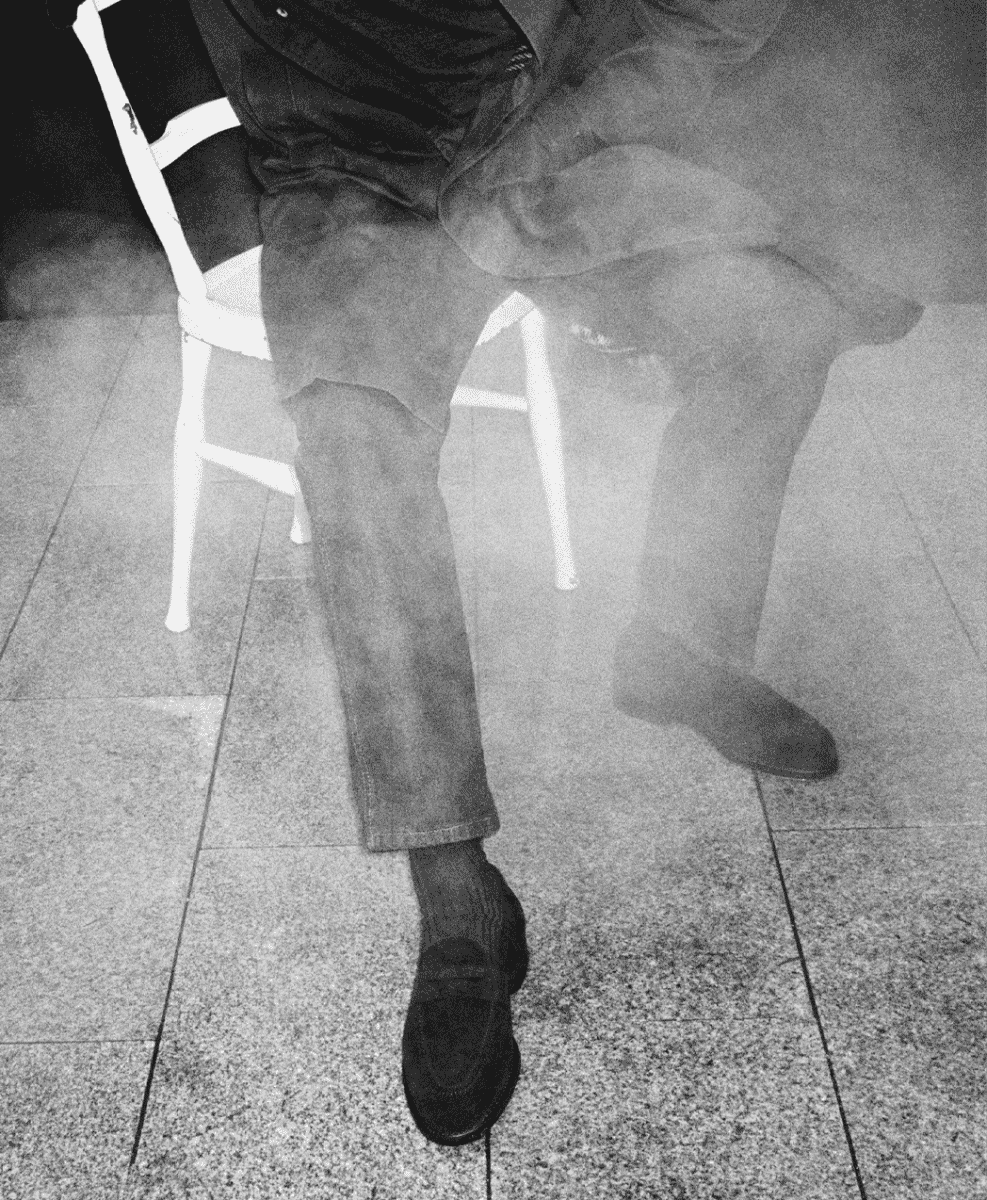 Night out
For a night out with friends or a special evening, create a stylish, yet comfortable ensemble by combining slim-fit, dark wash jeans with suede or leather loafers. Opt for loafers with subtle details like tassels or a sleek buckle for added character. Pair them with a well-fitted button-down shirt or a tailored sweater, depending on the formality of the occasion. Accessorize with a statement watch or a leather belt to complete the look. This combination allows you to effortlessly transition from dinner to a night on the town, exuding confidence and an air of relaxed sophistication, making you the epitome of effortless cool on your night out.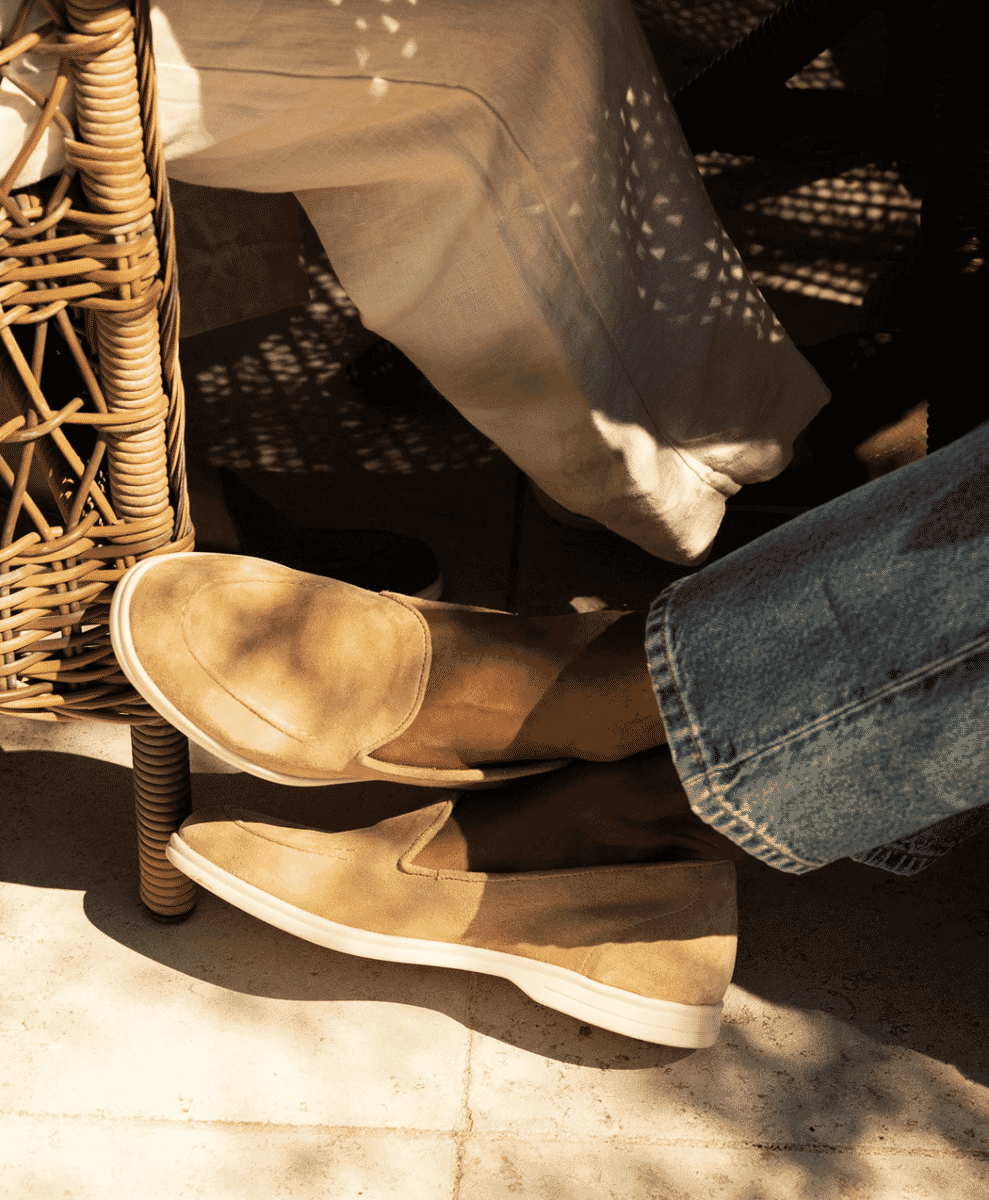 Coastal gentlemen
Capture the essence of coastal charm with a sophisticated yet relaxed outfit. Start with light wash jeans, embodying the laid-back coastal vibe, and pair them with classic boat shoes. The boat shoes' nautical flair perfectly complements the denim's casual appeal. Opt for a lightweight, breathable linen shirt in a pastel hue to complete the ensemble, evoking the soothing coastal ambiance. Add some vintage-inspired sunglasses and a woven belt for subtle accents. This coastal gentlemen's outfit effortlessly merges comfort with style, making it ideal for seaside getaways, waterfront strolls, or simply embracing the tranquility of coastal living while maintaining a refined look.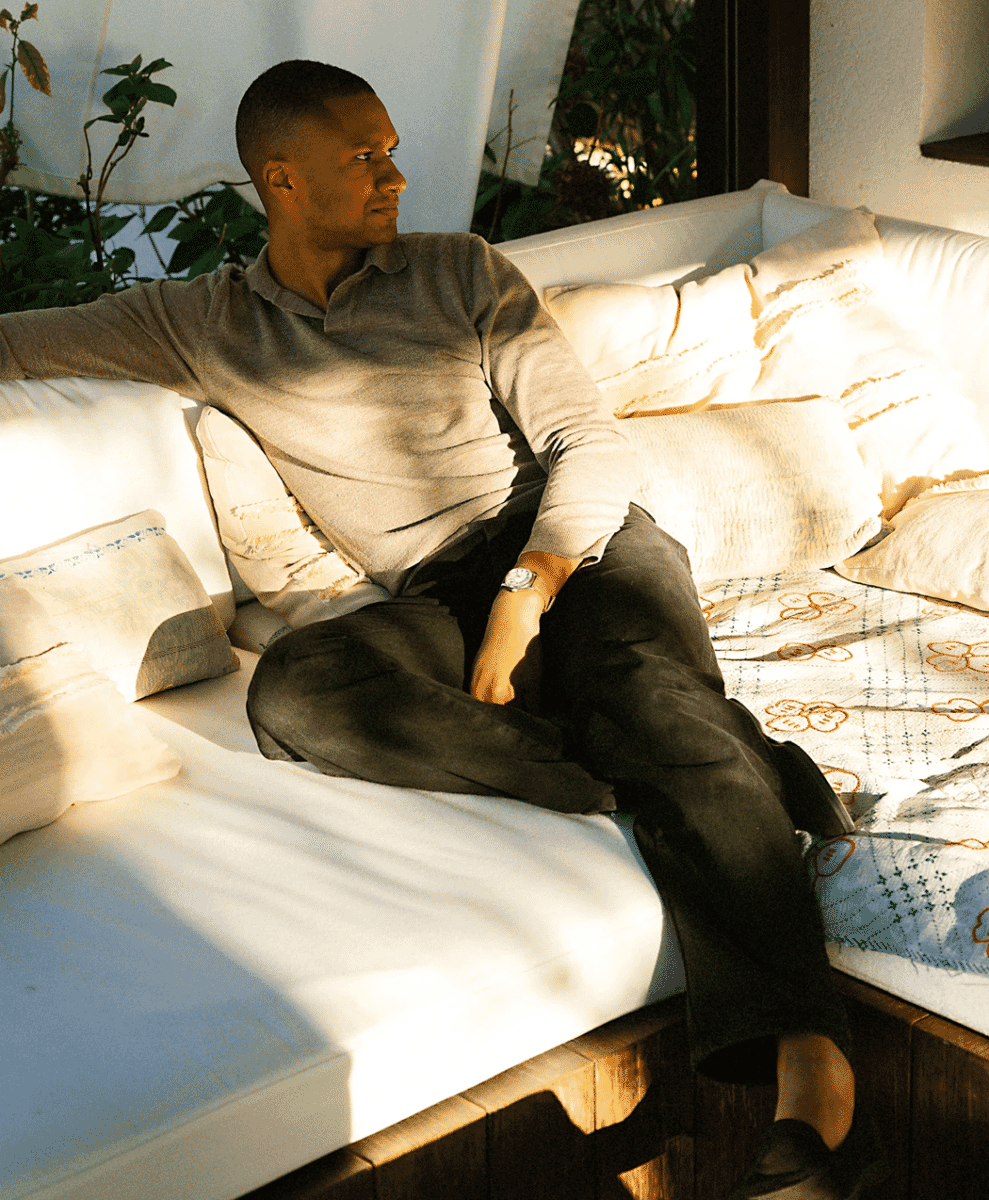 Laid-back lounging
Achieve laid-back lounging perfection with a relaxed outfit featuring jeans and comfortable loafers. Start with well-worn, medium wash jeans that provide an easygoing aesthetic. Pair them with suede or canvas loafers, emphasizing comfort without sacrificing style. A loose-fitting, soft cotton T-shirt and a lightweight cardigan add to the comfort quotient while keeping you cozy. Accessorize with a simple leather belt and a casual wristwatch. This ensemble is perfect for a lazy weekend at home, a coffee shop hangout, or a leisurely stroll through the park. The combination of jeans and loafers offers a blend of effortless cool and relaxation, allowing you to unwind in style.
Now that you've nailed the loafers with jeans combination, check out how to wear Chelsea boots with jeans.
---
---