In the world of men's fashion, there exists a sartorial gem that effortlessly combines the classic with the contemporary—a style pairing that speaks volumes about versatility, comfort, and impeccable taste. We're talking about none other than the dynamic blazer with hoodie duo. Picture this: the crisp lines and refined tailoring of a well-fitted blazer seamlessly melding with the laid-back, snug comfort of your favorite hoodie. It's a fusion that embodies both sophistication and street-smart flair, creating a look that is both timeless and undeniably fresh.
In this guide, we're delving deep into the art of mastering the chic blazer with hoodie combination. It's not merely about throwing a hoodie under a blazer; it's about understanding the nuances of style, the play of textures, and the harmony of elements that make this pairing the epitome of casual sophistication. Join us on a journey where we unlock the secrets to perfecting the blazer with hoodie ensemble—a look that effortlessly transitions from the boardroom to the bar, from a Sunday brunch to a gallery opening.
We'll explore a multitude of options, from the classic navy blazer and grey hoodie combination that exudes timeless elegance, to more audacious pairings that embrace bold patterns, rich colors, and unexpected contrasts. Discover how to balance the structured formality of the blazer with the relaxed appeal of the hoodie, creating an ensemble that's polished yet approachable, sleek yet comfortable.
But this guide isn't just about assembling the right pieces; it's also about the finer details. We'll dive into the art of accessorizing—choosing the perfect tie, pocket square, or statement watch to elevate your look. We'll provide tips on fit, color coordination, and how to adapt this style to various occasions, whether you're heading to a business meeting, a romantic dinner, or a weekend getaway.
So, gents, get ready to redefine your fashion game as we unravel the secrets of mastering the blazer with hoodie combination. Whether you're a seasoned style enthusiast or someone looking to experiment with their wardrobe, this guide is your roadmap to turning heads and making a statement with a look that effortlessly marries tradition and modernity. It's time to step out with confidence, comfort, and impeccable style. Welcome to the world of blazer with hoodie synergy—the ultimate expression of contemporary menswear finesse.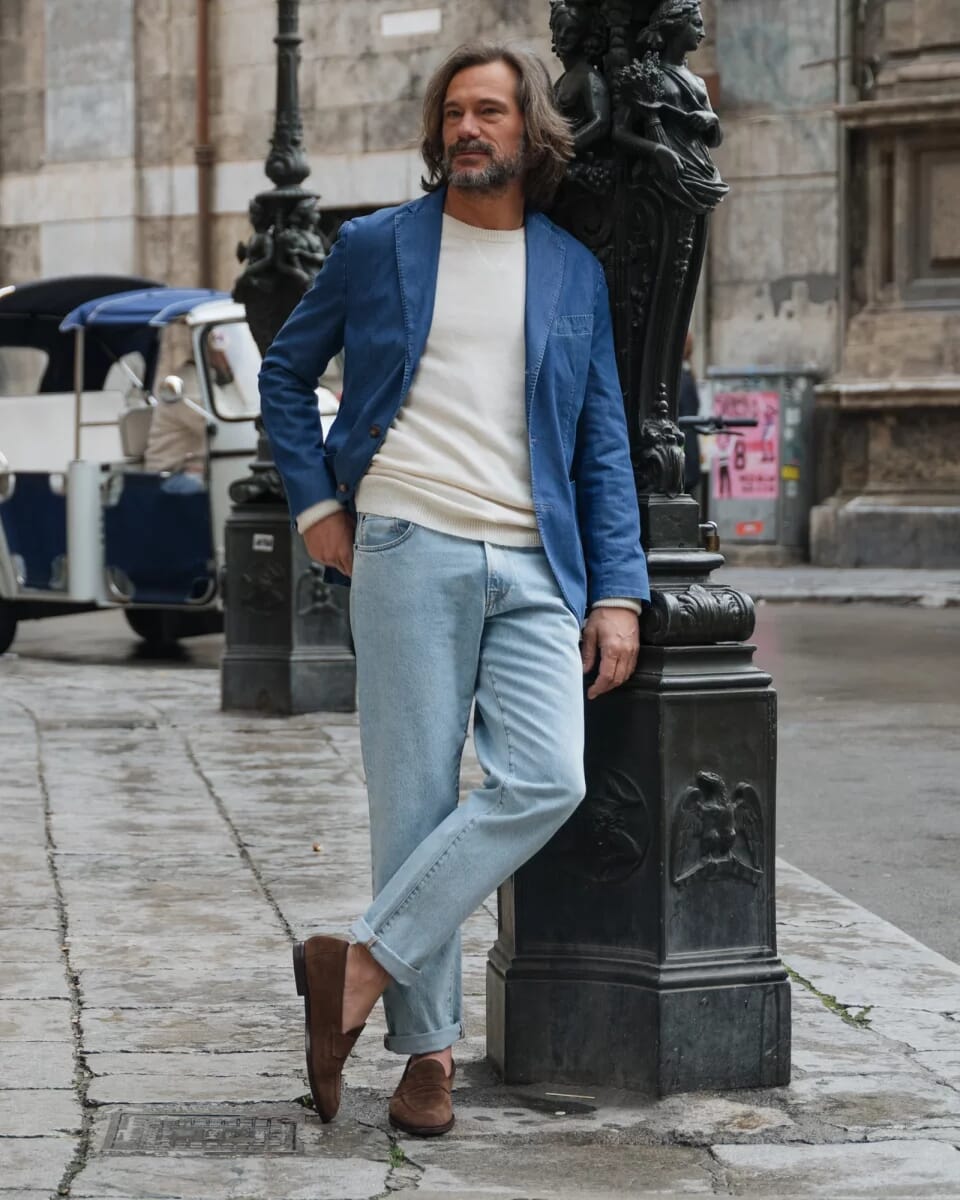 When, where and why should you wear the blazer with hoodie ensemble?
This combination is a versatile and stylish choice for men across a spectrum of occasions. For casual settings like a laid-back evening out with friends or a weekend brunch, this pairing offers a smart-casual aesthetic that effortlessly blends comfort with sophistication. You can sport this look to stand out at art galleries, trendy cafes, or even a casual date night. Moreover, the blazer with a hoodie is an ideal choice for those transitional seasons when you want to layer up without compromising on style. Whether you're heading to the office on a relaxed dress code day, attending a business-casual event, or simply elevating your everyday attire, the blazer with hoodie combination strikes the perfect balance. It allows you to express your individuality while exuding an air of refined yet relaxed elegance that's suitable for a multitude of settings.
Styling tips for an effortless blazer with hoodie ensemble
Elevating your fashion game with a blazer with hoodie ensemble is all about achieving that perfect balance between casual comfort and sartorial sophistication. To help you effortlessly pull off this stylish combination, we've curated a list of essential styling tips that will have you looking sharp and feeling at ease in any setting. Whether you're gearing up for a casual day out or a semi-formal occasion, these tips will ensure you master the art of blending two wardrobe staples seamlessly.
Choose the Right Blazer: Opt for a well-fitted blazer in a versatile color like navy, charcoal, or dark grey. It should be tailored to your body shape to maintain a polished appearance.
Hoodie Selection: Select a hoodie that complements the blazer in terms of color and style. Neutral hues like grey, black, or navy are safe choices, but don't be afraid to experiment with subtle patterns or textures.
Fabric Harmony: Pay attention to fabric consistency. A blazer in lightweight wool or cotton pairs well with a mid-weight hoodie. Ensure the hoodie isn't too bulky to maintain a streamlined silhouette.
Tailored Fit: Ensure your hoodie fits well and isn't too baggy. A slim or tailored fit hoodie works best to maintain a clean, modern look.
Layer Wisely: Layer the hoodie underneath the blazer. Allow the hoodie's hood and drawstrings to subtly peek out from beneath the blazer collar.
Button and Zippers: If your blazer has multiple buttons, leave a few undone to create a relaxed, open look. Similarly, you can zip or unbutton your hoodie partially to add dimension.
Accessorize Thoughtfully: Elevate the look with accessories. A pocket square or a minimalist tie can bring a touch of elegance. Don't forget a stylish belt and leather sneakers or loafers to complete the ensemble.
Pants Choice: Opt for slim-fitting trousers or chinos. Avoid jeans that are too distressed or casual to maintain the balance between formal and relaxed.
Colour Coordination: Ensure a harmonious color palette between your blazer, hoodie, and pants. Neutral tones work well, but subtle contrasts can add depth and interest.
Footwear Matters: Choose shoes that match the formality of the occasion. Classic leather brogues or derby shoes are excellent for a semi-formal setting, while clean white sneakers or loafers are great for a more casual look.
Layer with Outerwear: On colder days, you can add an overcoat or trench coat to keep warm while retaining the stylish layered effect of the blazer with a hoodie.
Grooming: Pay attention to your grooming. A well-kept haircut and clean-shaven or neatly trimmed beard can elevate the overall look.
Confidence is Key: Lastly, wear your ensemble with confidence. The blazer with a hoodie is all about blending style and comfort, so feel at ease and let your personality shine through.
Remember that these tips provide a foundation, but fashion is also about self-expression. Feel free to experiment, adapt, and tailor these guidelines to your unique style and preferences.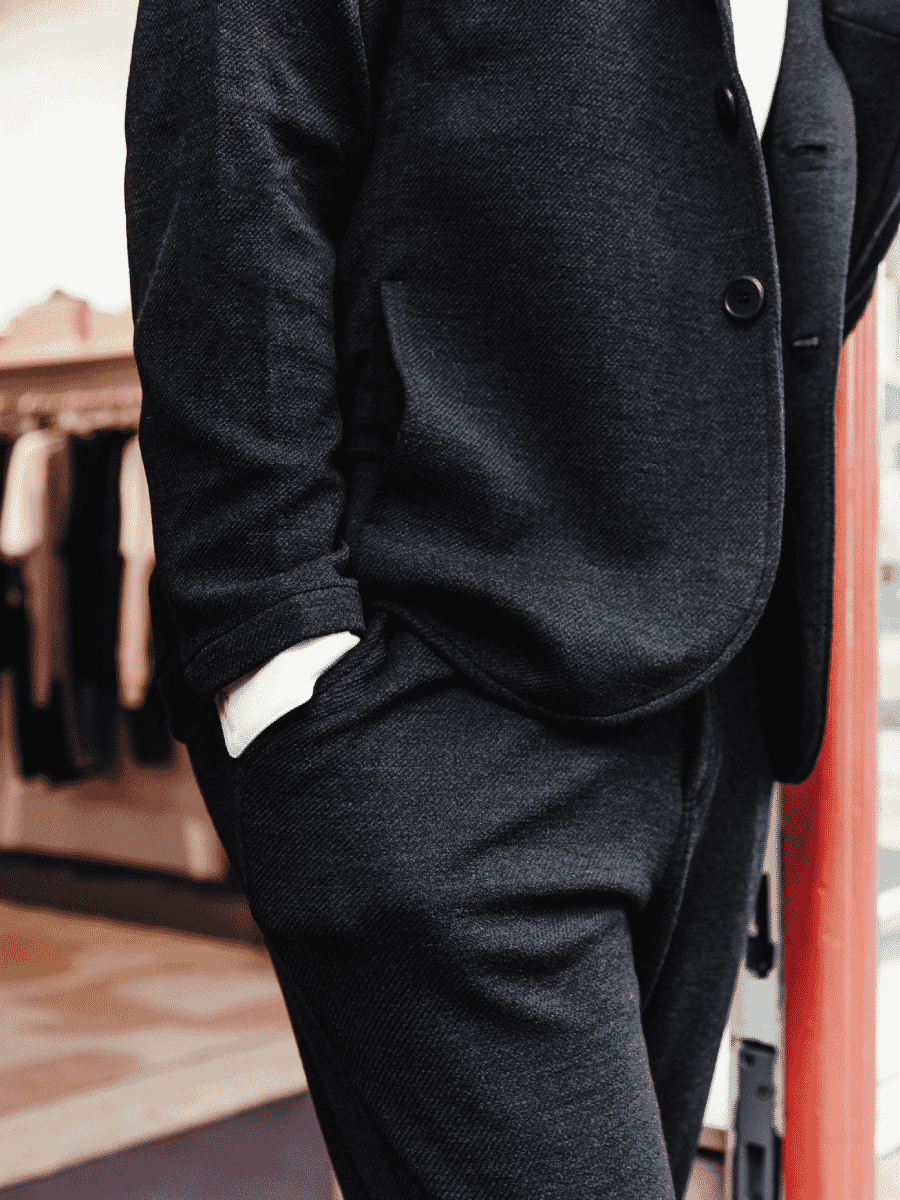 Best blazer with hoodie ensembles for men
Classic Monochrome Elegance
Combine a charcoal grey blazer with a black hoodie for an effortlessly sleek look. Pair them with slim-fitting black trousers and polished leather Chelsea boots. This ensemble oozes urban sophistication, making it perfect for a night out in the city or a semi-formal event. The contrast between the dark blazer and the black hoodie adds depth to the outfit, while the boots provide a touch of rugged refinement. Accessorize with a sleek leather belt and a minimalist wristwatch to complete the monochromatic masterpiece.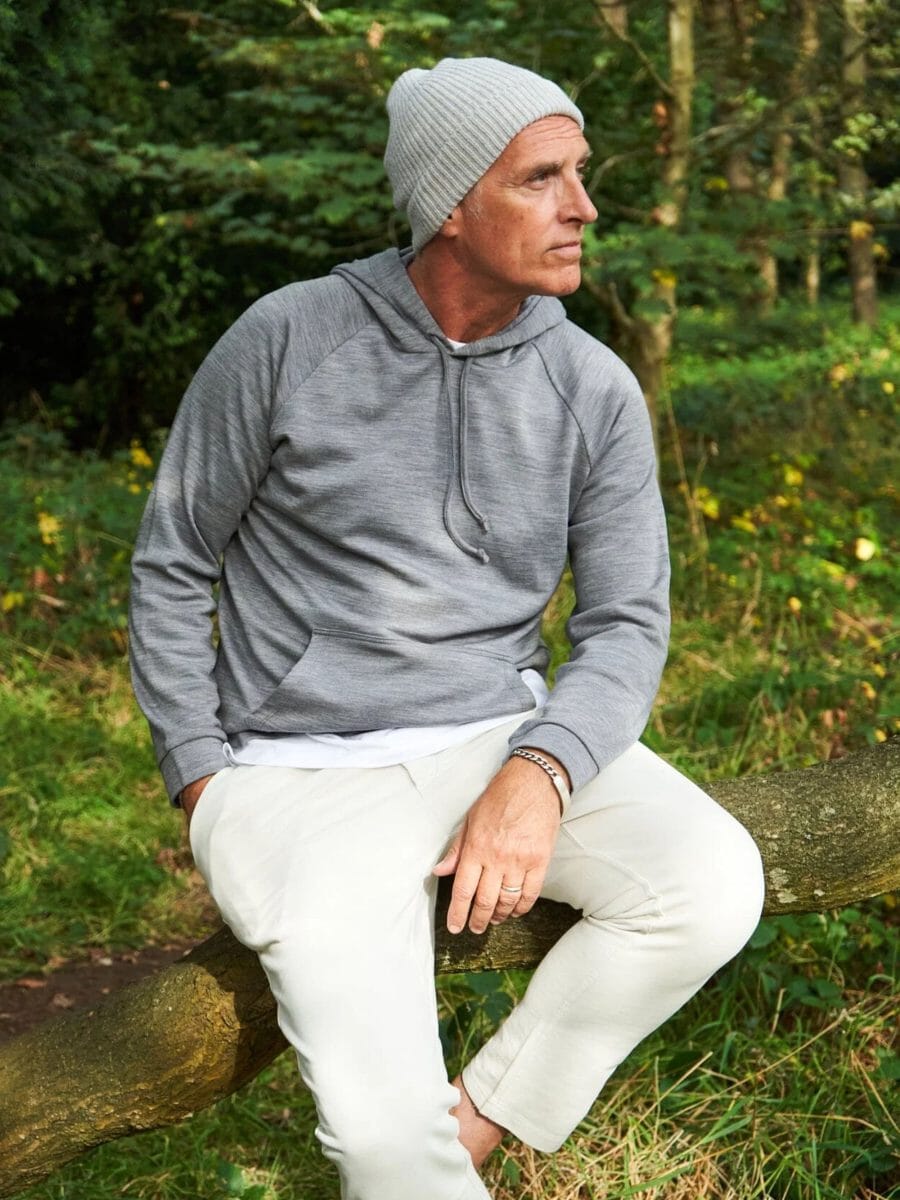 Refined Casual Friday
Elevate your casual Friday office attire with a navy blazer worn over a light grey hoodie. Team this combination with well-fitted dark jeans and brown leather loafers. This outfit effortlessly strikes the balance between professional and relaxed. The blazer adds a touch of formality, while the hoodie maintains a comfortable vibe. Finish the look with a brown leather belt and a silk pocket square for a polished appearance. It's a versatile ensemble that transitions seamlessly from the office to post-work drinks.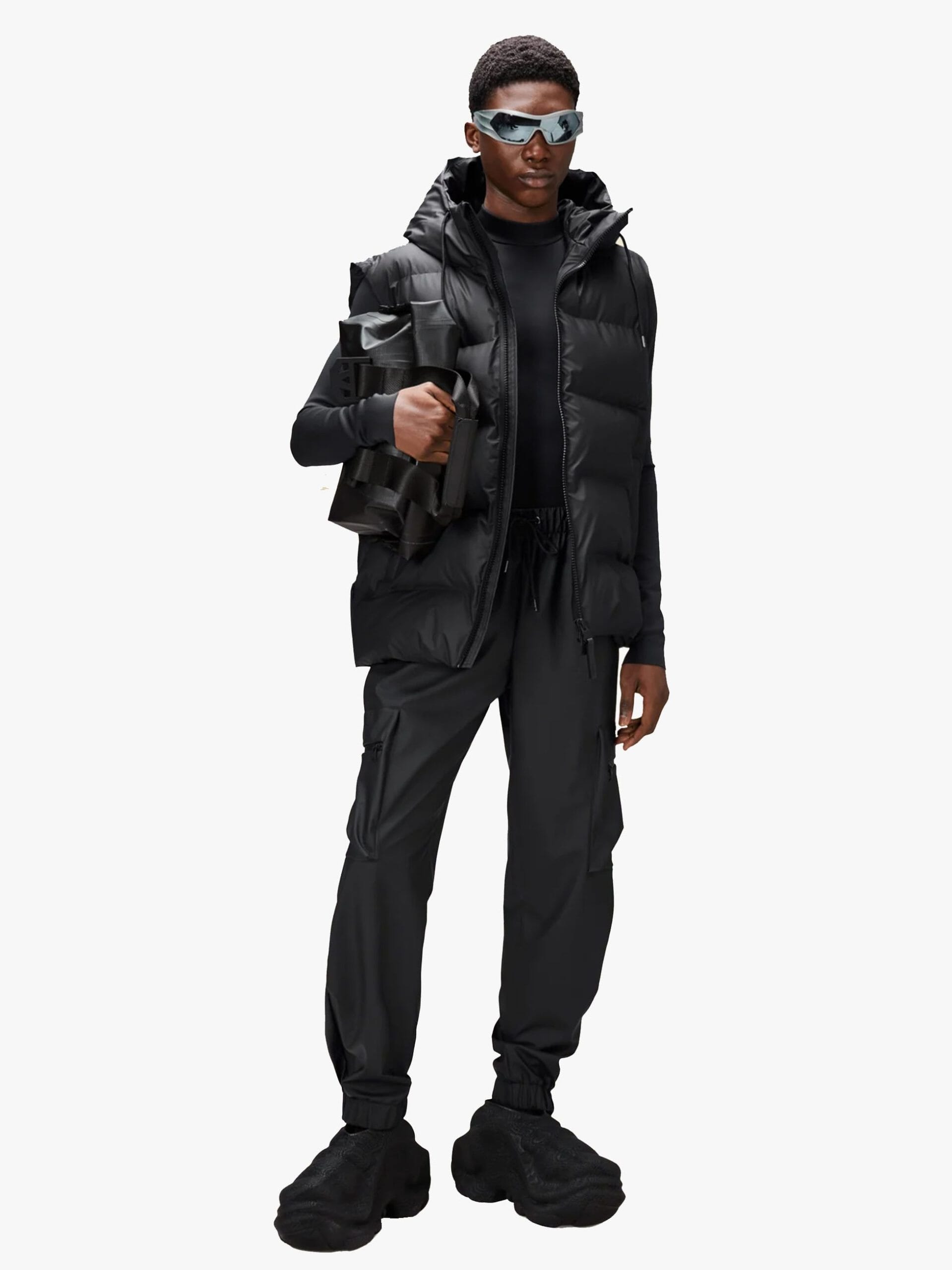 Weekend Explorer
For a weekend adventure, opt for a khaki blazer layered over a forest green hoodie. Pair them with slim cargo pants in a matching shade and rugged hiking boots. This outfit marries style and functionality, making it perfect for outdoor activities or a countryside getaway. The blazer offers a touch of refinement, while the hoodie keeps you cozy. Don't forget to accessorize with a canvas belt and a practical backpack to carry your essentials.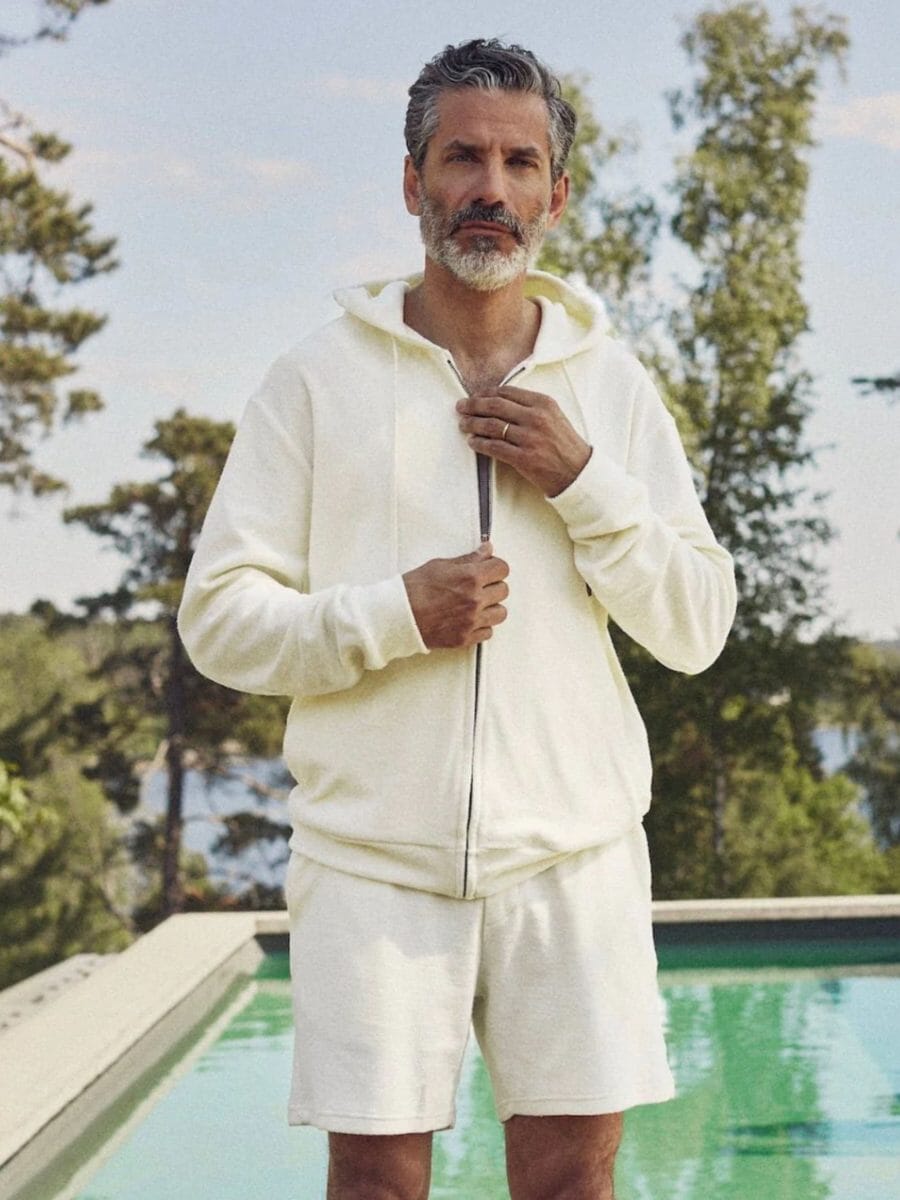 Art Gallery Chic
Visit an art gallery in style by donning a light beige blazer with a white hoodie. Match these with slim beige chinos and minimalist white sneakers. This outfit exudes a relaxed yet cultured charm, ideal for appreciating art and culture. The blazer adds an air of sophistication, while the hoodie keeps you comfortable during your creative exploration. Accessorize with a woven belt and a simple pendant necklace to complete the artsy look.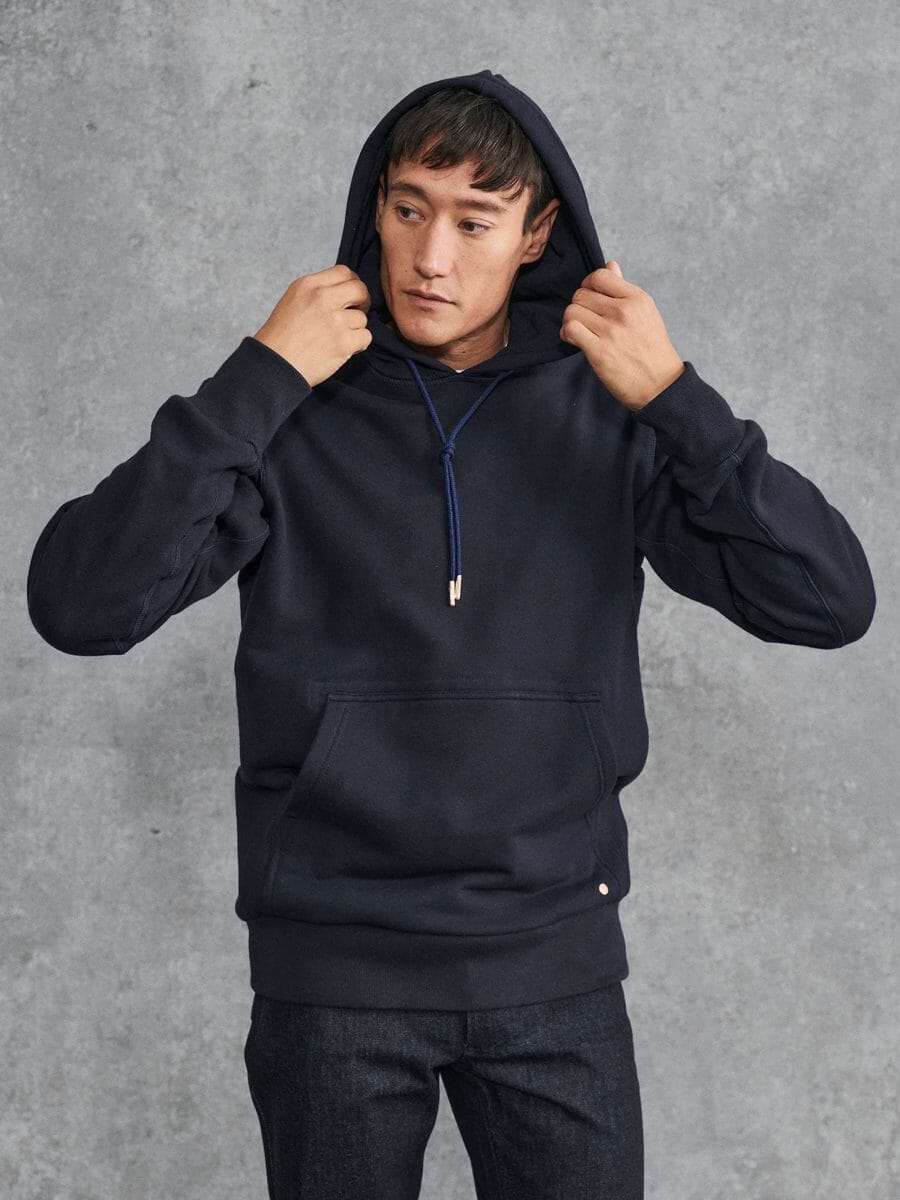 Date Night Dapper
Impress your date with a navy blazer layered over a navy hoodie. Combine them with tailored grey trousers and brown suede desert boots. This ensemble strikes a harmonious balance between casual and elegant, making it perfect for a romantic evening. The blazer adds a touch of formality, while the hoodie keeps the atmosphere relaxed. Enhance the outfit with a brown leather belt and a pocket square to create a memorable impression.
Now, find out how to perfect the Chelsea boots with jeans ensemble.
---
---