The dress code for work has changed. Tailored suits and classic Goodwear-welted leather Oxfords are out, relaxed fits and business casual shoes for men are in. It's no surprise. Offices have loosened up and work from home has revolutionised our approach to the job at hand. Glimpses of the old remain. Shirts have been untucked, collars transformed. Trousers are wider, relaxed. Shoes still make the most of the finest leather, but sneakers, albeit smart ones, have replaced more conservative footwear options.
All of this is fantastic news of course. More self-expression, comfier shoes and versatility. The temptation with this however is to slip into uninspiring comfort fits. Smart casual purgatory. The good news is you can set the tone with what you're wearing on your feet. From mules to leather sneakers via boots and loafers, here's our pick of the best business casual shoes for men.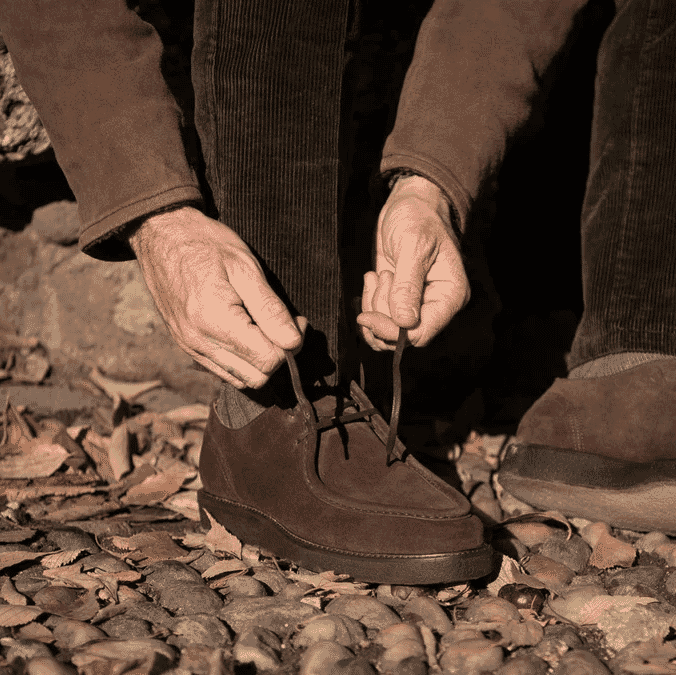 Business casual shoes for classic-minded men
Velasca
Come on Barbee, let's go to the office. Velasca's moccasin-inspired Barbee leather shoe is a great option for casual work environments, with a rich, chocolatey brown suede leather that compliments a baggy cord as easily as cuffed selvedge denim. Instead of a crepe sole, Velasca has blake-stitched a solid, robust rubber para sole ensuring longevity and stability. Toe stitching adds welcome detail to a luxury alternative to a Wallabee.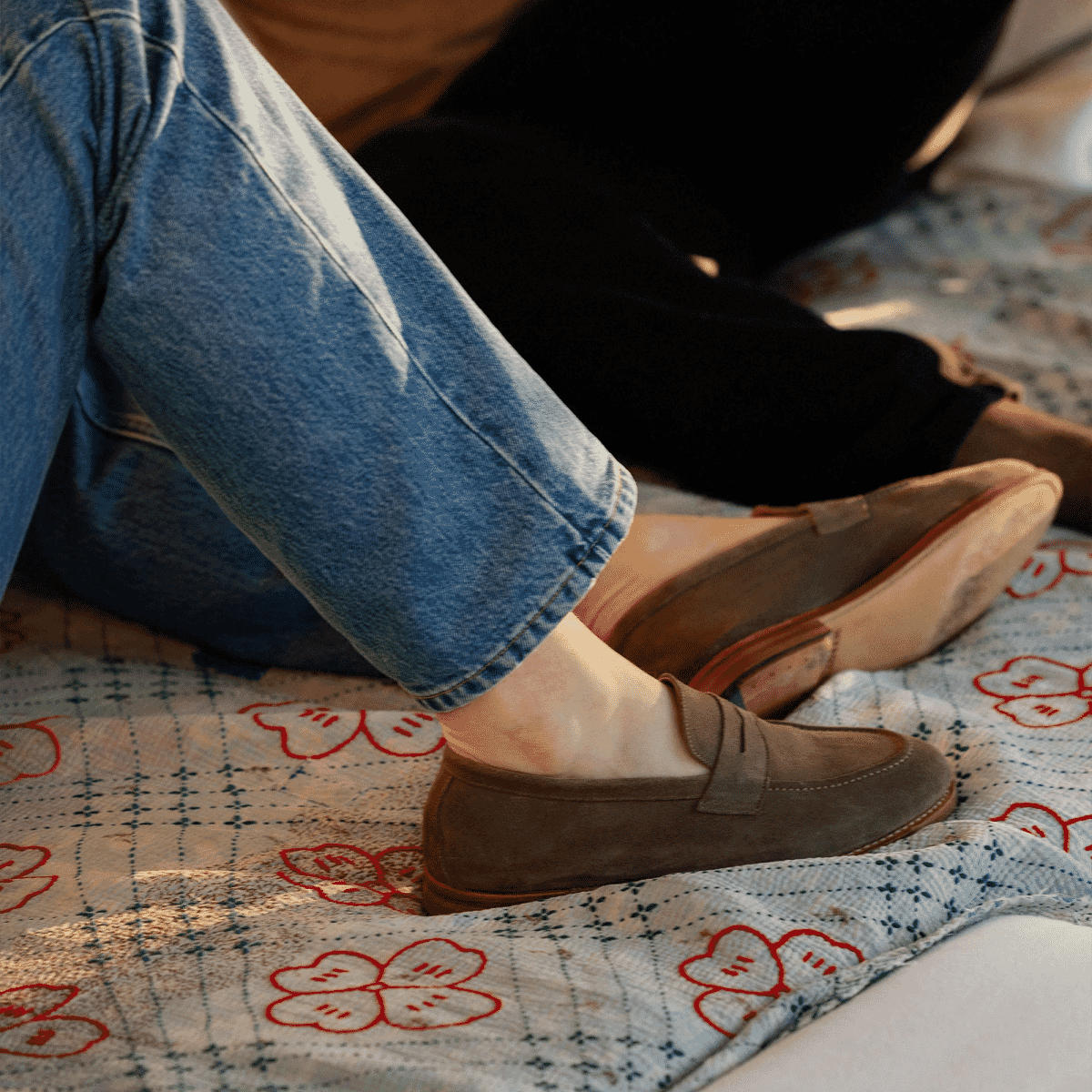 Myrqvist
Summer business casual looks for work? Consider punctuating your outfit with a loafer. Myrqvist's Lysekil loafer in green suede, an apron-fronted penny loafer built on a wider last, is just the ticket. Unlined and made without heel stiffeners for a truly comfortable fit, it's a great dressed down but still classic option for summer work days. Be sure to wear an invisible sock and use shoe trees to keep the shape.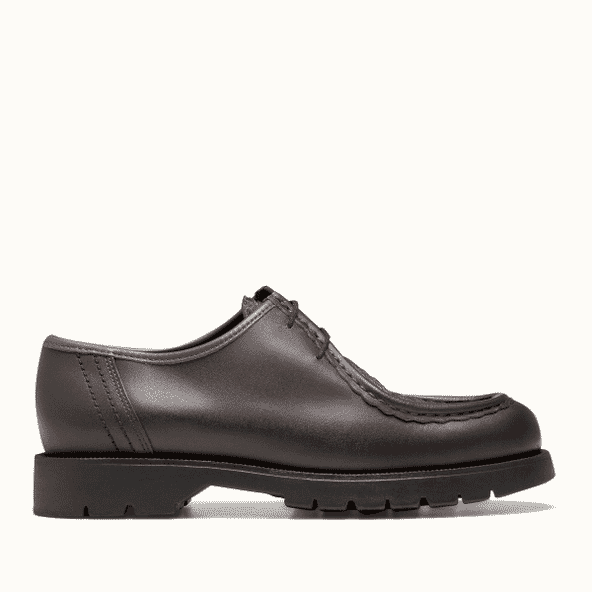 Kleman
For a chunky sole leather option, Kleman's classic Padrini gets the leather tongue detail treatment. Made in France, with Kleman's distinctly utilitarian workwear approach, these leather derby shoes combine a contrast brown black tongue with chunky rubber luggs on the black contrast sole. Another one for pairing smart denim or a pleated trouser around the office.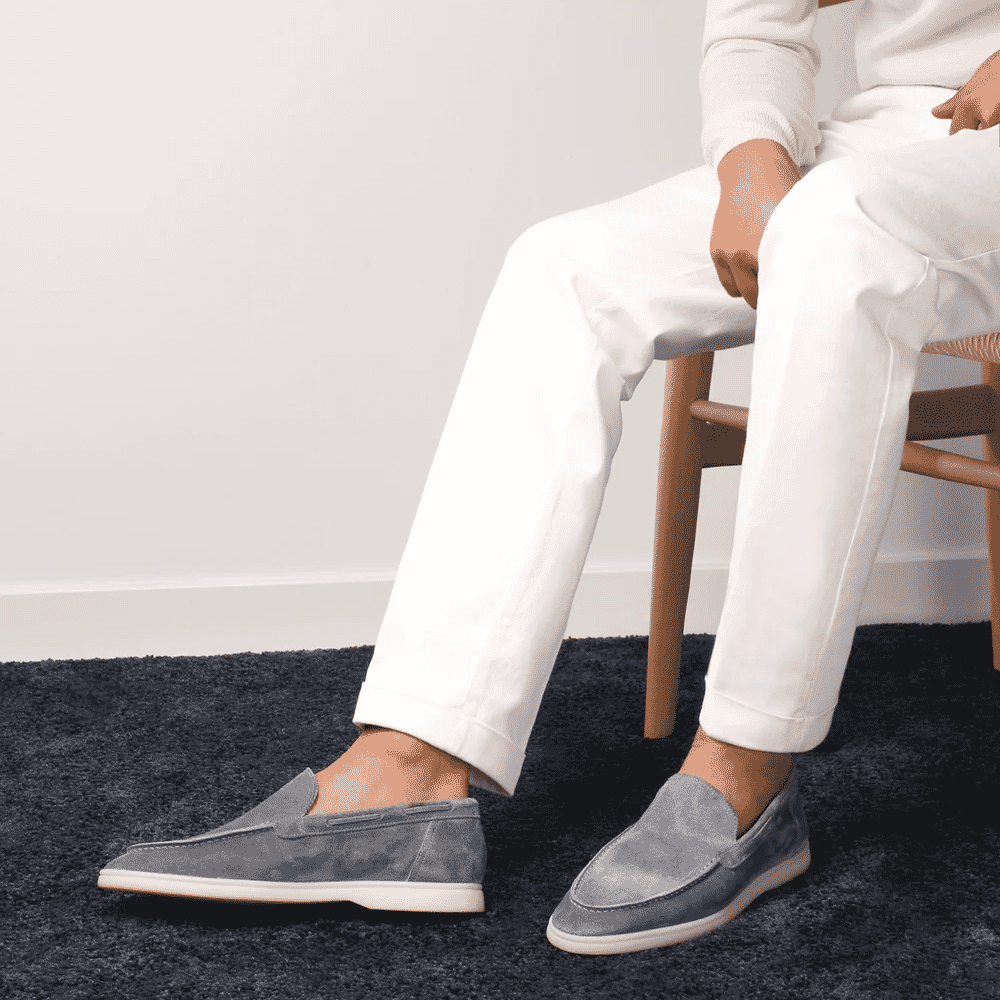 Aurelien
There comes a time at work when all you want on your feet is comfort and style. One doesn't have to sacrifice the other. Aurelien is a brand that's especially good at this balancing act and their yacht loafers in light blue are a great expression of the brand's skills. Unlined for breathability, comfort and flexibility, luxurious Softey suede has a fine touch and light shine, elevating the loafer, with almond-shaped toes still bringing a classic smartness to office-based wearing.
Loro Piana
Loro Piana will make you a loafer that you don't want to take off. It's as simple as that. Work is hard, days are long, so treat yourself to something that makes the whole thing a little easier, a little more stylish, dramatically more effortless. Summer walk loafers are as the name suggests, a treat. Soft, light, breathable and of course, extremely comfortable, they're handmade in Italy from supple dark-brown leather with a sturdy, non-slip rubber sole. Fun fact: there's a space on the under side of the sole to sign your name. A nod to bygone sailing days.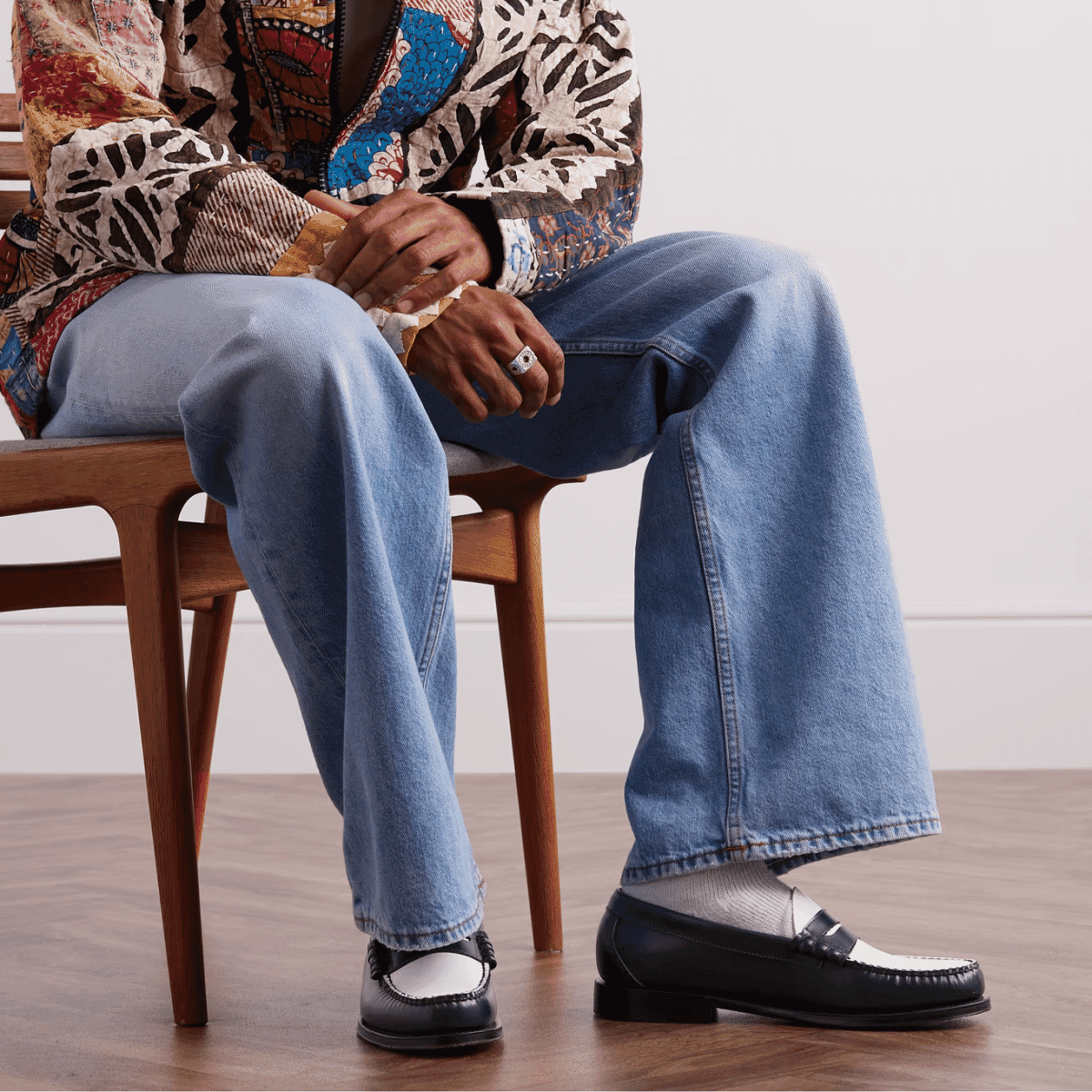 G.H. Bass & Co.
Go to work in something iconic like the G.H. Bass & Co Weejun penny loafer. An all-time classic that has spanned high and low fashion as well as an array of subcultures. Years of experience and skill make up each loafer, with the final product always improved. For a slick work pair, consider the heritage Larson two tone in white and green. Pair with wide denim and a tucked shirt. White socks optional.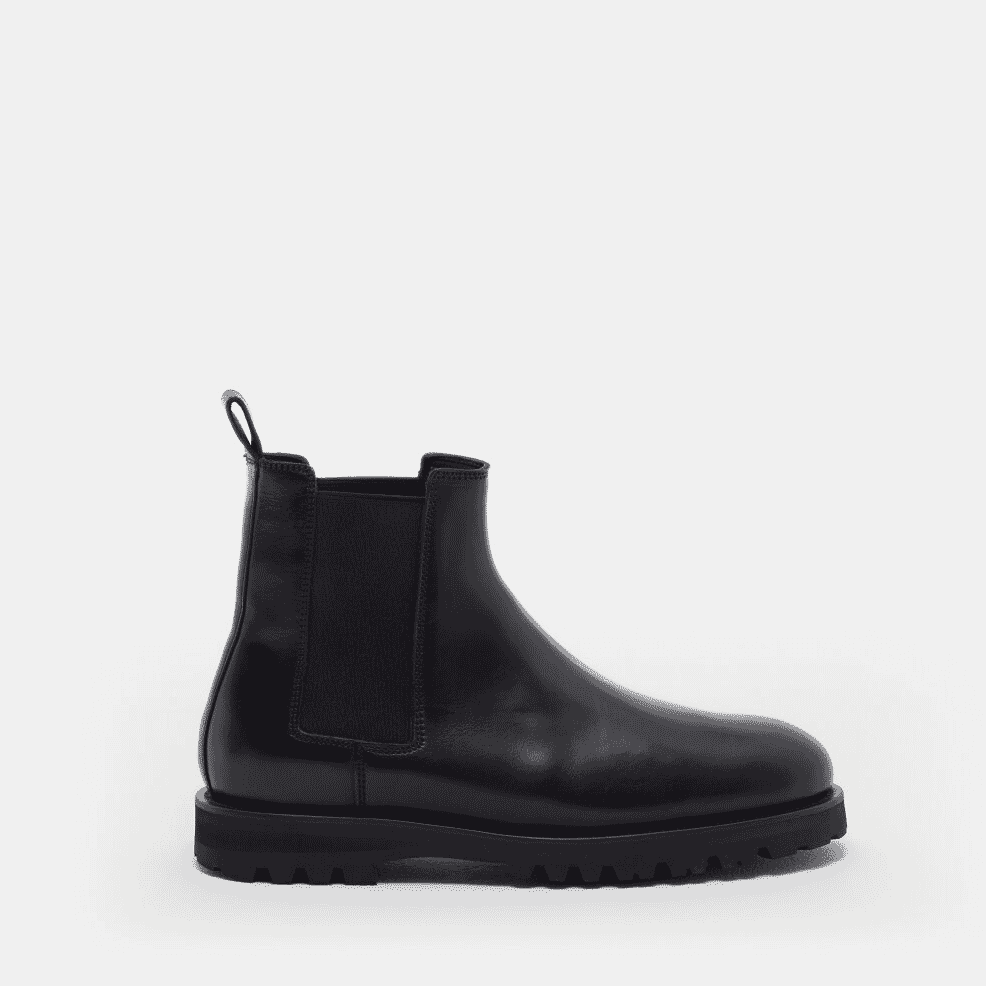 Business casual shoes for minimalistic men
Closed
The Closed Chelsea boot is 100% made in Italy, which we can all agree is an excellent start. The distinct fine matte finish gives them a welcome understated look with that all-important Vibram rubber profile sole. The factory behind the boots, Stil Tre, hails from Italy's Veneto, the capital of shoemaking and only uses Italian materials. Rock them with Closed's Blomberg wide pants.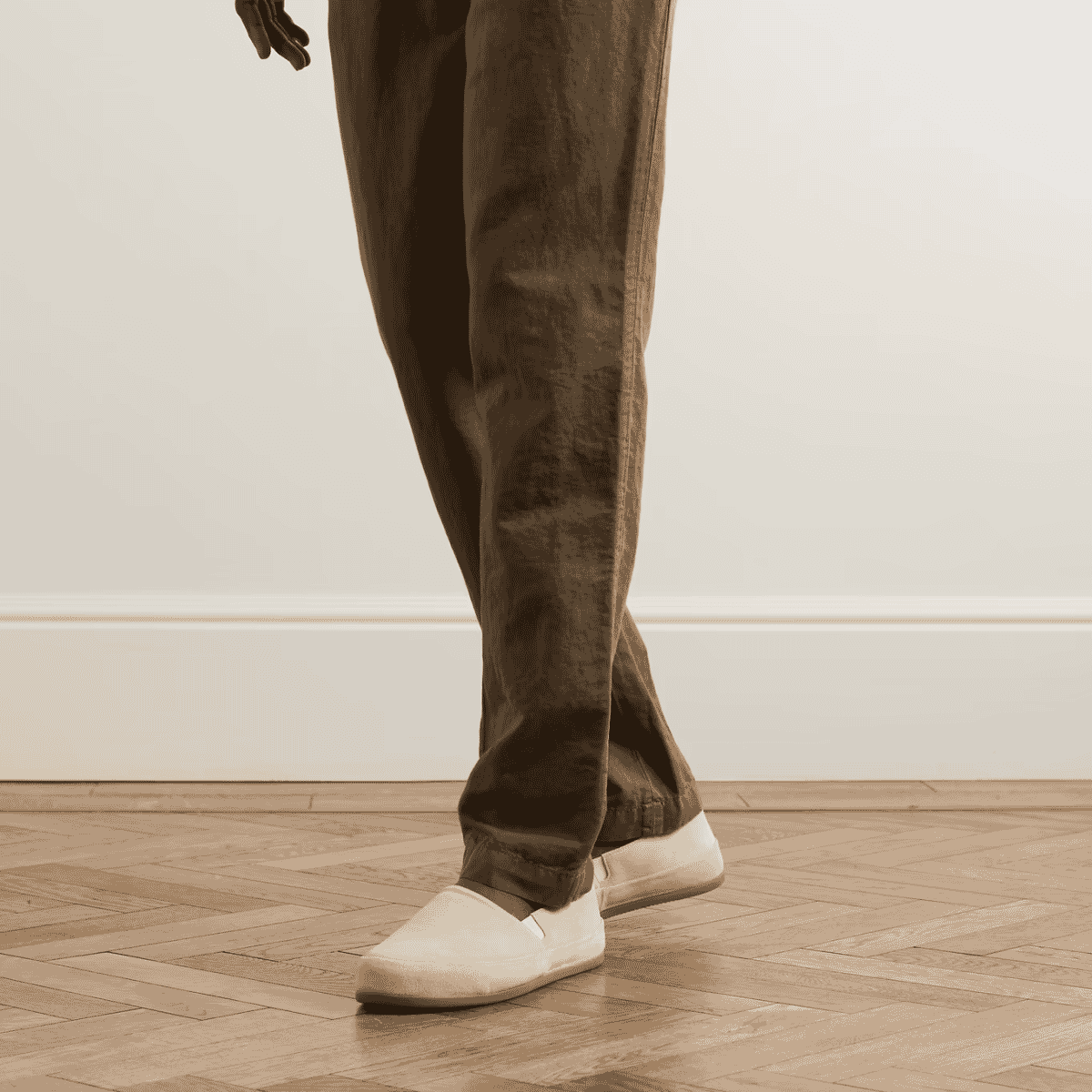 Mulo
We've come a long way when it comes to business casual. Strides have been made. Strides that have allowed us to get to the point of wearing espadrilles at work. Okay, they're technically suede loafers, but look how versatile and comfortable they look. Suede will do that. Raise the formality without sacrificing on comfort and playfulness. Hours of work go into a Mulo loafer, with over a hundred steps involved in the construction of a shoe that's made on a classic Oxford last. Wear them with summer linens and feel your best at work.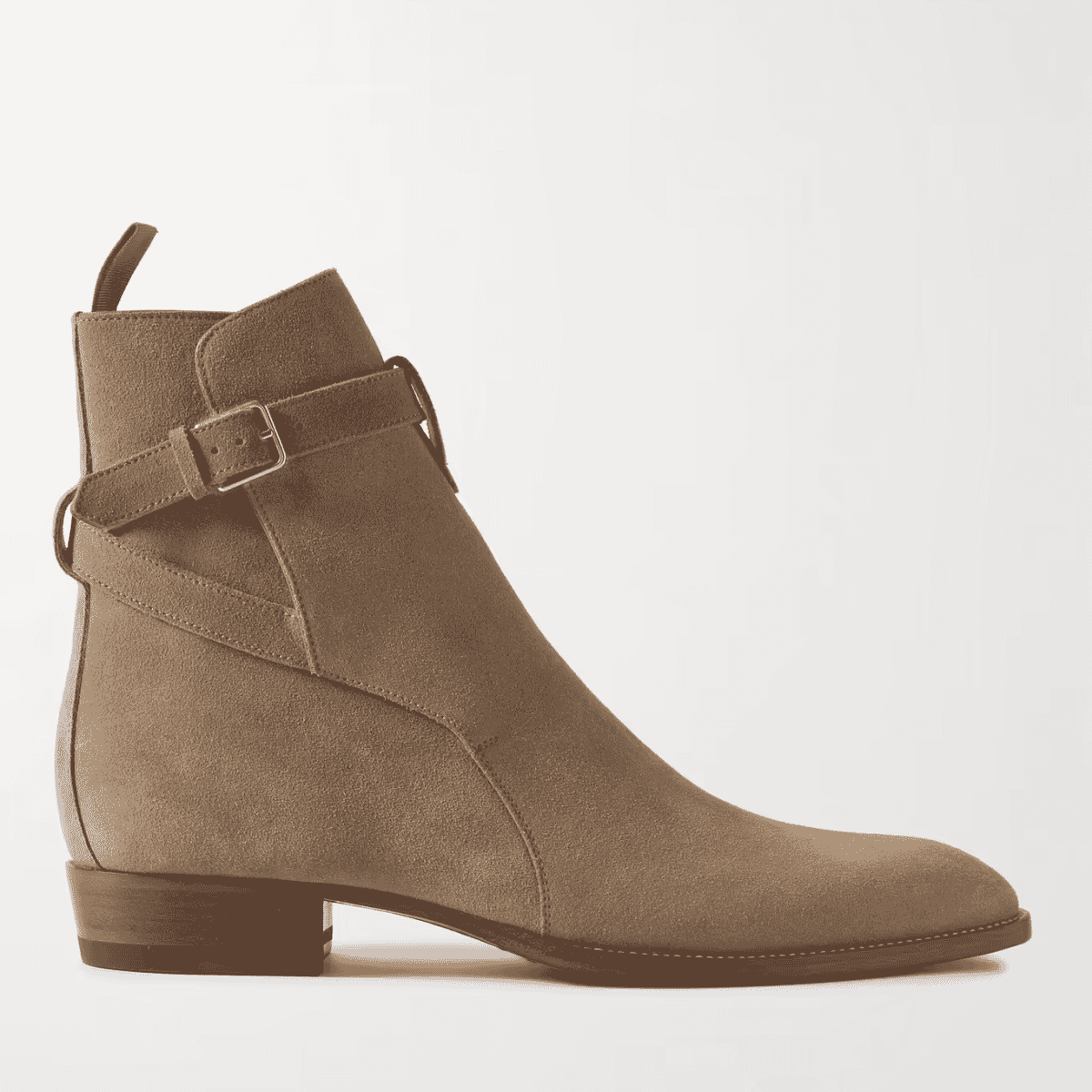 Saint Laurent
It's all about making the effort, you see. Curating how you appear at work. As long as you're keeping things refined and curated you can add a little bit of rock star in there if you like. May we suggest these boots from Saint Laurent? Classic Saint Laurent. Slim profile suede boot, just the right amount of point, nice heel to them and a buckle fastening at the top. Gagging for a slim trouser or jean but versatile enough to go with something wider, looser. Will make you even more taller than the water cooler.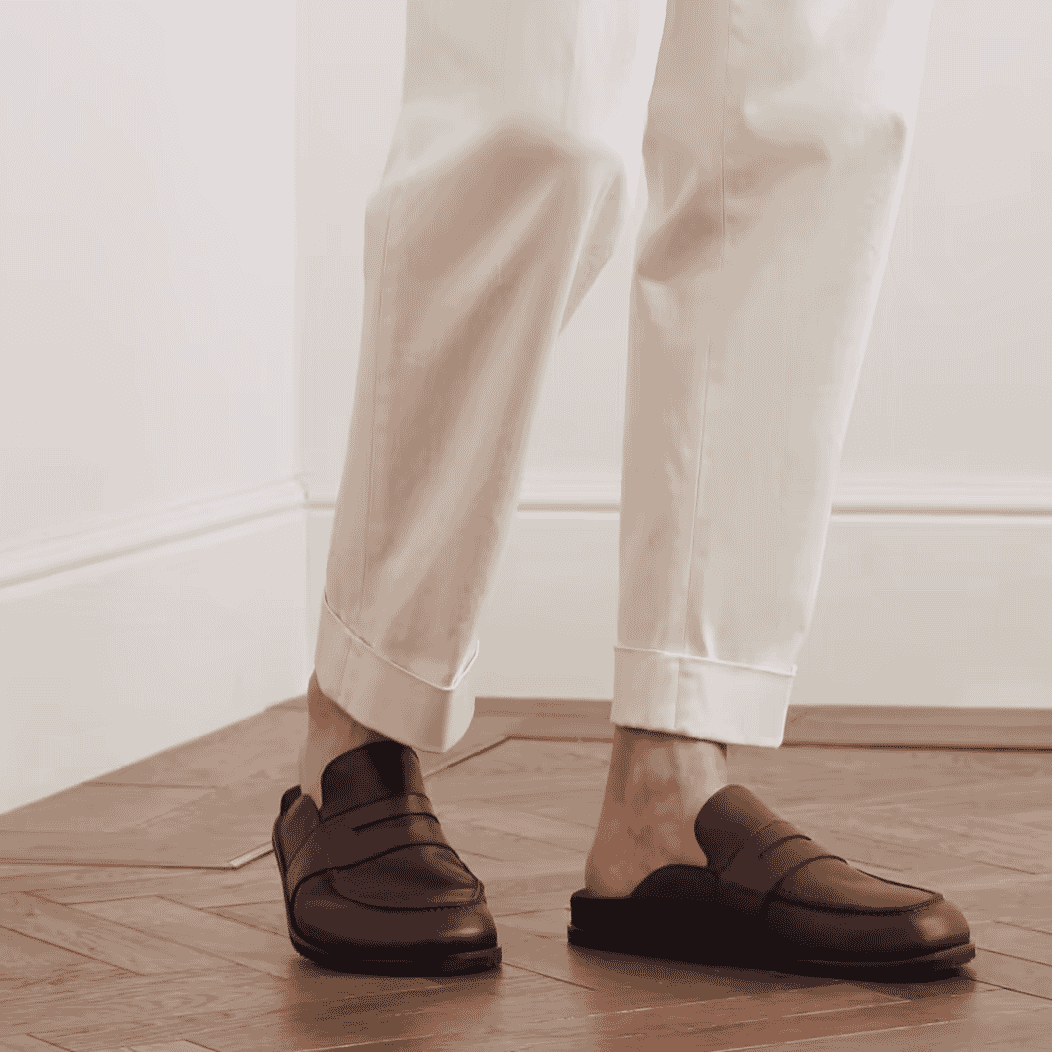 Mr P.
Mules should not be discounted as a solid workplace option. Especially those in leather. We're as fond of a strappy or felt mule as the rest, but there's just something extremely aesthetic about a solid leather mule like these from Mr P. Crafted from leather, with the classic slots and stitching of a penny loafer, a backless design makes them a great summer office option. A lighter, perfectly cuffed trouser is a great partner. Leave the ankles bare.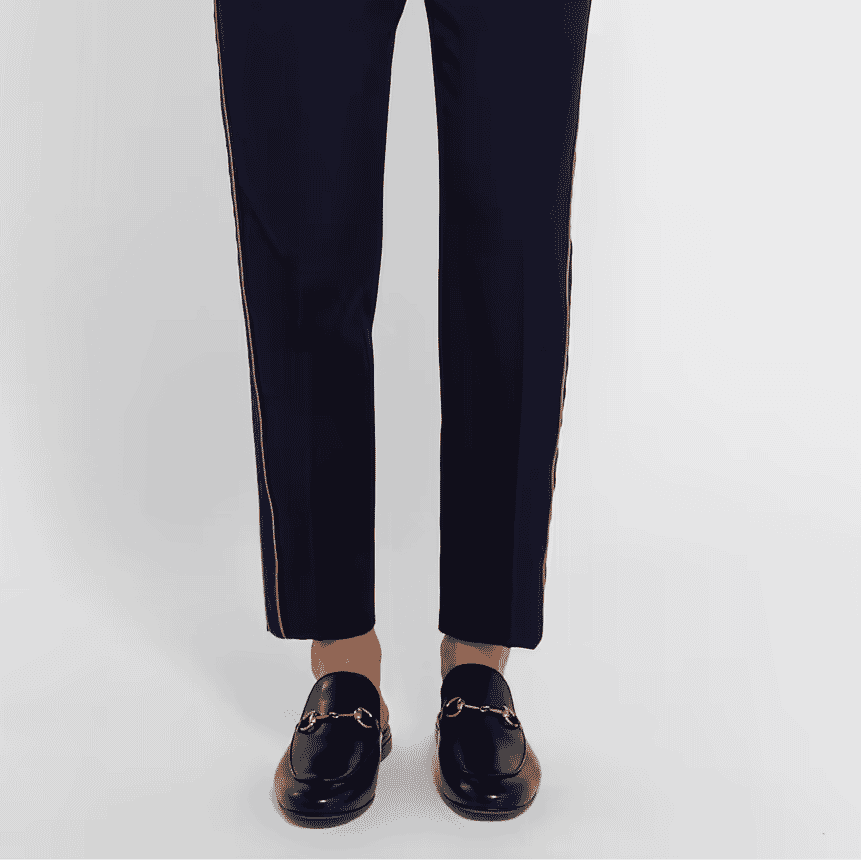 Gucci
A Gucci Horsebit leather backless loafer, worn to the office, is a power move. Plain and simple. Feel the ground shake as you walk in. Seismic reactions. Tea mugs rattling in the staff kitchen, water cooler bubbling. Sleek, classy and elegantly luxurious. Black leather all the way round and topped with that trademark gold snaffle, nodding to equestrian roots. A padded insole and smooth inner lining ensure comfort all day. Wear with no socks and pay close attention to trouser hem height.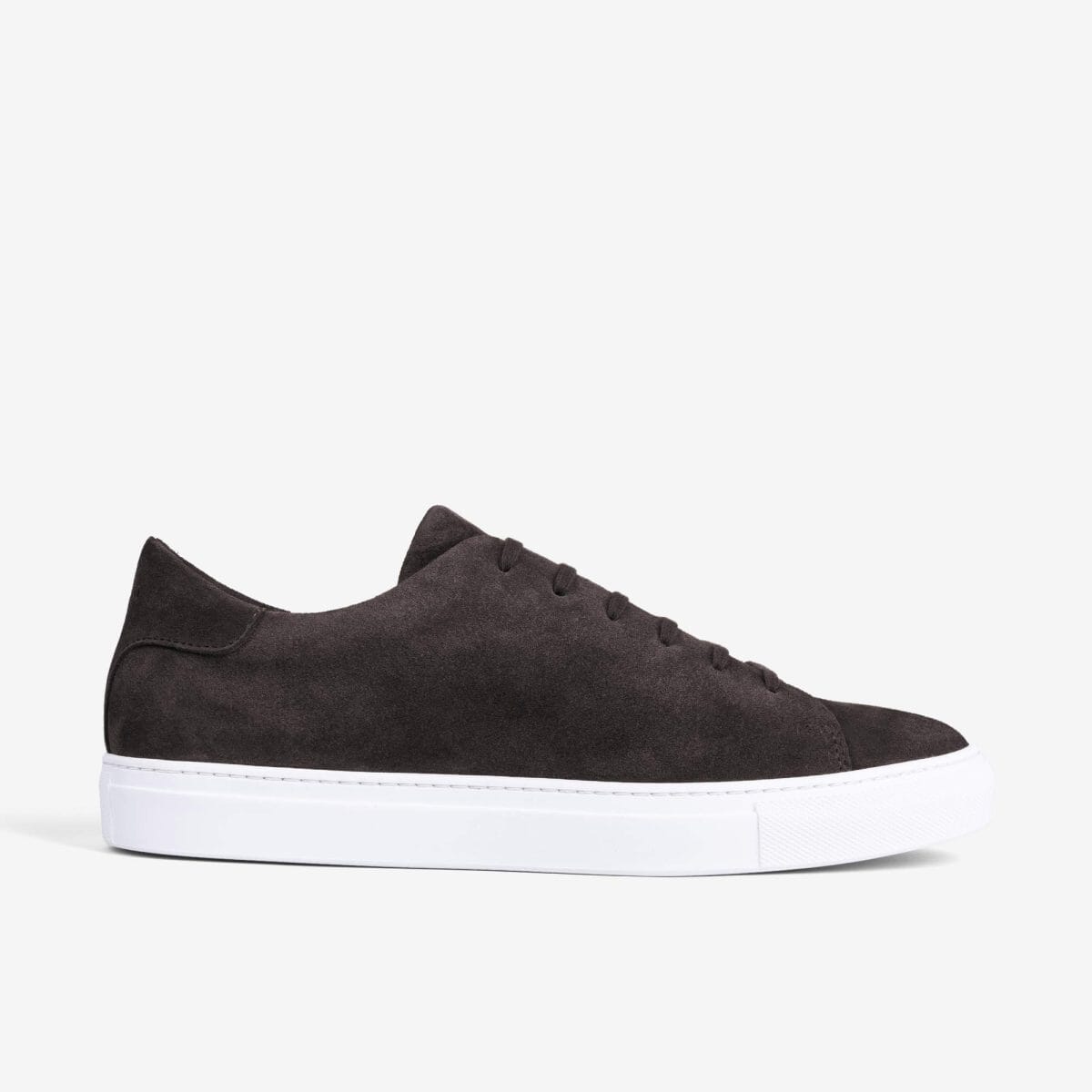 Business casual shoes for sneaker-obsessed men
Dalgado
First up is a stylish suede low-top from German design studio, Dalgado. Available in a broad range of colourways, these minimalist sneakers are handmade in Portugal using the finest Italian and Portuguese materials. A truly sleek silhouette is down to the design of the sneaker eschewing all unnecessary stitching and branding for a minimalism that stands out. A white contrast margom outsole ensures comfort and longevity.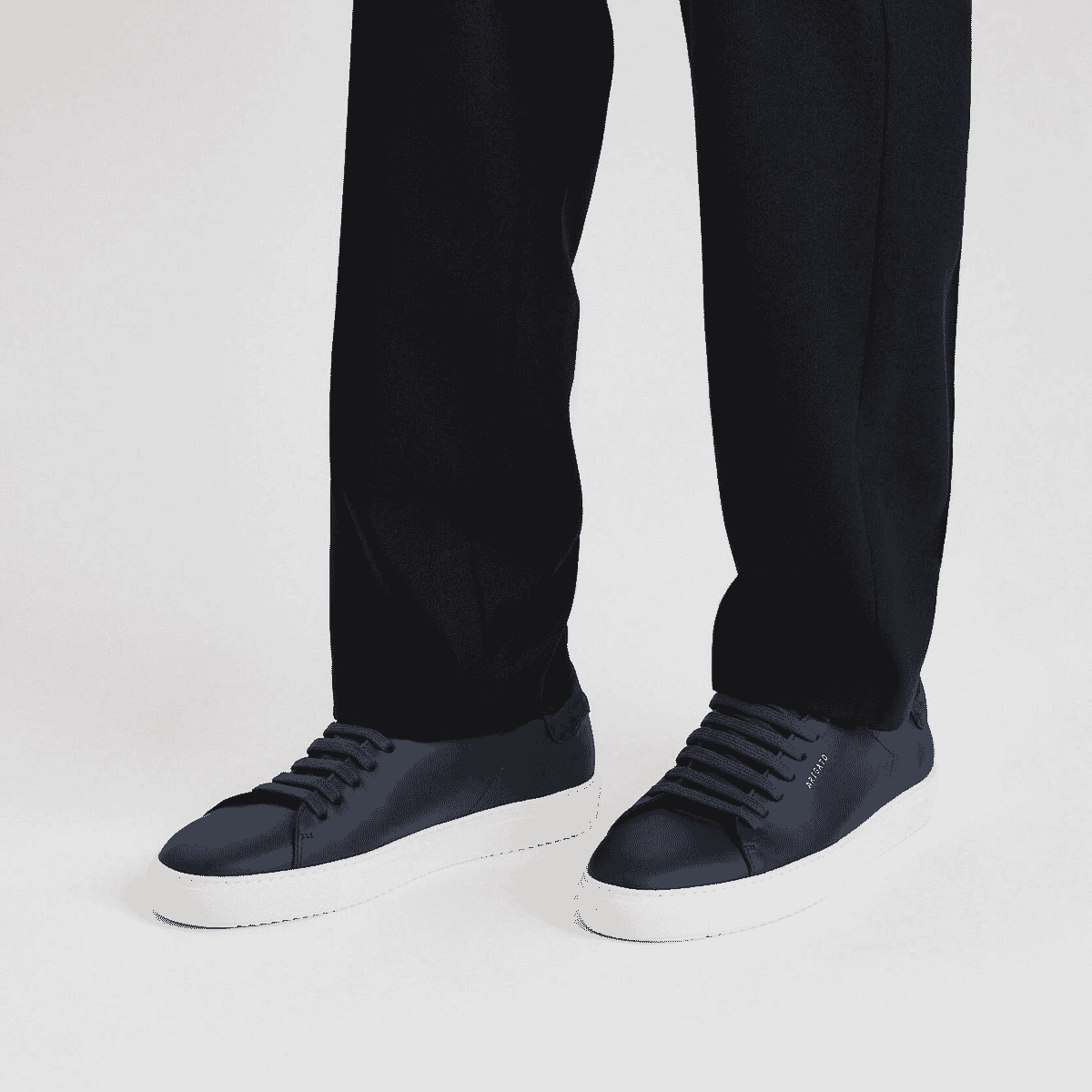 Axel Arigato
When sneakers go business casual. Think premium leather, minimal detailing, timeless silhouettes and contrast soles. The Clean 90 from Axel Arigato is one such sneaker. Minimalist design with a trademark gold logo stamp, a smooth leather upper in navy compliments a white rubber cup sole with cushioned footbed for all-day comfort and arch support. Pair with relaxed trousers.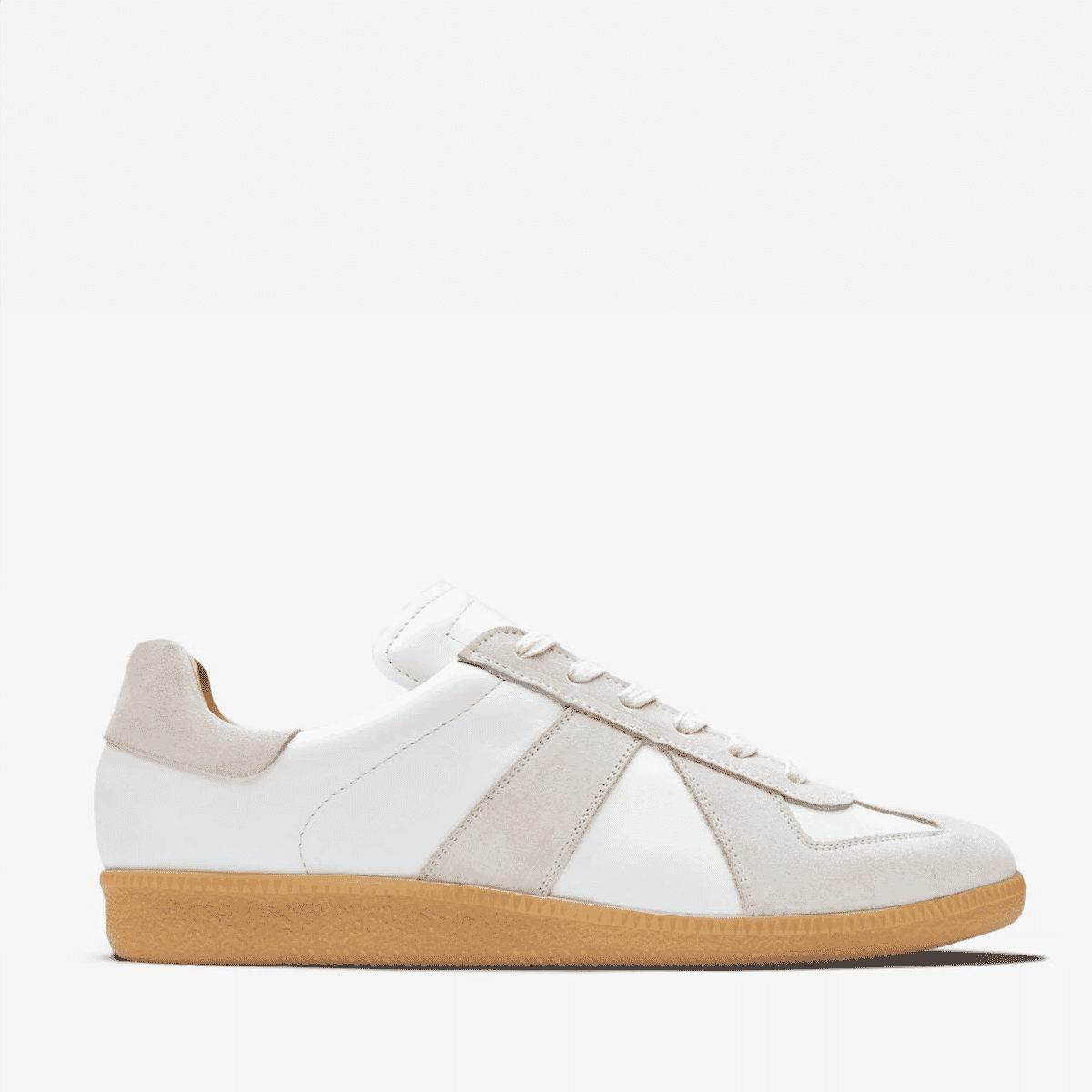 Oliver Cabell
Calling all architects, app creators, interior designers and people that work at start-ups, this pair is for you (and for everyone else too, for that matter). Minimalist trainer lords Oliver Cabell have created the GAT in white, which brings some contrast gum sole action with leather and suede detailing directly to you for your work day needs. Hand-stitched and lasted in Spain, materials are sourced from Italy. A great German-inspired sport sneaker and perfect for lunchtime games of foosball in your open plan office. Pair with chinos and an untucked button down.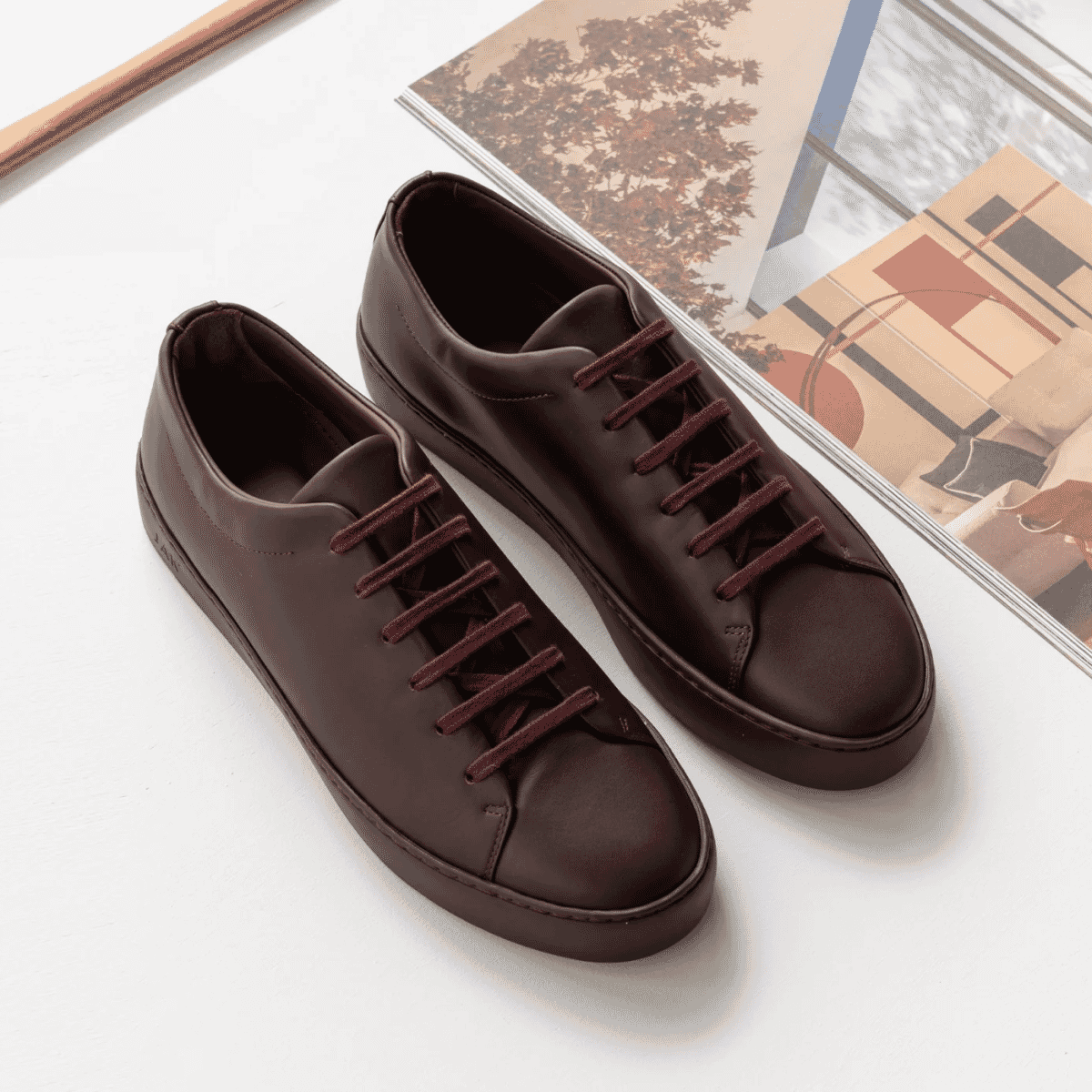 JAK
Here we go. More stylish, minimalist sneaker action but this time via Lisbon. It's worth noting in this case that the Jak Royal is available in an impressive variety of colourways including these in Vino (a rich, grape-inspired mahogany colour). Jak's first minimalist lux sneaker style, the Royal, features a full grain calf leather upper and a cemented and stitched rubber sole. The power is in the versatility here, as stylish with a dressed down suit as they are below swishing summer linen trousers.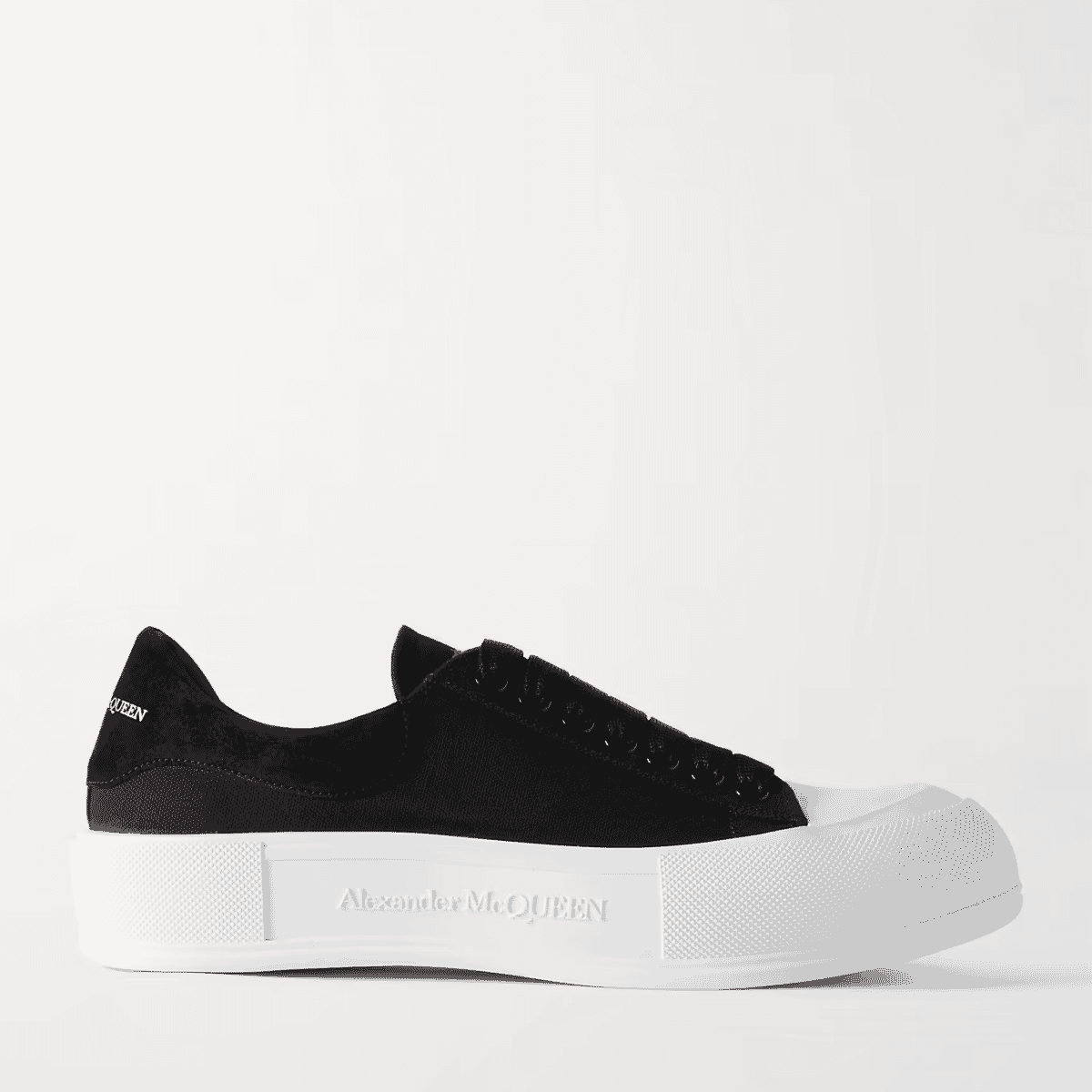 Alexander McQueen
Tennis shoes have been given the chunky sole treatment thanks to Alexander McQueen. Their deck exaggerated sole canvas sneakers come with an eye catching white contrast platform, inspired by classic skate shoes. The sneakers are made in Italy from cotton canvas, with classic metal eyelets and logo-printed suede heel tabs. A great way to add a minimalistic monochrome contrast to all black work attire.
Stumped on what to wear to work? Read on for outfit inspiration.
---
---